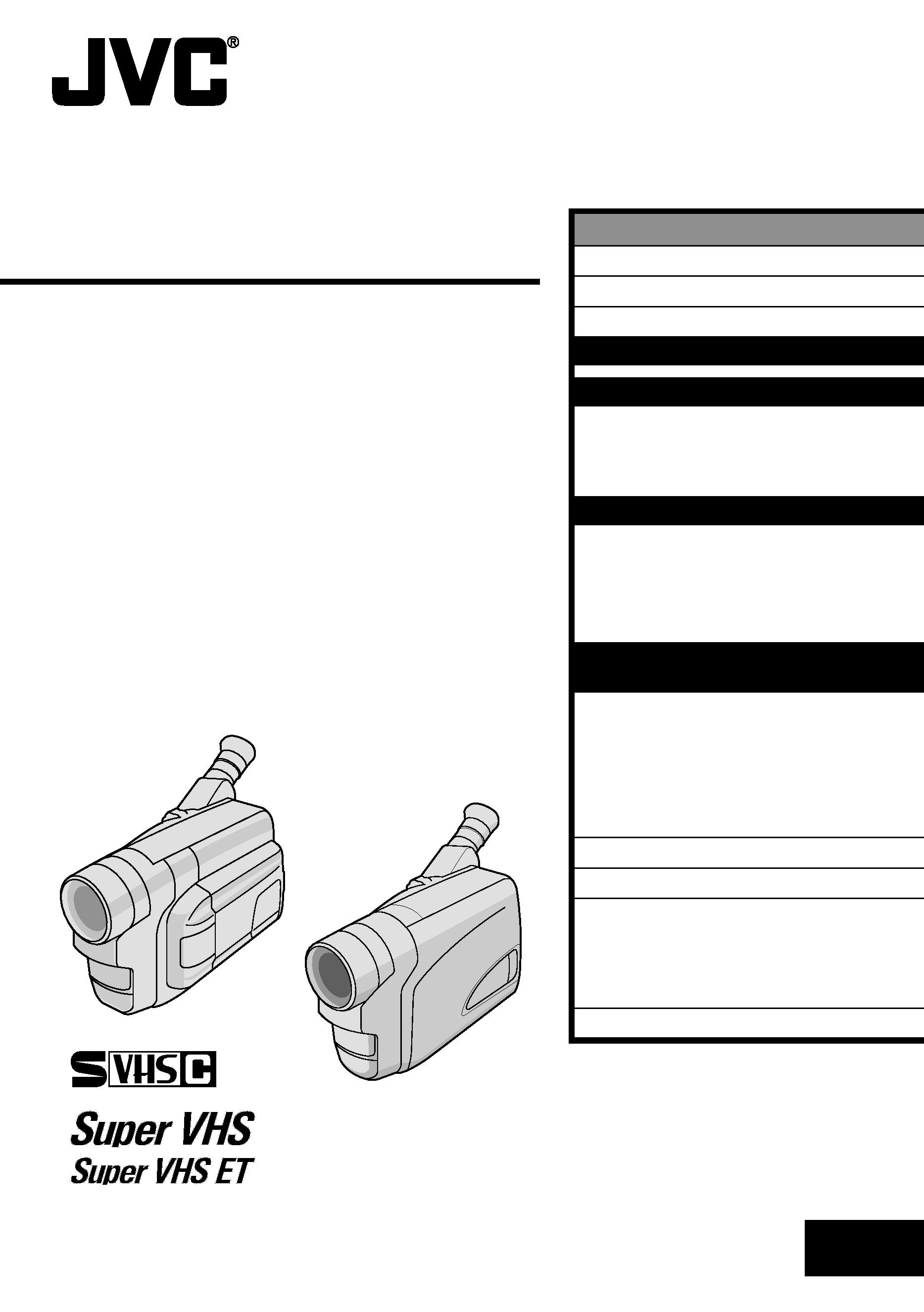 Basic Recording .......................... 16
Basic Features ........................... 18
Advanced Features ...................... 22
Basic Playback ........................... 33
Features .................................. 34
Using The Cassette Adapter ........... 35
Connections ............................... 36
Playback Zoom .......................... 41
Insert Editing ............................. 42
Audio Dubbing ........................... 43
Random Assemble Editing .............. 44
Animation And Time-Lapse ............. 48
Indicators ............................... 54
Indications ................................ 56
---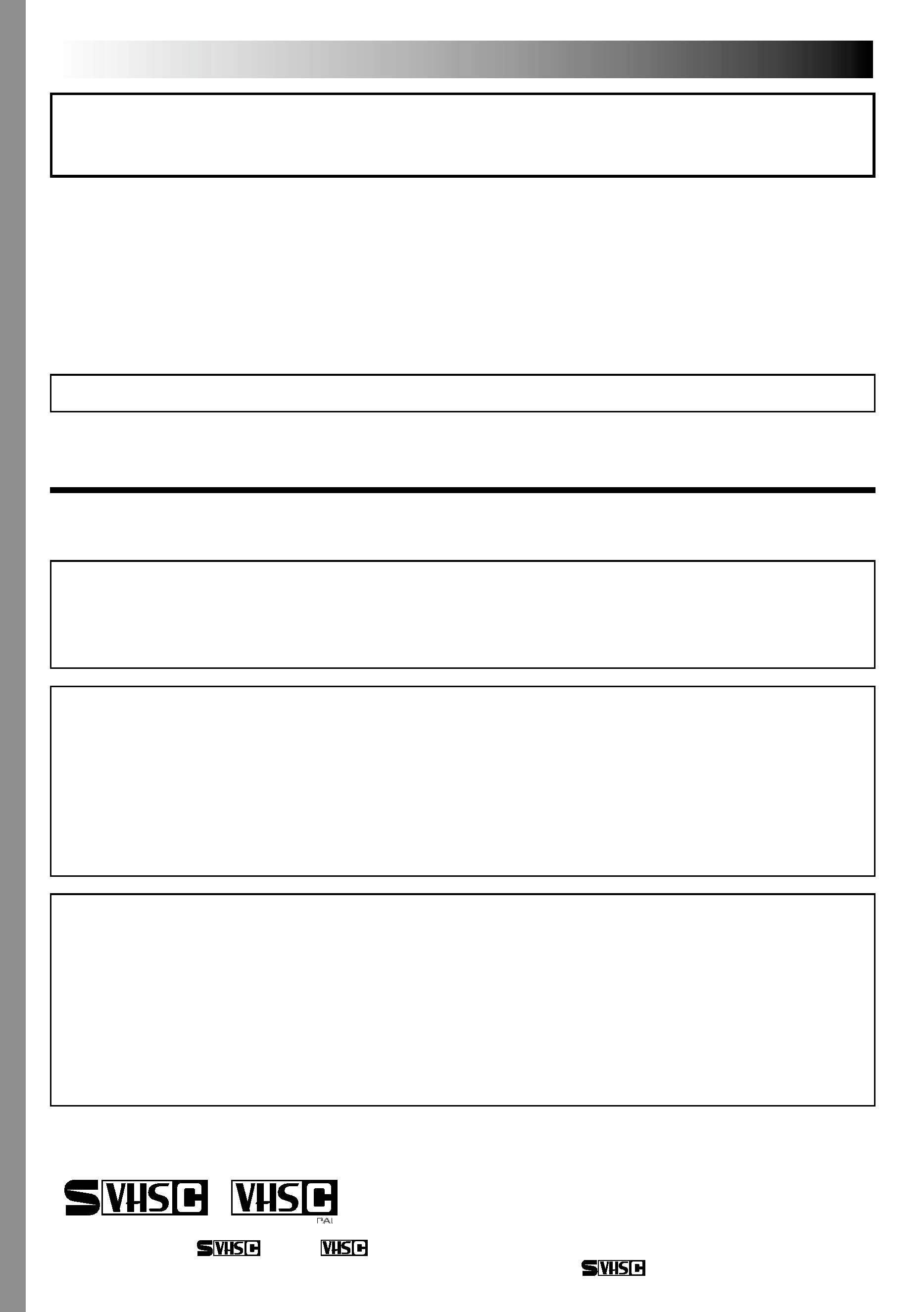 Using This Instruction Manual
·All major sections and subsections are listed in the Table Of Contents on the cover.
·Notes appear after most subsections. Be sure to read these as well.
·Basic and advanced features/operation are separated for easier reference.
It is recommended that you . . .
.... refer to the Index (
pgs. 54 ­ 57) and familiarize yourself with button locations, etc. before use.
.... read thoroughly the Safety Precautions. They contain extremely important information regarding the safe
You are recommended to carefully read the cautions on pages 49 ­ 51 before use.
TO PREVENT FIRE OR SHOCK HAZARD, DO NOT EXPOSE THIS
UNIT TO RAIN OR MOISTURE.
Thank you for purchasing the JVC Compact VHS camcorder. Before use, please read the safety information
and precautions contained in the following pages to ensure safe use of this product.
" can be used with this camcorder.
However, S-VHS recordings are possible only with cassettes marked "
Caution on Replaceable lithium battery
The battery used in this device may present a fire or chemical burn hazard if mistreated.
Do not recharge, disassemble, heat above 100°C or incinerate.
Replace battery with Panasonic (Matsushita Electric), Sanyo, Sony or Maxell CR2025.
Danger of explosion or Risk of fire if the battery is incorrectly replaced.
Dispose of used battery promptly.
Do not disassemble and do not dispose of in fire.
If you notice smoke or a peculiar smell coming from the camcorder or AC adapter/charger, shut it down
and unplug it immediately. Continue using the camcorder or AC adapter/charger under these conditions
could lead to fire or electric shock. Contact your JVC dealer. Do not attempt to repair the malfunction
To prevent shock, do not open the cabinet. No user serviceable parts inside. Refer servicing to qualified
When you are not using the AC Power Adapter/Charger for a long period of time, it is recommended that
you disconnect the power cord from AC outlet.
---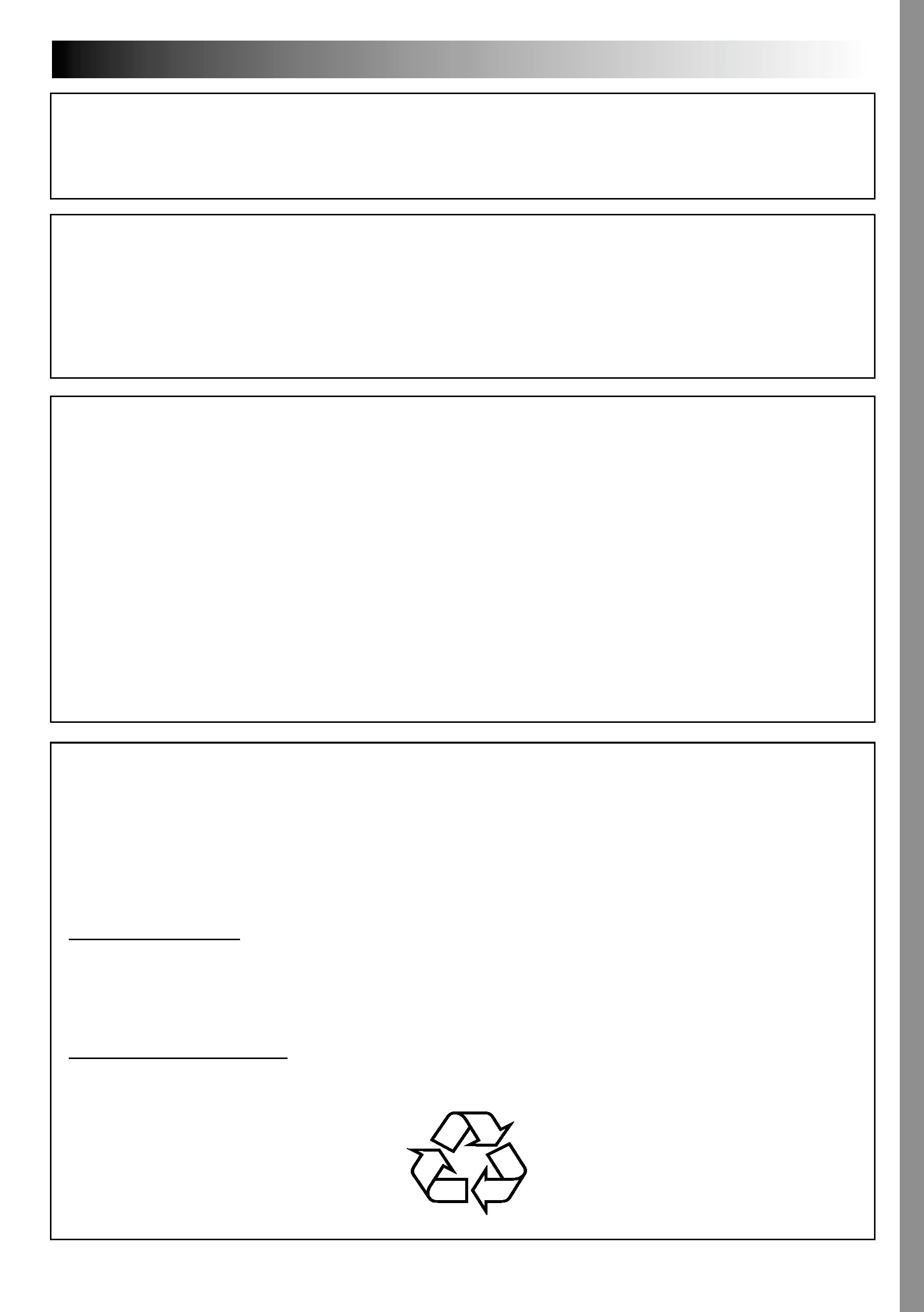 When the equipment is installed in a cabinet or on a shelf, make sure that it has sufficient space on all
sides to allow for ventilation (10 cm or more on both sides, on top and at the rear).
Do not block the ventilation holes.
(If the ventilation holes are blocked by a newspaper, or cloth etc. heat may not be able to get out.)
No naked flame sources, such as lighted candles, should be placed on the apparatus.
When discarding batteries, environmental problems must be considered and local rules or laws governing
the disposal of these batteries must be followed strictly.
The apparatus shall not be exposed to dripping or splashing.
Do not use this equipment in a bathroom or places with water.
Also do not place any containers filled with water or liquids (such as cosmetics or medicines, flower vases,
potted plants, cups etc.) on top of this unit.
(If water or liquid is allowed to enter this equipment, fire or electric shock may be caused.)
The rating plate (serial number plate) and safety caution are on the bottom and/or the back of the main
The rating information and safety caution of the AC Power Adapter/Charger are on its bottom.
This camcorder is designed to be used with PAL-type colour television signals. It cannot be used for
playback with a television of a different standard. However, live recording and LCD monitor*/viewfinder
playback are possible anywhere. Use the BN-V11U**/V12U/V20U battery packs and, to recharge them,
the provided multi-voltage AC Power Adapter/Charger. (An appropriate conversion adapter may be
necessary to accommodate different designs of AC outlets in different countries.)
* GR-SXM460A/SXM260A/SXM46EA/SXM26EA only.
** GR-SXM46EA/SXM26EA/SX21EA only.
ATTENTION USERS OF RECHARGEABLE BATTERIES
DO NOT DISPOSE RECHARGEABLE BATTERIES OR PRODUCTS POWERED BY NON-
REMOVABLE RECHARGEABLE BATTERIES, THESE BATTERIES AND PRODUCTS CAN BE
AT THE END OF NORMAL LIFE,
IN AUSTRALIA,
RETURN TO YOUR POINT OF PURCHASE OR MAIL TO:
Hagemeyer (Australasia) B.V. 5-7 Garema Circuit Kingsgrove NSW 2208 Australia
IN NEW ZEALAND,
PLEASE RETURN BATTERIES BY MAIL TO:
Hagemeyer (NZ) Limited P.O. Box 100589 Auckland 1000
---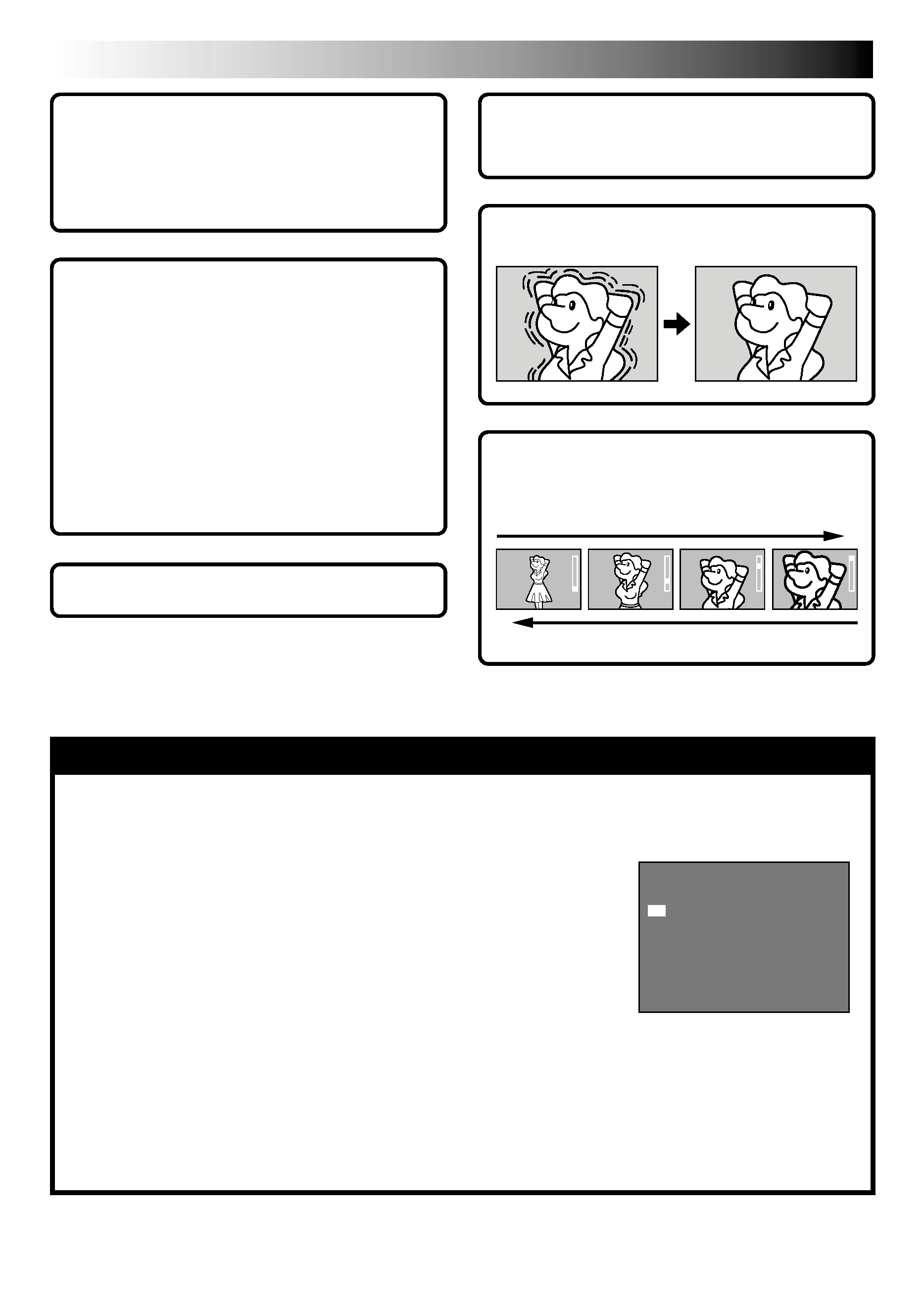 Programme AE with Special
1/2000 sec. High Speed Shutter
TBC (Time Base Corrector)
NOTES about Automatic Demonstration
Automatic Demonstration takes place when "DEMO MODE" is set to "ON"
Available when the Power Switch is set to "AUTO" or "PRO.".
Operating the Power Zoom Lever during the demonstration stops
the demonstration temporarily. If the Power Zoom Lever is not
moved for more than 1 minute after that, the demonstration will
"DEMO MODE" remains "ON" even if the camcorder power is
To cancel Automatic Demonstration, set the Power Switch to
"PRO." and press MENU while the demo is in progress. This
takes you directly to the demo mode's Setting Menu (so you will
not have to go through the main Menu Screen.) Rotate the Select
Wheel to select "OFF" and press it.
When a tape whose Erase Protection tab is in the position that allows recording is loaded in the
camcorder, demonstration is not available.
---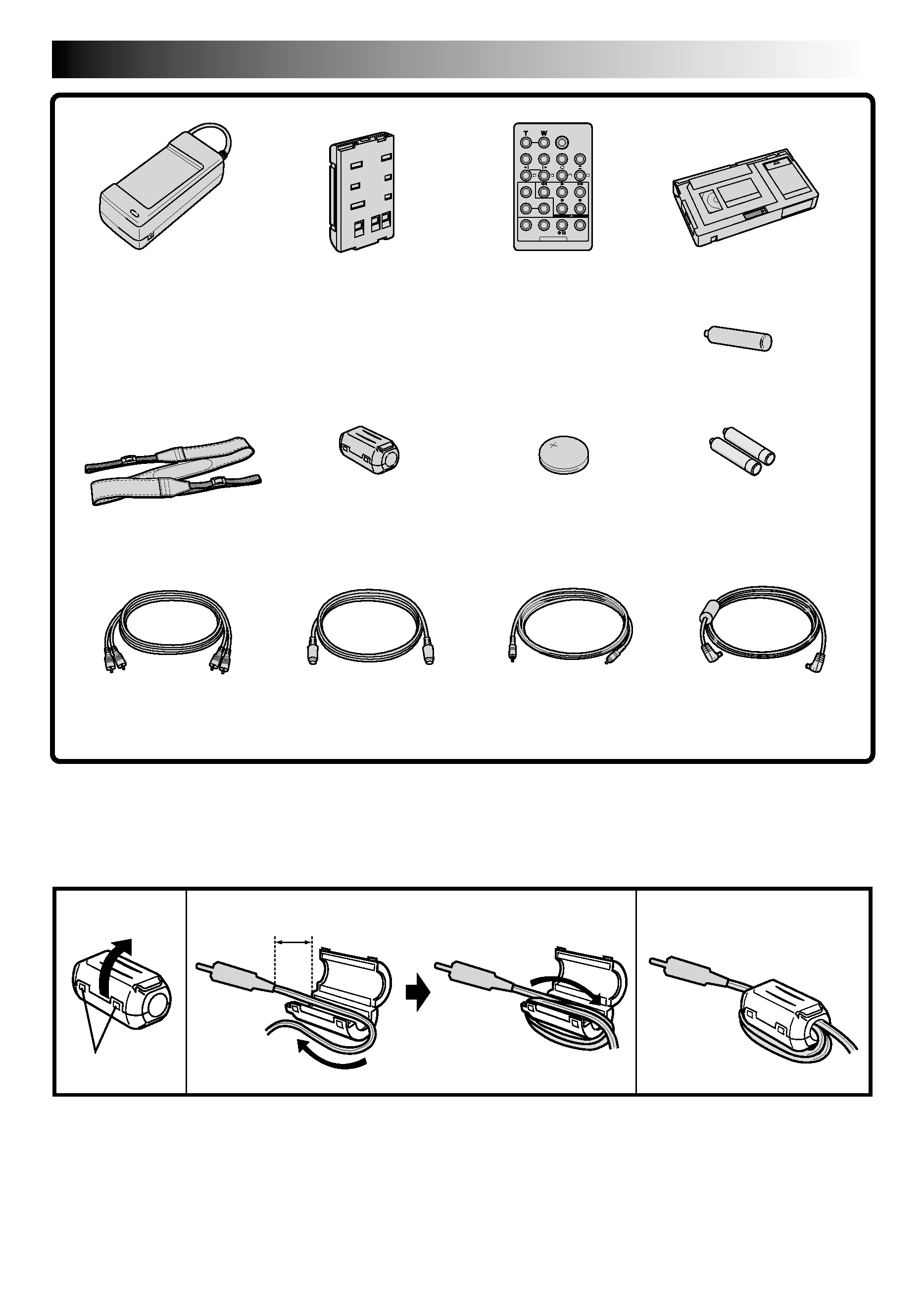 How to Attach The Core Filter
Attach the provided Core Filters to the provided Audio/Video cable and S-video cable.
The Core Filter reduces interference.
2.
Run the cable through the Core Filter, leaving
approx. 5 cm of cable between the cable plug and
the Core Filter. Wind the cable around the outside
of the Core Filter as shown in the illustration.
·Wind the cable so that it is not slack.
Take care not to damage the cable.
3.
Close the Core Filter until it
cable with the Core Filter to
---