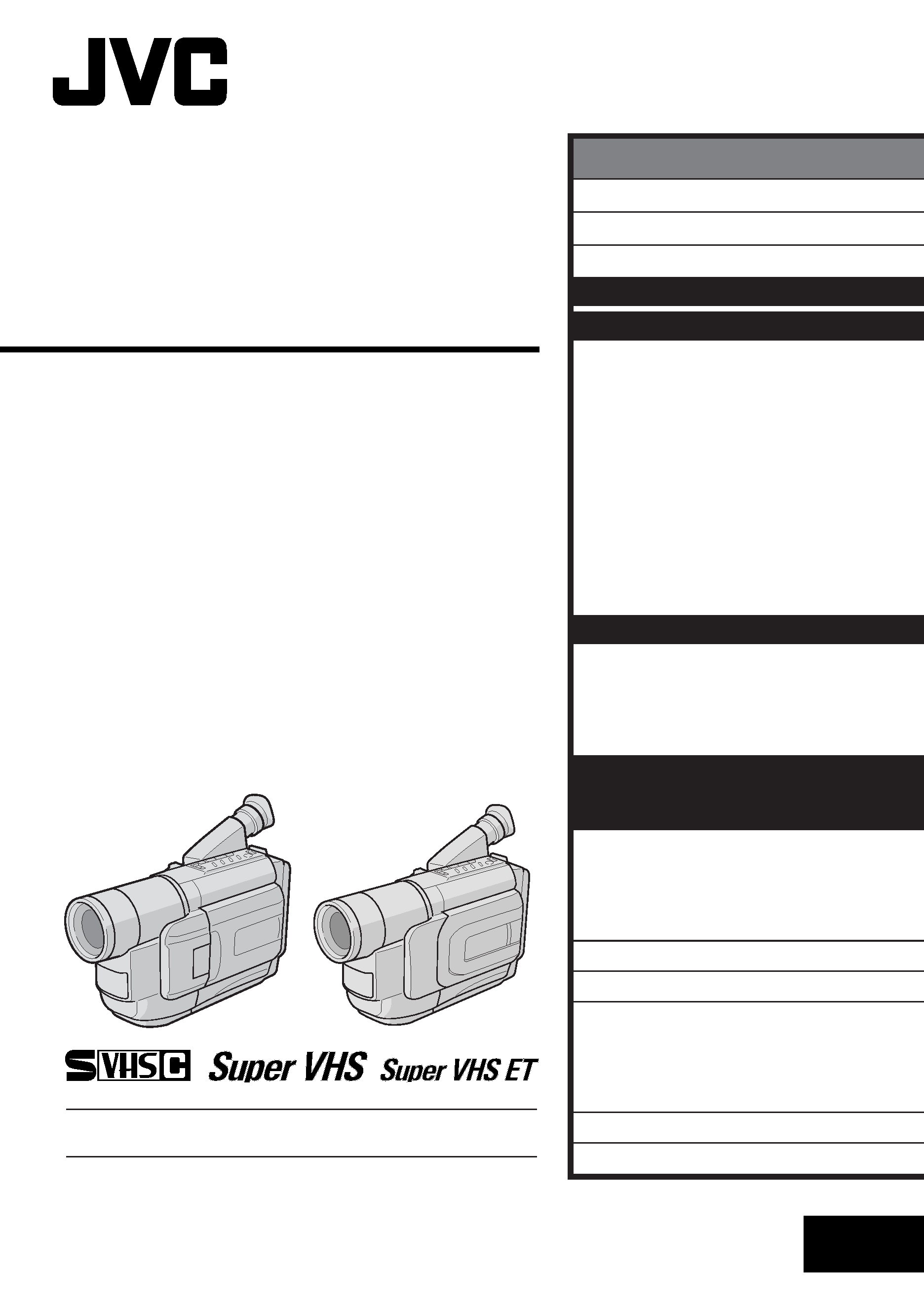 AUTOMATIC DEMONSTRATION 4
Basic Recording .......................... 14
Basic Features ........................... 16
Zooming, Picture Stabilizer, 5-Sec. Recording,
Quick Review, Retake, Video Light
Advanced Features ...................... 18
Snapshot, Night-Alive, Fade/Wipe Effects,
Program AE With Special Effects,
Digital Effects, Using Menus For Detailed
Adjustment, Date/Time Insert, Instant Titles,
Animation, Time-Lapse, Exposure Control,
Focusing, White Balance Adjustment,
Manual White Balance Operation
Basic Playback ........................... 30
Features .................................. 31
Connections And Tape Dubbing ........ 32
Using The Cassette Adapter ........... 34
Playback Zoom .......................... 37
Animation And Time-Lapse ............. 37
Insert Editing ............................. 38
Audio Dubbing ........................... 39
Terms ...................................... 43
Controls, Connectors And Indicators ... 44
Indications ................................ 46
GR-SXM747UM/SXM347UM/SXM247UM/SX877UM only.
---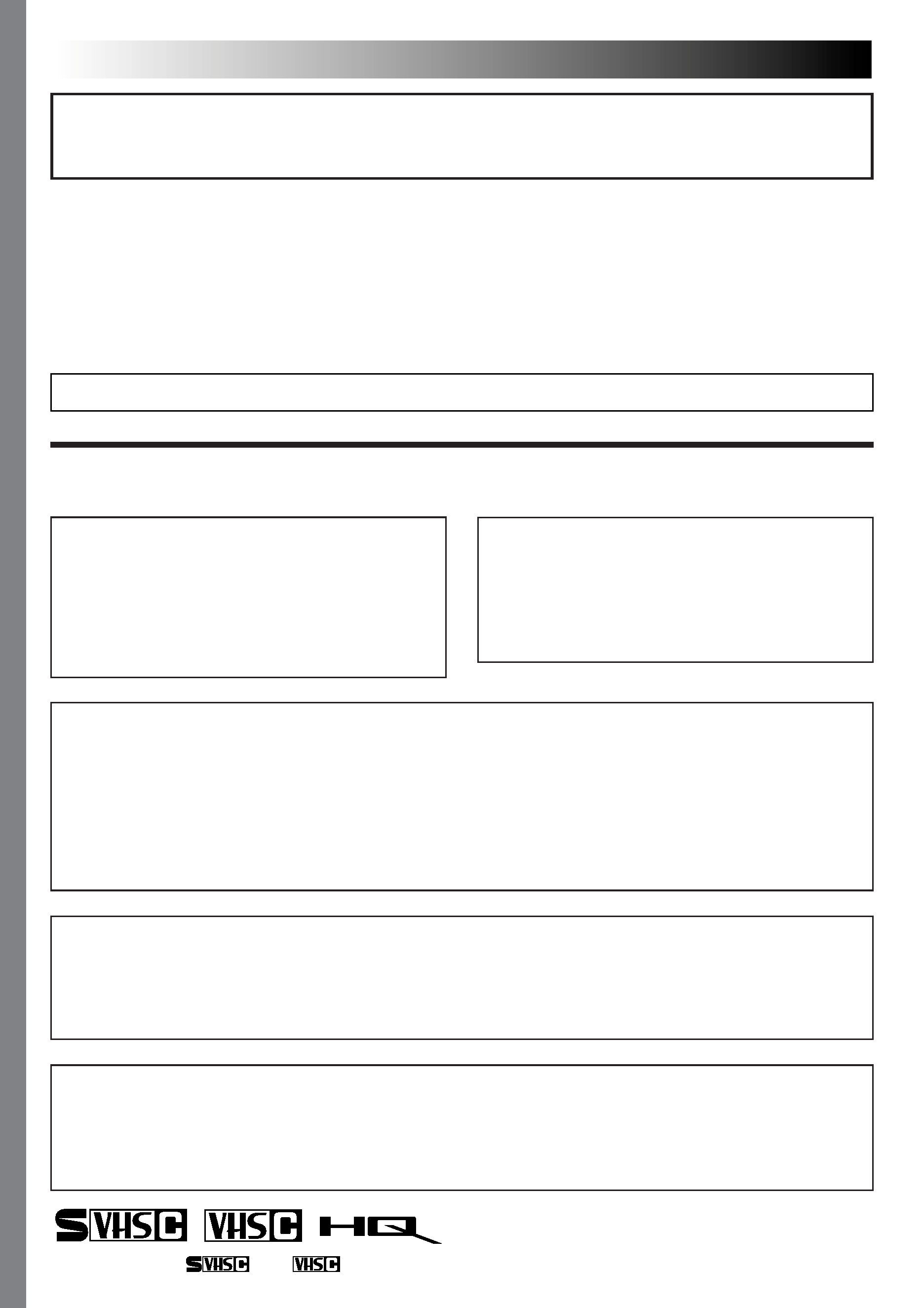 Using This Instruction Manual
· All major sections and subsections are listed in the Table Of Contents on the cover.
· Notes appear after most subsections. Be sure to read these as well.
· Basic and advanced features/operation are separated for easier reference.
It is recommended that you . . .
.... refer to the Index (
pgs. 43 ­ 47) and familiarize yourself with button locations, etc. before use.
.... read thoroughly the Safety Precautions and Safety Instructions that follow. They contain extremely
important information regarding the safe use of this product.
You are recommended to carefully read the cautions on pages 48 ­ 50 before use.
The rating plate (serial number plate) and safety
caution are on the bottom and/or the back of
The rating information and safety caution of the
AC Adapter are on its upper and lower sides.
TO REDUCE THE RISK OF FIRE
NOT EXPOSE THIS APPARATUS
Thank you for purchasing the JVC Compact VHS camcorder. Before use, please read the safety information
and precautions contained in the following pages to ensure safe use of this product.
The product that you have purchased is powered by a rechargeable battery. The battery is recyclable. At
the end of its useful life, under various state and local laws, it may be illegal to dispose of this battery into
the municipal waste stream. Check with your local solid waste officials for details in your area for
recycling options or proper disposal.
This camcorder is designed to be used with NTSC-type color television signals. It cannot be used for
playback with a television of a different standard. However, live recording and LCD monitor*/viewfinder
playback are possible anywhere.
Use the JVC BN-V11U/V12U/V20U/V400U battery packs and, to recharge them or to supply power to
the camcorder from an AC outlet, use the provided multi-voltage AC Adapter. (An appropriate conversion
adapter may be necessary to accommodate different designs of AC outlets in different countries.)
*Models equipped with LCD monitor only.
can be used with this camcorder.
To prevent shock, do not open the cabinet. No user serviceable parts inside. Refer servicing to qualified
When you are not using the AC Adapter for a long period of time, it is recommended that you disconnect
the AC Adapter from AC outlet.
---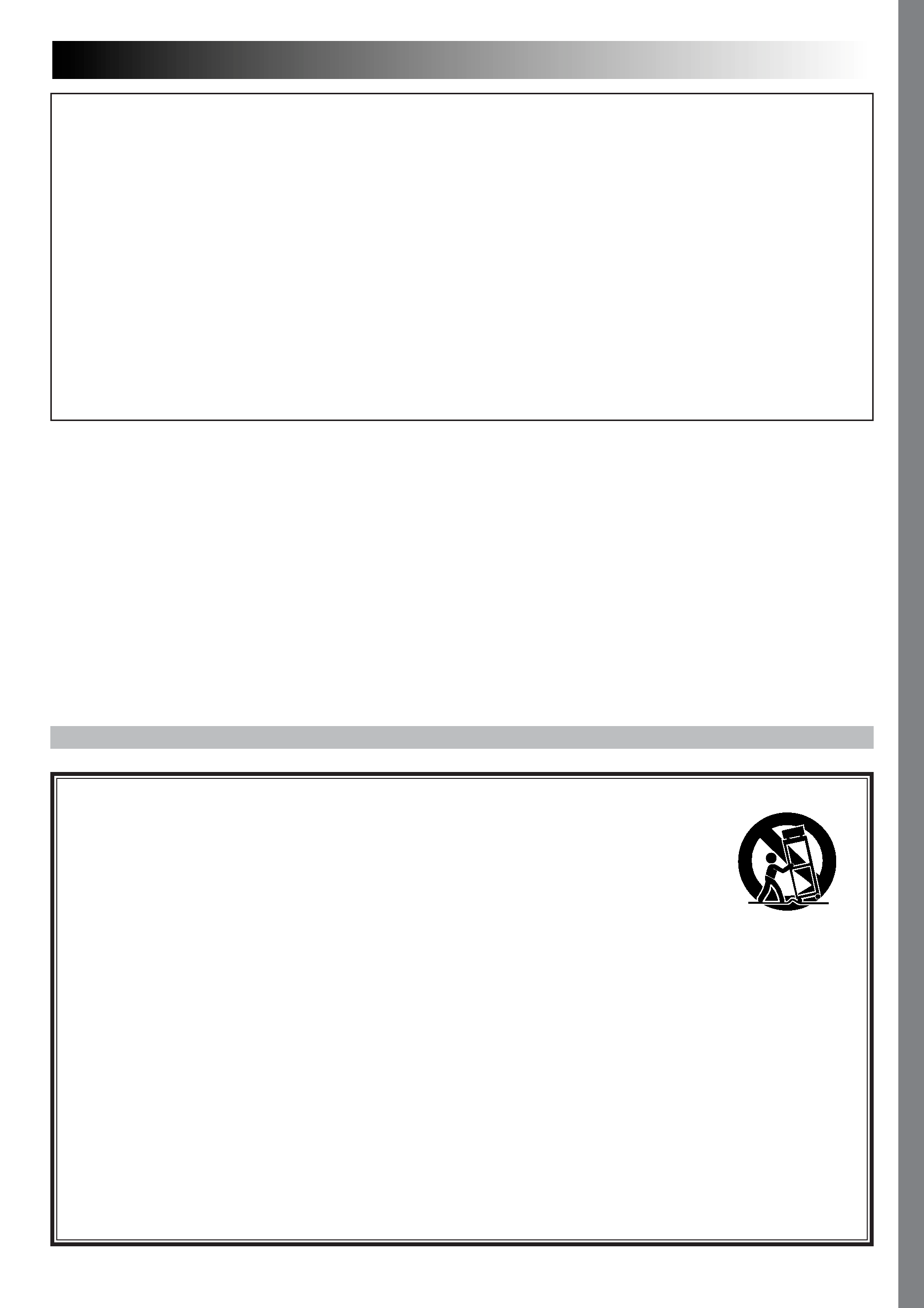 When the equipment is installed in a cabinet or on a shelf, make sure that it has sufficient space on all
sides to allow for ventilation (10 cm (3-15/16") or more on both sides, on top and at the rear).
Do not block the ventilation holes.
(If the ventilation holes are blocked by a newspaper, or cloth etc. the heat may not be able to get out.)
No naked flame sources, such as lighted candles, should be placed on the apparatus.
When discarding batteries, environmental problems must be considered and the local rules or laws
governing the disposal of these batteries must be followed strictly.
The apparatus shall not be exposed to dripping or splashing.
Do not use this equipment in a bathroom or places with water.
Also do not place any containers filled with water or liquids (such as cosmetics or medicines, flower vases,
potted plants, cups etc.) on top of this unit.
(If water or liquid is allowed to enter this equipment, fire or electric shock may be caused.)
IMPORTANT SAFETY INSTRUCTIONS
(1) Read these instructions.
(2) Keep these instructions.
(4) Follow all instructions.
(5) Do not use this apparatus near water.
(6) Clean only with dry cloth.
(7) Do not block any ventilation openings.
Install in accordance with the
manufacturer's instructions.
(8) Do not install near any heat sources such
as radiators, heat registers, stoves, or other
apparatus (including amplifiers) that
(9) Only use attachments/accessories specified
(10) Use only with the cart,
stand, tripod, bracket, or
manufacturer, or sold with
cart is used, use caution
apparatus combination to avoid injury from
(11) Unplug this apparatus during lightning
storms or when unused for long periods of
(12) Refer all servicing to qualified service
personnel. Servicing is required when the
apparatus has been damaged in any way,
such as power-supply cord or plug is
damaged, liquid has been spilled or objects
have fallen into the apparatus, the apparatus
has been exposed to rain or moisture, does
not operate normally, or has been dropped.
---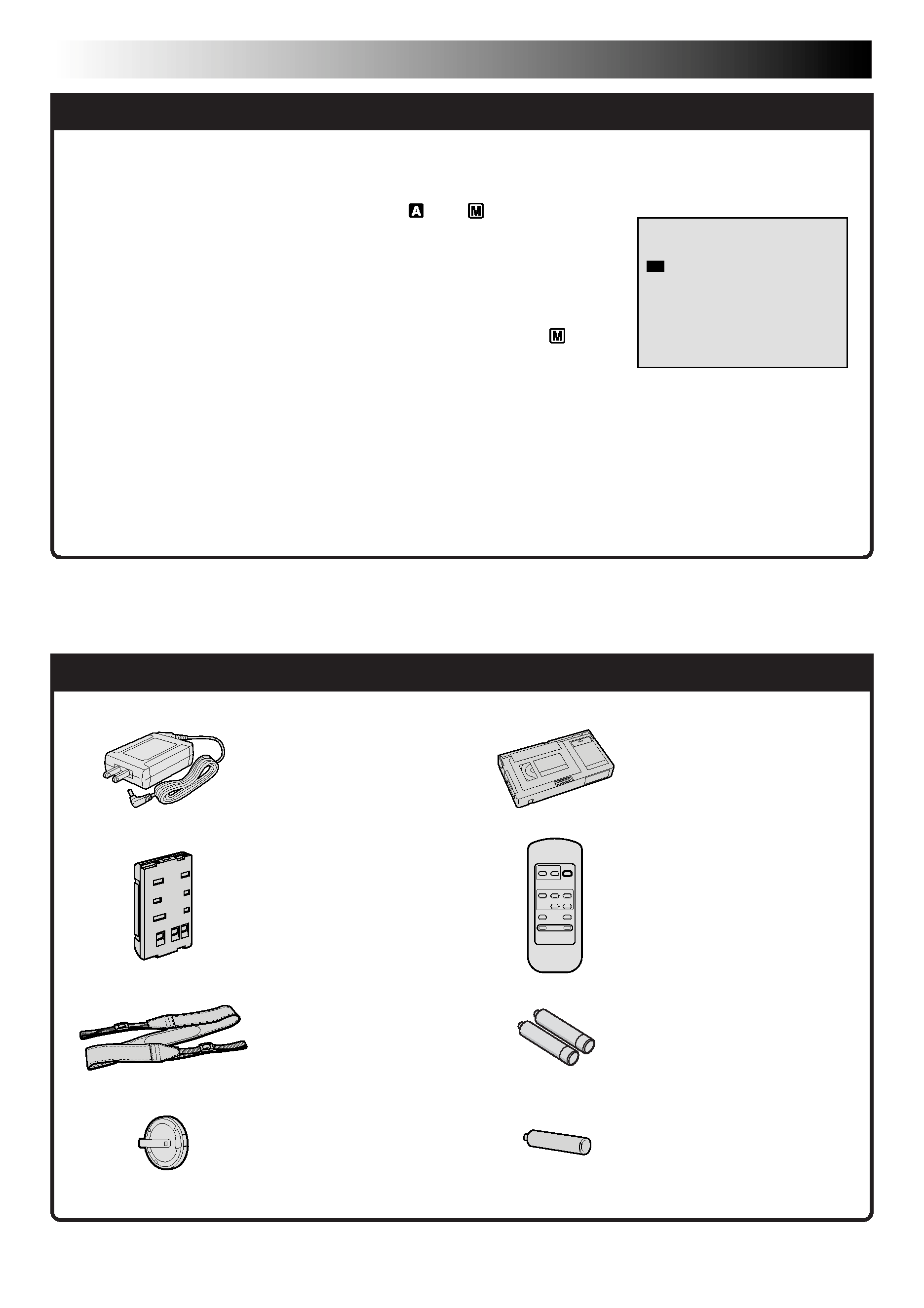 Automatic Demonstration takes place when "DEMO MODE" is set to "ON"
Available when the Power Switch is set to "
Operating the Power Zoom Lever during the demonstration stops the
demonstration temporarily. If the Power Zoom Lever is not moved for
more than 1 minute after that, the demonstration will resume.
"DEMO MODE" remains "ON" even if the camcorder power is turned
To cancel Automatic Demonstration, set the Power Switch to "
press the MENU Wheel in while the demo is in progress. This takes you
directly to the demo mode's Setting Menu (so you will not have to go
through the main Menu Screen). Rotate the MENU Wheel to select
When a tape whose Erase Protection tab is in the position that allows recording is loaded in the
camcorder, demonstration is not available.
If you do not detach the Lens Cap, you cannot see the actual changes of the Automatic Demonstration
activated on the LCD monitor or viewfinder.
(for Remote Control Unit,
---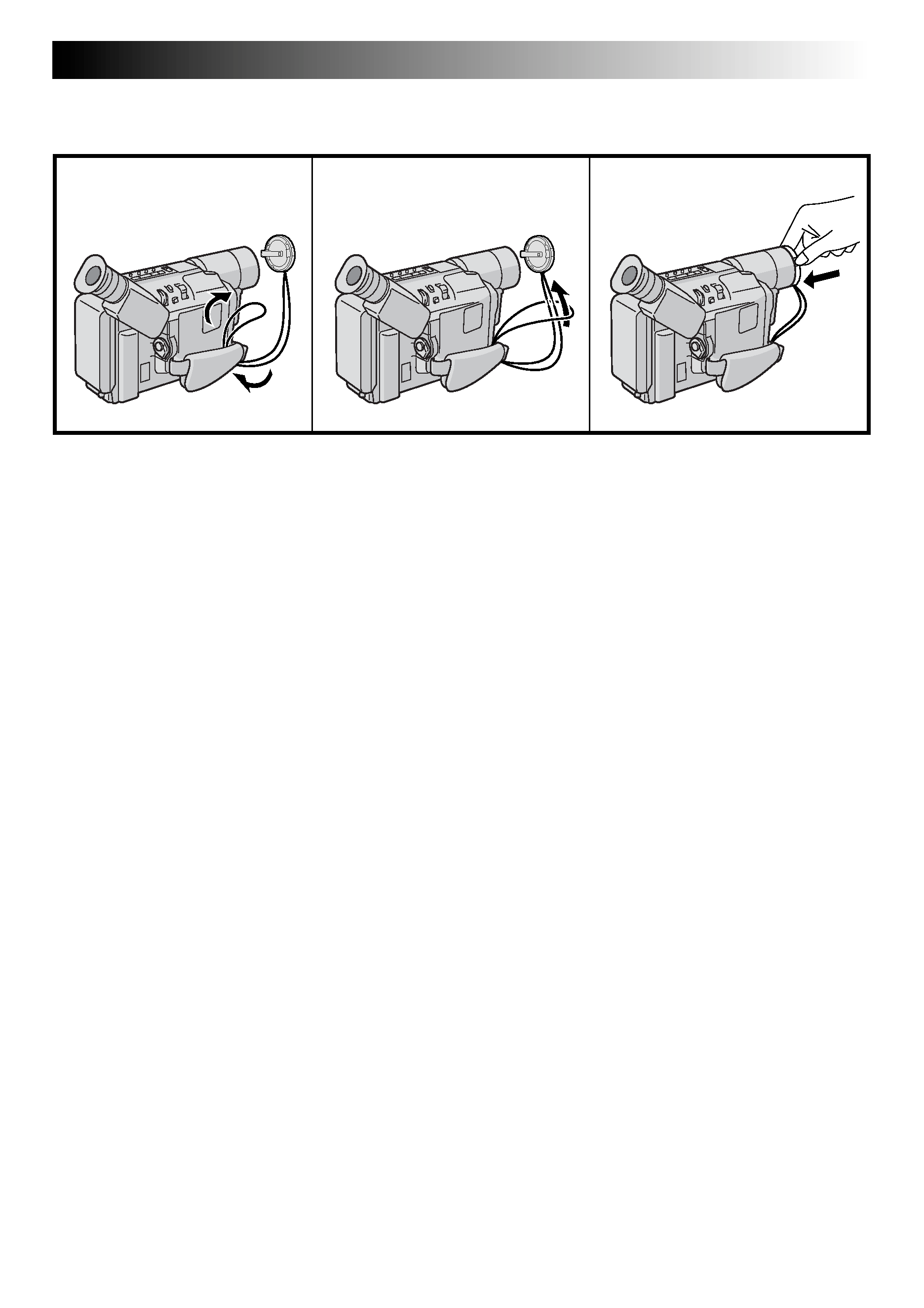 How To Attach The Lens Cap
To protect the lens, attach the provided lens cap to the camcorder as shown in the illustration.
---