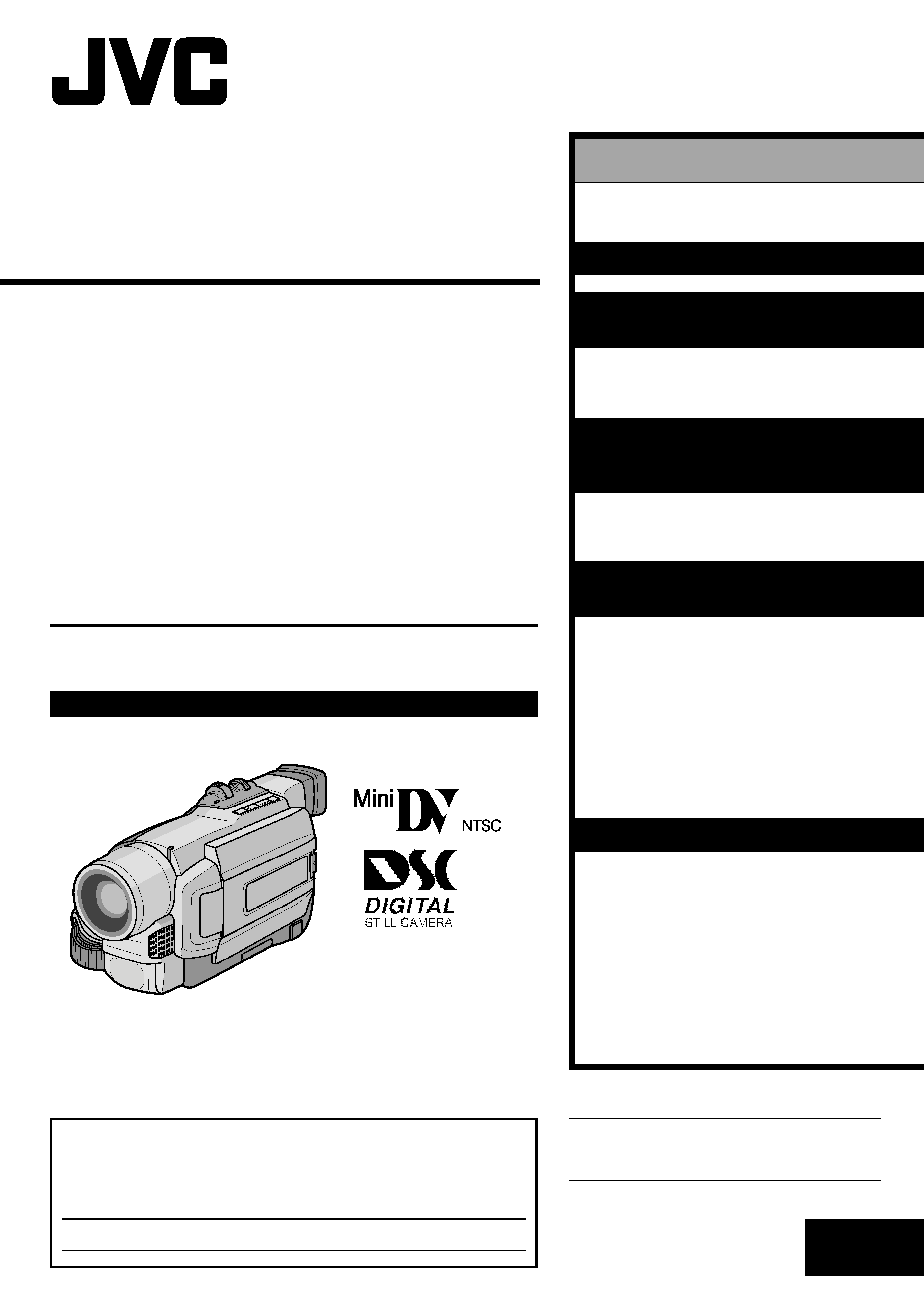 The D.S.C. (Digital Still Camera) features
are available on GR-DVL915, GR-DVL815
Enter below the Model No. and Serial No. which is located on the
bottom of cabinet. Retain this information for future reference.
Please visit our Homepage on the World Wide Web and
answer our Consumer Survey (in English only):
http://www.jvc-victor.co.jp/english/index-e.html
VIDEO RECORDING ............ 16 ­ 20
VIDEO PLAYBACK .............. 21 ­ 24
DIGITAL STILL CAMERA (D.S.C.)
D.S.C. RECORDING ............ 26 ­ 27
D.S.C. PLAYBACK .............. 28 ­ 36
FOR RECORDING ................ 38 ­ 45
DETAILED ADJUSTMENT ...... 46 ­ 51
DUBBING ......................... 52 ­ 55
CONTROL UNIT ................ 56 ­ 67
SYSTEM CONNECTIONS ........ 68 ­ 69
DETAILS ................................... 71
TROUBLESHOOTING ............ 72 ­ 76
USER MAINTENANCE ................... 77
INDEX ............................. 78 ­ 84
CAUTIONS ........................ 85 ­ 87
TERMS ............................ 88 ­ 89
SPECIFICATIONS ................. 90 ­ 91
The camcorder illustrations
appearing in this instruction
manual are of the GR-DVL915.
---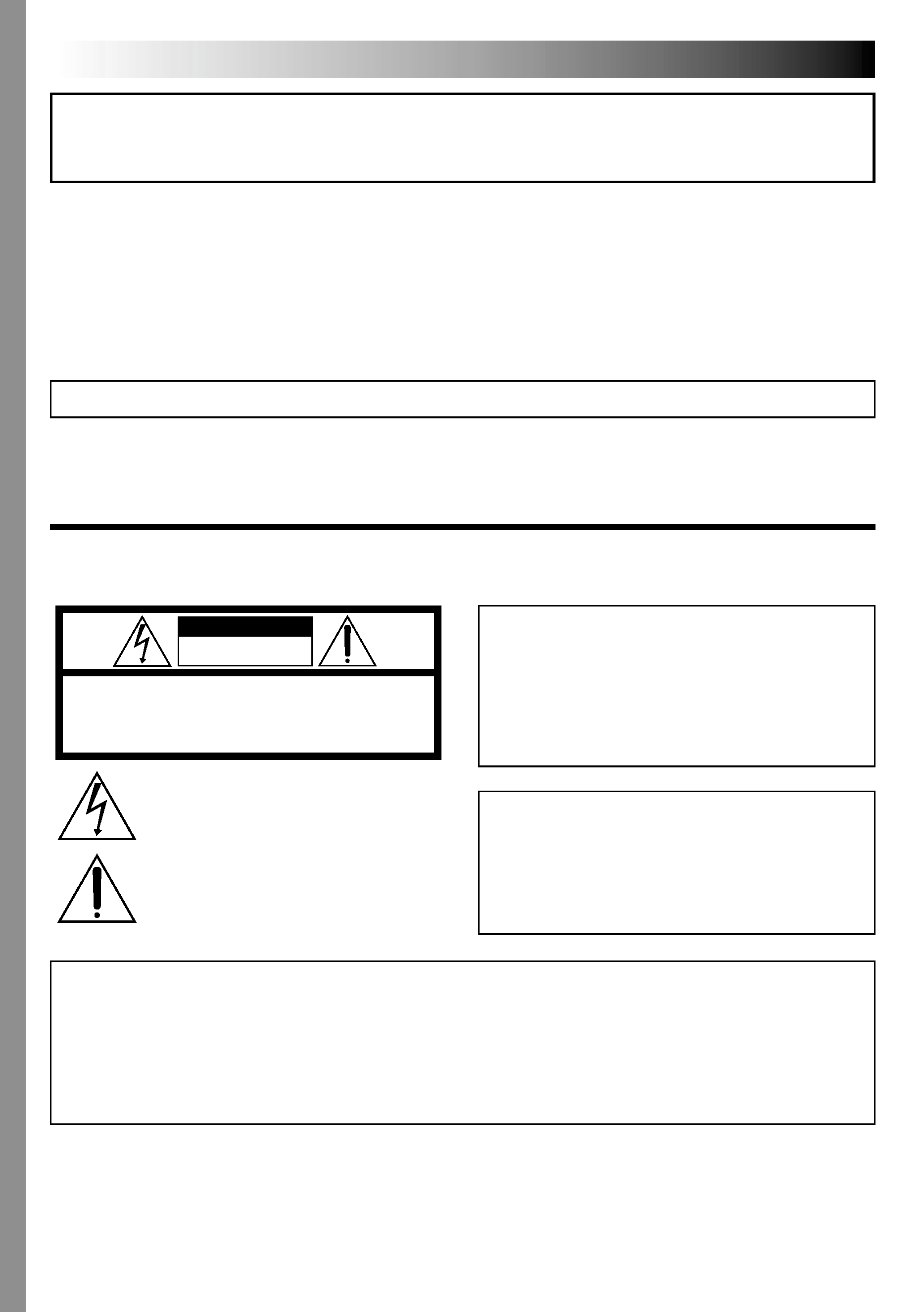 This camcorder is designed to be used with NTSC-type color television signals. It cannot be used for
playback with a television of a different standard. However, live recording and LCD monitor/viewfinder
playback are possible anywhere.
Use the JVC BN-V408U/V416U/V428U battery packs and, to recharge them or to supply power to the
camcorder from an AC outlet, use the provided multi-voltage AC Adapter. (An appropriate conversion
adapter may be necessary to accommodate different designs of AC outlets in different countries.)
Using This Instruction Manual
·All major sections and subsections are listed in the Table Of Contents on the cover page.
·Notes appear after most subsections. Be sure to read these as well.
·Basic and advanced features/operation are separated for easier reference.
It is recommended that you . . .
.... refer to the Index (
pgs. 78 ­ 84) and familiarize yourself with button locations, etc. before use.
.... read thoroughly the Safety Precautions and Safety Instructions that follow. They contain extremely
important information regarding the safe use of this product.
TO REDUCE THE RISK OF ELECTRIC SHOCK,
DO NOT REMOVE COVER (OR BACK).
NO USER-SERVICEABLE PARTS INSIDE.
REFER SERVICING TO QUALIFIED SERVICE PERSONNEL.
The lightning flash with arrowhead symbol, within an
equilateral triangle, is intended to alert the user to the
presence of uninsulated "dangerous voltage" within the
product's enclosure that may be of sufficient magnitude
to constitute a risk of electric shock to persons.
The exclamation point within an equilateral triangle is
intended to alert the user to the presence of important
operating and maintenance (servicing) instructions in
the literature accompanying the appliance.
You are recommended to carefully read the cautions on pages 85 through 87 before use.
The rating plate (serial number plate) and safety
caution are on the bottom and/or the back of
The rating information and safety caution of the
AC Adapter are on its upper and lower sides.
TO REDUCE THE RISK OF FIRE
NOT EXPOSE THIS APPARATUS
Thank you for purchasing this digital video camera. Before use, please read the safety information and
precautions contained in the following pages to ensure safe use of this product.
---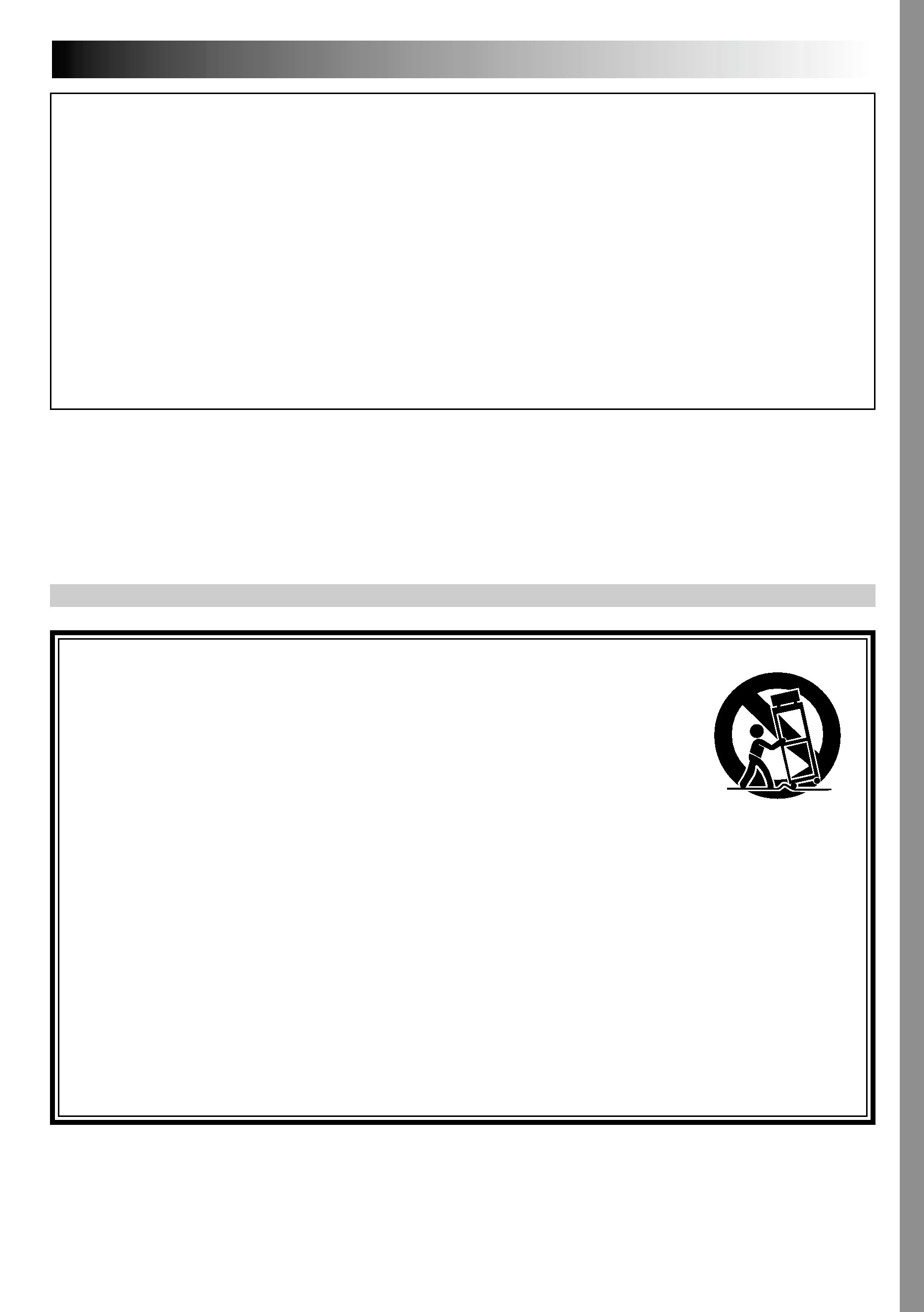 When the equipment is installed in a cabinet or on a shelf, make sure that it has sufficient space on all
sides to allow for ventilation (10 cm (3-15/16") or more on both sides, on top and at the rear).
Do not block the ventilation holes.
(If the ventilation holes are blocked by a newspaper, or cloth etc. the heat may not be able to get out.)
No naked flame sources, such as lighted candles, should be placed on the apparatus.
When discarding batteries, environmental problems must be considered and the local rules or laws
governing the disposal of these batteries must be followed strictly.
The apparatus shall not be exposed to dripping or splashing.
Do not use this equipment in a bathroom or places with water.
Also do not place any containers filled with water or liquids (such as cosmetics or medicines, flower vases,
potted plants, cups etc.) on top of this unit.
(If water or liquid is allowed to enter this equipment, fire or electric shock may be caused.)
IMPORTANT SAFETY INSTRUCTIONS
(1) Read these instructions.
(2) Keep these instructions.
(4) Follow all instructions.
(5) Do not use this apparatus near water.
(6) Clean only with dry cloth.
(7) Do not block any ventilation openings.
Install in accordance with the
manufacturer's instructions.
(8) Do not install near any heat sources such
as radiators, heat registers, stoves, or other
apparatus (including amplifiers) that
(9) Only use attachments/accessories specified
(10) Use only with the cart,
the cart/apparatus combination to avoid
(11) Unplug this apparatus during lightning
storms or when unused for long periods of
(12) Refer all servicing to qualified service
personnel. Servicing is required when the
apparatus has been damaged in any way,
such as power-supply cord or plug is
damaged, liquid has been spilled or objects
have fallen into the apparatus, the apparatus
has been exposed to rain or moisture, does
not operate normally, or has been dropped.
---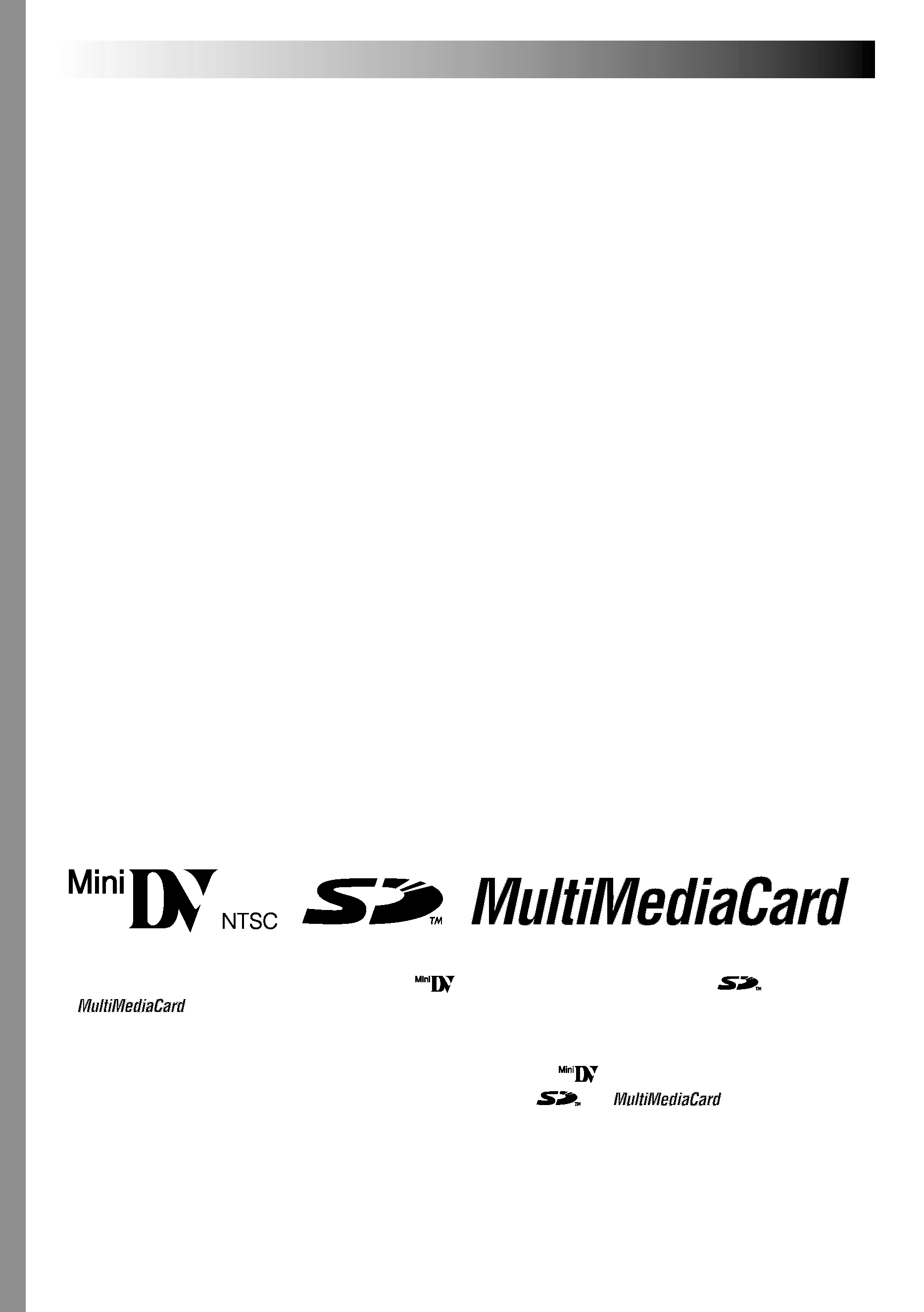 Do not point the lens or the viewfinder directly into the sun. This can cause eye injuries, as well as
lead to the malfunctioning of internal circuitry. There is also a risk of fire or electric shock.
The following notes concern possible physical damage to the camcorder and to the user.
When carrying, be sure to always securely attach and use the provided shoulder strap. Carrying
or holding the camcorder by the viewfinder and/or the LCD monitor can result in dropping the
unit, or in a malfunction.
Take care not to get your finger caught in the cassette holder cover. Do not let children operate the
camcorder, as they are particularly susceptible to this type of injury.
Do not use a tripod on unsteady or unlevel surfaces. It could tip over, causing serious damage to
Connecting cables (Audio/Video, S-Video, etc.) to the camcorder and leaving the unit on top of the
TV is not recommended, as tripping on the cables will cause the camcorder to fall, resulting in
This camcorder is designed exclusively for the digital video cassette, SD Memory Card and
MultiMediaCard. Only cassettes marked "
" and memory cards* marked "
" can be used with this unit.
Before recording an important scene . . .
.... make sure you only use cassettes with the Mini DV mark
.... make sure you only use memory cards* with the mark
.... remember that this camcorder is not compatible with other digital video formats.
.... remember that this camcorder is intended for private consumer use only. Any commercial use
without proper permission is prohibited. (Even if you record an event such as a show,
performance or exhibition for personal enjoyment, it is strongly recommended that you obtain
*Memory cards can be used with GR-DVL915/DVL815/DVL510 only.
---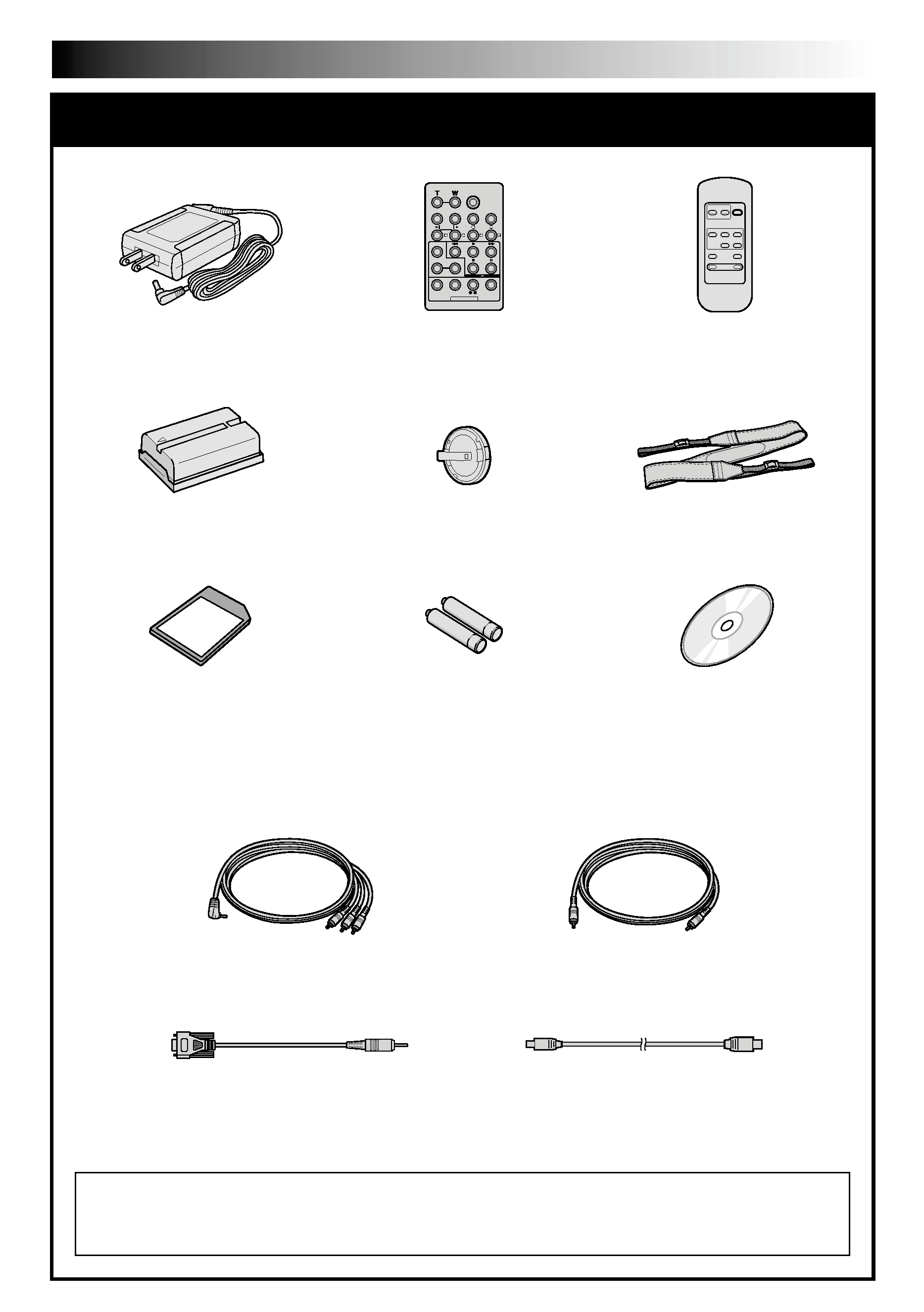 (for remote control unit)
(ø3.5 mini-plug to RCA plug)
In order to maintain optimum performance of the camcorder, provided cables may be equipped
with one or more core filter.
---