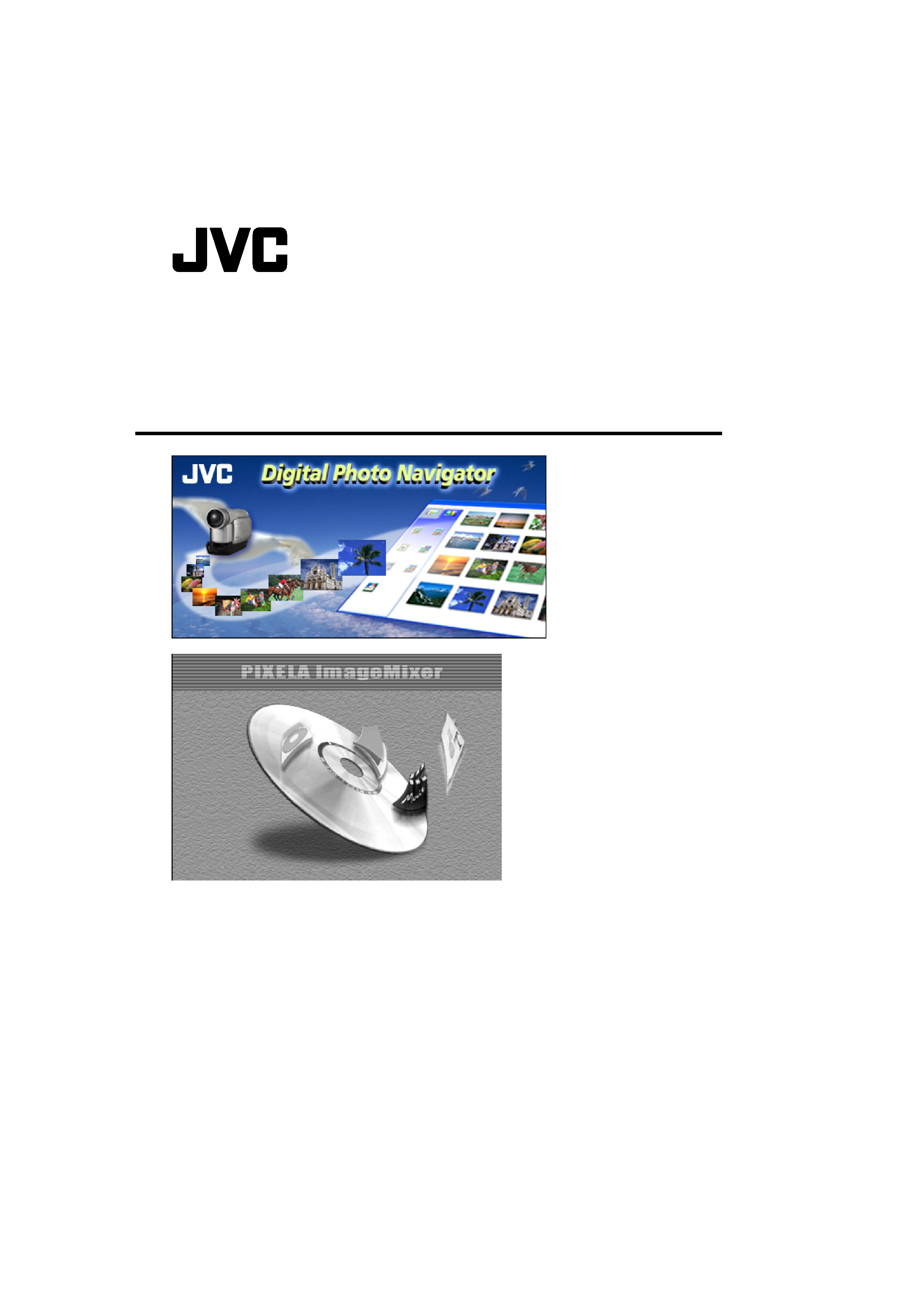 00M2D2(MEGA)-Cover.fm Page 2 Wednesday, December 26, 2001 11:09 AM
---

Master Page: Left-Heading0
M2D2(MEGA)-PhotoNaviTOC.fm
INTRODUCTION .......................................................................................... 5
Reading this document .................................................................................................. 5
Meanings of symbols .................................................................................................... 6
Copyrights ................................................................................................................... 6
ENDLESS POSSIBILITIES ............................................................................... 7
Digital Photo Navigator ................................................................................................ 7
PIXELA ImageMixer ...................................................................................................... 8
Loading Still Images (Windows
®) ........................... 9
ADDING STILL IMAGES TO AN ALBUM ....................................................... 10
EXITING DIGITAL PHOTO NAVIGATOR ....................................................... 12
Playing Back and Handling Images (Windows
LOADING AN ALBUM ................................................................................ 14
DISPLAYING STILL IMAGES ....................................................................... 15
Displaying a selected still image .................................................................................. 15
Displaying a series of images ...................................................................................... 15
Enlarging and reducing images ..................................................................................... 16
ORGANIZING ALBUMS ............................................................................. 17
Selecting multiple still images ...................................................................................... 17
Deleting unnecessary still images ................................................................................ 18
Copying still images .................................................................................................... 18
SENDING IMAGES FROM AN ALBUM IN E-MAIL ......................................... 19
CREATING A WEB PAGE ............................................................................ 20
CHANGING THE IMAGE SIZE OR PICTURE QUALITY .................................... 22
Changing the image size .............................................................................................. 22
Changing the picture quality, etc. ................................................................................. 23
RETRIEVING STILL IMAGES FROM AN ALBUM ............................................ 24
CREATING A LIST OF STILL IMAGES ........................................................... 25
CREATING A SLIDE SHOW OR AN ANIMATION ........................................... 26
---

M2D2(MEGA)-PhotoNaviTOC.fm
® and Macintosh) ................. 27
IMAGEMIXER ........................................................................................... 28
Capabilities ................................................................................................................ 28
For more detailed information ..................................................................................... 29
PIXELA User Support Center ........................................................................................ 29
CAPTURING VIDEO ................................................................................... 30
Capturing video in real time ........................................................................................ 30
Capturing video from tape (Windows® only) ................................................................ 32
MANAGING FILES ..................................................................................... 34
EDITING VIDEO ........................................................................................ 35
Appendix ............................................................ 37
CONDUCTING A VIDEO CONFERENCE OVER THE INTERNET .......................... 38
Using Windows® NetMeeting® (Windows® Only) ......................................................... 38
Using iVisit ................................................................................................................ 40
LOADING FILES FROM A MEMORY CARD THROUGH AN ADAPTER .............. 41
TROUBLESHOOTING ................................................................................. 42
INDEX ...................................................................................................... 45
---

M2D2(MEGA)-PhotoNaviTOC.fm
You can find the latest information (in English) on the provided software program at our world wide web
server at http://www.jvc-victor.co.jp/english/index-e.html
Microsoft
®
and Windows
®
are either registered trademarks or trademarks of Microsoft Corporation in the
United States and/or other countries.
Macintosh is a registered trademark of Apple Computer, Inc.
Other product and company names included in this instruction manual are trademarks and/or registered
trademarks of their respective holders.
Operate this equipment according to the operating procedures described in this manual.
Use only the provided CD-ROM. Never use any other CD-ROM to run this software.
Do not attempt to modify this software.
Changes or modifications not approved by JVC could void user's authority to operate the equipment.
Take care not to soil or scratch the mirror surface (opposite to the printed surface). Do not write anything
or put a sticker on either the front or back surface. If the CD-ROM gets dirty, gently wipe it with a soft
cloth outward from the center hole using a circular motion.
Do not use conventional disc cleaners or cleaning spray.
Do not bend the CD-ROM or touch its mirror surface.
Do not store your CD-ROM in a dusty, hot or humid environment. Keep it away from direct sunlight.
---

Master Page: Right-Heading0
02M2D2(MEGA)-PhotoNavi.fm
This document consists of the following three sections and an Appendix.
Before use, please read the Software Installation and USB Connection Guide for preparation.
Loading Still Images (Windows
®
)
This section explains how to load still images into the album of the Digital Photo Navigator software.
Playing Back and Handling Images (Windows
®
)
This section explains how to handle still images using the Digital Photo Navigator software. You can send still
images by e-mail and store an album as a web page.
ImageMixer (Windows
®
and Macintosh)
This section introduces the ImageMixer software. In addition to capturing still images and creating albums,
ImageMixer is used for a variety of other functions, including color and brightness adjustment, and capturing
videos through a USB cable or a DV cable. For details, refer to the ImageMixer online help.
This appendix explains how to use a camcorder to hold a video conference over the Internet and how to load
images into the PC that does not have a USB connector. This appendix also contains troubleshooting and
02M2D2(MEGA)-PhotoNavi.fm Page 5 Wednesday, December 26, 2001 3:39 PM
---