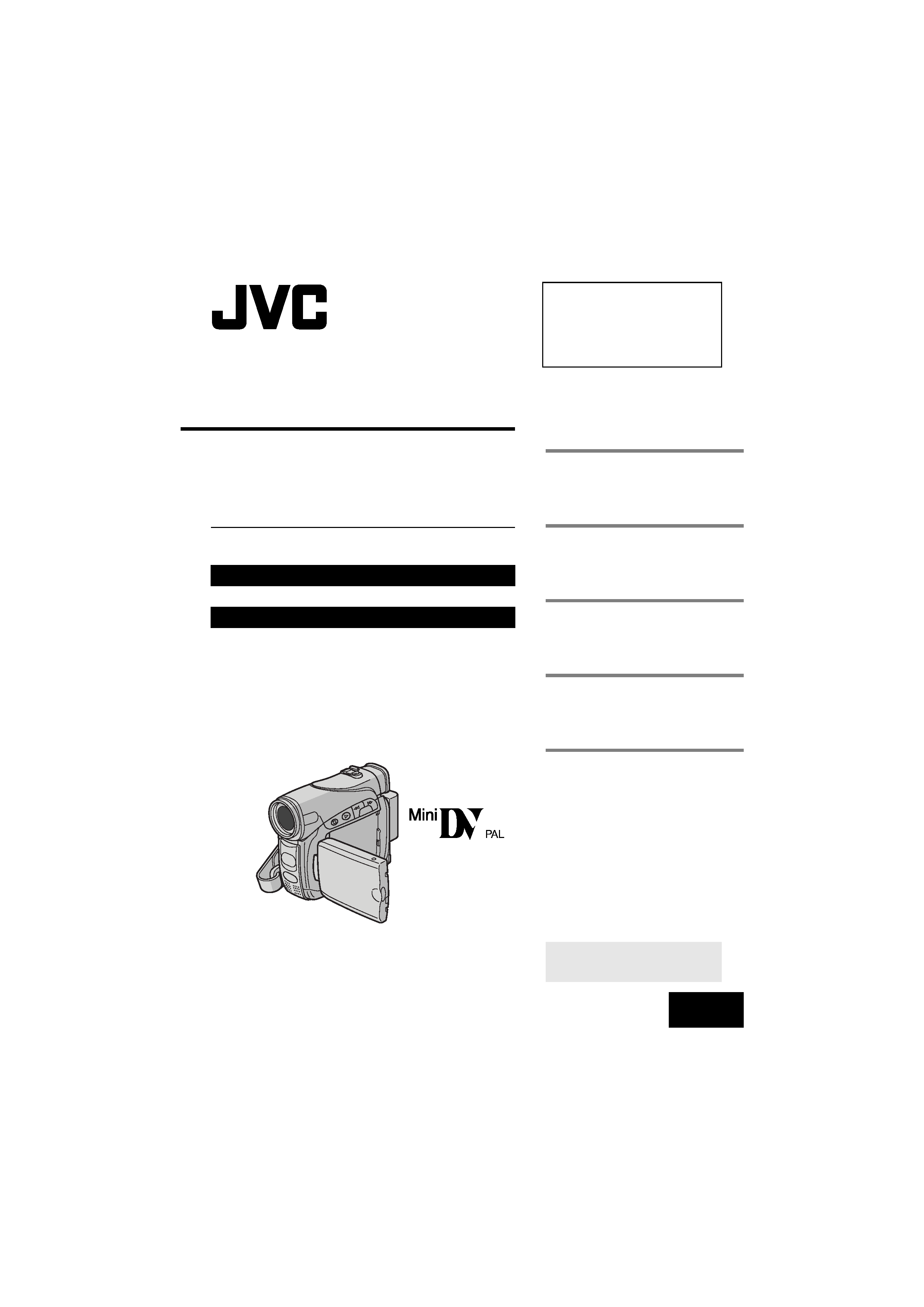 Thank you for purchasing this digital
video camera. Before use, please
read the safety information and
precautions contained in the pages
3 ­ 4 and 9 to ensure safe use of this
Please visit our Homepage on the World Wide Web for
http://www.jvc.co.jp/english/cyber/
http://www.jvc.co.jp/english/accessory/
To deactivate the demonstration,
set "DEMO MODE" to "OFF".
GR-D250AA_AG_AH_AS.book Page 1 Friday, November 19, 2004 4:29 PM
---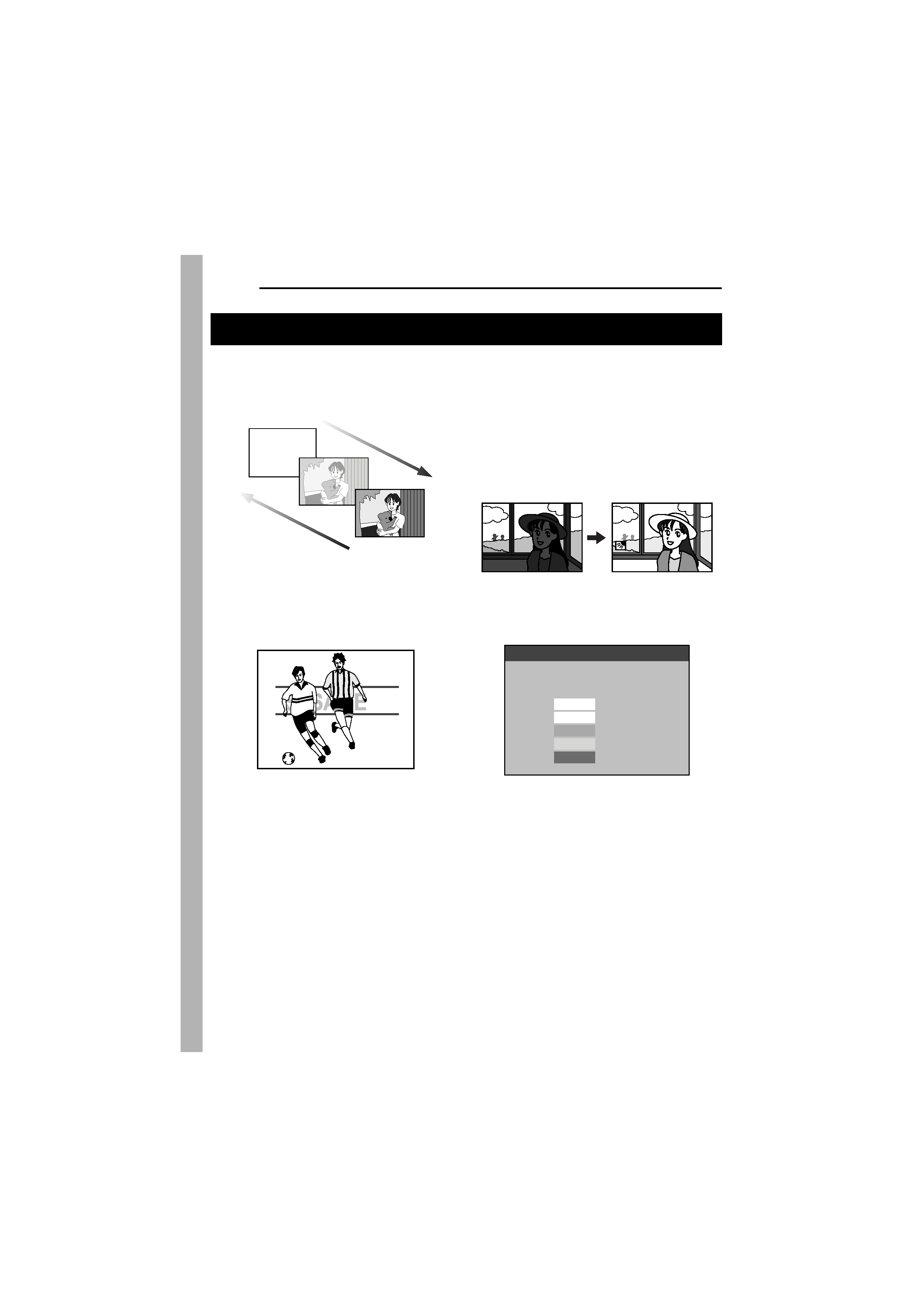 You can use the Wipe/Fader Effects to make
pro-style scene transitions. (
Program AE with Special Effects
For example, "SPORTS" mode allows fast-
moving images to be captured one frame at a
time, for vivid, stable slow-motion. (
Simply pressing the BACK LIGHT button
brightens the image darkened by backlight.
You can also select a spot metering area so
that more precise exposure compensation
You can check the battery status by simply
pressing the DATA button. (
Major Features of this Camcorder
GR-D250AA_AG_AH_AS.book Page 2 Friday, November 19, 2004 4:29 PM
---

WARNING: TO PREVENT FIRE OR SHOCK
HAZARD, DO NOT EXPOSE THIS UNIT TO
If you notice smoke or a peculiar smell coming
from the camcorder or AC Adapter, shut it down
and unplug it immediately. Continue using the
camcorder or AC Adapter under these
conditions could lead to fire or electric shock.
Contact your JVC dealer. Do not attempt to
repair the malfunction yourself.
To prevent shock, do not open the cabinet. No
user serviceable parts inside. Refer servicing to
When you are not using the AC Adapter for a
long period of time, it is recommended that you
disconnect the power cord from AC outlet.
This camcorder is designed to be used with
PAL-type colour television signals. It cannot be
used for playback with a television of a different
standard. However, live recording and LCD
monitor/viewfinder playback are possible
This product includes patented and other
proprietary technology and will operate only
with JVC Data Battery. Use the JVC
BN-VF707U/VF714U/VF733U battery packs
and, to recharge them or to supply power to the
camcorder from an AC outlet, use the provided
multi-voltage AC Adapter. (An appropriate
conversion adapter may be necessary to
accommodate different designs of AC outlets in
Caution on Replaceable lithium battery
The battery used in this device may present a fire
or chemical burn hazard if mistreated.
Do not recharge, disassemble, heat above 100°C
Replace battery with Panasonic (Matsushita
Electric), Sanyo, Sony or Maxell CR2025.
Danger of explosion or Risk of fire if the battery is
Dispose of used battery promptly.
Do not disassemble and do not dispose of in
The rating plate (serial number plate) and
safety caution are on the bottom and/or the
The rating information and safety caution of the
AC Adapter are on its upper and lower sides.
When the equipment is installed in a cabinet or on
a shelf, make sure that it has sufficient space on
all sides to allow for ventilation (10 cm or more on
both sides, on top and at the rear).
Do not block the ventilation holes.
(If the ventilation holes are blocked by a
newspaper, or cloth etc. the heat may not be able
No naked flame sources, such as lighted candles,
should be placed on the apparatus.
When discarding batteries, environmental
problems must be considered and the local rules
or laws governing the disposal of these batteries
must be followed strictly.
The apparatus shall not be exposed to dripping or
Do not use this equipment in a bathroom or
Also do not place any containers filled with water
or liquids (such as cosmetics or medicines, flower
vases, potted plants, cups etc.) on top of this unit.
(If water or liquid is allowed to enter this
equipment, fire or electric shock may be caused.)
GR-D250AA_AG_AH_AS.book Page 3 Friday, November 19, 2004 4:29 PM
---

Do not point the lens or the viewfinder directly into
the sun. This can cause eye injuries, as well as
lead to the malfunctioning of internal circuitry.
There is also a risk of fire or electric shock.
The following notes concern possible physical
damage to the camcorder and to the user.
When carrying, be sure to always securely attach
and use the provided strap. Carrying or holding
the camcorder by the viewfinder and/or the LCD
monitor can result in dropping the unit, or in a
Take care not to get your finger caught in the
cassette holder cover. Do not let children operate
the camcorder, as they are particularly
susceptible to this type of injury.
Do not use a tripod on unsteady or unlevel
surfaces. It could tip over, causing serious
Connecting cables (Audio/Video, S-Video, etc.) to
the camcorder and leaving it on top of the TV is
not recommended, as tripping on the cables will
cause the camcorder to fall, resulting in damage.
GR-D250AA_AG_AH_AS.book Page 4 Friday, November 19, 2004 4:29 PM
---

MasterPage: TOC_Heading0_Right
Index ................................................................. 6
Provided Accessories ..................................... 10
Power.............................................................. 11
Operation Mode .............................................. 13
Language Settings.......................................... 14
Date/Time Settings ......................................... 14
Grip Adjustment .............................................. 14
Viewfinder Adjustment .................................... 15
Brightness Adjustment Of The Display ........... 15
Tripod Mounting.............................................. 15
Loading/Unloading A Cassette ....................... 16
VIDEO RECORDING & PLAYBACK
VIDEO RECORDING ........................................... 17
Basic Recording.............................................. 17
Tape Remaining Time ................................ 17
LCD Monitor And Viewfinder ...................... 18
Zooming...................................................... 18
Journalistic Shooting .................................. 19
Time Code .................................................. 19
Quick Review.............................................. 19
Recording From The Middle Of A Tape...... 19
VIDEO PLAYBACK ............................................. 20
Normal Playback............................................. 20
Still Playback .............................................. 20
Shuttle Search ............................................ 20
Blank Search .............................................. 20
Connections To A TV Or VCR ........................ 21
MENUS FOR DETAILED ADJUSTMENT.................. 22
Changing The Menu Settings ......................... 22
Recording Menus............................................ 23
Playback Menus ............................................. 26
FEATURES FOR RECORDING............................... 28
5-Second Recording ....................................... 28
Night-Scope .................................................... 28
Snapshot (For Video Recording) .................... 29
Manual Focus ................................................. 29
Exposure Control ............................................ 30
Iris Lock .......................................................... 30
Backlight Compensation ................................. 31
Spot Exposure Control.................................... 31
White Balance Adjustment.............................. 32
Manual White Balance Adjustment................. 32
Wipe Or Fader Effects .................................... 33
Program AE With Special Effects ................... 34
EDITING............................................................ 35
Dubbing To A VCR ......................................... 35
Dubbing To Or From A Video Unit Equipped With
A DV Connector (Digital Dubbing) .............. 36
Connection To A Personal Computer ............. 37
TROUBLESHOOTING .......................................... 38
USER MAINTENANCE......................................... 42
CAUTIONS ........................................................ 43
SPECIFICATIONS................................................ 46
GR-D250AA_AG_AH_03Toc.fm Page 5 Wednesday, November 24, 2004 12:15 PM
---