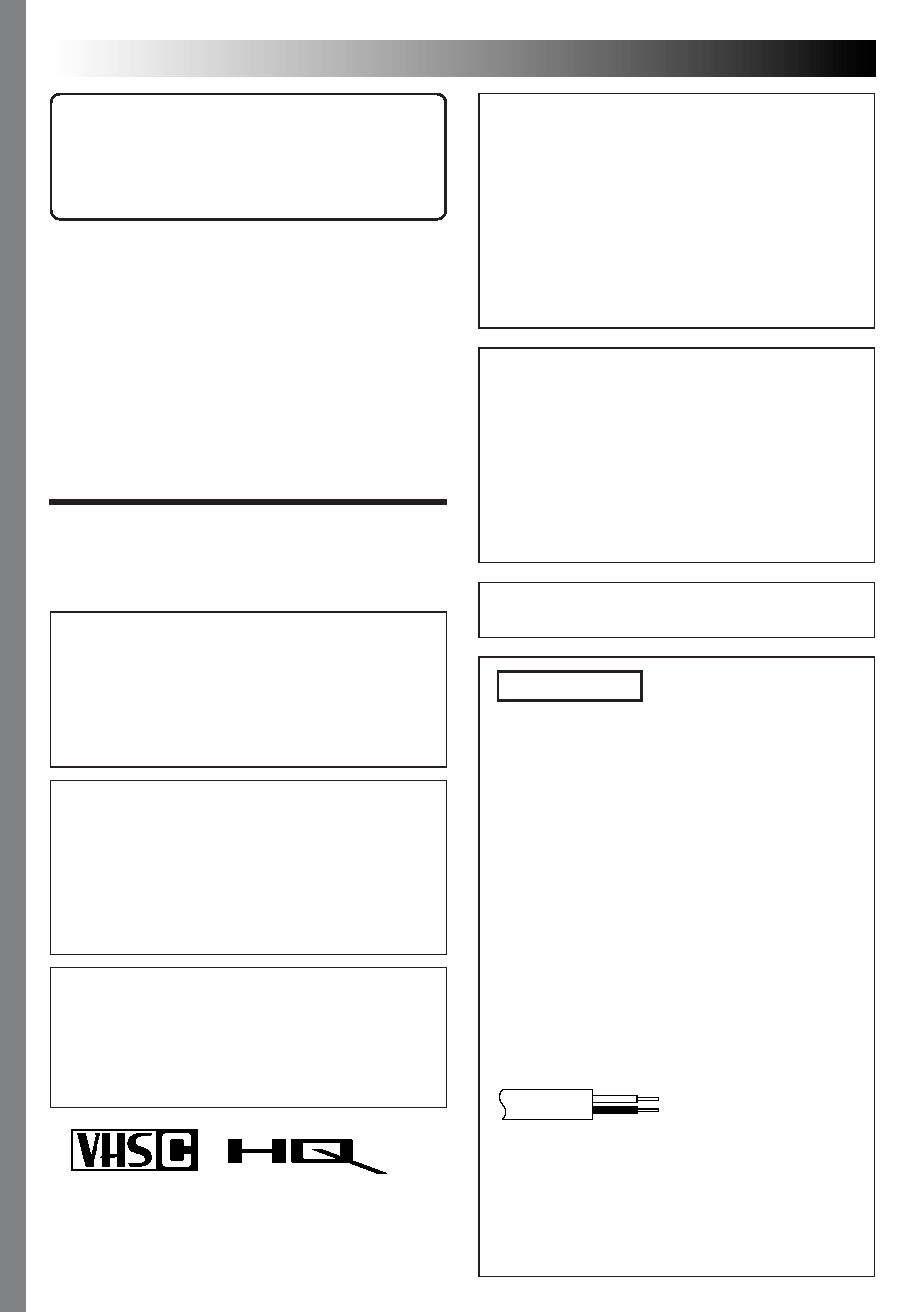 Thank you for purchasing the JVC Compact VHS
camcorder. Before use, please read the safety
information and precautions contained in the
following pages to ensure safe use of your new
Warning on lithium battery
The battery used in this device may present a fire
or chemical burn hazard if mistreated. Do not
recharge, disassemble, heat above 100°C or
Replace the battery with Maxell, Panasonic
(Matsushita Electric), Sanyo or Sony CR2025; use
of another battery may present a risk of fire or
Dispose of used battery promptly.
Do not disassemble and do not dispose of in fire.
Camcorder is designed exclusively for the VHS-C
video cassette. Only cassettes marked VHS-C can
HQ VHS is compatible with existing VHS
Using This Instruction Manual
· All major sections and subsections are listed in the
· Notes appear after most subsections. Be sure to read
· Basic and advanced features/operation are separated
It is recommended that you . . .
..... refer to the Index (
pg. 42 ­ 44) and familiarize
yourself with button locations, etc. before use.
..... read thoroughly the Safety Precautions that follow
pg. 45, 46). They contain
extremely important information regarding the safe
use of your new camcorder.
To prevent shock, do not open the cabinet. No
user serviceable parts inside. Refer servicing to
When you are not using the AC Power Adapter/
Battery charger for a long period of time, it is
recommended that you disconnect the power
This camcorder is designed to be used with PAL-
type colour television signals. It cannot be used for
playback with a television of a different standard.
However, live recording and LCD monitor/
viewfinder playback are possible anywhere. Use
the BN-V12U/V22U/V25U battery packs and, to
recharge them, the provided multi-voltage AC
Power Adapter/Charger. (An appropriate conver-
sion adapter may be necessary to accommodate
different designs of AC outlets in different
The rating plate (serial number plate) and safety
caution are on the bottom and/or the back of the
The rating plate (serial number plate) of the AC
Power Adapter/Charger is on its bottom.
This unit is produced to comply with Standard IEC
Connection to the mains supply in the United
DO NOT cut off the mains plug from this
equipment. If the plug fitted is not suitable for the
power points in your home or the cable is too short
to reach a power point, then obtain an appropriate
safety approved extension lead or consult your
BE SURE to replace the fuse only with an identical
approved type, as originally fitted, and to replace
If nonetheless the mains plug is cut off ensure to
remove the fuse and dispose of the plug immedi-
ately, to avoid a possible shock hazard by
inadvertent connection to the mains supply.
If this product is not supplied fitted with a mains
plug then follow the instructions given below:
DO NOT make any connection to the Larger
Terminal coded E or Green.
The wires in the mains lead are coloured in
accordance with the following code:
Blue to N (Neutral) or Black
If these colours do not correspond with the
terminal identifications of your plug, connect as
Blue wire to terminal coded N (Neutral) or
Brown wire to terminal coded L (Live) or coloured
If in doubt -- consult a competent electrician.
---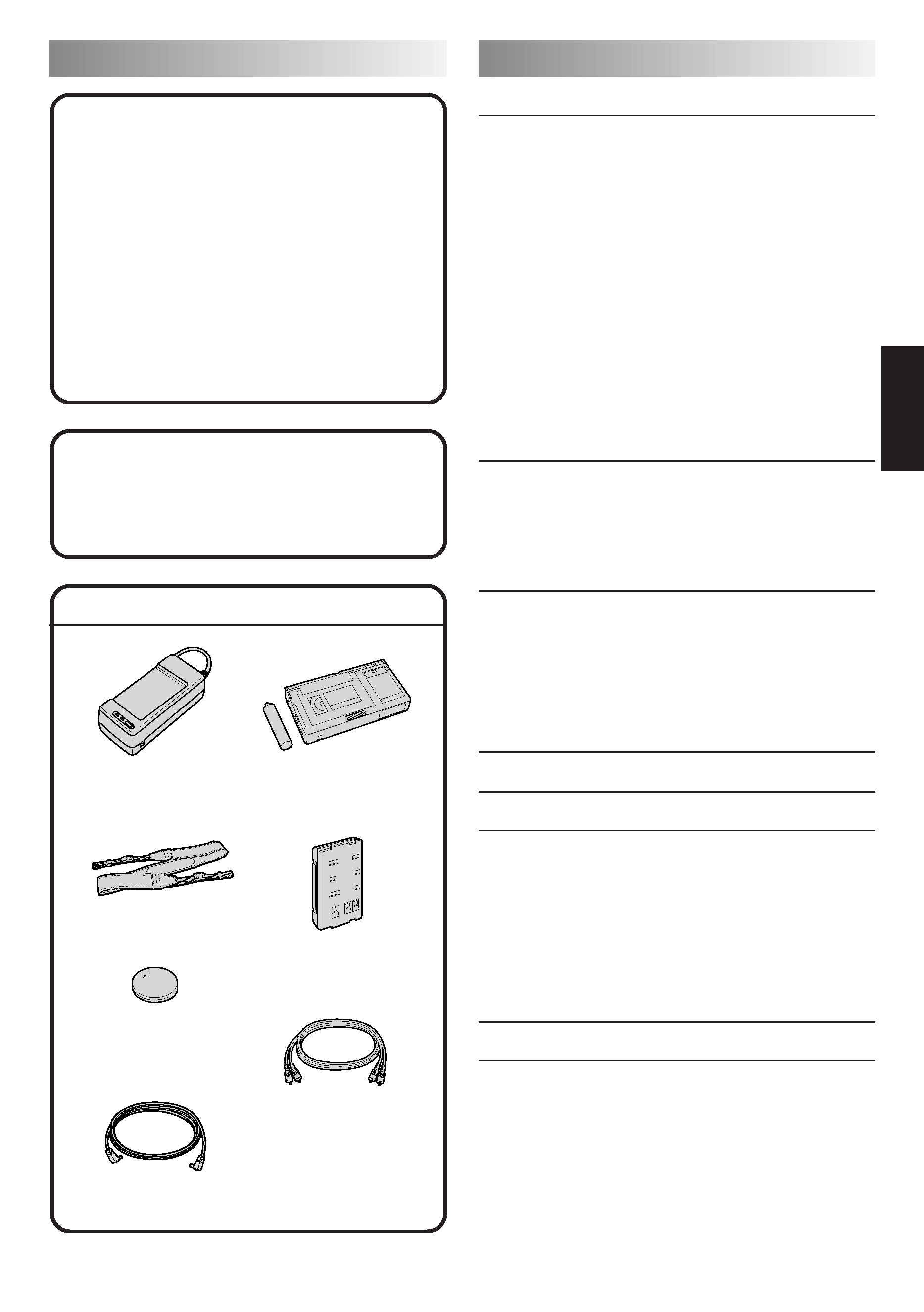 Programme AE with Special Effects
·Auto Mode Lock ·Auto Mode Release
·Electronic Fog Filter ·ND Effect
·1/1000 sec. High Speed Shutter
·1/2000 sec. High Speed Shutter
5Sec.-Rec (5 sec. Recording)
Power .............................................. 4
Clock (Lithium) Battery Insertion/Removal ..... 6
Date/Time Setting ................................ 7
Tape Length Setting ............................... 8
Recording Mode Setting .......................... 8
Loading/Unloading A Cassette .................. 9
Grip Adjustment ................................. 10
Viewfinder Adjustment ......................... 10
Shoulder Strap Attachment .................... 11
Tripod Mounting ................................. 11
Basic Recording ................................. 12
Basic Features .................................. 16
Advanced Features ............................. 20
Basic Playback .................................. 34
Features ......................................... 35
Using The Cassette Adapter .................. 37
Basic Connections .............................. 38
Controls ......................................... 42
Connectors ...................................... 42
Indicators ........................................ 42
Other Parts ..................................... 42
LCD Monitor/Viewfinder Indications ........ 44
The only compact video cassettes that can be used with
---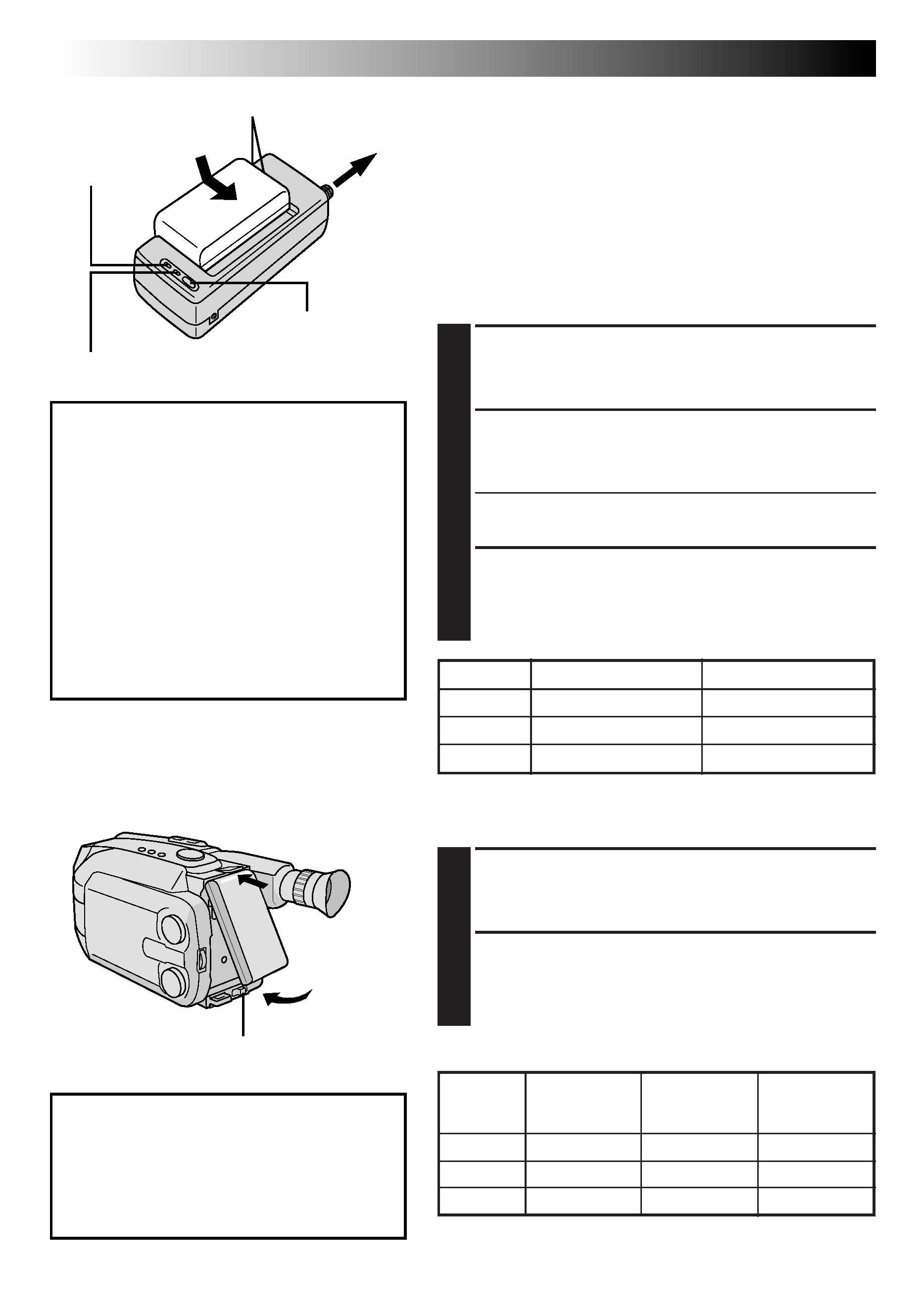 This camcorder's 3-way power supply system lets you
choose the most appropriate source of power.
No function is available without power supply.
Use only specified power supply.
Do not use provided power supply units with other
CHARGING THE BATTERY PACK
1
Connectthecharger's ACpowercordtoawall
2
Alignthemarksandslidethebatterypackinthe
direction of the arrow until it locks in place.
·The CHG. indicator begins blinking to indicate
3
WhentheCHG.indicatorstopsblinkingbutstayslit,
charging is finished. Slide the battery pack opposite
the direction of the arrow.
The AC power adapter features a REFRESH
function that allows you to fully discharge
the battery pack before recharging.
Perform the REFRESH function after no less
To discharge the battery . . .
..... attach the battery pack to the adapter
as shown in the above illustration.
Then push REFRESH. The REFRESH
indicator lights when discharging
starts, and goes out when discharging
BN-V12U approx. 1 hr. 10 min.
BN-V22U approx. 2 hrs. 10 min. approx. 7 hrs.
BN-V25U approx. 2 hrs. 40 min. approx. 10 hrs.
Before detaching the power source,
make sure that the camcorder's power
is turned off. Failure to do so can result
in a camcorder malfunction.
1
Hookitstopendtothecamcorderandpushthe
battery pack in until it locks in place.
2
SlideBATT.RELEASEandpulloutthebatterypack.
Approximate recording time (unit: min.)
Viewfinder off Viewfinder on Viewfinder on
---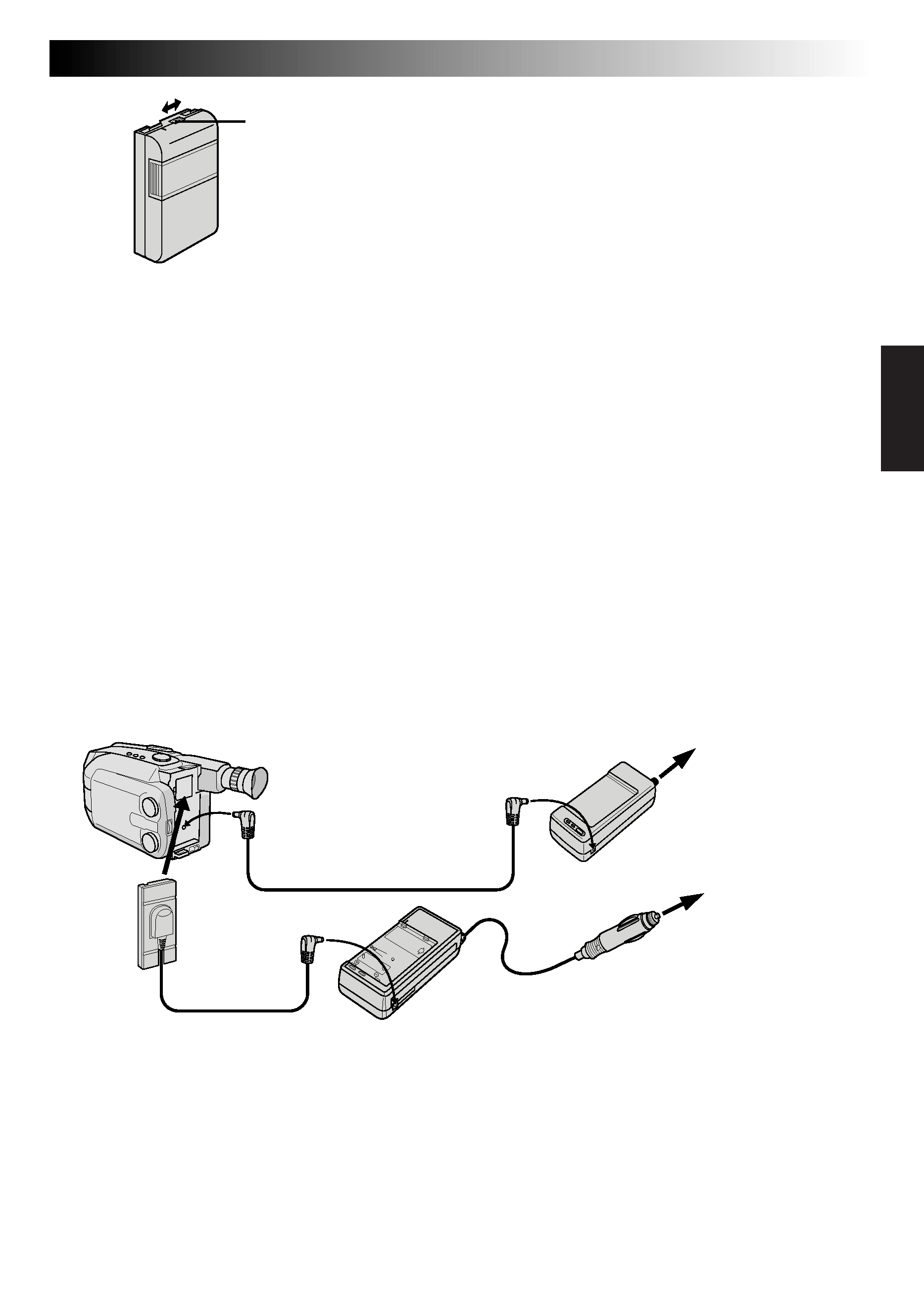 Car Battery Charger/Adapter
A charge marker is provided on the battery pack to
help you remember whether it has been charged or
not. Two colours are provided (red and black)--you
choose which one means charged and which
The recording time per charge is affected by such factors as the time spent in Record-Standby mode and
the frequency of zooming. It is safer to have spare battery packs.
Charging times noted on page 4 are for fully discharged battery pack, and discharging times are for fully
Charging and discharging times vary according to the ambient temperature and the status of the battery pack.
Remember to set the charge marker after charging a battery pack or after detaching a discharged one from
Perform the REFRESH function after no less than 5 chargings.
While the AC Power Adapter/Charger's power cord is disconnected from the AC outlet, it is possible to
discharge the battery by pressing the REFRESH switch. During that time, the AC Power Adapter/Charger
does not charge the battery. When disharging is complete, detach the battery from the AC Power Adapter/
High temperatures can damage the battery pack, so use only where good ventilation is available. Don't
allow it to discharge in container, such as a bag.
If you stop recharging or discharging part way through, make sure to remove the battery pack before
unplugging the adapter's AC cord.
Remove the battery pack from the adapter immediately after discharging.
To avoid interference with reception, do not use the AC Power Adapter/Charger near a radio.
Make sure you unplug the DC cord before charging or discharging the battery pack.
The CHG. indicator may not light properly with a brand new battery pack, or with one that's been stored
for an extended period. In this case, remove and reattach the battery pack and recharge it. The CHG.
indicator should blink during recharging. If not, contact your nearest JVC dealer.
Use the optional Car Battery Charger/Adapter
(connect as shown in the illustration above).
When using the car battery, leave the engine idling.
The optional Car Battery Charger (BH-V3E) can
also be used to charge the battery pack.
When using the optional Car Battery Charger,
refer to the respective instruction booklet.
Use the AC Power Adapter (connect as shown in
The supplied AC Power Adapter/Charger features
automatic voltage selection in the AC range from
---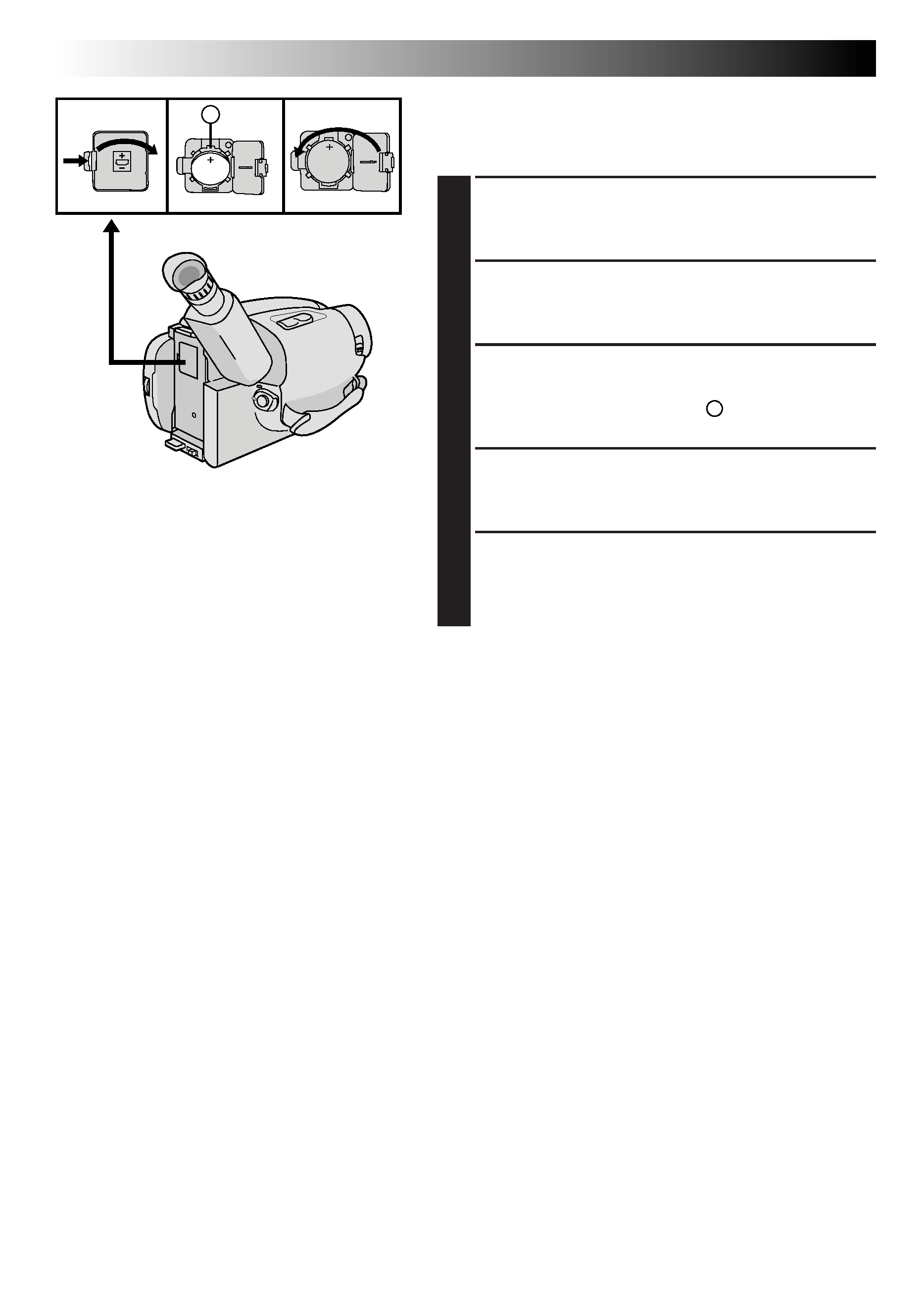 Clock (Lithium) Battery Insertion/Removal
This battery is necessary for clock operation and to
perform date/time settings.
1
Switchofftheunit'spowerandremovethepower
2
Opentheclockbatterycompartmentcoverwhile
pressing the release tab.
REMOVE BATTERY (when replacing)
3
Insertapointed,non-metallicobjectbetweenthe
battery and the compartment (
A
) and pull the
4
Ensurethattheplus(+)sideisupandinserta
CR2025 lithium battery and push it in.
5
Closethecompartmentcoveruntilitclicksinplace.
See "SAFETY PRECAUTIONS" (
on safe handling of lithium batteries.
---