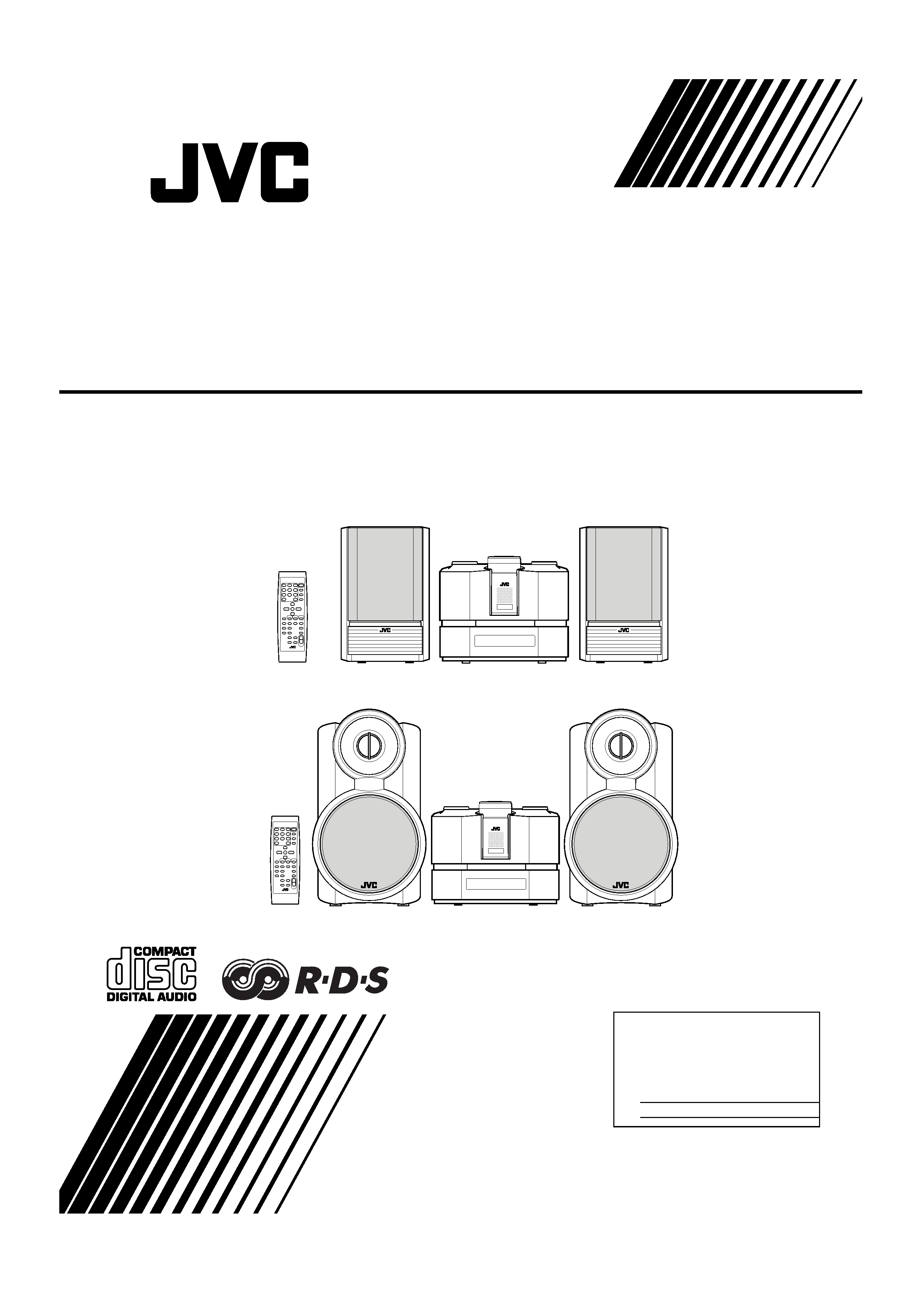 Enter below the Model No. and Serial No.
which are located either on the rear, bot-
tom or side of the cabinet. Retain this
information for future reference.
Consists of CA-FSX1 and SP-FSX1
Consists of CA-FSX3 and SP-FSX3
FS-X1-3(B)_E.book Page 1 Friday, March 28, 2003 2:55 PM
---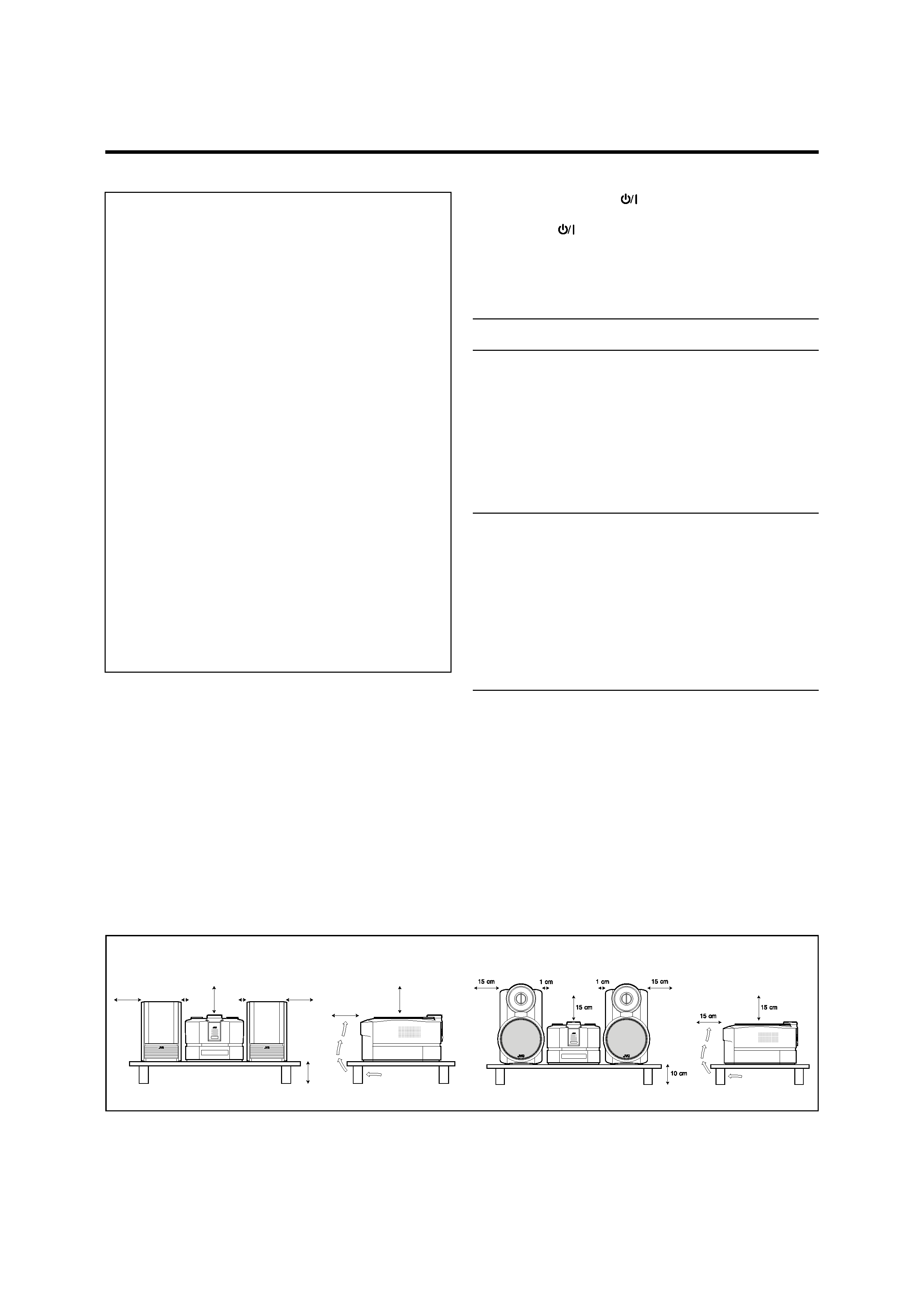 Warnings, Cautions and Others
DO NOT cut off the mains plug from this equipment. If the
plug fitted is not suitable for the power points in your home
or the cable is too short to reach a power point, then obtain
an appropriate safety approved extension lead or consult
BE SURE to replace the fuse only with an identical
approved type, as originally fitted.
If nontheless the mains plug is cut off ensure to remove the
fuse and dispose of the plug immediately, to avoid a possi-
ble shock hazard by inadvertent connection to the mains
If this product is not supplied fitted with a mains plug then
follow the instructions given below:
DO NOT make any connection to the terminal which is
marked with the letter E or by the safety earth symbol or
coloured green or green-and-yellow.
The wires in the mains lead on this product are coloured in
accordance with the following code:
As these colours may not correspond with the coloured
markings identifying the terminals in your plug proceed as
The wire which is coloured blue must be connected to the
terminal which is marked with the letter N or coloured black.
The wire which is coloured brown must be connected to the
terminal which is marked with the letter L or coloured red.
IF IN DOUBT - CONSULT A COMPETENT ELECTRICIAN.
To reduce the risk of electric shocks, fire, etc.:
Do not remove screws, covers or cabinet.
Do not expose this appliance to rain or moisture.
Caution: Proper Ventilation
To avoid risk of electric shock and fire, and to prevent damage,
locate the apparatus as follows:
: No obstructions and open spacing.
Sides/ Top/ Back : No obstructions should be placed in the
areas shown by the dimensions below.
: Place on the level surface. Maintain an
adequate air path for ventilation by plac-
ing on a stand with a height of 10 cm or
Disconnect the main plug to shut the power off completely. The
button in any position does not disconnect
the main line. The power can be remote controlled.
· When the unit is on standby, the STANDBY/ON indicator lights
· When the unit is turned on, the STANDBY/ON indicator lights
IMPORTANT FOR LASER PRODUCTS
Invisible laser radiation when open and interlock failed or
defeated. Avoid direct exposure to beam.
Do not open the top cover. There are no user serviceable
parts inside the unit; leave all servicing to qualitied service
Use of controls, adjustments or performance of procedures
other than those specified herein may result in hazardous
Do not block the ventilation openings or holes. (If the venti-
lation openings or holes are blocked by a newspaper or
cloth, etc., the heat may not be able to get out.)
Do not place any naked flame sources, such as lighted
candles, on the apparatus.
When discarding batteries, environmental problems must
be considered and local rules or laws governing the dis-
posal of these batteries must be followed strictly.
Do not expose this apparatus to rain, moisture, dripping or
splashing and that no objects filled with liquids, such as
vases, shall be placed on the apparatus.
I About the Internal Cooling Fan
This unit includes an internal cooling fan, so as to allow for
high-power operation within a small space.
This fan comes on when the sound level is set high, and
may also come on even at low sound levels if the internal
temperature rises. To ensure effective fan operation, please
leave at least 15cm clearance between the rear of the unit
and the wall, and at least 1cm clearance on each side of the
FS-X1-3(B)_E.book Page 1 Friday, March 28, 2003 2:55 PM
---

"SOME DOS AND DON'TS ON THE SAFE USE OF EQUIPMENT"
This equipment has been disigned and manufactured to meet international safety standards but, like any electrical
equipment, care must be taken if you are to obtain the best results and safety is to be assured.
Do read the operating instructions before you attempt to use the equipment.
Do ensure that all electrical connections (including the mains plug, extension leads and interconnections between
pieces of equipment) are properly made and in accordance with the manufacturer's instructions. Switch off and with-
draw the mains plug when making or changing connections.
Do consult your dealer if you are ever in doubt about the installation, operation or safety of your equipment.
Do be careful with glass panels or doors on equipment.
DON'T continue to operate the equipment if you are in any doubt about it working normally, or if it is damaged in any
way­switch off, withdraw the mains plug and consult your dealer.
DON'T remove any fixed cover as this may expose dangerous voltages.
DON'T leave equipment switched on when it is unattended unless it is specifically stated that it is designed for unat-
tended operation or has a standby mode.
Switch off using the switch on the equipment and make sure that your family know how to do this.
Special arrangements may need to be made for infirm or handicapped people.
DON'T use equipment such as personal stereos or radios so that you are distracted from the requirements of traffic
safety. It is illegal to watch television whilst driving.
DON'T listen to headphones at high volume as such use can permanently damage your hearing.
DON'T obstruct the ventilation of the equipment, for example with curtains or soft furnishings.
Overheating will cause damage and shorten the life of the equipment.
DON'T use makeshift stands and NEVER fix legs with wood screws -- to ensure complete safety always fit the man-
ufacturer's approved stand or legs with the fixings provided according to the instructions.
DON'T allow electrical equipment to be exposed to rain or moisture.
-- NEVER let anyone, especially children, push anything into holes, slots or any other opening in the case -
this could result in a fatal electrical shock.;
-- NEVER guess or take chances with electrical equipment of any kind.
it is better to be safe than sorry!
FS-X1-3(B)_E.book Page 2 Friday, March 28, 2003 2:55 PM
---

Thank you for purchasing the JVC Compact Component System.
We hope it will be a valued addition to your home, giving you years of enjoyment.
Be sure to read this instruction manual carefully before operating your new stereo system.
In it you will find all the information you need to set up and use the system.
If you have a query that is not answered by the manual, please contact your dealer.
Here are some of the things that make your System both powerful and simple to use.
The controls and operations have been redesigned to make them very easy to use, freeing you to
· With JVC's COMPU PLAY you can turn on the System and automatically start the Radio or
CD Player with a single touch.
The System incorporates AHB (Active Hyper Bass) PRO circuitry to faithfully reproduce low
A 45-station preset capability (30 FM and 15 AM (MW)) in addition to auto-seek and manual tuning.
CD options that include repeat, random and program play.
Timer functions; Daily Timer and Sleep Timer. The Daily Timer can select one of 10 melodies as a source, in addition to
CD, FM, AM (MW) and LINE.
You can connect various external units, such as an MD recorder.
The system can play CD-R and CD-RW after they have been finalized.
You can play back your original CD-R or CD-RW recorded in Music CD format. (However they may not be played back
depending on their characteristics or recording conditions.)
How This Manual Is Organized
· Basic information that is the same for many different functions - e.g. setting the volume - is given in the section
`Basic Operations', and not repeated under each function.
· The names of buttons/controls and display messages are written in all capital letters: e.g. FM/AM, "CD NO DISC".
· System functions are written with an initial capital letter only: e.g. Normal Play.
Use the table of contents to look up specific information you require.
We have enjoyed making this manual for you, and hope it serves you in enjoying the many features built into your System.
DO NOT PUT ANYTHING ON THE CD DOOR. IF THE SYSTEM IS OPERATED WITH
SOMETHING PUT ON THE CD DOOR, IT WILL BE DAMAGED WHEN YOU TRY TO
NEVER REMOVE THE CD DOOR FROM THE UNIT. SERIOUS INJURY MAY OCCUR IF
THE SYSTEM IS OPERATED WITHOUT THE CD DOOR.
1
Installation of the System
· Select a place which is level, dry and neither too hot nor too cold. (Between 5°C and 35°C)
· Leave sufficient distance between the System and a TV.
· Do not use the System in a place subject to vibrations.
· Do not handle the power cord with wet hands!
· Some power is always consumed as long as the power cord is connected to the wall outlet.
· When unplugging the System from the wall outlet, always pull the plug, not the power cord.
· There are no users serviceable parts inside. In case of system failure, unplug the power cord and consult your dealer.
· Do not insert any metallic object into the System.
· Do not insert your hand between the CD door and the main body when the CD door is being closed.
FS-X1-3(B)_E_Intro.fm Page 1 Tuesday, April 1, 2003 9:35 AM
---

Introduction ........................................................................................................ 1
Features ...................................................................................................................................... 1
How This Manual Is Organized ................................................................................................. 1
WARNINGS .............................................................................................................................. 1
IMPORTANT CAUTIONS ....................................................................................................... 1
Getting Started ................................................................................................... 4
Accessories................................................................................................................................. 4
How To Put Batteries In the Remote Control ............................................................................ 4
Using the Remote Control.......................................................................................................... 4
Connecting the FM Antenna ...................................................................................................... 5
Connecting the AM (MW) Antenna........................................................................................... 6
Connecting the Speakers (SP-FSX1/SP-FSX3) ......................................................................... 7
Removing the Speaker Grills (SP-FSX1)................................................................................... 8
Connecting a Powered Subwoofer ............................................................................................. 8
Connecting an External Equipment............................................................................................ 8
Connecting an MD Recorder, etc (Optical Digital Output) ....................................................... 9
COMPU PLAY .......................................................................................................................... 9
Automatic Power On .................................................................................................................. 9
Basic Operations ............................................................................................. 10
Turning the Power On and Off................................................................................................. 10
Changing the Source ................................................................................................................ 10
Adjusting the Brightness (DIMMER - at Power On)............................................................... 11
Power Saving Mode (DIMMER - at Power Off) ..................................................................... 11
Adjusting the Volume .............................................................................................................. 11
Fade-out Muting (FADE MUTING)........................................................................................ 11
Reinforcing the Bass Sound (Active Hyper Bass Pro.)............................................................ 11
Tone Control (BASS/TREBLE)............................................................................................... 12
Auto Power Off (A.P.off)......................................................................................................... 12
Entering the Number with the Remote Control (Numeric Keys)............................................. 12
Using the Tuner................................................................................................ 13
Tuning In a Station ................................................................................................................... 13
Presetting Stations .................................................................................................................... 14
To Change the FM Reception Mode ........................................................................................ 14
Beat Cut (AM (MW) Reception) ............................................................................................. 14
Receiving FM Stations with RDS ............................................................................................ 15
Using the CD Player......................................................................................... 18
To Insert a CD .......................................................................................................................... 18
To Unload a CD ....................................................................................................................... 19
Basics of Using the CD Player ­ Normal Play......................................................................... 19
Programming the Playing Order of the Tracks ­ Program Play .............................................. 19
Random Play ............................................................................................................................ 20
Repeating Tracks...................................................................................................................... 21
CD DOOR LOCK ....................................................................................................................21
Using External Equipments ............................................................................ 22
Listening to External Equipment.............................................................................................. 22
Changing the Equipment's Name ............................................................................................ 22
Recording the System's Source to External Equipment .......................................................... 23
Adjusting the Input Level......................................................................................................... 23
Using the Timers .............................................................................................. 24
Setting the Clock ...................................................................................................................... 24
Showing the Clock (DISPLAY)............................................................................................... 25
FS-X1-3(B)_E.book Page 2 Friday, March 28, 2003 2:55 PM
---