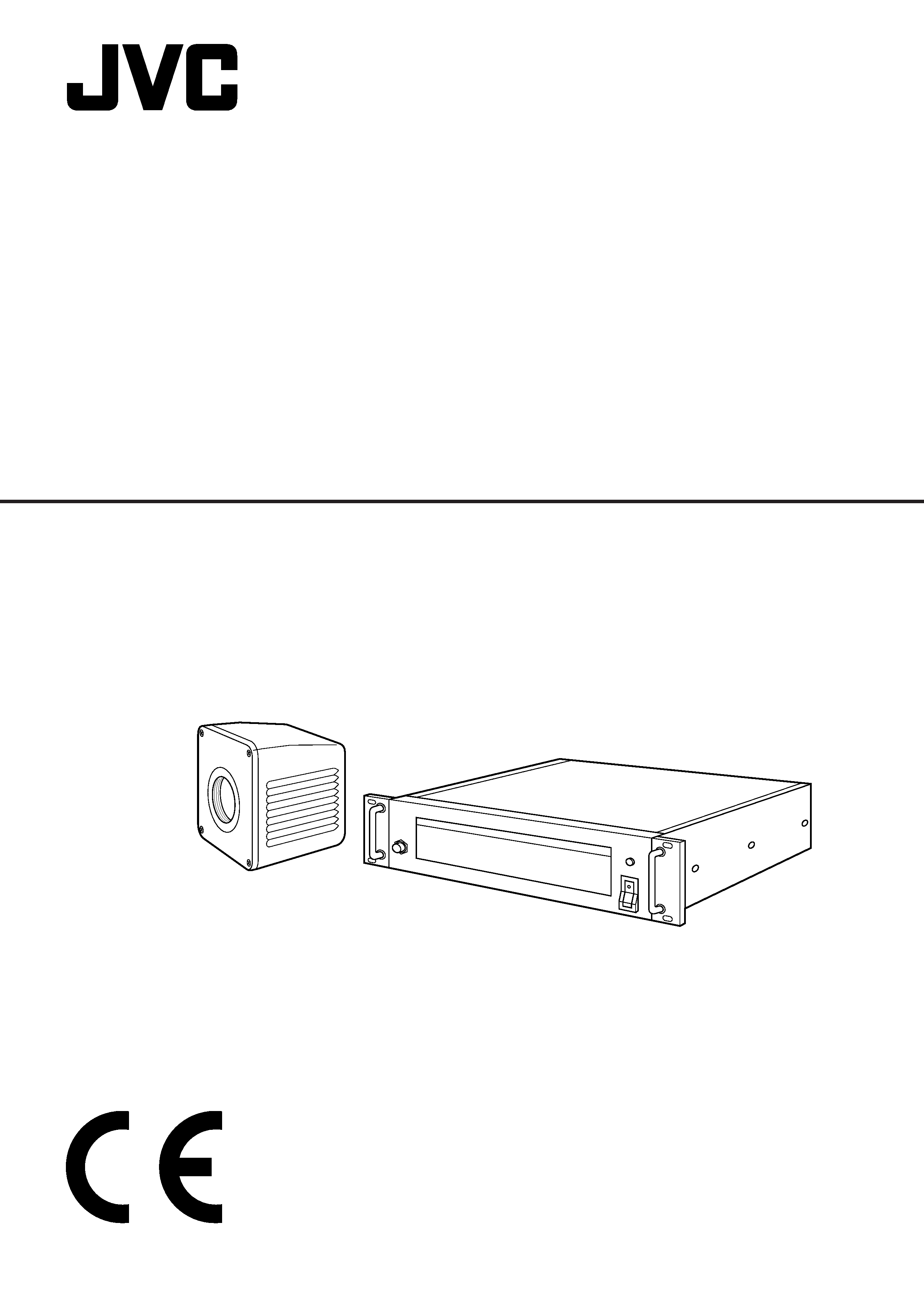 ---

Micro HD camera system can be used for following applications;
(This system should only be operated by doctors or authorized persons.)
(1) Operation microscope in OR
neurosurgery, eye surgery, orthopedic surgery and etc.
(4) Operation Room camera shooting operation area.
(5) Endoscope operation in OR.
Above applications, the system can supply HD signals to HD monitor for display and to HD VTR for recording/play-
Also, by using SCSI I/F the system can supply digitized HD still picture to Zip drive for recording. Digitized still pictures
in recorded removable disk can be stored into hard disc drive in PC.
Thank you for purchasing the MICRO HD CAMERA. Before use, please read the safety information and precautions
contained in the following pages to ensure safe use of your new MICRO HD CAMERA.
Importer's name & address
JVC PROFESSIONAL PRODUCTS (UK) LIMITED
ULLswater House, Kendel Avenue, London W3 OXA, United Kingdom
JVC PROFESSIONAL PRODUCTS GmbH
Grüner Weg 10, 61169 Fiedberg/Hessen, Germany
SOME DO'S AND DON'TS ON THE SAFE
This equipment has been designed and manufactured to meet international safety standards but, like any electrical
equipment, care must be taken if you are to obtain the best results and safety is to be assured.
read the operating instructions before you attempt to use the equipment.
ensure that all electrical connections (including the mains plug, extension leads and interconnections between
pieces of equipment) are properly made and in accordance with the manufacturer's instructions. Switch off
and withdraw the mains plug when making or changing connections.
consult your dealer if you are ever in doubt about the installation, operation or safety of your equipment.
be careful with glass panels or doors on equipment.
DON'T continue to operate the equipment if you are in any doubt about it working normally, or if it is damaged in any
way -- switch off, withdraw the mains plug and consult your dealer.
DON'T remove any fixed cover as this may expose dangerous voltages.
DON'T leave equipment switched on when it is unattended unless it is specifically stated that it is designed for
unattended operation or has a standby mode. Switch off using the switch on the equipment and make sure
that your family knows how to do this. Special arrangements may need to be made for infirm or handicapped
DON'T use equipment such as personal stereos or radios so that you are distracted from the requirements of road
safety. It is illegal to watch television whilst driving.
DON'T listen to headphones at high volume, as such use can permanently damage your hearing.
DON'T obstruct the ventilation of the equipment, for example with curtains or soft furnishings. Overheating will cause
damage and shorten the life of the equipment.
DON'T use makeshift stands and NEVER fix legs with wood screws -- to ensure complete safety always fit the
manufacturer's approved stand or legs with the fixings provided according to the instructions.
DON'T allow electrical equipment to be exposed to rain or moisture.
-- NEVER let anyone especially children push anything into holes, slots or any other opening in the case -- this could
result in a fatal electrical shock;
-- NEVER guess or take chances with electrical equipment of any kind -- it is better to be safe than sorry!
---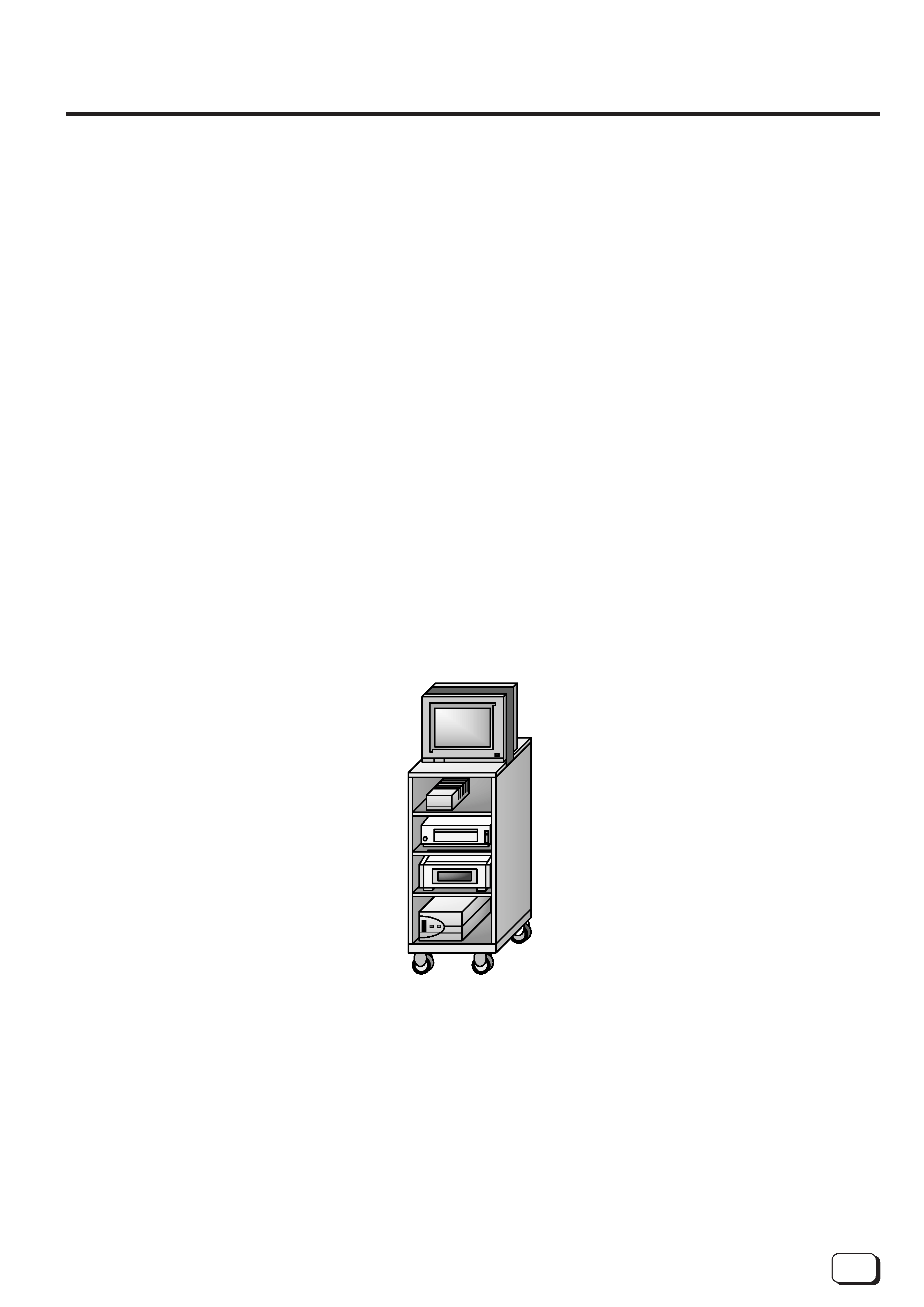 Precautions on installing medical electrical
equipment (Safety and hazard prevention)
For the safe use of this equipment, be absolutely sure to follow the guidelines below.
1. Leave installation of the Mobile Video Cart and the unit to a specially trained service man.
2. Be absolutely sure to use the separately sold AA-V31E isolation transformer and AC adapter AA-V112E.
3. There are openings in the equipment. Fire or electric shock may result if liquid splashes inside one of
these openings. The front of the JVC-specified video cart has an opening. To prevent any possible prob-
lems, please set the cart in a reasonable position and use carefully. JVC cannot guarantee the total system
when using an unspecified video cart.
Please use the VS5402.X or VS6300.X Mobile Video Cart to house the equipment.
· Additional load: 225 kg
(2) Front two casters have brakes.
· When using mobile video cart, two brakes should be set for safety after setting the position of the cart.
· When using a mobile cart in OR, as the cart has no front cover, precautions to avoid splashing at front area of it
· When moving a mobile cart in OR, precautions to avoid crossing over the power cord of the cart.
· When using a mobile cart in OR, precautions to avoid power cord of the cart to be caught by foot should be
· When mounting monitor on a mobile cart, we strongly recommend the use of a monitor shelf and monitor strap
for safety. (Refer to the following figure.)
(5) Equipotential terminals are located inside the cart
The back panel of the cart can be easily opened without any tool to gain access to the terminals.
For medical use, please use the JVC Isolation Transformer, AA-V31E, and JVC AC Power
Adapter, AA-V112E, in order to meet the following classifications.
(1) Class 1 Equipment powered by an external electrical power source.
(2) Type BF Applied part (Degree of protection against electric shock)
The specifications for the AA-V31E and AA-V112E are given on page 26.
ex.) Mobile Video Cart VS5402.X
---

HAZARD, DO NOT EXPOSE THIS
UNIT TO RAIN OR MOISTURE.
This MICRO HD CAMERA should
be used with a power supply of
To prevent electric shocks and
fire hazards, DO NOT use any
This camera head, camera con-
trol unit, camera cable and video
adapter are not sterilized.
When using in an ENDOSCOPE
application, to prevent fire or
shock hazard, the equipotential
terminals inside the video cart
should be connected to the equi-
potential terminals of the isola-
tion transformer and light source
for the endoscope. Use the endo-
IEC60601-1 and IEC60601-2-18.
equipment not complying with
requirements of this equipment
may lead to a reduced level of
safety with the resulting system.
Consideration relating to the
choice of accessories shall
­ use of the accessory in the
­ evidence that the safety of the
accessory has been certified in
appropriate IEC 60601-1 and/or
The HD Monitor requires an AC
To prevent electric shock and fire
hazard, DO NOT plug directly into
In order to avoid the risk of fire
and shock hazards, please use
only the equipment specified in
---

(Symbol provided by RETAC)
Important product safety instructions
Electrical energy can perform many useful functions. But
improper use can result in potential electrical shock or
fire hazards. This product has been engineered and
manufactured to assure your personal safety. In order
not to defeat the built-in safeguards, observe the follow-
ing basic rules for its installation, use and servicing.
Follow and obey all warnings and instructions marked
on your product and its operating instructions. For your
safety, please read all the safety and operating instruc-
tions before you operate this product and keep this
booklet for future reference.
INSTALLATION AND DISPOSAL
1. Grounding or Polarization
Precautions should be taken so that the grounding or
polarization of an appliance is not defeated.
Operate your product only from the type of power source
indicated on the marking label. If you are not sure of the
type of power supply to hospital, consult your product
dealer or local power company. If your product is
intended to operate from battery power, or other
sources, refer to the operating instructions.
Do not overload wall outlets, extension cords, or integral
convenience receptacles as this can result in a risk of
Power supply cords should be routed so that they are
not likely to be walked on or pinched by items placed
upon or against them, paying particular attention to
cords at plugs, convenience receptacles, and the point
where they exit from the product.
Slots and openings in the cabinet are provided for
ventilation. To ensure reliable operation of the product
and to protect it from overheating, these openings must
not be blocked or covered.
· Do not block the openings by placing the product on a
bed, sofa, rug or other similar surface.
· Do not place the product in a built-in installation such
as a bookcase or rack unless proper ventilation is
provided or the manufacturer's instructions have been
6. Wall or Ceiling Mounting
The product should be mounted to a wall or ceiling only
as recommended by the manufacturer.
Do not store this product in a humid location, such as
near a window or an air conditioner, nor in a hot location,
8. Disposing of the Product
Always sterilize this product before disposing of it. (See
When discarding equipment, environmental problems
must be considered and the local rules or laws govern-
ing the disposal must be followed strictly.
If the socket outlets in hospitals are not suitable for the
plug supplied with this appliance, it should be cut off and
an appropriate 3 pin plug fitted. For details, refer to the
instructions described below.
Note: The plug severed from the mains lead must be
destroyed, as a plug with bared flexible cord is
hazardous if engaged in a live socket outlet.
Special Instructions for U.K. Model
THE WIRES IN MAINS LEAD ARE COLOURED
IN ACCORDANCE WITH THE FOLLOWING
As the colours of the wires in the mains lead of this
apparatus may not correspond with the coloured
markings identifying the terminals in your plug,
proceed as follows: The wire which is coloured BLUE
must be connected to the terminal which is marked
with the letter N or coloured BLACK. The wire which
is coloured BROWN must be connected to the
terminal which is marked with the letter L or coloured
RED. Making sure that neither core is connected to
the earth terminal of the three pin plug.
To avoid personal injury:
· Do not place this product on an unstable cart, stand,
tripod, bracket, or table. It may fall, causing serious
injury to a child or adult, and serious damage to the
· Use only with a cart, stand, tripod, bracket, or table
recommended by the manufacturer or sold with the
· Use a mounting accessory recommended by the
manufacturer and follow the manufacturer's instruc-
tions for any mounting of the product.
· Do not try to roll a cart with small casters across
thresholds or deep-pile carpets.
2. Product and Cart Combination
A product and cart combination
should be moved with care. Quick
stops, excessive force, and uneven
surfaces may cause the product and
cart combination to overturn.
Do not use this product near water--for example, near a
bath tub, wash bowl, kitchen sink or laundry tub, in a wet
basement, or near a swimming pool and the like.
---