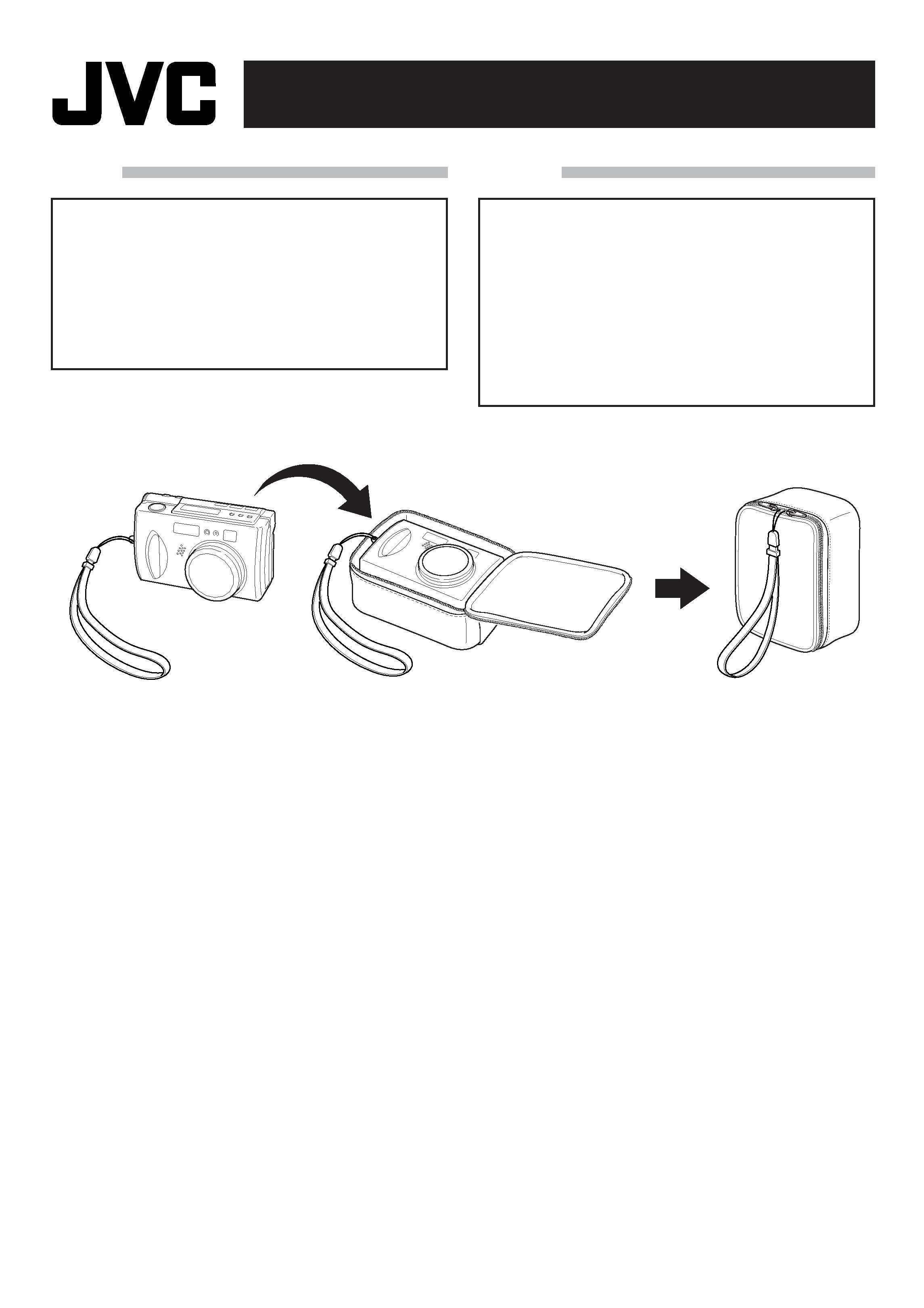 ©2000 VICTOR COMPANY OF JAPAN, LTD.
Thank you for purchasing the JVC Soft Camera
Case CB-V37U designed to protect your JVC
Digital Still Camera from dirt or being
scratched during transport.
You can install your Digital Still Camera in the
case with its hand strap attached, leaving it out
through the zipper for carrying.
This Soft Camera Case is not designed to be
Do not install or remove the case on or from
the Digital Still Camera in grit, rain or snow.
Please note that JVC cannot assume liability
for any damage or malfunction to your Digital
Still Camera due to rain or grit.
The appearance and specifications of this product are
subject to change without prior notice.
Nous vous remercions pour l'achat de cet étui
souple d'appareil CB-V37U JVC conçu pour
protéger votre appareil photo numérique JVC
de la poussière ou d'être rayé en cours de
Vous pouvez placer votre appareil photo
numérique dans l'étui avec la dragonne fixée,
la laissant sortie par la fermeture pour le
Précautions d'utilisation
Cet étui souple d'appareil n'est pas étanche à
Ne montez et ne retirez pas l'étui de l'appareil
photo numérique dans des endroits où des
matières étrangères, la pluie ou la neige
Notez que JVC ne peut assumer de
responsabilité pour tout dommage ou mauvais
fonctionnement de l'appareil photo numérique
dû à la pluie ou à des matières étrangères.
Caractéristiques principales
La présentation et les caractéristiques de cet appareil
sont modifiables sans préavis.
---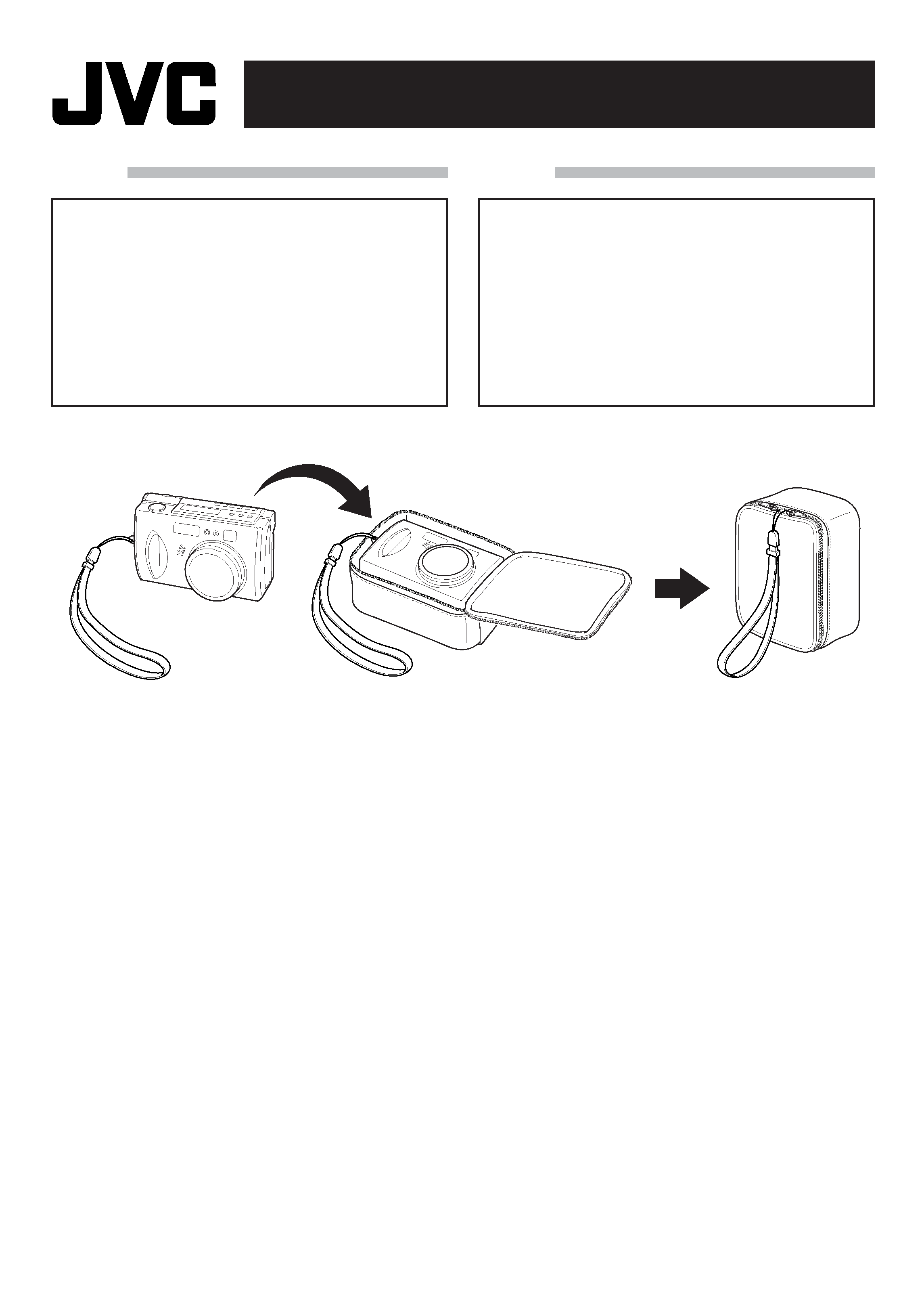 Estuche blando para la cámara
Le agradecemos la adquisición del estuche
blando para la cámara CB-V37U de JVC
diseñado para proteger su cámara digital JVC
de la suciedad o rasguños durante el
Usted puede colocar su cámara digital en el
estuche con la correa de mano puesta,
dejándola salir a través de la cremallera para el
Esta estuche blando para la cámara no es
No coloque ni extraiga el estuche de la
cámara digital cuando haya polvo, nieve o
Note que JVC no asume ninguna
responsabilidad por cualquier daño o falla en
su cámara digital, producido por la lluvia o el
Especificaciones principales
El aspecto y las especificaciones de esta unidad están
sujetos a cambio sin aviso previo.
Vielen Dank für den Kauf der JVC
Kameratasche CB-V37U, die Ihre JVC Digital-
Kamera beim Transportieren vor
Verschmutzung und Kratzern schützt.
Ihre Digital-Kamera kann einschließlich
angebrachtem Handriemen in der Tasche
verstaut werden, wobei der Handriemen durch
die Reißverschlußöffnung gesteckt werden
Vorsichtsmaßregeln für den Gebrauch
Diese Kameratasche ist nicht wasserfest.
Die Kameratasche bei Schneeregen, Schnee
sowie Regen nicht an der Digital-Kamera
anbringen oder von ihr entfernen.
Es sollte beachtet werden, daß JVC keine
Verantwortung für jegliche Schäden oder
Störungen bei Ihrer Digital-Kamera
übernimmt, die durch Schnee oder Regen
Änderungen der Konstruktion und der technische Daten
jederzeit ohne Vorankündigung vorbehalten.
---