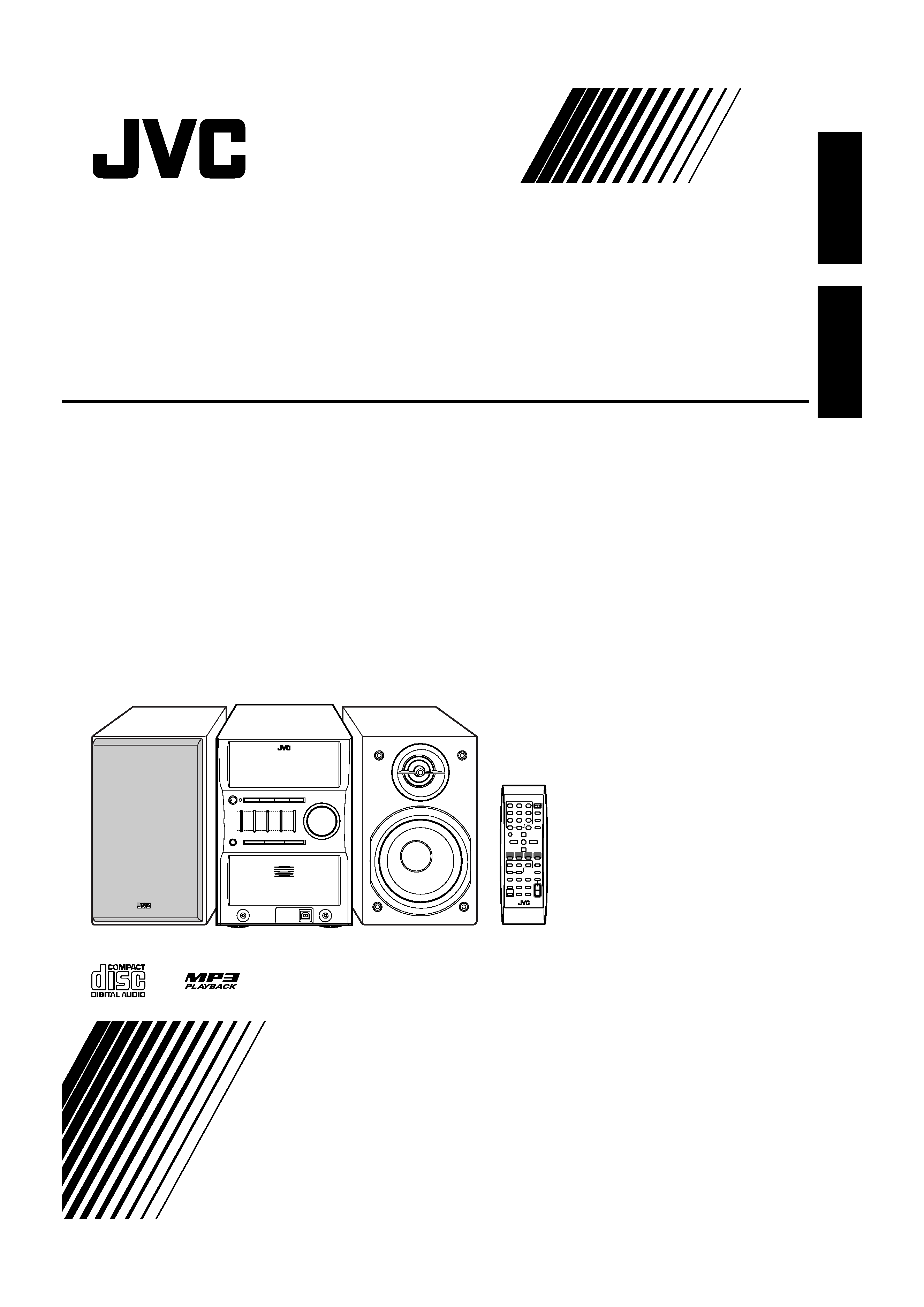 SYSTEME DE MICROCOMPOSANTS
--Consists of CA-UXG50 and SP-UXG50
--Composée du CA-UXG50 et du SP-UXG50
UX-G50[C].BOOK Page 1 Friday, February 10, 2006 3:04 PM
---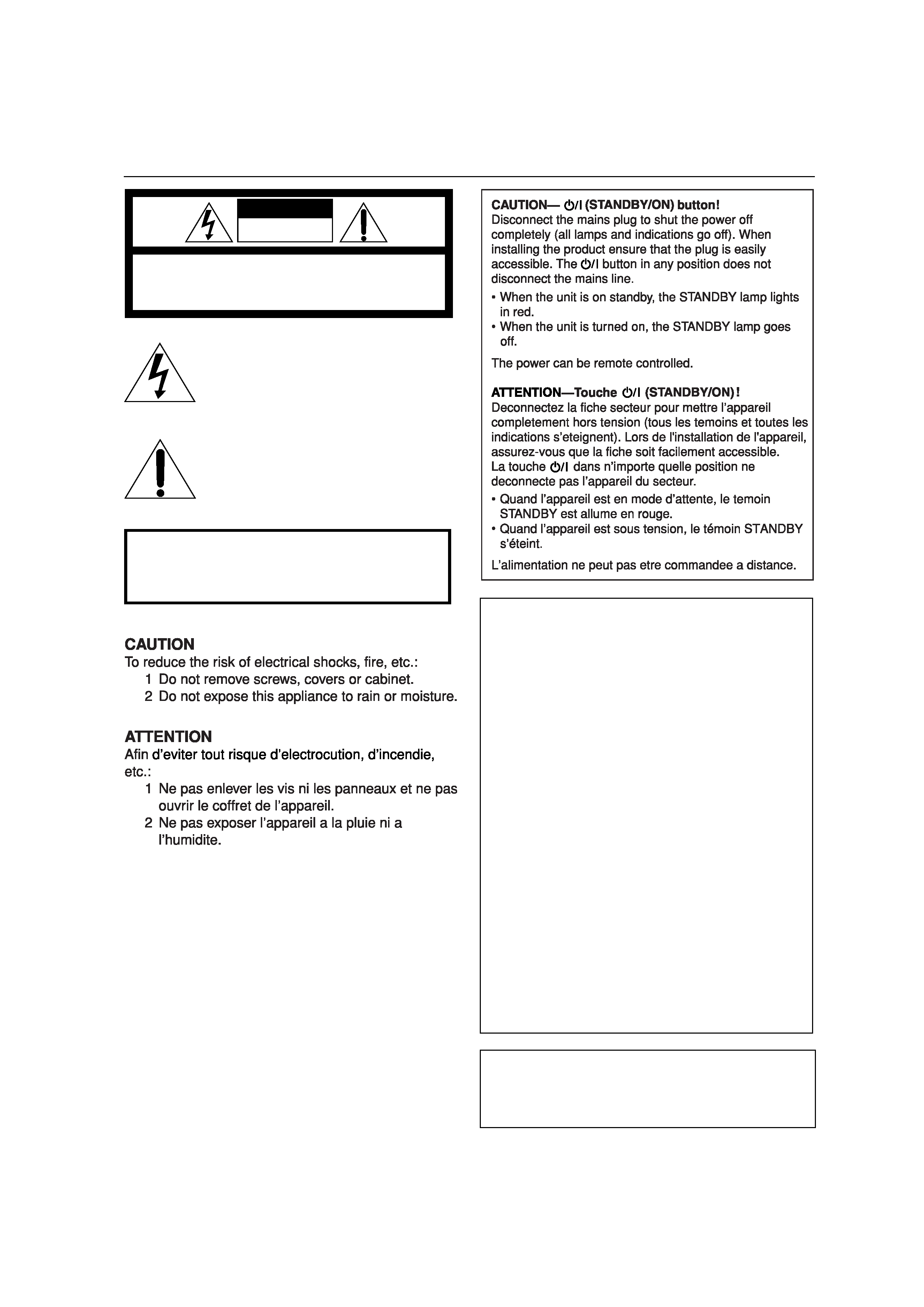 Warnings, Cautions and Others
Mises en garde, précautions et indications diverses
TO REDUCE THE RISK OF ELECTRIC SHOCK,
DO NOT REMOVE COVER (OR BACK).
NO USER SERVICEABLE PARTS INSIDE.
REFER SERVICING TO QUALIFIED SERVICE PERSONNEL.
The lightning flash with arrowhead symbol,
within an equilateral triangle is intended to
alert the user to the presence of uninsulated
"dangerous voltage" within the product's
magnitude to constitute a risk of electric
The exclamation point within an equilateral
triangle is intended to alert the user to the
maintenance (servicing) instructions in the
literature accompanying the appliance.
WARNING: TO REDUCE THE RISK OF FIRE
OR ELECTRIC SHOCK, DO NOT EXPOSE
THIS APPLIANCE TO RAIN OR MOISTURE.
This equipment has been tested and found to
comply with the limits for a Class B digital device,
pursuant to part 15 of the FCC Rules. These limits
are designed to provide reasonable protection
against harmful interference in a residential
This equipment generates, uses and can radiate
radio frequency energy and, if not installed and
used in accordance with the instructions, may
cause harmful interference to radio
communications. However, there is no guarantee
that interference will not occur in a particular
installation. If this equipment does cause harmful
interference to radio or television reception, which
can be determined by turning the equipment off and
on, the user is encouraged to try to correct the
interference by one or more of the following
Reorient or relocate the receiving antenna.
Increase the separation between the equipment
Connect the equipment into an outlet on a circuit
different from that to which the receiver is
Consult the dealer or an experienced radio/TV
Changes or modifications not approved by JVC
could void the user's authority to operate the
UX-G50[C].BOOK Page 1 Friday, February 10, 2006 3:04 PM
---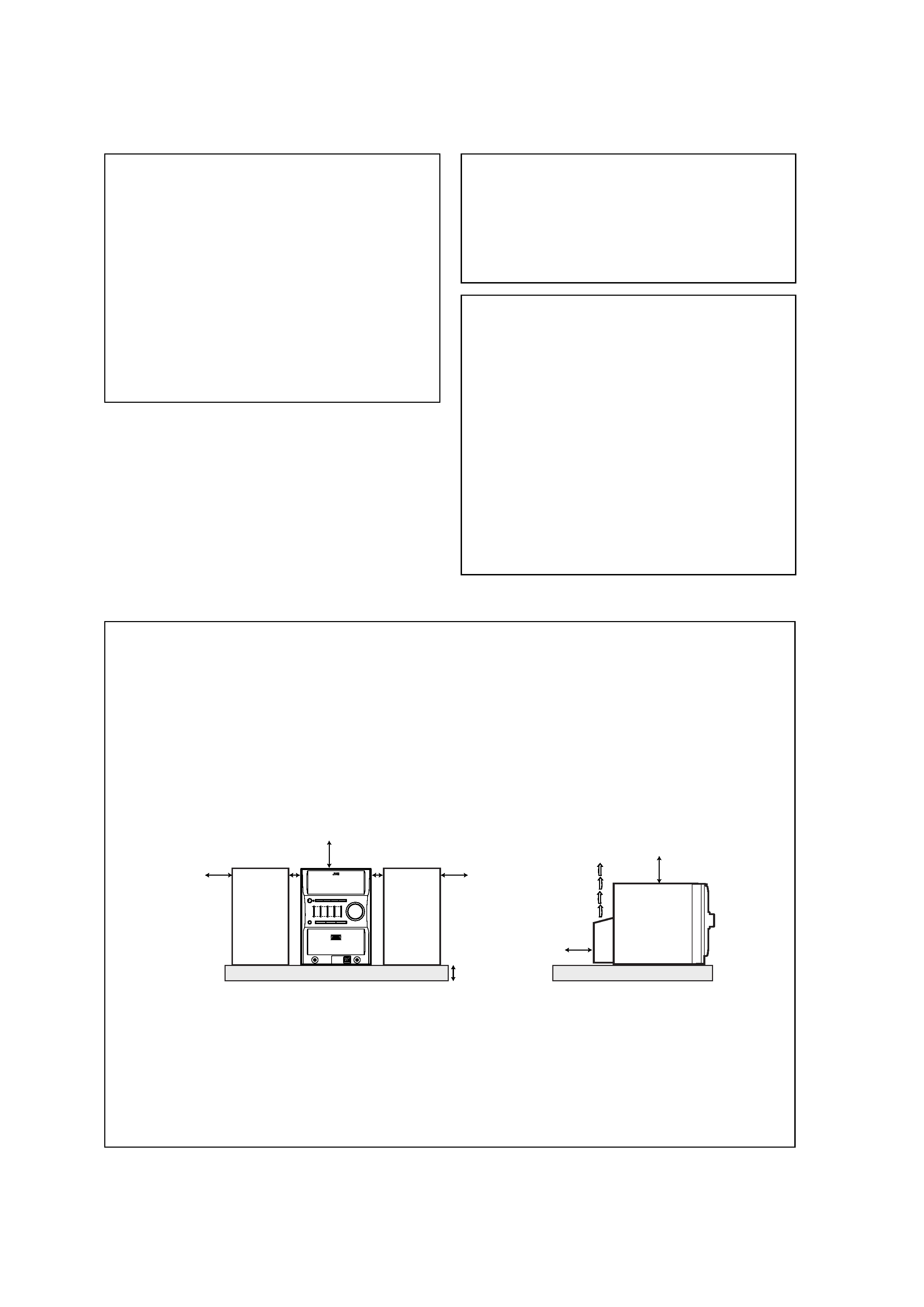 Declaration of Conformity
Responsible Party: JVC Americas Corp.
Telephone Number: 973-317-5000
This device complies with Part 15 of FCC Rules.
Operation is subject to the following two conditions:
(1) This device may not cause harmful interference,
and (2) this device must accept any interference
received, including interference that may cause
Note to CATV system installer:
This reminder is provided to call the CATV system
installer's attention to section 820-40 of the NEC
which provides guidelines for proper grounding and,
in particular, specifies that the cable ground shall be
connected to the grounding system of the building,
as close to the point of cable entry as practical.
For Canada/pour le Canada
THIS DIGITAL APPARATUS DOES NOT EXCEED
THE CLASS B LIMITS FOR RADIO NOISE
EMISSIONS FROM DIGITAL APPARATUS AS SET
OUT IN THE INTERFERENCE-CAUSING
EQUIPMENT STANDARD ENTITLED "DIGITAL
APPARATUS," ICES-003 OF THE DEPARTMENT
CET APPAREIL NUMERIQUE RESPECTE LES
LIMITES DE BRUITS RADIOELECTRIQUES
APPLICABLES AUX APPAREILS NUMIRIQUES DE
CLASSE B PRESCRITES DANS LA NORME SUR LE
MATERIEL BROUILLEUR; "APPAREILS
NUMERIQUES", NMB-003 EDICTEE PAR LE
MINISTRE DES COMMUNICATIONS.
Caution: Proper Ventilation
To avoid risk of electric shock and fire, and to prevent damage, locate the apparatus as follows:
1. Front: No obstructions and open spacing.
2. Sides/ Top/ Back: No obstructions should be placed in the areas shown by the dimensions below.
3. Bottom: Place on the level surface. Maintain an adequate air path for ventilation by placing on a stand with a height of 10 cm
Attention: Aération correcte
Pour prévenir tout risque de décharge électrique ou d'incendie et éviter toute détérioration, installez l'appareil de la manière
1. Avant: Bien dégagé de tout objet.
2. Côtés/dessus/dessous: Assurez-vous que rien ne bloque les espaces indiqués sur le schéma ci-dessous.
3. Dessous: Posez l'appareil sur une surface plane et horizontale. Veillez à ce que sa ventilation correcte puisse se faire en le
plaçant sur un support d'au moins dix centimètres de hauteur.
A cooling fan is mounted on the rear panel of the unit to prevent abnormal temperature inside the unit, thus assuring normal
operation of the unit. The cooling fan automatically starts rotating to intake external cool air when the volume is increased
up to more than a certain level.
* À propos du ventilateur de refroidissement
Un ventilateur de refroidissement se trouve sur le panneau arrière de l'appareil afin d'éviter la création d'une température
anormale à l'intérieur de l'appareil et permettre ainsi un fonctionnement normal de l'appareil. Le ventilateur de
refroidissement commence à tourner et à aspirer de l'air frais automatiquement quand le volume est augmenté au-dessus
UX-G50[C].BOOK Page 2 Friday, February 10, 2006 3:04 PM
---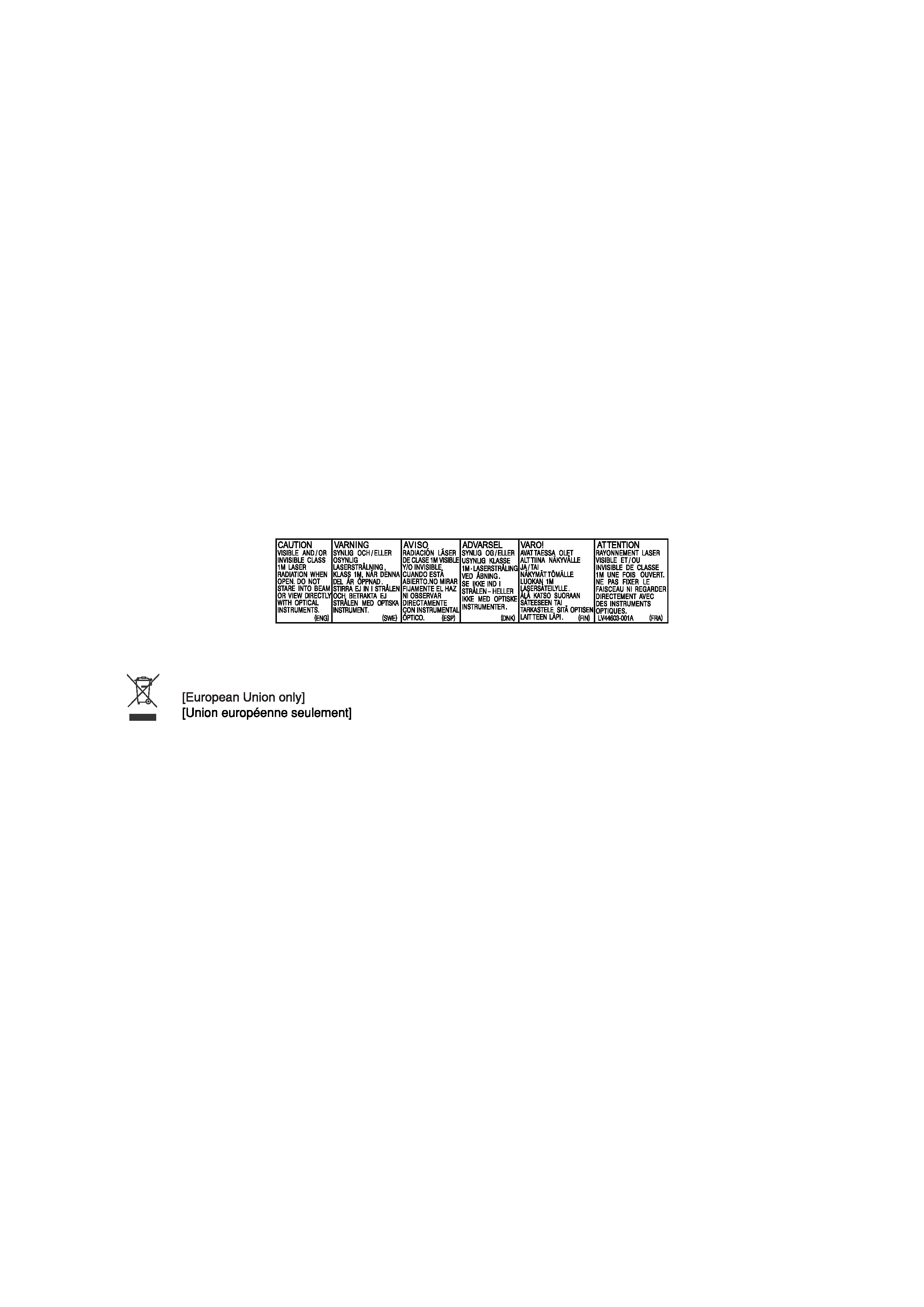 IMPORTANT FOR LASER PRODUCTS / IMPORTANT POUR PRODUITS LASER
2. CAUTION: Do not open the top cover. There are no user serviceable parts inside the
unit; leave all servicing to qualified service personnel.
3. CAUTION: VISIBLE AND / OR INVISIBLE CLASS 1M LASER RADIATION WHEN
OPEN. DO NOT STARE INTO BEAM OR VIEW DIRECTLY WITH OPTICAL
4. REPRODUCTION OF LABEL: CAUTION LABEL, PLACED INSIDE THE UNIT.
1. PRODUIT LASER CLASSE 1
2. ATTENTION: N'ouvrez pas le couvercle supérieur. Il n'y a aucune pièce réparable par
l'utilisateur à l'intérieur de l'appareil; confiez toute réparation à un personnel qualifié.
3. ATTENTION: RAYONNEMENT LASER VISIBLE ET / OU INVISIBLE DE CLASSE 1M
UNE FOIS OUVERT. NE PAS FIXER LE FAISCEAU NI REGARDER DIRECTEMENT
AVEC DES INSTRUMENTS OPTIQUES.
4. REPRODUCTION DE L'ÉTIQUETTE: ÉTIQUETTE DE PRÉCAUTION PLACÉE À
L'INTERIEUR DE L'APPAREIL.
UX-G50[C].BOOK Page 3 Friday, February 10, 2006 3:04 PM
---

Introduction ..................................................... 2
Precautions ......................................................................2
How to Read This Manual ..............................................3
Getting Started ................................................ 4
Step 1: Unpack ................................................................4
Step 2: Prepare the Remote Control ...............................4
Step 3: Hook Up .............................................................5
Before Operating the System ......................... 8
Daily Operations--Playback .......................... 9
Listening to the Radio ...................................................10
Playing Back a Disc ......................................................11
Playing Back from the PC ............................................13
Playing Back from other equipment .............................14
Quick Portable Link (QP Link) ....................................14
--Sound & Other Adjustments ................ 15
Adjusting the Volume ...................................................15
Adjusting the Sound .....................................................15
Changing the Display Brightness--DIMMER .............16
Setting the Clock ..........................................................16
Turning Off the Power Automatically ..........................17
Advanced Disc Operations ........................... 18
Programming the Playing Order--Program Play .........18
Playing at Random--Random Play ..............................19
Playing Repeatedly--Repeat Play ................................20
Prohibiting Disc Ejection--Child Lock .......................20
Timer Operations .......................................... 21
Setting the Timer ..........................................................21
Additional Information ................................ 23
Learning More about This System ...............................23
Troubleshooting ............................................................24
Maintenance ..................................................................24
Specifications ................................................................25
Parts Index ....................................................................25
UX-G50[C].BOOK Page 1 Tuesday, March 7, 2006 11:17 PM
---