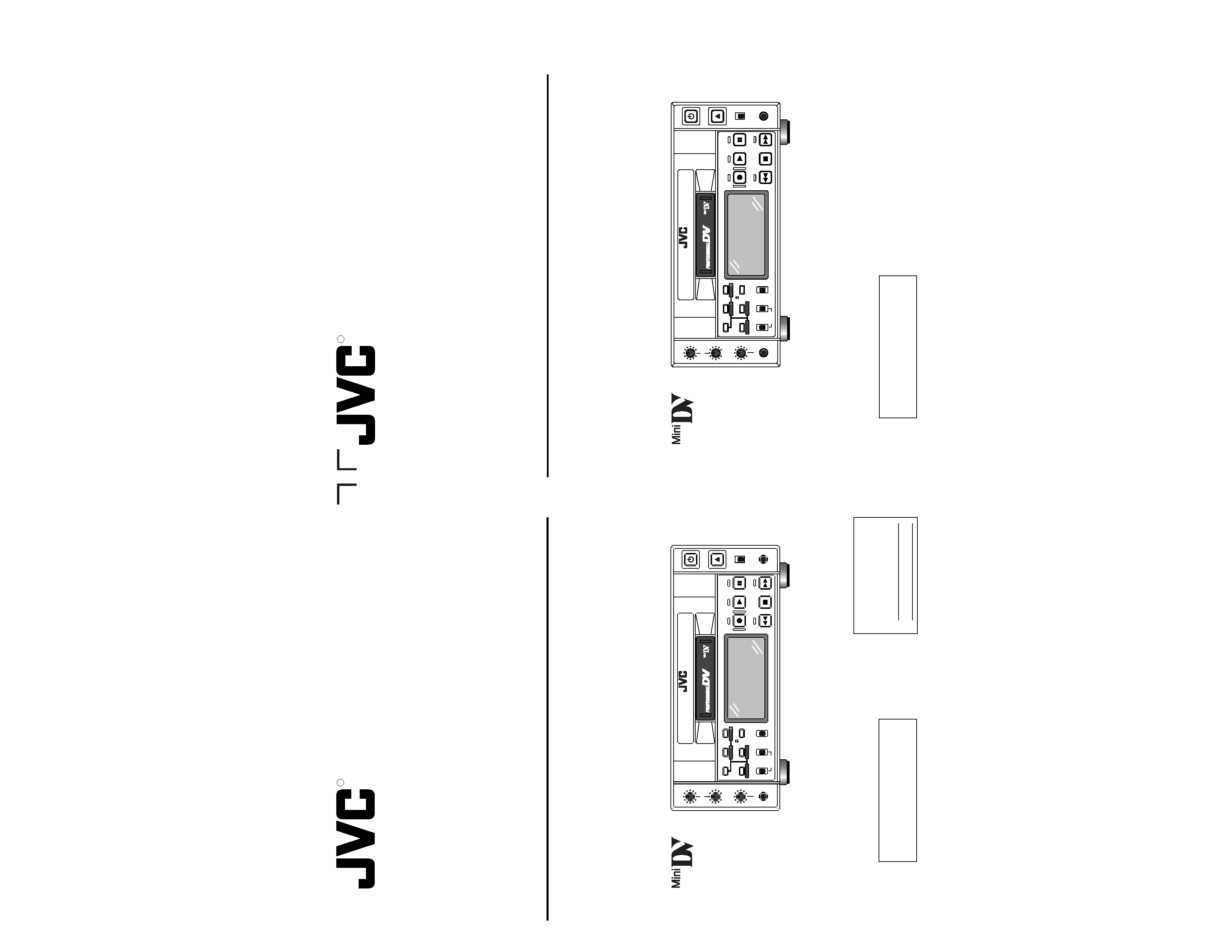 Enter below the Serial No. which is
located on the bottom of cabinet. Retain
this information for future reference.
Thank you for purchasing this JVC product.
Before operating this unit, please read
the instructions carefully to ensure the
best possible performance.
VIDEO CASSETTE RECORDER BR-DV600U
Thank you for purchasing this JVC product.
Before operating this unit, please read
the instructions carefully to ensure the
best possible performance.
This instruction book is made from
VIDEO CASSETTE RECORDER BR-DV600E
---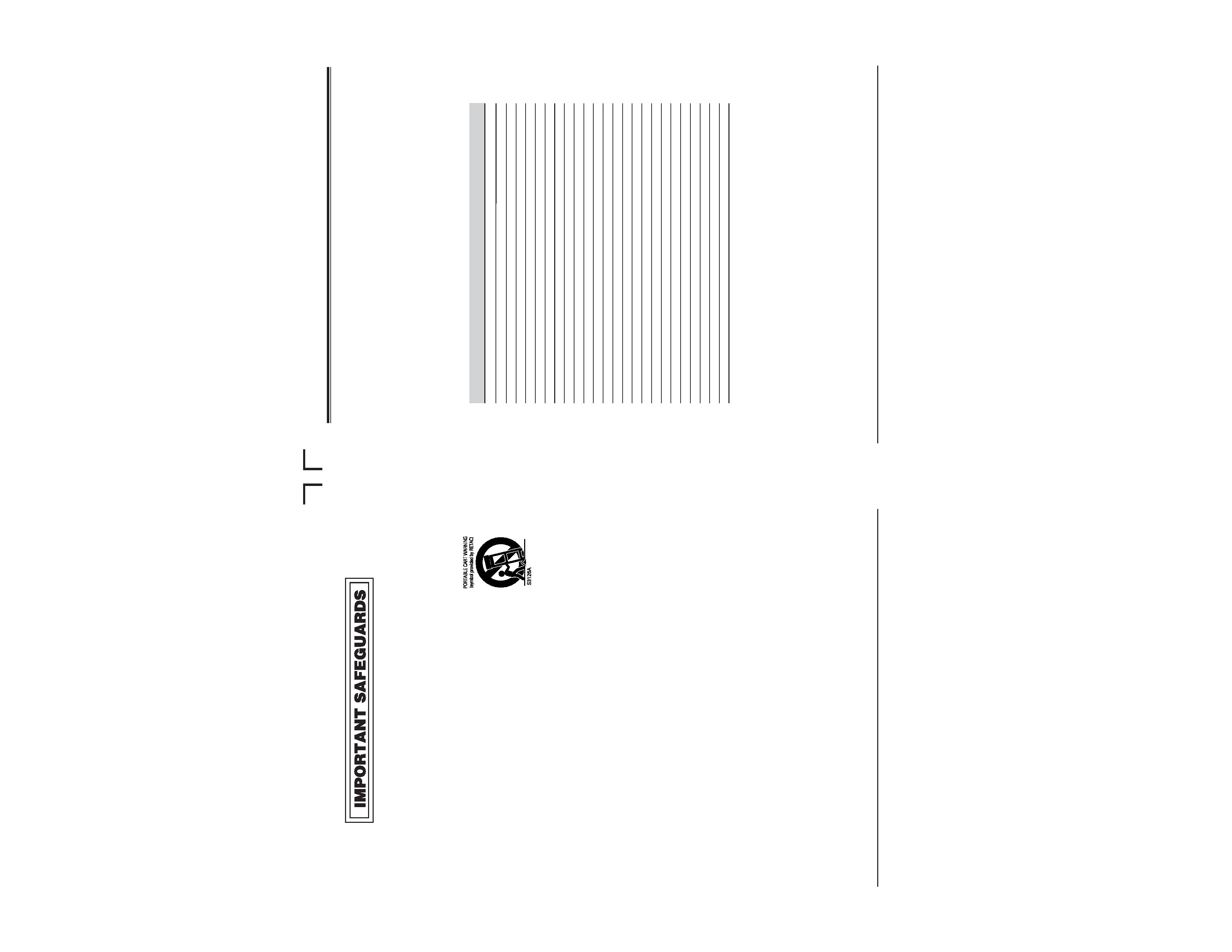 1. Read all of these instructions.
2. Save these instructions for later use.
3. All warnings on the product and in the operating instructions should be adhered to.
4. Unplug this appliance system from the wall outlet before cleaning. Do not use liquid cleaners or aerosol cleaners.
Use a damp cloth for cleaning.
5. Do not use attachments not recommended by the appliance manufacturer as they may cause hazards.
6. Do not use this appliance near water ­ for example, near a bathtub, washbowl, kitchen sink, or laundry tub, in a wet
basement, or near a swimming pool, etc.
7. Do not place this appliance on an unstable cart, stand, or table. The appliance may fall, caus-
ing serious injury to a child or adult, and serious damage to the appliance.
Use only with a cart or stand recommended by the manufacturer, or sold with the appliance.
Wall or shelf mounting should follow the manufacturer's instructions, and should use a mount-
ing kit approved by the manufacturer.
An appliance and cart combination should be moved with care. Quick stops, excessive force,
and uneven surfaces may cause the appliance and cart combination to overturn.
8. Slots and openings in the cabinet and the back or bottom are provided for ventilation, and to
insure reliable operation of the appliance and to protect it from overheating, these openings
must not be blocked or covered. The openings should never be blocked by placing the appliance on a bed, sofa,
rug, or other similar surface. This appliance should never be placed near or over a radiator or heat register. This
appliance should not be placed in a built-in installation such as a bookcase unless proper ventilation is provided.
9. This appliance should be operated only from the type of power source indicated on the marking label. If you are not
sure of the type of power supplied to your home, consult your dealer or local power company. For appliance
designed to operate from battery power, refer to the operating instructions.
10. This appliance system is equipped with a 3-wire grounding type plug (a plug having a third (grounding) pin). This
plug will only fit into a grounding-type power outlet. This is a safety feature. If you are unable to insert the plug into
the outlet, contact your electrician to replace your obsolete outlet. Do not defeat the safety purpose of the ground-
11. For added protection for this product during a lightning storm, or when it is left unattended and unused for long
periods of time, unplug it from the wall outlet and disconnect the antenna or cable system. This will prevent dam-
age to the product due to lightning and power-line surges.
12. Do not allow anything to rest on the power cord. Do not locate this appliance where the cord will be abused by
13. Follow all warnings and instructions marked on the appliance.
14. Do not overload wall outlets and extension cords as this can result in fire or electric shock.
15. Never push objects of any kind into this appliance through cabinet slots as they may touch dangerous voltage
points or short out parts that could result in a fire or electric shock. Never spill liquid of any kind on the appliance.
16. Do not attempt to service this appliance yourself as opening or removing covers may expose you to dangerous
voltage or other hazards. Refer all servicing to qualified service personnel.
17. Unplug this appliance from the wall outlet and refer servicing to qualified service personnel under the following
a. When the power cord or plug is damaged or frayed.
b. If liquid has been spilled into the appliance.
If the appliance has been exposed to rain or water.
d. If the appliance does not operate normally by following the operating instructions. Adjust only those controls
that are covered by the operating instructions as improper adjustment of other controls may result in damage
and will often require extensive work by a qualified technician to restore the appliance to normal operation.
e. If the appliance has been dropped or the cabinet has been damaged.
When the appliance exhibits a distinct change in performance ­ this indicates a need for service.
18. When replacement parts are required, be sure the service technician has used replacement parts specified by the
manufacturer that have the same characteristics as the original part. Unauthorized substitutions may result in fire,
electric shock, or other hazards.
19. Upon completion of any service or repairs to this appliance, ask the service technician to perform routine safety
checks to determine that the appliance is in safe operating condition.
This equipment is in conformity with the provisions and protection requirements of the corresponding
European Directives. This equipment is designed for professional video appliances and can be used in
the following environments:
residential area (in houses)
commercial and light industry; e.g. office or theatres
This apparatus is designed for rack mounting or is used close to other apparatus.
In order to keep the best performance and furthermore for electromagnetic compatibility we recommend
to use cables not exceeding the following lengths:
The inrush current of this apparatus is 8 amperes.
Where there are strong electromagnetic waves or magnetism, for example near a radio or TV
transmitter, transformer, motor, etc., the picture and sound may be disturbed. In such a case, please
keep the apparatus away from the sources of the disturbance.
When the RM-G800U remote controller is used, the counter, etc. may malfunction due to interference
generated by the peripheral equipment. In this case, consult your nearest JVC dealer.
---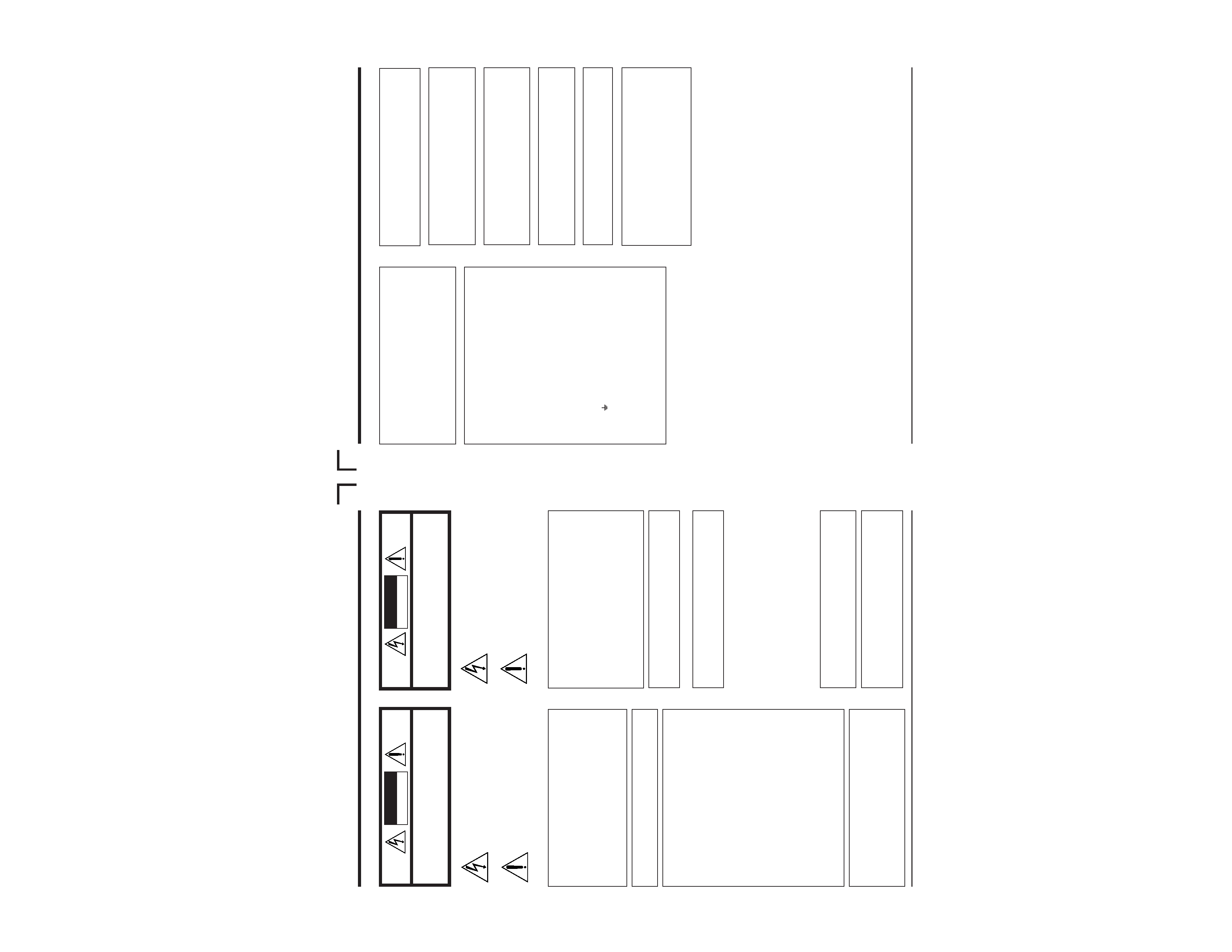 This equipment has been tested and found to comply with the
limits for a Class B digital device, pursuant to Part 15 of the
FCC Rules. These limits are designed to provide reasonable
protection against harmful interference in a residential
installation. This equipment generates, uses, and can radiate
radio frequency energy and, if not installed and used in
accordance with the instructions, may cause harmful interfer-
ence to radio communications. However, there is no guaran-
tee that interference will not occur in a particular installation.
If this equipment does cause harmful interference to radio or
television reception, which can be determined by turning the
equipment off and on, the user is encouraged to try to correct
the interference by one or more of the following measures:
Reorient or relocate the receiving antenna.
Increase the separation between the equipment and
Connect the equipment into an outlet on a circuit different
from that to which the receiver is connected.
Consult the dealer or an experienced radio/TV technician for
CHANGES OR MODIFICATIONS NOT APPROVED BY JVC
COULD VOID USER'S AUTHORITY TO OPERATE THE
The rating plate (serial number plate) is on the bottom of the unit.
ATTENTION: POUR EVITER TOUT RISQUE D'ELECTROCUTION
AUCUNE PIECE INTERIEURE N'EST
A REGLER PAR L'UTILISATEUR.
SE REFERER A UN AGENT QUALIFIE EN CAS DE PROBLEME.
CAUTION: TO REDUCE THE RISK OF ELECTRIC SHOCK,
DO NOT REMOVE COVER (OR BACK).
NO USER-SERVICEABLE PARTS INSIDE.
REFER SERVICING TO QUALIFIED SERVICE PERSONNEL
TO REDUCE THE RISK OF FIRE OR ELECTRIC
SHOCK, DO NOT EXPOSE THIS APPLIANCE
This unit should be used with 120 V AC only.
To prevent electric shocks and fire hazards, DO NOT
use any other power source.
POUR EVITER LES RISQUES D'INCENDIE OU
D'ELECTROCUTION, NE PAS EXPOSER
L'APPAREIL A L'HUMIDITE OU A LA PLUIE.
Ce magnétoscope ne doit être utilisé que sur du
courant alternatif en 120 V.
Afin d'éviter tout resque d'incendie ou
d'électrocution, ne pas utiliser d'autres sources
d'alimentation électrique.
La plaque d'identification (numéro de série) se trouve sur le
panneau arrière de l'appareil.
Cet appareil numérique respecte les limites de bruits
radioélectriques applicables aux appareils numériques de
Classe B prescrites dans la norme sur le matériel brouilleur:
"Appareils Numériques", NMB-003 édictée par le ministre des
This digital apparatus does not exceed the Class B limits for
radio noise emissions from digital apparatus as set out in the
interference-causing equipment standard entitled "Digital
Apparatus", ICES-003 of the Department of Communications.
Le symbole de l'éclair à l'intérieur d'un triangle
équilatéral est destiné à alerter l'utilisateur sur la
présence d'une "tension dangereuse" non isolée
dans le boîtier du produit. Cette tension est suffisante
pour provoquer l'électrocution de personnes.
Le point d'exclamation à l'intérieur d'un triangle
équilatéral est destiné à alerter l'utilisateur sur la
présence d'opérations d'entretien importantes au
sujet desquelles des renseignements se trouvent
dans le manuel d'instructions.
*Ces symboles ne sont utilisés qu'aux Etats-Unis.
The lightning flash with arrowhead symbol, within an
equilateral triangle, is intended to alert the user to the
presence of uninsulated "dangerous voltage" within
the product's enclosure that may be of sufficient
magnitude to constitute a risk of electric shock to
The exclamation point within an equilateral triangle is
intended to alert the user to the presence of important
operating and maintenance (servicing) instructions in
the literature accompanying the appliance.
The battery used in the BR-DV600U must be replaced by a
JVC authorized service dealer only.
THIS DEVICE COMPLIES WITH PART 15 OF THE FCC
RULES. OPERATION IS SUBJECT TO THE FOLLOWING
TWO CONDITIONS: (1) THIS DEVICE MAY NOT CAUSE
HARMFUL INTERFERENCE, AND (2) THIS DEVICE MUST
ACCEPT ANY INTERFERENCE RECEIVED, INCLUDING
INTERFERENCE THAT MAY CAUSE UNDESIRED OPERA-
IMPORTANT (In the United Kingdom)
The wires in this mains lead are coloured in accordance
As the colours of the wires in the mains lead of this
apparatus may not correspond with the coloured
markings identifying the terminals in your plug,
The wire which is coloured GREEN-AND-YELLOW
must be connected to the terminal in the plug which
is marked with the letter E or by the safety earth
or coloured GREEN or GREEN-AND-
YELLOW. The wire which is coloured BLUE must be
connected to the terminal which is marked with the
letter N or which is coloured BLACK. The wire which
is coloured BROWN must be connected to the
terminal which is marked with the letter L or
TO REDUCE THE RISK OF FIRE OR ELECTRIC
SHOCK, DO NOT EXPOSE THIS APPLIANCE TO
To prevent electric shock, do not open the cabinet. No
user serviceable parts inside. Refer servicing to qualified
The rating plate and the safety caution are on the
The OPERATE button does not completely shut off
mains power from the unit, but switches operating
It should be noted that it may be unlawful to re-record
pre-recorded tapes, records, or discs without the
consent of the owner of copyright in the sound or video
recording, broadcast, or cable programme and in any
literary, dramatic, musical or artistic work embodied
2000 VICTOR COMPANY OF JAPAN, LTD.
Connection to the mains supply
This unit operates on voltage of 220 to 240 V AC, 50/
FOR YOUR SAFETY (Australia)
1. Insert this plug only into effectively earthed three-
2. If any doubt exists regarding the earthing, consult a
3. Extension cord, if used, must be three-core correctly
---

1-1 Major Features ............................................. 5
1-2 Maintenance ................................................ 5
1-3 Precautions .................................................. 6
2 CONTROLS, CONNECTORS AND
2-1 Front Panel .................................................. 7
2-2 Rear Panel ................................................... 8
2-3 On-Screen Display ....................................... 9
2-4 LCD Display ............................................... 10
3-1 Video system connections ......................... 11
3-2 Audio system connections ......................... 12
3-3 Other connections ...................................... 13
3-4 Editing system examples ........................... 14
4-1 Menu switch organization .......................... 17
4-2 Menu switch details ................................... 18
Turn the power ON/OFF ................................... 21
Loading/unloading a cassette ........................... 21
Audio monitor selection ..................................... 21
Built-in clock setting .......................................... 22
Recording preparation ...................................... 23
Recording .......................................................... 23
Audio dubbing ................................................... 24
Reference ......................................................... 24
This unit is designed for professional use.
This video cassette recorder uses the MiniDV format.
Use only video cassettes bearing the MiniDV mark.
Please note that it may be unlawful to use any material
recorded from TV broadcast programs or pre-recorded
programs without the consent of the owner of
copyright, except in cases where this material is
recorded exclusively for personal use.
JVC is not liable for compensation for loss or damage
to recordings in the event this unit fails to record or play
back correctly due to a malfunction of the unit itself or
as a result of the use of a defective video cassette.
This unit is designed for use as a recorder/player.
Insert editing is not possible.
Playback preparation ........................................ 25
Playback ........................................................... 25
Repeat play ....................................................... 25
8 EXTERNAL TIMER-START FUNCTION
Playback ........................................................... 26
Recording .......................................................... 26
Display .............................................................. 27
Preset ................................................................ 27
Recording .......................................................... 29
Playback ........................................................... 29
Reference ......................................................... 29
10 SUPER SCENE FINDER FUNCTION ........ 30
11-1 Command tables ..................................... 31
11-2 RS-232C specifications .......................... 32
11-3 RS-232C commands .............................. 33
12-1 Warning indicators ................................... 40
12-2 Other problems ........................................ 42
1
13-1 Optional equipment................................. 42
14 SPECIFICATIONS ..................................... 43
5
High-quality picture and sound thanks to digital technol-
5
DV in/out (IEEE 1394) connector enabling signals to be
transferred to or from any device equipped with IEEE
5
Composite, Y/C and component inputs/outputs
5
Sync lock function for audio and video signals
There is no lip link shift even during extended recording
5
JVC bus and RS-422 serial remote interfaces
5
RS-232C interface (optionally available)
5
2-way power supply system (AC 120 V, DC 12 V) (U MODEL)
(AC 220 ­ 240 V, DC 12 V) (E MODEL)
5
Audio dubbing function (32 kHz sampling rate)
5
Compact, lightweight design
5
SMPTE time code recording and playback (U MODEL)
EBU time code recording and playback (E MODEL)
5
Sampling rate converter for 32 kHz, 12-bit or 48 kHz, 16-bit
5
External timer-start function
5
External sync signal input connectors
Consult your local JVC dealer for more information about
maintenance scheduling and costs.
Recording and playback with clogged heads may result in
block noise or sound interruption.
In this case, clean the heads.
Use an exclusive head cleaning tape to clean the tape
running system. For cleaning procedures and handling
precautions, refer to the instructions provided with the
After cleaning the heads, check that recording and play-
back function properly before using the unit for any impor-
Use a soft cloth to clean the cabinet. Do not use benzene
or thinner as these may melt or cloud the cabinet surface.
To remove excessive dirt, clean the unit with a mild deter-
gent diluted with water, then wipe it with a dry cloth.
The video cassette recorder/player incorporates precision
components. Continued use of the VCR without mainte-
nance may lead to malfunctions. Regular maintenance is
necessary to prevent malfunctions and maintain the
performance level required for professional use.
· Maintenance: Just as regular oil changes, brake checks,
and tune-ups are essential to keep your car running well
over a long period, your VCR must be maintained
regularly to ensure optimum long-term performance.
The information below will help you determine a mainte-
nance schedule that will ensure optimum performance over
The hour meter can be displayed by selecting "HM: HOUR
METER" on the menu switch setting screen. For details,
refer to "Menu Switches" on page 17.
Depending on the operation time, clean, inspect or replace
the following mechanism components.
Drum assembly
(including the heads)
This table should be used for reference only.
Actual maintenance requirements will vary according to
: Cleaning inspection, adjustment
: Cleaning inspection, replacement if required
See the service manual page 2-5 "2.4 MAIN TENANCE AND INSPECTION OF MAJOR PARTS".
---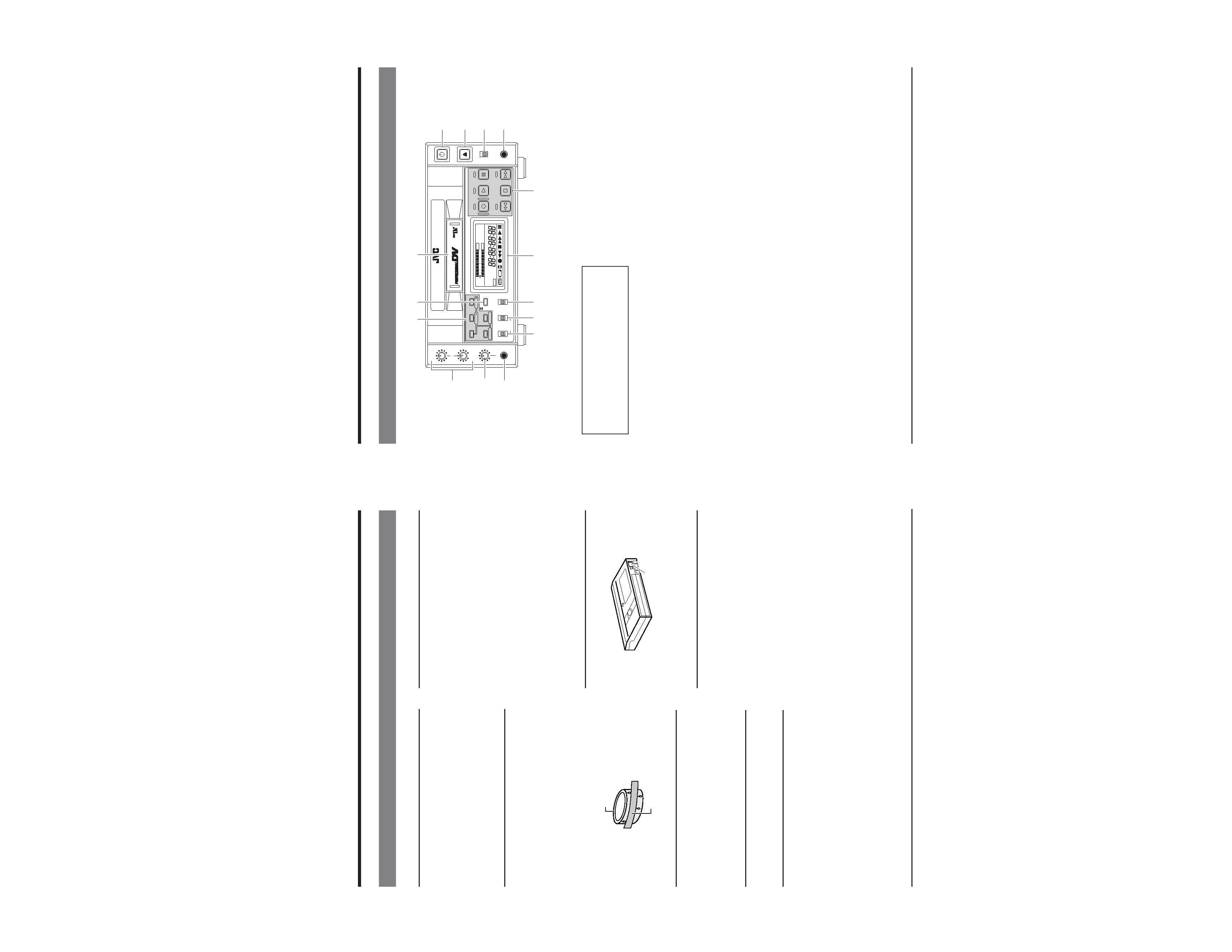 5
Do not block the ventilation openings.
5
Do not place anything heavy on the unit.
5
Do not put any foreign materials into the cassette
5
Operate the unit in a horizontal (flat) position only.
5
Avoid violent shocks to the unit.
5
Remove the cassette tape from the unit prior to trans-
5
When not using the unit, turn the power off to avoid
unnecessary power consumption.
Only cassettes bearing the MiniDV mark can be used
· Cassette tapes cannot be loaded upside-down.
· Rewind the tape to the beginning before storage.
· The number of times a tape can be reused is limited.
If the tape is reused more than this, increased noise
(such as dropouts) may result. Do not use dirty or
damaged tapes. Doing so not only results in poorer
performance, but may also shorten the service life of
· It is possible that some distortion may occur at the
beginning and end of tapes. This can vary depending
on the tape. However, for best results, do not use
these sections of the tape for any important
MiniDV cassettes are provided with a safety slide on the
side to prevent accidental erasure. Set it as required.
5
Avoid using the unit in places subject to the following
5
Do not use this unit immediately after moving it from a
cold place to a warm place or after switching on a heater
in a cold room. This will cause water vapor to condense
on the video head drum and tape guides and may
damage the tape and the VCR.
5
When condensation occurs, the DEW indication appears
on the tape counter display and the warning indication
on the on-screen display. Leave the VCR in this state
with the power on and wait until the warning message
· Move the slide to SAVE to prevent erasure.
· Move the slide to REC to allow recording.
5
This unit is provided with both AC and DC power
supplies. For editing over an extended period, it is
recommended that you use a stable AC power supply or
DC power supply from an AC adapter. Using battery
power is recommended only as a supplementary power
5
The AC and DC power supplies are switched automati-
cally. When the AC power supply is switched to the DC
power supply, the power turns off. When both power
supplies are connected, the AC power supply has
priority. Be sure to confirm which power supply is in use
when plugging or unplugging the power supply.
2 CONTROLS, CONNECTORS AND DISPLAYS
VIDEO CASSETTE RECORDER BR-DV600U
Press this switch to turn this unit ON. Press it again to
turn this unit OFF. When the power is OFF, the "oPE-oFF"
Keep in mind that a small amount of current continues
to flow into the VCR even when the power is turned
off. When not using this unit, disconnect the power
cable from the AC outlet. Remove the battery when
not in use to avoid excessive discharge.
Press to eject the cassette.
Use to switch between REMOTE and LOCAL.
Connect a microphone (3.5 mm dia., ­67 dBs, 3 k
Use to control tape running.
Use to show various data including the tape counter and au-
dio level meter. For details, refer to "LCD display" on page 10.
Use to switch the type of data displayed on the tape
counter. When the No. 516 <DISPLAY SELECT> menu
switch is set to "CLOCK", clock is shown for TC and
Use to select the audio channel to output from the rear
panel's [AUDIO OUT] connectors and the headphones.
Use to select the audio channel to output from the rear panel's
[AUDIO MONITOR OUT] connectors.
Connect a set of headphones (3.5 mm dia. mini-jack).
Use to adjust the volume level of the headphones
connected to the PHONES jack.
Use to adjust the audio recording level.
CH-1/3: CH1 can be adjusted in normal recording.
CH3 recording level can be adjusted in audio
CH-2/4: CH2 can be adjusted in normal recording.
CH4 recording level can be adjusted in audio
Audio dubbing is possible when the No. 245 <SAM-
PLING RATE> menu switch is set to "32K".
Use to set the menu switch, time code and user bits.
Press to set the menu switch setting mode.
SHIFT +/­: Use to select the menu switch.
Use to enter the set value.
Time code and user bits setting
Press to set the time code, user bits or time
Use to select the digit whose value is to be
ADVANCE: Use to change the value.
While pressing the [SHIFT] button, press this
button to reset the set data to "0".
Use to enter the changed value and end setting.
Use as a counter reset button when the
[COUNTER] switch is set to "CTL".
Use to perform audio dubbing when the No. 245
<SAMPLING RATE> menu switch is set to "32K".
Load and unload a cassette.
---