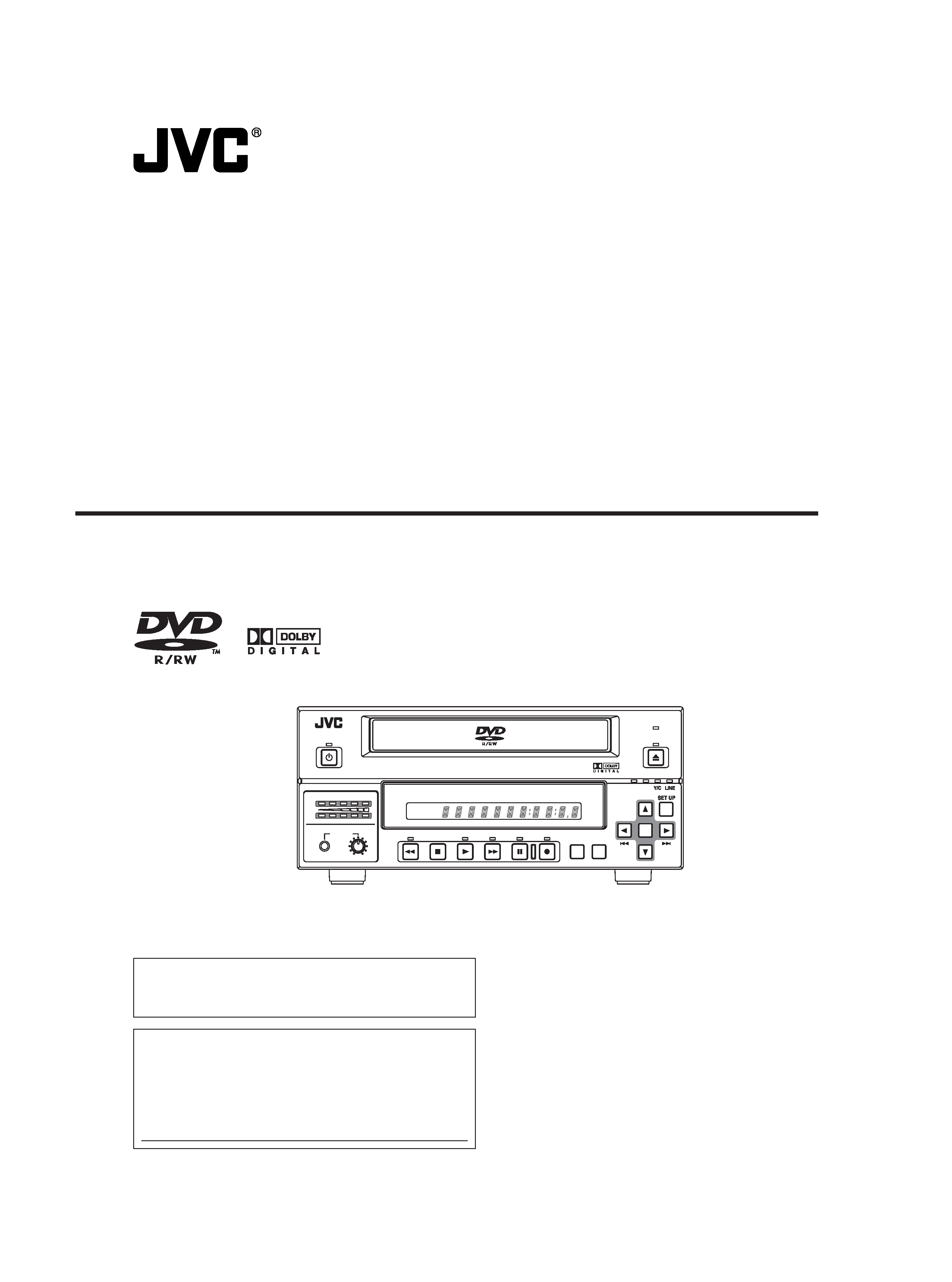 Enter below the Serial No. which is located on the bottom
Retain this information for future reference.
Thank you for purchasing this product. Before operating this
unit, please read the instructions carefully to ensure the best
This instruction book is made from 100 % recycled paper.
---

Read all of these instructions.
Save these instructions for later use.
All warnings on the product and in the operating instructions should be adhered to.
Unplug this appliance system from the wall outlet before cleaning. Do not use liquid cleaners or aerosol cleaners.
Use a damp cloth for cleaning.
Do not use attachments not recommended by the appliance manufacturer as they may cause hazards.
Do not use this appliance near water - for example, near a bathtub, washbowl, kitchen sink, or laundry tub, in a
wet basement, or near a swimming pool, etc.
Do not place this appliance on an unstable cart, stand, or table. The appliance may fall, causing
serious injury to a child or adult, and serious damage to the appliance.
Use only with a cart or stand recommended by the manufacturer, or sold with the appliance. Wall
or shelf mounting should follow the manufacturer's instructions, and should use a mounting kit
approved by the manufacturer. An appliance and cart combination should be moved with care.
Quick stops, excessive force, and uneven surfaces may cause the appliance and cart combination
Slots and openings in the cabinet and the back or bottom are pro-vided for ventilation, and to insure reliable
operation of the appliance and to protect it from overheating, these openings must not be blocked or covered. The
openings should never be blocked by placing the appliance on a bed, sofa, rug, or other similar surface.
This appliance should never be placed near or over a radiator or heat register. This appliance should not be
placed in a built-in installation such as a bookcase unless proper ventilation is provided.
This appliance should be operated only from the type of power source indicated on the marking label. If you are
not sure of the type of power supplied to your home, consult your dealer or local power company. For appliance
designed to operate from battery power, refer to the operating instructions.
10. This appliance system is equipped with a 3-wire grounding type plug (a plug having a third (grounding) pin). This
plug will only fit into a grounding-type power outlet. This is a safety feature. If you are unable to insert the plug into
the outlet, contact your electrician to replace your obsolete outlet. Do not defeat the safety purpose of the grounding
11. For added protection for this product during a lightning storm, or when it is left unattended and unused for long
periods of time, unplug it from the wall outlet and disconnect the antenna or cable system. This will prevent
damage to the product due to lightning and power-line surges.
12. Do not allow anything to rest on the power cord. Do not locate this appliance where the cord will be abused by
13. Follow all warnings and instructions marked on the appliance.
14. Do not overload wall outlets and extension cords as this can result in fire or electric shock.
15. Never push objects of any kind into this appliance through cabinet slots as they may touch dangerous voltage
points or short out parts that could result in a fire or electric shock. Never spill liquid of any kind on the appliance.
16. Do not attempt to service this appliance yourself as opening or removing covers may expose you to dangerous
voltage or other hazards. Refer all servicing to qualified service personnel.
17. Unplug this appliance from the wall outlet and refer servicing to qualified service personnel under the following
a. When the power cord or plug is damaged or frayed.
b. If liquid has been spilled into the appliance.
c. If the appliance has been exposed to rain or water.
d. If the appliance does not operate normally by following the operating instructions. Adjust only those controls
that are covered by the operating instructions as improper adjustment of other controls may result in damage
and will often require extensive work by a qualified technician to restore the appliance to normal operation.
e. If the appliance has been dropped or the cabinet has been damaged.
f. When the appliance exhibits a distinct change in performance - this indicates a need for service.
18. When replacement parts are required, be sure the service technician has used replacement parts specified by the
manufacturer that have the same characteristics as the original part. Unauthorized substitutions may result in fire,
electric shock, or other hazards.
19. Upon completion of any service or repairs to this appliance, ask the service technician to perform routine safety
checks to determine that the appliance is in safe operating condition.
(symbol provided by RETAC)
---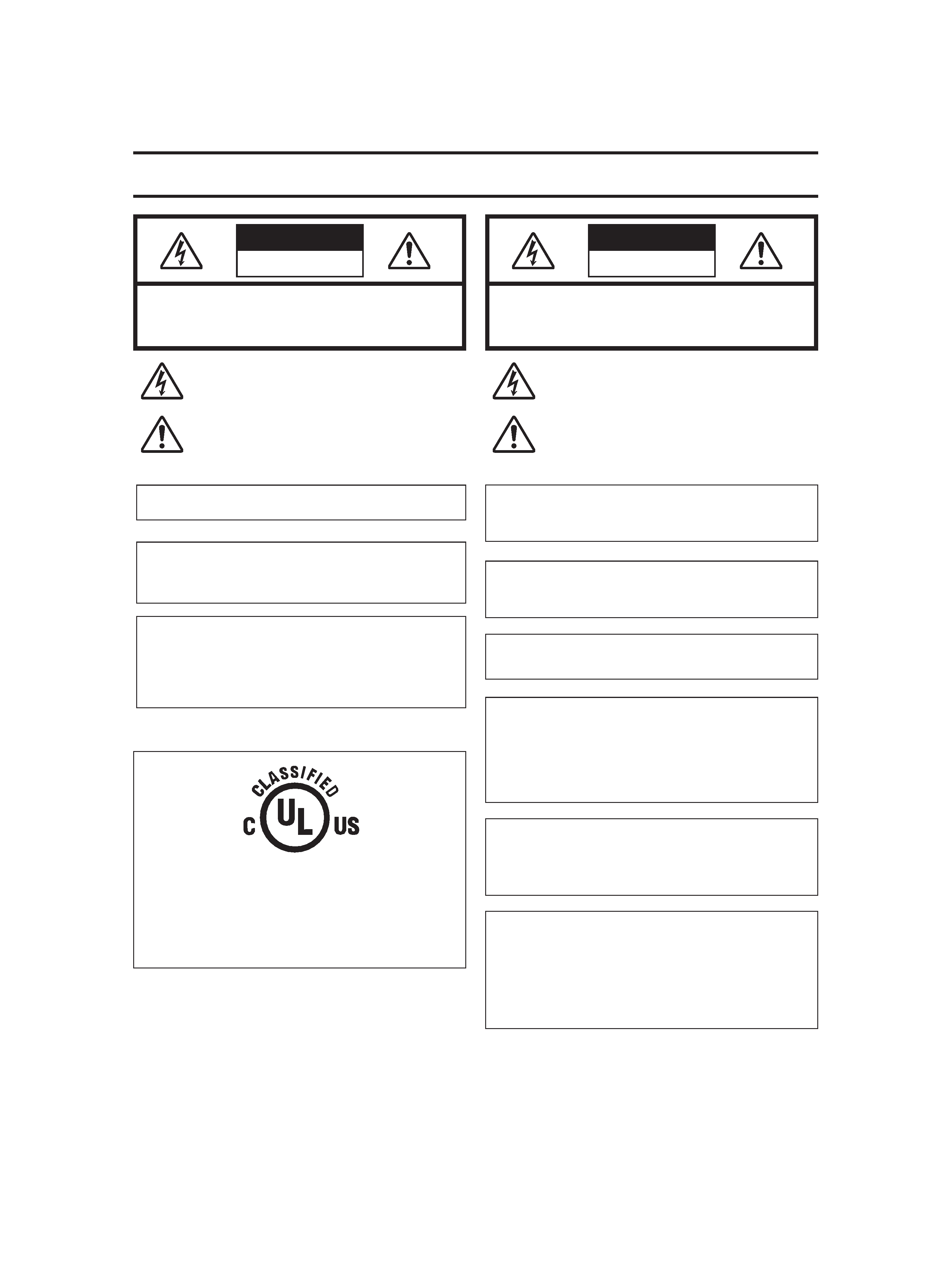 CAUTION: TO REDUCE THE RISK OF ELECTRIC SHOCK.
DO NOT REMOVE COVER (OR BACK).
NO USER-SERVICEABLE PARTS INSIDE.
REFER SERVICING TO QUALIFIED SERVICE PERSONNEL.
The lightning flash wish arrowhead symbol, within an equilateral
triangle is intended to alert the user to the presence of uninsulated
"dangerous voltage" within the product's enclosure that may be of
sufficient magnitude to constitute a risk of electric shock to persons.
The exclamation point within an equilateral triangle is intended to
alert the user to the presence of important operating and
maintenance (servicing) instructions in the literature accompanying
La plaque d'identification (numéro de série) se trouve sur le
panneau arrière de l'appareil.
The battery used in this DVD recorder must be replaced by a
JVC authorized service dealer only.
ATTENTION: POUR EVITER TOUT RISQUE D'ELECTROCUTION
ACCUNE PIECE INTERIEURE N'EST.
A REGLER PAR L'UTILISATEUR.
SE REFERER A UN AGENT QUALIFIE EN CAS DE PROBLEME.
Le symbole de l'éclair à l'intérieur d'un triangle équilatéral est
destiné à alerter l'utilisateur sur la présence d'une "tension
dangereuse" non isolée dans le boîtier du produit. Cette tension
est suffisante pour provoquer l'électrocution de personnes.
Le point d'exclamation à l'intérieur d'un triangle équilatéral est
destiné à alerter l'utilisateur sur la présence d'opérations
d'entretien importantes au sujet desquelles des renseignements
se trouvent dans le manuel d'instructions.
*Ces symboles ne sont utilisés qu'aux Etats-Unis.
Changes or modifications not approved by JVC could void the user's
authority to operate the equipment.
This device complies with Part 15 of the FCC Rules. Changes or
modifications not approved by JVC could void the user's authority
to operate the equipment.
RENSEIGNEMENT (POUR CANADA)
· This Class B digital apparatus complies with Canadian ICES-003.
· Cet appareil numérique de la classe B est conforme à la norme
MEDICAL ELECTRICAL EQUIPMENT
WITH RESPECT TO ELECTRICAL SHOCK, FIRE,
MECHANICAL AND OTHER SPECIFIED HAZARDS
UL.60601-1, CAN/CSA C22.2 NO.601.1
Disporsal of product should follow National, State and Local Laws.
It should be noted that it may be unlawful to re-record pre-
recorded tapes, records, or discs without the consent of the
owner of copyright in the sound or video recording, broad-
cast, or cable programme and in any literary, dramatic, musi-
cal or artistic work embodied therein.
This apparatus is Medical Equipment.
Please make sure to use "hospital grade" power supply cord
---

This apparatus is designed for rack mounting or is used close to other apparatus.
In order to keep the best performance and furthermore for electromagnetic compatibility we recommend to use cables
not exceeding the following lengths:
Where there are strong electromagnetic waves or magnetism, for example near a radio or TV transmitter, transformer,
motor, etc., the picture and sound may be disturbed. In such a case, please keep the apparatus away from the
sources of the disturbance.
Shielded Twist Pair cable
The inrush current of this apparatus is 19 amperes.
1. JVC Professional Europe Ltd.
Ullswater House, Kendal Avenue, London W3 0XA U.K.
2. JVC Professional Europe Ltd. Frankfurt, Germany
Gruener Weg 10, 61169 Friedberg / Hessen, Germany
3. JVC Professional Europe Ltd. Milano, Italy
Via Cassanese 224 Palazzo Tiepolo 20090 Segrate-
4. JVC Professional Europe Ltd. Paris, France
1 Avenue Eiffel 78422 Carrieres-Sur-Seine Cedex, France
5. JVC Professional Europe Ltd. Barcelona, Spain
Ctra. De Rubi, 88 Ed. Can Castanyer 08190 Sant Cugat
del Valles (Barcelona) Spain
Rue de la Petite Ile 3, Klein-Eilandstraat, Bruxelles 1070
7. JVC Professional Europe Ltd. Leiden, Nederland
JVC Plein, De Heyderweg 2, 2314 XZ Leiden, Nederland
8. JVC Professional Europe Ltd. Stockholm, Sweden
Veddestavagen 15,S-175 62 Jarfalla, Stockholm,
9. JVC Professional Europe Ltd. Tonsberg, Norway
PO Box 2012PT, Wirgenes v5, Barkaker N-3103
10. JVC Professional Europe Ltd. Tastrup, Denmark
Helgeshoej Alle 30 DK-2630 Taastrup, Denmark
11. Spitzer Electronics AG
Muehlemattstrasse 13, CH-4104 Oberwill Switzerland
Lauttasaarentie 50 FIN-00200 Helsinki Finland
62,Piraeus Ave., 183 46 Moschato, Greek
JVC Professional Products Company
1700 Valley Road, Wayne, NJ 07470 USA HEADQUARTERS
21 Finchdene Square, Scarborough, Ontario, M1X 1A7 Canada
---

Dieses Gerät ist zum Gestelleinbau und zum Betreiben in unmittelbarer Nähe anderer Geräte und Vorrichtungen
Zur Erzielung einer optimalen Betriebsleistung und zur Einhaltung elektromagnetischer Schutzbestimmungen wird
die Verwendung von Kabeln empfohlen, die jeweils die angegebene Länge nicht überschreiten sollten:
Abgeschirmtes verdrilltes Doppelkabel
Der Einschaltstoßstrom für dieses Gerät beträgt 19 Ampere.
Bei der Einwirkung starker magnetischer oder elektromagnetischer Felder (z.B. Sendeantennen, Transformatoren,
Motoren etc.) können Bild- und Tonbeeinträchtigungen auftreten. In diesem Fall auf ausreichenden Abstand zur
möglichen Störquelle achten.
Ce matériel est conçu pour le montage en baie et peut être utilisé à proximité d'autres appareils.
Afin de maintenir la meilleure performance et notamment pour la compatibilité électromagnétique, nous recommandons
l'utilisation de câbles n'excédant pas les longueurs suivantes :
Câble à paire torsadée blindé
L'appel de courant de cet appareil est de 19 ampères.
Dans les endroits où il y a des ondes électromagnétiques puissantes ou du magnétisme, par exemple près d'un
émetteur radio ou TV, d'un transformateur, d'un moniteur, etc., l'image et son peuvent être distordus. Dans ce cas,
veuillez éloigner l'appareil des sources de perturbations.
---