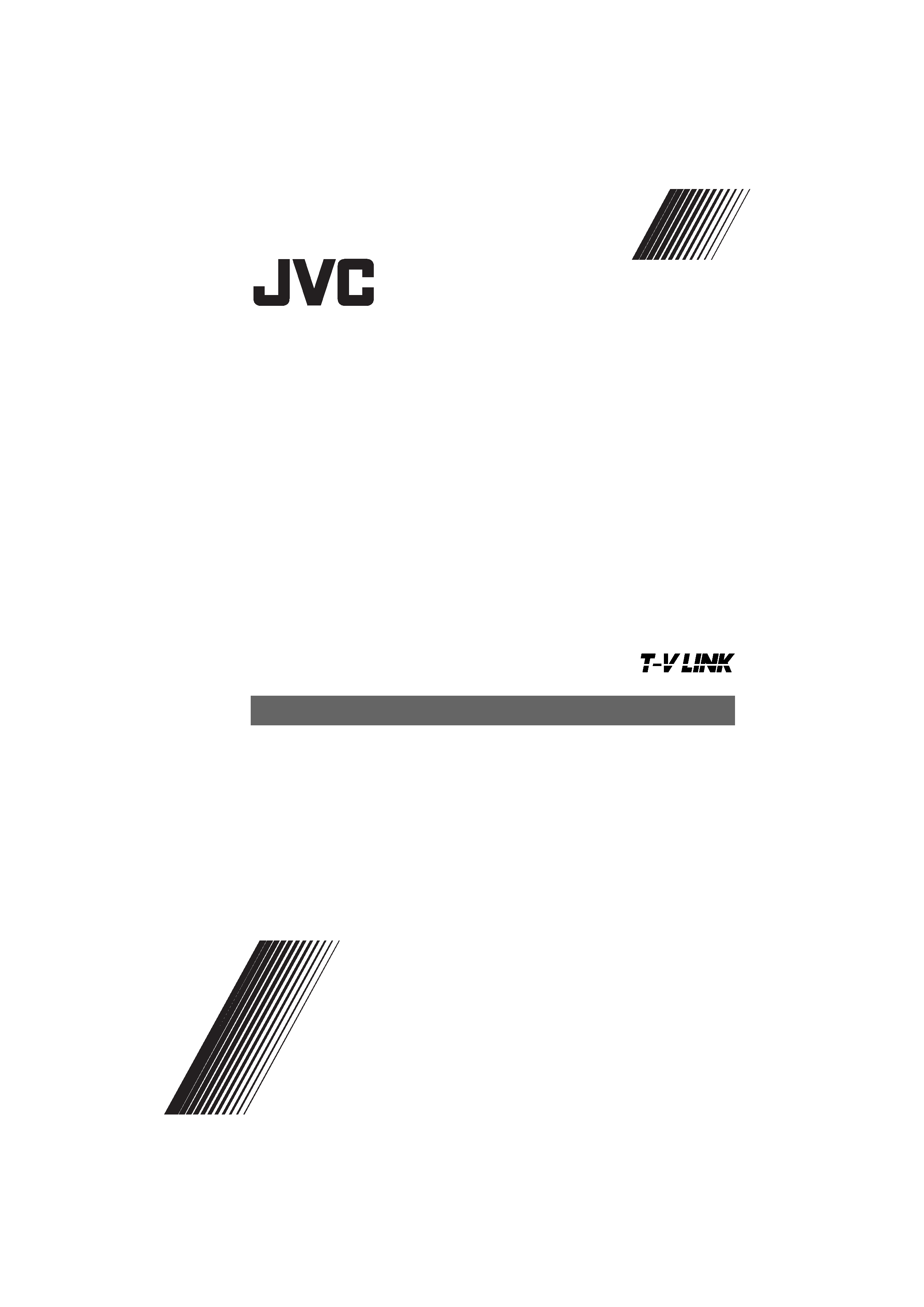 AV-32H5SA / LCT1920-001A-H / All Cover
AV-32H5SA_Eng.book Page 1 Friday, June 24, 2005 4:48 PM
---

AV-32H5SA / LCT1920-001A-H / All Cover
LCT1920-001A-H_Cover.fm Page 2 Tuesday, June 28, 2005 5:12 PM
---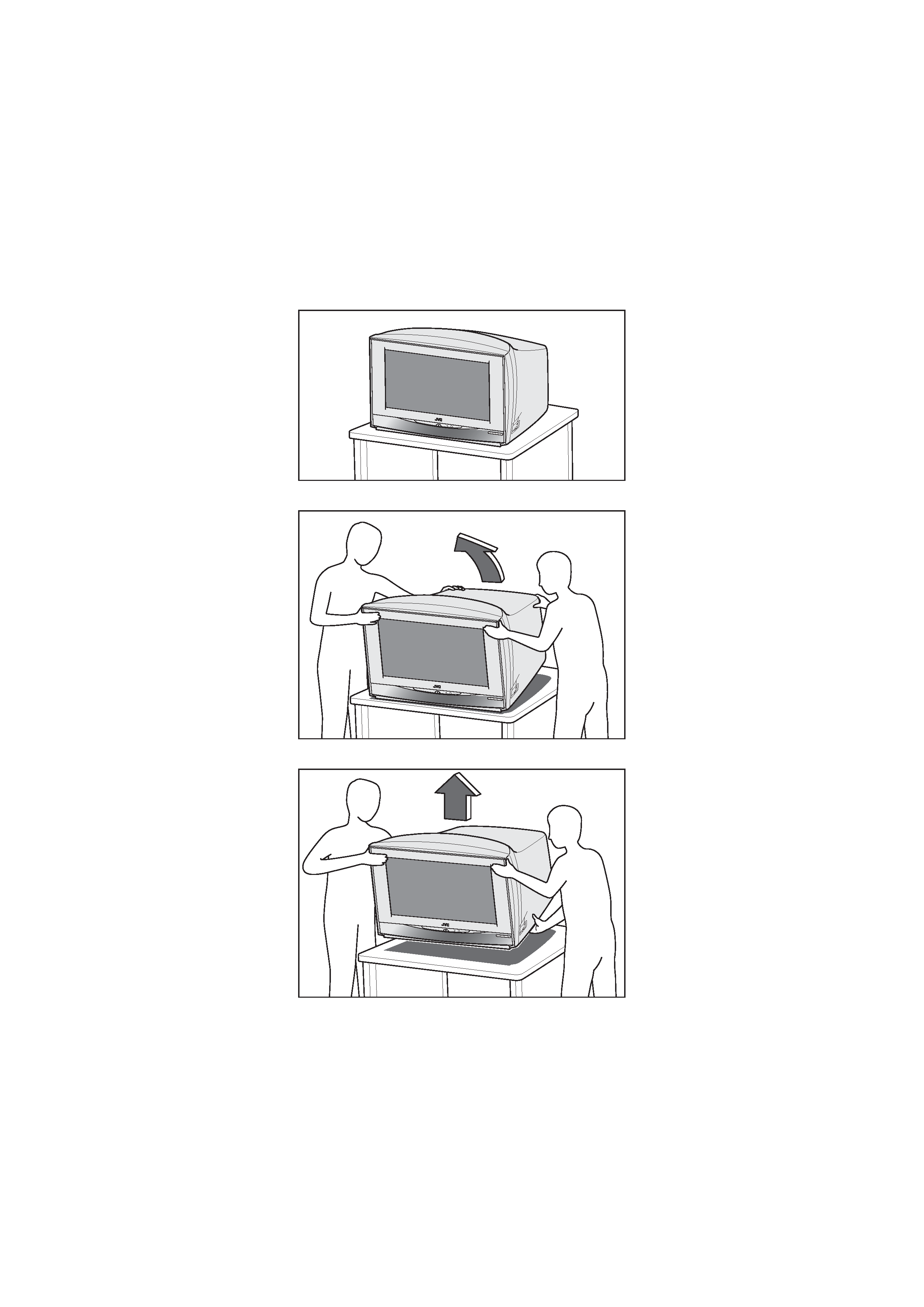 AV-32H5SA / LCT1920-001A-H / English
When moving the TV, make sure that it is held by two people as shown in the illustration. Be careful
not to trap your hands when putting the TV down.
AV-32H5SA_Eng.book Page 1 Friday, June 24, 2005 4:48 PM
---

AV-32H5SA / LCT1920-001A-H / English
Thank you for buying this JVC colour television.
To make sure you understand how to use your new TV, please read this manual thoroughly before you
Failure to take the following precautions may result in damage to the TV or
DO NOT block the TV's ventilation openings or holes.
(If the ventilation openings or holes are blocked by a newspaper or cloth, etc., the heat may not be
DO NOT place anything on top of the TV.
(such as cosmetics or medicines, flower vases, potted plants, cups, etc.)
DO NOT allow objects or liquid into the cabinet openings.
(If water or liquid is allowed to enter this equipment, fire or electric shock may be caused.)
DO NOT place any naked flame sources, such as lighted candles, on the TV.
WARNING: TO PREVENT FIRE OR SHOCK HAZARD, DO NOT EXPOSE THIS
APPLIANCE TO RAIN OR MOISTURE.
· Operate only from the power source specified (AC 220 ­ 240 V, 50 Hz) on the unit.
· Avoid damaging the AC plug and power cord.
· When you are not using this unit for a long period of time, it is recommended that you disconnect
the power cord from the mains outlet.
Avoid improper installation and never position the unit
where good ventilation is impossible.
When installing this TV, distance recommendations
must be maintained between the set and the wall, as well
as inside a tightly enclosed area or piece of furniture.
Keep to the minimum distance guidelines shown for safe
The surface of the TV screen is easily damaged. Be very careful with it when handling the TV.
Should the TV screen become soiled, wipe it with a soft dry cloth. Never rub it hard.
Never use any cleaner or detergent on it.
In the event of a fault, unplug the unit and call a service technician. Do not attempt to repair it
yourself or remove the rear cover.
AV-32H5SA_Eng.book Page 2 Friday, June 24, 2005 4:48 PM
---

AV-32H5SA / LCT1920-001A-H / English
Setting up your TV ...................................4
Connecting the aerial and VCR ................. 4
Connecting the power cord to the AC
outlet....................................................... 5
Putting the batteries into the Remote
control..................................................... 5
Initial settings ............................................. 5
T-V LINK FUNCTIONS .............................. 9
TV buttons and functions......................11
Turn the Main power on ........................... 11
Turn the TV on from standby mode ......... 11
Choose a TV channel .............................. 11
Adjust the volume .................................... 11
Remote control buttons and
functions..............................................12
Turn the TV on or off from standby mode ... 12
Choose a TV channel .............................. 12
Watch images from external devices ....... 13
Adjust the volume .................................... 14
Displaying the current time ...................... 14
ZOOM function......................................... 15
HYPER SOUND function ......................... 16
Return to TV channel instantly................. 16
Operating a JVC brand VCR or DVD
player.................................................... 16
Teletext function ....................................17
Basic operation ........................................ 17
Using the List Mode ................................. 17
Hold.......................................................... 18
Sub-page ................................................. 18
Reveal...................................................... 18
Size .......................................................... 18
Index ........................................................ 18
Cancel...................................................... 19
Using the TV's menu..............................20
Basic operation ........................................ 20
PICTURE menu ...................................... 21
PICTURE MODE...................................... 21
CONTRAST ............................................. 21
BRIGHT.................................................... 21
SHARP..................................................... 21
COLOUR.................................................. 21
HUE.......................................................... 21
COLOUR TEMP....................................... 21
FEATURES .............................................. 22
SOUND menu ......................................... 24
STEREO / I · II ......................................... 24
BASS........................................................ 24
TREBLE ................................................... 24
BALANCE ................................................ 24
HYPER SOUND....................................... 24
FEATURES menu................................... 25
SLEEP TIMER ......................................... 25
CHILD LOCK............................................ 25
BLUE BACK ............................................. 27
SET UP menu ......................................... 28
AUTO PROGRAM.................................... 28
EDIT/MANUAL ......................................... 28
LANGUAGE ............................................. 32
PICTURE TILT ......................................... 32
DECODER (EXT-2).................................. 33
EXT SETTING.......................................... 34
Additional preparation .......................... 37
Connecting the external devices .............. 37
CH/CC numbers ..................................... 39
Troubleshooting .................................... 41
Specifications ........................................ 44
AV-32H5SA_Eng.book Page 3 Friday, June 24, 2005 4:48 PM
---