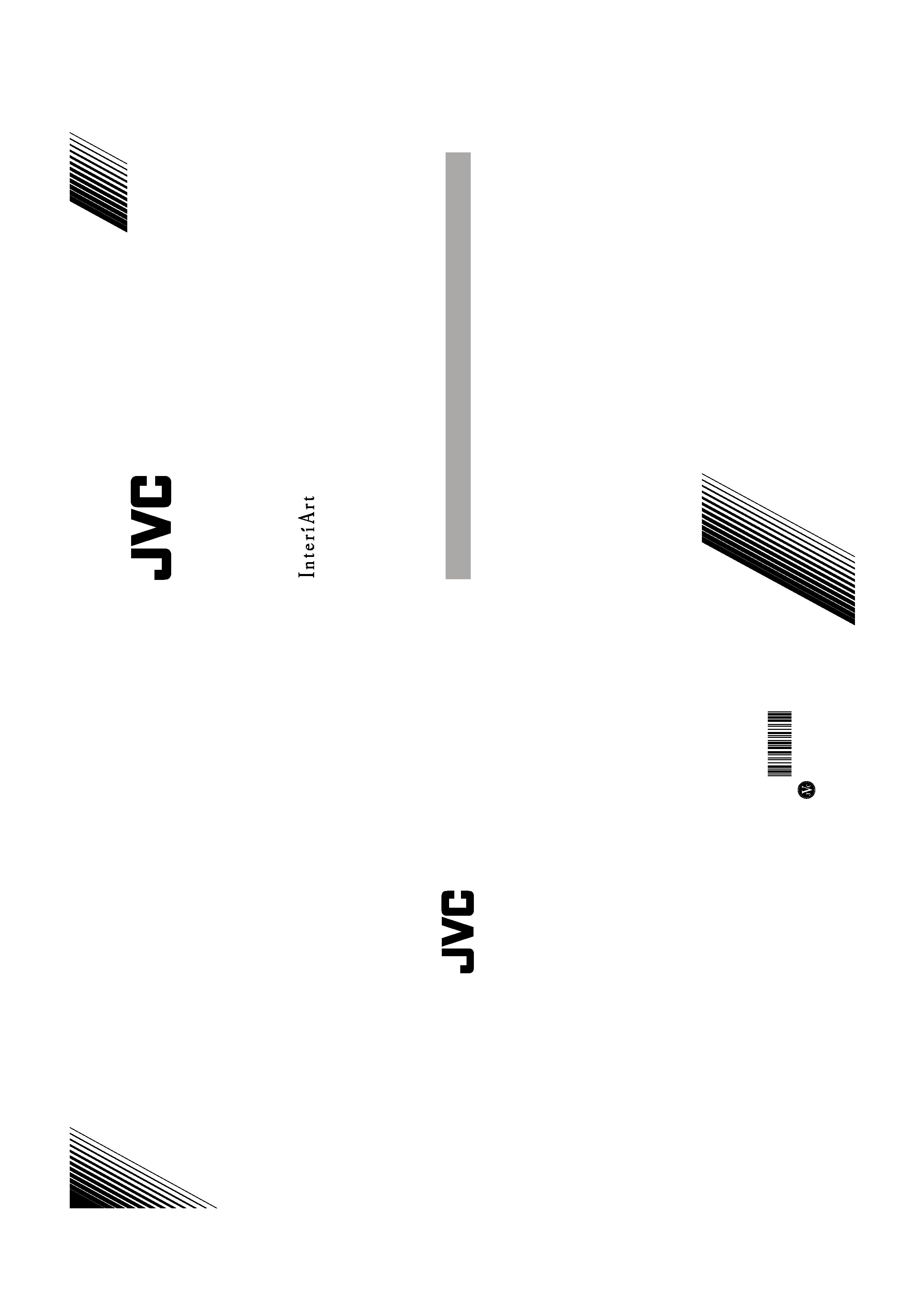 VICTOR COMPANY OF JAPAN, LIMITED
©2004 VICTOR COMPANY OF JAPAN, LIMITED
D:\Aldus Page Maker Onemli\IB-NEW\JVC\2004 Models\AK-45\21&2929 (1512 UK)\Grup-1-(AV-21&29QT4&BU&SU)\COVER PAGE-21&2929-AK45-1512UK-16-9-(AV-21&29QT4&BU&SU)-50051275.cdr
23 Nisan 2004 Cuma 16:36:23
---

Safety Precautions .................................................. 1
Remote Control Buttons ......................................... 2
Control Panel Buttons............................................. 3
Antenna Connections .............................................. 3
Preparation ............................................................... 4
Features .......................................................................... 4
Before Switching on your TV................................. 4
Power connection............................................................. 4
Aerial Connections ........................................................... 4
How to connect the external equipments .......................... 4
Inserting batteries in the remote control handset .............. 4
Switching the TV ON/OFF ....................................... 4
To switch the T V on.......................................................... 4
To switch the TV off .......................................................... 4
Initial Settings .......................................................... 4
T-V LINK .......................................................................... 5
Operating with the onset buttons ...................................... 5
Operating with Remote Control ......................................... 6
Menu System ............................................................ 6
Sound Menu..................................................................... 6
Picture Menu ................................................................... 7
Feature Menu ................................................................... 8
Install (Installation) Menu.................................................. 9
Using the Decoder (EXT-2) function ................................ 10
Program (Programming) Menu ....................................... 10
To startAUTO PROGRAM (AUTOSTORE) ..................... 10
Other Features....................................................... 11
Sound Mute ................................................................... 11
Stereo / Bilingual ............................................................ 11
Information on Screen .................................................... 11
To Display the Time........................................................ 11
Picture ........................................................................... 11
VCR / DVD Control Buttons and VCR /
Teletext ................................................................... 11
To operate Teletext ......................................................... 11
To select a page of Teletext ............................................ 12
To Select Index Page ..................................................... 12
Searching for a teletext page while watching TV ............. 12
To Select Double Height Text ......................................... 12
To Reveal concealed Information .................................. 12
To Stop Automatic Page Change .................................... 12
To Select a Subcode Page ............................................. 12
To exit Teletext ............................................................... 12
Fastext and Toptext ....................................................... 12
Connect the External Equipments....................... 13
Via the Euroconnector.................................................... 13
T-V LINK compatible VCR .............................................. 13
RGB mode ..................................................................... 13
EXT-2S Mode ................................................................. 13
Via the RCA jacks .......................................................... 13
Via the ANT (aerial) socket............................................. 13
TV and Video Recoder (VCR) ......................................... 13
NTSC Playback ............................................................. 13
Copy Facility .................................................................. 13
Connecting Headphones ................................................ 13
Tips.......................................................................... 15
Specifications......................................................... 15
The receiver should be operated only from a 220-240V AC,
50 Hz. outlet. Ensure you select the correct voltage setting
The power supply cord should be placed so that they are not
likely to be walked on or pinched by items placed upon them
or against them. Pay particular attention to cord where they
enter the plug, power outlet, and the point where they exit
Do not use this equipment in a humid and damp place (avoid
the bathroom, the sink in the kitchen, and near the washing
machine). Do not expose this equipment to rain or water and
do not place objects filled with liquids on it as this may be
Before cleaning, unplug the receiver from the main supply
outlet. Do not use liquid or aerosol cleaners. Use with soft
The slots and openings on the receiver are intended for venti-
lation and to ensure reliable operation. To prevent overheat-
ing, these openings must not be blocked or covered in any-
In case of storm and lightning or when going on holiday, dis-
connect the power cord from the wall outlet.
When replacement parts are required, be sure the service
technician has used replacement parts which are specified
by the manufacturer or have the same specifications as the
original one. Unauthorized substitutions may result in fire,
electrical shock, or other hazards.
Please refer all servicing to qualified personnel. Do not re-
move cover as this may result in electric shock.
Do not place naked flame sources on the apparatus.
Do not leave your TV stand-by or operating condition when you
Any intervention contrary to regulations, in particular, any
modification of high voltage or a replacement of the picture
tube may lead to an increased concentration of x-rays. Any
television modified in this way no longer complies with li-
cense and must not be operated.
Instructions for waste disposal:
Packaging and packaging aids are recyclable and should
principally be recycled. Packaging materials, such as foil
bag, must be kept away from children.
Batteries, including those which are heavy metal-free, should
not be disposed of with household waste. Please dispose of
used batteries in an environmentally sound manner. Find out
about the legal regulations which apply in your area.
01-ENG-21&2929-AK45-1512UK-(AV-21&29QT4&BU&SU)-50051275.p65
---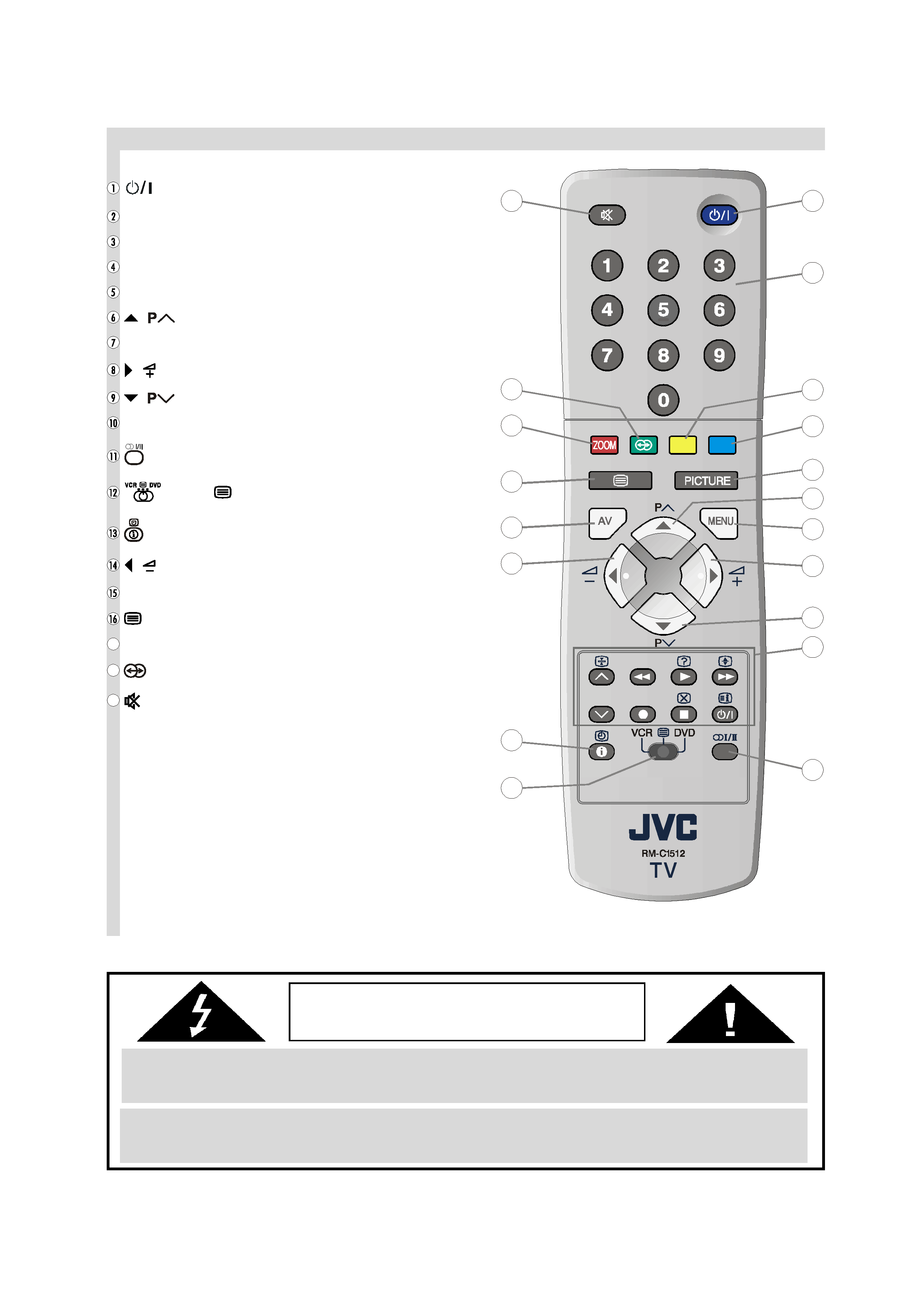 Yellow Button / Factory Settings in Picture Menu
PICTURE = Picture Mode Change
) = Programme Up (Cursor Up)
( ) = Cursor Right / Volume +
) = Programme Down (Cursor Down)
Teletext / VCR /DVD Control Buttons
= Stereo / Bilingual Button
= Information Button / T-V Link in Program Menu
( ) = Cursor Left / Volume -
ZOOM = Zoom (Picture Size) Change / Red Button
= Hyper Sound / Green Button
The lightning flash with arrowhead symbol, within an equilateral triangle, is intended to alert the user to the presence of
uninsulated "dangerous voltage" within the product's enclosure that may be of sufficient magnitude to constitute a risk
of electric shock of persons.
The exclamation point within an equilateral triangle is intended to alert the user to the presence of important operating
and maintenance (servicing) instructions in the literature accompanying the appliance.
01-ENG-21&2929-AK45-1512UK-(AV-21&29QT4&BU&SU)-50051275.p65
---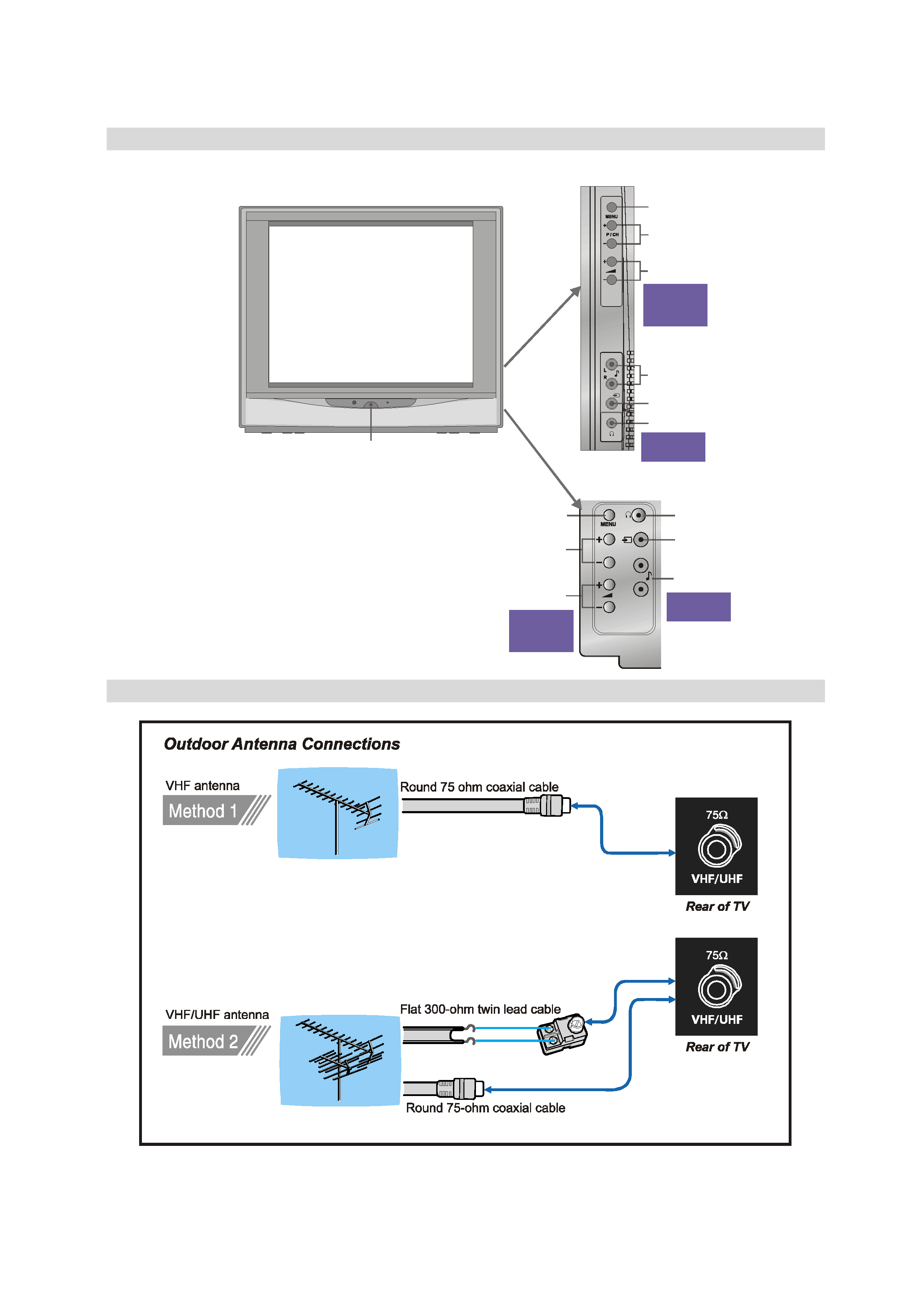 01-ENG-21&2929-AK45-1512UK-(AV-21&29QT4&BU&SU)-50051275.p65
---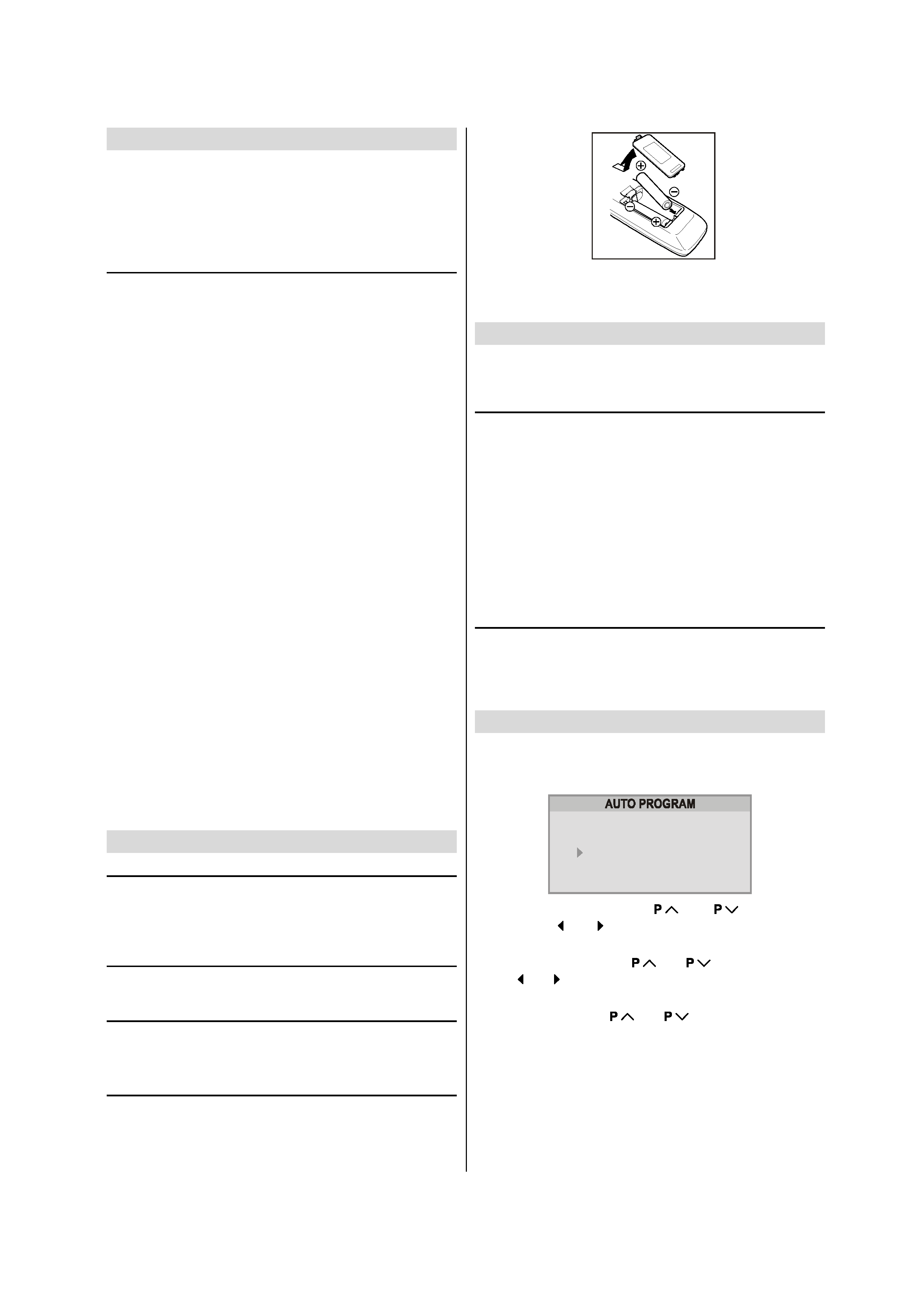 Place TV on a solid surface.
For ventilation, leave a space of at least 10 cm free all around
the set. To prevent any fault and unsafe situations, please do
not place any objects on top of the set.
Use this apparatus in tropical and moderate climates.
It is a remote controlled colour television.
100 programmes from VHF, UHF bands or cable channels
It can tune cable channels.
Controlling the TV is very easy by its menu driven system.
It has two Euroconnector sockets for external devices
(such as video recorder, video games, audio set, etc.)
Front AV (EXT-3) Input available.
Stereo sound systems (German+Nicam) are available.
Full function Teletext (Fastext, Toptext).
It is possible to connect headphone.
AUTO PROGRAM (Automatic Programming System).
All programmes can be named.
Forward or backward automatic tuning.
Comb Filter : Digital circuitry to make adjustments provid-
ing outstanding picture quality with sharp, crisp edges,
while virtually eliminating dot crawl.
CTI : (Colour Transient Improvement) Improvement of hori-
zontal transitions of chrominance (colour) signals.
Automatic sound mute when no transmission.
When no valid signal is detected, after 5 minutes the TV
switches itself automatically to stand-by mode.
WSS (Wide Screen Signaling).
Before Switching on your TV
Important: The TV set is designed to operate on 220-240 V
After unpacking, allow the TV set to reach the ambient
room temperature before you connect the set to the mains.
Connect the aerial plug to the aerial input socket located at
How to connect the external equipments
See Connect the External Equipments on
page
14.
See the instruction manuals provided with the external de-
Inserting batteries in the remote control handset
Remove the battery cover located on the back of the hand-
set by gently pulling upwards from the indicated part.
Insert two AA (R6) or equivalent type batteries inside.
Replace the battery cover.
NOTE: Remove batteries from remote control handset when it
is not to be used for a long period. Otherwise it can be damaged
due to any leakage of batteries.
You can operate your TV either using the remote control
handset or directly using the TV onset buttons.
Your TV will switch on in two steps:
1- Press the power button located on the front of the TV.
Then the TV switches itself to standby mode and the RED
LED located below the TV turns on.
2- To switch on the TV from stand-by mode either:
Press a digit button on the remote control so that a program-
Press Standby / Power Button or Programme Up and Down
buttons on the TV or on the remote control respectively, so
the TV will switch on and the RED Led will turn GREEN.
Press the stand-by button on the remote control, so the TV
will switch to stand-by mode and the GREEN LED will be-
Press the power button located on the front of the TV.
The message PLEASE CHECK ANTENNA CABLE AUTO.
PROGRAMMING SYSTEM will be displayed when you turn
on your TV for the first time.
press the or button to select a menu language.
the or button to select the country you are now lo-
right button to start AUTO PROGRAM
AUTO PROGRAM, (Automatic Programming System) auto-
matically programmes the received channels in your TVs
programme numbers. During AUTO PROGRAM, AUTO
PROGRAM IS RUNNING PLEASE WAIT will be displayed.
After AUTO PROGRAM is finalized, the PROGRAM menu
To cancel AUTO PROGRAM, press the PICTURE button.
01-ENG-21&2929-AK45-1512UK-(AV-21&29QT4&BU&SU)-50051275.p65
---