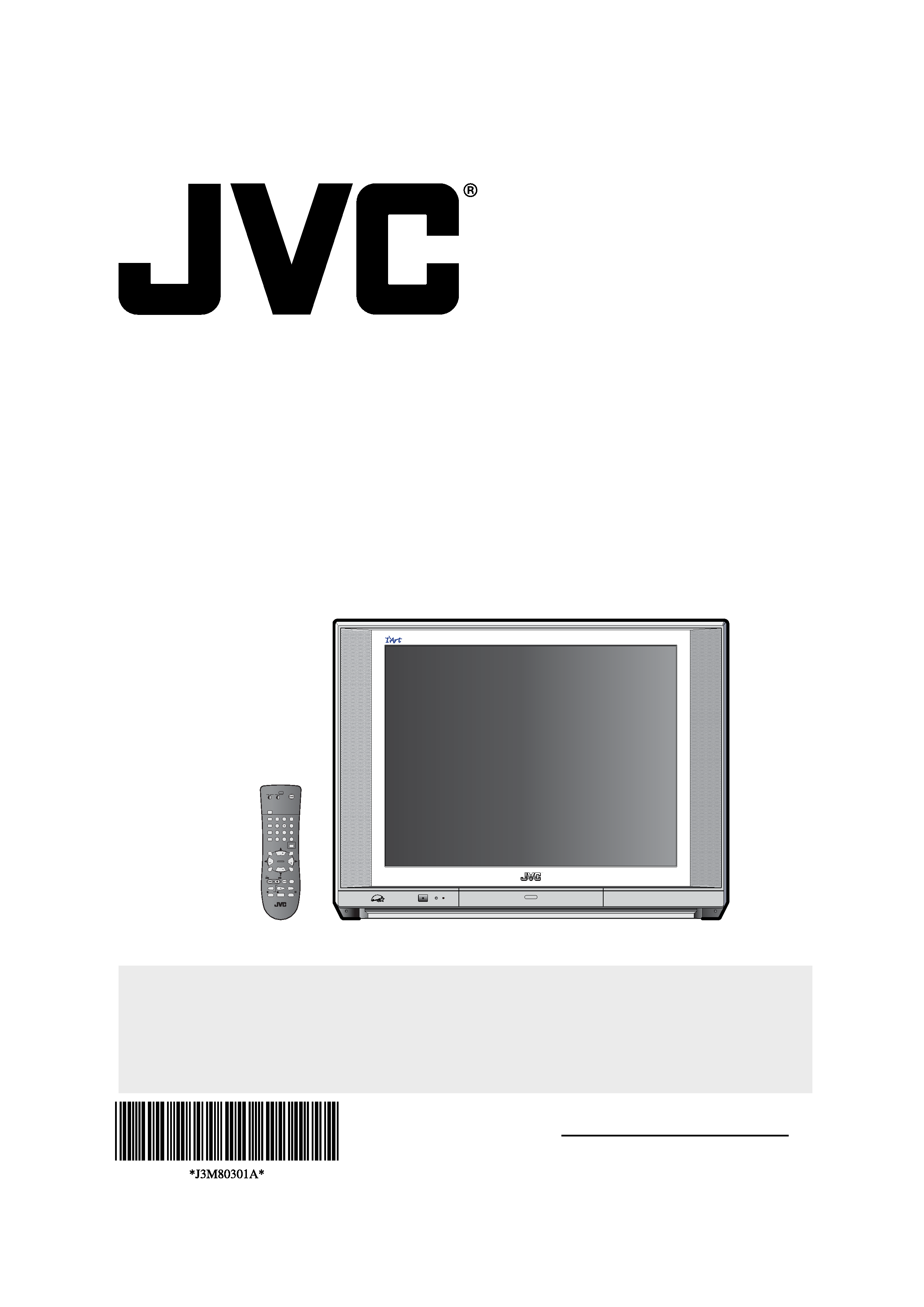 IMPORTANT NOTE TO THE CUSTOMER:
In the space below, enter the serial number for your
television (located on the rear of the television cabinet).
Staple your sales receipt or invoice to the inside cover of this guide.
Keep this user's guide in a convenient place for future reference.
Keep the carton and original packaging for future use.
Illustration of AV-24F704 and RM-C1256G
---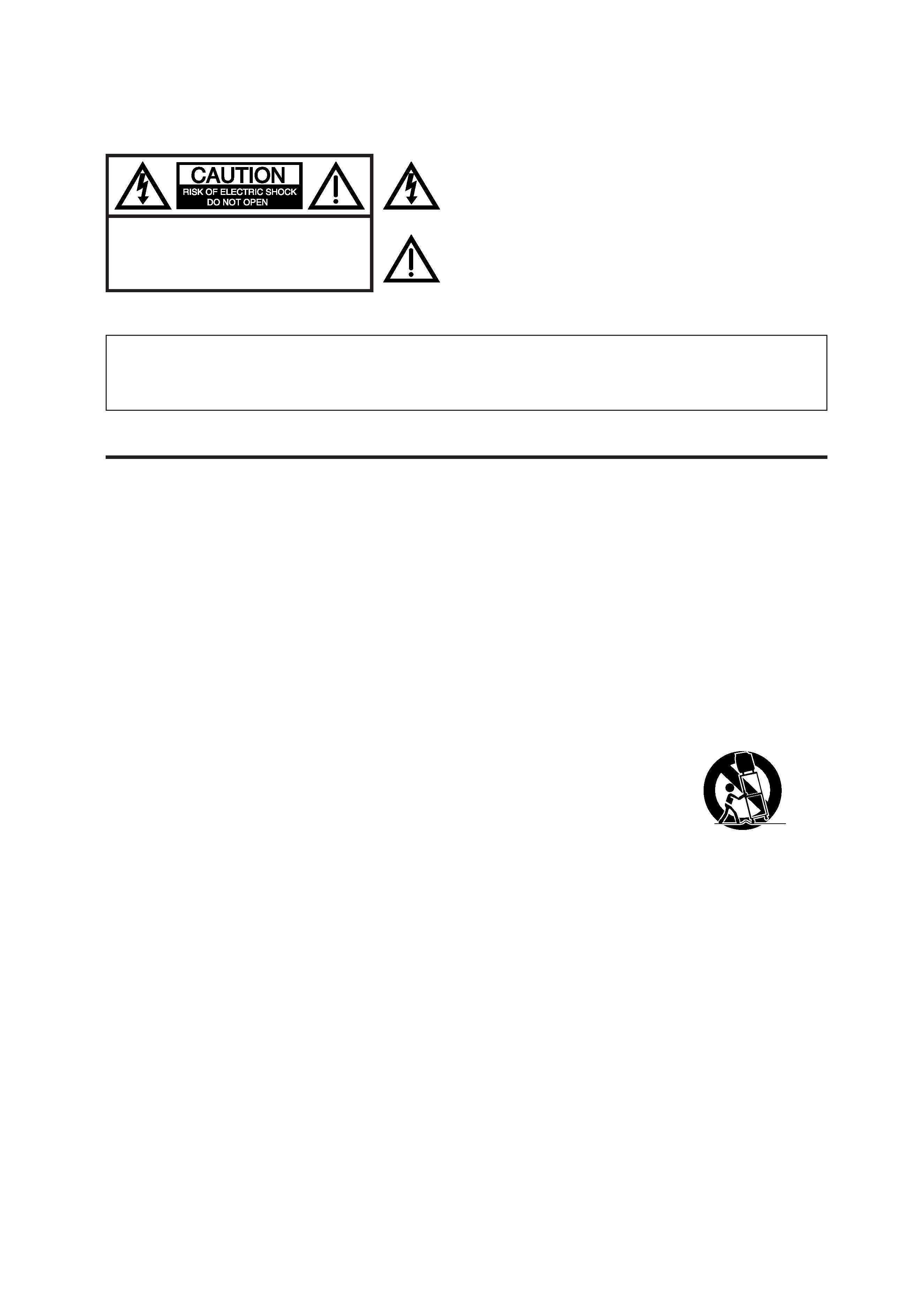 All the safety and operating instructions should be read before the unit is operated.
The safety and operating instructions should be retained for future reference.
All warnings on the unit and in the operating instructions should be adhered to.
All operating and use instructions should be followed.
Unplug this unit from the wall outlet before cleaning. Do not use liquid cleaners or aerosol cleaners. Use a damp cloth for cleaning
the exterior cabinet only.
The manufacturer of this unit does not make any recommendations for attachments, as they may cause hazards.
Do not use this unit near water. For example, near a bathtub, washbowl, kitchen sink, laundry tub, in a wet basement, or near a
Do not place this unit on an unstable cart, stand, tripod, bracket, or table.
The unit may fall, causing serious injury, and serious damage to the unit.
8A. An appliance and cart combination should be moved with care. Quick stops, excessive
force, and uneven surfaces may cause the appliance and cart combination to overturn.
Slots and openings in the cabinet back or bottom are provided for ventilation, and to ensure reliable operation of the unit, and to
protect it from overheating. These openings must not be blocked or covered. The openings should never be blocked by placing
the unit on a bed, sofa, rug, or other similar surface. This unit should never be placed near or over a radiator or heat source.
This unit should not be placed in a built-in installations such as a bookcase or rack unless proper ventilation is provided or the
manufacturer's instructions have been adhered to.
This unit should be operated only from the type of power source indicated on the rating plate. If you are not sure of the type of
power supply to your home, consult your appliance dealer or local power company. For units intended to operate from battery
power, or other sources, refer to the operating instructions.
11. GROUNDING OR POLARIZATION
This unit is equipped with a polarized alternating-current line plug (a plug having one blade wider than the other). This plug will fit
into the power outlet only one way. This is a safety feature. If you are unable to insert the plug fully into the outlet, try reversing
the plug. If the plug should still fail to fit, contact your electrician to replace your obsolete outlet. Do not defeat the safety purpose
of the polarized plug, if your unit is equipped with a 3-wire grounding-type plug, a plug having a third (grounding) pin. This plug
will only fit into a grounding-type power outlet. This too, is a safety feature. If you are unable to insert the plug into the outlet,
contacts your electrician to replace your obsolete outlet. Do not defeat the safety purpose of the grounding-type plug.
12. POWER-CORD PROTECTION
Power-supply cords should be routed so that they are not likely to be walked on or pinched by items placed upon or against
them, paying particular attention to cords at plugs, convenience receptacles, and the point where they exit from the appliance.
The lightning flash with arrowhead symbol, within an equilateral triangle
is intended to alert the user to the presence of uninsulated dangerous
voltage within the product's enclosure that may be of sufficient magni-
tude to constitute a risk of electric shock.
The exclamation point within an equilateral triangle is intended to
alert the user to the presence of important operating and mainte-
nance (servicing) instructions in the literature accompanying the
CAUTION:
TO REDUCE THE RISK OF
ELECTRIC SHOCK, DO NOT REMOVE
COVER (OR BACK). NO USER-SERVICEABLE
PARTS INSIDE. REFER SERVICING TO
QUALIFIED SERVICE PERSONNEL.
CAUTION
:
Changes or modifications not expressly approved by the party responsible for compliance with the FCC
Rules could void the user's authority to operate this equipment.
WARNING:
TO PREVENT FIRE OR SHOCK HAZARD, DO NOT EXPOSE THIS APPLIANCE TO RAIN OR MOISTURE.
CAUTION
:
TO PREVENT ELECTRIC SHOCK DO NOT USE THIS POLARIZED PLUG WITH AN EXTENSION CORD,
RECEPTACLE OR OTHER OUTLET UNLESS THE BLADES CAN BE FULLY INSERTED TO PREVENT
(symbol provided by RETAC)
---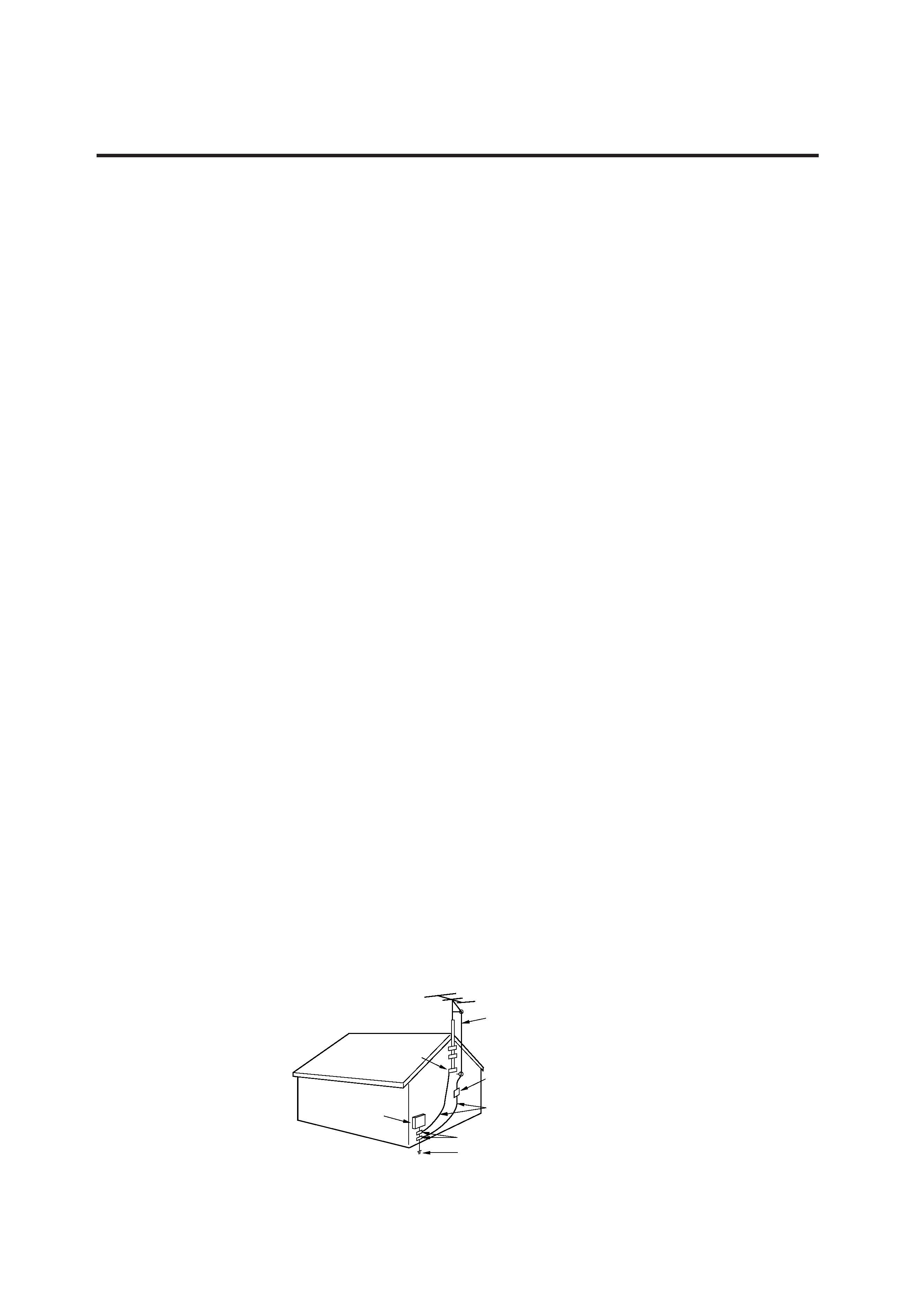 EXAMPLE OF ANTENNA GROUNDING AS PER THE NATIONAL ELECTRICAL CODE
To protect your unit during a lightning storm, or when it is left unattended and unused for long periods of time, unplug it from the
wall outlet and disconnect the antenna or cable system. This will prevent damage to the unit due to lightning and power line
An outside antenna system should not be located in the vicinity of overhead power lines or other electric light or power circuits,
or where it can fall into such power lines or circuits. When installing an outside antenna system, extreme care should be taken
to keep from touching such power lines or circuits, as contact with them might be fatal.
Do not overload wall outlets and extension cords as this can result in a risk of fire or electric shock.
16. OBJECT AND LIQUID ENTRY
Do not push objects through any openings in this unit, as they may touch dangerous voltage points or short out parts that could
result in fire or electric shock. Never spill or spray any type of liquid into the unit.
17. OUTDOOR ANTENNA GROUNDING
If an outside antenna or cable system is connected to the unit, be sure the antenna or cable system is grounded to provide
some protection against voltage surges and built-up static charges, Section 810 of the National Electrical Code, ANSI/NFPA
70, provides information with respect to proper grounding of the mast and supporting structure, grounding of the lead-in wire to
an antenna discharge unit, size of grounding conductors, location of antenna discharge unit, connection to grounding elec-
trodes, and requirements for the grounding electrode.
Do not attempt to service this unit yourself as opening or removing covers may expose you to dangerous voltage or other
hazards. Refer all servicing to qualified service personnel.
19. DAMAGE REQUIRING SERVICE
Unplug this unit from the wall outlet and refer servicing to qualified service personnel under the following conditions:
a. When the power-supply cord or plug is damaged.
b. If liquid has been spilled, or objects have fallen into the unit.
c . If the unit has been exposed to rain or water.
d. If the unit does not operate normally by following the operating instructions. Adjust only those controls that are covered by
the operating instructions, as an improper adjustment of other controls may result in damage and will often require
extensive work by a qualified technician to restore the unit to its normal operation.
e. If the unit has been dropped or the cabinet has been damaged.
f . When the unit exhibits a distinct change in performance, this indicates a need for service.
When replacement parts are required, be sure the service technician uses replacement parts specified by the manufacturer or
those that have the same characteristics as the original part.
Unauthorized substitutions may result in fire, electric shock or other hazards.
Upon completion of any service or repairs to this unit, ask the service technician to perform safety checks to determine that the
unit is in proper operating condition.
The product should be situated away from heat sources such as radiators, heat registers, stoves, or other products (including
amplifiers) that produce heat.
23. NOTE TO CATV SYSTEM INSTALLER
This reminder is provided to call the CATV system installer's attention to Article 820-40 of the NEC that provides guidelines for
proper grounding and, in particular, specifies that the cable ground shall be connected to the grounding system of the building,
as close to the point of cable entry as practical.
ANTENNA DISCHARGE UNIT (NEC
GROUNDING CONDUCTORS (NEC SECTION
POWER SERVICE GROUNDING ELECTRODE
SYSTEM (NEC ART 250, PART H)
NEC-NATIONAL ELECTRICAL CODE
---

· Flat Picture Tube - It reduces the influence of surrounding light resulting in outstanding image detail and clarity.
· 181 Channel Tuner - The tuning system is capable of receiving all 68 VHF/UHF standard broadcast channels that are
available in your area. When operating on a cable system, it can tune to the standard VHF channel frequencies plus
up to 113 cable channel frequencies. The actual number of channels received depends upon channel reception in
your area or your cable system.
· On-Screen 3 Language Display - Consists of channel, sleep timer, volume level, muting, text/caption indicators
and picture control adjustments. These can be displayed in English, Spanish or French.
· ON/OFF Timer - Allows you to automatically turn on or off your TV at a set time.
· Sleep Timer - Operable from the remote control, this TV can be programmed up to 120 minutes to turn off
· V-Chip - The V-Chip function can read the rating of a TV program or movie content if the program is encoded with
this information. The V-Chip will allow you to set a restriction level.
· Picture Control Adjustments - The On-Screen display allows precise remote control adjustment of
BRIGHTNESS, COLOR, CONTRAST, SHARPNESS, TINT and COMPONENT.
· Closed Captioned Decoder - Displays text captions or 1/2 of full screen text on the screen for hearing impaired
· Stereo/SAP Reception - This TV is designed to receive stereo and separate audio program (SAP) broadcasts
· Video Input Jacks - This unit is equipped 3 types of video input jacks. The component video in jacks and S-video
in jack enable you to watch the DVD player or the video devices with high quality picture.
· Remote Control - You can operate your VCR, Cable Box, Satellite Dish and DVD after you have registered the 3-
digit codes for their brand name.
FEATURES ......................................................... 4
LOCATION OF CONTROLS ............................... 5
REMOTE CONTROL .......................................... 6
ANTENNA/CATV CONNECTIONS ................... 11
CONNECTION TO OTHER EQUIPMENT ........ 12
SETTING LANGUAGE ...................................... 13
SETTING CLOCK ............................................. 13
TO MEMORIZE CHANNELS ............................ 14
SETTING V-CHIP ............................................. 15
TV BASIC OPERATION .................................... 17
INPUT button .................................................... 18
STEREO AND SEPARATE AUDIO
PROGRAM (SAP) ............................. 18
DISPLAY button ................................................ 18
PICTURE ADJUSTMENTS ............................... 19
SOUND ADJUSTMENTS .................................. 19
CLOSED CAPTION .......................................... 20
ON/OFF TIMER ................................................ 21
SLEEP TIMER button ....................................... 22
VCR buttons ...................................................... 22
DVD buttons ...................................................... 22
TV/CATV switch ................................................ 22
VCR/DVD switch ............................................... 22
TROUBLESHOOTING GUIDE .......................... 23
SPECIFICATIONS .............................. Back Cover
IMPORTANT RECYCLING INFORMATION
This product utilizes both a Cathode Ray Tube (CRT) and other components that contain lead.
Disposal of these materials may be regulated in your community due to environmental
considerations. For disposal or recycling information, please contact your local authorities,
or the Electronic Industries Alliance: http://www.eiae.org
· As an "ENERGY STAR
®
" partner, JVC has determined that this product or product
model meets the "ENERGY STAR
®
" guidelines for energy efficiency.
---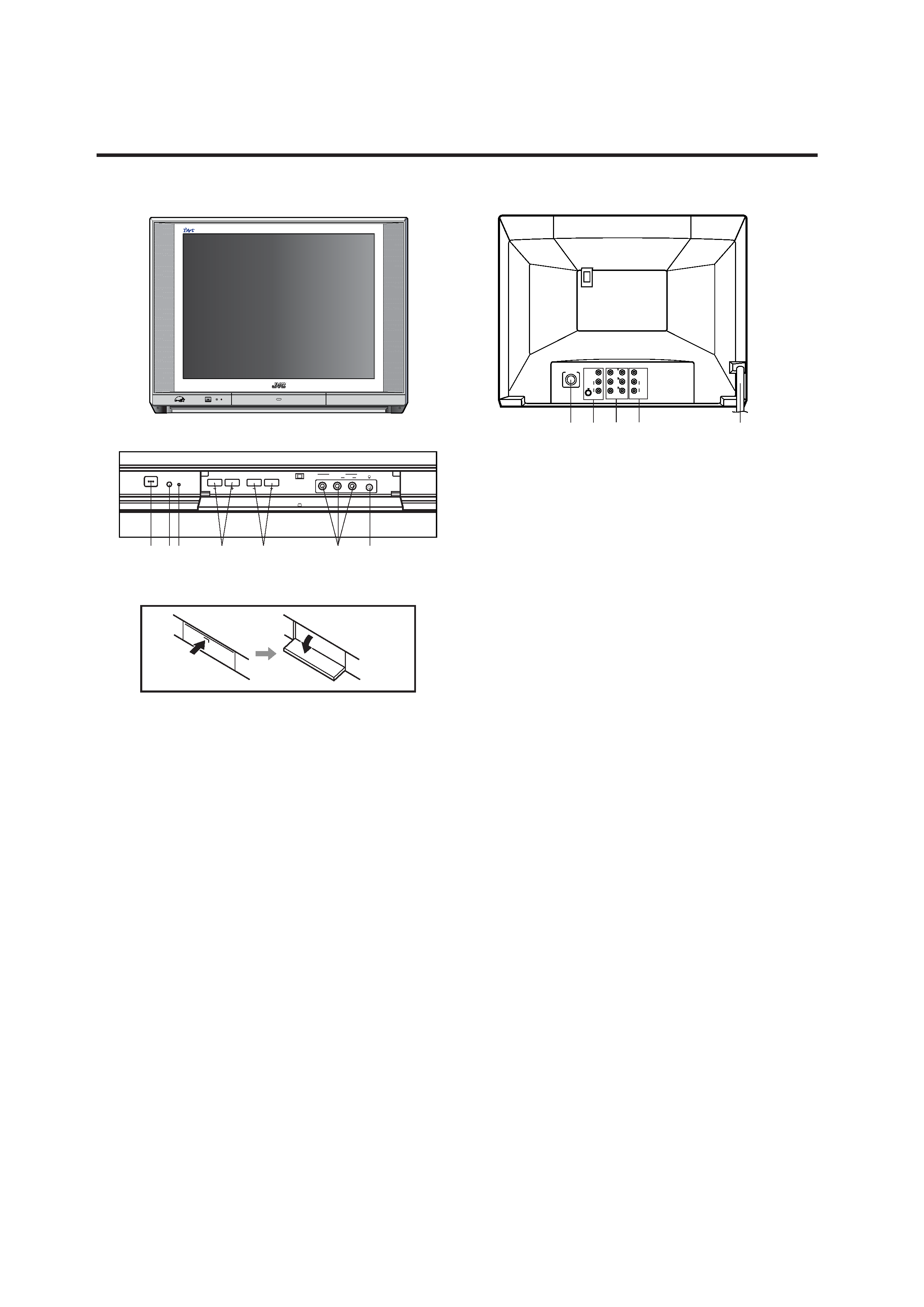 9. VIDEO 1 IN Jacks (Rear) - Audio and video signal
cables from an external source (ex. VCR) can be
connected here. If your video device has S-video out
jack, connect to S-video in jack.
10. VIDEO 2 IN Jacks - Audio and video signal cables
from an external source (ex. DVD) can be connected
If you have a DVD with component video out jacks,
connect to the component video in jacks. If you have
a video device without the component video out,
connect to video in jack.
11. REAR AUDIO (L / R) /VIDEO OUT Jacks - Used to
output audio and video signals to a TV, amplifier or
NOTE: This video out jack does not output the signal
from component video in jacks.
12. AC Power Cord - Connect to a 120V, 60Hz outlet.
1. POWER Button - Press to turn the TV on or off.
2. Remote Sensor - Signals from the Remote
Control unit are received here.
3. ON TIMER Indicator - This indicator lights up
when the powered up. It also lights up when ON
TIMER program is turned ON while power is OFF.
4. CHANNEL +/­ Buttons - Press to select a higher
or lower numbered channel set into memory.
5. VOLUME +/­ Buttons - Press to raise or lower the
6. VIDEO 3 IN Jacks (Front) - Audio and video signal
cables from an external source can be connected
7. HEADPHONES JACK - Plug an earphone or head-
phones with an 1/8 miniplug into this jack for listening.
8. VHF/UHF IN (ANT) Jack - Connect a VHF/UHF
antenna or CATV cable to this jack.
HOW TO OPEN THE FRONT DOOR
Illustration of AV-24F704
---