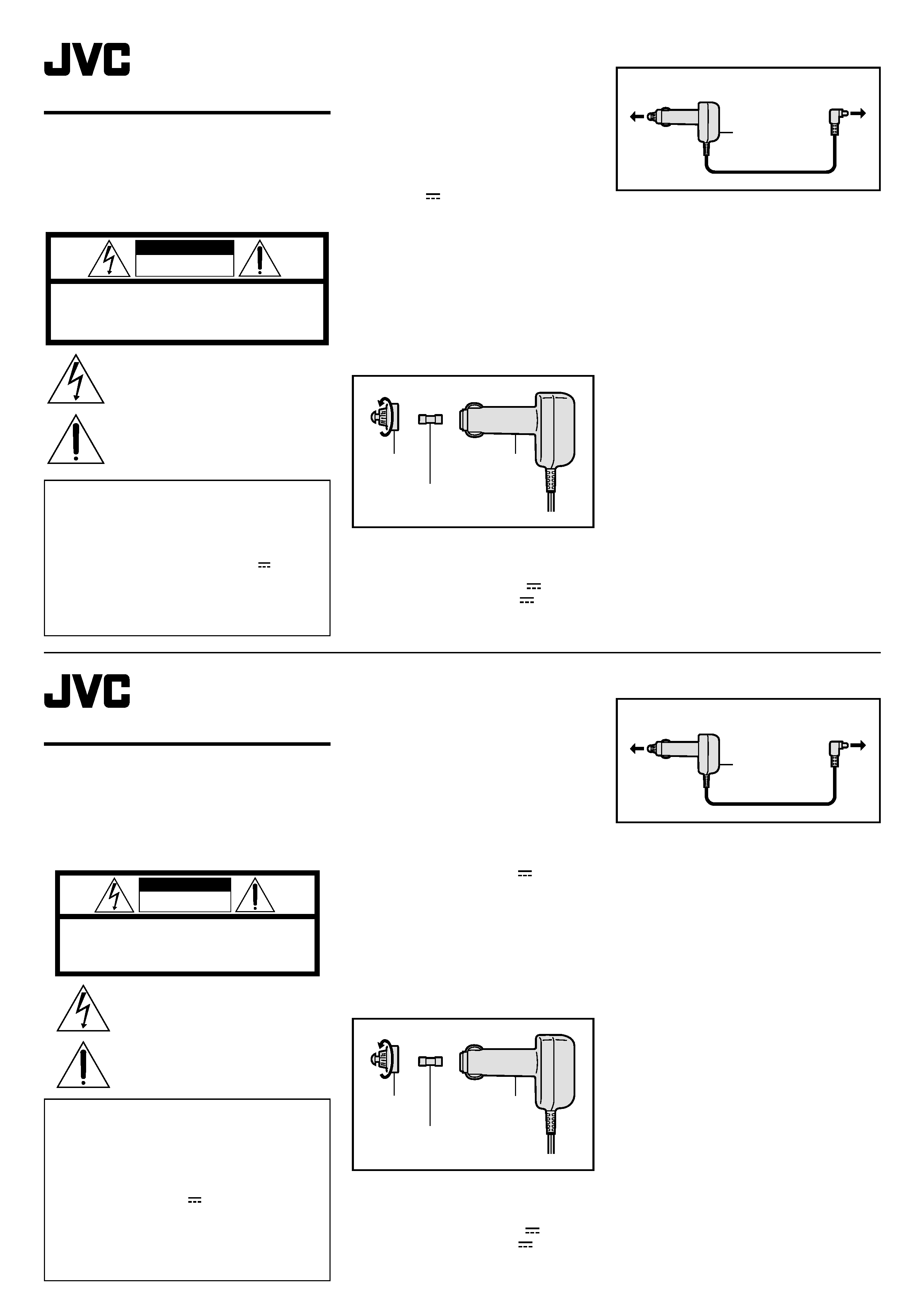 Thank you for purchasing the JVC AP-V8U Car
Battery Cord. This Car Battery Cord is for use
exclusively with the JVC camcorder. To avoid
problems and obtain the best results, please read this
instruction booklet carefully before use.
TO REDUCE THE RISK OF ELECTRIC SHOCK,
DO NOT REMOVE COVER (OR BACK).
NO USER-SERVICEABLE PARTS INSIDE.
REFER SERVICING TO QUALIFIED SERVICE PERSONNEL.
The lightning flash with arrowhead symbol, within an
equilateral triangle, is intended to alert the user to the
presence of uninsulated "dangerous voltage" within the
product's enclosure that may be of sufficient magnitude
to constitute a risk of electric shock to persons.
The exclamation point within an equilateral triangle is
intended to alert the user to the presence of important
operating and maintenance (servicing) instructions in
the literature accompanying the appliance.
Prevent water from entering the unit.
Do not disassemble or modify the unit, as
this will cause danger and malfunctioning.
Avoid using the unit in places subject to
direct sunlight, excessive humidity and
Be careful not to deplete the car battery
when operating the JVC camcorder.
DO NOT use this cord with cars operating
The cigarette lighter plug of the car battery
cord might not be able to be inserted
properly into the cigarette lighter socket if
the car is such that the socket is located
inside the ashtray compartment or other
HOW TO REPLACE THE FUSE AND CAP
HAZARD, DO NOT EXPOSE THIS UNIT
This unit should be used with DC 12V
(FOR NEGATIVE GROUNDED CARS ONLY)
To prevent electric shocks and fire hazards, do NOT
use any other power source.
1. Connect the Car Battery Cord to the
2. Keep the car engine idling.
3. Remove the car cigarette lighter and insert the
cigarette lighter plug of the Car Battery Cord.
4. Turn the camcorder's power on.
When removing either the power plug or the
cigarette lighter plug, be sure to turn the
camcorder's power off first.
When replacing the fuse, take it out by
unscrewing the cap at the tip of the cigarette
lighter plug in the direction of the arrow
Always use a 125V 2.5A fuse.
Replace with the provided DIN type cap if your
car's cigarette lighter is of the European type.
FOR CONTINUED PROTECTION AGAINST
FIRE HAZARD, REPLACE ONLY WITH
SAME TYPE AND RATED FUSE.
(Negative grounded cars only)
: Approx. 100 g (0.22 lbs)
Provided accessory : DIN cap (For European type)
Nous vous remercions pour l'achat du Cordon pour
batterie automobile AP-V8U de JVC. Ce cordon est
destiné à être utilisé uniquement avec un camescope
de JVC. Pour éviter des incidents et obtenir le
meilleur de ce cordon, veuillez lire avec soin ce
manuel d'instructions avant de l'utiliser.
CORDON POUR BATTERIE AUTOMOBILE
Eviter que de l'eau ne pénètre dans ce
Ne pas le démonter ou le modifier car cela
pourrait être dangereux et provoquer de
Eviter de l'utiliser dans des endroits soumis
à une forte humidité, à des vibrations ou
exposés aux rayons directs du soleil.
Faire attention de ne pas décharger
complètement la batterie de la voiture en
faisant fonctionner le camescope.
NE PAS UTILISER ce cordon avec des
automobiles à masse positive (+)
fonctionnement sur 24 V CC
La fiche allume-cigare du cordon pour
batterie automobile peut ne pas être
introduite correctement dans la prise de
l'allume-cigare si cette prise est située dans
le compartiment cendrier ou un autre endroit
REMPLACEMENT DU FUSIBLE ET CAPUCHON
D'INCENDIE OU D'ELECTROCUTION,
NE PAS EXPOSER L'APPAREIL A
L'HUMIDITE NI A LA PLUIE.
Cet appareil ne doit être utilisé que sur du
voitures reliées négativement à la masse.)
Afin d'éviter tout risque d'incendie ou
d'électrocution, ne pas utiliser d'autres sources
d'alimentation électrique.
1. Raccorder le cordon pour batterie automobile
2. Laisser le moteur au point mort.
3. Enlever l'allume-cigare et introduire la fiche
pour l'allume-cigare du cordon pour batterie
4. Mettre en marche l'alimentation du
Quand vous retirez la prise d'alimentation ou
la fiche pour allume-cigare, bien couper
d'abord l'alimentation du camescope.
Lors du remplacement du fusible, le sortir en
dévissant le capuchon situé au bout de la fiche
pour allume-cigare dans le sens indiqué par la
flèche (sens inverse des aiguilles d'une montre.)
Toujours utiliser un fusible de 2,5 A 125 V.
Remplacer avec le capuchon type DIN fourni si
l'allume-cigare de votre voiture est de type
POUR UNE PROTECTION PERMANENTE
CONTRE LES RISQUES D'INCENDIE,
REMPLACER LE FUSIBLE PAR UN AUTRE
DE MEME TYPE ET DE MEME VALEUR.
CARACTERISTIQUES TECHNIQUES
(voitures reliées négativement à la masse seulement)
: Capuchon DIN (pour type européen)
ATTENTION: POUR EVITER TOUT RISQUE D'ELECTROCUTION
ATTENTION:
NE PAS OUVRIR LE BOITIER
AUCUNE PIECE INTERIEURE N'EST A REGLER PAR L'UTILISATEUR.
SE REFERER A UN AGENT QUALIFIE EN CAS DE PROBLEME.
Le symbole de l'éclair à l'intérieur d'un triangle
équilatéral est destiné à alerter l'utilisateur sur la
présence d'une "tension dangereuse" non isolée dans
le boîtier du produit. Cette tension est suffisante pour
provoquer l'électrocution de personnes.
Le point d'exclamation à l'intérieur d'un triangle
équilatéral est destiné à alerter l'utilisateur sur la
présence d'opérations d'entretien importantes au
sujet desquelles des renseignements se trouvent
dans le manuel d'instructions.
---