Thank you for purchasing the JVC AC Power Adapter/Charger. This unit provides DC power for the JVC
Digital Video Camera from a household AC outlet. It can be used to recharge the JVC battery pack for
exclusive use with the JVC Digital Video Camera, and is capable of charging two battery packs
consecutively. To avoid problems and obtain the best results, please read this instruction booklet carefully
before use. Before using as a power adapter, make sure that this unit's model number is the same as that of
the power supply unit specified in the instruction manual of the equipment you wish to power.
When you are not using this unit for a long
period of time, it is recommended that you
disconnect the power cord from AC outlet.
TO PREVENT FIRE OR SHOCK HAZARD,
DO NOT EXPOSE THIS UNIT TO RAIN
This unit should be used with AC 110 ­ 240 V`
To prevent electric shocks and fire hazards, do
NOT use any other power source.
To prevent electric shock, do not open the
cabinet. No user serviceable parts inside. Refer
servicing to qualified service personnel.
The rating plate (Serial number plate) is on the
---

As an AC Power Adapter/Charger, the AA-V90EG
is used exclusively with the JVC Digital Video
·If used near a radio, this unit may interfere
·Prevent inflammables, water and metallic
objects from entering the unit.
·Do not disassemble or modify the unit.
·Do not apply shocks to the unit.
·Do not subject the unit to direct sunlight.
·Avoid using the unit in extremely hot or humid
·Avoid using the unit in places subject to
TO PREVENT ELECTRIC SHOCK MATCH WIDE
BLADE OF PLUG TO WIDE SLOT, FULLY
A WORD ON THE EXCLUSIVE BATTERY PACKS
The battery packs are lithium-ion.
Give attention to the following to make the most
of their characteristics.
For charging: 10°C to 35°C
For operating: 0°C to 40°C
For storing: ­10°C to 30°C
---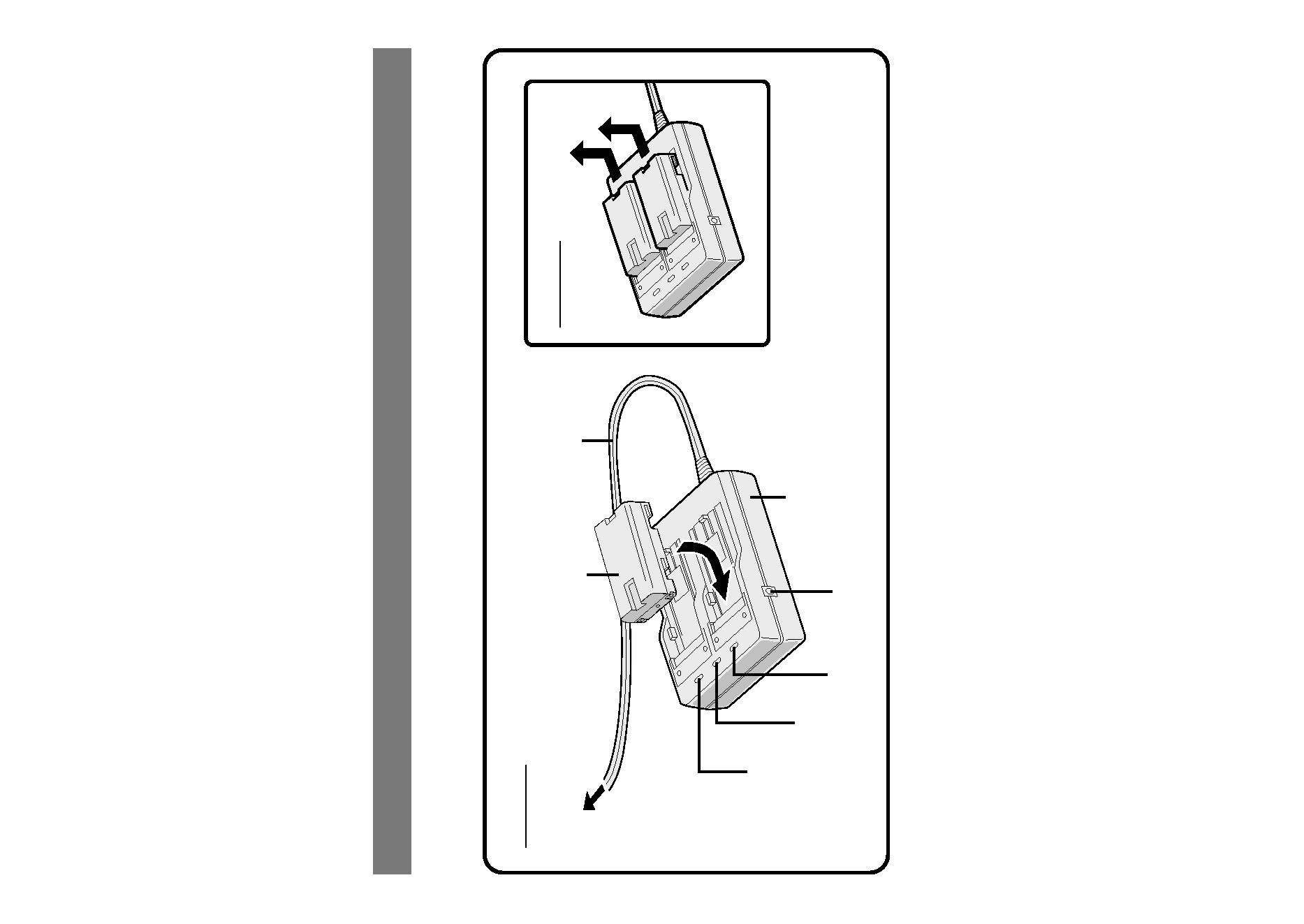 CHARGING THE BATTERY PACK
You can charge one battery pack at a time, or two consecutively.
---

Slide the battery or batteries in the
direction of the arrow and lift off.
·Remember to unplug the AC Adapter/
Charger's power cord from an AC outlet.
Perform charging where the temperature is
between 10° and 35°C. (20°­25°C is the ideal
temperature range for charging.) If the
environment is too cold, charging may be
* When charged at temperatures between 20°
·When charging Battery Packs after a long
storage period, charging time will be longer
than the time indicated above.
BATTERY PACK CHARGING TIME
Plug the AC Adapter/Charger's power
cord in to an AC outlet. The power
Remove the battery pack's protective cap
and attach while making sure the
marks are facing down and aligned with
the corresponding marks on the AC
·The Charge Indicator (1 or 2) begins
blinking to indicate charging has started.
When the charger indicator stops blinking
but stays lit, charging is finished.
·If two batteries are attached to the
charger, they will be charged in the
order that they were attached.
---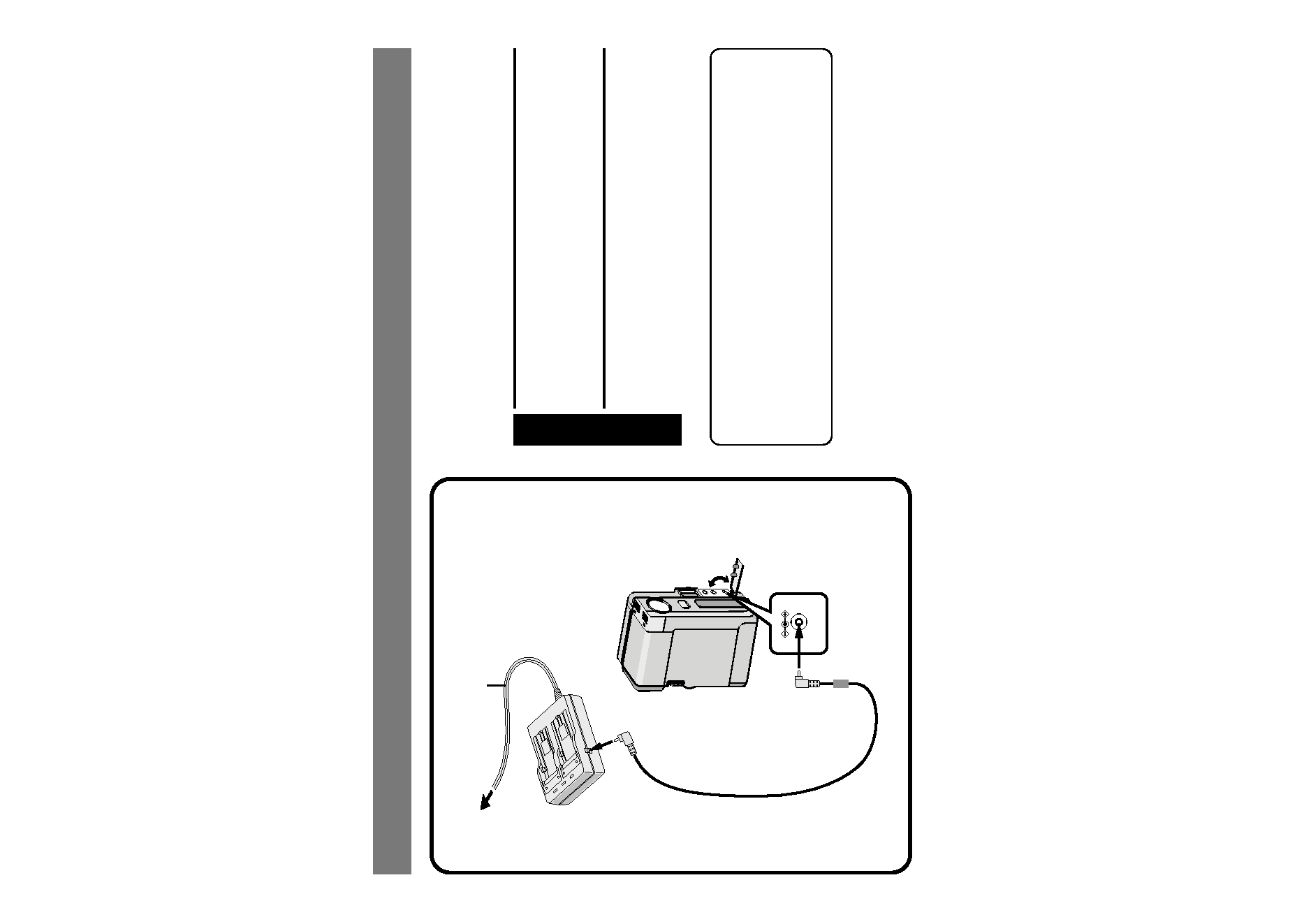 You can connect the camcorder or its Dock-
ing Station directly to an AC outlet using the
AA-V90EG AC Power Adapter/Charger.
Plug the AC Adapter/Charger's power
SUPPLY POWER TO CAMCORDER
Connect the AC Adapter to the
When using the provided DC cord, make sure
you connect the end of the cable with the core
filter to the camcorder. The core filter improves
performance of equipment.
---