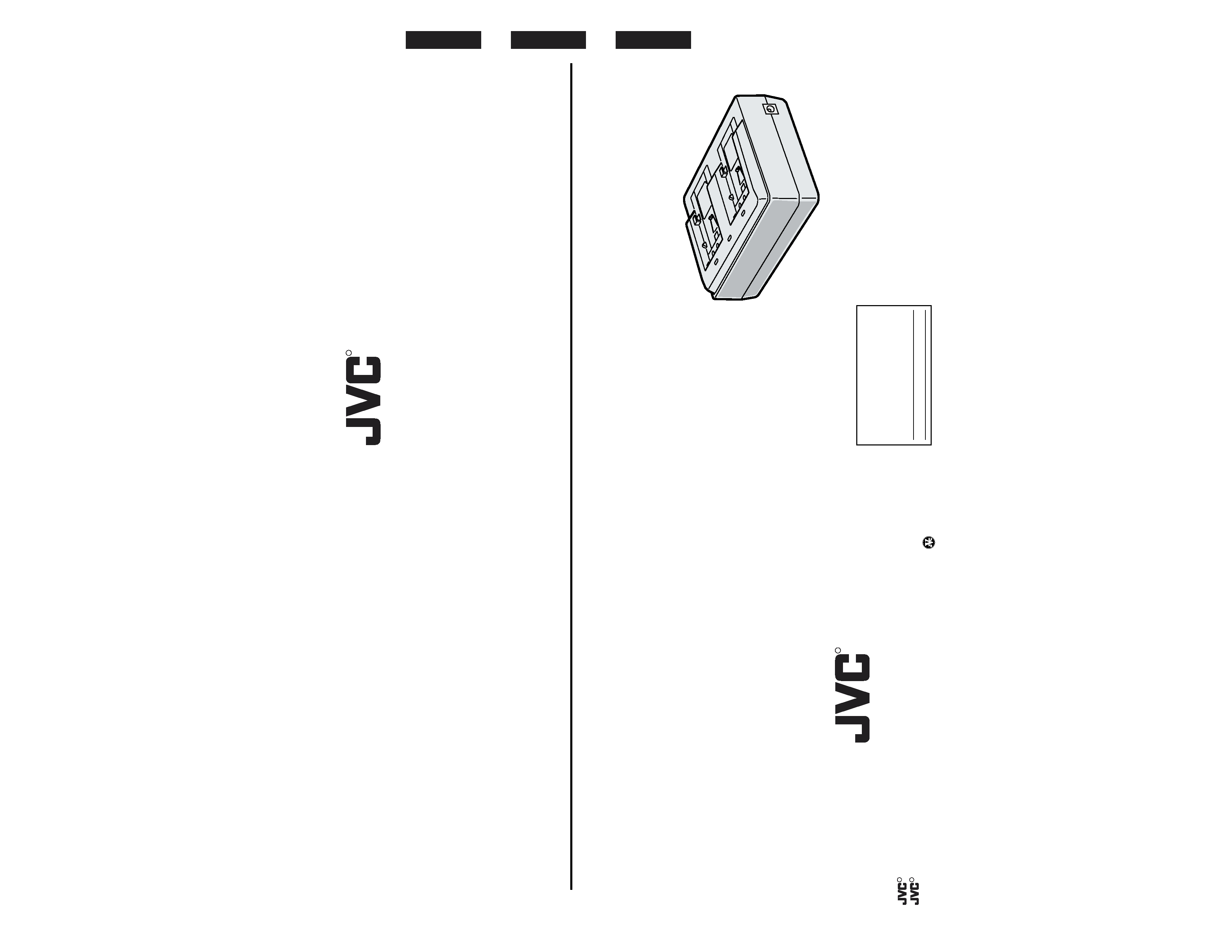 This instruction book is made from 100% recycled paper.
ADAPTATEUR SECTEUR/CHARGEUR DE BATTERIE
Enter below the Serial No. which is
located on the body. Retain this
information for future reference.
VICTOR COMPANY OF JAPAN, LIMITED
© 2002 VICTOR COMPANY OF JAPAN, LIMITED
is a registered Trademark owned by VICTOR COMPANY OF JAPAN, LTD.
is a registered Trademark in Japan, the U.S.A., the U.K. and many other countries.
---

CAUTION : TO REDUCE THE RISK OF ELECTRIC SHOCK, DO
NOT REMOVE COVER (OR BACK). NO USER SERVICEABLE
REFER SERVICING TO QUALIFIED SERVICE PERSONNEL.
This device complies with part 15 of the FCC Rules.
Changes or modifications not approved by JVC could
void the user's authority to operate the equipment.
TO REDUCE THE RISK OF FIRE OR
ELECTRIC SHOCK, DO NOT EXPOSE
D'INCENDIE OU D'ELECTROCUTION,
NE PAS EXPOSER L'APPAREIL A
L'HUMIDITE OU A LA PLUIE.
The lightning flash with arrowhead sym-
bol, within an equilateral triangle is in-
tended to alert the user to the presence of
uninsulated "dangerous voltage" within the
product's enclosure that may be of suffi-
cient magnitude to constitute a risk of elec-
The exclamation point within an equilat-
eral triangle is intended to alert the user
to the presence of important operating and
maintenance (servicing) instructions in the
literature accompanying the appliance.
This Class B digital apparatus complies with
RENSEIGNEMENT (POUR CANADA)
Cet appareil numérique de la class B est conforme
á la norme NMB-003 du Canada.
Connection of POWER supply
The power for the network pack is supplied through
the camera that is connected to the network pack.
Due to design modfications, data given in this
instruction book are subject to possible change
The apparatus shall not be exposed to dripping or
splashing and that no objects filled with liquids, such
as vases, shall be placed on the apparatus.
This equipment has been tested and found to comply with
the limits for a Class B digital device, pursuant to Part 15 of
These limits are designed to provide reasonable protection
against harmful interference in a residential installation. This
equipment generates, uses, and can radiate radio frequency
energy and, if not installed and used in accordance with the
instructions, may cause harmfull interfrence to radio
communications. However, there is no guarantee that
interference will not occur in a particular installation. If this
equipment does cause harmful interference to radio or
television reception, which can be determined by turning the
equipment off and on, the user is encouraged to try to correct
the interference by one or more of the following measures:
Reorient or relocate the receiving antenna.
Increase the separation between the equipment and receiver.
Connect the equipment into an outlet on a circuit different
from that to which the receiver is connected.
Consult the dealer or an experienced radio/TV technician for help.
CHANGES OR MODIFICATIONS NOT APPROVED BY
JVC COULD VOID USER'S AUTHORITY TO OPERATE
THIS DEVICE COMPLIES WITH PART 15 OF THE FCC RULES.
OPERATION IS SUBJECT TO THE FOLLOWING TWO
CONDITIONS : (1) THIS DEVICE MAY NOT CAUSE
HARMFUL INTERFERENCE, AND (2) THIS DEVICE
MUST ACCEPT ANY INTERFERENCE RECEIVED,
INCLUDING INTERFERENCE THAT MAY CAUSE
(1) Read these instructions.
(2) Keep these instructions.
(4) Follow all instructions.
(5) Do not use this apparatus near water.
(6) Clean only with a dry cloth.
(7) Do not block any ventilation openings. Install in accordance with the manufacturer's
(8) Do not install near any heat sources such as radiators, heat registers, stoves, or other
apparatus (including amplifiers) that produce heat.
(9) Only use attachments/accessories specified by the manufacturer.
(10) Use only with the cart, stand, tripod, bracket, or table specified by the
manufacturer, or sold with the apparatus. When a cart is used, use
caution when moving the cart/apparatus combination to avoid injury
(11) Unplug this apparatus during lightning storms or when unused for long
(12) Refer all servicing to qualified service personnel. Servicing is required
when the apparatus has been damaged in any way, such as power-supply cord or plug
is damaged, liquid has been spilled or objects have fallen into the apparatus, the apparatus
has been exposed to rain or moisture, does not operate normally, or has been dropped.
---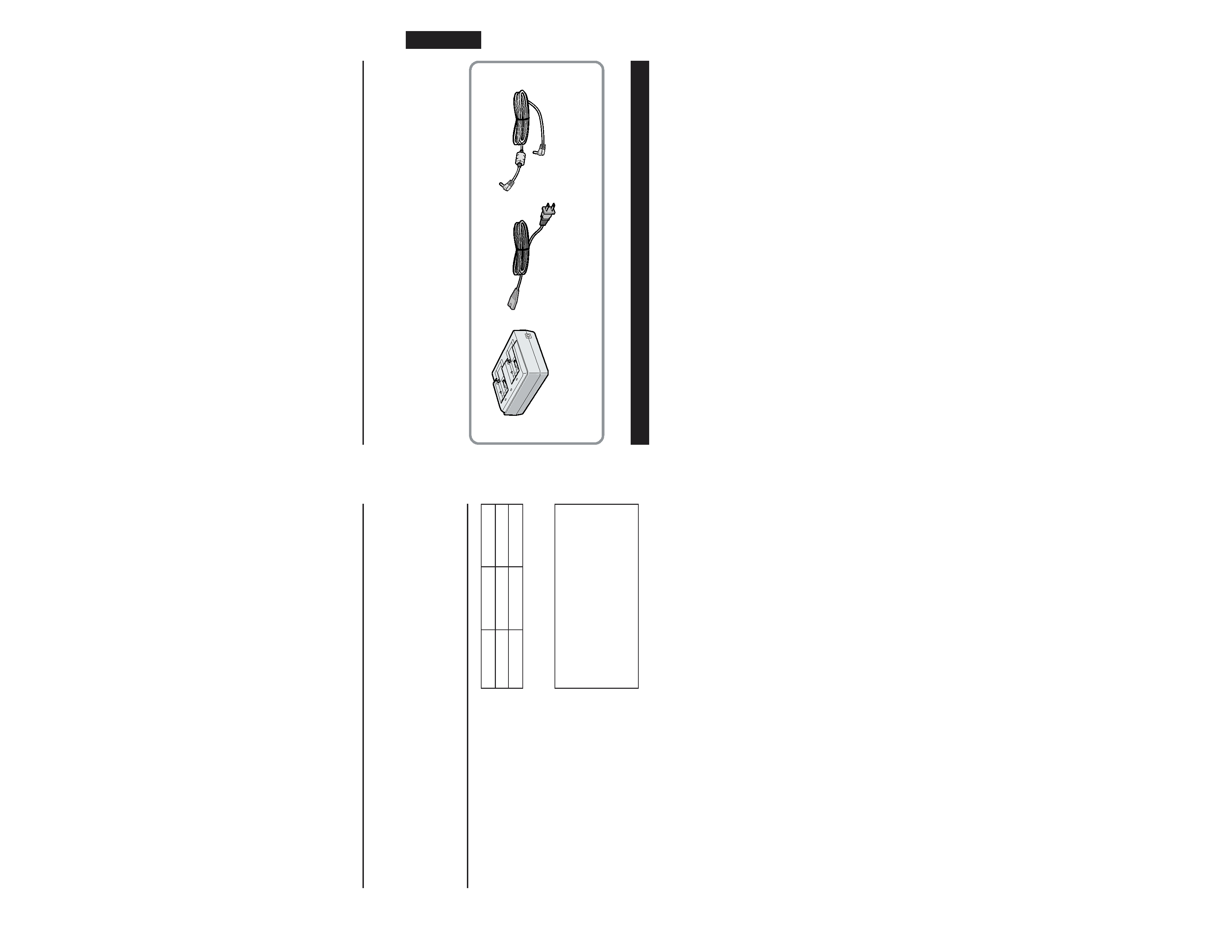 This unit is an AC Adapter Charger designed exclusively for use with JVC DV camcorders.
For detailed operations, refer to the instruction manual for your DV camcorder.
For the safe use of this equipment, be sure to read this instruction manual, the instruction manu-
als of any other equipment in use.
This unit can be used to recharge the BN-V416 or BN-V428 lithium ion battery packs.
This unit can be used to supply AC power from a wall outlet to the equipment.
This instruction calls this unit the "AC Adapter/Charger."
When the equipment is installed in a cabinet or on a shelf, make sure that is has sufficient space on
all sides to allow for ventilation (10 cm (3-15/16") or more on both sides, on top and at the rear).
Do not block the ventilation holes. (If the ventilation holes are blocked by a newspaper, or cloth
etc. the heat may not be able to get out.)
No naked flame sources, such as lighted candles, should be placed on the apparatus.
When discarding batteries, environmental problems must be considered and the local rules or
laws governing the disposal of these batteries must be followed strictly.
The apparatus shall not be exposed to dripping or splashing.
Do not use this equipment in a bathroom or places with water. Also do not place any containers
filled with water or liquids (such as cosmetics or medicines, flower vases, potted plants, cups etc.)
on top of this unit. (If water or liquid is allowed to enter this equipment, fire or electric shock may
This unit stops automatically when excessive noise such as lightning is applied. When this happens
(when the POWER LED goes out), unplug the power cord, leave it for a minute and then plug it in
again. In an environment in which events such as lightning are expected often, use a product such
as a surge absorber, which can be plugged into the AC line and may be purchased, separately from
PRECAUTIONS FOR PROPER USE
Thank you for purchasing this product.
(These instructions are for AA-P30U.)
Before beginning to operate this unit, please read the instruction manual care-
fully in order to make sure that the best possible performane is obtained.
This equipment is in conformity with the pro-
visions and protection requirements of the cor-
responding European Directives. This equip-
ment is designed for professional video appli-
ances and can be used in the following envi-
residential area (in houses) or rural area
commercial and light industry; e.g. offices
In order to keep the best performance and fur-
thermore for electromagnetic compatibility we
recommend to use cables not exceeding the
Exclusive Cable Approx. 2 meters
Exclusive Cable Approx. 2 meters
The inrush current of this apparatus is 16 amperes.
Where there are strong electromagnetic
waves or magnetism, for example near a
radio or TV transmitter, transformer, mo-
tor, etc., the picture may be disturbed. In
such case, please keep the apparatus away
from the sources of the disturbance.
---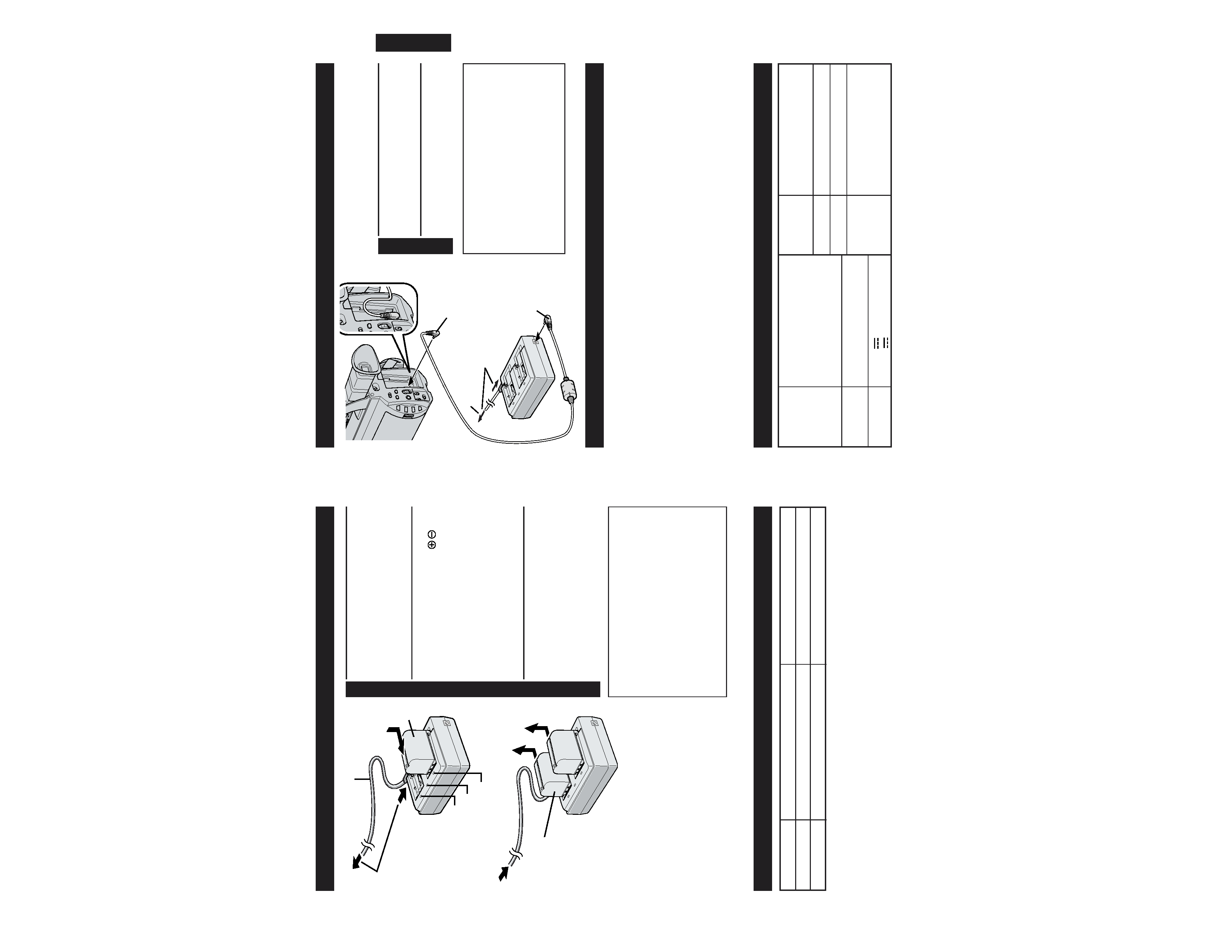 You can connect the camcorder to an AC outlet
using the AA-P30 AC Adapter/Charger.
1
Connectoneendofthepowercordtothe
AC Adapter/Charger and the other end to
2
ConnecttheACAdapter/Chargertothe
Be sure to use the DC cable provided
with the AC Adapter/Charger.
When using the DC cable, make sure to
connect the end of the cable with the
core filter to the AC Adapter/Charger.
The core filter improves the performance
The AC Adapter/Charger AA-P30 is specifically designed to charge the BN-V416 or BN-
V428 Battery Packs. It cannot be used to charge a BN-V408.
When charging a brand new Battery Pack, or one that's been in storage for an extended
period, the Charging Indicator may not come on. In this case, remove the Battery Pack, then
reattach and try charging again.
If you connect the DC cable to the DC Connector while a Battery Pack is being charged,
power will be supplied to the camcorder and charging will end incomplete.
Vibration noise can sometimes be heard coming from the inside of the AC Adapter/Charger.
The AC Adapter/Charger processes electricity internally, and will become warm during use.
This is normal. Make sure to use the AC Power Adapter/Charger in well-ventilated areas only.
If the battery operation time remains extremely short even after having been fully charged,
the battery is worn out and needs to be replaced. Please purchase a new one.
AC 220 V to 240 V `, 50 Hz/60Hz
AC 110 V to 240 V`, 50 Hz/60 Hz
0°C to 40°C (32°F to 104°F)
[when charging, 10°C to 35°C
122 mm (W) x 51 mm (H) x 92 mm (D)
Approx. 280 g (Main body only)
CHARGING THE BATTERY PACK
1
MakesureyouunplugtheDCcablefrom
the AC Adapter/Charger. Connect one end
of the power cord to the AC Adapter/
Charger and the other end to the wall
outlet. The POWER indicator lights.
2
Removethebatterypack'sprotectivecap.
Attach the battery pack with the
mark aligned with the corresponding
marks on the AC Adapter/Charger. The
CHARGE Indicator begins blinking to
indicate charging has started. When two
battery packs are attached, they will be
recharged in the order that they are
3
WhentheCHARGEindicatorstops
blinking but stays lit, charging is finished.
Slide the battery and lift off. Remember to
unplug the AC Adapter/Charger's power
Perform charging where the temperature
is between 10°C (50°F) and 35°C (95°F).
20°C (68°F) to 25°C (77°F) is the ideal
temperature range for charging. If the
environment is too cold, charging may
When plugging the power cord into an
AC Adapter/Charger, push it all the way
TIME TAKEN FOR RECHARGING
Recharging time of a single pack
Successive recharging time of two packs
* When charged at temperatures between 20°C (68°F) and 25°C (77°F).
·When charging Battery Packs after a long storage period, charging time will be longer than
the time indicated above.
---