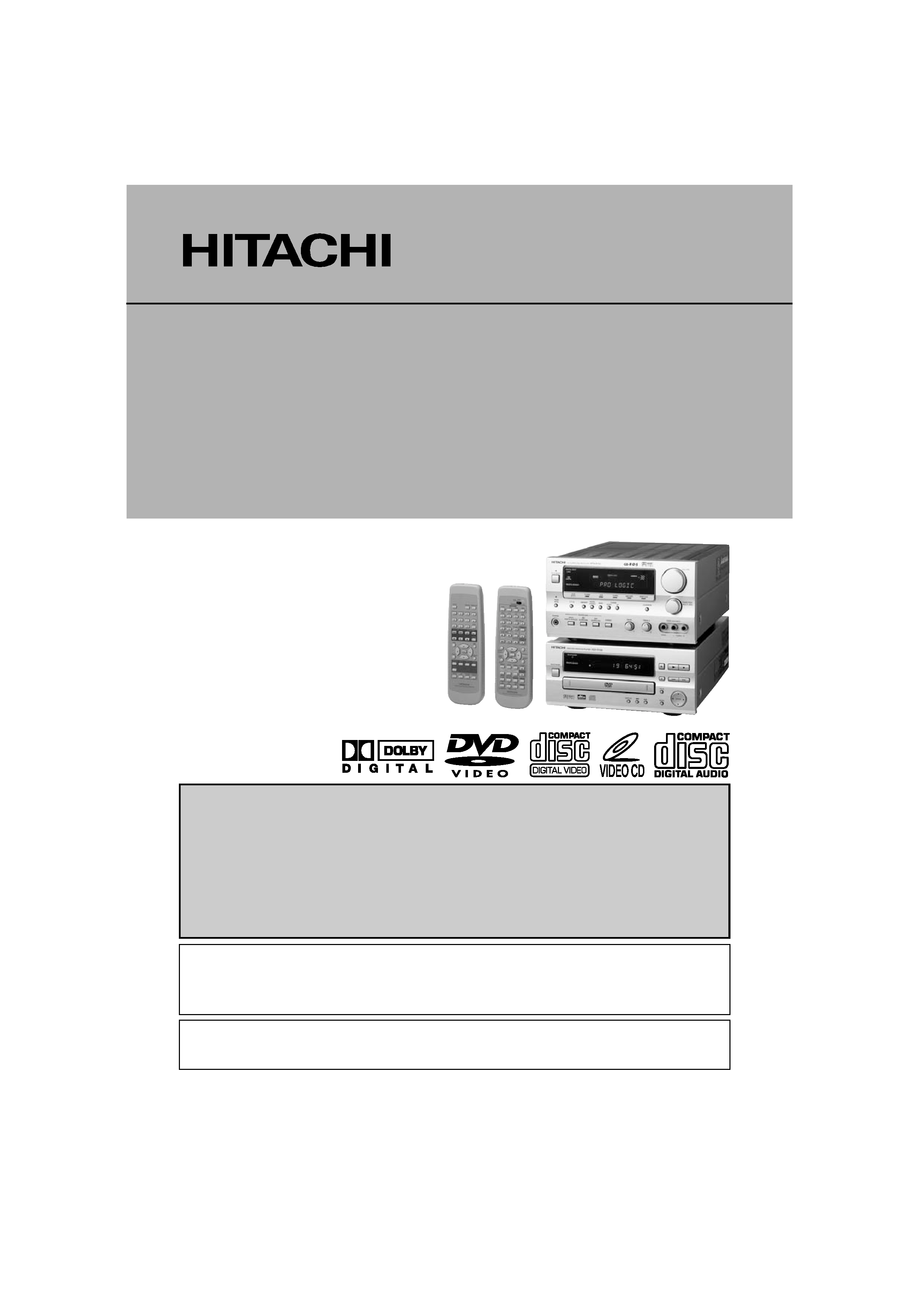 AV SURROUND RECEIVER HTAR150E
DVD/CD/VIDEO CD PLAYER HDVR100E
Before operating please read all these instructions thoroughly.
Bitte lesen Sie diese Bedienungsanleitung vor der Inbetriebnahme sorgfältig durch.
Veuiltez lire ces instructions dans le détail avant de mettre l'appareil en fonction.
Antes de ponerlo en funcionamiento lea la totalidad de estas instrucciones.
Prima dell'uso, leggere attentamente le seguenti istruzioni.
Lees deze gebruiksaanwijzing aandachtig door alvorens dit toestel in gebruik te nemen.
Läs dessa anvisningar noga, innan du börjar att använda apparaten.
Læs venligst instruktionerne igennem, før De tager apparatet i brug.
Lue ennen käyttöä nämä ohjeet huolellisesti läpi.
Vennligst les nøye igjennom alle instruksene før bruk.
Manufactured under license from Dolby Laboratories. "Dolby" , "Pro Logic" and the double D symbol
are trademarks of Dolby Laboratories.
Confidential Unpublished Works. © 1992-1997 Dolby Laboratories, Inc. All rights reserved.
This product incorporates copyright protection technology that is protected by method claims of certain
U.S. patents and other intellectual property rights owned by Macrovision Corporation and other rights
owners. Use of this copyright protection technology must be authorized by Macrovision Corporation,
and is intended for home and other limited viewing uses only unless otherwise authorized by
Macrovision Corporation. Reverse engineering or disassembly is prohibited.
---

· DECLARATION OF CONFORMITY
We declare under our sole responsibility that this product, to which this declaration relates, is in
conformity with the following standards:
EN60065, EN55013, EN55020, EN61000-3-2 and EN61000-3-3.
Following the provisions of 73/23/EEC, 89/336/EEC and 93/68/EEC Directive.
· ÜBEREINSTIMMUNGSERKLÄRUNG
Wir erklären unter unserer Verantwortung, daß dieses Produkt, auf das sich diese Erklärung bezieht,
den folgenden Standards entspricht:
EN60065, EN55013, EN55020, EN61000-3-2 und EN61000-3-3.
Entspricht den Verordnungen der Direktive 73/23/EEC, 89/336/EEC und 93/68/EEC.
· DECLARATION DE CONFORMITE
Nous déclarons sous notre seule responsabilité que l'appareil, auquel se réfère cette déclaration,
est conforme aux standards suivants:
EN60065, EN55013, EN55020, EN61000-3-2 et EN61000-3-3.
D'après les dispositions de la Directive 73/23/EEC, 89/336/EEC et 93/68/EEC.
EN60065, EN55013, EN55020, EN61000-3-2 EN61000-3-3.
73/23/EEC, 89/336/EEC 93/68/EEC.
· DECLARACIÓN DE CONFORMIDAD
Declaramos bajo nuestra exclusiva responsabilidad que este producto al que hace referencia esta
declaración, está conforme con los siguientes estándares:
EN60065, EN55013, EN55020, EN61000-3-2 y EN61000-3-3.
Siguiendo las provisiones de las Directivas 73/23/EEC, 89/336/EEC y 93/68/EEC.
· DICHIARAZIONE DI CONFORMITÀ
Dichiariamo con piena responsabilità che questo prodotto, al quale la nostra dichiarazione si riferisce,
è conforme alle seguenti normative:
EN60065, EN55013, EN55020, EN61000-3-2 e EN61000-3-3.
In conformità con le condizioni delle direttive 73/23/EEC, 89/336/EEC e 93/68/EEC.
· EENVORMIGHEIDSVERKLARING
Wij verklaren uitsluitend op onze verantwoordelijkheid dat dit produkt, waarop deze verklarig
betrekking heeft, in overeenstemming is met de volgende normen:
EN60065, EN55013, EN55020, EN61000-3-2 en EN61000-3-3.
Volgens de bepalingen van de Richtlijnen 73/23/EEC, 89/336/EEC en 93/68/EEC.
Härmed intygas helt på eget ansvar att denna produkt, vilken detta intyg avser, uppfyller följande
EN60065, EN55013, EN55020, EN61000-3-2 och EN61000-3-3.
Enligt stadgarna i direktiv 73/23/EEC, 89/336/EEC och 93/68/EEC.
Vi erklærer, på eget ansvar, at dette produkt, med hvilket denne erklæring står i forbindelse med,
stemmer overens med følgende normer:
EN60065, EN55013, EN55020, EN61000-3-2 og EN61000-3-3 og er i overensstemmelse med
bestemmelserne af EU-direktiverne 73/23/EUO, 89/336/EU og 93/68/EU.
Ilmoitamme täysin omalla vastuullamme, että tämä tuote, jota ilmoitus koskee, on yhdenmukainen
seuraavien standardien kanssa:
EN60065, EN55013, EN55020, EN61000-3-2 ja EN61000-3-3.
Direktiivien 73/23/ETY, 89/336/ETY ja 93/68/ETY määräyksiä on noudatettu.
Vi erklærer under vårt eneansvar at dette produktet, som denne erklæringen angår, er i samsvar
EN60065, EN55013, EN55020, EN61000-3-2 og EN61000-3-3.
Og ifølge bestemmelsene i direktivene 73/23/EEC, 89/336/EEC og 93/68/EEC.
---

PRECAUTIONS FOR INSTALLATION
· Always install this unit horizontally.
· For proper heat dissipation, leave at least 10 cm of space between the top, back and sides of this unit and
the wall or other components.
HINWEISE ZUR INSTALLATION
· Stellen Sie dieses Gerät immer in waagrechter Position auf.
· Lassen Sie für eine ausreichende Luftzufuhr oben, hinten und an den Seiten des Geräts mindestens 10 cm
Platz zwischen dem Gerät und der Wand oder anderen Komponenten.
PRECAUTIONS D'INSTALLATION
· Installez toujours cet appareil horizontalement.
· Afin d'assurer une dissipation correcte de la chaleur, laissez au minimum un espace dégagé de 10 cm sur
les côtés, sur le dessus et à l'arrière de l'appareil.
PRECAUCIONES PARA LA INSTALACIÓN
· Instale siempre esta unidad en horizontal.
· Para que el calor se disipe adecuadamente, deje al menos un espacio de 10 cm entre las partes superior,
trasera y laterales de esta unidad y la pared u otros componentes.
PRECAUZIONI PER L'INSTALLAZIONE
· Installare l'apparecchio solo in posizione orizzontale.
· Per consentire un'adeguata dispersione del calore, lasciare almeno 10 cm di spazio tra le parti laterali,
superiore, posteriore e le pareti o gli eventuali altri componenti.
VOORZORGEN BIJ DE INSTALLATIE
· Plaats dit toestel altijd horizontaal.
· Voor een vlotte warmteafvoer dient u bovenaan, achteraan en opzij altijd minstens 10 cm ruimte te laten
tussen het toestel en de muur of andere componenten.
ANVISNINGAR FÖR INSTALLATIONEN
· Se till att du installerar enheten horisontellt.
· För att kylningen ska fungera ordentligt bör du se till att det finns minst 10 cm fritt utrymme runt enheten.
Inom detta utrymme bör det inte finnas några föremål eller komponenter.
FORSIGTIGHED VED INSTALLATION
· Installer altid denne enhed vandret.
· Sørg for,at der er mindst 10 cm plads mellem enhedens top, bagside og sider og væggen eller andre
komponenter for at få varmen lidt væk.
VAROTOIMENPITEET ASENNUSTA VARTEN
· Asenna tämä laite vaakasuoraan asentoon.
· Jätä laitteen aiheuttaman lämmön haihtumiseksi laitteen yläpuolelle, taakse ja sivuille vähintään 10 cm väli
seinään tai muihin laitteisiin.
FORSIKTIGHETSTILTAK VED INSTALLERING
· Du må alltid installere denne enheten vannrett.
· For å få tilstrekkelig varmespredning, må det være minst 10 cm mellom toppen, baksiden og sidene på
denne enheten og veggen eller andre komponenter.
"LA HITACHI HOME ELECTRONICS EUROPE Ltd. IN QUALITÀ DI MANDATARIO EUROPEO DEL
MARCHIO HITACHI DICHIARA CHE QUESTO PRODOTTO. E' CONFORME AL D.M. 28/08/1995 N.
548, OTTEMPERANDO ALLE PRESCRIZIONI DI CUI AL D.M. 25/06/1985 (PARAGRAFO 3,
ALLEGATO A) ED AL D.M. 27/08/1987 (PARAGRAFO 3, ALLEGATO I)"
---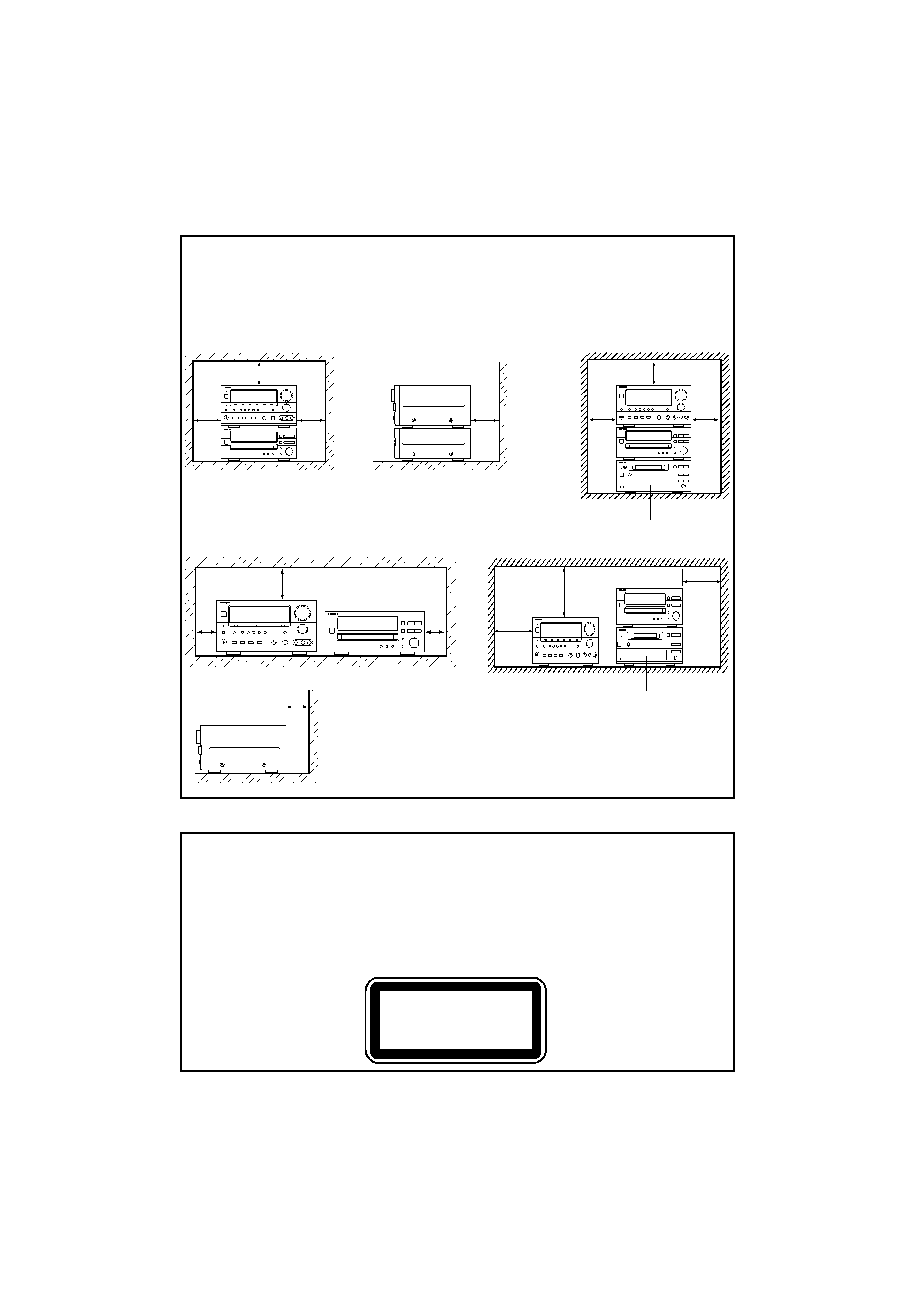 · This label is printed on the rear of the unit (HDV-R100E).
· Aufkleber auf der geräterückseite (HDV-R100E).
· Cette etiquette est apposee au dos de l'appareil (HDV-R100E).
· Esta etiqueta aparece impresa en la parte posterior de la unidad (HDV-R100E).
· Questa etichetta è applicata sul retro dell'unità (HDV-R100E).
· Op de achterzijde van het toestel staat volgend etiket (HDV-R100E).
· Denna märkning finns tryckt på apparatens baksida (HDV-R100E).
· Nedenstående etiket er trykt på anlæggets bagside (HDV-R100E).
· Tämä etiketti on painettu laitteen takaosaan (HDV-R100E).
· Denne etiketten finnes på baksiden av apparatet (HDV-R100E).
---

· The HTA-R150E is equipped with a high speed
This circuit protects internal parts from being
damaged by strong currents generated in the unit
should the unit be operated when the speaker
terminals are incompletely connected or short-
circuited. If this protector circuit is activated, a relay
sound is produced, the output to the speakers is
interrupted, and "PROTECT" appears in the FL
display to indicate that there is a problem.
If this should happen, unplug the power cord, and
contact your store of purchase.
· The unit may not operate properly due to external
influences such as lightning or static electricity.
If this happens, either turn off the power with the
power operation switch or unplug the power cord,
wait for approximately 5 seconds, then plug the
When the indication of the display is not correct or
when the unit does not operate properly:
2. Press and hold the FUNCTION/MULTI JOG, and
3. Press the ON/STANDBY button.
· L'appareil HTA-R150E est doté d'un circuit de
protection à grande vitesse.
Ce circuit protège les composants internes des
surtensions générées dans l'appareil lorsque celui-
ci est utilisé alors que les terminaux des haut-
parleurs ne sont pas branchés complètement ou
lorsqu'ils sont court-circuités.
Si ce circuit de protection est activé, un son relais
est émis, la sortie des haut-parleurs est coupée et
l'indicateur "PROTECT" apparaît sur l'affichage
pour indiquer la présence d'un problème.
Si ceci devait se produire, débranchez
immédiatement le cordon d'alimentation et
contactez votre lieu de vente.
· Il est possible que l'appareil ne fonctionne pas
correctement en raison de conditions externes,
telles que la foudre ou l'électricité statique. Si ceci
se produit, mettez l'appareil hors tension en
utilisant le commutateur de mise hors tension ou
débranchez le cordon d'alimentation, attendez
environ 5 secondes, puis rebranchez le cordon
INITIALISATION DU MICROPROCESSEUR
Lorsque l'indication sur l'affichage est incorrecte ou
que l'appareil ne semble pas fonctionner
1. Débranchez le cordon d'alimentation.
2. Appuyez sur la touche FUNCTION/MULTI JOG et
maintenez-la enfoncée tout en branchant le
cordon d'alimentation secteur.
3. Appuyez sur la touche de mise en marche/veille.
· Das Gerät HTA-R150E ist mit einer
Hochgeschwindigkeitsschutzschaltung ausgestattet.
Diese Schaltung schützt innere Bauteile vor Schäden
durch starken Strom, der im Gerät erzeugt wird, falls das
Gerät eingeschaltet wird und die
Lautsprecheranschlüsse nicht fest verbunden oder
Wenn diese Schutzschaltung aktiviert wird, ist ein
Übertragungston zu hören, die Ausgabe an die
Lautsprecher wird unterbrochen, und ,,PROTECT"
erscheint im FL-Display und zeigt damit ein Problem an.
Ziehen Sie in diesem Fall das Netzkabel aus der
Steckdose, und wenden Sie sich an Ihren Händler.
· Das Gerät funktioniert unter Umständen aufgrund von
externen Einflüssen wie Blitzschlag oder statischer
Elektrizität nicht ordnungsgemäß. Schalten Sie das
System in diesem Fall mit dem Netzbetriebsschalter aus,
oder ziehen Sie das Netzkabel aus der Steckdose.
Warten Sie etwa 5 Sekunden lang, und stecken Sie das
Netzkabel dann wieder in die Steckdose.
INITIALISIERUNG DES MIKROPROZESSORS
Wenn die Anzeige im Display fehlerhaft ist oder das Gerät
nicht ordnungsgemäß funktioniert:
1. Lösen Sie das Netzkabel.
2. Halten Sie den Regler FUNCTION/MULTI JOG
gedrückt, und stecken Sie das Netzkabel wieder in die
3. Drücken Sie die Taste ON/STANDBY.
---