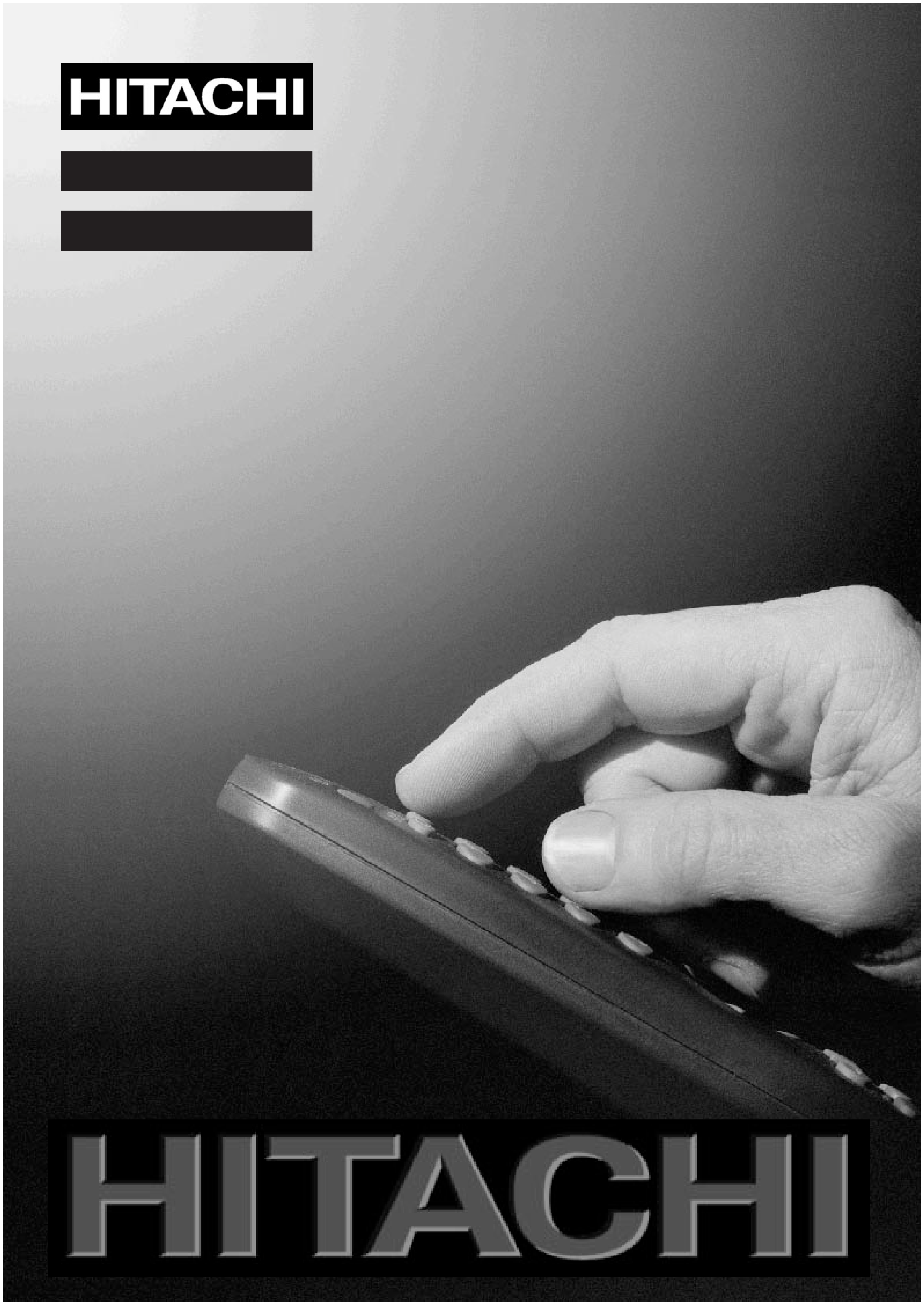 ---

Remote Control Buttons ................................................... 2
Control Panel Buttons ...................................................... 3
Connect Peripheral Equipment ....................................... 4
Via the SCART connector ................................................ 5
AV2S Mode...................................................................... 5
RGB mode ....................................................................... 5
S-VHS ............................................................................. 5
Via Aerial Input ................................................................. 5
Decoder ........................................................................... 5
Connecting a decoder with an aerial socket
to the TV ..................................................................... 5
Connecting a decoder without an aerial socket
to the TV ..................................................................... 5
TV and Video Recorder .................................................... 5
Playback of NTSC recordings........................................... 5
Copy Facility .................................................................... 5
Camera and Camcorder ................................................... 5
To connect to Front-AV input: ...................................... 5
Back-AV output: ............................................................... 5
Connect the decoder to the video recorder........................ 5
Connecting Headphones .................................................. 5
Preparation ....................................................................... 6
Features .......................................................................... 6
Safety Precautions ........................................................... 6
Before Switching on your TV .......................................... 8
Power connection............................................................. 8
Aerial Connections ........................................................... 8
How to connect other devices........................................... 8
Inserting batteries in the remote control handset .............. 8
Switching the TV ON/OFF ................................................ 8
To switch the TV on.......................................................... 8
To switch the TV off .......................................................... 8
Operating the TV .............................................................. 8
APS (Automatic Programming System) ........................... 8
Operating the button controls on the TV ........................... 9
Operating with the Remote Control ................................... 9
Menu System .................................................................... 9
Information Menu.............................................................. 9
Sound Menu....................................................................10
To change sound settings: .........................................10
Setting Volume: .........................................................10
Setting Bass Level: ....................................................10
Setting Treble Level: ...................................................10
Setting Balance: ........................................................10
Setting Sound Effect: .................................................10
To Store the Settings:.................................................10
To Change Headphone Sound Settings: .....................10
Picture Menu .................................................................. 11
To change picture settings: ........................................ 11
Setting Brightness: .................................................... 11
Setting Colour: ........................................................... 11
Setting Contrast: ....................................................... 11
Setting Sharpness: .................................................... 11
Setting Hue: ............................................................... 11
Setting CTI: ................................................................12
Setting Black Stretch: ................................................12
To Store the Settings:.................................................12
Feature Menu ..................................................................12
Sleep Timer: ..............................................................12
Child Lock: .................................................................12
Default Zoom:.............................................................12
Comb Filter: ...............................................................12
Tilt: ............................................................................13
Install Menu ....................................................................13
Tuning Menu ..............................................................13
Manual Setup.............................................................14
TV Setup Menu ..........................................................15
Other Features .................................................................16
Sound Mute ....................................................................16
Blue Background During No-Signal ..................................16
Bilingual Broadcast .........................................................16
On Screen Information.....................................................16
Teletext ............................................................................16
Teletext Operation ...........................................................16
To select a Teletext page.................................................16
Index Page Selection ......................................................16
To Reveal concealed Information ...................................16
To Stop the Automatic Sub-page Change ........................16
Sub-page Selection .........................................................16
7 Page Fastext ...............................................................17
For Fastext ................................................................17
To exit Teletext ................................................................17
To Display the Time.........................................................17
To Change the Picture Mode ...........................................17
Tips ...................................................................................17
Specifications ..................................................................18
UK Guarantee ..................................................................19
IB-ENG-PLL-STEREO-AK33-UK-(C28WF540N-C32WF540N-28&3217W).p65
---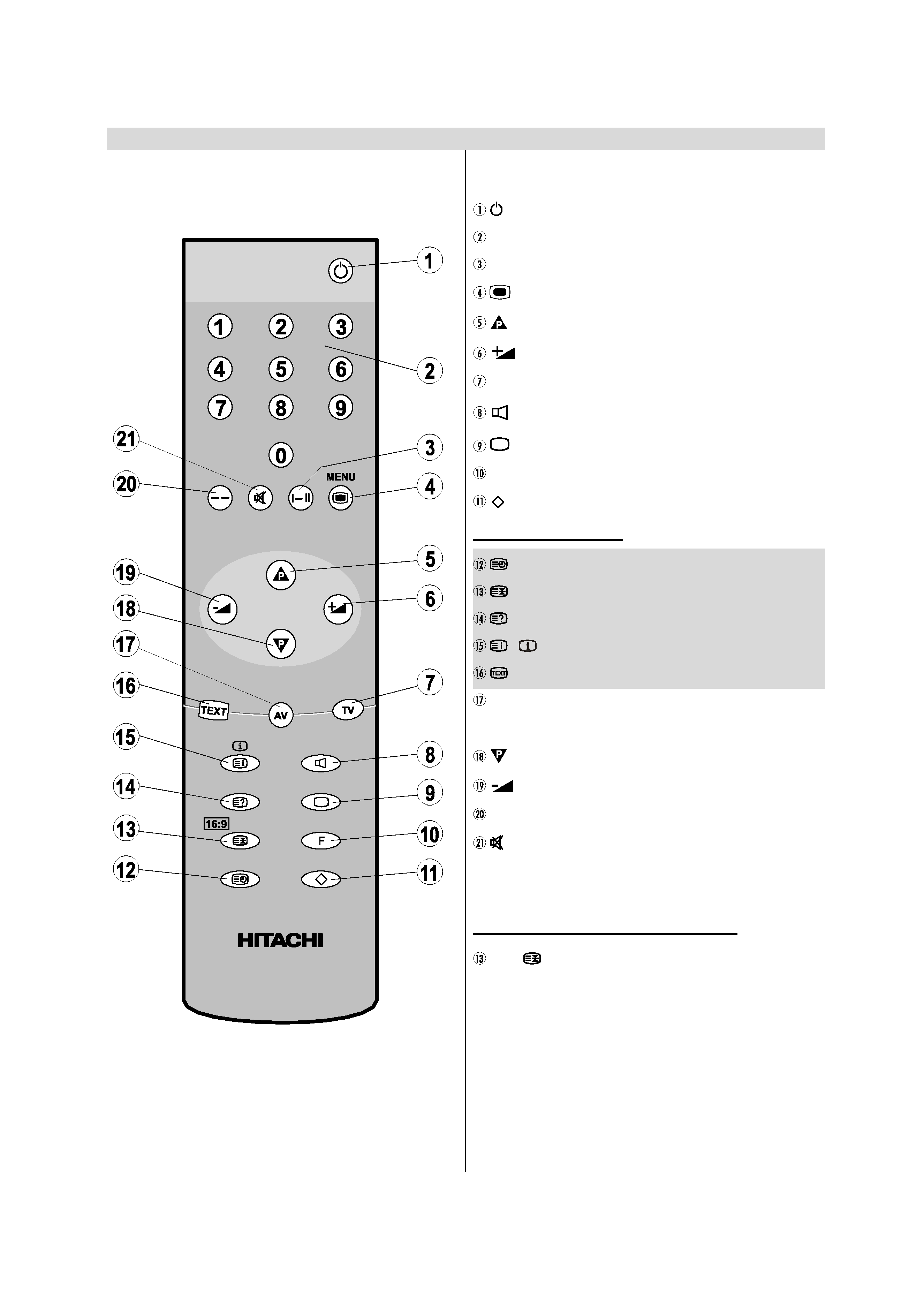 I-II = Mono/Stereo - Dual I-II
= Programme Up (Cursor Up)
= Cursor Right / Volume +
= Index Page / Information Menu
(AV-1, AV-2, AV2S, AV-3, S-VHS, RGB)
= Programme Down (Cursor Down)
- - = Two Digit Program Number Entry
Picture Mode Change Button
) = Auto / 4:3 / Widescreen /
Letterbox / 14:9L / 14:9 Zoom
IB-ENG-PLL-STEREO-AK33-UK-(C28WF540N-C32WF540N-28&3217W).p65
---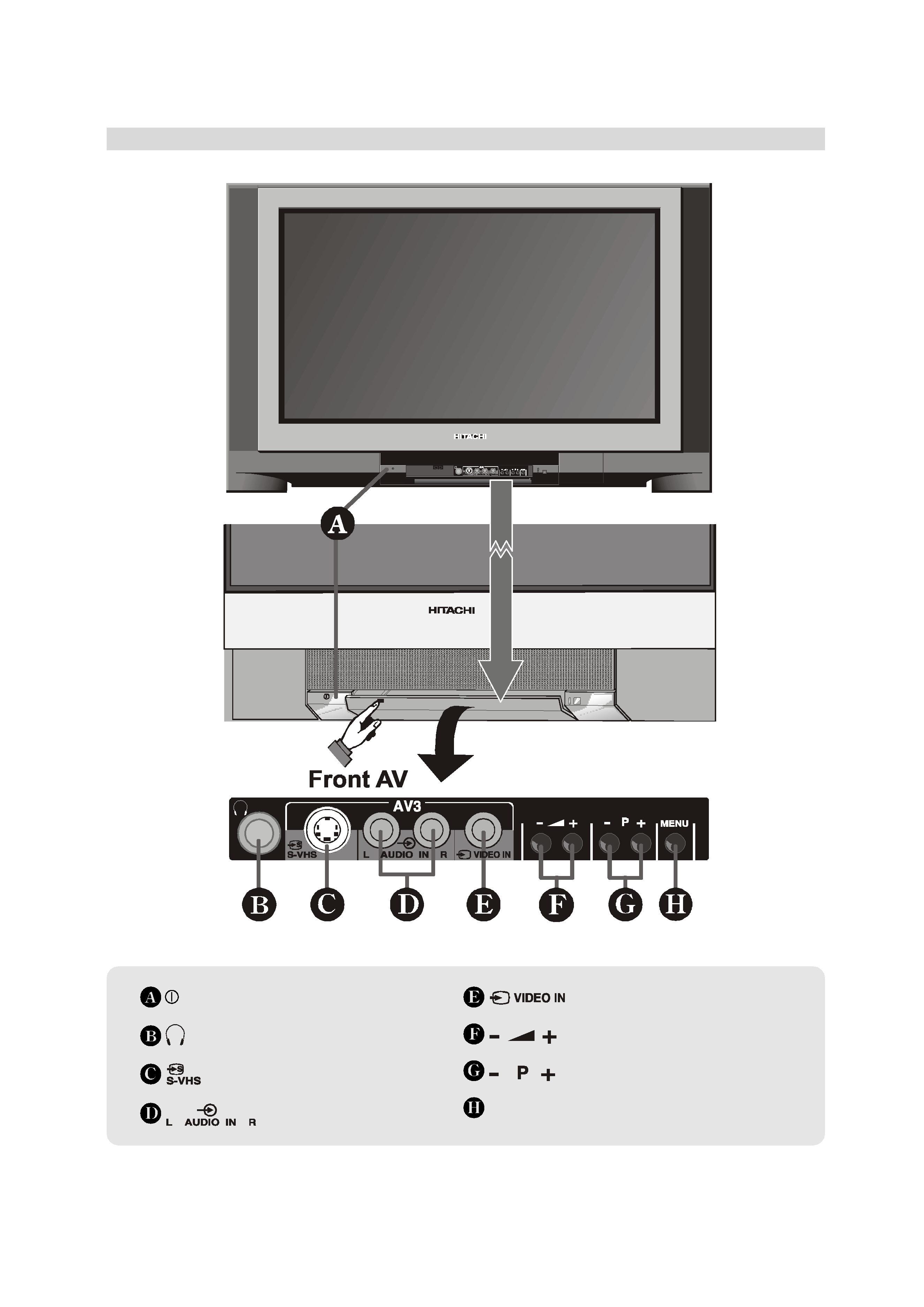 = Audio left (white) / right (red)
IB-ENG-PLL-STEREO-AK33-UK-(C28WF540N-C32WF540N-28&3217W).p65
---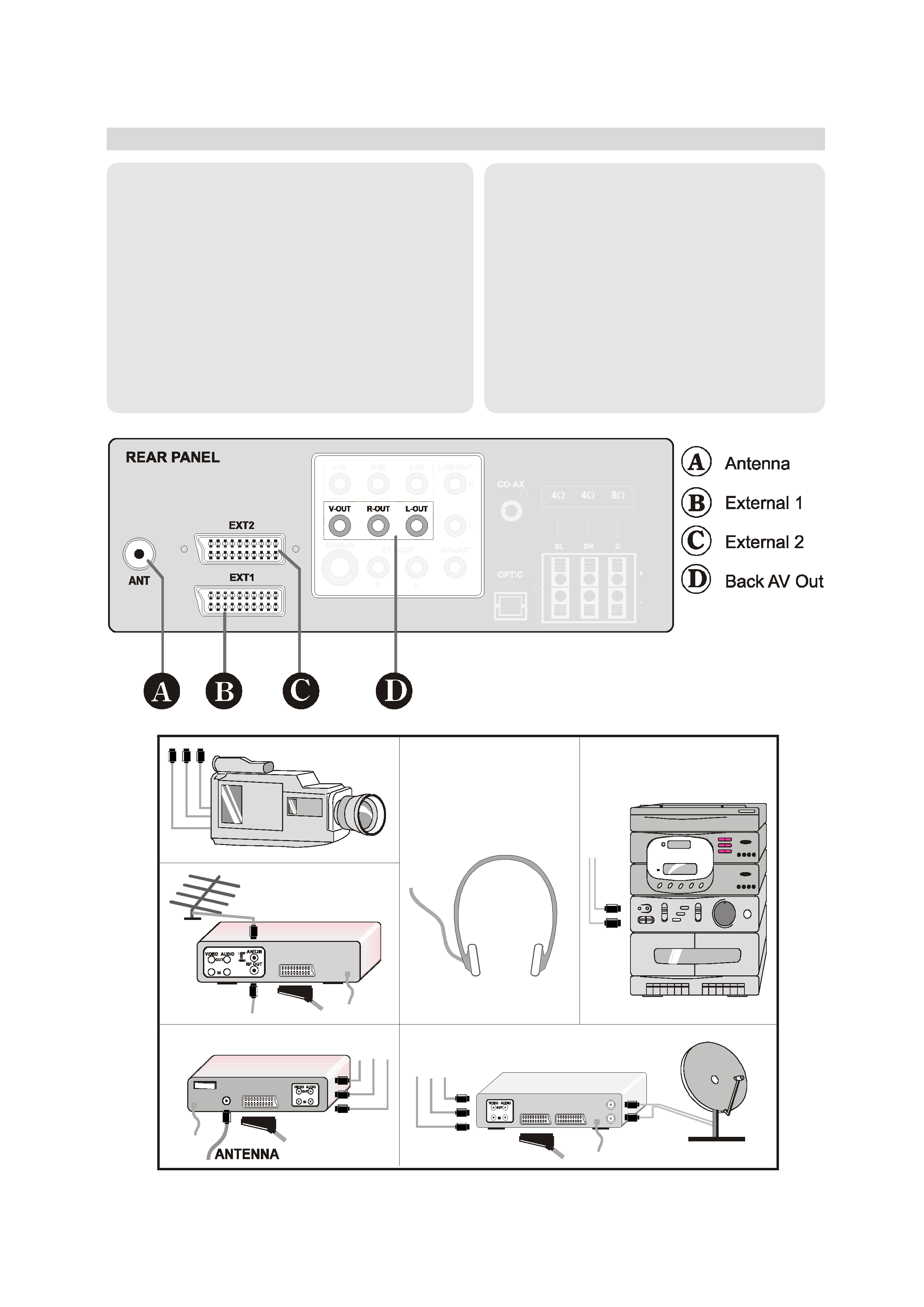 Connect Peripheral Equipment
TV broadcast outputs (Video and Audio L/R) are
EXT2 terminal: Euroconnector (21-pin, SCART)
Video input, S-VIDEO (Y/C) input and Audio L/R
Video and Audio L/R outputs are available. (see
Setting External Source Output on page 15.)
AV-3 (Front AV) terminal: RCA connectors x 3
Video input and Audio L/R inputs are available.
Back AV Out : RCA connectors x 3
Video output and Audio L/R outputs are available.
Before connecting anything
Switch off all equipments including the TV.
Read the manuals provided with the equipments.
Pressing "AV" button on the remote control selects one of
four AV modes (AV-1, AV-2, AV2S, AV-3, S-VHS and
To return to the TV mode, repeatedly press TV button.
EXT1 terminal: Euroconnector (21-pin, SCART)
Video input, Audio L/R inputs and RGB inputs are
IB-ENG-PLL-STEREO-AK33-UK-(C28WF540N-C32WF540N-28&3217W).p65
---