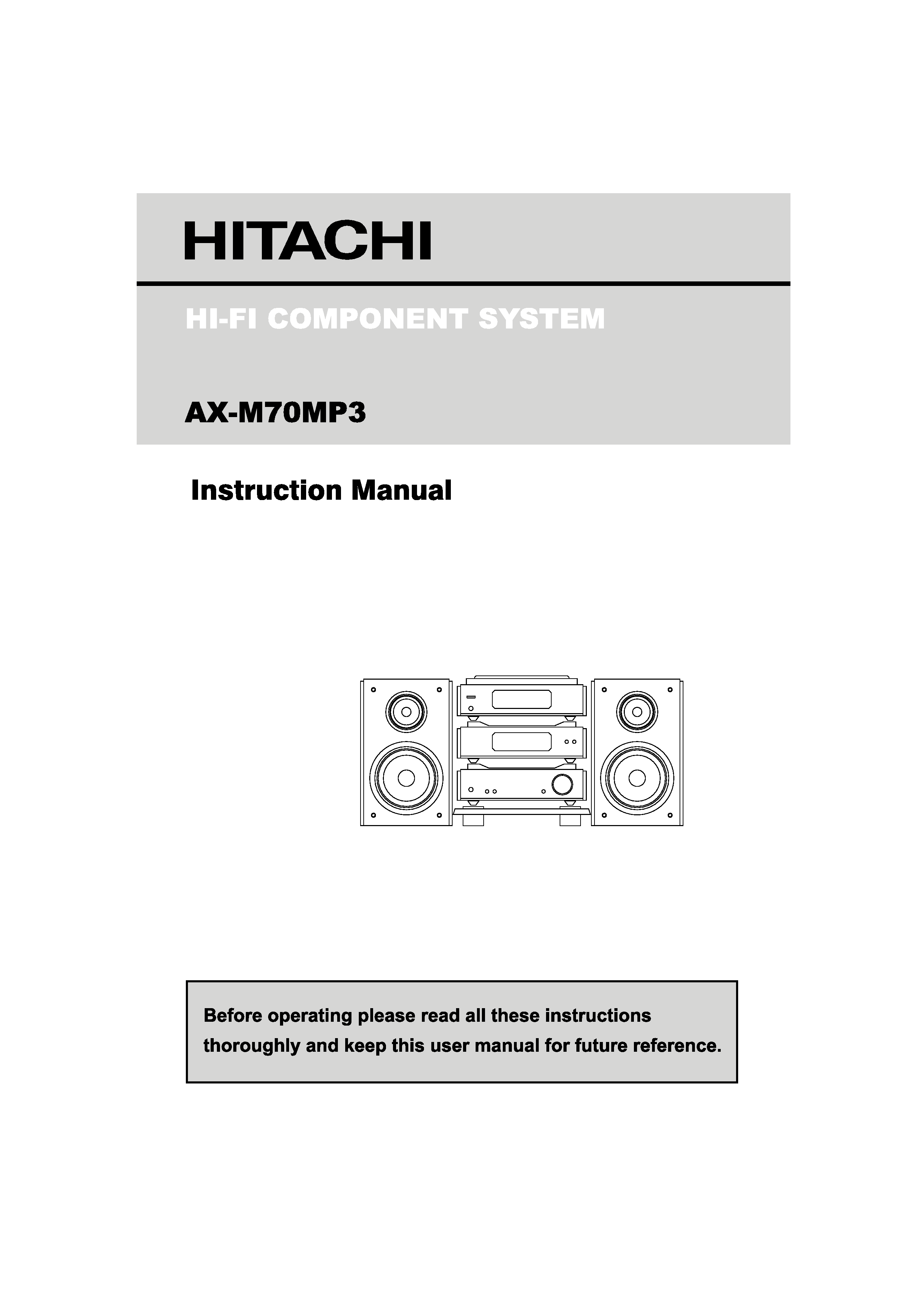 ---

Important Cautions ........................................................................................................................... 2
For your safety ............................................................................................................................................ 2
SOME DOS AND DON'TS ON THE SAFE USE OF EQUIPMENT ............................................................... 3
IMPORTANT ................................................................................................................................................ 4
Connections ...................................................................................................................................... 5
Connect to AM antenna .............................................................................................................................. 5
Connecting the Speakers ............................................................................................................................ 5
Connecting Control Cable ........................................................................................................................... 5
Connecting Auxiliary Equipment .................................................................................................................. 6
Connecting the AC Power Cord .................................................................................................................. 6
Connect the Headphone ............................................................................................................................. 6
Turning the Power On and Off .......................................................................................................... 6
Installation of Batteries in the Remote Control .............................................................................. 6
Control Locations ............................................................................................................................. 7
The CD Player ............................................................................................................................................. 7
The Spectrum .............................................................................................................................................. 7
The Amplifier ................................................................................................................................................ 8
The Remote Control .................................................................................................................................... 8
Sound Quality/Field .......................................................................................................................... 9
Adjusting the Volume .................................................................................................................................. 9
Control the Loudness .................................................................................................................................. 9
Adjusting the bass, treble ............................................................................................................................ 9
Preset Equalizer ........................................................................................................................................... 9
Changing the Spectrum Display Mode ........................................................................................................ 9
Changing the VFD Darkness ....................................................................................................................... 9
Listening to Radio Broadcasts ...................................................................................................... 10
Tuning in a Station ..................................................................................................................................... 10
Presetting Stations .................................................................................................................................... 10
To change the FM Reception Mode ........................................................................................................... 10
CD Operation .................................................................................................................................. 11
CD Playing ................................................................................................................................................. 11
Direct Select track ..................................................................................................................................... 11
To Skip Search and Play ........................................................................................................................... 11
To Search ................................................................................................................................................... 11
Program Play ............................................................................................................................................. 11
Random Play ............................................................................................................................................. 11
Playing the Beginning (Intro) of each Track ............................................................................................... 11
Playing Repeatedly .................................................................................................................................... 12
MP3 Disc Playing ...................................................................................................................................... 12
Setting the Clock ............................................................................................................................. 12
Setting the Sleep Timer .................................................................................................................. 13
Setting the Daily Timer ................................................................................................................... 13
Protecting the Disc ......................................................................................................................... 14
Troubleshooting .............................................................................................................................. 14
Specifications ................................................................................................................................. 15
---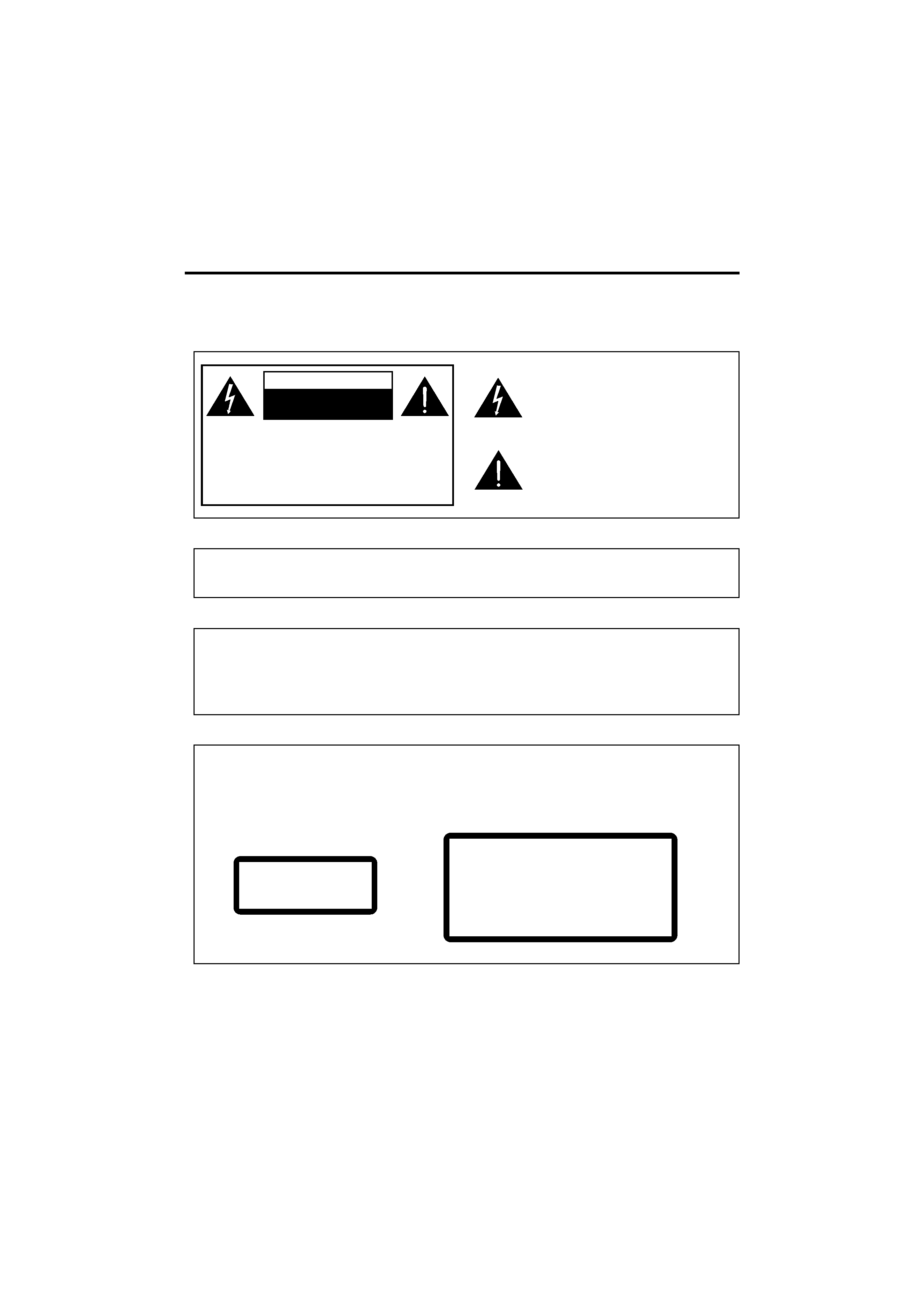 This product is equipped with low power laser equipment inside, for using safety, don't take
apart any covers or try to take apart the product inside. Please contact the qualified person-
This symbol indicates that there are im-
portantoperatingandmaintenanceinstruc-
tions in the literature accompanying this
This symbol indicates that dangerous volt-
age constituting a risk of electric shock is
present within this unit.
To prevent fire or shock hazard, do not expose this equipment to rain or moisture place.
Because the power requirement of the electric products are different in various places, so
before you use this product, make sure that the power requirement of the product is com-
plied to the power that the native district supplies.
CAUTION: TO REDUCE THE RISK OF
ELECTRIC SHOCK, DO NOT REMOVE
COVER. NO USER SERVICEABLE PARTS
INSIDE REFER SERVICING TO QUALIFIED
Thank you for purchasing this system. Please read these operating instructions before operat-
ing the unit. The operating instructions should be retained for future reference.
This product is equipped with low power la-
ser equipment inside, for your safety, don't
openthelaserradiationprotectiveequipment.
Don't look at the laser radiation district when
the equipment is operating.
---

SOME DOS AND DON'TS ON THE SAFE USE OF EQUIPMENT
SOME DOS AND DON'TS ON THE SAFE USE OF EQUIPMENT
SOME DOS AND DON'TS ON THE SAFE USE OF EQUIPMENT
SOME DOS AND DON'TS ON THE SAFE USE OF EQUIPMENT
SOME DOS AND DON'TS ON THE SAFE USE OF EQUIPMENT
This equipment has been designed and manufactured to meet international safety standards
but, like any electrical equipment, care must be taken if you are to obtain the best results and
DO read the operating instructions before you attempt to use the equipment.
DO ensure that all electrical connections (including the mains plug, extension leads and inter-
connections between the pieces of equipment) are properly made and in accordance with the
manufacturer's instructions. Switch off and withdraw the mains plug before making or chang-
DO consult your dealer if you are ever in doubt about the installation, operation or safety of
DO be careful with glass panels or doors on equipment.
DO route the mains lead so that it is not likely to be walked on, crushed, chafed, or subjected
to excessive wear and tear or heat.
DON'T remove any fixed cover as this may expose dangerous voltages.
DON'T obstruct the ventilation openings of the equipment with items such as newspapers,
tablecloths, curtains, etc. Overheating will cause damage and shorten the life of the equipment.
DON'T allow electrical equipment to be exposed to dripping or splashing, or objects filled
with liquids, such as vases, to be placed on the equipment.
DON'T place hot objects or naked flame sources such as lighted candles or nightlights on, or
close to equipment. High temperatures can melt plastic and lead to fires.
DON'T use makeshift stands and NEVER
NEVER fix legs with wood screws - to ensure complete
safety always fit the manufacturer's approved stand or legs with the fixings provided according
DON'T use equipment such as personal stereos or radios so that you are distracted from the
requirements of traffic safety. It is illegal to watch television whilst driving.
DON'T listen to headphones at high volume, as such use can permanently damage your
DON'T leave equipment switched on when it is unattended unless it is specifically stated that
it is designed for unattended operation or has a stand-by mode. Switch off using the switch on
the equipment and make sure that your family know how to do this. Special arrangements may
need to be made for infirm or handicapped people.
DON'T continue to operate the equipment if you are in any doubt about it working normally, or
if it is damaged in any way - switch off, withdraw the mains plug and consult your dealer.
NEVER let anyone especially children push anything into holes, slots or any other opening
in the case - this could result in a fatal electrical shock;
NEVER guess or take chances with electrical equipment of any kind;
-- it is better to be safe than sorry!
---

The mains lead on this equipment may be supplied with a moulded plug incor-
porating a fuse, the value of which is indicated on the pin face of the plug.
Should the fuse need to be replaced, an ASTA or BSI approved BS1362 fuse
must be used of the same rating, If the fuse cover is detachable never use the
plug with the cover omitted. If a replacement fuse cover is required, ensure it is
of the same colour as that visible on the pin face of the plug. Fuse covers are
available from your dealer.
DO NOT cut off the mains plug from this equipment. If the plug fitted is not
suitable for the power points in your home or the cable is too short to reach a
power point, then obtain an appropriate safety approved extension lead or
Should it be necessary to change the mains plug, this must be carried out by a
competent person, preferably a qualified electrician.
If there is no alternative to cutting off the mains plug, ensure that you dispose of
it immediately, having first removed the fuse, to avoid a possible shock hazard
by inadvertent connection to the mains supply.
The wires in this mains lead are coloured in accordance with the following code:
As these colours may not correspond to the coloured markings identifying the
terminals in your plug, proceed as follows:
The wire coloured BLUE must be connected to the terminal marked with the
N or coloured BLUE or BLACK. The wire coloured BROWN must be con-
nected to the terminal marked with the letter LLLLL or coloured BROWN or RED.
On no account connect either of these wires to the terminal marked E or by the
earth symbol or coloured green or green and yellow.
Alternatively, this equipment may be supplied with a rewireable plug already
fitted, which may be removed if not suitable and an alternative fitted in accor-
dance with the preceding instructions.
---