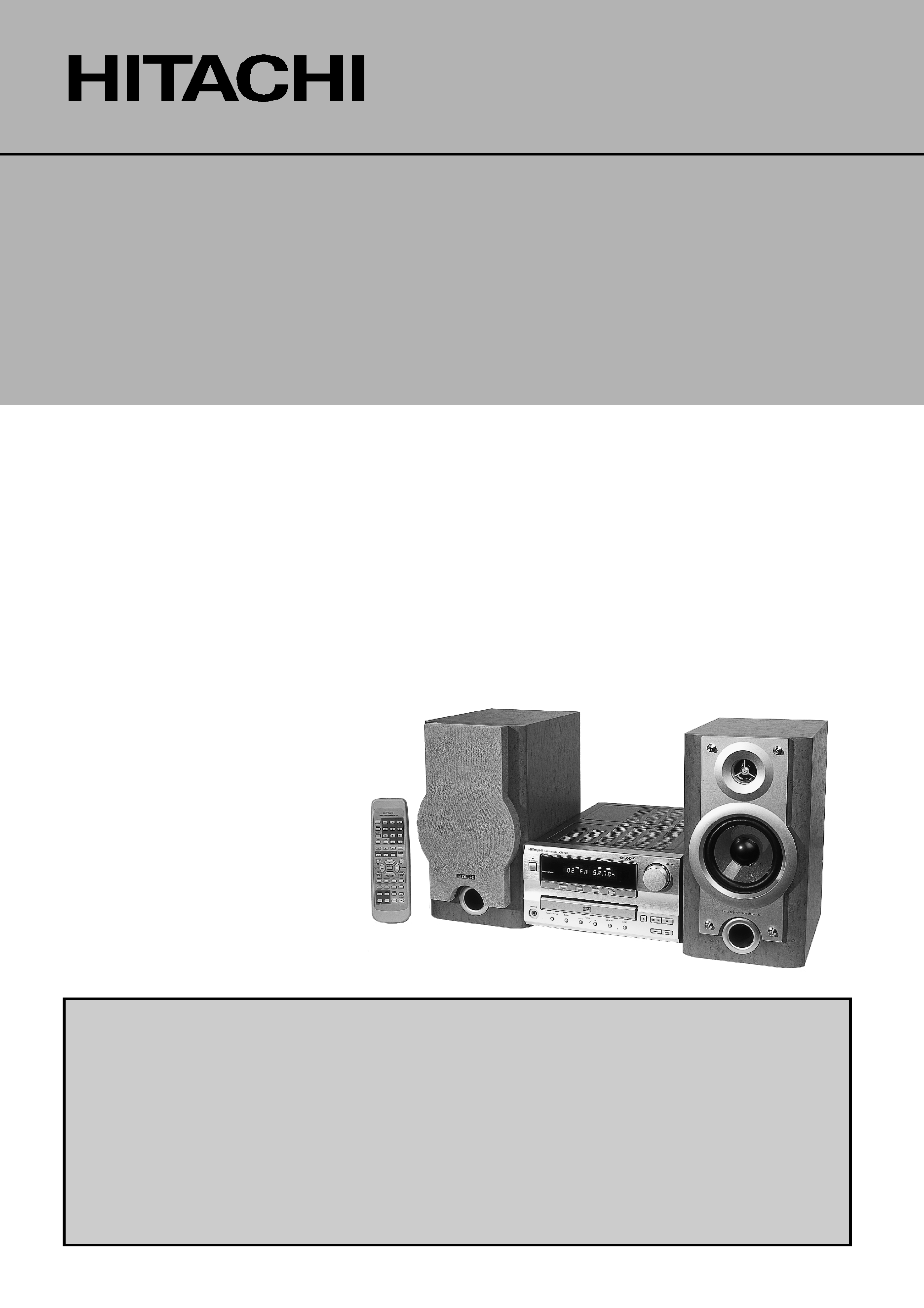 Before operating please read all these instructions thoroughly.
Bitte lesen Sie diese Bedienungsanleitung vor der Inbetriebnahme sorgfältig durch.
Veuiltez lire ces instructions dans le détail avant de mettre l'appareil en fonction.
Antes de ponerlo en funcionamiento lea la totalidad de estas instrucciones.
Prima dell'uso, leggere attentamente le seguenti istruzioni.
Lees deze gebruiksaanwijzing aandachtig door alvorens dit toestel in gebruik te nemen.
Läs dessa anvisningar noga, innan du börjar att använda apparaten.
Læs venligst instruktionerne igennem, før De tager apparatet i brug.
Lue ennen käyttöä nämä ohjeet huolellisesti läpi.
Vennligst les nøye igjennom alle instruksene før bruk.
---

· DECLARATION OF CONFORMITY
We declare under our sole responsibility that this product, to which this declaration relates, is in
conformity with the following standards:
EN60065, EN55013, EN55020, EN61000-3-2 and EN61000-3-3.
Following the provisions of 73/23/EEC, 89/336/EEC and 93/68/EEC Directive.
· ÜBEREINSTIMMUNGSERKLÄRUNG
Wir erklären unter unserer Verantwortung, daß dieses Produkt, auf das sich diese Erklärung bezieht,
den folgenden Standards entspricht:
EN60065, EN55013, EN55020, EN61000-3-2 und EN61000-3-3.
Entspricht den Verordnungen der Direktive 73/23/EEC, 89/336/EEC und 93/68/EEC.
DECLARATION DE CONFORMITE
Nous déclarons sous notre seule responsabilité que l'appareil, auquel se réfère cette déclaration,
est conforme aux standards suivants:
EN60065, EN55013, EN55020, EN61000-3-2 et EN61000-3-3.
D'après les dispositions de la Directive 73/23/EEC, 89/336/EEC et 93/68/EEC.
EN60065, EN55013, EN55020, EN61000-3-2 EN61000-3-3.
73/23/EEC, 89/336/EEC 93/68/EEC.
· DECLARACIÓN DE CONFORMIDAD
Declaramos bajo nuestra exclusiva responsabilidad que este producto al que hace referencia esta
declaración, está conforme con los siguientes estándares:
EN60065, EN55013, EN55020, EN61000-3-2 y EN61000-3-3.
Siguiendo las provisiones de las Directivas 73/23/EEC, 89/336/EEC y 93/68/EEC.
· DICHIARAZIONE DI CONFORMITÀ
Dichiariamo con piena responsabilità che questo prodotto, al quale la nostra dichiarazione si riferisce,
è conforme alle seguenti normative:
EN60065, EN55013, EN55020, EN61000-3-2 e EN61000-3-3.
In conformità con le condizioni delle direttive 73/23/EEC, 89/336/EEC e 93/68/EEC.
· EENVORMIGHEIDSVERKLARING
Wij verklaren uitsluitend op onze verantwoordelijkheid dat dit produkt, waarop deze verklarig
betrekking heeft, in overeenstemming is met de volgende normen:
EN60065, EN55013, EN55020, EN61000-3-2 en EN61000-3-3.
Volgens de bepalingen van de Richtlijnen 73/23/EEC, 89/336/EEC en 93/68/EEC.
Härmed intygas helt på eget ansvar att denna produkt, vilken detta intyg avser, uppfyller följande
EN60065, EN55013, EN55020, EN61000-3-2 och EN61000-3-3.
Enligt stadgarna i direktiv 73/23/EEC, 89/336/EEC och 93/68/EEC.
Vi erklærer, på eget ansvar, at dette produkt, med hvilket denne erklæring står i forbindelse med,
stemmer overens med følgende normer:
EN60065, EN55013, EN55020, EN61000-3-2 og EN61000-3-3 og er i overensstemmelse med
bestemmelserne af EU-direktiverne 73/23/EUO, 89/336/EU og 93/68/EU.
Ilmoitamme täysin omalla vastuullamme, että tämä tuote, jota ilmoitus koskee, on yhdenmukainen
seuraavien standardien kanssa:
EN60065, EN55013, EN55020, EN61000-3-2 ja EN61000-3-3.
Direktiivien 73/23/ETY, 89/336/ETY ja 93/68/ETY määräyksiä on noudatettu.
Vi erklærer under vårt eneansvar at dette produktet, som denne erklæringen angår, er i samsvar
EN60065, EN55013, EN55020, EN61000-3-2 og EN61000-3-3.
Og ifølge bestemmelsene i direktivene 73/23/EEC, 89/336/EEC og 93/68/EEC.
---

PRECAUTIONS FOR INSTALLATION
· Always install this unit horizontally.
· For heat dispersal, leave at least 10 cm of space between the top, back and sides of this unit and the wall or
HINWEISE ZUR INSTALLATION
· Stellen Sie dieses Gerät immer in waagrechter Position auf.
· Um eine einwandfreie Wärmeabfuhr sicherzustellen, sollten Deckel, Rückwand und Seitenwände des Geräts
einen Abstand von mindestens 10 cm zur Wand bzw. anderen Komponenten aufweisen.
PRECAUTIONS D'INSTALLATION
· Installez toujours cet appareil horizontalement.
· Pour permettre la dispersion de la chaleur, prévoyez un espace d'au moins 10 cm entre le dessus, le dos et
les côtés de la chaîne et les murs ou autres éléments qui l'entourent.
PRECAUCIONES PARA LA INSTALACIÓN
· Instale siempre esta unidad en horizontal.
· Para la dispersión de calor, deje por lo menos 10 cm de espacio entre las partes superior, trasera y laterales
de la unidad y la pared u otros componentes.
PRECAUZIONI PER L'INSTALLAZIONE
· Installare sempre l'apparecchio in posizione orizzontale.
· Per un'adeguata dispersione del calore, lasciare almeno 10 cm di distanza tra i lati superiore, posteriore e
destro/sinistro dell'unità e la parete o altri componenti.
VOORZORGEN BIJ DE INSTALLATIE
· Plaats dit toestel altijd horizontaal.
· Om de opgewekte warmte te laten ontsnappen laat u ten minste 10 cm vrij tussen de bovenkant, de
achterkant en de zijkanten van dit toestel en de muur of andere elementen.
ANVISNINGAR FÖR INSTALLATIONEN
· Installera alltid den här enheten horisontellt.
· Lämna minst 10 cm fritt utrymme mellan översidan, baksidan och sidorna på apparaten och omgivande
väggar och andra föremål för att få god värmeavledning.
FORSIGTIGHED VED INSTALLATION
· Installer altid denne enhed i vandret position.
· Sørg for passende luftstrøm mellem anlæggets top, bagside, sider og væggene eller andre genstande. Der
skal være mindst 10 cm frit rum.
VAROTOIMENPITEET ASENNUSTA VARTEN
· Asenna tämä laite vaakasuoraan asentoon.
· Jätä lämmön haihtumista varten ainakin 10 cm tilaa tämän laitteen yläosan, takaosan ja sivujen sekä seinän
tai muitten komponenttien väliin.
FORSIKTIGHETSTILTAK VED INSTALLERING
· Du må alltid installere denne enheten vannrett.
· La det være minst 10 cm klaring mellom apparatets topp, bakside og sider og vegg, eller annet apparat.
"LA HITACHI HOME ELECTRONICS EUROPE Ltd. IN QUALITÀ DI MANDATARIO EUROPEO DEL
MARCHIO HITACHI DICHIARA CHE QUESTO PRODOTTO. E' CONFORME AL D.M. 28/08/1995 N.
548, OTTEMPERANDO ALLE PRESCRIZIONI DI CUI AL D.M. 25/06/1985 (PARAGRAFO 3,
ALLEGATO A) ED AL D.M. 27/08/1987 (PARAGRAFO 3, ALLEGATO I)"
---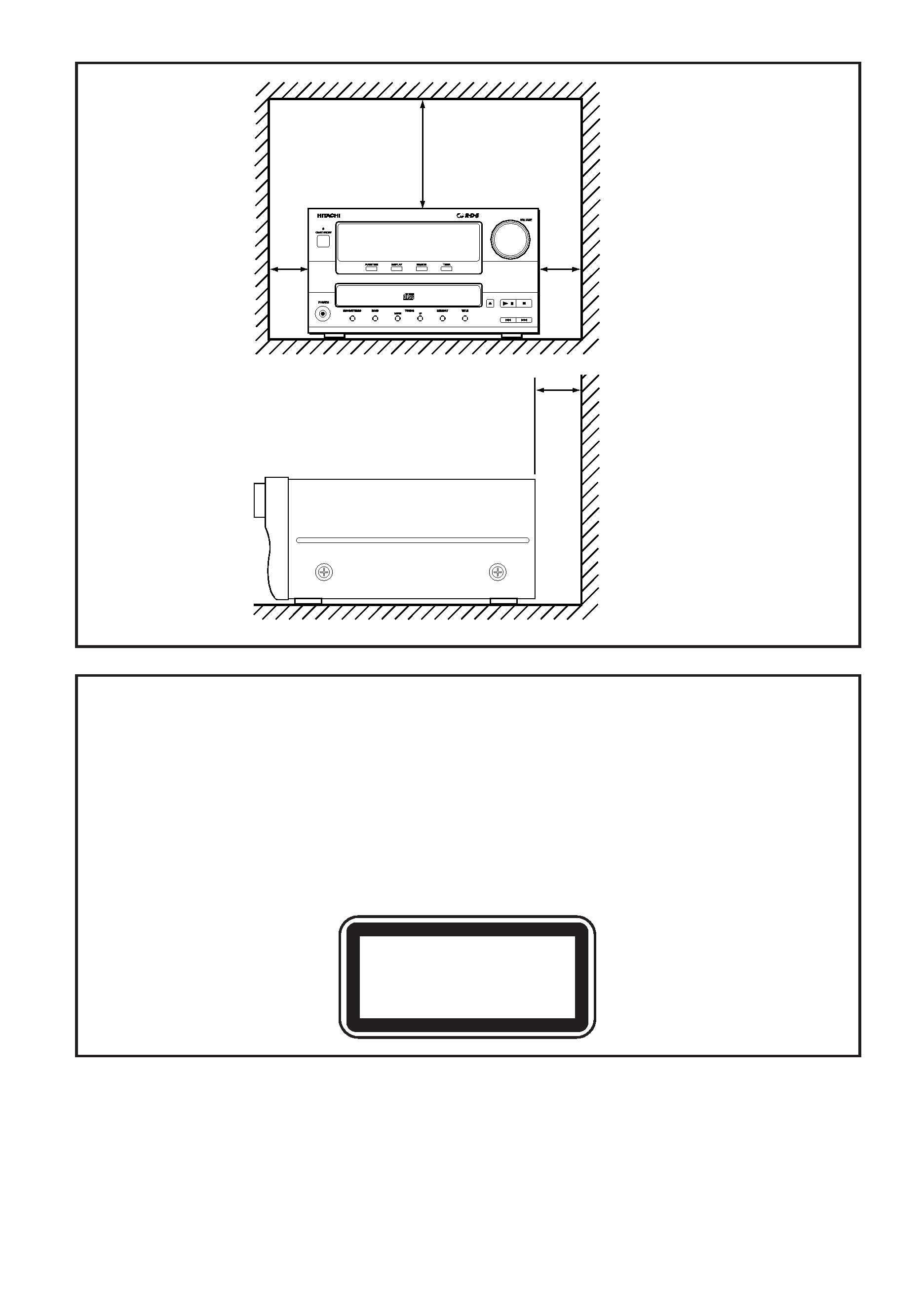 · This label is printed on the rear of the unit.
· Aufkleber auf der geräterückseite.
· Cette etiquette est apposee au dos de l'appareil.
· Esta etiqueta aparece impresa en la parte posterior de la unidad.
· Questa etichetta è applicata sul retro dell'unità.
· Op de achterzijde van het toestel staat volgend etiket.
· Denna märkning finns tryckt på apparatens baksida.
· Nedenstående etiket er trykt på anlæggets bagside.
· Tämä etiketti on painettu laitteen takaosaan.
· Denne etiketten finnes på baksiden av apparatet.
---

The POWER button on the front panel and remote control switches the unit from ON to
STANDBY but does not isolated the unit from the main supply. If it is to be left unattached for
a long period, it is recommended that the unit is switched to standby and the mains plug is
If no sound is emitted from the speakers when the POWER is ON, turn down the volume
level and press the POWER button to switch the unit to standby mode, and check to see if
the speaker cords are properly connected.
This unit contains a muting circuit and it takes about 5 ­ 6 seconds for this unit to reach
stable operation after switching the set to POWER ON mode.
Never open the covers or touch the insides or insert a metal object. Any of these could
cause an electric shock or a fault.
When an electrical storm is present, unplug the power cord and disconnect the antenna
The apparatus should not be exposed to dripping or splashing.
To clean the cabinets and panels when dirty, clean off dirt on the surfaces with a soft, dry
cloth. Never use thinner, benzene or alcohol, as these will damage the surface finish.
Protect the unit against excessive heat (e.g. direct sunlight), dust and moisture.
Discs which can be played on the CD player have the following mark on them:
Be careful not to damage the power supply cord. Be sure to hold the plug when pulling it
out; do not pull the cord.
Do not install the set in a confined location; otherwise, heat dissipation will be poor and
Do not place foreign objects in the disc compartment. It may cause damage to the
Do not move the unit suddenly from a very cold room into a warm room. When a chilled CD
player is moved suddenly to a warm location, condensation may form on the pickup lens,
preventing proper operation. In this case, wait 1 ­ 2 hours before resuming playback.
During playback, if the CD player is subjected to a sudden shock or jolt, some noise may be
produced. This is not a malfunction.
The CD player has wide dynamic range. As a result, if you turn your amplifier's volume up
too high during soft (low volume) passages of a program, your speakers may be damaged
when the dynamic range of a sudden loud passage is produced.
Do not store discs in high-temperature, high-humidity locations. The discs may develop
warps and become unplayable. Also, discs with moisture on them may be unplayable. Wipe
any moisture off with a soft, dry cloth, and be sure discs are dried completely before using.
Do not leave a disc inside the CD player when it is not used for a long period.
Always remove all discs from the trays when moving the unit. Failure to do so many
Please do not use CDs with cellophane/labels attached or CDs with peeled off stains, for
example, rental CDs, otherwise, they may get trapped inside the unit and cause
Electrical energy can perform many useful functions. This unit has been engineered and
manufactured to assure your personal safety. Improper use can result in potential electrical
shock or fire hazards. In order not to defeat the safeguards, observe the following
instructions for its installation, use and servicing.
---