---

TABLE OF CONTENTS ............................................................................................................................ 2
IMPORTANT.............................................................................................................................................. 3
SAFETY TIPS............................................................................................................................................. 5
PICTURE CAUTIONS ............................................................................................................................. 10
ACCESSORIES ........................................................................................................................................ 11
REMOTE CONTROL BATTERY INSTALLATION AND REPLACEMENT ............................... 11
HOW TO SET UP YOUR NEW HITACHI PROJECTION TV.............................................................. 12
HOOK-UP CABLES AND CONNECTORS ........................................................................................... 14
ANTENNA CONNECTIONS TO REAR JACK PANEL................................................................. 14
FRONT PANEL CONTROLS.................................................................................................................. 16
MENU/EXIT BUTTON ................................................................................................................... 16
INPUT selector................................................................................................................................ 16
VOLUME level ................................................................................................................................ 16
FRONT PANEL JACKS AND CONNECTIONS.................................................................................... 18
REAR PANEL JACKS ............................................................................................................................. 19
REAR PANEL CONNECTIONS ............................................................................................................. 21
REAR SPEAKER TERMINAL CONNECTION..................................................................................... 22
TIPS ON REAR PANEL CONNECTIONS...................................................................................... 23
AUDIO SYSTEM SETUP ........................................................................................................................ 24
THE GENIUS REMOTE CONTROL (CLU-952MP) ............................................................................. 25
MULTI-PAGE WINDOWS...................................................................................................................... 26
HOW TO USE THE GENIUS REMOTE TO CONTROL YOUR TV.................................................... 27
PICTURE-IN-PICTURE (PIP) ................................................................................................................. 30
USING THE REMOTE TO CONTROL VCR FUNCTIONS.................................................................. 35
USING THE REMOTE TO CONTROL CABLE BOX/SATELLITE FUNCTIONS ............................. 36
USING THE REMOTE TO CONTROL AUDIO EQUIPMENT FUNCTIONS..................................... 37
AUDIO, CABLE/SATELLITE, AND VCR CODES............................................................................... 38
ULTRATEC OSD ..................................................................................................................................... 46
INITIAL SETUP ....................................................................................................................................... 49
CUSTOMIZE ............................................................................................................................................ 57
VIDEO SETTINGS................................................................................................................................... 65
AUDIO SETTINGS .................................................................................................................................. 67
HOME THEATER .................................................................................................................................... 70
INFO. CENTER ........................................................................................................................................ 74
CARE OF YOUR HITACHI PROJECTION TV AND YOUR REMOTE CONTROL.......................... 77
RECEPTION PROBLEMS....................................................................................................................... 78
CHECK HERE BEFORE CALLING FOR SERVICE............................................................................. 79
SPECIFICATIONS ................................................................................................................................... 80
---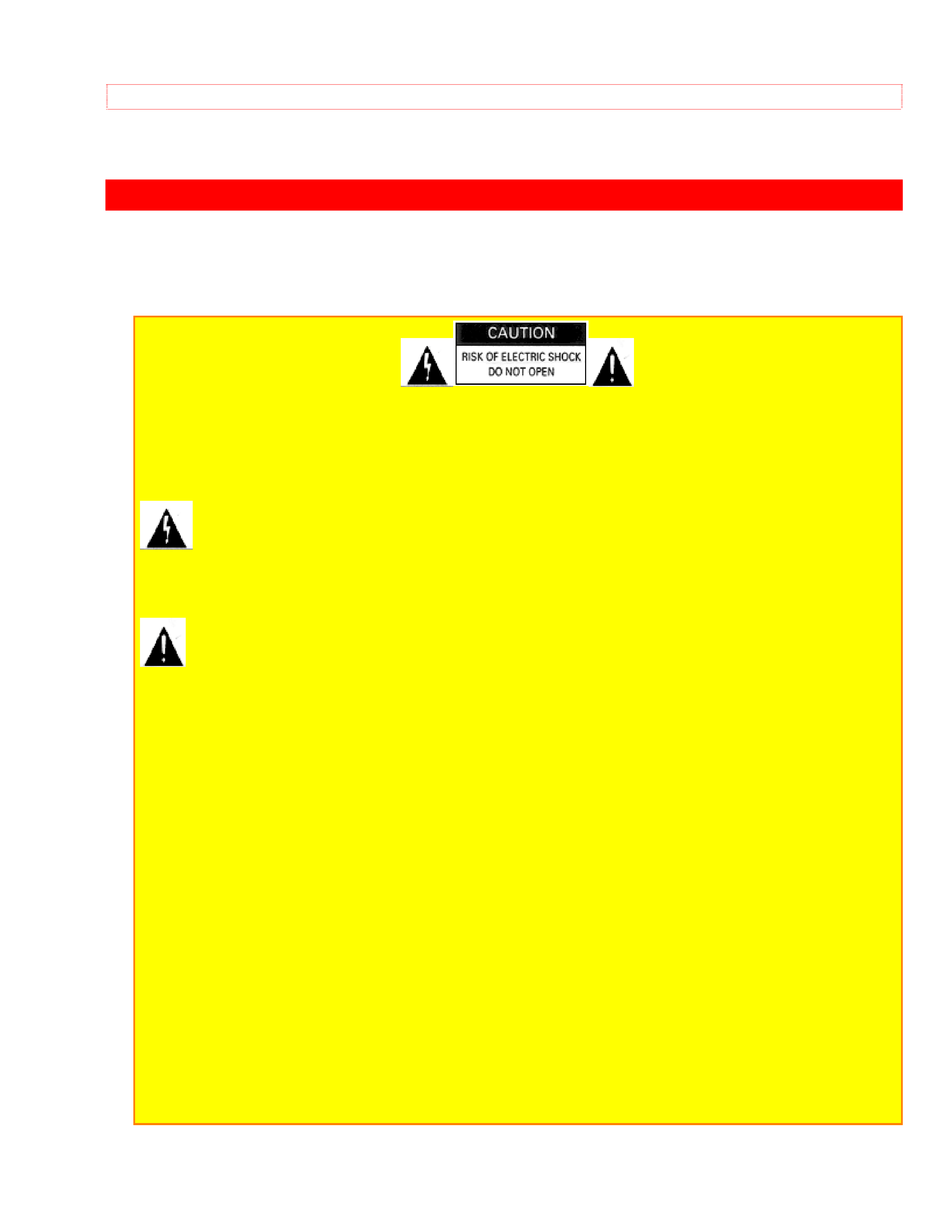 Follow all warnings and instructions marked on this television receiver.
CAUTION: TO REDUCE THE RISK OF ELECTRIC SHOCK,
DO NOT REMOVE COVER (OR BACK).
NO USER-SERVICEABLE PARTS INSIDE.
REFER SERVICING TO QUALIFIED SERVICE PERSONNEL.
The lightning flash with arrowhead symbol, within an equilateral triangle, is intended
to alert the user to the presence of uninsulated "dangerous voltage" within the product's
enclosure that may be of sufficient magnitude to constitute a risk of electric shock to
The exclamation point within an equilateral triangle is intended to alert the user to the
presence of important operating and maintenance (servicing) instructions in the literature
accompanying the appliance.
TO PREVENT FIRE OR SHOCK HAZARD, DO NOT EXPOSE THIS TELEVISION
SYSTEM TO RAIN OR MOISTURE.
There are no user serviceable parts inside the receiver.
Model number and serial number are indicated on the back side of the
This projection color TV is designed to operate on 120 volts 60 Hz, AC household
Insert power cord into a 120 volt 60 Hz outlet.
TO PREVENT ELECTRIC SHOCK, DO NOT USE THE TELEVISION'S PLUG WITH AN
EXTENSION CORD, RECEPTACLE, OR OTHER OUTLET UNLESS THE BLADES AND
GROUND TERMINAL CAN BE FULLY INSERTED TO PREVENT BLADE EXPOSURE.
NEVER CONNECT THE TV TO 50 Hz, DIRECT CURRENT, OR ANYTHING OTHER
THAN THE SPECIFIED VOLTAGE.
---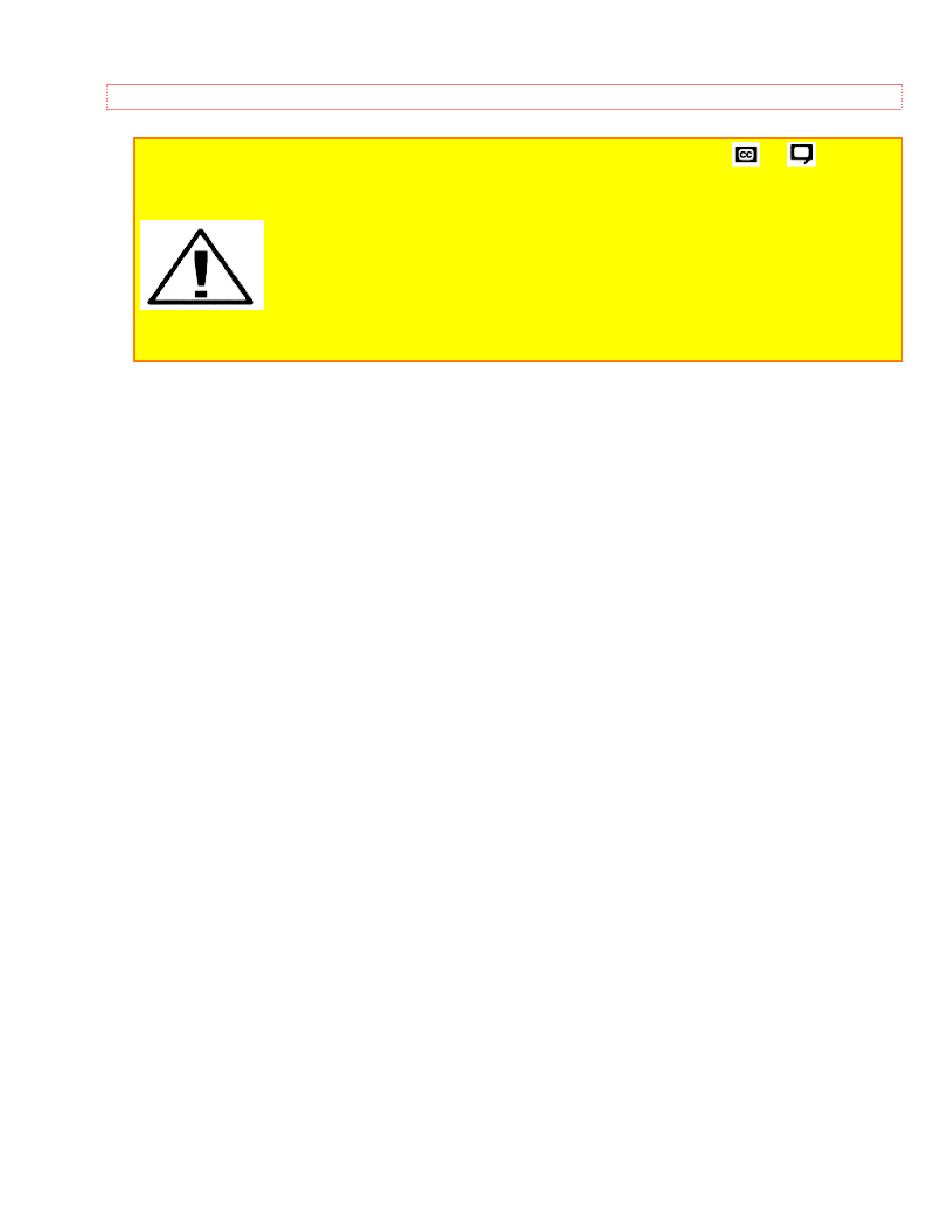 NOTE: This television receiver will display television closed captioning (
accordance with paragraph 15, 119 of the FCC rules.
CAUTION: Never remove the back cover of the set as this can expose you
to very high voltages and other hazards. If the set does not operate properly, unplug the set
and call your dealer or service shop.
---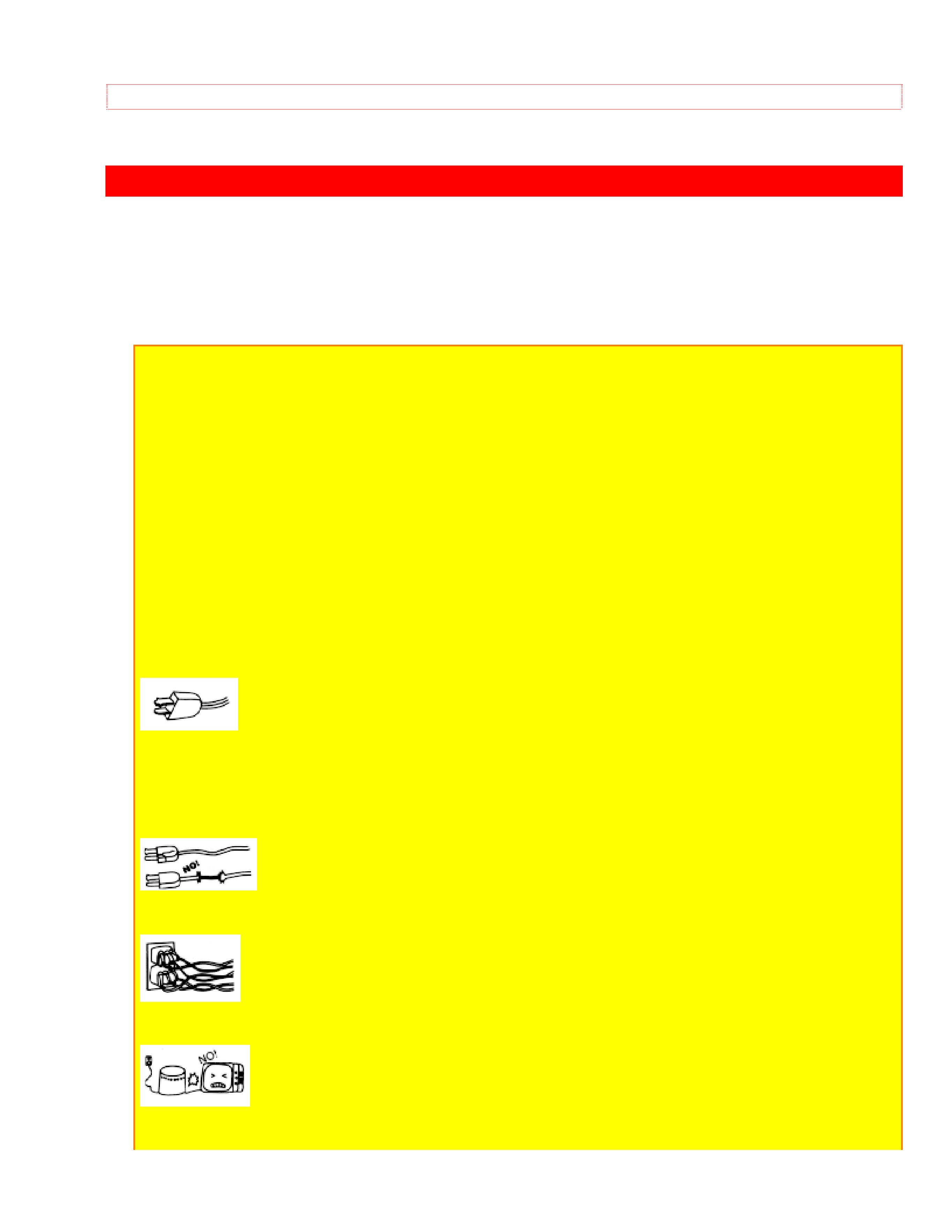 SAFETY POINTS YOU SHOULD KNOW ABOUT
YOUR HITACHI TELEVISION RECEIVER
* Read all of these instructions.
* Save these instructions for later use.
* Follow all warnings and instructions marked on the television receiver.
Our reputation has been built on the quality, performance, and ease of service of HITACHI
Safety is also foremost in our minds in the design of these units. To help you operate these
products properly, this section illustrates safety tips which will be of benefit to you. Please
read it carefully and apply the knowledge you Obtain from it to the proper operation of your
HITACHI television receiver.
Please fill out your warranty card at once and mail it to HITACHI. This will enable HITACHI
to notify you promptly in the improbable event that a safety problem should be discovered
in your model of product.
1 This television set is equipped with a polarized alternating-current line plug (a plug having
one blade wider than the other). This plug will fit into the power outlet only one way. This is
a safety feature. If you are unable to insert the plug fully into the outlet, try reversing the
plug. If the plug should still fail to fit, contact your electrician to replace your obsolete outlet.
Do not defeat the safety purpose of the polarized plug.
2 When the power cord or plug is damaged or frayed, unplug this television set from the
wall outlet and refer servicing to qualified service personnel.
3 Do not overload wall outlets and extension cords as this can result in fire or electric
4 Do not allow anything to rest on or roll over the power cord, and do not place the TV
---