SPECIFICATIONS AND PARTS ARE SUBJECT TO CHANGE FOR IMPROVEMENT.
July 2004 Digital Media Division
Be sure to read this manual before servicing. To assure safety from fire, electric shock, injury, harmful radiation
and materials, various measures
have been provided for in this HITACHI Plasma displayservice manual.
all cautionary items described in the manual to maintain safety before servicing.
1. Features --------------------------------------------------3
2. Specifications--------------------------------------------4
s-------------------------------------------5
4. Component names -------------------------------------6
Technology ----------------------------------------7
Service Modes ---------------------------------------- 10
7. Troubleshooting--------------------------------------- 2
8. Basic circuit diagram--------------------------------- 35
9. Printed wiring board diagram---------------------- 42
0.Block diagram ----------------------------------------- 47
1.Connection diagram --------------------------------- 49
2.Wiring diagram -----------------------------------------50
3.Disassembly diagram-------------------------------- 52
4.Replacement parts list------------------------------- 55
the Panel Module and front Filter are made of glass, handle a broken Module and/or Filter with
sufficient care, in order not to be injured.
air work should not be started until after the Panel Module and the AC/DC Power supply have cooled
ould be exercised in the proximity of the display area in order not to damage its surface.
ould not be touched with bare hands, as this will protect its surface from stains.
5. It is recommended to use clean soft gloves during the rep
air work in order to protect not only the display
area of the Panel Module but also
the Panel Module (located in the upper left corner of the back of the glass panel)
is very fragile; as well, the flat cables connecting the Panel to the drive circuit PWBs are very weak. Take
care not to damage these, otherwise, the panel will never light again..
15.DC Voltage Tables --------------------------------- 66
---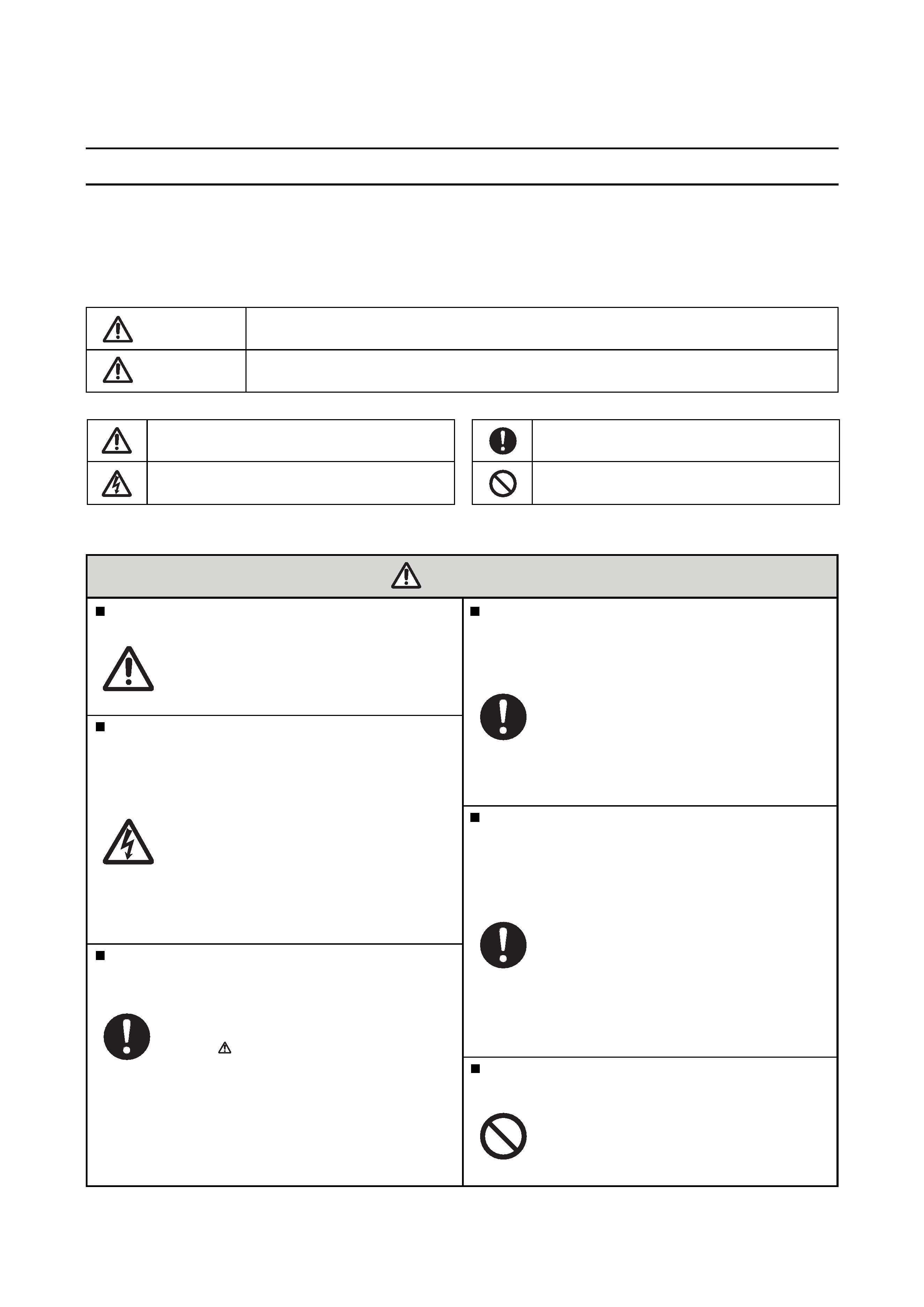 Please read this page before
making repairs to the monitor.
s certain safety items found in this manual which are intended to ensure the
safety of the technician and to prevent accidents during any repair work.
Personnel Electrical Safety Hazard"
Equipment Operational Hazard"
This symbol means "CAUTION"
This symbol means "POSSIB
This indicates cabinet, chassis or parts
require special attention.
any notes as well as all safety
Please use care and caution when
servicing this product. High voltages
exist in the set which can cause injury
during repair to prevent serious shock
only recommended components.
he same characteristic compo-
s, which is same as previous for your
. To ensure reliability, specially marked
Keep the same wiring dress for boards.
This monitor uses insulated spacers
which are intended to isolate metal
parts from electrical components.
wiring is isolated from components by
using clamps, retainers, etc., so please return
to original condition for prevention of electrical
afety check should be done after finished.
Every part (removed screws, component
and wiring) should be returned to previous
any damage by mistake. Measure the
that the value of impedance
possible for electric shock or fire to
occur if the value is less than 4M ohm.
Repair to the HDCP circuit is limited.
Never remove the shield case, which is
parts ( ) should be OEM when replaced.
These parts are also safety related, so
electrical shock and/or fire could result
from using generic parts.
---

panel screen (front glass) of the monitor -
Before cleaning the monitor, turn off the monitor and disconnect the power plug from the power outlet.
To prevent scratching or damaging the plasma screen face, do not
wipe the surface with sharp or hard
objects. Clean the screen with a soft cloth moistened with warm water and dry with a soft cloth. If it is not
clean enough, then use a cloth with glass cleaner. Do not use any harsh or abrasive chemicals.
How to clean the cabinet of the monitor
Use a soft cloth to clean the cabinet and control panel of the monitor. When excessively soiled dilute a neutral
detergent in water, wet and wring out the soft cloth and afterward wipe with a dry soft cloth.
Never use acid/alkaline detergent, alcoholic detergent, abrasive cleaner, powder soap, OA cleaner, car wax,
could cause discoloration, scratches or cracks.
Large-screen, high-definition plasma display panel
The 55-inch color plasma display panel, with a resolution of 1366 (H) x 768(V) pixels, creates a high-definition, large-
screen (aspect ratio : 16:9) and low-profile flat display. Free from electromagnetic interferences from geomagnetic
sources and ambient power lines, the panel produces high-quality
images free from any color misconvergence
or corner focus distortion.
High Performance Digital Processor
A wide range of personal computer signals can be handled, from 640 x 400, 640 x 480 VGA to 1600 x 1200 UXGA.
Easy-to-use remote control and on
-screen-display system (OSD)
The remote control included eases the setting
of display controls. Furthermore, the on-screen-display (OSD),
input status control settings in an easy-to-view fashion.
The International ENERGY STAR power saver feature saves power consumption automatically when input sig-
When connected to a VESA DPMS-compliant PC, the monitor cuts its power consumption while it is idle.
TruBass, SRS and ( ) symbol are trademarks of SRS Labs,Inc.
TruBass technology is incorporated under license from SRS Labs, Inc.
One mini D-sub terminal and one DVI-D terminal for RGB input.
The D-sub terminal can also receive the RGB-component by On-Screen Display control.
One composite/S.video input terminal and two component video input terminals added with VIDEO board.
One component input is possible to switch to RGB signal input from the Menu screen.
One SCART terminal for the signal of the European standard added with VIDEO board.
It operates as composite/S.video input and RGB input terminal, or composite video output terminal.
One composite video output terminal as a monitoring output added with VIDEO board.
---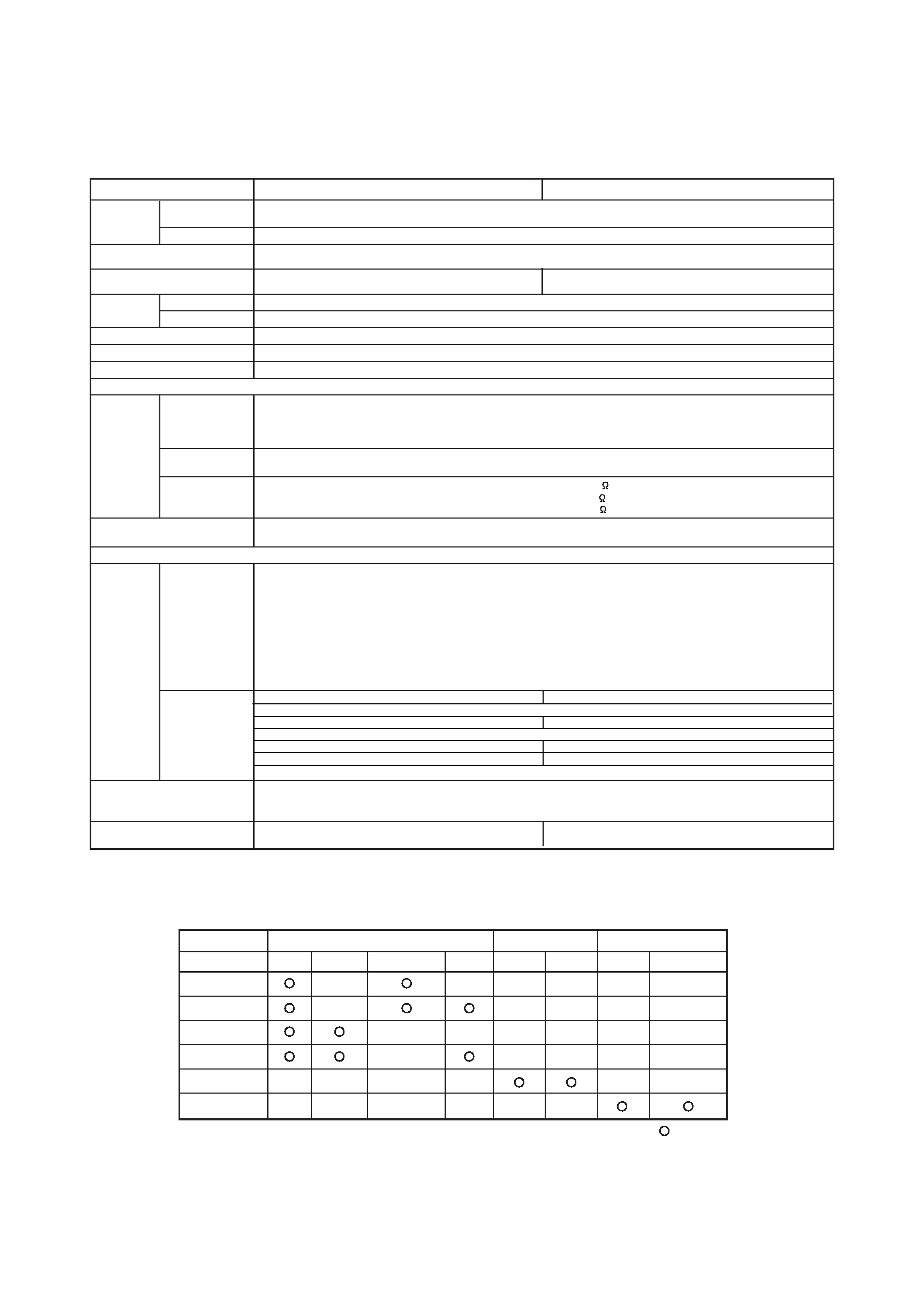 The monitor takes at least 30 minutes to attain the status of optimal picture quality.
Approx. 55 inches (1229 (H) x 691 (V) mm, diagonal 1410mm)
1366 (H) x 768 (V) pixels
(excluding Speakers/Stand)
1394 (W) x 857 (H) x 105 (D) mm
(excluding Speakers/Stand)
o
Cto35
o
C, Storage : 0
o
Cto40
o
C
Operating : 20% to 80%, Storage : 20% to 90% (non-condensing)
Power consumption/at standby
RGB1 DVI input terminal (DVI-D)
RGB1 audio input terminal (3.5mm Stereo Mini Jack)
RGB2 analog RGB input terminal (D-sub 15-pin)
RGB2 audio input terminal (3.5mm Stereo Mini Jack)
0.7 V/1.0 Vp-p, analog RGB (Recommended Signal)
480i, 576i, 480p, 576p, 1080i/50, 1080i/60, 720p/60
AV1: composite video input terminal (RCA)
AV1: Y PB PR video input terminal (RCA)
AV1: L/R audio input terminal (RCA)
AV2: composite video input terminal (RCA)
AV2: Y/G PB/B PR/R video input terminal (RCA)
AV2: L/R audio input terminal (RCA)
AV3: composite video input terminal (RCA)
AV3: S video input terminal (RCA)
AV3: L/R audio input terminal (RCA)
AV4: composite video / S video / RGB / L/R audio input terminal (Scart)
AV1: NTSC-M, PAL-M, PAL-N
AV1: 480i, 576i, 480p, 576p, 1080i/50, 1080i/60, 720p/60
AV2: NTSC-M, PAL-M, PAL-N
AV2: 480i, 576i, 480p, 576p, 1080i/50, 1080i/60, 720p/60, RGB
AV3: NTSC-M, PAL-M, PAL-N
AV4: NTSC-M, PAL-M, PAL-N
OUTPUT (MONITOR): composite video monitor-output terminal (RCA)
OUTPUT (MONITOR): L/R audio monitor- output terminal (RCA)
AV4: composite video / L/R audio monitor-output terminal (SCART)
6 ohm load), sub woofer terminal (RCA)
H/V composite, TTL level (2K )
H/V separate, TTL level (2K )
Sync on green, 0.3 Vp-p (75 )
AV1: PAL, SECAM, NTSC3.58, NTSC4.43
AV2: PAL, SECAM, NTSC3.58, NTSC4.43
AV3: PAL, SECAM, NTSC3.58, NTSC4.43
AV4: PAL, SECAM, NTSC3.58, NTSC4.43
Applicable video signals for each input terminal
---

This product uses lead free solder (unleaded) to help preserve the environment. Please read these instructions
before attempting any soldering work.
Caution: Always wear safety glasses to prevent fumes or molten solder from getting into the eyes. Lead free
solder can splatter at high temperatures (600°C).
Lead free solder indicator
Printed circuit boards using lead free solder are engraved with an "F."
Properties of lead free solder
The melting point of lead free solder is
approximately 40-50°C higher than leaded solder.
Solder with an alloy composition of
96.5Sn/3.0Ag/0.5Cu or 99.3Sn/0.7Cu is recommended.
Although servicing with leaded solder is possible, there are a few precautions that have to be taken. (Not taking
these precautions may cause the solder to not harden properly, and
cause consequent malfunctions.)
Precautions when using leaded solder
Remove all lead free solder from soldered joints when replacing components.
If leaded solder should be added to existing lead free joints, mix in the leaded solder thoroughly after the lead
free solder has been completely melted (do not apply the soldering iron without solder).
A soldering iron with a temperature setting capability (temperature control function) is recommended.
The melting point of lead free solder is higher than leaded solder. Use a soldering iron that maintains a high
stable temperature (large heat capacity), and that allows temperature adjustment according to the part being
serviced, to avoid poor servicing performance.
Recommended soldering iron:
Soldering iron with temperature control function (temperature range: 320-450°C)
Recommended temperature range per part:
Soldering iron temperature
Mounting (chips) on mounted PCB
Mounting (chips) on empty PCB
Chassis, metallic shield, etc.
FILTER PWB, SW PWB, LED/RECEIVER PWB, TACT SW PWB, SP TERMINAL(L/R) PWB
AUDIO PWB, JOINT PWB, SUB WOOFER PWB
The PWB assembly which has used lead free solder
---