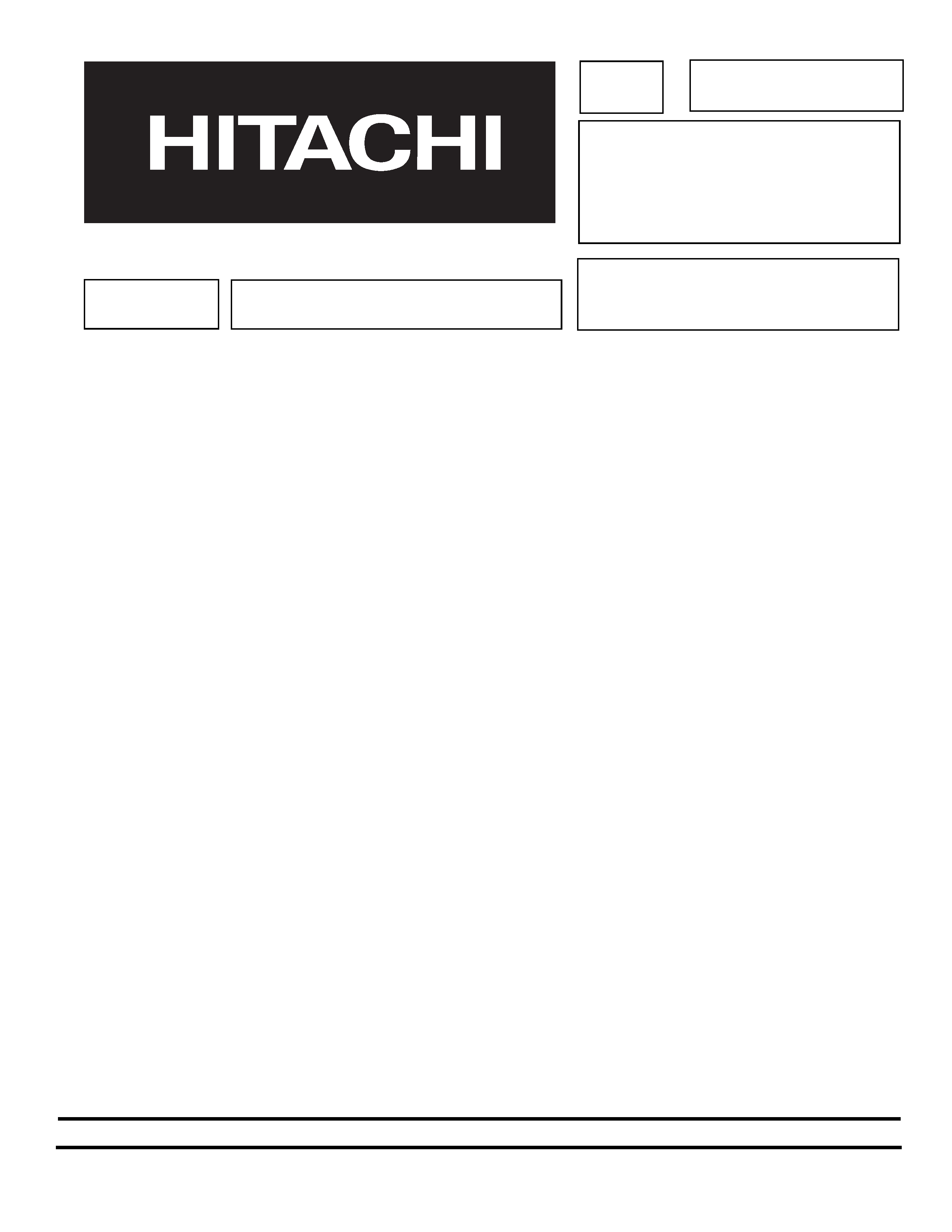 SAFETY PRECAUTIONS ......................................................................................................2
TECHNICAL CAUTIONS ......................................................................................................3
SPECIFICATIONS ................................................................................................................4
GENERAL INFORMATION ....................................................................................................5
CUSTOMIZED PICTURE AND SOUND ADJUSTMENTS ....................................................6
SERVICE ADJUSTMENTS ..................................................................................................11
DC VOLTAGE ......................................................................................................................19
WAVEFORMS ......................................................................................................................30
BASIC CIRCUIT DIAGRAM ................................................................................................33
PRINTED CIRCUIT BOARDS ............................................................................................46
BLOCK DIAGRAM ..............................................................................................................47
WIRING DIAGRAM..............................................................................................................48
CHASSIS WIRING DRAWING ............................................................................................49
EXPLODED VIEW ..............................................................................................................55
REPLACEMENT PARTS LIST ............................................................................................57
EXPLODED VIEW PARTS LIST..........................................................................................84
QUICK REFERENCE PARTS LIST ....................................................................................85
SPECIFICATIONS AND PARTS ARE SUBJECT TO CHANGE FOR IMPROVEMENT
HHEA-MANUFACTURING DIVISION
This addendum gives differences between DP05/DP05F and the DP06 chassis models. For any
other information, see the 53SDX01B or 61SDX01B Service Manual PA No. 0131 issued in JUNE 2000.
CAUTION: Before servicing this chassis, it is important that the service technician read the
"Safety Precautions" and "Servicing Precautions" in Service Manual PA No. 0131.
PROJECTION COLOR TELEVISION
Digital Convergence Procedure Added (see pages 17 - 20)
---

Components having special safety characteristics are identified by a
on the schematics and on the parts list in this serv-
ice manual and its supplements and bulletins. Before servicing this chassis, it is important that the service technician read
and follow the "Safety Precautions" and the "Servicing Precautions" in Service Manual PA No. 0131.
For continued X-Radiation protection, replace picture tube with original type or Hitachi approved equivalent type.
This Service Manual is intended for qualified service technicians; it is not meant for the casual do-it-yourselfer. Qualified
technicians have the necessary test equipment and tools, and have been trained to properly and safely repair complex
products such as those covered by this manual.
Improperly performed repairs can adversely affect the safety and reliability of the product and may void warranty. If you
are not qualified to perform the repair of this product properly and safely, you should not risk trying to do so and refer the
repair to a qualified service technician.
Lead in solder used in this product is listed by the California Health and Welfare agency as a known reproductive toxicant which
may cause birth defects or other reproductive harm (California Health and Safety Code, Section 25249.5).
When servicing or handling circuit boards and other components which contain lead in solder, avoid unprotected skin contact
with solder. Also, when soldering do not inhale any smoke or fumes produced.
This television receiver provides display of television closed captioning in accordance with section 15.119 of the FCC rules.
FEDERAL COMMUNICATIONS COMMISSION NOTICE
This equipment has been tested and found to comply with the limits for a Class B digital device, pursuant to Part 15 of the
FCC Rules. These limits are designed to provide reasonable protection against harmful interference in a residential installa-
tion. This equipment generates, uses, and can radiate radio frequency energy and, if not installed and used in accordance
with the instructions, may cause harmful interference to radio communications. However, there is no guarantee that interfer-
ence will not occur in a particular installation. If this equipment does cause harmful interference to radio or television recep-
tion, which can be determined by turning the equipment off and on, the user is encouraged to try to correct the interference
by one or more of the following measures:
¥ Reorient or relocate the receiving antenna.
¥ Increase the separation between the equipment and the receiver.
¥ Connect the equipment into an outlet on a circuit different from that to which the receiver is connected.
¥ Consult the dealer or an experienced radio/television technician for help.
USE ISOLATION TRANSFORMER WHEN SERVICING
---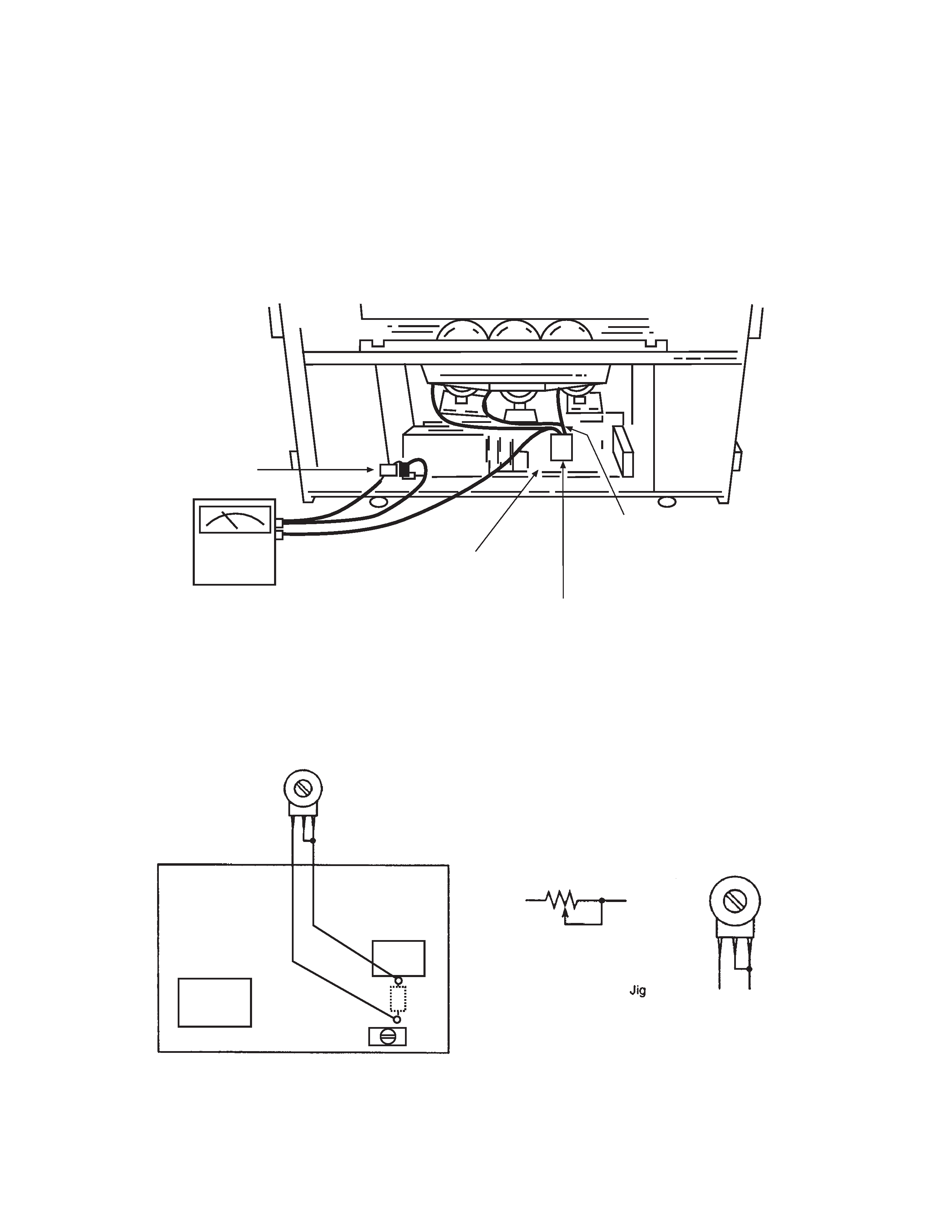 High Voltage limiter circuit operation check.
1. Turn off TV and connect jig as shown in Figure 2. Adjust
jig fully counter-clockwise for minimum resistance.
2. Set the AC input to 120V AC and turn on TV.
3. Confirm test pattern on CRT is a usable picture, then
slowly adjust jig until the picture disappears and TV shuts
4. When the limiter circuit is operating properly, High
Voltage will be less than 31.5 kV at 1.5mA when TV shuts
5. Turn off set immediately after checking circuit operation.
6. Unplug set for one minute to reset shutdown circuit.
Remove jig and voltmeter.
Remove RH80 and connect 50K
Fig. 2. Deflection/Power P.W.B.
---

Picture l-F Carrier 45.75 MHz
Sound l-F Carrier 41.25 MHz
Color Sub Carrier 42.17 MHz
0.7 Volt p-p, 75 Ohm, (P
B
, P
R
)
Front: 12 watts per channel at 10% distortion,
8 ohm Impedance. Max output Ð 15 watts.
Anode Voltage:
30 ± 1.5kv (1.5±0.2mA)
2 Speakers - 5 inch (120 mm) round
Circuit Board Assemblies:
Sensor Distribution P.W.B.
Below is an EXAMPLE only. See Replacement Parts List for details. The following symbol near the fuse
indicates fast operation fuse (to be replaced). Fuse ratings appear within the symbol.
ÒRISK OF FIRE - REPLACE FUSE AS MARKEDÓ
The rating of fuse F901 is 6.0A - 125V.
Replace with the same type fuse for continued protection
---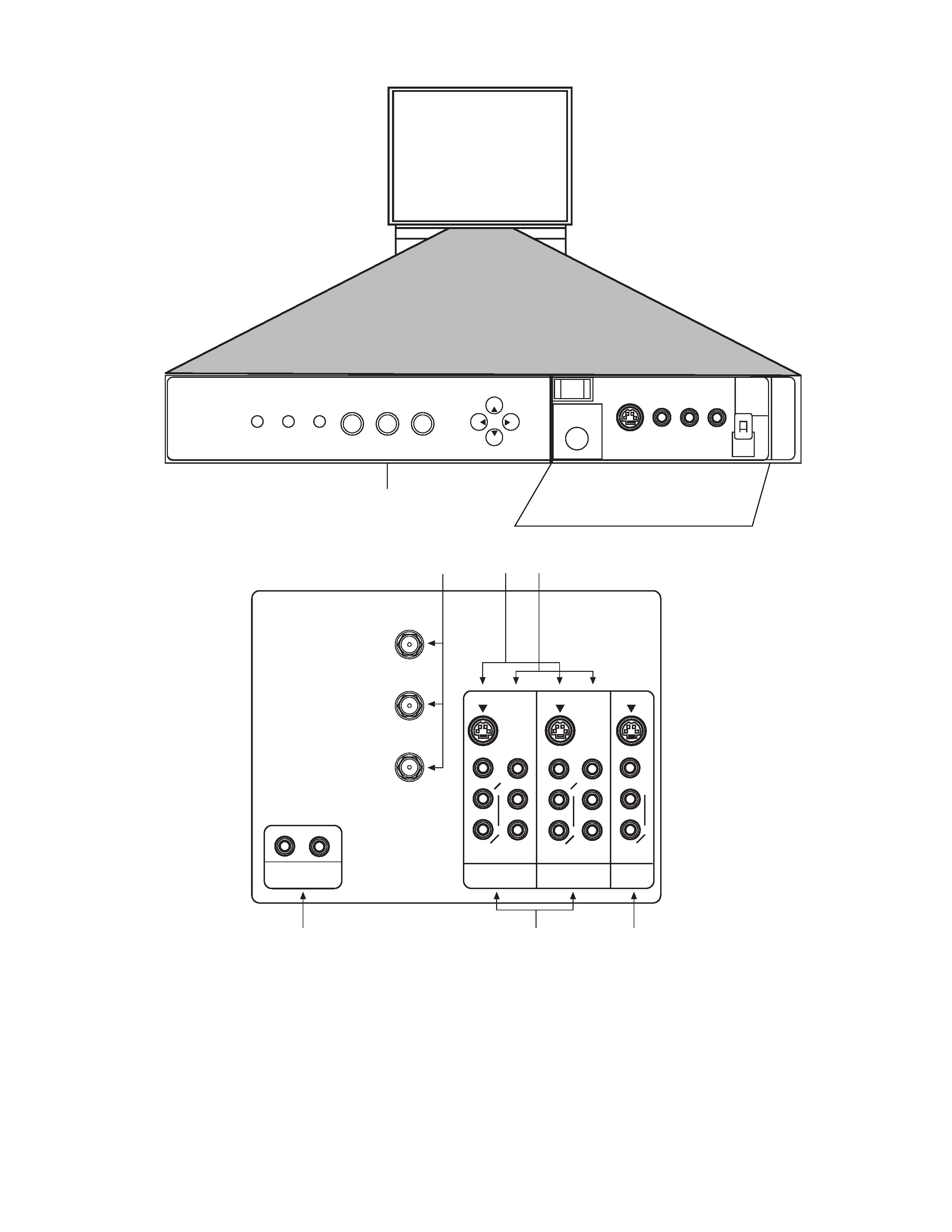 Fig. 3. Front Control Panel
---