READ THE INSTRUCTIONS INSIDE CAREFULLY.
KEEP THIS USER'S MANUAL FOR FUTURE REFERENCE.
For future reference, record the serial number of your monitor.
The serial number is located on the rear of the monitor.
This monitor is ENERGY STAR® compliant when used with a computer equipped with
The ENERGY STAR® emblem does not represent EPA endorsement of any product or
As an ENERGY STAR® Partner, Hitachi,Ltd. has determined that this product meets
the ENERGY STAR® guidelines for energy efficiency.
Color Plasma Display Monitor
---

Thank you very much for purchasing the HITACHI Plasma Display
Before using your monitor, please carefully read the "SAFETY
INSTRUCTIONS" and this "USER'S MANUAL" so you will know how to
operate the monitor properly. Keep this manual in a safe place. You
will find it useful in the future.
Notes on lnstallation Work:
This product is marketed assuming that it is installed by qualifed
personnel with enough skill and competence. Always have an
installation specialist or your dealer install and set up the product.
HITACHI cannot assume liabilities for damage caused by mistake
in installation or mounting, misuse, modification or a natural
After installation, be sure to deliver this manual to the customer
and explain to the customer how to handle the product.
---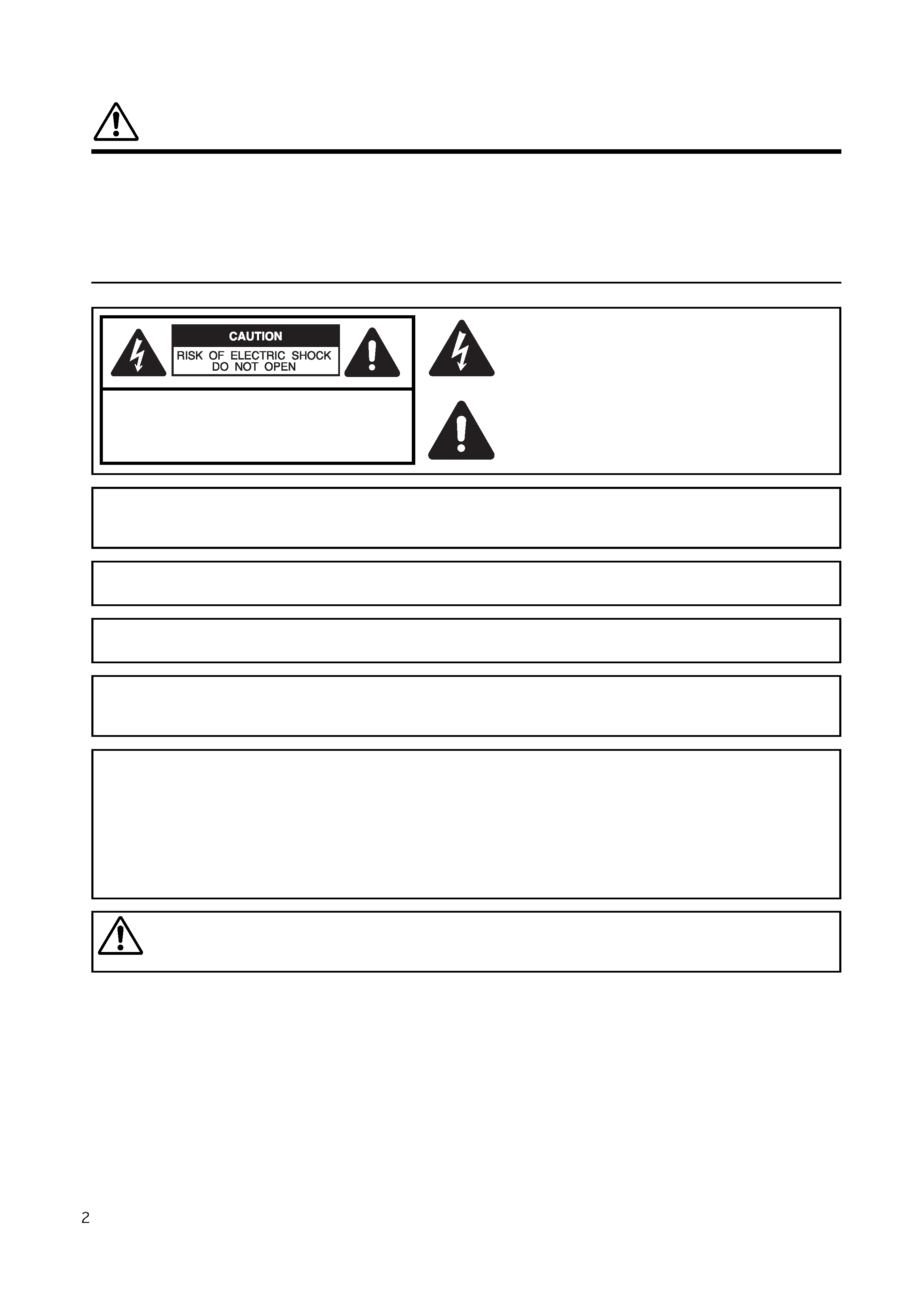 IMPORTANT SAFETY INSTRUCTIONS
SAFETY POINTS YOU SHOULD KNOW ABOUT
YOUR HITACHI PLASMA MONITOR
Our reputation has been built on the quality, performance, and ease of service of HITACHI Plasma monitor.
Safety is also foremost in our minds in the design of these units. To help you operate these products properly, this section illustrates
safety tips which will be of benefit to you. Please read it carefully and apply the knowledge you obtain from it to the proper operation of
your HITACHI Plasma monitor.
Please fill out your warranty card and mail it to HITACHI. This will enable HITACHI to notify you promptly in the improbable event that a
safety problem should be discovered in your product model.
Follow all warnings and instructions marked on this monitor.
CAUTION: TO REDUCE THE RISK OF ELECTRIC SHOCK,
DO NOT REMOVE COVER (OR BACK).
NO USER SERVICEABLE PARTS INSIDE.
REFER SERVICING TO QUALIFIED SERVICE PERSONNEL.
The lightning flash with arrowhead symbol, within an equilateral
triangle, is intended to alert the user to the presence of uninsulated
"dangerous voltage" within the product's enclosure that may be of a
sufficient magnitude to constitute a risk of electric shock to persons.
The exclamation point within an equilateral triangle, is intended to
alert the user to the presence of important operating and
maintenance (servicing) instructions in the literature accompanying
· TO PREVENT FIRE OR SHOCK HAZARD, DO NOT EXPOSE THIS MONITOR TO RAIN OR MOISTURE.
· THE MONITOR SHOULD NOT BE EXPOSED TO DRIPPING OR SPLASHING AND NO OBJECTS
FILLED WITH LIQUIDS, SUCH AS VASES, SHOULD NOT BE PLACED ON THE MONITOR.
· There are no user serviceable parts inside the monitor.
· Model and serial numbers are indicated on back side of the monitor.
Adjust only those controls that are covered in the instructions, as improper changes or modifications not
expressly approved by HITACHI could void the user's authority to operate the monitor.
The FCC requires the user to be notified that any changes or modifications made to this device that are
not expressly approved by Hitachi America, Ltd. Home Electronics Division may void the user's authority
to operate the equipment.
THIS MONITOR IS DESIGNED TO OPERATE ON 120 VOLTS 60Hz, AC CURRENT. INSERT THE POWER CORD INTO A 120
TO PREVENT ELECTRIC SHOCK, DO NOT USE THE MONITOR'S (POLARIZED) PLUG WITH AN EXTENSION CORD,
RECEPTACLE, OR OTHER OUTLET UNLESS THE BLADES AND GROUND TERMINAL CAN BE FULLY INSERTED TO
PREVENT BLADE EXPOSURE. NEVER CONNECT THE MONITOR TO DIRECT CURRENT OR ANYTHING OTHER THAN THE
Never remove the back cover of the monitor as this can expose you to very high voltages and other
hazards. If the monitor does not operate properly, unplug the monitor and call your authorized dealer or
---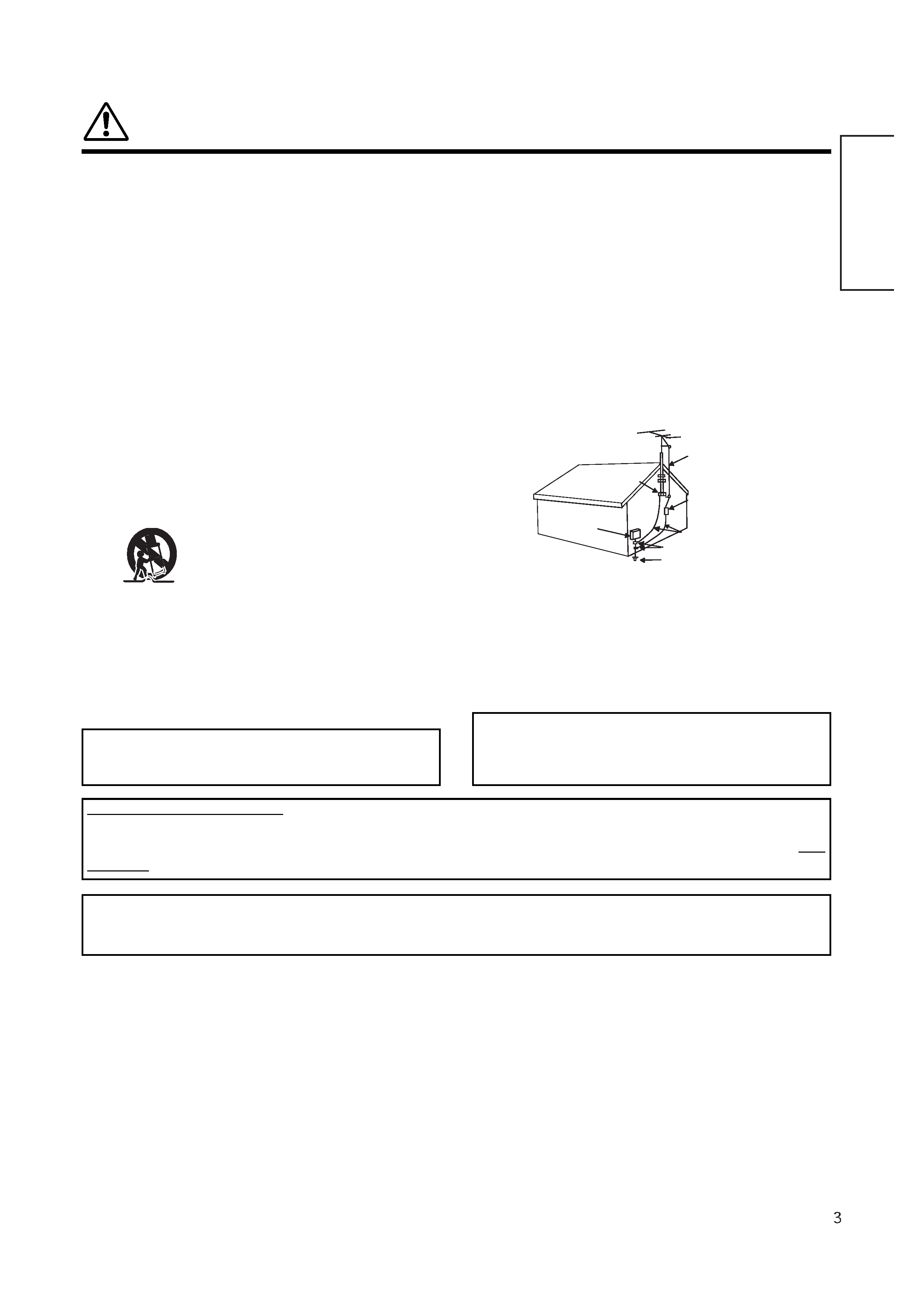 IMPORTANT SAFETY INSTRUCTIONS
Read before operating equipment
Follow all warnings and instructions marked on this monitor.
Do not use this apparatus near water.
Clean only with a dry cloth.
Do not block any ventilation openings. Install in accordance
with the manufacturer's instructions.
Do not install near any heat sources such as radiators, heat
registers, stoves, or other apparatus (including amplifiers)
Do not defeat the safety purpose of the polarized or
grounding- type plug. A polarized plug has two blades with
one wider than the other. A grounding type plug has two
blades and a third grounding prong. The wide blade or the
third prong are provided for your safety. If the provided plug
does not fit into your outlet, consult an electrician for
replacement of the obsolete outlet.
10. Protect the power cord from being walked on or pinched
particularly at plugs, convenience receptacles, and the point
where they exit from the apparatus.
11. Only use the attachments/accessories specified by the
Use only with the cart, stand, tripod, bracket,
or table specified by the manufacturer, or sold
with the apparatus. When a cart is used, use
caution when moving the cart/apparatus
combination to avoid injury from tip-over.
13. Unplug this apparatus during lightning storms or when unused
for long periods of time.
14. Refer all servicing to qualified service personnel. Servicing is
required when the apparatus has been damaged in any way,
such as power-supply cord or plug is damaged, liquid has
been spilled or objects have fallen into apparatus, the
apparatus has been exposed to rain or moisture, does not
operate normally, or has been dropped.
15. Monitors are designed to comply with the recommended
safety standards for tilt and stability.
Do not apply excessive pulling force to the front, or top, of
the cabinet which could cause the product to overturn
resulting in product damage and/or personal injury.
16. Follow instructions for wall, shelf or ceiling mounting as
recommended by the manufacturer.
17. An outdoor antenna should not be located in the vicinity of
overhead power lines or other electrical circuits.
18. If an outside antenna is connected to the receiver be sure the
antenna system is grounded so as to provide some protection
against voltage surges and built up static charges. Section
810 of the National Electric Code, ANSI/NFPA No. 70-1984,
provides information with respect to proper grounding for the
mast and supporting structure, grounding of the lead-in wire to
an antenna discharge unit, size of grounding connectors,
location of antenna-discharge unit, connection to grounding
electrodes and requirements for the grounding electrode.
Note to the CATV system installer: This reminder is provided to
call the CATV system installer's attention to Article 820-40 of the
NEC that provides guidelines for proper grounding and, in
particular, specifies that the cable ground shall be connected to
the grounding system of the building, as close to the point of cable
Do not place any objects on the top of the monitor which
may fall or cause a child to climb to retrieve the objects.
Disposal of this product may require specific instructions
pertaining to your resident state. For disposal or recycling
information, please contact your local authorities or the
Electronic Industries Alliance: www.eiae.org.
PREVENTION OF SCREEN BURN
Continuous on-screen displays such as video games, stock market quotations, computer generated graphics, and other fixed
(non-moving) patterns can cause permanent damage to the monitor. Such "SCREEN BURNS" constitute misuse and are NOT
COVERED by your HITACHI Factory Warranty.
PUBLIC VIEWING OF COPYRIGHTED MATERIAL
Public viewing of programs broadcast by TV stations and cable companies, as well as programs from other sources, may
require prior authorization from the broadcaster or owner of the video program material.
NEC NATIONAL ELECTRICAL CODE
---

Please read this User's Manual thoroughly, especially the Important
Safety Instructions on Page 2 to 3 and 6 to 10. Mis-use may cause
damage to your plasma monitor, which could shorten its lifespan, or
cause injury to yourself. Should you encounter any difficulty in the
set-up or operation of your monitor, firstly refer to the Troubleshooting
guide at the rear of this manual.
In the unlikely event of a problem occurring with your plasma monitor,
switch off at the mains sockets, pull out the plugs, and contact your
Under no circumstances remove the rear cover of your plasma
Never guess or take any chances with electrical equipment of any
kind - it is better to be safe than sorry!
It is prohibited for the end user of this product to copy, reverse
engineer or reverse compile the software included therein, save to
the extent permitted by law.
After the plasma monitor has been on for any length of time, you will
notice that the screen becomes warm. Please note that this is normal.
Sometimes the screen might have some tiny bright or dark spots.
Please note that this is normal.
To prevent scratches or damages to the plasma screen, do not
knock or rub the surface with sharp or hard objects. Clean the screen
with a soft cloth moistened with warm water and dry with a soft cloth.
A mild soap may be used if the screen is extremely dirty. Do not use
harsh or abrasive cleaners!
Use a soft cloth to clean the cabinet and control panel of the monitor.
When excessively soiled dilute a neutral detergent in water, wet and
wring out the soft cloth and afterward wipe with a dry soft cloth.
Never use acid/alkaline detergent, alcoholic detergent, abrasive
cleaner, powder soap, OA cleaner, car wax, glass cleaner, etc.
especially because they would cause discoloration, scratches or
Extended definition plasma display panel
The 42-inch color plasma display panel, with a resolution of 852 (H) x
480 (V) pixels, creates a high-definition, large-screen (aspect ratio :
16:9) and low-profile flat display. Free from electromagnetic
interferences from geomagnetic sources and ambient power lines,
the panel produces high-quality display images free from color
misconvergence and display distortion.
High Performance Digital Processor
A wide range of personal computer signals can be handled, from 640
x 400, 640 x 480 VGA to 1600 x 1200 UXGA.(RGB Analog input)
Easy-to-use remote control and on screen
The remote control included eases the work of setting display controls.
Further, the on-screen display system, displays the status of signal
reception and display control settings in an easy-to-view fashion.
The International ENERGY STAR® power saver feature saves power
consumption automatically when input signals are not available.
When connected to a VESA DPMS-compliant PC, the monitor cuts its
power consumption while it is idle.
TruBass, SRS and (O) symbol are trademarks of SRS Labs, Inc.
TruBass technology is incorporated under license from SRS Labs, Inc.
---