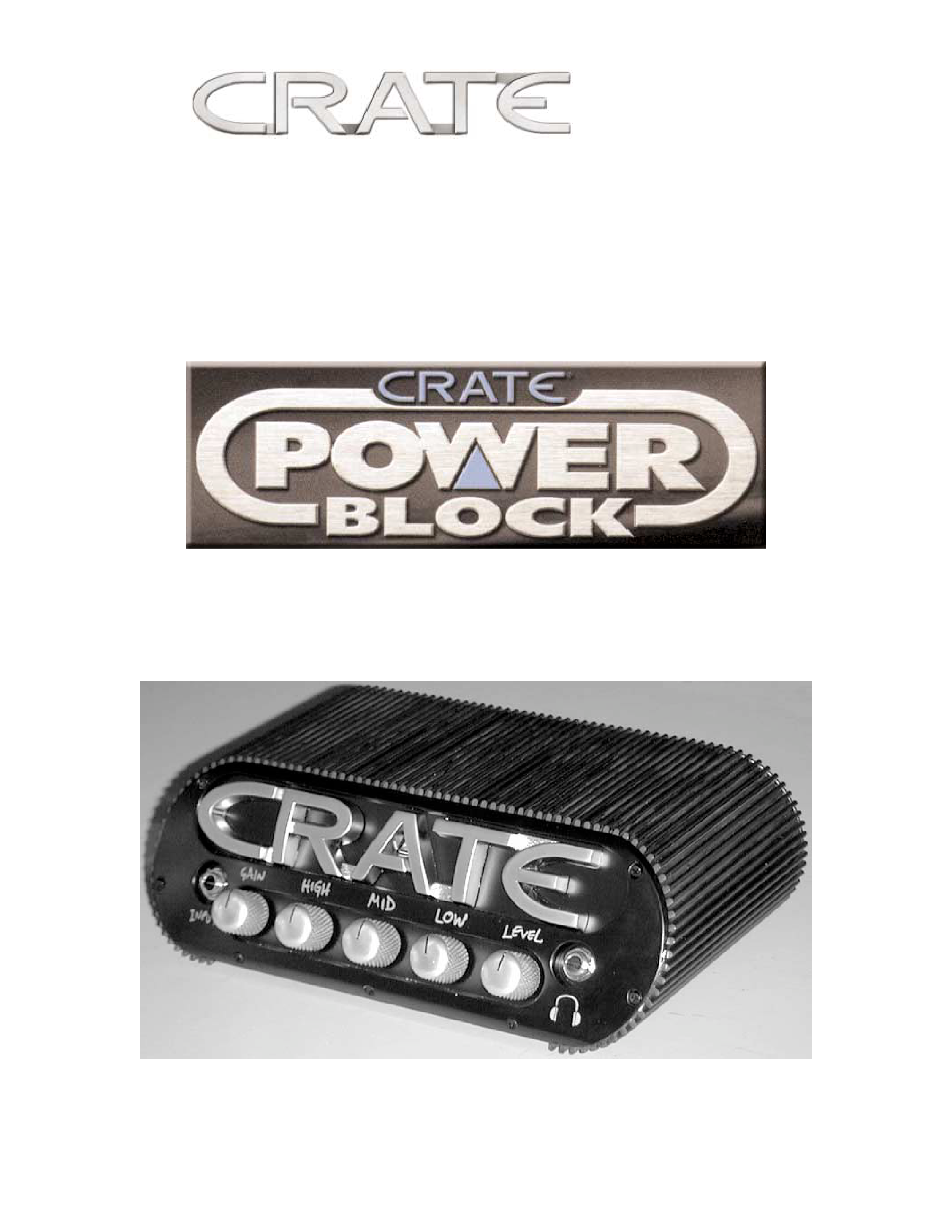 150 Watt Stereo Guitar Amplifier
---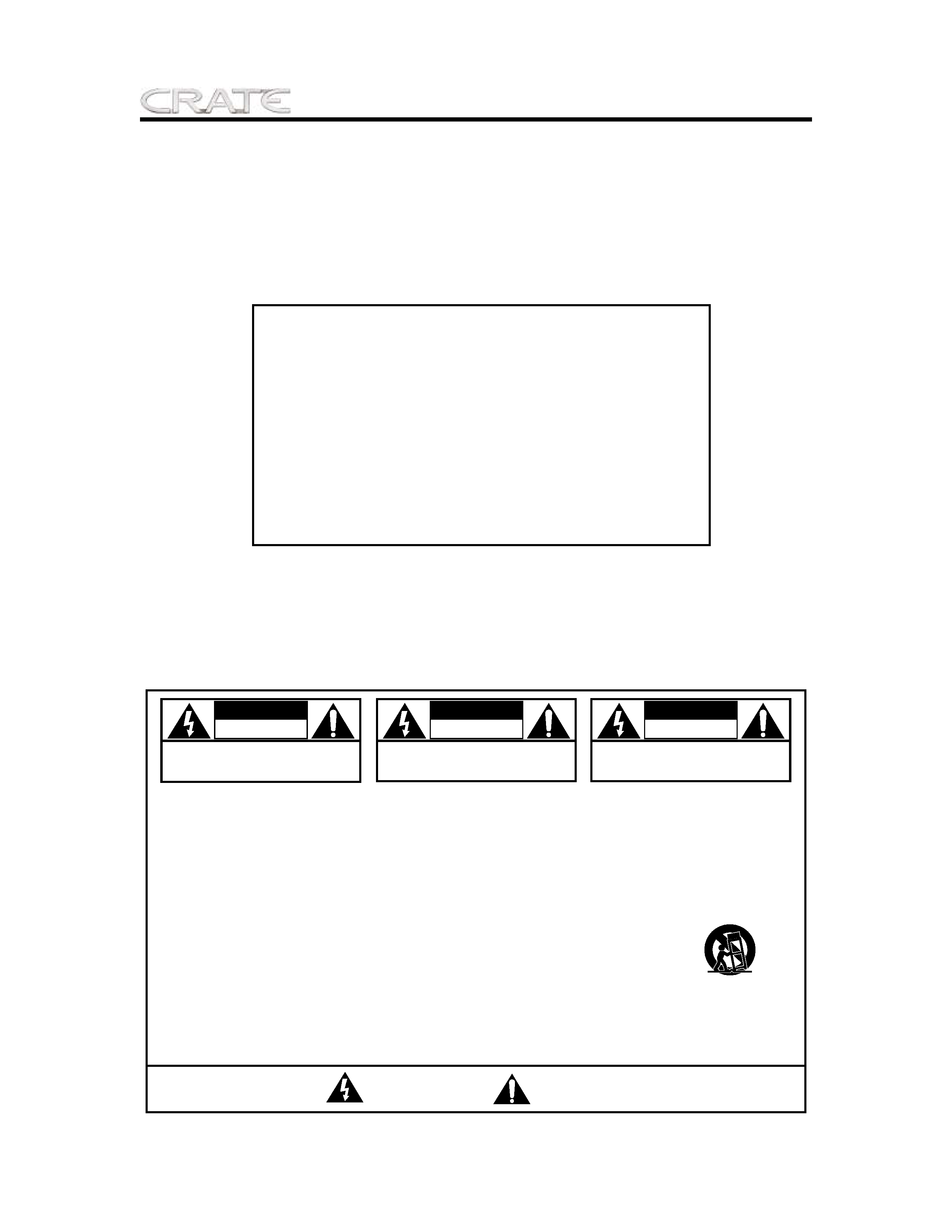 CPB150 PowerBlock
150 Watt Stereo Guitar Amplifier
IMPORTANT SAFETY INSTRUCTIONS
·
READ, FOLLOW, HEED, AND KEEP ALL INSTRUCTIONS AND WARNINGS.
·
DO NOT OPERATE NEAR ANY HEAT SOURCE AND DO NOT BLOCK ANY VENTILATION OPENINGS ON THIS APPARATUS. FOR PROPER OPERATION,
THIS UNIT REQUIRES 3" (75mm) OF WELL VENTILATED SPACE AROUND HEATSINKS AND OTHER AIR FLOW PROVISIONS IN THE CABINET.
·
DO NOT USE THIS APPARATUS NEAR SPLASHING, FALLING, SPRAYING, OR STANDING LIQUIDS.
·
CLEAN ONLY WITH LINT-FREE DAMP CLOTH AND DO NOT USE CLEANING AGENTS.
·
ONLY CONNECT POWER CORD TO A POLARIZED, SAFETY GROUNDED OUTLET WIRED TO CURRENT ELECTRICAL CODES AND COMPATIBLE WITH
VOLTAGE, POWER, AND FREQUENCY REQUIREMENTS STATED ON THE REAR PANEL OF THE APPARATUS.
·
PROTECT THE POWER CORD FROM DAMAGE DUE TO BEING WALKED ON, PINCHED, OR STRAINED.
·
UNPLUG THE APPARATUS DURING LIGHTNING STORMS OR WHEN UNUSED FOR LONG PERIODS OF TIME.
·
ONLY USE ATTACHMENTS, ACCESSORIES, STANDS, OR BRACKETS SPECIFIED BY THE MANUFACTURER FOR SAFE OPERA-
TION AND TO AVOID INJURY.
·
WARNING: TO REDUCE THE RISK OF ELECTRIC SHOCK OR FIRE, DO NOT EXPOSE THIS UNIT TO RAIN OR MOISTURE.
·
SERVICE MUST BE PERFORMED BY QUALIFIED PERSONNEL.
·
OUR AMPLIFIERS ARE CAPABLE OF PRODUCING HIGH SOUND PRESSURE LEVELS. CONTINUED EXPOSURE TO HIGH SOUND PRESSURE LEVELS
CAN CAUSE PERMANENT HEARING IMPAIRMENT OR LOSS. USER CAUTION IS ADVISED AND EAR PROTECTION IS RECOMMENDED IF UNIT IS
· WARNING: THIS UNIT REQUIRES A SAFETY GROUNDED OUTLET WIRED TO CURRENT ELECTRIC CODES HAVING THE LINE SUPPLY VOLTAGE,
POWER, AND FREQUENCY IDENTIFIED ON THE REAR OF THE UNIT. THE OUTLET MUST REMAIN ACCESSIBLE TO DISCONNECT THE UNIT IF A
FAULT SHOULD ARISE WHILE IN USE. THIS UNIT SHOULD BE UNPLUGGED WHEN NOT IN USE.
WARNING: TO REDUCE THE RISK OF FIRE OR ELECTRIC
SHOCK, DO NOT EXPOSE THIS APPARATUS TO RAIN OR MOIS-
TURE. TO REDUCE THE RISK OF ELECTRIC SHOCK, DO NOT
REMOVE COVER. NO USER-SERVICEABLE PARTS INSIDE.
REFER SERVICING TO QUALIFIED SERVICE PERSONNEL.
"IT IS NECESSARY FOR THE USER TO REFER TO THE INSTRUCTION MANUAL"
"ES NECESARIO QUE EL USUARIO SE REFIERA AL MANUAL DE INSTRUCCIONES."
"REFERREZ-VOUS AU MANUAL D'UTILISATION"
EXPLANATION OF GRAPHICAL SYMBOLS:
EXPLICACION DE SIMBOLOS GRAFICOS:
EXPLICATION DES SYMBÔLES GRAPHIQUES:
PRECAUCION: PARA REDUCIR EL RIESGO DE INCENDIOS O DESCARGAS
ELECTRICAS, NO PERMITA QUE ESTE APARATO QUEDE EXPUESTO A LA
LLUVIA O LA HUMEDAD. PARA DISMINUOIR EL RIESGO DE CORRIENTAZO.
NO ABRA LA CUBIERTA. NO HAY PIEZAS ADENTRO QUE EL USARIO PUEDO
REPARAR DEJE TODO MANTENIMIENTO A LOS TECHNICOS CALIFICADOS.
ATTENTION: PROTÉGEZ CET APPAREIL DE LA PLUIE ET DE L'HUMIDITÉ
AFIN D'ÉVITER TOUT RISQUE D'INCENDIE OU D'ÉLECTROCUTION. POUR
REDUIRE D'ELECTROCUTION NE PAS ENLEVER LE COUVERCLE. AUCUNE
PIECE INTERNE N'EST REPRABLE PAR L'UTILISATEUR. POUR TOUTE
REPARATION, S'ADRESSER A UN TECHNICIEN QUALIFIE.
Introduction . . . . . . . . . . . . . . . . . . . . . . . . . . . . . . . . . .3
The Front Panel . . . . . . . . . . . . . . . . . . . . . . . . . . . . . . .4
The Rear Panel . . . . . . . . . . . . . . . . . . . . . . . . . . . . . . .5
Using the Effects Loop Jack . . . . . . . . . . . . . . . . . . . . .6
System Block Diagram . . . . . . . . . . . . . . . . . . . . . . . . .7
Technical Specifications . . . . . . . . . . . . . . . . .back cover
---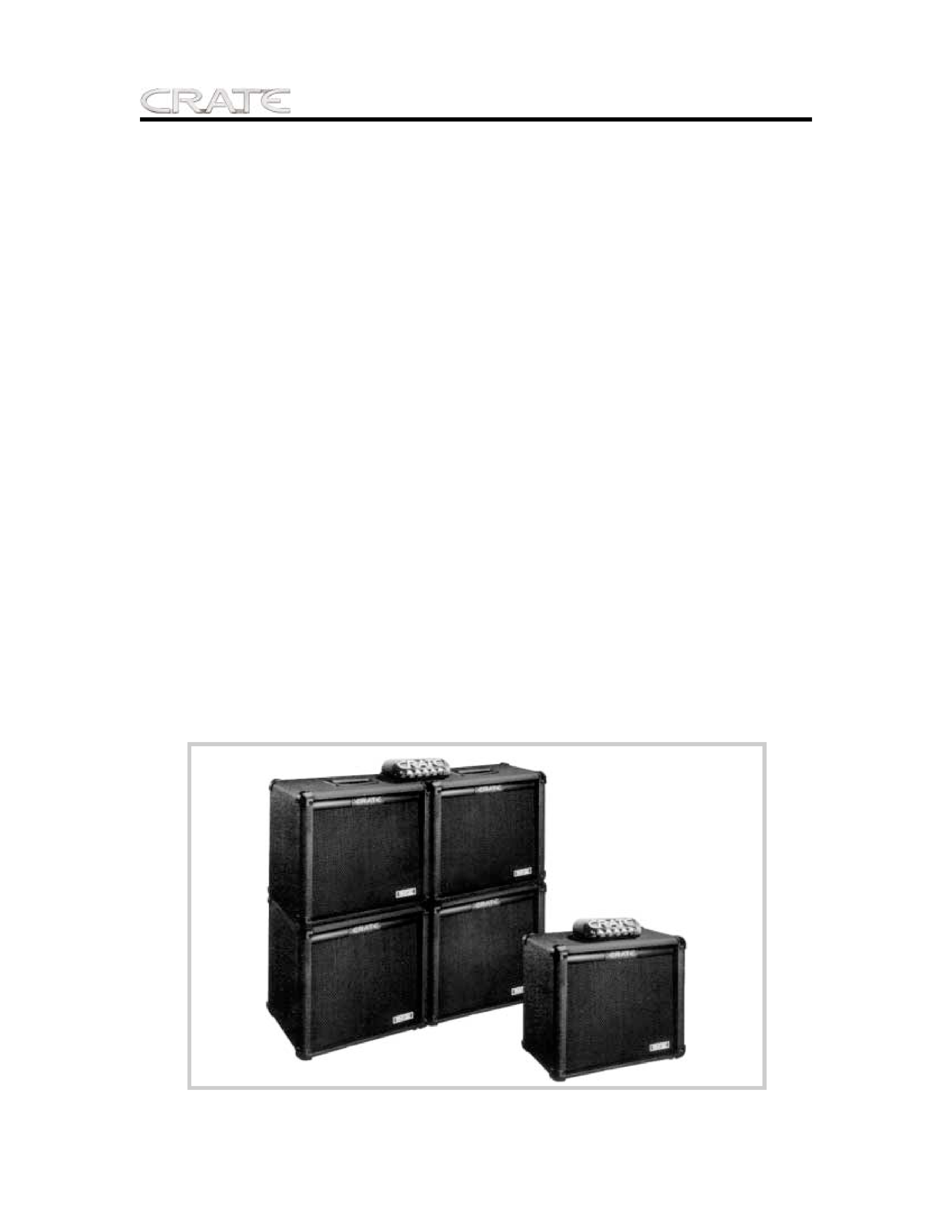 CPB150 PowerBlock
150 Watt Stereo Guitar Amplifier
Congratulations
and thank you for choosing another Crate first in guitar amplification:
the Crate CPB150 PowerBlock
TM
150 watt stereo guitar amplifier. The PowerBlock
packs a lot of power and patching options into an amazingly compact and light weight
package: 75 watts per channel @ 4 ohms, or 150 watts (mono) @ 8 ohms. With its
switch-mode power supply and Class D power section, the PowerBlock offers lots of
power, flexibility and tone, along with something no one thought you could get with such
a powerful performer: extreme portability! (The PowerBlock even comes with its own
padded travelling bag, which can be carried or slung on your shoulder, and even fits
neatly into the semi-open back design of Crate's GT112SL speaker cabinet.)
The PowerBlock is housed in a light weight but virtually bullet proof anodized aluminum
chassis which also cools the amplifier when in use. The front panel features three bands
of equalization, a gain and level control, and a headphone jack for private practice
sessions. The rear panel of the PowerBlock is loaded with speaker output jacks (for
stereo or mono use), a balanced XLR Line Out jack with level control, CD input jacks,
and dual purpose line in / effects loop jacks for adding external effects or for patching
an external line level signal into the PowerBlock. The PowerBlock also features speak-
er simulation circuitry for enhanced sound at each of the audio outputs.
Designed by players and built for players, there's really nothing else quite like your new
Crate PowerBlock! (In order to get the most from your new PowerBlock, please read
this user's guide prior to its use.)
The Crate PowerBlock amplifier can drive up to four of our GT112SL cabinets, in stereo,
or drive a single Celestion speaker-loaded GT112SL to the hilt in mono mode.
---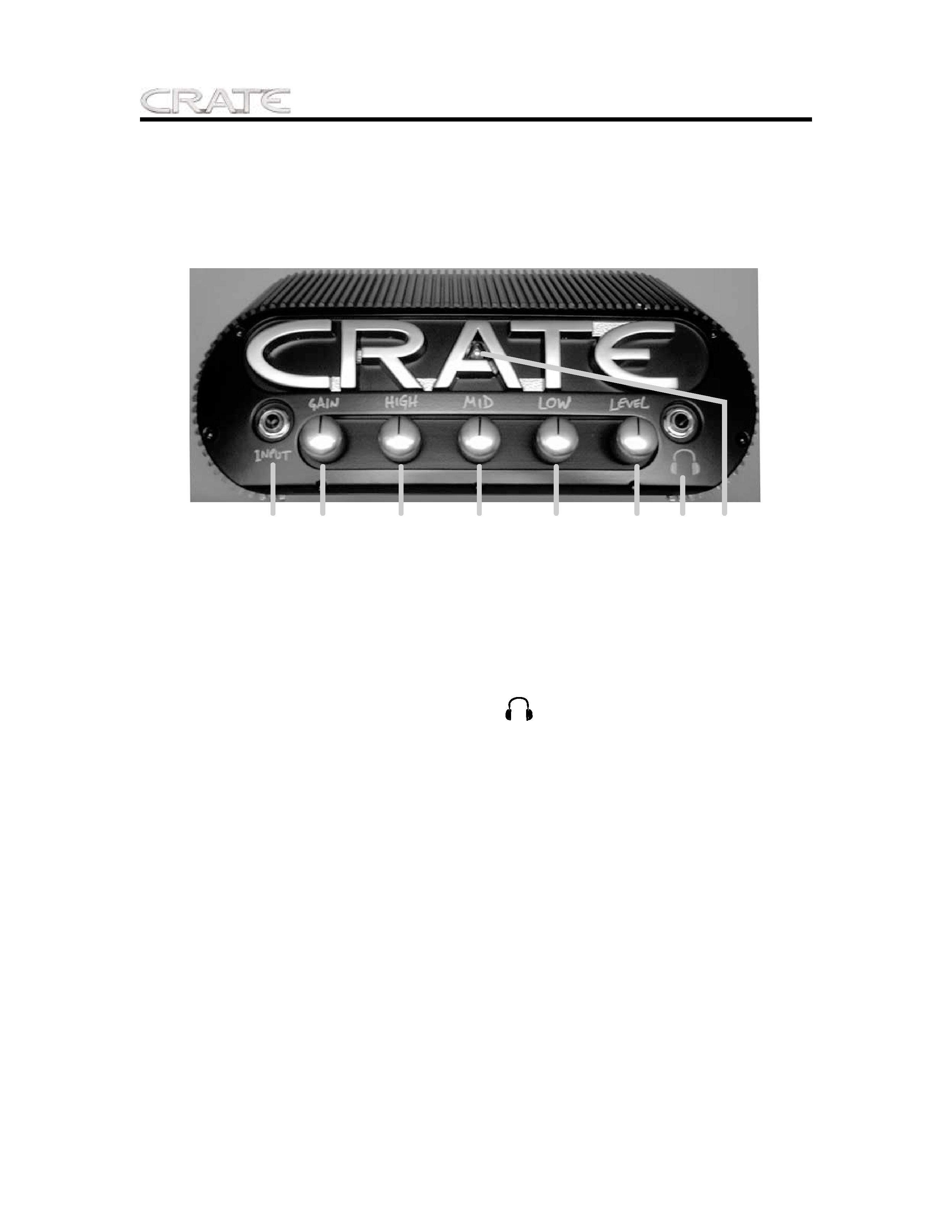 CPB150 PowerBlock
150 Watt Stereo Guitar Amplifier
1. INPUT: Use this 1/4" jack to connect your
instrument to the amplifier by means of a
shielded instrument cable.
2. GAIN: Use this control to adjust the signal
level at the Input jack (#1). As you rotate this
control clockwise, overdrive distortion is
Player's note: One way to get a wide range of
sounds is to start with the PowerBlock's Gain
control near fully clockwise and your guitar
turned way down. The resulting clean sound
"fattens up" as you bring up the volume on
3. HIGH: Use this control to adjust the high
frequency output of the amplifier.
4. MID: Use this control to adjust the midrange
frequency output of the amplifier.
5. LOW: Use this control to adjust the low fre-
quency output of the amplifier.
6. LEVEL: Use this control to adjust the over-
all output level of the amplifier.
: The PowerBlock is great for private
practice sessions - simply Connect a pair of
stereo headphones to this jack without con-
necting the amp to your speakers. The signals
at the Speaker Output jacks and the Line Out
and Effects Send jacks jacks (#9, 12, and 14,
rear panel) are not interrupted when head-
phones are used. (The signal at the head-
phones jack is enhanced by the speaker sim-
ulator circuitry for superior sound.)
8. (POWER ON LED): This LED illuminates a
cool blue when the amplifier is on.
---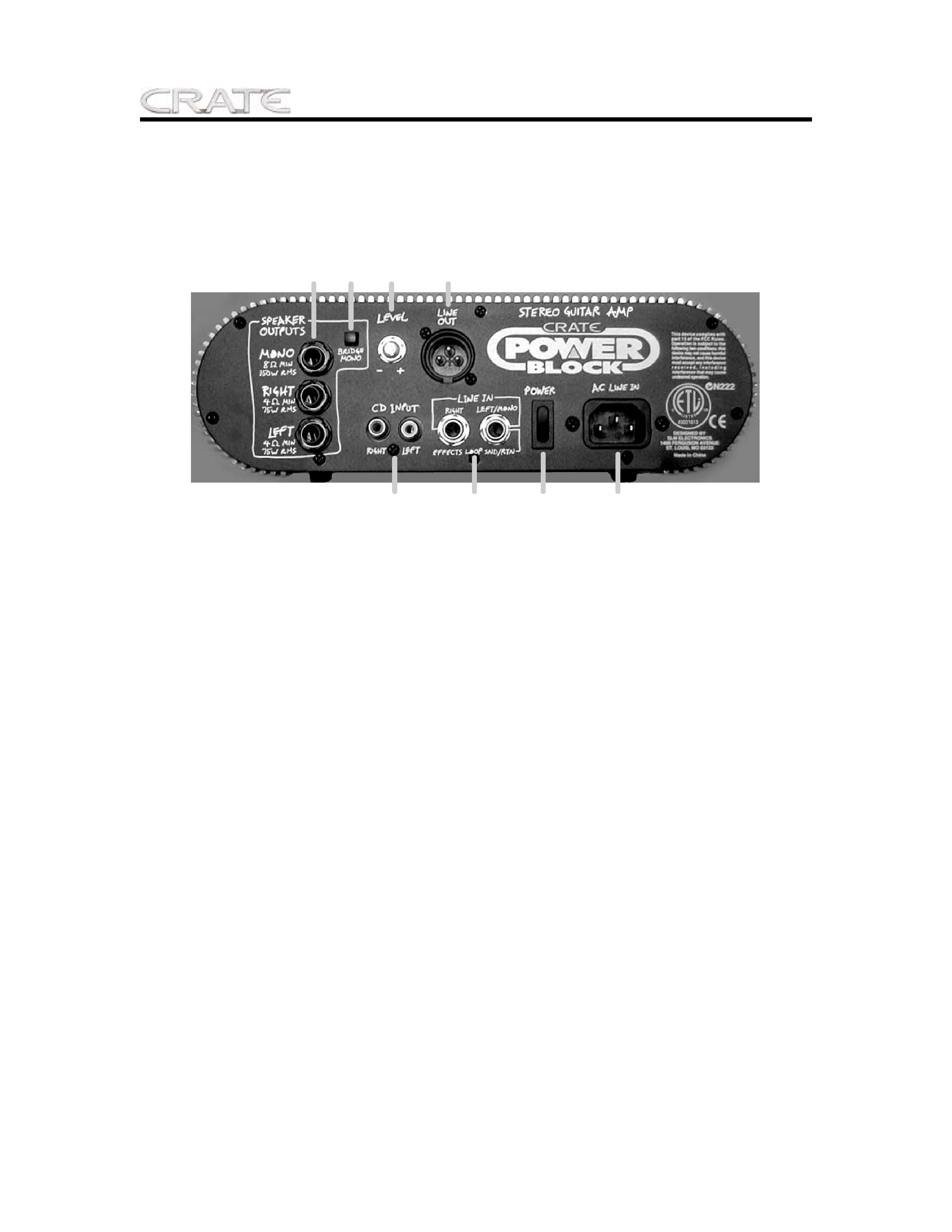 CPB150 PowerBlock
150 Watt Stereo Guitar Amplifier
9. SPEAKER OUTPUTS: Use these jacks to
connect the amplifier to your speaker cabi-
nets. Observe the wattage and impedance rat-
ings adjacent to each jack. The Mono output is
to be used when the Bridge Mono switch (#10)
is depressed. The Right and Left jacks are to
be used when running the amplifier in the
depressed, sums the outputs of the internal
stereo power amplifiers into a single mono sig-
nal which is sent to the Mono Speaker Output
jack (#9). When this switch is in the out posi-
tion, the amplifier is in the stereo mode and
the left and right signals are sent to the Left
and Right Speaker Output jacks (#9).
11. LEVEL: Use this control to adjust the level
of the signal at the Line Out jack (#12).
12. LINE OUT: Use this balanced XLR jack to
send a line level signal to another amplifier, the
house mixing board, or a recording console.
(The signal at the Line Out jack is enhanced
by the speaker simulator circuitry for superior
13. CD INPUT: Use these RCA jacks to con-
nect the outputs of a CD (or MP3) player to the
amplifier. The level of the signal into these
jacks must be controlled by the source.
14. LINE IN RIGHT / LEFT/MONO / EFFECTS
LOOP SND/RTN: Use these jacks to perform
the following: (1) Send a line level signal into
the amplifier for processing ­ for stereo sig-
nals, use both jacks; for a mono signal, use the
"Left/Mono" jack. (2) Connect an external
effects device to the amplifier by means of a
1/4" T/R/S Y-cord inserted into the Effects Loop
Snd/Rtn jack. (See page 6 for additional infor-
mation.) These jacks are post eq, post Level.
15. POWER: Use this switch to turn the ampli-
fier on (top of the switch depressed) and off
(bottom of the switch depressed).
16. AC LINE IN: Connect the AC power cord
securely into this jack. The grounded power
cord should only be plugged into a grounded
power outlet that meets all applicable electri-
cal codes and is compatible with the voltage,
power and frequency requirements stated on
the rear panel. Do not attempt to defeat the
safety ground connection!
---