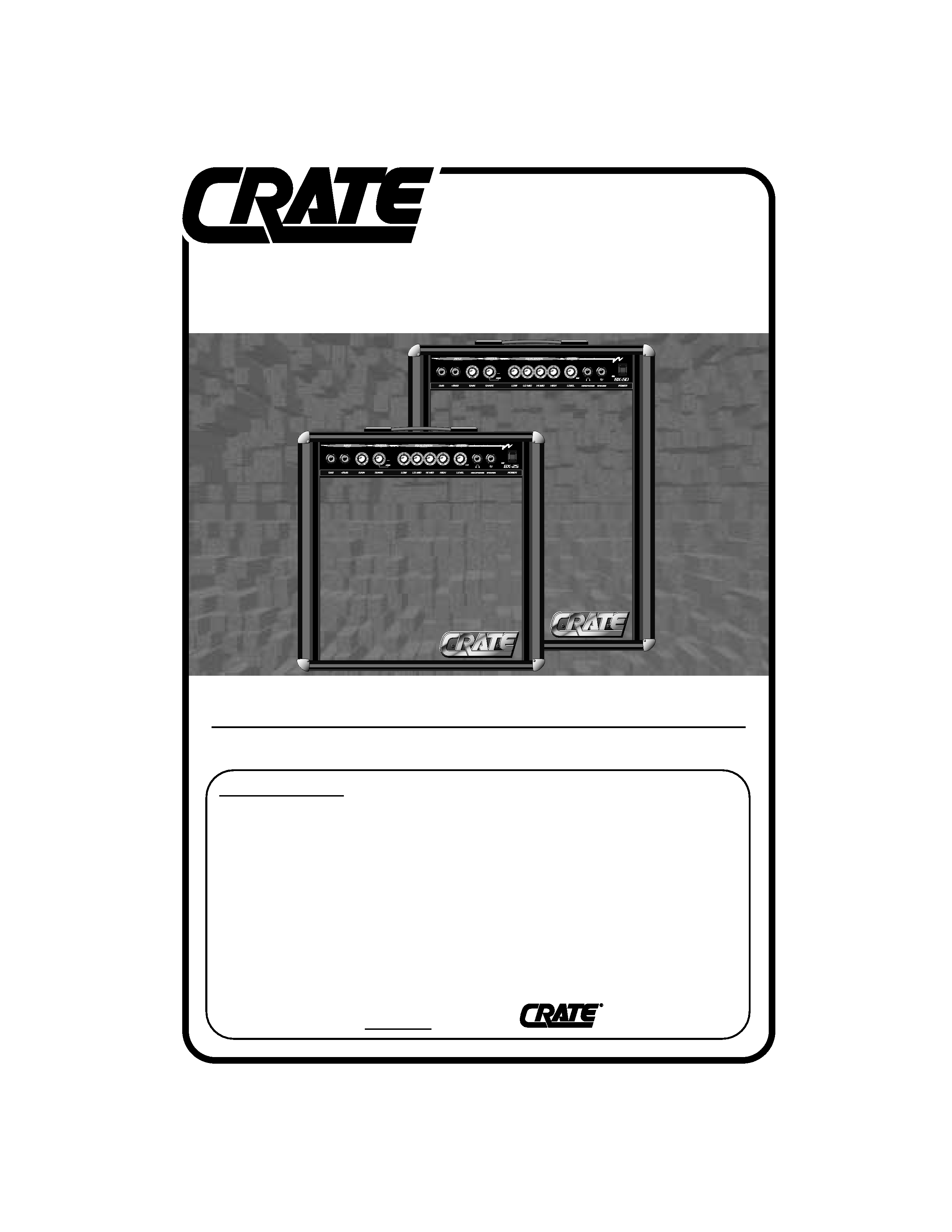 You are now the proud owner of the compact but powerful Crate BX-25 or BX-50
Bass Amplifier. The small size of each amplifier belies its big performance: the Crate
Custom speaker makes the most of the amplifier's musical output power: 27 watts
into a 10" speaker for the BX-25; 50 watts into a 12" speaker for the BX-50. A 4-band
rotary EQ combined with Crate's variable Contour gives you complete control over a
wide variety of sounds. In addition, the front panel headphone and extension speak-
er jacks make this amplifier equally suited for private practicing as well as perform-
ing in intimate surroundings.
Like all Crate products, your BX-25/BX-50 is Musician Made in the U.S.A., using
only the best components. Extensive testing at the hands (and ears) of skilled tech-
nicians and musicians insures you that this amplifier is the absolute best it can be.
In order to get the most out of your new bass amp, we urge you to check out the
information in this manual before you begin playing.
And thank you for choosing
MANUAL DEL PROPIETARIO · MODE D'EMPLOI
BX-25/BX-50
BASS AMPLIFIER
---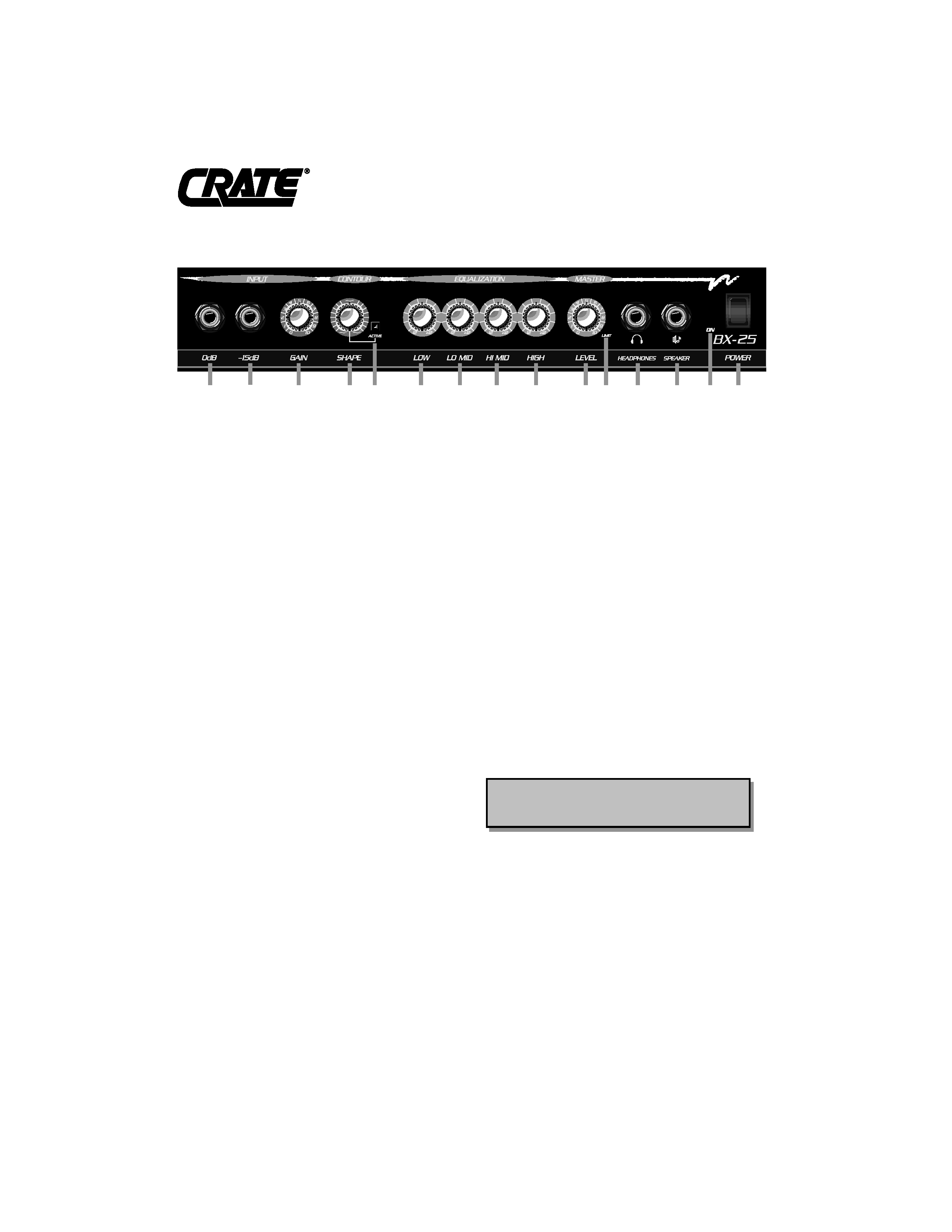 1: 0dB INPUT: Connect your bass here if it has "normal" pickups
and no active electronics. This sends a full strength signal into the
amplifier. If your bass has active electronics or high output pickups,
or if the amp sounds like it's distorting try the -15dB Input (#2).
2: -15dB INPUT: Connect your bass here if it has active electron-
ics or high output pickups. The output signal will be attenuated by
15dB to keep it from overloading the amplifier's input stages.
3: GAIN: This serves as the input signal level control, allowing you
to set the amplifier for the best signal to noise ratio.
4: CONTOUR SHAPE: This control is only active when the
Contour Active switch (#5) is pressed in. The setting of this control
shifts the frequency where the contour effect is centered, giving
you a wide variety of tonal variations, from a studio "V"-shaped
tone to a more "live", more present sound.
5: CONTOUR ACTIVE: When this pushbutton switch is pressed in
the Contour Shape control (#4) is activated and the sound of your
bass is affected by the setting of the control. Pressing the switch in
a second time releases it, deactivating the Shape control.
6: LOW: Adjust the output level of your low-bass tones with this
control. The center position is "flat" (no boost or cut). Turning the
control to the left reduces the output level of the low frequency
tones; turning it to the right increases their level. This control allows
a 28dB range of boost or cut at 60Hz.
7: LOW MID: Adjust the output level of your lower midbass tones
with this control. The center position is "flat" (no boost or cut).
Turning the control to the left reduces the output level of the lower
midbass tones; turning it to the right increases their level. This con-
trol allows a 15dB range of boost or cut at 400Hz for the BX-25;
8: HIGH MID: Adjust the output level of your upper midbass tones
with this control. The center position is "flat" (no boost or cut).
Turning the control to the left reduces the output level of the upper
midbass tones; turning it to the right increases their level. This con-
trol allows a 18dB range of boost or cut at 1kHz.
9: HIGH: Adjust the output level of your high frequency overtones
with this control. The center position is "flat" (no boost or cut).
Turning the control to the left reduces the output level of the high
frequency overtones; turning it to the right increases their level.
This control allows a 33dB range of boost or cut at 10kHz.
10: MASTER LEVEL: The output level of the internal speaker,
headphone jack and extension speaker are governed by the set-
ting of this control. At the full left position there will be no output;
rotating the control to the right increases the output volume level.
11: LIMIT: When a power amplifier reaches maximum output lev-
els it may begin to "clip" its output signal which generates poten-
tially speaker-damaging distortion. The BX-25/50 has a special
APM (Automatic Power Maximizer) limiting circuit which helps
minimize this problem by monitoring the power amplifier's output
signal, keeping it below clipping. This feature insures you that the
sound from your amplifier remains clean and pure even at full
power. The APM indicator will only light when the amplifier is near
clipping; flashing at peak playing levels is acceptable, however if
the light remains on constantly reduce the Master Volume until the
12: HEADPHONES: For private practice sessions, plug a pair of
stereo headphones into this jack. The internal speaker is discon-
nected whenever headphones are being used.
13: EXTENSION SPEAKER: You may connect the BX-25/50 to
an external speaker with a rated impedance of 4 ohms or more
using this jack. The internal speaker is disconnected from the
amplifier when the Extension Speaker jack is used.
14: ON LED: The word "ON" will glow when you turn the amplifier
on showing you that the amplifier is activated and ready to play.
15: POWER: This heavy duty rocker type switch is used to turn the
amplifier ON in the up position, OFF in the down position. The ON
LED (#14) works with this switch as a visual indicator.
16: POWER CORD: (Rear panel, not shown) This heavy duty,
grounded, three wire power cord is to plugged into ONLY a
safely wired, grounded 120 volt, 60 cycle AC power outlet. DO
NOT attempt to defeat the ground connection of this cable!
If your BX-25/50 was purchased outside of the United Stated,
see the unit's rear panel for its power rating and follow the
WARNING: DO NOT attempt to use head-
phones in the Speaker jack! Permanent
hearing damage could result!
---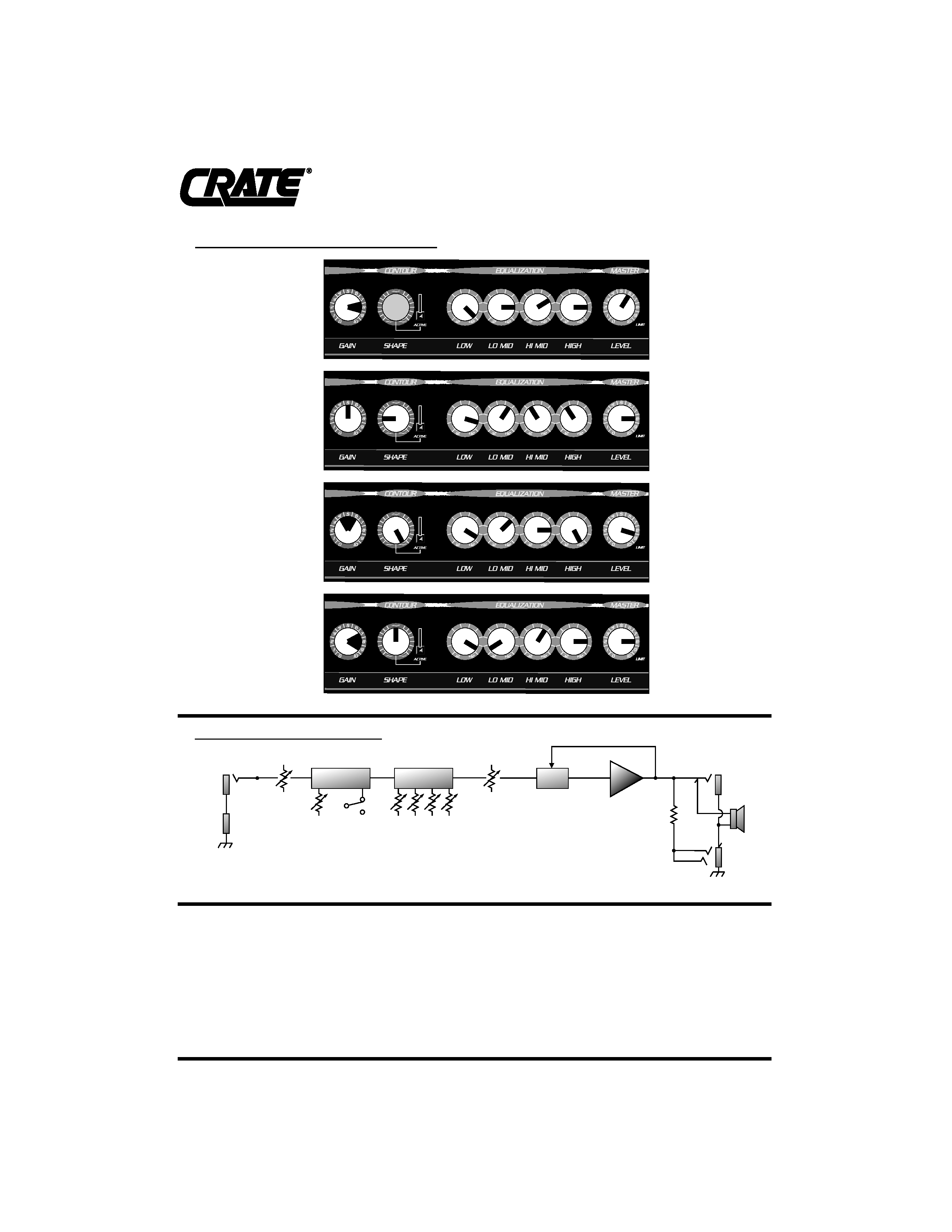 The BX-25/50 is covered with a durable black Tolex material: wipe it clean with a lint-free cloth. Never spray
cleaning agents onto the cabinet. Avoid abrasive cleansers which would damage the finish.
El BX-25/50 esta cubierto con un material durable Tolex: limpielo con una toalla seca. Nunca rocie el gabinete
con sustancias limpiadoras. Evite usar materiales abrasivos con los cuales pueda danar el acabado.
Le BX-25/50 est couvert avec «Tolex» un recêtement noir et durable. Essuyez cette matière avec une toile pro-
pre et sans charpie. Ne pulvérisez jamais les agents de nettoyage sur l'appareil. Evitez les nettoyeurs abrasifs
qui peuvent endommager le «Tolex.»
SUGGESTED STARTING SETTINGS:
---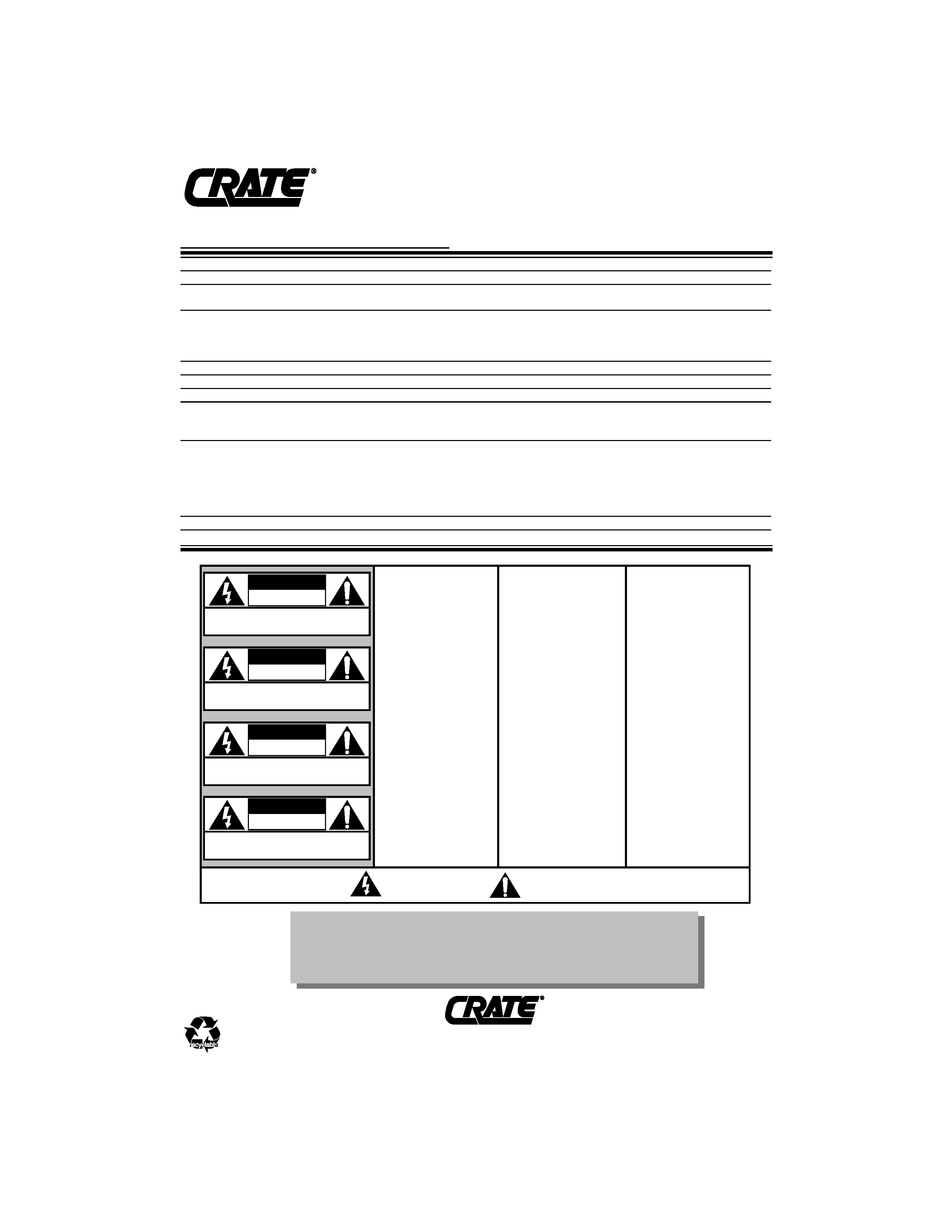 BX-25/50 TECHNICAL SPECIFICATIONS:
50dB, tones at "5" @ 1kHz
56dB, tones at "5" @ 1kHz
35dB, tones at "5" @ 1kHz
41dB, tones at "5" @ 1kHz
100/110VAC, 50/60Hz, 45VA
100/110VAC, 50/60Hz, 85VA
20.62" H x 17" W x 13.5" D
©1997 SLM ELECTRONICS, A DIVISION OF ST. LOUIS MUSIC, 1400 FERGUSON, ST. LOUIS, MO. 63133
DESIGNED AND ENGINEERED TO
PROVIDE SAFE AND RELIABLE
OPERATION. IN ORDER TO PRO-
LONG THE LIFE OF THE UNIT AND
AGES OR INJURY, PLEASE FOL-
CAUTION: TO REDUCE THE RISK
OF ELECTRIC SHOCK, DO NOT
OPEN CHASSIS; DO NOT DEFEAT
GROUNDED AC POWER OUTLET.
WARNING: TO REDUCE THE RISK
OF FIRE OR ELECTRIC SHOCK,
DO NOT EXPOSE THIS EQUIP-
MENT TO RAIN OR MOISTURE.
CAUTION: NO USER-SERVICE-
ABLE PARTS INSIDE. REFER SER-
VICING TO QUALIFIED SERVICE
CAUTION: OUR AMPLIFIERS ARE
CAPABLE OF PRODUCING HIGH
CONTINUED EXPOSURE TO HIGH
SOUND PRESSURE LEVELS CAN
CAUTION IS ADVISED AND EAR
PROTECTION IS RECOMMENDED
IF UNIT IS OPERATED AT HIGH
CAUTION: TO REDUCE THE RISK OF ELECTRIC SHOCK,
NO USER-SERVICEABLE PARTS INSIDE.
REFER SERVICING TO QUALIFIED SERVICE PERSONNEL.
"IT IS NECESSARY FOR THE USER TO REFER TO THE INSTRUCTION MANUAL"
"ES NECESARIO QUE EL USUARIO SE REFIERA AL MANUAL DE INSTRUCCIONES."
"REFERREZ-VOUS AU MANUAL D'UTILISATION"
"UNBEDINGT IN DER BEDIENUNGSANLEITUNG NACHSCHLAGEN"
EXPLANATION OF GRAPHICAL SYMBOLS:
EXPLICACION DE SIMBOLOS GRAFICOS:
EXPLICATION DES SYMBÔLES GRAPHIQUES:
PRECAUCION PARA DISMINUOIR EL RIESGO DE CORRIENTAZO
NO HAY PIEZAS ADENTRO QUE EL USARIO PUEDO REPARAR
DEJE TODO MANTENIMIENTO A LOS TECHNICOS CALIFICADOS
ATTENTION: POUR REDUIRE D'ELECTROCUTION NE PAS
ENLEVER LE COUVERCLE. AUCUNE PIECE INTERNE N'EST REPRABLE
PAR L'UTILISATEUR. POUR TOUTE REPARATION, S'ADRESSER A UN
VORSICHT: ZUR MINIMIERUNG ELEKTRISCHER SCHLAGGEFAHR NICHT
DEN DECKEL ABENHMEN. INTERNE TEILE KONNEN NICHT VOM
BENUTZER GEWARTET WERDEN. DIE WARTUNG IS QUALIFIZIERTEM
WARTUNGSPERSONAL ZU UBERLASSEN.
ESTE APARATO HA SIDO DISENADO Y
CONSTRUIDO PARA PROVEER ANOS
DE OPERACION SEGURA Y CONFI-
ABLE. PARA PROLONGAR LA VIDA DE
ESTA UNIDAD E IMPEDIR DANOS ACCI-
DENTALES POR FAVOR SIGA ESTAS
INSTRUCCIONES PREVENTIVAS:
PRECAUCION: PARA DISMINUIR EL
ELECTRICAS: (1) NO ABRA LA CUBIER-
TA, (2) NO ES RECOMENDABLE
REMOVER O DESACTIVAR LA PATA
DEL POLO A TIERRA DEL CABLE DE
CORRIENTE, CONECTE CORRECTA-
MENTE A UNA TOMA DE CORRIENTE A
DESCARGAS EL ECTRICAS O PELI-
GRO DE INCENDIO, NO DEJE ESTE
APARATO EXPUESTO A LA LLUVIA O
PRECAUCION: NO HAY PIEZAS ADEN-
REPARAR. DEJE TODO MANTENIMIEN-
TO A LOS TÉCNICOS CALIFICADOS.
PRECAUCION: NUESTROS AMPLIFI-
CADORES PUEDEN PRODUCIR NIVE-
LES DE PRESION DE SONIDO ALTO.
EXPOSICION CONTINUADA A LOS
NIVELES DE PRESION DE SONIDO
ALTO PUEDE CAUSA DANO PERMA-
NENTE A SU OIDO. ES ACONSEJADO
QUE USE PRECAUCION AL USUARIO Y
ES RECOMENDADO PROTECCION
PARA LOS OIDOS SI LA UNIDAD ES
CET ÉQUIPEMENT AVAIT ÉTÉ INVEN-
TÉ ET ARRANGÉ POUR POURVOIR
DES ANNÉES D'USAGE SAUF ET
SÛR. POUR PROLONGER LA VIE DE
CET APPAREIL ET POUR EMPÊCHER
LES DOMMAGES ET LES TORTS
INSTRUCTIONS DE PRÉCAUTION.
AVERTISSEMENT: POUR RÉDUIRE
LES RISQUES D'ÉLECTROCUTION:
(1) N'OUVREZ PAS LE CHÂSSIS, (2)
NE PAS ESSAYER DE SUPPRIMER
LA BROCHE CORRESPONDANT À LA
ATTENTION: POUR RÉDUIRE LES
RISQUES D'UN FEU OU D'ÉLECTRO-
CUTION, N'EXPOSEZ PAS L'AP-
PAREIL À LA PLUIE OU À LA MOI-
MENTS RÉPARABLES DANS L'AP-
PAREIL. CONSULTER UN TECHNI-
CIEN QUALIFIÉ POUR LES RÉPARA-
ATTENTION: NOS AMPLIFICATEURS
SONT CAPABLES DE LA PRODUC-
TION DES NIVEAUX DE SON D'UNE
CONTINUE AUX CES NIVEAUX PEUT
NENTE. LA PRUDENCE EST ADVISÉ
À UTILISATEUR ET LA PROTECTION
DES OREILLES EST RECOMMANDÉ
SI L'APPAREIL EST UTILISÉ À UN
Crate continually develops new products, as well as improves existing ones. For this reason, the
specifications and information in this Crate manual are subject to change without notice.
Crate continuamente desarrolla nuevos productos, así como también mejora los existentes. Por esta razón,
las especifaciones é información incluidos en este manual están sujetos a cambios sin previo aviso
Crate développe continuellement des nouvels produits, ainsi d'améliorer ceux qui existe. Pour cette raison
les spécifications et les informations dans ce manuel peuvent se changer sans préavis.
---