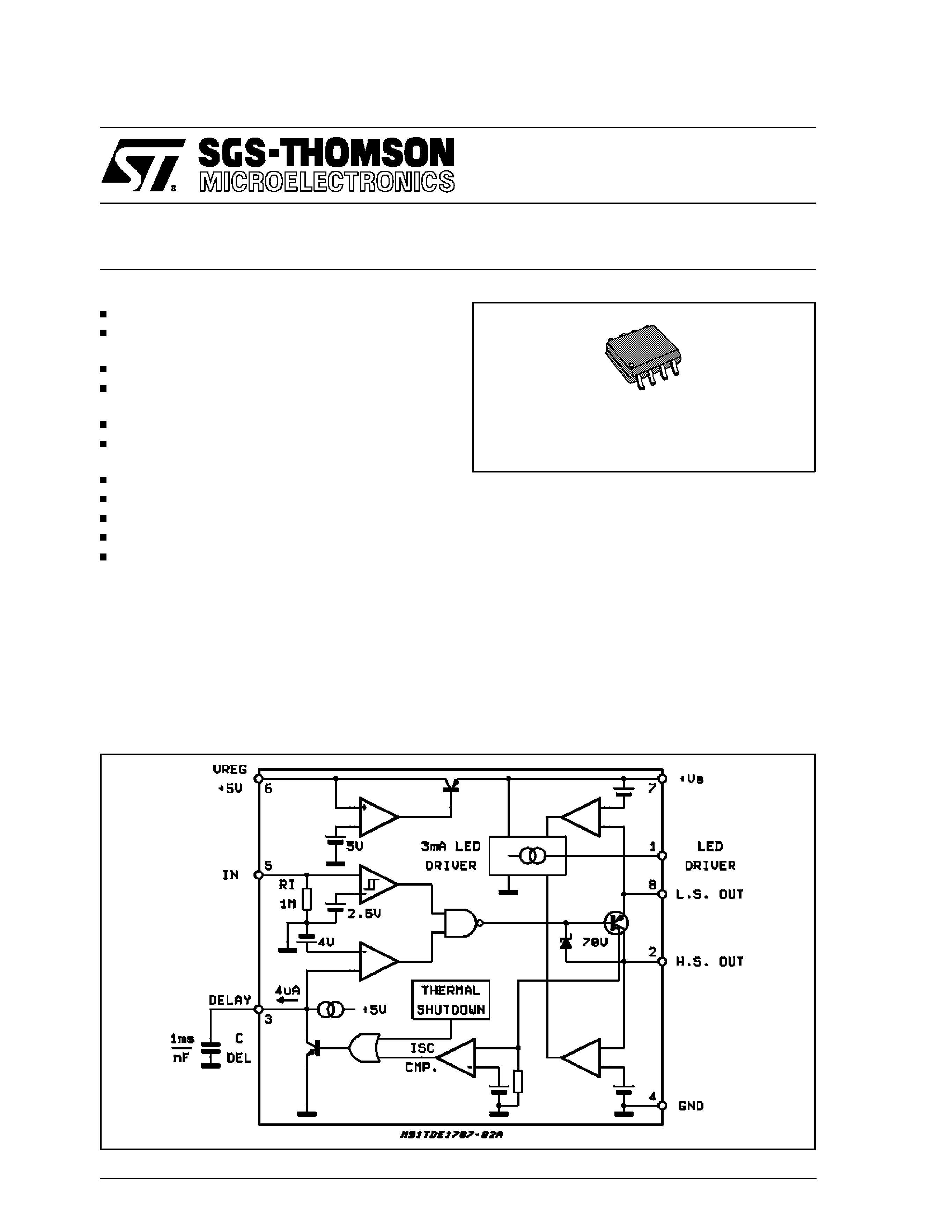 LOW SIDE OR HIGH SIDE SWITCH CON-
6V TO 48V SUPPLY VOLTAGE RANGE
OVERLOAD AND SHORT CIRCUIT PROTEC-
INTERNAL VOLTAGE CLAMPING
SUPPLY AND OUTPUT REVERSAL PRO-
GND AND V
S
OPEN WIRE PROTECTION
ADJUSTABLE DELAY AT SWITCH ON
INDICATOR STATUS LED DRIVER
+5V REGULATED AUX. VOLTAGE
The TDE1707 is a 0.5A Integrated Power Switch
with up to 48V Power supply capability.
Two output configurations are possible:
- Load to Gnd. (High Side Mode)
- Load to V
S
(Low side Mode)
Especially dedicated to proximity detectors, its in-
ternal +5V supply can be used to supply external
circuits (See also AN495/0692). A signal is inter-
nally generated to block the In signal, and prevent
activation of the output switch, as long as an ab-
normal condition is detected. The power-on tran-
sition, as well as the chip overtemperature and
the output overcurrent, concurr to the generation
of such signal. A minimum delay of 25
value) is added to the trailing edge of such signal
to ensure that a stable normal situation is present
when the signal disappears. The delay (of the dis-
apperance of the block signal; no delay at its on
set) can be further increased connecting a ca-
pacitor between pin3 and ground. It can drive re-
sistive or inductive loads.
This is advanced information on a new product now in development or undergoing evaluation. Details are subject to change without notice.
ORDERING NUMBER: TDE1707FP
---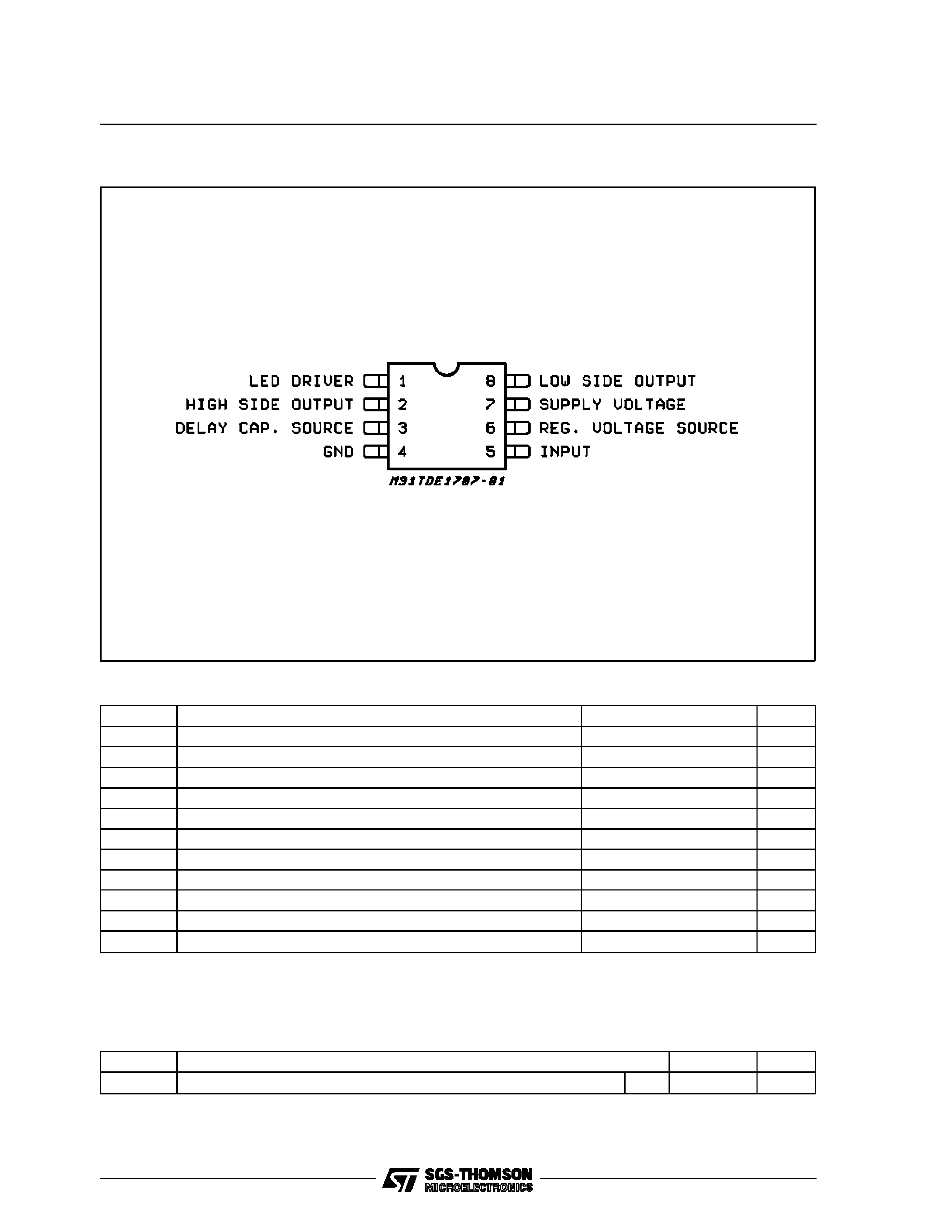 PIN CONNECTION (Top view)
Operating Temperature Range
Thermal Resistance Junction-ambient
---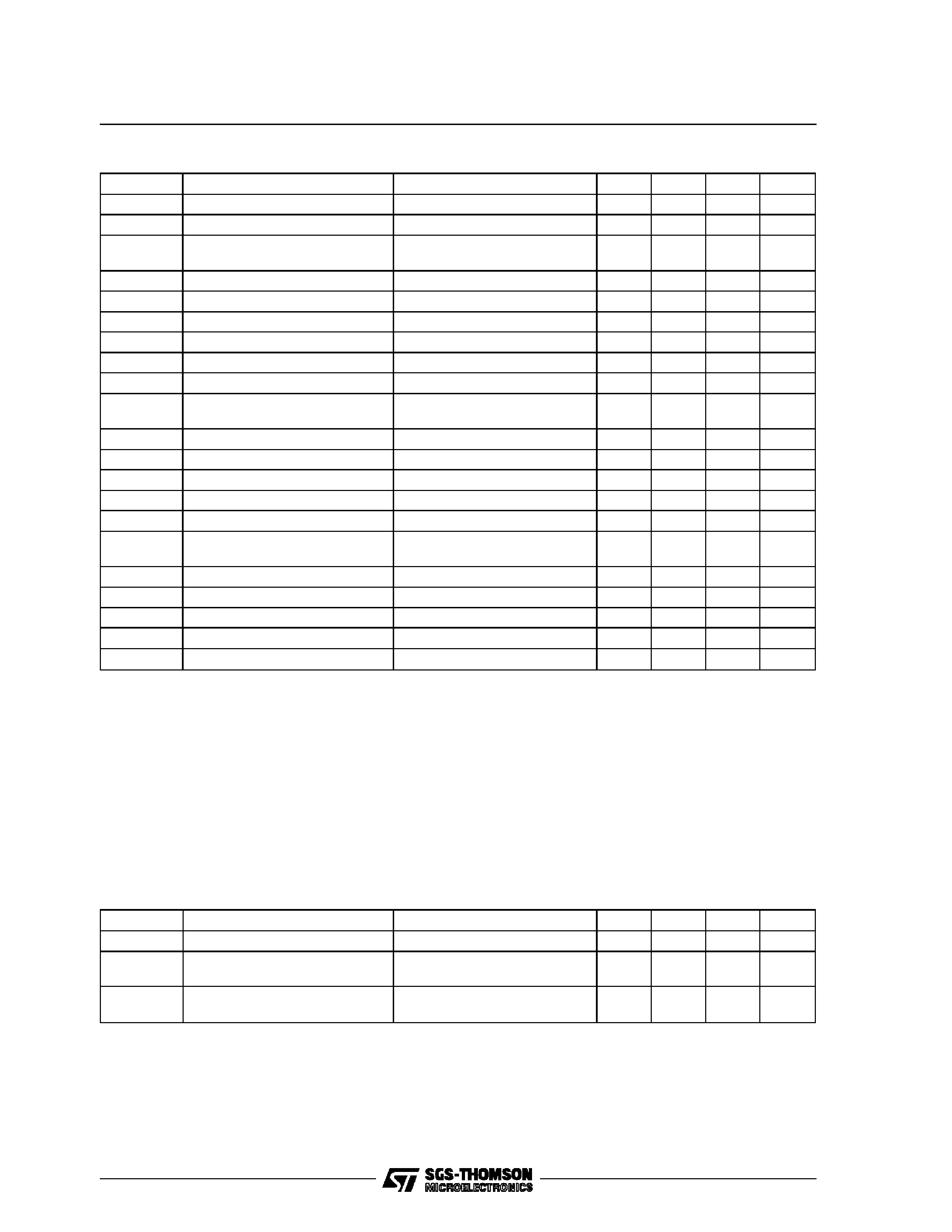 ELECTRICAL CHARACTERISTICS (V
S
= 24V; T
j
= ­25 to +85
°C, unless otherwise specified)
V
i
< 2V; V
o
= 0 to V
s
(Pin 8)
Input Threshold Hysteresis
Current Surce Sink Led Driver
DYNAMIC CHARACTERISTICS (V
S
= 24V; R
L
=48
Propagation Turn off Time
Delayed Turn on Time / nF
APPLICATION INFORMATION (See Application
The LED driver tells the output status.
It can source or sink current (I
old typ
= 3mA), ac-
cording to the output configuration chosen.
The thresholds, represented by the output com-
parator in the Block Diagram, are set at about
For instance, in the High Side Load case of the
Application Circuit, when the voltage on pin 8 (the
output) differs from V
CC
less than 1.5V, the output
is sensed in "OFF" state and the LED driver is
If instead pin 8 differs from V
CC
more than 3V (the
output comparator threshold value plus the drop
voltage on the LED), then the output is sensed
"ON" and the driver will force the current on the
---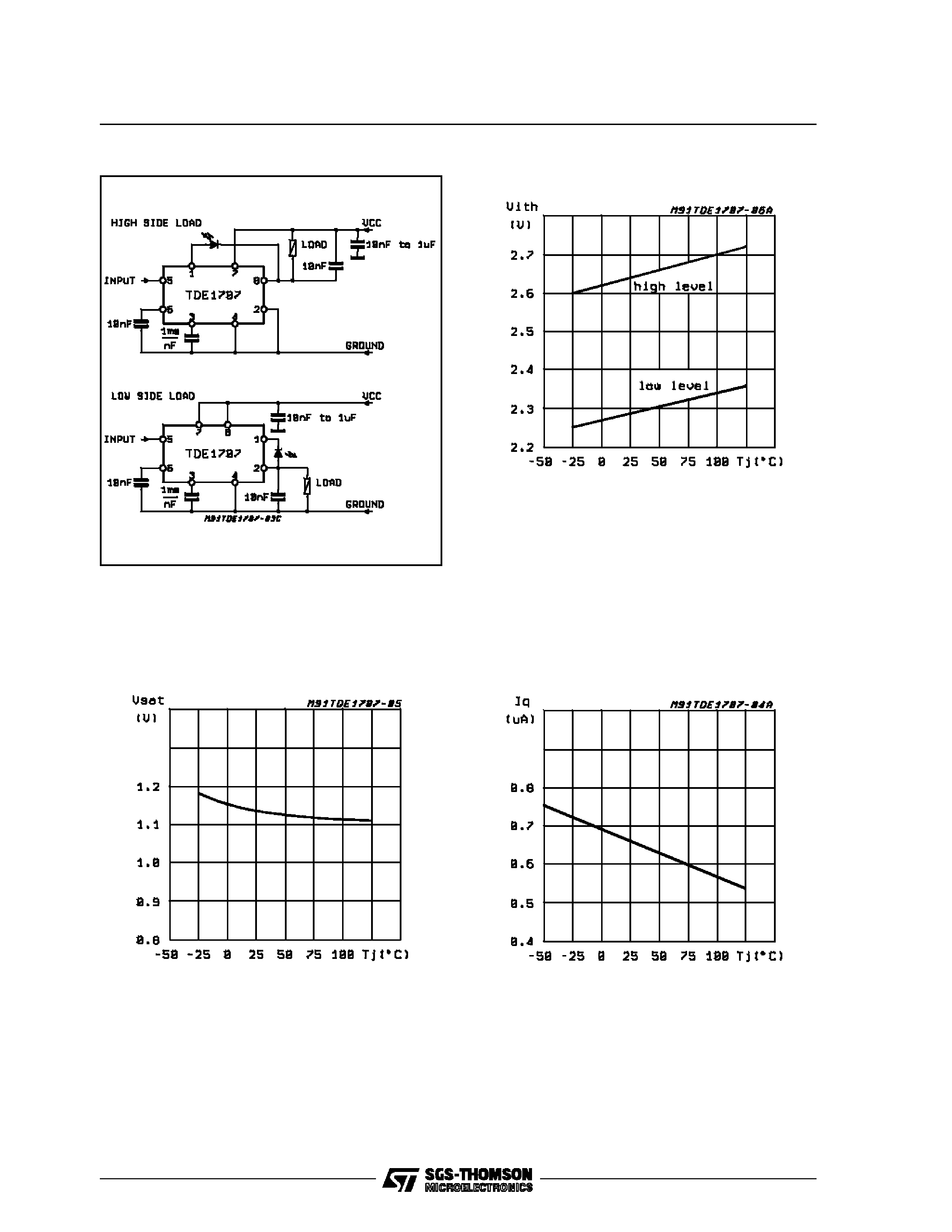 Figure 1: Input Thresholds Voltage vs.
Figure 2: Saturation Voltage vs. Temperature
Figure 3: Quiescent Current) vs.Temperature
---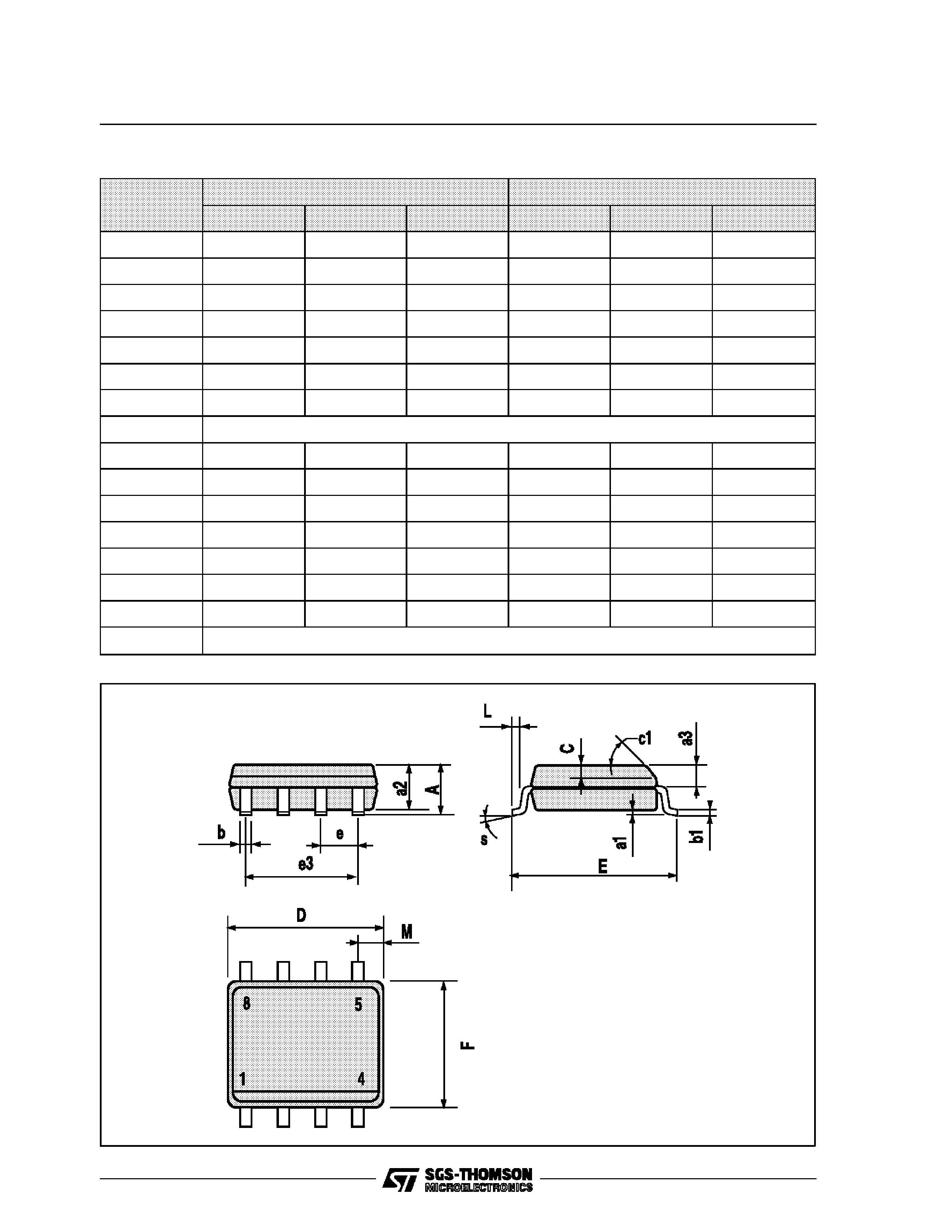 SO8 PACKAGE MECHANICAL DATA
---