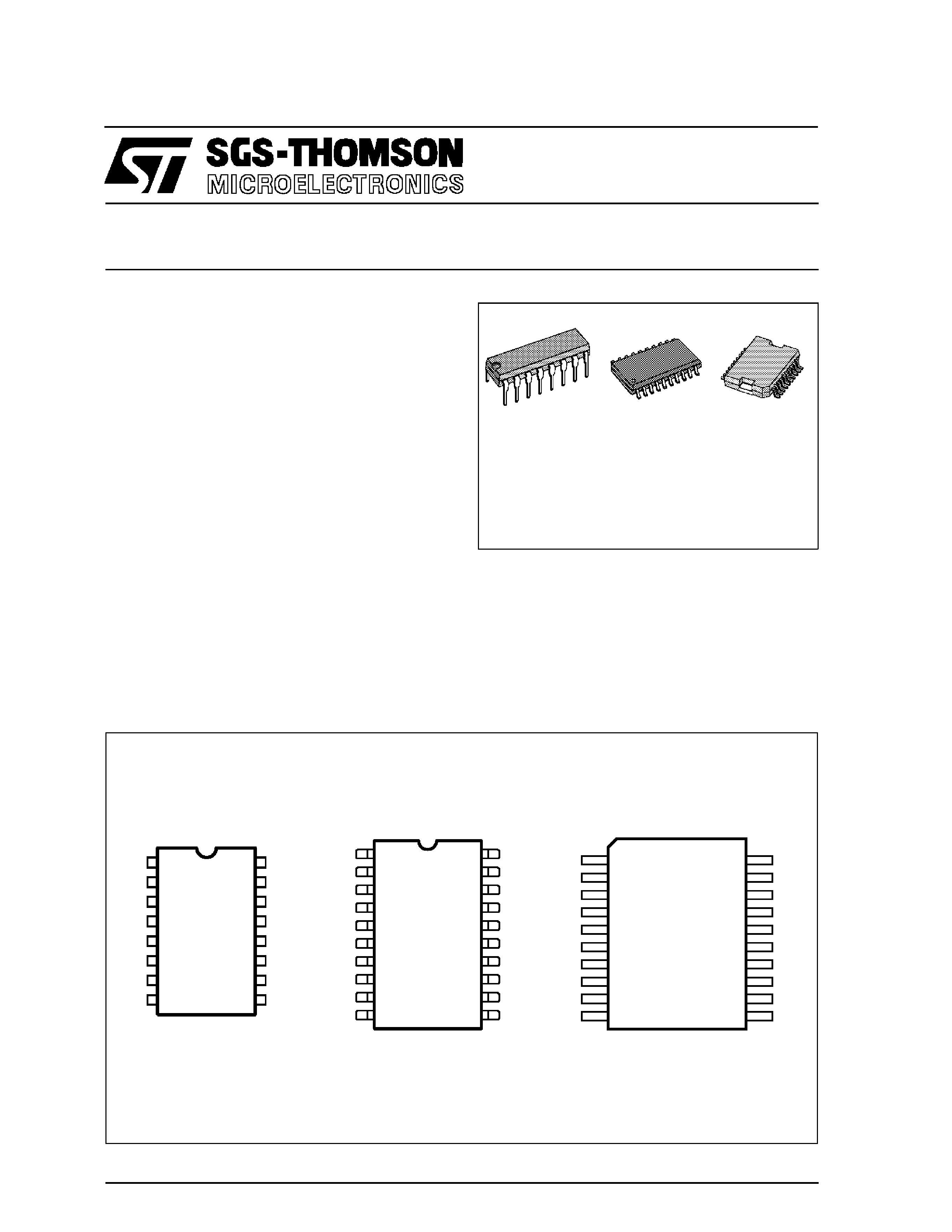 This is advanced information on a new product now in development or undergoing evaluation. Details are subject to change without notice.
DUAL MULTIFUNCTION VOLTAGE REGULATOR
STANDBY OUTPUT VOLTAGE PRECISION 5V
OUTPUT 2 TRACKED TO THE STANDBY OUT-
VERY LOW QUIESCENT CURRENT, LESS
OUTPUT 2 VOLTAGE SETTABLE FROM 5 TO
OUTPUT CURRENTS : I
01
= 50mA, I
02
= 500mA
VERY LOW DROPOUT (max 0.4V/0.6V)
OPERATING TRANSIENT SUPPLY VOLTAGE
POWER-ON RESET CIRCUIT SENSING THE
POWER-ON RESET DELAY PULSE DEFINED
BY THE EXTERNAL CAPACITOR
EARLY WARNING OUTPUT FOR SUPPLY UN-
THERMAL SHUTDOWN AND SHORT CIRCUIT
ORDERING NUMBERS: L4938N (PDIP)
The L4938N is a monolithic integrated dual voltage
regulators with two very low dropout outputsand ad-
ditional functions such as power-on reset and input
voltage sense. They are designed for supplying mi-
crocomputer controlled systems specially in auto-
PIN CONNECTION (top view)
---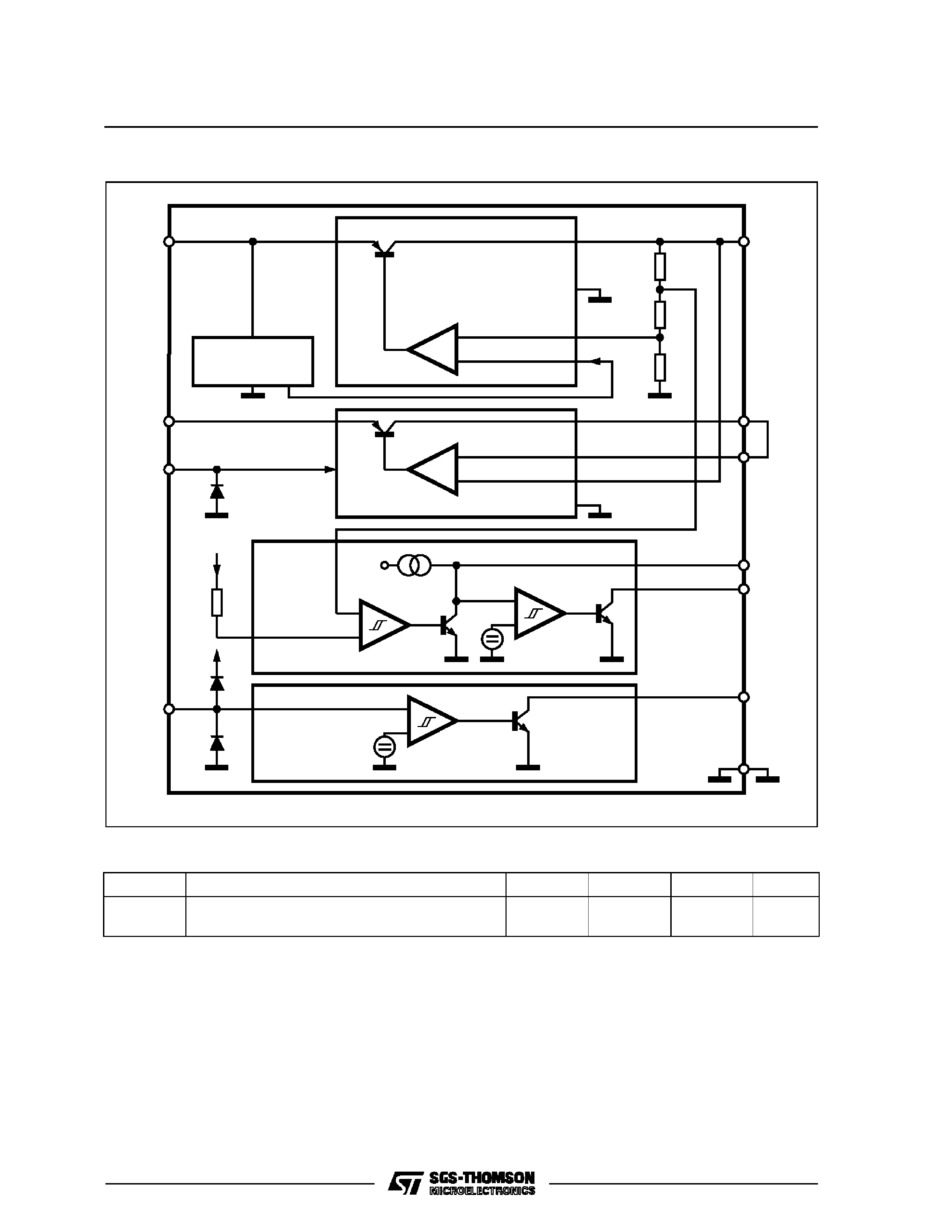 Thermal Resistance Junction-Case
Thermal Resistance Junction-Ambient
L4938N - L4938ND - L4938NPD
---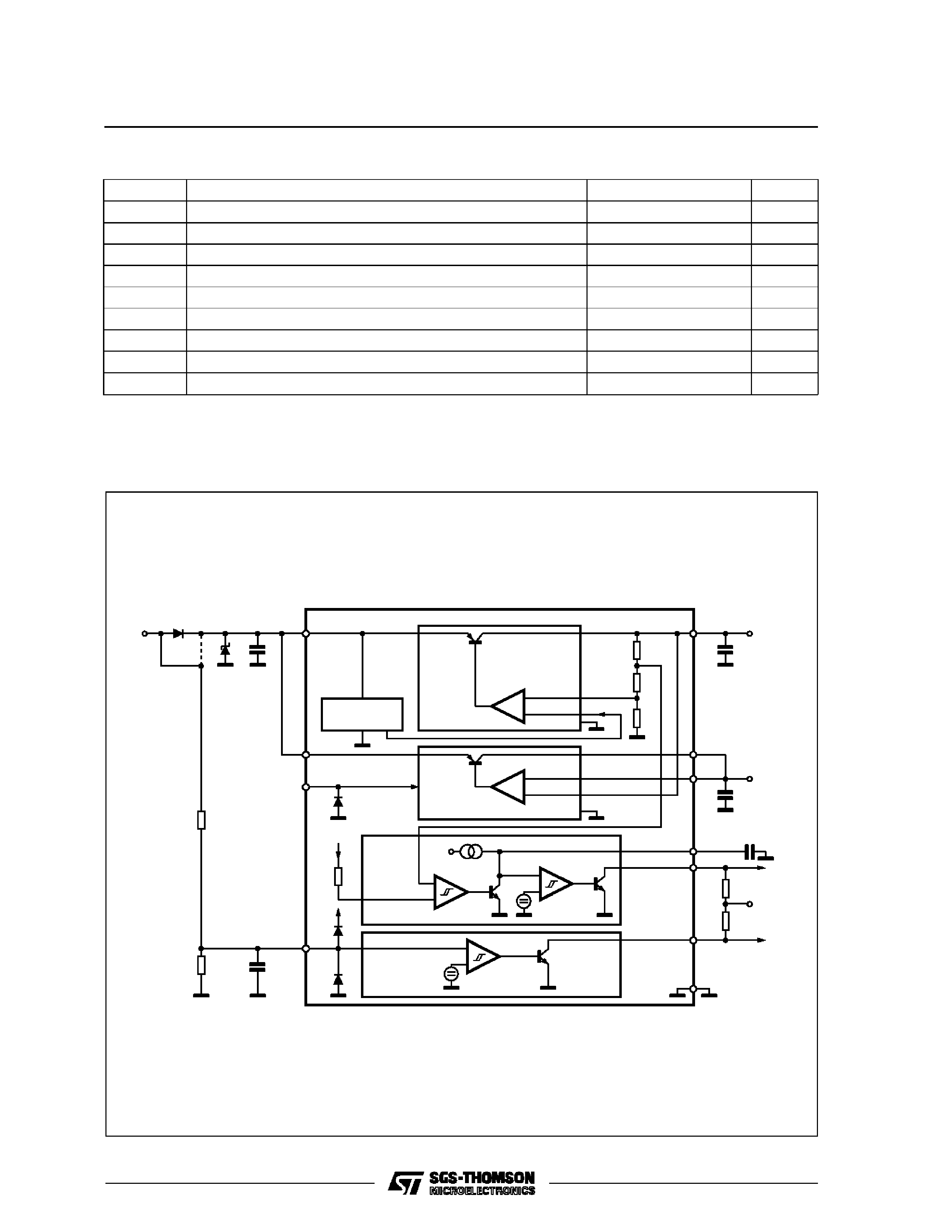 Transient Supply Voltage (T < 1s)
Junction and Storage Temperature Range
Enable Input Current (V
EN
Reset and Sense Output Voltage
Reset and Sense Output Current
1µF; C
01
6µF; C
02
10µF, ESR < 10 at 10KHz
Note : The circuit is ESD protected according to MIL­STD­883C.
L4938N - L4938ND - L4938NPD
---

ELECTRICAL CHARACTERISTICS (V
S
= 14V; ­40
°C T
J
125°C unless otherwise specified)
Output Voltage 2 Tracking Error
Difference in Undervoltage
Difference in Undervoltage
Quiescent Current Standby Mode
Enable Input HIGH Voltage
L4938N - L4938ND - L4938NPD
---

The L4938N is based on the SGS-THOMSON Mi-
croelectronics modular voltage regulator approach.
Several out-standing features and auxiliary func-
tions are provided to meet the requirements of sup-
plying the microprocessor systems used in automo-
Furthermore the device is suitable also in other ap-
plications requiring two stabilized voltages.
The modular approach allows other features and
functions to be realized easily when required.
The standby regulator uses an Isolated Collector
Vertical PNP transistor as the regulating element.
This structure allows a very low dropout voltage at
currents up to 50mA. The dropout operation of the
standby regulator is maintained down to 2V input
supply voltage. The output voltage is regulated up
to the transientinput supply voltage of 40V. This fea-
ture avoids functional interruptions which could be
generated by overvoltage pulses.
The typical curve of the standby output voltage as a
function of the input supply voltage is shown in fig. 1.
The current consumption of the device (quiescent
current) is less than 250
abled (standby mode). The dropout voltage is con-
trolled to reduce the quiescent current peak in the
undervoltage region and to improve the transient
The quiescent current is shown in fig. 2 as a function
of the supply input voltage 2.
The output 2 regulator uses the same output struc-
ture as the standbyregulator, but rated for an output
The output 2 regulator works in tracking mode with
the standby output voltage as a reference voltage
when the output 2 programming pin ADJ is con-
nected to V
O2
. By connecting a resistor divider R
1
,
R
2
to the pin ADJ as shown in fig. 3, the output volt-
age 2 can be programmed to the value :
The output 2 regulator can be switched off via the
If a fixed 5 regulation is required ADJ Pin has to be
1: V
O2
connected to ADJ.V
O2
can be set to higher values by inserting an external resistor divider.
2 : Foldback characteristic
ELECTRICAL CHARACTERISTICS (continued)
Reset Low Threshold Voltage
Reset Threshold Hysteresis
Reset Output HIGH Leakage
Delay Comparator Threshold
Delay Comparator Threshold
Sense Threshold Hysteresis
L4938N - L4938ND - L4938NPD
---