---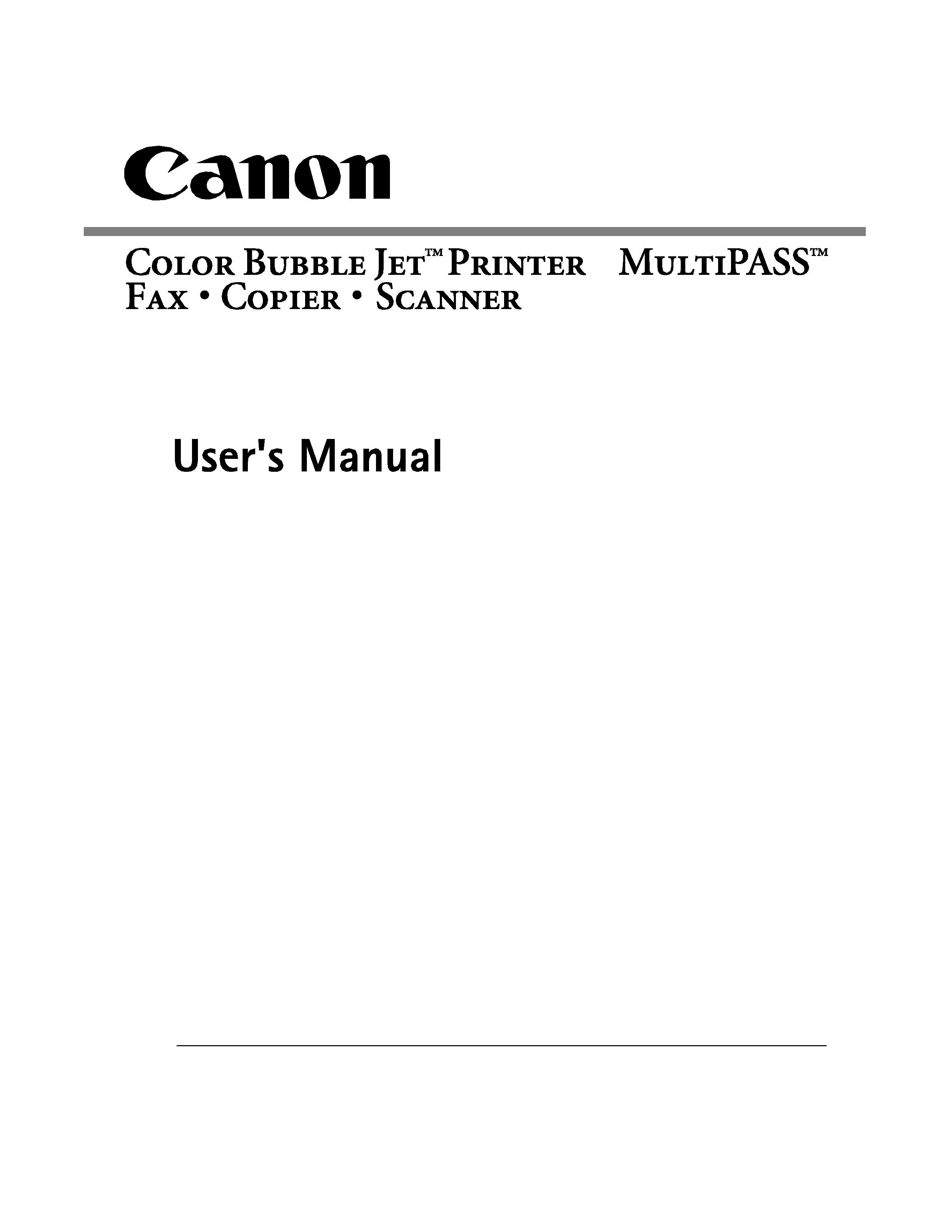 MPC-635--USERS MANUAL/V000/08-98
MPC-635--USERS MANUAL/V000/06-99
---

This manual is copyrighted by Canon Computer Systems, Inc. (CCSI)
with all rights reserved. Under the copyright laws, this manual may not
be reproduced in any form, in whole or part, without prior written
Portions copyrighted by Infowave Software, Inc. and Second Glance
©1999 Canon Computer Systems, Inc.
Canon Computer Systems, Inc. has reviewed this manual thoroughly in
order to make it an easy to use guide for your Canon MultiPASS C635
system. All statements, technical information, and recommendations in
this manual and in any guides or related documents are believed reliable,
but the accuracy and completeness thereof are not guaranteed or
warranted, and they are not intended to be, nor should they be
understood to be, representations or warranties concerning the products
Your MultiPASS C635 and the software media included with your system
have been sold to you subject to the limited warranties set forth in the
warranty and license agreement enclosed with the respective products.
All software is licensed AS IS, as described in the license agreement
enclosed with the software media. Further, CCSI reserves the right to
make changes in the specifications of the products described in this
manual at any time without notice and without obligation to notify any
MPC-635--USERS MANUAL/V000/06-99
---

Canon and BJ are registered trademarks and BCI, Bubble Jet, MultiPASS,
and UHQ are trademarks and SelectExchange is a service mark of
PowerPrint, SpoolMaster, and the Infowave logo are trademarks of
Apple, Finder, and Macintosh are registered trademarks of Apple
ScanTastic is a trademark of Second Glance Software.
All other product and brand names are registered trademarks,
trademarks, or service marks of their respective owners.
As an E
NERGY
S
TAR
® Partner, Canon U.S.A., Inc. has determined that
this product meets the E
NERGY
S
TAR
® guidelines for energy efficiency.
MPC-635--USERS MANUAL/V000/06-99
---

PRE-INSTALLATION REQUIREMENTS FOR CANON
Supply a suitable table, cabinet, or desk. See Appendix A for the unit's
Only a single line, touch-tone or rotary telephone set is to be used.
Order an RJ11-C modular jack (USOC code), which should be
installed by the phone company. If the RJ11-C jack is not present,
installation cannot occur.
Order a normal business line from your telephone company's business
representative. The line should be a regular voice grade line or
equivalent. Use one line per unit.
DDD (DIRECT DISTANCE DIAL) LINE
IDDD (INTERNATIONAL DIRECT DISTANCE DIAL) LINE IF YOU
N
Canonrecommendsanindividuallinefollowingindustrystandards[e.g.,the
2500 (touch-tone) or 500 (rotary/pulse dial) telephones]. A dedicated extension
off a PBX unit without "Call Waiting" can be used with your MultiPASS C635.
Key telephone systems are not recommended because they send non-standard
signals to individual telephones for ringing and special codes, which may cause
This equipment should be connected to a standard 120 volt AC, three-wire
grounded outlet only. Do not connect this unit to an outlet or power line
shared with other appliances that cause "electrical noise." Air conditioners,
electric typewriters, copiers, and machines of this sort generate noise which
often interferes with communications equipment and the sending and
CONNECTION OF THE EQUIPMENT
This equipment complies with Part 68 of the FCC rules. On the rear panel of
this equipment is a label that contains, among other information, the FCC
Registration Number and Ringer Equivalence Number (REN) for this
equipment. If requested, this information must be given to the telephone
company. This equipment may not be used on coin service provided by the
telephone company. Connection to party lines is subject to state tariffs.
MPC-635--USERS MANUAL/V000/06-99
---