---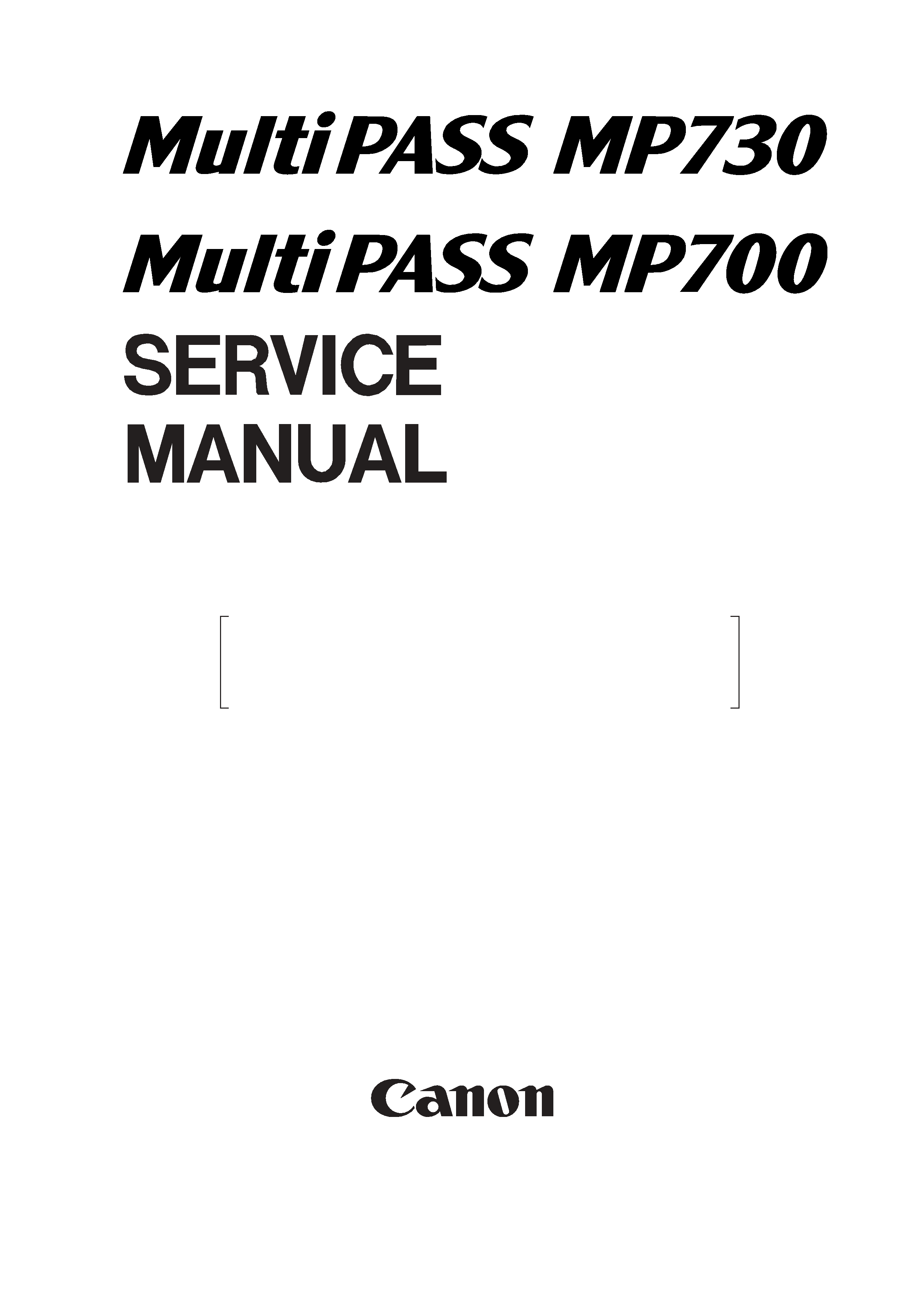 COPYRIGHT © 2003 CANON INC.
CANON MultiPASS MP730/MP700 APR. 2003
---

This manual has been issued by Canon Inc. for qualified persons to learn technical theory, installation, maintenance,
and repair of products. This manual covers all localities where the products are sold. For this reason, there may be
information in this manual that does not apply to your locality.
This manual may contain technical inaccuracies or typographical errors due to improvements or changes in products.
When changes occur in applicable products or in the content of this manual, Canon will release technical information
as the need arises. In the event of major changes in the contents of this manual, Canon will issue a new editions of
The following paragraph does not apply to any countries where such provisions are inconsistent with local law.
The product names and company names described in this manual are the registered trademarks of the individual
This manual is copyrighted with all rights reserved. Under the copyright laws, this manual may not be copied,
reproduced or translated into another language, in whole or in part, without the written consent of Canon Inc.
Copyright © 2003 by Canon Inc.
Ink Jet Products Technical Documentation Dept. 2
5-1 Hakusan 7-Chome, Toride-city, Ibaraki 302-8501, Japan
The data contained on this manual were created using Windows 2000
®
computers.
Document creation and page layout were performed using Adobe
®
PageMaker
®
6.5.
Logos and illustrations were created using Adobe
®
Illustrator
®
9.0.
---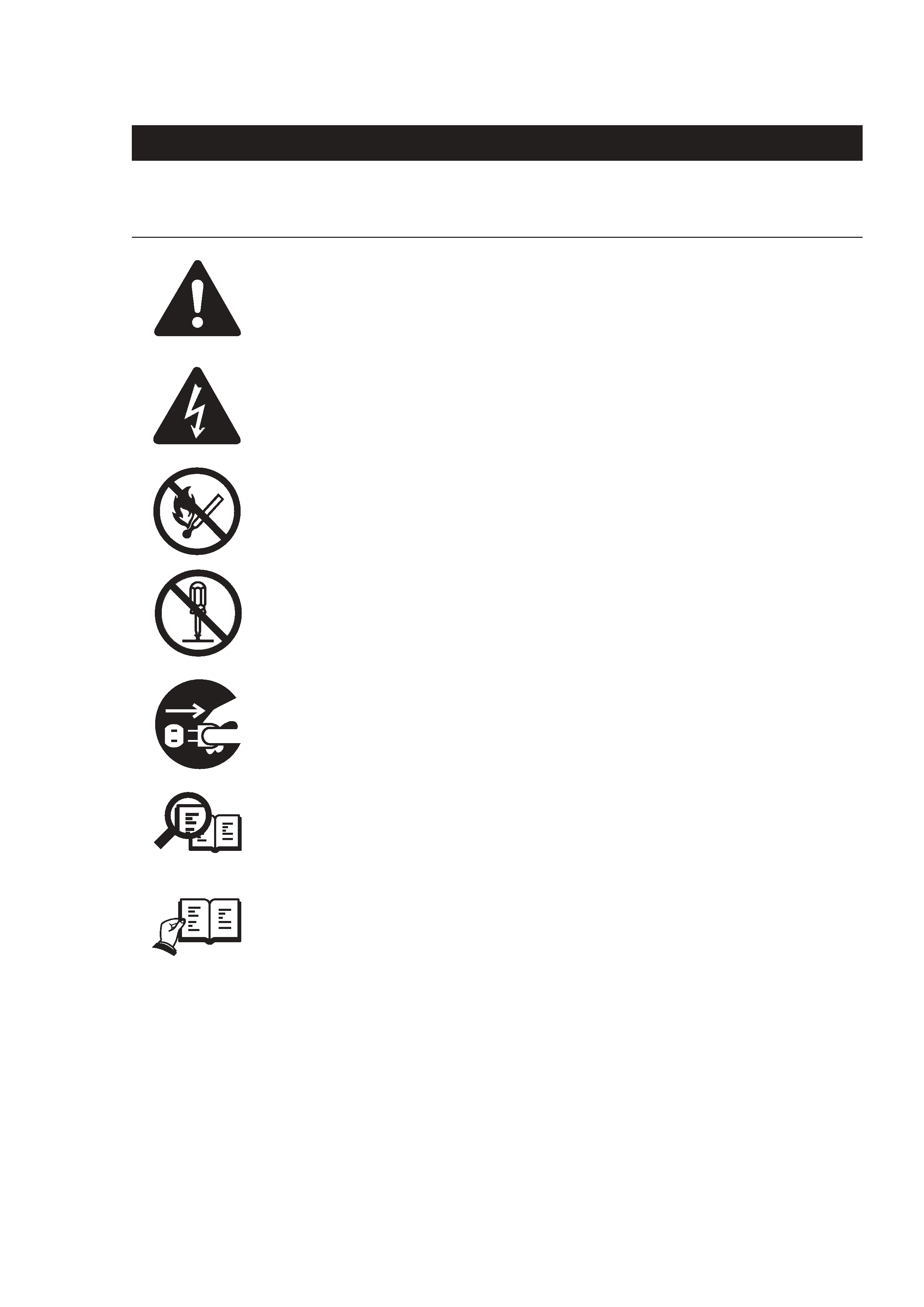 The marks used in this manual have the following meanings.
States a precaution to be taken to prevent danger to personnel, damage to the
product, or damage to electronic components by discharge of static electricity.
States a precaution to be taken to prevent damage to electronic components
by electrostatic discharge.
If the following mark is used, following the directions given.
Informs you of fire-related cautions.
Informs you that the plug must be removed from the power outlet before
Gives useful information to understand descriptions.
Indicates sections to be read to obtain more detailed information.
---

This manual is divided into five parts, and contains information required for servicing the
Chapter 1: General Description
This part explains product specifications and the how to service the unit safely. It is very
important, so please read it.
Chapter 2: Technical Reference
This part explains the technical theory the product.
Chapter 3: Assembly and Disassembly
This part explains the assembly and disassembly of the product.
Chapter 4: Maintenance and Service
This part explains how to maintain the products for adjustment and troubleshooting and
service operations and service switches.
This part explains the informations of the optional products and user data flow.
·For more details of user operations and user reports, see the separate volume
·Detailed description of each SSSW/parameter is not given in this manual
except the new SSSWs/parameters added to this model.See G3 Facsimile
Service Data Handbook (supplied separately) for details them.
·See the G3/G4 Facsimile Error Code List (Rev.2, supplied separately) for
details of the error codes not shown in this manual.
---