---

BJC-620 Table of Contents
Using the Microsoft Windows Printing System
Understanding the Microsoft Windows Printing System
Checking the Computer Requirements
Printing With the Microsoft Printing System
Using the Microsoft Windows Printing System Program Group
The Microsoft Windows Printing System Dialog Boxes
Opening the Microsoft Windows Printing System Dialog Boxes
Overview of the Microsoft Windows Printing System
Microsoft Windows 3.1 or Microsoft Windows for Workgroups 3.1
Checking the Status of a Print Job
Opening the Status Window
Using the Status Window as an Icon
Messages Displayed in the Status Window
Customizing the Status Window
Customizing Display Options
Maintaining the Printer From the Status Window
The Printer Options Dialog Box
Setting the Paper Thickness Lever
Setting the Paper Selection Lever and the Paper Support
Printer Settings for Various Print Media
Automatically Feeding Paper
Using Canon Specialty Paper
---

Canon's High Resolution Paper HR-101
Cleaning the Print Head Unit
Using the Microsoft Windows Printing System
Replacing the Print Head Unit
Print Head Unit Guidelines
Removing the Used Print Head Unit
Installing a New Print Head Unit
Using Canon's Support Services
Identifying Your Printer Problem
Ink Tanks Continually Run Out of Ink
Ink Tank Incorrectly Installed
Troubleshooting the Microsoft Windows Printing System
Bios Setups for Various Systems
Using the BJC-620 in a Network Environment
---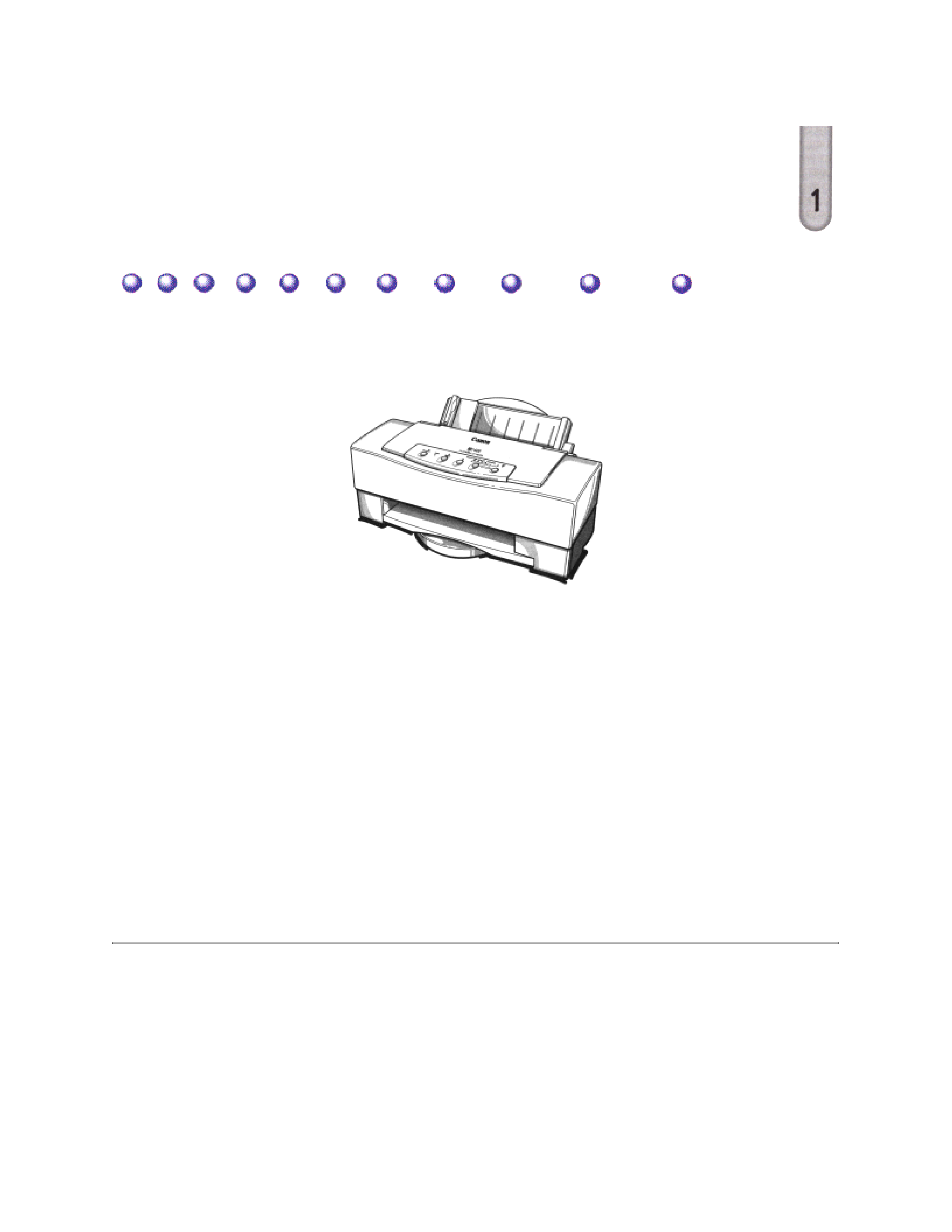 Congratulations on your purchase of the Canon BJC-620 Color Bubble Jet Printer. We appreciate
your choosing this printer to meet your printing needs.
Your printer features the Microsoft Windows Printing System, which makes printing from
Microsoft Windows faster and easier than ever before. With the Microsoft Windows Printing
System, your printer is able to print faster than traditional approaches. As soon as the Microsoft
Windows Printing System accepts a document for printing, you can return to your application.
You receive instant notification of printer information and you can see the printer's status on your
The BJC-620 offers exceptionally high print quality and fast print speed using both color and
black inks. We are certain you will be satisfied with its advanced Bubble Jet technology.
Lists the supplies and accessories you can purchase for the printer
Describes Canon's customer support services
--- Your BJC-620 printer supports excellent and unique print media options that will allow
you to produce dazzling, professional, and fun presentations. All of these print media
are specially designed and manufactured to work with your Canon color printer so you
can produce the finest output possible.
Canon has an extensive dealer network equipped to offer you supplies as you need
them. To find a dealer near you, call the Canon Referral Service at 1-800-848-4123.
If supplies are not available from your local dealer, you can order directly from Canon
by calling 1-800-671-1090.
Your BJC-620 comes with the following ink tanks:
Canon Ink Tank BJI-201 Bk HC (black, high capacity)
Canon Ink Tank BJI-201 C (cyan)
Canon Ink Tank BJI-201 M (magenta)
Canon Ink Tank BJI-201 Y (yellow)
Canon manufactures various specialty papers, including:
Bubble Jet Paper LC-301 (water resistant)
High Resolution Paper HR-101
See Chapter 3, Paper Handling, for details on Canon's specialty papers.
---