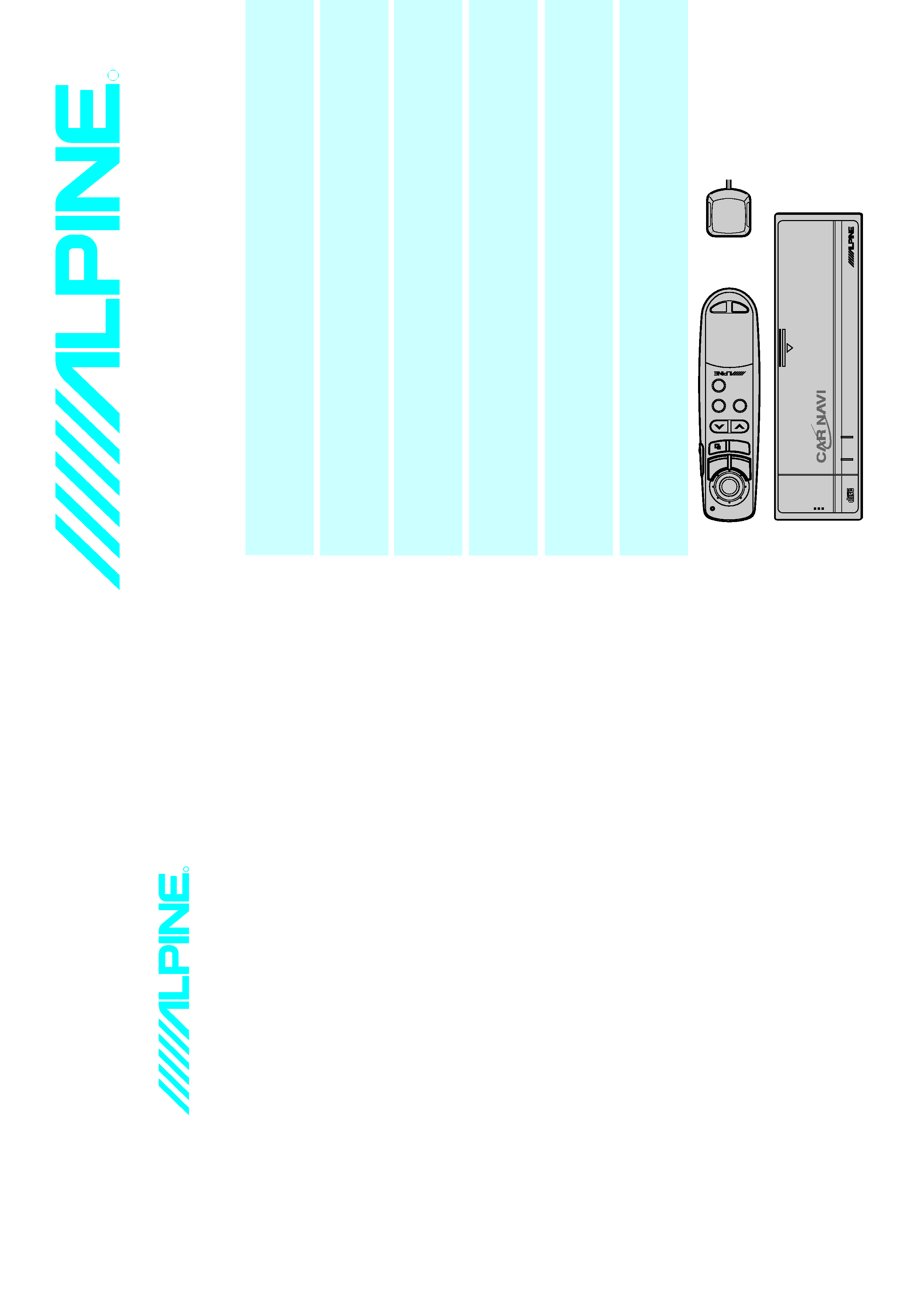 1 DIN Voice Guidance Navigation System
Tokyo office: 1-1-8 Nishi Gotanda,
Shinagawa-ku, Tokyo 141-8501, Japan
ALPINE ELECTRONICS OF AMERICA, INC.
19145 Gramercy Place, Torrance,
Tel.: 1-800-ALPINE-1 (1-800-257-4631)
1-888-NAV-HELP (1-888-628-4357)
ALPINE ELECTRONICS OF CANADA, INC.
Suite 203, 7300 Warden Ave. Markham,
Tel.: 1-800-ALPINE-1 (1-800-257-4631)
1-888-NAV-HELP (1-888-628-4357)
ALPINE ELECTRONICS OF AUSTRALIA PTY. LTD.
6-8 Fiveways Boulevarde Keysborough,
Via C. Colombo 8, 20090 Trezzano Sul
ALPINE ELECTRONICS FRANCE S.A.R.L.
(RCS PONTOISE B 338 101 280)
98, Rue De La Belle Etoile, Z.I. Paris Nord Il
B.P. 50016 F-95945, Roissy,
Charles De Gaulle Cedex, France
ALPINE ELECTRONICS OF U.K., LTD.
13 Tanners Drive, Blakelands,
Milton Keynes MK14 5BU, U.K.
ALPINE ELECTRONICS DE ESPAÑA, S.A.
Portal De Gamarra 36, Pabellón 32
01013 Vitoria (Alava)-Apdo. 133, Spain
Please read before using this equipment.
Veuillez lire ce mode d'emploi avant la
mise en service de l'appareil.
Calcul automatique d'itinéraire
Guide vocal en temps réel
Lees de gebruiksaanwijzing zorgvuldig
door alvorens u het apparaat in gebruik
Automatisch uitstippelen van de route
Gesproken instructies terwijl u rijdt
Leggere questo manuale prima di
Calcolo automatico del percorso
Ricerca della destinazione
Guida a voce in tempo reale
Bitte lesen Sie diese Bedienungs-
anleitung vor Gebrauch Ihres
Automatische Streckenermittlung
Lea este manual antes de utilizar este
Cálculo automático de ruta
Guía de voz en tiempo real
CAR NAVIGATION SYSTEM NVE-N055PV
VERSION UP/ADVANCED ROUTE GUIDANCE
---

ALPINE Navigation System NVE-N055PV (E) 68P21523Y16-O
IMPORTANT INFORMATION, PLEASE READ CAREFULLY BE-
This product is intended to safely provide turn by turn instruction to get you to a
desired destination. Please read the following precautions to ensure that you use
this navigation system correctly.
This product is not a substitute for your personal judgment. Any route
suggestions made by this navigation system may never supersede any
local traffic regulations or your personal judgment and/or knowledge of
safe driving practices. Do not follow route suggestions if the navigation
system instructs you to perform an unsafe or illegal maneuver, places you
in an unsafe situation, or routes you into an area which you consider un-
Glance at the screen only when necessary and safe to do so. If pro-
longed viewing of the screen is necessary, stop in a safe and legal manner
Do not input destinations, change settings, or access any functions
requiring a prolonged view of the monitor and/or remote control while you
are driving. Stop in a safe and legal manner and location before attempting
Do not use the navigation system to route you to emergency services.
Not all locations of emergency service providers such as police and fire
stations, hospitals, and clinics are contained in the database. Please use
your own judgment and your ability to ask for directions in these situa-
The map database contained within the media (CD ROM) in which it is
stored is the most recent map data available at the time of production.
Because of changes in streets and neighborhoods, there may be situations
where the navigation system may not be able to route you to your desired
destination. In these cases, use your own personal judgment.
The map database is designed to provide you with route suggestions, it
does not take account the relative safety of a suggested route, or of factors
which may affect the time required to reach your destination. The system
does not reflect road closures or construction, road characteristics (i.e.
type of road surface, slope or grade, weight or height restrictions, etc.),
traffic congestion, weather conditions, or any other factors which may
affect the safety or timing of your driving experience. Use your personal
judgment if the navigation system is unable to provide you with an alter-
---

ALPINE Navigation System NVE-N055PV (E) 68P21523Y16-O
There may be situations where the navigation system may display the
vehicle's location erroneously. Use your own driving judgment in this situ-
ation, taking into account current driving conditions. Please be aware that
in this situation, the navigation system should correct the vehicle's posi-
tion automatically; however, there may be times where you may have to
correct the position yourself. If this is the case, stop in a safe and legal
manner and location before attempting operation.
Make certain that the volume level of the monitor is set to a level which
still allows you to hear outside traffic and emergency vehicles.
Driving while unable to hear outside sounds could cause an accident.
Position the monitor so that glancing at the screen can be performed
quickly and easily by the driver. If any adjustments are necessary, stop in a
safe and legal manner and location.
The monitor used with this system should not be placed in a location
which hinders the driver's view of any critical elements necessary to oper-
ate the vehicle properly (i.e. the road, mirrors, instruments, vehicle's sur-
roundings). In addition, the monitor should not be placed in a location
which may obstruct the air bags should they deploy.
Remember to wear your seat belt at all times when the car is in motion.
This will help you avoid impact with anything in the car's interior, including
Please make certain that any other person who intends on using this
navigation system reads these precautions and the following instructions
If there is anything in the manual which you do not understand, or are
uncertain about the operation of the navigation system, please contact an
authorized representative before using the navigation system.
---
ALPINE Navigation System NVE-N055PV (E) 68P21523Y16-O
a Read this manual carefully before starting operation and use this system
safely. Alpine cannot be responsible for problems resulting from failure to
observe the instructions in this manual.
a This manual uses various pictorial displays to show how to use this product
safely and to alert you to potential dangers resulting from improper
connections and operation. Following are the meanings of these pictorial
displays. It is important to fully understand the meanings of these pictorial
displays in order to use this manual and the system properly.
This label is intended to alert the user to the
presence of important operating instructions.
Failure to heed the instructions will result in severe
This label is intended to alert the user to the
presence of important operating instructions.
Failure to heed the instructions can result in injury
This indicates supplementary explanation of operation of this
Points to Observe for Safe Usage
---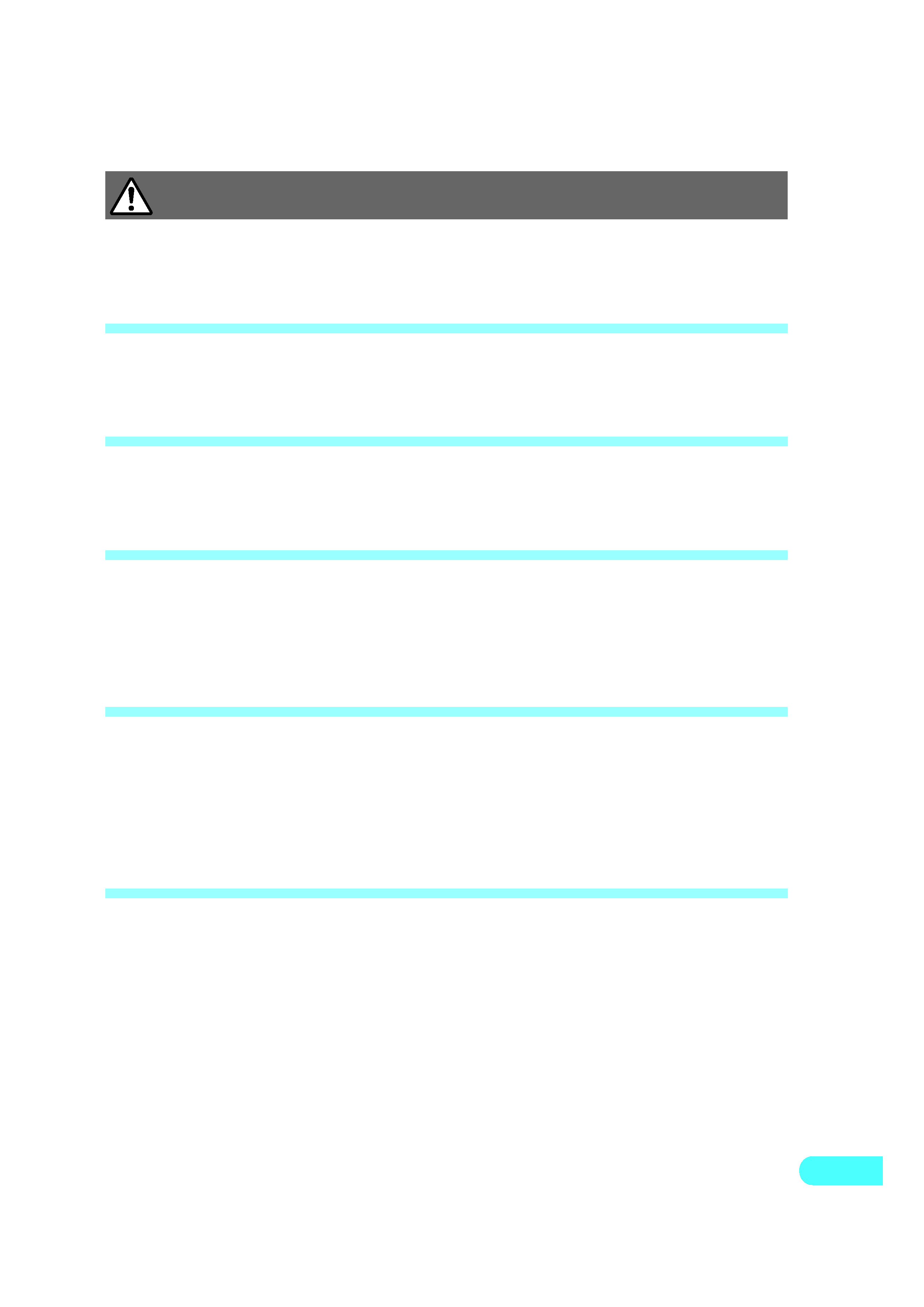 ALPINE Navigation System NVE-N055PV (E) 68P21523Y16-O
DO NOT DISASSEMBLE OR ALTER
Attempts to disassemble or alter may lead to accident, fire or electric shock.
KEEP SMALL ARTICLES OUT OF THE REACH OF CHILDREN
Store small articles (batteries, screws, etc.) in places not accessible to children. If
swallowed, consult a physician immediately.
USE THE CORRECT AMPERE RATING WHEN REPLACING FUSES
Replace fuses only with fuses of the same ampere rating. Failure to do so may
result in a fire and/or damage to the vehicle.
HALT USE IMMEDIATELY IF A PROBLEM APPEARS
When problems appear, stop using the system immediately and contact the dealer
from whom you purchased the equipment. Some problems which may warrant
immediate attention include a lack of sound or video, noxious odors or smoke
being emitted from the unit or monitor, or foreign objects dropped inside the unit.
DO NOT OPERATE THE EQUIPMENT OR LOOK AT THE SCREEN
Do not attempt to operate this equipment or view the screen while driving the
vehicle. Operating the equipment will distract the driver from looking ahead of the
vehicle and cause accident.
Always stop the vehicle in a safe location before operating this equipment.
MINIMIZE SCREEN VIEWING WHILE DRIVING
While driving, minimize the amount of time spent viewing the screen. Listen for the
voice prompts when driving and always proceed in a safe and careful manner.
---