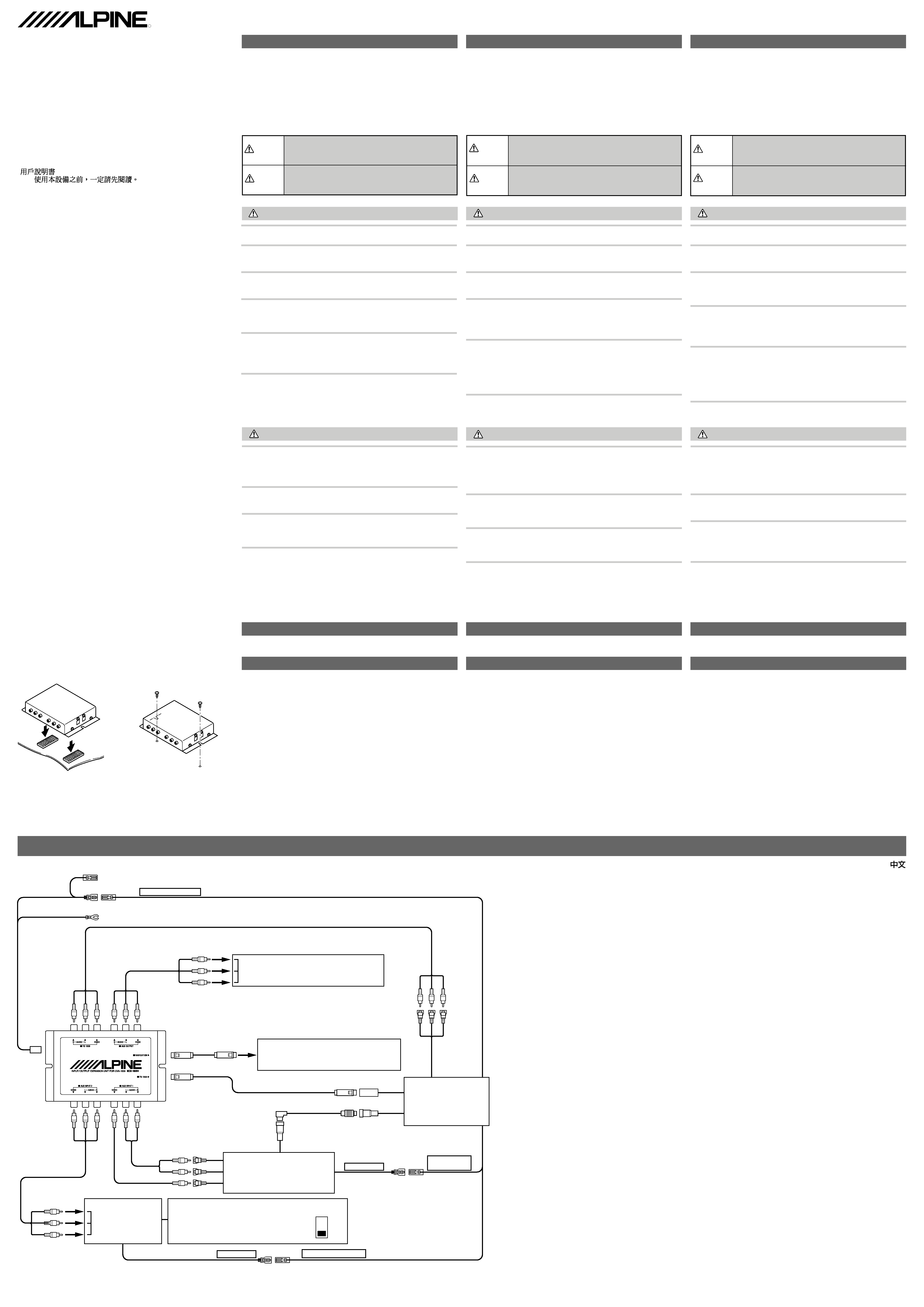 Input/Output Expansion Unit For CVA-1003
Please read before using this equipment.
Veuillez lire ce mode d'emploi avant la mise en service de l'appareil.
Lea antes de utilizar este equipo.
Lesen Sie diese Anleitung bitte vor der Inbetriebnahme.
·MANUALE DEL PROPRIETARIO
Si prega di leggere il manuale prima di usare questa attrezzatura.
Läs bruksanvisningen innan utrustningen används.
(RCS PONTOISE B 338 101 280)
23-5, 1 Ga, Pil-dong, Jung-gu.
Tokyo office: 1-1-8 Nishi Gotanda,
Shinagawa-ku, Tokyo 141-8501, Japan
ALPINE ELECTRONICS OF AMERICA, INC.
19145 Gramercy Place, Torrance,
Tel.: 1-800-ALPINE-1 (1-800-257-4631)
ALPINE ELECTRONICS OF CANADA, INC.
Suite 203, 7300 Warden Ave. Markham,
Tel.: 1-800-ALPINE-1 (1-800-257-4631)
ALPINE ELECTRONICS OF AUSTRALIA PTY. LTD.
6-8 Fiveways Boulevarde Keysborough,
Kreuzerkamp 7-11 40878 Ratingen,
Via C. Colombo 8, 20090 Trezzano Sul
ALPINE ELECTRONICS FRANCE S.A.R.L.
(RCS PONTOISE B 338 101 280)
98, Rue De La Belle Etoile, Z.I. Paris Nord II
B.P. 50016 F-95945, Roissy,
Charles De Gaulle Cedex, France
ALPINE ELECTRONICS OF U. K., LTD.
13 Tanners Drive, Blakelands,
Milton Keynes MK14 5BU, U.K.
ALPINE ELECTRONICS DE ESPAÑA, S.A.
Portal De Gamarra 36, Pabellón 32
01013 Vitoria (Alava) - Apdo. 133, Spain
Points to Observe for Safe Usage
Read this manual carefully before starting operation and use this
system safely. We cannot be responsible for problems resulting from
failure to observe the instructions in this manual.
This manual uses various pictorial displays to show how to use this
product safely and to avoid harm to yourself and others and damage
to your property. Here is what these pictorial displays mean. Under-
standing them is important for reading this manual.
DO NOT DISASSEMBLE OR ALTER. Doing so may result in an accident, fire
KEEP SMALL OBJECTS SUCH AS BATTERIES OUT OF THE REACH OF
CHILDREN. Swallowing them may result in serious injury. If swallowed,
consult a physician immediately.
DO NOT SPLICE INTO ELECTRICAL CABLES. Never cut away cable insula-
tion to supply power to other equipment. Doing so will exceed the current
carrying capacity of the wire and result in fire or electric shock.
DO NOT DAMAGE PIPE OR WIRING WHEN DRILLING HOLES. When drill-
ing holes in the chassis for installation, take precautions so as not to con-
tact, damage or obstruct pipes, fuel lines, tanks or electrical wiring. Failure
to take such precautions may result in fire.
DO NOT USE BOLTS OR NUTS IN THE BRAKE OR STEERING SYSTEMS TO
MAKE GROUND CONNECTIONS. Bolts or nuts used for the brake or steer-
ing systems (or any other safety-related system), or tanks should NEVER
be used for installations or ground connections. Using such parts could
disable control of the vehicle and cause fire etc.
MAKE THE CORRECT CONNECTIONS. Failure to make the proper connec-
tions may result in fire or product damage.
This label is intended to alert the user to the presence
of important operating instructions.
Failure to heed the instructions will result in severe injury
This label is intended to alert the user to the presence
of important operating instructions.
Failure to heed the instructions can result in injury or
NE PAS DESASSEMBLER NI MODIFIER L'APPAREIL. Il y a risque d'accident,
d'incendie ou de choc électrique.
GARDER LES PETITS OBJETS COMME LES PILES HORS DE PORTEE DES
ENFANTS. L'ingestion de tels objets peut entraîner de graves blessures.
En cas d'ingestion, consulter immédiatement un médecin.
NE PAS DENUDER LES CABLES ELECTRIQUES. Ne jamais enlever la gaine
isolante pour alimenter un autre appareil. Il y a risque de dépassement de
la capacité de courant et, partant, d'incendie ou de choc électrique.
NE PAS ENDOMMAGER DE CONDUITES NI DE CABLES LORS DU FORAGE
DES TROUS. Lors du forage de trous dans le châssis en vue de l'installation,
veiller à ne pas entrer en contact, endommager ni obstruer de conduites,
de tuyaux à carburant ou de fils électriques. Le non-respect de cette
précaution peut entraîner un incendie.
NE PAS UTILISER DES ECROUS NI DES BOULONS DU CIRCUIT DE
FREINAGE OU DE DIRECTION POUR LES CONNEXIONS DE MASSE. Les
boulons et les écrous utilisés pour les circuits de freinage et de direction
(ou de tout autre système de sécurité) ou les réservoirs ne peuvent JAMAIS
être utilisés pour l'installation ou la liaison à la masse. L'utilisation de ces
organes peut désactiver le système de contrôle du véhicule et causer un
EFFECTUER CORRECTEMENT LES CONNEXIONS. Il y a risque de blessures
ou de dommages à l'appareil.
NO DESMONTE NI ALTERE LA UNIDAD. Si lo hace, podrá ocasionar un
accidente, un incendio o una descarga eléctrica.
MANTENGA LOS OBJETOS PEQUEÑOS, COMO LAS PILAS, FUERA DEL
ALCANCE DE LOS NIÑOS. La ingestión de estos objetos puede provocar
lesiones graves. Si esto ocurre, consulte con un médico inmediatamente.
NO EMPALME CABLES ELÉCTRICOS. Nunca corte el aislamiento de un
cable para suministrar energía a otro equipo. Esto hace que la capacidad
portadora del cable se supere y puede ser la causa de incendios o descargas
EVITE DAÑAR LOS TUBOS Y EL CABLEADO CUANDO TALADRE
AGUJEROS. Si taladra agujeros en el chasis durante la instalación, tome
las precauciones necesarias para no rozar, dañar u obstruir los tubos, las
tuberías de combustible, los depósitos o el cableado eléctrico. De lo
contrario, podría provocar un incendio.
NO UTILICE TUERCAS O PERNOS EN EL SISTEMA DE FRENOS O DE
DIRECCIÓN PARA REALIZAR LAS CONEXIONES A MASA. Los pernos o
tuercas empleados en los sistemas de freno o de dirección (o en cualquier
otro sistema relacionado con la seguridad del vehículo), o los depósitos,
NUNCA deben utilizarse para instalaciones de cableado o conexión a masa.
Si utiliza tales partes podrá incapacitar el control del vehículo y provocar
REALICE LAS CONEXIONES CORRECTAMENTE. Una conexión incorrecta
puede producir un incendio o dañar el equipo.
Connections/Connexions/Conexiones
English/Français/Español/
1 Remote lead (Blue/White)/Conducteur à distance (bleu/blanc)/Cable del control remoto (Azul/Blanco)
Connect to the Remote Turn-On Lead of the CVA-1003 series./Raccordez ce fil conducteur au fil conducteur de mise sous tension à distance
de la série CVA-1003./Conéctelo al cable del mando giratorio de control remoto de la serie CVA-1003.
2 Ground lead (Black)/Fil de mise à la terre (Noir)/Cable de tierra (Negro)
Connect the lead to a good chassis ground on the vehicle. Make sure the connection is made to bare metal and is securely fastened using
the sheet metal screw provided./Connecter ce fil à une bonne masse du châssis sur le véhicule. S'assurer que la connexion est faite à un
métal nu et solidement fixée en utilisant une vis de feuille métallique fournie./Conecte este cable al chasis del vehículo. Asegúrese de
conectarlo a una parte metálica despejada y de fijarlo firmemente usando el tornillo para plancha metálica proporcionado.
3 RCA Extension Cable (Included)/Câble d'extension RCA (Fourni)/Cable de extensión RCA (Incluído)
4 RCA EXtension Cable (Sold separately)/Câble d'extension RCA (Vendu séparément)/Cable de extensión RCA (Vendido separadament)
5 AUX Input Terminal/Borne d'entrée AUX/Terminal de entrada AUX
6 AUX Input (AUX1) Connecters/Connecteurs (AUX1) d'entrée AUX/Conectores de entrada (AUX1) AUX
7 RGB Cable (Included, Navigation or Sold separately)/Câble RGB (Fourni, Navigation ou vendu séparément)/Cable RGB (Incluído con la
navegación o vendido separadament)
8 RGB Outut Connector/Connecteur de sortie RGB/Conector de salida RGB
9 RGB Cable (Included)/Câble RGB (Fourni)/Cable RGB (Incluído)
! RGB Input Connector/Connecteur d'entrée RGB/Conector de entrada RGB
" Ai-NET Connector/Connecteur Ai-NET/Conector Ai-NET
# Ai-NET Cable (Included with DVD Video player)/Câble Ai-NET (Fourni avec le lecteur de vidéo DVD)/Cable Ai-NET (Incluido con el
reproductor de vídeo DVD)
$ RCA Extension Cable (Sold separately)/Câble d'extension RCA (Vendu séparément)/Cable de extensión RCA (Vendido separadament)
% RCA Extension Cable (Included with DVD Player)/Câble d'extension RCA (Fourni avec le lecteur DVD)/Cable de extensión RCA (Incluído
& Audio Output Connector/Connecteur de sortie audio/Conector de salida de audio
( Video Output Connector/Connecteur de sortie de vidéo/Conector de salida de vídeo
) RCA Extension Cable (Included with KCE-150V)/Câble d'extension RCA (Fourni avec le KCE-150V)/Cable de extensión RCA (Incluído con
~ Video Output Terminal/Borne de sortie de vidéo/Terminal de salida de vídeo
NOTE: Refer to the instruction manuals of the connected devices.
REMARQUE : reportez-vous aux modes d'emploi des appareils raccordés.
NOTA: Consulte los manuales de instrucciones de los dispositivos conectados.
For the details about the connection to the DVD changer, refer to the Owner's Manuals of the DVD changer and the CVA-1003 series./Pour obtenir davantage
de détails concernant le raccordement au changeur de DVD, consultez les modes d'emploi du changeur de DVD et de la série des CVA-1003./Para obtener
información detallada sobre la conexión al cambiador de DVD, consulte los Manuales de instrucciones del cambiador de DVD y de la serie CVA-1003.
** Set the Colour Contorl for the TV Tuner to "OFF"./Mettez le bouton de réglage de la couleur du téléviseur en position "OFF"./Ajuste el control de color para
el sintonizador de TV en "OFF".
Points à respecter pour une utilisation sûre
Lire attentivement ce manuel avant de commencer l'opération et
l'utilisation du système en toute sécurité. Nous dégageons toute
responsabilité des problèmes résultant du non-respect des instruc-
tions décrites dans ce manuel.
Ce manuel utilise divers affichages illustrés pour montrer comment
utiliser cet appareil en toute sécurité, pour éviter de s'exposer soi-
même et les autres personnes aux dangers et pour éviter d'endommager
l'appareil. Voici la signification de ces affichages illustrés. Il est impor-
tant de bien les comprendre pour la lecture de ce manuel.
Signification des affichages
Cette étiquette a pour but de prévenir l'utilisateur de la
présence d'instructions importantes.
Si ces instructions ne sont pas suivies, des blessures
graves ou mortelles risquent d'être occasionnées.
Cette étiquette a pour but de prévenir l'utilisateur de la
présence d'instructions importantes.
Si ces instructions ne sont pas suivies, des blessures ou
des dommages matériels risquent d'être occasionnés.
UTILISER LES ACCESSOIRES SPECIFIES ET LES INSTALLER
CORRECTEMENT. Utiliser uniquement les accessoires spécifiés.
L'utilisation d'autres composants que les composants spécifiés peut causer
des dommages internes à cet appareil ou son installation risque de ne pas
être effectuée correctement. Les pièces utilisées risquent de se desserrer
et de provoquer des dommages ou une défaillance de l'appareil.
NE PAS INSTALLER A DES ENDROITS TRES HUMIDES OU POUSSIEREUX.
Eviter d'installer l'appareil à des endroits soumis à une forte humidité ou
à de la poussière en excès. La pénétration d'humidité ou de poussière à
l'intérieur de cet appareil risque de provoquer une défaillance.
FAIRE INSTALLER LE CABLAGE ET L'APPAREIL PAR DES EXPERTS. Le
câblage et l'installation de cet appareil requiert des compétences tech-
niques et de l'expérience. Pour garantir la sécurité, faire procéder à
l'installation de cet appareil par le distributeur qui vous l'a vendu.
FAIRE CHEMINER LE CABLAGE DE MANIERE A NE PAS LE COINCER
CONTRE UNE ARETE METALLIQUE. Faire cheminer les câbles à l'écart des
pièces mobiles (comme les rails d'un siège) et des arêtes acérées ou
pointues. Cela évitera ainsi de coincer et d'endommager les câbles. Si un
câble passe dans un orifice métallique, utiliser un passe-cloison en ca-
outchouc pour éviter que la gaine isolante du câble ne soit endommagée
par le rebord métallique de l'orifice.
Puntos que debe respetar para un uso seguro
Lea atentamente este manual antes de comenzar la operación y la
utilización del sistema sin riesgos. Declinamos toda responsabilidad si
se ocasionan problemas por no respetar las instrucciones dadas en
Este manual utiliza diversas ilustraciones para mostrar como utilizar
este aparato de manera segura, para evitar la exposición de sí mismo
y de otras personas a peligros y para evitar de estropear el aparato. He
aquí la significación de dichas ilustraciones. Es muy importante que
las comprenda bien para la lectura de este manual.
Significación de las ilustraciones
Esta etiqueta previene al usuario de la presencia de
instrucciones de operación importantes.
Si no sigue estas instrucciones, corre el riesgo de
ocasionar heridas graves o mortales.
Esta etiqueta previene al usuario de la presencia de
instrucciones de operación importantes.
Si no sigue estas instrucciones, corre el riesgo de
ocasionar heridas o pérdidas materiales.
CORRECTAMENTE. Asegúrese de utilizar los accesorios especificados
solamente. La utilización de otras piezas no designadas puede ser la causa
de daños en el interior de la unidad o de una instalación incorrecta. Las
piezas pueden aflojarse, lo que, además de ser peligroso, puede provocar
NO INSTALE LA UNIDAD EN LUGARES MUY HÚMEDOS O LLENOS DE
POLVO. Evite instalar la unidad en lugares con altos índices de humedad
o polvo. Si entra polvo o humedad, el equipo puede averiarse.
CONFÍE EL CABLEADO Y LA INSTALACIÓN A PROFESIONALES. El cableado
y la instalación de este equipo requieren una competencia y experiencia
técnica confirmada. Para garantizar la seguridad, póngase siempre en
contacto con el distribuidor al que ha comprado el equipo para confiarle
DISPONGA EL CABLEADO DE FORMA QUE LOS CABLES NO SE DOBLEN,
NO SE CONTRAIGAN NI ROCEN UN BORDE METÁLICO AFILADO. Aleje
los cables y el cableado de piezas móviles (como los raíles de los asientos)
o de bordes puntiagudos o afilados. De esta forma evitará dobleces y
daños en el cableado. Si los cables se introducen por un orificio de metal,
utilice una arandela de goma para evitar que el borde metálico del orificio
corte el aislamiento del cable.
To operate the unit, refer to the Owner's Manual of the connected device.
USE SPECIFIED ACCESSORY PARTS AND INSTALL THEM SECURELY. Be
sure to use only the specified accessory parts. Use of other than desig-
nated parts may damage this unit internally or may not securely install the
unit in place. This may cause parts to become loose resulting in hazards or
DO NOT INSTALL IN LOCATIONS WITH HIGH MOISTURE OR DUST. Avoid
installing the unit in locations with high incidence of moisture or dust.
Moisture or dust that penetrates into this unit may result in product failure.
HAVE THE WIRING AND INSTALLATION DONE BY EXPERTS. The wiring
and installation of this unit requires special technical skill and experience.
To ensure safety, always contact the dealer where you purchased this
product to have the work done.
ARRANGE THE WIRING SO IT IS NOT CRIMPED OR PINCHED BY A SHARP
METAL EDGE. Route the cables and wiring away from moving parts (like
the seat rails) or sharp or pointed edges. This will prevent crimping and
damage to the wiring. If wiring passes through a hole in metal, use a rubber
grommet to prevent the wire's insulation from being cut by the metal edge
Pour faire fonctionner l'appareil, reportez-vous au mode d'emploi de l'appareil
Para emplear la unidad, consulte el manual de instrucciones del dispositivo
Velcro fastener Mounting (Fig. 1)
1. Place two pieces of Velcro fastener onto the mounting surface. The rough
side should be facing the unit.
2. Remove the backing to the adhesive on the Velcro strips. Press the unit
onto the mounting location.
Screw-down Mounting (Fig. 2)
1. Using the unit as a template, hold it at its mounting location and mark the
holes to be drilled. Before drilling, make sure that there are no objects that
could be damaged behind the mounting surface.
2. Drill holes and secure the unit with self-tapping screws (M4 x 14) supplied.
Montage à l'aide de la bande Velcro (Fig. 1)
1. Placez les deux morceaux de bande Velcro sur la surface de montage. La
partie rugueuse doit se trouver face à l'appareil.
2. Retirez la protection de la partie adhésive des bandes Velcro. Appuyez
l'appareil sur l'emplacement de montage.
Montage à l'aide d'une perceuse (Fig. 2)
1. Utilisez l'appareil comme modèle, placez-le sur l'emplacement de mon-
tage et marquez les trous à percer. Avant de percer les trous, assurez-vous
qu'aucun élément ne peut être endommagé derrière la surface de mon-
2. Percez les trous et fixez l'appareil avec les vis auto-taraudeuses (M4x14)
Montaje con fijadores Velcro (Fig. 1)
1. Coloque dos trozos de fijadores de Velcro en la superficie de montaje. La
parte irregular debe estar orientada hacia la unidad.
2. Retire la cubierta de las cintas adhesivas de Velcro. Haga presión en la
unidad contra la unidad de montaje.
Montaje de los tornillos (Fig. 2)
1. Utilice la unidad como plantilla, sujétela en su ubicación de montaje y
marque los orificios que deban perforarse. Antes de perforar, asegúrese
de que no hay objetos que puedan dañarse detrás de la superficie de
2. Perfore los orificios y asegure la unidad con los tornillos autoenroscables
---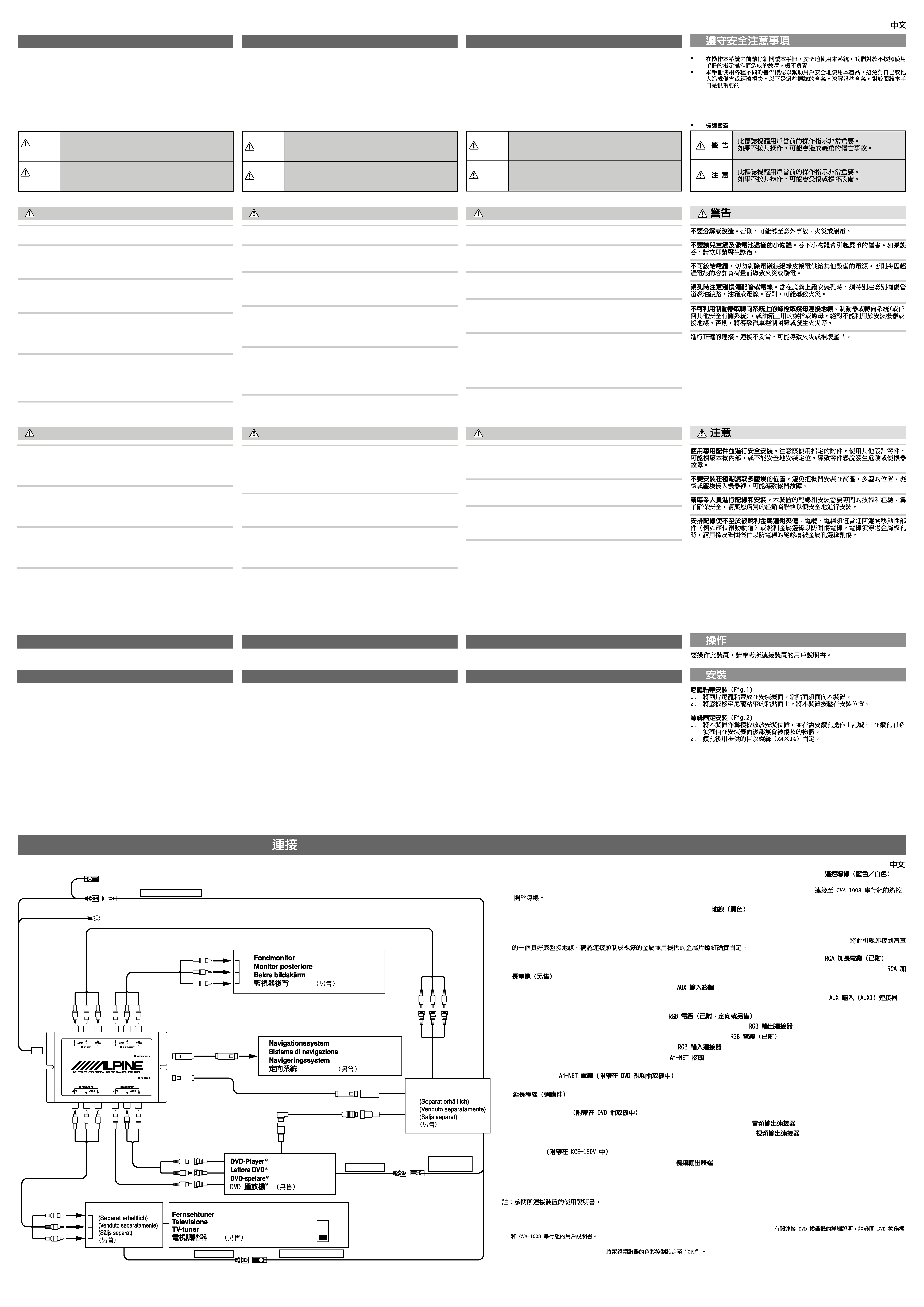 NON SMONTARE O MODIFICARE. Tale azione potrebbe causare incidenti,
incendi o scosse elettriche.
TENERE LE PARTI PICCOLE QUALI LE BATTERIE FUORI DALLA PORTATA
DEI BAMBINI. Se ingeriti potrebbero causare gravi danni. In caso di
ingerimento, consultare immediatamente un medico.
NON UTILIZZARE I CAVI PER EFFETTUARE ALTRI COLLEGAMENTI. Non
eliminare mai le parti isolanti dei cavi per alimentare altri apparecchi.
Diversamente la capacità di trasporto di corrente del cavo in questione
viene superata causando incendi o scosse elettriche.
NELL'EFFETTUARE I FORI, NON DANNEGGIARE I TUBI O I CAVI.
Nell'effettuare i fori nel telaio per l'installazione, fare attenzione a non
entrare in contatto, danneggiare o ostruire i tubi, i condotti della benzina,
i serbatoi o i cavi elettrici. La non osservanza di queste precauzioni potrebbe
PER ESEGUIRE I COLLEGAMENTI DI TERRA, NON UTILIZZARE BULLONI
O DADI DEI SISTEMI DI FRENATA O DI STERZO. Non utilizzare MAI bulloni
o dadi dei sistemi di frenata e di sterzo (o di qualsiasi altro sistema di
sicurezza), o dei serbatoi per eseguire l'installazione o per i collegamenti
di terra. L'utilizzo di queste parti potrebbe inibire il controllo del veicolo e
ESEGUIRE CORRETTAMENTE I COLLEGAMENTI. Altrimenti ne potrebbero
derivarne incendi o danni al prodotto.
TAG INTE ISÄR OCH GÖR INGA ÄNDRINGAR. Det kan resultera i en olycka,
brand eller elektriska stötar.
FÖRVARA MINDRE FÖREMÅL, SOM T.EX. BATTERIER, UTOM RÄCKHÅLL
FÖR BARN. Om något föremål skulle sväljas, skall en läkare kontaktas
KAPA INTE BORT KABELMANTELN FRÅN EN STRÖMKABEL FÖR ATT
STRÖMFÖRSÖRJA NÅGOT ANNANT TILLBEHÖR. Det leder till en för hög
kabelbelastning och kan resultera i brand eller elektriska stötar.
SE TILL ATT VARKEN RÖR, VÄTSKELEDNINGAR ELLER KABLAR VIDRÖRS,
SKADAS ELLER FÖRHINDRAS VID BORRNING AV HÅL. Undersök chassit
innan hålen borras så att inte några slangar, kablar, bränsleledningar eller
liknande råkar skadas. Det kan leda till att brand uppstår.
MONTERA VARKEN MUTTRAR ELLER BULTAR I NÅGON DEL AV
BROMSSYSTEMET VID JORDANSLUTNINGAR. Bultar eller muttrar som
hör till någon vätsketank, styr- eller bromssystemet (eller något annan
system som är av betydelse för säkerheten) ska ALDRIG användas för
kabeldragning eller jordanslutning. Användandet av sådana delar kan leda
till att fordonets styrförmåga försämras och orsaka bromsfel, brand eller
GÖR ANSLUTNINGARNA PÅ KORREKT SÄTT. Felaktiga anslutningar kan
orsaka brand eller skador på enheten.
GERÄT NICHT ÖFFNEN. Andernfalls besteht Unfallgefahr, Feuergefahr
oder die Gefahr eines elektrischen Schlags.
KLEINE GEGENSTÄNDE WIE BATTERIEN VON KINDERN FERNHALTEN.
Werden solche Gegenstände verschluckt, besteht die Gefahr
schwerwiegender Verletzungen. Suchen Sie unverzüglich einen Arzt auf,
wenn ein Kind einen solchen Gegenstand verschluckt.
ELEKTRISCHE KABEL NICHT SPLEISSEN. Kabel dürfen nicht abisoliert
werden, um andere Geräte mit Strom zu versorgen. Andernfalls wird die
Strombelastbarkeit des Kabels überschritten, und es besteht Feuergefahr
oder die Gefahr eines elektrischen Schlags.
BEIM BOHREN VON LÖCHERN LEITUNGEN UND KABEL NICHT
BESCHÄDIGEN. Wenn Sie beim Einbauen Löcher in das Fahrzeugchassis
bohren, achten Sie unbedingt darauf, die Kraftstoffleitungen und andere
Leitungen, den Benzintank und elektrische Kabel nicht zu berühren, zu
beschädigen oder zu blockieren. Andernfalls besteht Feuergefahr.
BOLZEN UND MUTTERN DER BREMSANLAGE NICHT ALS MASSEPUNKTE
VERWENDEN. Verwenden Sie für Einbau oder Masseanschluß NIEMALS
Bolzen oder Muttern der Brems- bzw. Lenkanlage oder eines anderen
sicherheitsrelevanten Systems oder des Benzintanks. Andernfalls besteht
die Gefahr, daß Sie die Kontrolle über das Fahrzeug verlieren oder ein
AUF KORREKTE ANSCHLÜSSE ACHTEN. Bei fehlerhaften Anschlüssen
besteht Feuergefahr, und es kann zu Schäden am Gerät kommen.
Information om hur du använder enheten finns i den anslutna enhetens
Näheres zur Bedienung des Geräts können Sie in der Bedienungsanleitung
des angeschlossenen Geräts nachlesen.
Per il funzionamento dell'apparecchio, fare riferimento al manuale delle
istruzioni del dispositivo collegato.
ANVÄND ALLTID SPECIFICERADE TILLBEHÖR OCH MONTERA
TILLBEHÖREN ORDENTLIGT. Användandet av andra delar än som är
avsedda för denna apparat kan leda till att apparaten skadas invändigt eller
till ostadig montering på grund av lossnande delar.
MONTERA INTE APPARATEN DÄR DEN UTSÄTTS FÖR FUKT ELLER DAMM.
Undvik att installera enheten på platser där fukt och damm kan tränga in
LÅT EN FACKKUNNIG TEKNIKER GÖRA KABELDRAGNINGEN OCH
MONTERINGEN. Kabeldragningen och monteringen av denna apparat
kräver teknisk kunskap och erfarenhet. Kontakta återförsäljaren, som sålde
apparaten, för utförandet av säker montering.
DRA KABLARNA RAKA OCH SÅ ATT DE INTE KOMMER I KLÄM ELLER
SKAVER MOT SKARPA KANTER. Undvik kläm- och nötskador genom att
se till att kablarna går fria från rörliga delar (t.ex. bilsätenas glidbanor) och
skarpa och spetsiga kanter. Om kablarna måste dras genom hål i plåten bör
gummibussningar användas som skydd, så att inte kablarna ligger och
UTILIZZARE LE PARTI ACCESSORIE SPECIFICATE E INSTALLARLE IN
MODO CORRETTO. Assicurarsi di utilizzare solo parti accessorie specifi-
cate. L'utilizzo di altri componenti potrebbe danneggiare l'apparecchio
all'interno o determinare in un'installazione non corretta. I componenti
potrebbero non rimanere collegati in modo saldo e provocare problemi di
funzionamento o pericoli.
NON INSTALLARE IN LUOGHI ECCESSIVAMENTE UMIDI O POLVEROSI.
Evitare di installare l'apparecchio in luoghi eccessivamente umidi o
polverosi. La presenza di umidità o polvere all'interno del prodotto potrebbe
causare problemi di funzionamento.
I COLLEGAMENTI E L'INSTALLAZIONE DEVONO ESSERE EFFETTUATI
DA PERSONALE QUALIFICATO. I collegamenti e l'installazione
dell'apparecchio richiedono conoscenze tecniche ed esperienza particolari.
Per ragioni di sicurezza, contattare sempre il rivenditore presso il quale è
stato acquistato il prodotto per eseguire l'installazione.
SISTEMARE I CAVI IN MODO CHE NON VENGANO PIEGATI O COMPRESSI
DA PARTI METALLICHE TAGLIENTI. Per evitare che vengano danneggiati
o piegati, sistemare i cavi e i fili lontano da parti mobili (quali le guide dei
sedili) o da parti taglienti o aguzze. Se i cavi vengono fatti passare attraverso
un foro metallico, utilizzare un anello di gomma per evitare che l'isolante
dei cavi venga tagliato dal bordo metallico del foro.
NUR DAS VORGESCHRIEBENE ZUBEHÖR VERWENDEN UND DIESES
SICHER EINBAUEN. Verwenden Sie ausschließlich das vorgeschriebene
Zubehör. Andernfalls wird das Gerät möglicherweise beschädigt, oder es
läßt sich nicht sicher einbauen. Wenn sich Teile lösen, stellen diese eine
Gefahrenquelle dar, und es kann zu Betriebsstörungen kommen.
DAS GERÄT NICHT AN STELLEN EINBAUEN, AN DENEN ES HOHER
FEUCHTIGKEIT ODER STAUB AUSGESETZT IST. Bauen Sie das Gerät so
ein, daß es vor hoher Feuchtigkeit und Staub geschützt ist. Wenn
Feuchtigkeit oder Staub in das Gerät gelangen, kann es zu Betriebsstörungen
VERKABELUNG UND EINBAU VON FACHPERSONAL AUSFÜHREN
LASSEN. Die Verkabelung und der Einbau dieses Geräts erfordern
technisches Geschick und Erfahrung. Zu Ihrer eigenen Sicherheit sollten
Sie Verkabelung und Einbau dem Händler überlassen, bei dem Sie das
DIE KABEL SO VERLEGEN, DASS SIE NICHT GEKNICKT ODER DURCH
SCHARFE KANTEN GEQUETSCHT WERDEN. Verlegen Sie die Kabel so,
daß sie sich nicht in beweglichen Teilen wie den Sitzschienen verfangen
oder an scharfen Kanten oder spitzen Ecken beschädigt werden können.
So verhindern Sie eine Beschädigung der Kabel. Wenn Sie ein Kabel durch
eine Bohrung in einer Metallplatte führen, schützen Sie die Kabelisolierung
mit einer Gummitülle vor Beschädigung durch die Metallkanten der
Observera angående säker användning
Läs denna bruksanvisning noggrant innan utrustningen tas i bruk och använd
systemet på ett säkert sätt. Vi tar inget ansvar för problem som uppstår till följd
av underlåtenhet att följa bruksanvisningens anvisningar.
Bruksanvisningen kompletteras med olika illustrationer som visar hur
utrustningen används på ett säkert sätt och hur man undviker person- och
materiella skador. Här visas de olika illustrationernas innebörd. Det är viktigt att
du lär känna dem när du läser bruksanvisningen.
Illustrationernas innebörd
Punti da osservare per un uso sicuro
Leggete questo manuale attentamente prima di usare il sistema. Il fabbricante
non sarà ritenuto responsabile per eventuali problemi causati dalla mancata
osservanza delle istruzioni fornite in questo manuale.
Questo manuale contiene varie illustrazioni per mostrarvi l'uso sicuro di questa
unità. Studiate le illustrazioni bene durante la lettura di questo manuale.
Maßregeln für sicheren Betrieb
Vor der erstmaligen lnbetriebnahme sollten Sie diese Bedienungsanleitung
aufmerksam durchlesen. Benutzen Sie dieses System auf sichere Weise. Wir
übernehmen keine Haftung für Störungen, die auf eine unsachgemäße Bedienung
und Nichtbeachten der Anweisungen in dieser Anleitung zurückzuführen sind.
Verschiedene Symbole in dieser Bedienungsanleitung sollen den sicheren
Personenverletzungen und Sachschäden zu vermeiden. Im folgenden wird die
Bedeutung dieser Symbole beschrieben. Bitte beachten Sie die Bedeutung
dieser Symbole beim Lesen dieser Anleitung.
Kennzeichnet wichtige Betriebsanweisungen.
Eine Nichtbefolgung dieser Anweisungen kann zu
ernsthaften Personenverletzungen und Todesfällen
Kennzeichnet wichtige Betriebsanweisungen.
Eine Nichtbefolgung dieser Anweisungen kann zu
ernsthaften Personenverletzungen und Sachschäden
Deutsch/Italiano/Svenska/
1 Fernsteuerungsleitung (Blau/Weiß)/Cavo del telecomando (blu/bianco)/Kabel för fjärrkontrollen (blå/vit)/
Verbinden Sie diese Leitung mit der Ferneinschaltleitung des CVA-1003./Collegare questo cavo al cavo di accensione del telecomando
della serie CVA-1003./Anslut den här kabeln till CVA-1003-seriens kabel för påslag med fjärrkontrollen./
2 Erdungskabel (Schwarz)/Filo a terra (nero)/Jordningskabel (Svart)/
Schließen Sie dieses Kabel an eine gute Chassis-Erdung des Fahrzeuges an. Vergewissern Sie sich, daß der Anschluß an-reines Metall
vollzogen und sicher mit der beigelegten Blechschrauben befestigt wird./Collegate il filo ad un buon telaio sul veicolo. Assicuratevi che
il collegamento sia fatto sul metallo e che sia ben saldo usando la vite metallica in dotazione./Anslut kabeln till en metallpunkt på bilens
chassi. Se till att den ansluts till en naken metallpunkt och skruvas ordentligt fast med den medföljande plåtskruven./
3 Cinch-Verlängerungskabel (Mitgeliefert)/Prolunga RCA (in dotazione)/RCA-förlängningskabel (medföljer)/
4 Cinch-Verlängerungskabel (Separat erhältlich)/Prolunga RCA (in vendita separatamente)/RCA-förlängningskabel (säljs separat)
5 AUX-Eingang/Terminale di ingresso AUX/AUX-ingång/
6 AUX-Eingang(AUX1)-Steckverbinder/Connettori di ingresso (AUX1) AUX/AUX-ingångskopplingen (AUX1)/
7 RGB-Kabel (Mit Navigation mitgeliefert oder separat erhältlich)/Cavo RGB (in dotazione con navigazione o in vendita separatamente)/
RGB-kabel (följer med navigering eller säljs separat)/
8 RGB-Ausgang-Steckverbinder/Connettore di uscita RGB/RGB-utgångskoppling/
9 RGB-Kabel (Mitgeliefert)/Cavo RGB (in dotazione)/RGB-kabel (medföljer)/
! RGB-Eingang/Connettore di ingresso RGB/RGB-ingång/
" Ai-NET-Buchse/Connettore Ai-NET/Ai-NET-koppling/
# Ai-NET-Kabel (Mit DVD-Video-Player mitgeliefert)/Cavo Ai-NET (in dotazione con il lettore di video DVD)/Ai-NET-kabel (följer med DVD-
$ Cinch-Verlängerungskabel (Separat erhältlich)/Prolunga RCA (in vendita separatamente)/RCA-förlängningskabel (säljs separat)/
% Cinch-Verlängerungskabel (Mit DVD-Player mitgeliefert)/Prolunga RCA (in dotazione con il lettore DVD)/RCA-förlängningskabel (följer
& Audioausgang-Steckverbinder/Connettore di uscita audio/Ljudutgångskoppling/
( Videoausgang-Steckverbinder/Connettore di uscita video/Videoutgångskoppling/
) Cinch-Verlängerungskabel (Mit KCE-150V mitgeliefert)/Prolunga RCA (in dotazione con KCE-150V)/RCA-förlängningskabel (följer med
~ Videoausgang/Terminale di uscita video/Videoutgång/
HINWEIS: Schlagen Sie bitte in den Bedienungsanleitungen zu den angeschlossenen Geräten nach.
NOTA: Fare riferimento ai manuali delle istruzioni dei dispositivi collegati.
OBS!: Se bruksanvisningen för de anslutna enheterna.
Einzelheiten zum Anschließen des DVD-Wechslers finden Sie in den Bedienungsanleitungen zum DVD-Wechsler und zur CVA-1003-Serie./Per informazioni
dettagliate sul collegamento ad un cambia DVD, fare riferimento al manuale delle istruzioni del cambia DVD e della serie CVA-1003./Mer information om hur
du ansluter till DVD-växlaren finns i användarhandledningarna för DVD-växlaren och CVA-1003-serien./
** Setzen Sie "Colour Control" für den Fernsehtuner auf "OFF"./Impostare su "OFF" il comando del colore del sintonizzatore TV./Ställ färgkontrollen (Colour
Control) på TV-tunern på "OFF" (av)./
Montage mit Velcro-Klettverschlüssen (Abb. 1)
1. Bringen Sie zwei Velcro-Klettverschlüsse auf der Montageoberfläche an.
Die rauhe Seite muß auf das Gerät weisen.
2. Entfernen Sie die Folie an der Klebeseite der Velcro-Klettstreifen. Drücken
Sie das Gerät auf die Montagestelle.
Montage mit Hilfe von Schrauben (Abb. 2)
1. Halten Sie das Gerät als Schablone an die Montagestelle, und markieren
Sie die erforderlichen Bohrungen. Bevor Sie die Bohrungen anbringen,
stellen Sie sicher, daß sich hinter der Montageoberfläche keine Teile
befinden, die beschädigt werden könnten.
2. Bringen Sie die Bohrungen an, und befestigen Sie das Gerät mit den
mitgelieferten Schneidschrauben (M4x14).
Installazione con il nastro Velcro (Fig. 1)
1. Posizionare le due strisce del nastro Velcro sulla superficie di montaggio,
con la parte ruvida rivolta verso l'apparecchio.
2. Rimuovere la protezione della parte adesiva del nastro Velcro. Premere
l'apparecchio sulla posizione di montaggio.
Installazione con le viti (Fig. 2)
1. Utilizzare l'apparecchio come modello, tenerlo nella posizione di
montaggio e contrassegnare i fori da perforare. Prima di praticare i fori,
assicurarsi che dietro la superficie di montaggio non vi siano oggetti che
potrebbero essere danneggiati.
2. Praticare i fori e fissare l'apparecchio con le viti autofilettanti (M4x14) in
Montering med kardborrfäste (Fig. 1)
1. Fäst två bitar kardborrfäste på monteringsytan. Den ruggade ytan ska
2. Ta bort skyddspapperet från kardborrbandens självhäftande yta. Tryck
ned enheten där den ska vara placerad.
Montering med skruvinfästning (Fig. 2)
1. Använd enheten som mall och håll den som du tänker montera den och
markera var du ska förborra skruvhålen. Innan du börjar borra bör du ha
kontrollerat ordentligt att det inte finns något på monteringsytans baksida
som kan skadas av borren.
2. Borra hålen och skruva fast enheten med de medföljande självgängande
Anschlüsse/Collegamenti/Anslutningar/
Quest'etichetta serve per avvertire l'utente di importanti
La mancata osservanza delle istruzioni può causare lesioni
personali gravi o letali.
Quest'etichetta serve per avvertire l'utente di importanti
La mancata osservanza delle istruzioni può causare lesioni
personali o danni materiali.
Detta märke upplyser användaren om att det finns viktiga
bruksanvisningar som medföljer utrustningen.
Underlåtenhet att följa anvisningarna medför svåra skador
Detta märke upplyser användaren om att det finns viktiga
bruksanvisningar som medföljer utrustningen.
Underlåtenhet att följa anvisningarna kan resultera i
person- eller materiella skador.
---