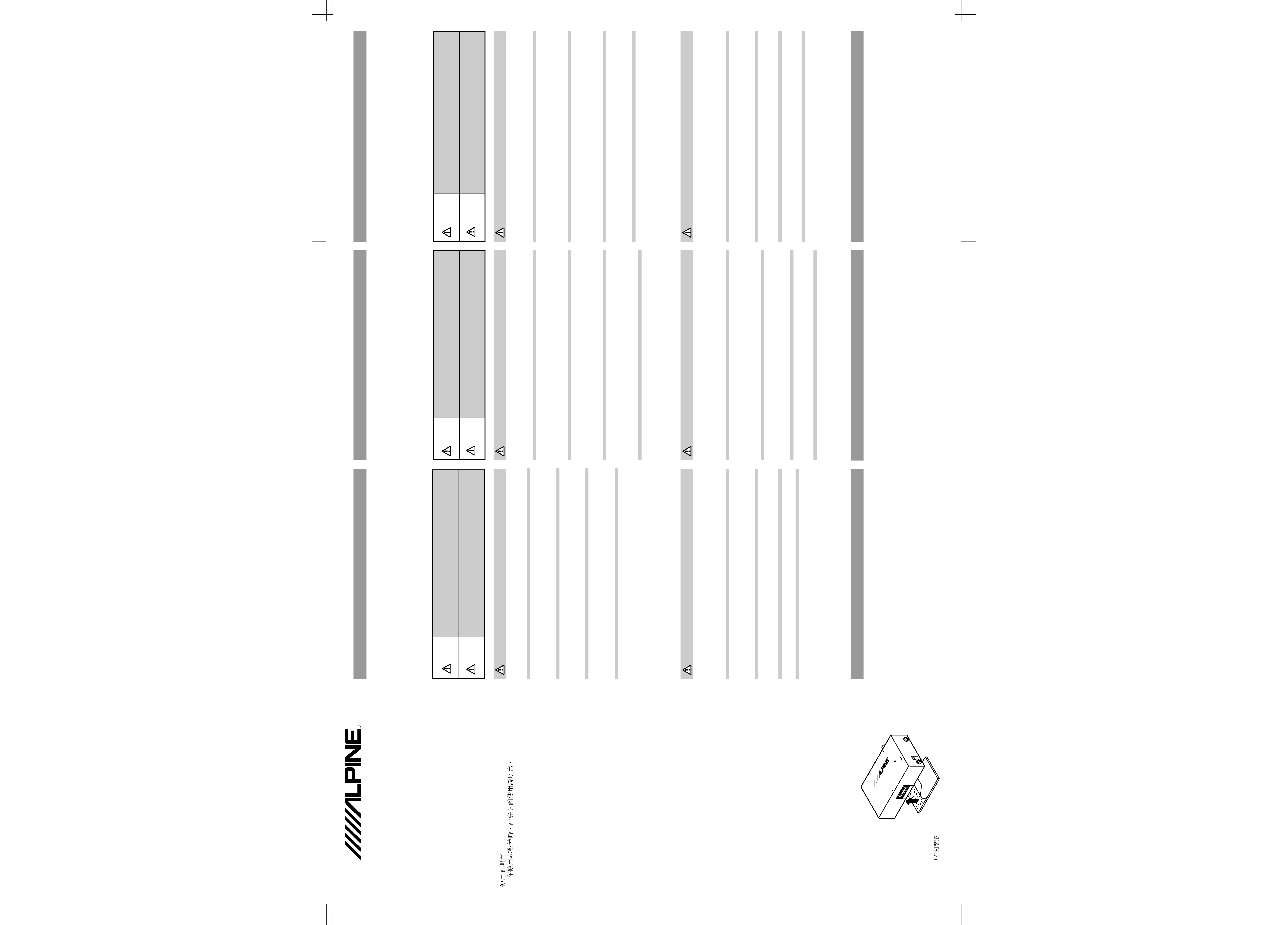 Points to Observe for Safe Usage
Points à respecter pour une utilisation
Cette étiquette a pour but de prévenir l'utilisateur de la présence
d'instructions importantes.
Si ces instructions ne sont pas suivies, des blessures graves ou
mortelles risquent d'être occasionnées.
Cette étiquette a pour but de prévenir l'utilisateur de la présence
d'instructions importantes.
Si ces instructions ne sont pas suivies, des blessures ou des
dommages matériels risquent d'être occasionnés.
NE PAS DEMONTER OU MODIFIER
Le fait de démonter ou de modifier l'appareil risque de provoquer un accident, un incendie
ou une décharge électrique.
AVANT LE CABLAGE, DEBRANCHER LE CABLE DE LA BORNE NEGATIVE DE LA
Avant d'effectuer le câblage électrique, débrancher le câble de la borne négative (­) de la
batterie. Le non-respect de cette précaution risque de provoquer une décharge électrique
ou des blessures dues à des court-circuits électriques.
GROUPER LES CABLES ELECTRIQUES AFIN D'EVITER DES DANGERS
Disposer les fils et câbles conformément au manuel d'installation afin d'éviter des
obstructions pendant la conduite. Des câbles ou fils qui gênent ou pendent au-dessus
d'endroits tels que le volant, le levier de changement de vitesses, les pédales de frein
peuvent créer des risques.
NE PAS INSTALLER DANS DES ENDROITS GENANT LE FONCTIONNEMENT DU
Ne pas installer dans des endroits qui pourraient créer des risques pour les passagers du
véhicule ou gêner le fonctionnement du véhicule (tels que le volant ou le levier de
changement de vitesses) en obstruant la vision avant ou en gênant les mouvements etc.
ARRETER IMMEDIATEMENT L'UTILISATION EN CAS DE PROBLEME
Lorsque des problèmes se présentent tels que l'absence de son ou de vidéo, l'entrée
d'objets étrangers à l'intérieur de l'appareil, un dégagement de fumée, ou d'odeurs
toxiques, arrêter immédiatement l'utilisation de l'appareil et consulter le revendeur auprès
duquel l'appareil a été acheté.
CONFIER LE CABLAGE ET L'INSTALLATION A DES PROFESSIONNELS
Le câblage et l'installation de cet appareil nécessitent une compétence et expérience
technique confirmée. Afin de garantir la sécurité, toujours contacter le revendeur auprès
duquel l'appareil a été acheté pour lui confier les travaux à faire.
UTILISER LES ACCESSOIRES SPECIFIES ET LES INSTALLER CORRECTEMENT
S'assurer d'utiliser uniquement les accessoires spécifiés. L'utilisation d'autres pièces non
désignées risque de provoquer des dommages à l'intérieur de l'appareil ou son installation
risque de ne pas être faite correctement, car les pièces desserrées peuvent provoquer des
NE PAS INSTALLER DANS DES ENDROITS TRES HUMIDES OU POUSSIEREUX
Eviter d'installer l'appareil dans des endroits très humides ou poussiéreux. L'humidité ou la
poussière qui pénètre dans cet appareil risque de dégager de la fumée ou de provoquer un
EFFECTUER CORRECTEMENT LES CONNEXIONS
Si les connexions ne sont pas effectuées correctement, un incendie ou un accident risque
DISPOSER LE CABLAGE DE SORTE QU'IL NE SOIT PAS VRILLE OU PLIE
Acheminer les câbles et les fils de sorte qu'ils ne soient pas vrillés par des pièces mobiles
telles que le rail du siège ou qu'ils n'entrent pas en contact avec des points tranchants ou
pointus qui risquent d'endommager le câblage.
Montage avec la bande Velcro
TM
Cette méthode d'installation est suggérée lorsque l'emplacement de montage ne permet
UTILISER CETTE METHODE UNIQUEMENT QUAND L'UNITE EST MONTEE SUR UNE
SURFACE HORIZONTALE. NE JAMAIS MONTER UNE UNITE A L'ENVERS EN
UTILISANT LA BANDE VELCRO
TM
.
Retirer le papier protecteur sur une face de la bande adhésive Velcro
TM
.
Fixer la face exposée de la bande adhésive sur le dessous de l'unité, au milieu d'un
emplacement. Ne pas couvrir le numéro de série.
Vérifier que l'emplacement de montage est propre, sec et exempt de contaminants.
Retirer la bande protectrice de l'autre face de la bande Velcro
TM
.
Presser l'unité contre son emplacement de fixation.
Read this manual carefully before starting operation and use this system safely. We
cannot be responsible for problems resulting from failure to observe the instructions in
This manual uses various pictorial displays to show how to use this product safely and
to avoid harm to yourself and others and damage to your property. Here is what these
pictorial displays mean. Understanding them is important for reading this manual.
This label is intended to alert the user to the presence of important
Failure to heed the instructions will result in severe injury or death.
This label is intended to alert the user to the presence of important
Failure to heed the instructions can result in injury or material damage.
DO NOT DISASSEMBLE OR ALTER
Attempts to disassemble or alter may lead to accident, fire or electric shock.
BEFORE WIRING, DISCONNECT THE CABLE FROM THE NEGATIVE BATTERY
Before doing any electrical wiring, disconnect the cable from the negative (­) terminal of the
battery. Failure to do so may result in electric shock or injury due to electrical shorts.
KEEP ELECTRICAL CABLES TOGETHER TO AVOID OPERATING HAZARDS
Arrange wiring and cables in compliance with the installation manual to prevent obstruc-
tions when driving. Cables or wiring that obstructs or hangs up on places such as the
steering wheel, gear lever, brake pedals can be extremely hazardous.
DO NOT INSTALL IN LOCATIONS WHICH MIGHT HINDER VEHICLE OPERATION
Do not install in locations which might create hazards for the vehicle occupants or hinder
vehicle operation (such as the steering wheel or gear shift) by obstructing forward vision or
HALT USE IMMEDIATELY IF A PROBLEM APPEARS
When problems occur such as a lack of sound or video, foreign objects inside the unit,
smoke coming out, or noxious odors, stop use immediately and contact the dealer where
you bought the equipment.
HAVE THE WIRING AND INSTALLATION DONE BY EXPERTS
The wiring and installation of this unit requires special technical skill and experience. To
ensure safety, always contact the dealer where you purchased this unit to have the work
USE SPECIFIED ACCESSORY PARTS AND INSTALL THEM SECURELY
Be sure to use only the specified accessory parts. Use of other than designated parts may
damage this unit internally or may not securely install the unit in place as parts that come
loose can create hazards.
DO NOT INSTALL IN LOCATIONS WITH HIGH MOISTURE OR DUST
Avoid installing the unit in locations with high incidence of moisture or dust. Moisture or
dust that penetrates into this unit may cause smoke or fire.
MAKE THE CORRECT CONNECTIONS
Failure to make the correct connections can cause fire or accident to occur.
ARRANGE THE WIRING SO IT IS NOT CRIMPED OR PINCHED
Route the cables and wiring so as not be crimped by moving parts like seat rail or make
contact with sharp or pointed spots which might damage the wiring.
This installation method is suggested when the mounting location does not permit drilling.
USE THIS METHOD ONLY WHEN THE UNIT IS MOUNTED ON A HORIZONTAL
SURFACE. NEVER MOUNT A UNIT UPSIDE-DOWN USING THE VELCRO
TM
TAPE.
Remove the adhesive protective paper from one side of the Velcro
TM
tape.
Attach the exposed adhesive side to the underside of the Unit, in a central location. Do
not cover the serial number.
Make sure the mounting location is clean, dry and free from contaminants.
Remove the protective strip from the other side of the Velcro
TM
pad.
Press the unit onto its mounting location.
Lire attentivement ce manuel avant de commencer l'opération et l'utilisation du
système en toute sécurité. Nous dégageons toute responsabilité des problèmes
résultant du non-respect des instructions décrites dans ce manuel.
Ce manuel utilise divers affichages illustrés pour montrer comment utiliser cet appareil
en toute sécurité, pour éviter de s'exposer soi-même et les autres personnes aux
dangers et pour éviter d'endommager l'appareil. Voici la signification de ces affichages
illustrés. Il est important de bien les comprendre pour la lecture de ce manuel.
Signification des affichages
Puntos que debe respetar para un uso
Lea atentamente este manual antes de comenzar la operación y la utilización del
sistema sin riesgos. Declinamos toda responsabilidad si se ocasionan problemas por
no respetar las instrucciones dadas en este manual.
Este manual utiliza diversas ilustraciones para mostrar como utilizar este aparato de
manera segura, para evitar la exposición de sí mismo y de otras personas a peligros y
para evitar de estropear el aparato. He aquí la significación de dichas ilustraciones. Es
muy importante que las comprenda bien para la lectura de este manual.
Significación de las ilustraciones
Esta etiqueta previene al usuario de la presencia de instrucciones
de operación importantes.
Si no sigue estas instrucciones, corre el riesgo de ocasionar
heridas graves o mortales.
Esta etiqueta previene al usuario de la presencia de instrucciones
de operación importantes.
Si no sigue estas instrucciones, corre el riesgo de ocasionar
heridas o pérdidas materiales.
Si intentase desmontar o alterar el aparato podría ocasionar un accidente, incendio o
ANTES DE EFECTUAR EL CABLEADO, DESCONECTE EL CABLE DEL TERMINAL
Antes de efectuar el cableado eléctrico, desconecte el cable del terminal negativo (­) de la
batería. De no hacerlo así, podría ocasionar una descarga eléctrica o heridas debido a
cortocircuitos eléctricos.
AGRUPE LOS CABLES ELECTRICOS PARA EVITAR PELIGROS
Disponga los hilos y los cables de acuerdo con el manual de instalación para evitar
obstrucciones durante la conducción. Cables o hilos que obstruyan o cuelguen encima de
lugares como el volante, la palanca del cambio de velocidades o los pedales de freno
NO INSTALE EN LUGARES QUE IMPIDAN EL FUNCIONAMIENTO DEL VEHICULO
No instale en lugares en que pueda ocasionar riesgos para los pasajeros del vehículo o
impedir el funcionamiento del vehículo (como el volante o la palanca del cambio de
velocidades) obstruyendo la visión delantera o estorbando los movimientos, etc.
CESE EL USO INMEDIATAMENTE SI HAY ALGUN PROBLEMA
Cuando ocurra algún problema, como por ejemplo falta de sonido o de video, objetos
extraños dejados caer dentro de la unidad, olores nocivos o humo que salga de la unidad,
cese el uso del sistema inmediatamente y póngase en contacto con el distribuidor al que
haya comprado el aparato.
CONFIE EL CABLEADO Y LA INSTALACION A PROFESIONALES
El cableado y la instalación de este aparato necesitan una competencia y experiencia
técnica confirmada. Para garantizar la seguridad, contacte siempre el distribuidor al que ha
comprado el aparato para confiarle los trabajos a realizar.
UTILICE LOS ACCESORIOS ESPECIFICADOS E INSTALELOS FIRMEMENTE
Asegúrese de utilizar únicamente los accesorios especificados. La utilización de otras
piezas no designadas puede provocar daños en el interior del aparato o puede hacer que
la instalación no sea segura, ya que las piezas flojas pueden ser peligrosas.
NO INSTALE EN LUGARES MUY HUMEDOS O LLENOS DE POLVO
Evite instalar el aparato en lugares muy húmedos o con mucho polvo. La humedad o el
polvo que penetren en el aparato pueden ocasionar humo o un incendio.
EFECTUE LAS CONEXIONES CORRECTAMENTE
Si las conexiones no son efectuadas correctamente, puede producirse un incendio o un
DISPONGA EL CABLEADO DE MANERA QUE NO SEA AGUJEREADO O DOBLADO
Encamine los cables y los hilos de manera que no sean agujereados por piezas móviles
como el raíl del asiento o que no entren en contacto con puntos cortantes o afilados que
puedan dañar el cableado.
Instalación utilizando la cinta Velcro
TM
Este método de instalación se aconseja cuando no es posible perforar el lugar de
UTILICE ESTE METODO UNICAMENTE SI LA UNIDAD ESTA MONTADA EN UNA
SUPERFICIE HORIZONTAL. NUNCA MONTE UNA UNIDAD AL REVES UTILIZANDO LA
Retire el papel adhesivo de protección de uno de los lados de la cinta Velcro
TM
.
Fije el lado adhesivo expuesto en la parte inferior de la unidad, en el centro. No cubra
Asegúrese de que el lugar de montaje está limpio, seco y sin contaminación.
Retire la cinta de protección del otro lado del cojincillo Velcro
TM
.
Presione la unidad contra el lugar de instalación.
Please read before using this equipment.
Veuillez lire ce mode d'emploi avant la mise en service de l'appareil.
Lea antes de utilizar este equipo.
Lesen Sie diese Anleitung bitte vor der Inbetriebnahme.
(RCS PONTOISE B 338 101 280)
---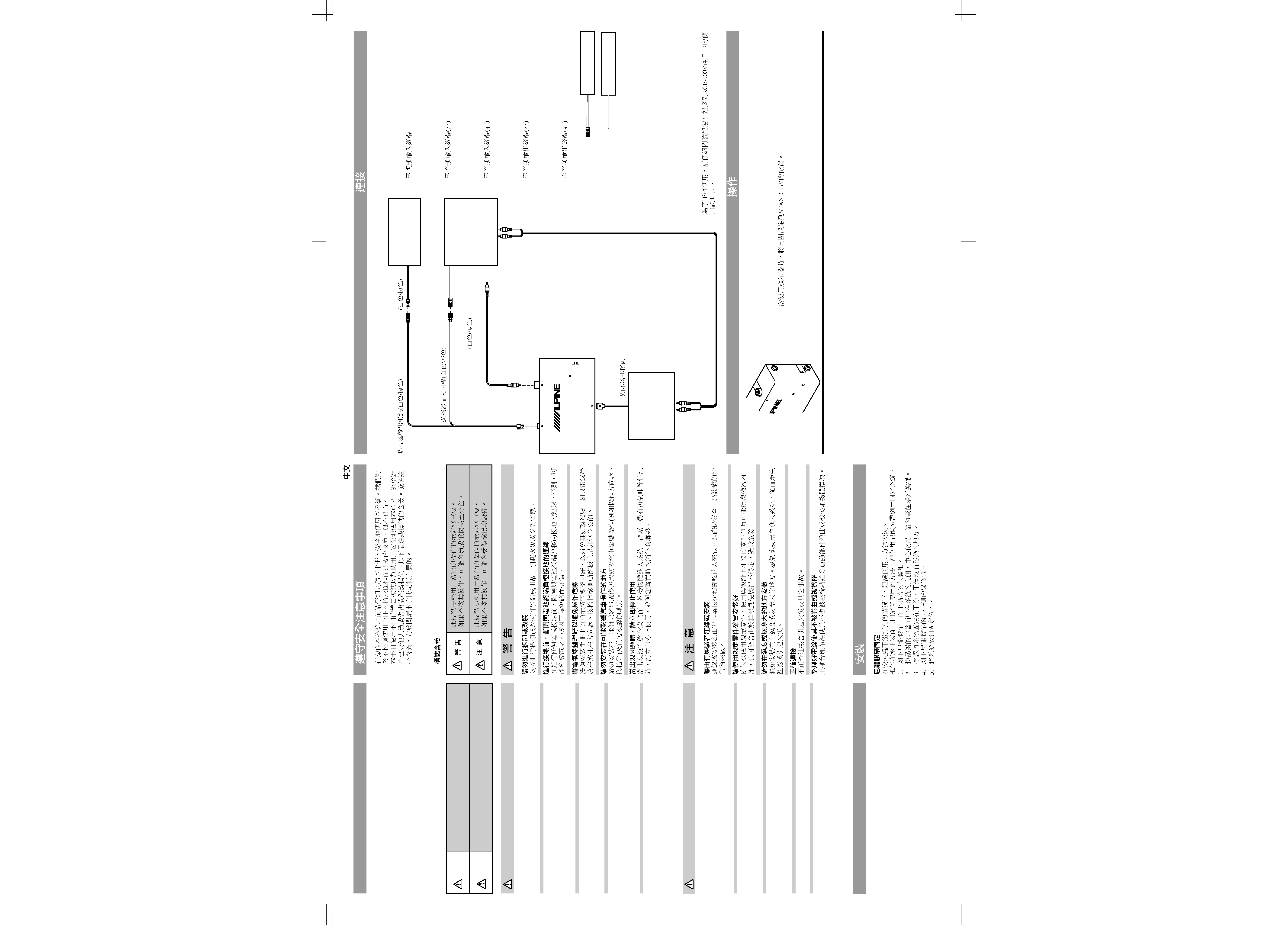 Connections/Connexions/Conexiones/Anschlüsse/
Tokyo office: 1-1-8 Nishi Gotanda,
Shinagawa-ku, Tokyo 141, Japan
ALPINE ELECTRONICS OF AMERICA, INC.
19145 Gramercy Place, Torrance,
Tel.: 1-800-ALPINE-1 (1-800-257-4631)
ALPINE ELECTRONICS OF CANADA, INC.
Suite 203, 7300 Warden Ave. Markham,
Tel.: 1-800-ALPINE-1 (1-800-257-4631)
ALPINE ELECTRONICS FRANCE S.A.R.L.
(RCS PONTOISE B 338 101 280)
98, Rue De La Belle Etoile, Z.I. Paris Nord II
B.P. 50016 F-95945, Roissy,
Charles de Gaulle Cedex, France
ALPINE ELECTRONICS OF U. K., LTD.
13 Tanners Drive, Blakelands,
Milton Keynes MK14 5BU, U.K.
ALPINE ELECTRONICS DE ESPAÑA, S.A.
Portal De Gamarra 36, Pabellón 32
01013 Vitoria (Alava) - Apdo. 133, Spain
ALPINE ELECTRONICS OF AUSTRALIA PTY. LTD.
6-8 Fiveways Boulevarde Keysborough,
Brandenburger Strasse 2-6 D-40880 Ratingen,
Via C. Colombo 8, 20090 Trezzano Sul
Maßregeln für sicheren Betrieb
Vor der erstmaligen lnbetriebnahme sollten Sie diese Bedienungsanleitung
aufmerksam durchlesen. Benutzen Sie dieses System auf sichere Weise. Wir
übernehmen keine Haftung für Störungen, die auf eine unsachgemäße Bedienung und
Nichtbeachten der Anweisungen in dieser Anleitung zurückzuführen sind.
Verschiedene Symbole in dieser Bedienungsanleitung sollen den sicheren Gebrauch
dieses Systems verdeutlichen und dazu beitragen, Personenverletzungen und
Sachschäden zu vermeiden. Im folgenden wird die Bedeutung dieser Symbole
beschrieben. Bitte beachten Sie die Bedeutung dieser Symbole beim Lesen dieser
NICHT ZERLEGEN ODER VERänDERN
Jeder Versuch einer Zerlegung oder Veränderung kann zu einem Unfall, Brand oder
elektrischen Schlag führen.
VOR DER VERKABELUNG DAS MASSEKABEL VOM MINUSPOL DER BATTERIE
Vor einem elektrischen Kabelanschluß das Massekabel vom Minuspol (­) der Batterie
abklemmen. Wenn diese Vorsichtsmaßregeln nicht befolgt wird, können elektrische
Schläge oder Verletzungen aufgrund von elektrischen Kürzschlüssen verursacht werden.
ELEKTRISCHE KABEL ZUR SICHERHEIT BünDELN
Alle Kabel gemäß Installationsanleitung verlegen, um Behinderungen beim Fahren zu
vermeiden. Ein Kabel, das am Lenkrad, Schalthebel, Bremspedal usw. herunterhängt oder
derartig wichtige Bedienungselemente behindert, kann außerordentlich gefährlich sein.
NICHT AN STELLEN ANBRINGEN, DIE DEN FähRZEUGBETRIEB BEHINDERN
Nicht an Stellen anbringen, an denen das System eine Gefahr für die Insassen darstellen
oder den Fahrbetrieb (wie z.B. Lenken oder Schalten) durch Behindern der Sicht nach
vorne oder der Bewegung usw. beeinträchtigen könnte.
IM FALLE EINER STörUNG DEN GEBRAUCH UNVERZügLICH EINSTELLEN
Im Störungsfalle, z.B. kein Ton oder Bild, Fremdkörper im Gerät, Entwicklung von Rauch
oder ungewöhnlichen Geruchs, den Betrieb sofort einstellen. Wenden Sie sich in einem
solchen Falle an den Händler bei dem Sie das System erworben haben.
VERKABELUNG UND INSTALLATION SIND QUALIFIZIERTEM PERSONAL ZU
Verkabelung und Installation dieses Systems erfordert spezielle technische Qualifikationen
und Erfahrung. Aus Sicherheitsgründen sollten Sie diese Arbeit von Ihrem Händler
DIE VORGESCHRIEBENEN ZUBEHörTEILE VERWENDEN UND SICHER ANBRIGEN
Es dürfen nur die vorgeschriebenen Zubehörteile verwendet werden. Durch den Gebrauch
eines anderen als eines vorgeschriebenen Zubehörteils kann dieses Gerät intern
beschädigt oder nicht richtig festgehalten werden.
NICHT AN EINER FEUCHTEN ODER STAUBIGEN STELLE ANBRIGEN
Das System nicht an einer Stelle mit einem hohen Aufkommen an Feuchtigkeit oder Staub
installieren. Eindringen von Feuchtigkeit oder Staub kann zu Rauchbildung oder Brand
DIE RICHTIGEN ANSCHLüsSE HERSTELLEN
Falsche Anschlüsse können Brand und Unfälle verursachen.
KABEL SO VERLEGEN, DASS SICH NICHT ABGEKNICKT ODER EINGEKLEMMT
Alle Kabel so verlegen, daß Sie nicht durch bewegliche Teile, wie z.B. eine Sitzschiene,
beschädigt werden können oder mit scharfen oder spitzen Stellen in Berührung kommen.
Montage mit Velcro
TM
-Band
Diese Montagemethode wird empfohlen, wenn am Montageort nicht gebohrt werden kann.
VERWENDEN SIE DIESE METHODE NUR, WENN DAS GERÄT AUF EINER
WAAGERECHTEN OBERFLÄCHE MONTIERT IST. MONTIEREN SIE EIN GERÄT NIE
ANDERSHERUM, INDEM SIE DAS VELCRO
TM
-BAND VERWENDEN.
Entfernen Sie das Schutzpapier von einer Seite des Velcro
TM
-Bandes.
Bringen Sie die freigelegte Klebeseite an der Unterseite der Einheit in der Mitte an.
Überdecken Sie die Seriennummer nicht.
Überzeugen Sie sich davon, daß der Montageort sauber, trocken und frei von
Entfernen Sie den Schutzstreifen von der anderen Seite des Velcro
TM
-kissens.
Drücken Sie das Gerät an den Montageort.
Kennzeichnet wichtige Betriebsanweisungen.
Eine Nichtbefolgung dieser Anweisungen kann zu ernsthaften
Personenverletzungen und Todesfällen führen.
Kennzeichnet wichtige Betriebsanweisungen.
Eine Nichtbefolgung dieser Anweisungen kann zu ernsthaften
Personenverletzungen und Sachschäden führen.
Operation/Fonctionnement/Operación/Bedienung/
(White/Brown)/(Blanc/Marron)/
(Blanco/Marrón)/(Weiß/Braun)/
Remote control input lead (White/Brown)
Conducteur d'entrée de télécommande (Blanc/Marron)
Conductor de entrada de control remoto (Blanco/Marrón)
Fernbedienung-Eingangskabel (Weiß/Braun)
Remote control output lead (White/Brown)
Conducteur de sortie de télécommande (Blanc/Marron)
Conductor de salida de control remoto (Blanco/Marrón)
Fernbedienung-Ausgangskabel (Weiß/Braun)
1
To Video Input Terminal
Vers la borne d'entrée vidéo
Al terminal de entrada video
Zur Video-Eingangssteckbuchse
2
To Audio Input Terminal (L)
Vers la borne d'entrée audio (gauche)
Al terminal de entrada audio (izquierdo)
Zur Audio-Eingangssteckbuchse (L)
3
To Audio Input Terminal (R)
Vers la borne d'entrée audio (droite)
Al terminal de entrada audio (derecho)
Zur Audio-Eingangssteckbuchse (R)
4
To Audio Output Terminal (L)
Vers la borne de sortie audio (gauche)
Al terminal de salida audio (izquierdo)
Zur Audio-Ausgangssteckbuchse (L)
5
To Audio Output Terminal (R)
Vers la borne de sortie audio (droite)
Al terminal de salida audio (derecho)
Zur Audio-Ausgangssteckbuchse (R)
RGB / COMPOSITE CONVERTER KCE-100V
When using the monitor, set the switch to STAND BY position.
Lors de l'utilisation du moniteur, régler le commutateur sur la position STAND BY.
Cuando utilice el monitor, ajuste el conmutador a la posición STAND BY.
Wenn Sie den Bildschirm benutzen, bringen Sie den Schalter in die STAND BY-Position.
55 For proper use, read thoroughly the Owner's Manual attached
to the product connected to KCE-100V.
Zum richtigen Gebrauch lesen Sie gründlich das
Besitzerhandbuch für Zubehör, welches zu KCE-100V gehört.
Prière de lire attentivement le manuel du propriétaire fourni
avec le produit connecté au KCE-100V, pour un usage
Lea por favor, con atención, el manual del propietario que
viene con el producto conectado al KCE-100V, para un uso
---