3-DISC COMPACT DISC CHANGER MAGAZINE
MAGASIN SUPPLEMENTAIRE 3 DISQUES
---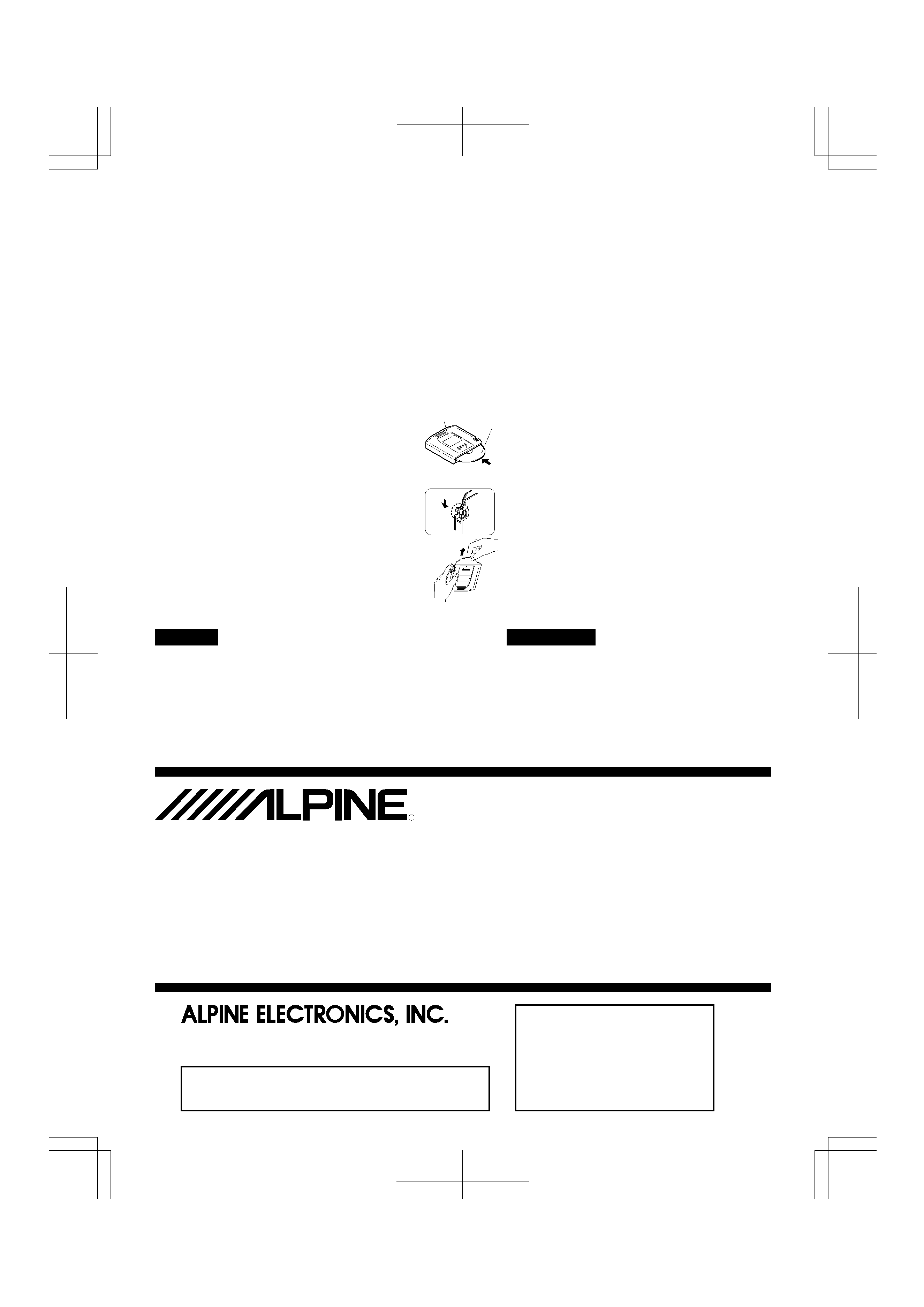 3-DISC COMPACT DISC CHANGER MAGAZINE
MAGASIN SUPPLEMENTAIRE 3 DISQUES
MADE IN JAPAN / FABRIQUE AU JAPON
Tokyo Office : 1-1-8 Nishi Gotanda,
Shinagawa-ku, Tokyo 141, Japan
ALPINE ELECTRONICS OF AMERICA, INC.
19145 Gramercy Place,Torrance,
Tel. : 1-800-ALPINE-1 (1-800-257-4631)
ALPINE ELECTRONICS OF CANADA, INC.
Suite 203, 7300 Warden Ave. Markham,
Tel. : 1-800-ALPINE-1 (1-800-257-4631)
ALPINE ELECTRONICS OF AUSTRALIA PTY. LTD.
Keysborough, Victoria 3173, Australia
Brandenburger Strasse 2-6 D-40880 Ratingen,
Via C. Colombo 8, 20090 Trezzano Sul
ALPINE ELECTRONICS FRANCE S.A.R.L.
(RCS PONTOISE B 338 101 280)
98, Rue De La Belle Etoile, Z.I. Paris Nord ll
B.P. 50016 F-95945, Roissy,
Charles De Gaulle Cedex, France
ALPINE ELECTRONICS OF U.K., LTD.
13 Tanners Drive, Blakelands,
Milton Keynes MK 14 5BU, U.K.
ALPINE ELECTRONICS DE ESPAÑA, S.A.
Portal De Gamarra 36, Pabellón 32
01013 Vitoria(Alava)-Apdo. 133, Spain
OWNER'S MANUAL/MODE D'EMPLOI
Before using, study the owner's manual of the changer
Keep out the CD magazine from direct sunshine.
Do not drop or throw the magazine.
Insert up to 3 discs into the CD magazine. Make sure
the label side is facing up (Fig.1).
To remove a disc from the magazine, push the lever for
the disc you wish to eject. The disc will come halfway
out from the CD magazine.
Grasping the disc from its edge, pull the disc the rest of
Hold the disc so you will not leave fingerprints on the
disc surface (refer to "Disc Care" section of your Owner's
Do not handle the magazine while driving.
Let magazine come to a FULL AND COMPLETE STOP,
Précautions lors de l'utilisation
Avant l'utilisation, étudier avec soin le mode d'emploi
Eloigner le magasin CD de la lumière directe du soleil.
Ne pas laisser tomber le magasin et ne le lancer.
Préparation pour la lecture
Insérer les disques (jusqu'à 3) dans le magasin de
disques compacts. Vérifiez que la face imprimée est
tournée vers le haut (Fig.1).
Pour retirer un disque du magasin, appuyer sur le levier
correspondant du disque que vous voulez éjecter. Le
disque sortira à moitié du magasin de disques compacts.
Saisir le disque par le bord extérieur jusqu'à le faire
sortir complètement (Fig.2).
Tenez le disque de manière à ne pas laisser d'empreintes
sur sa surface (reportez-vous à la section "Entretien du
disque" du mode d'emploi).
Ne pas manipuler le magasin pendant la conduite.
Attendre que le magasin SOIT COMPLETEMENT
ARRETE avant de le retirer.
---