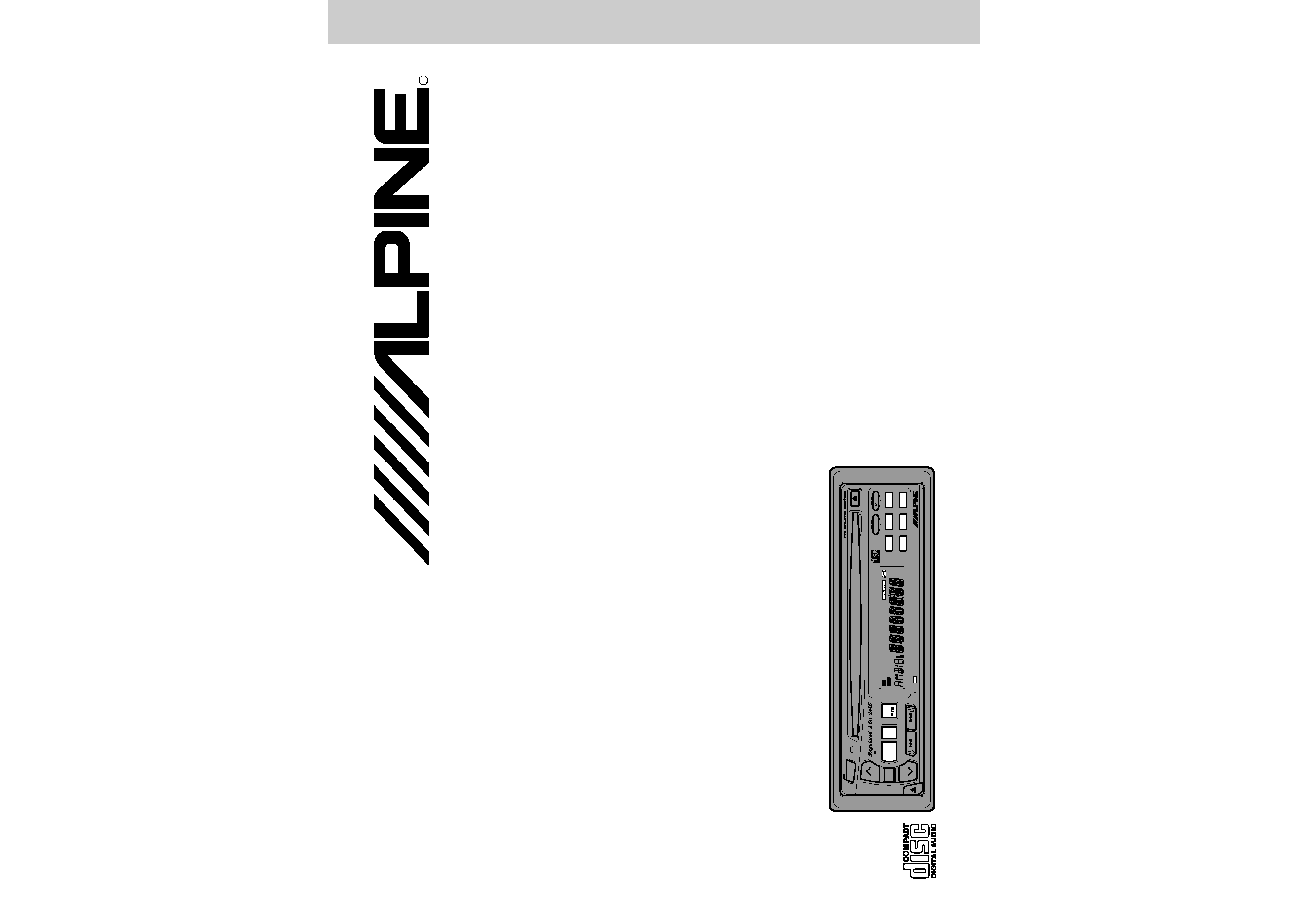 Please read this manual to maximize your enjoy-
ment of the outstanding performance and feature
capabilities of the equipment, then retain the
manual for future reference.
Veuillez lire ce mode d'emploi pour tirer pleinement
profit des excellentes performances et fonctions
de cet appareil, et conservez-le pour toute référen-
Lea este manual, por favor, para disfrutar al máxi-
mo de las excepcionales prestaciones y posibilida-
des funcionales que ofrece el equipo, luego
guarde el manual para usarlo como referencia en
---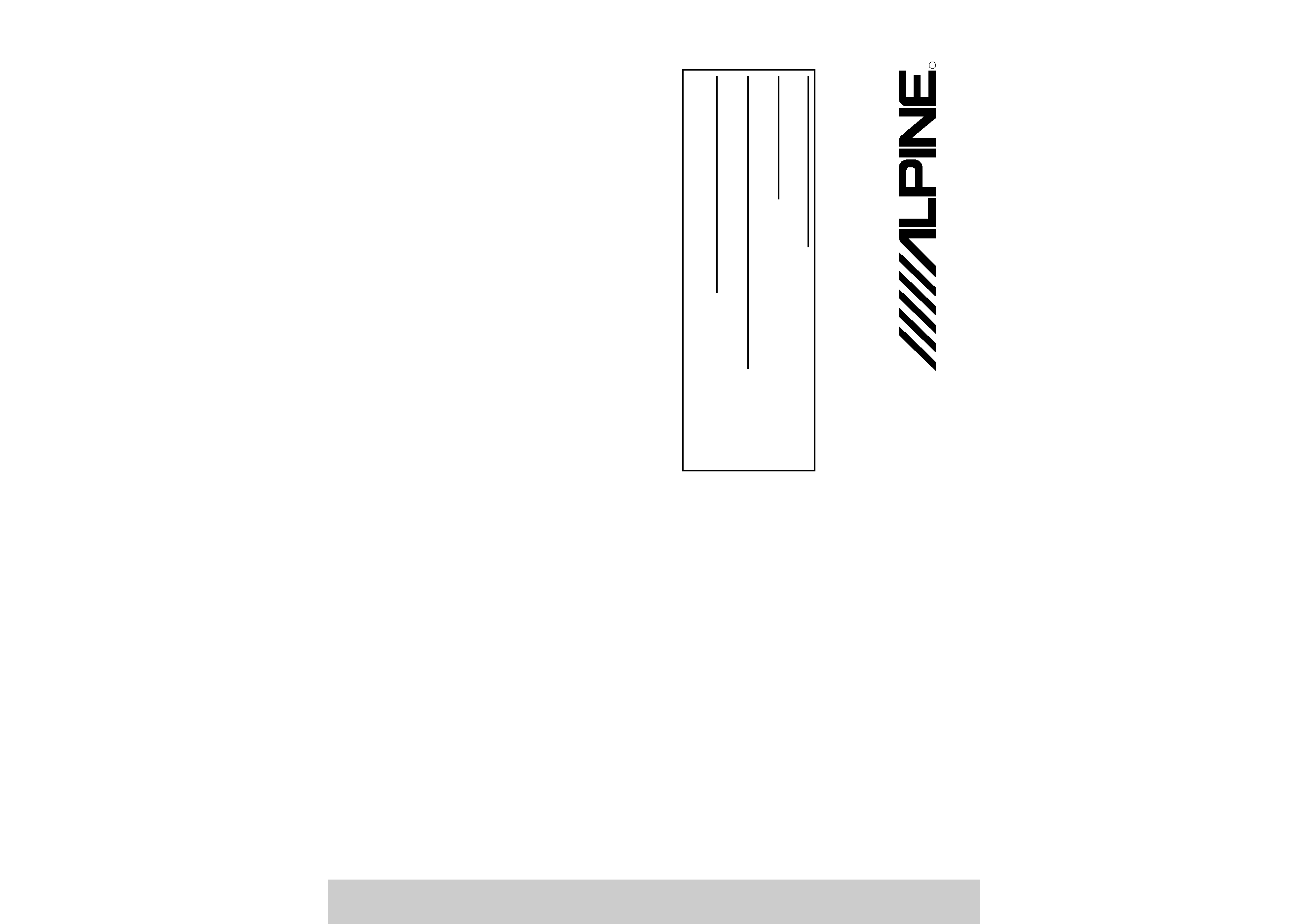 Tokyo office: 1-1-8 Nishi Gotanda,
Shinagawa-ku, Tokyo 141-8501, Japan
ALPINE ELECTRONICS OF AMERICA, INC.
19145 Gramercy Place, Torrance,
Tel.: 1-800-ALPINE-1 (1-800-257-4631)
ALPINE ELECTRONICS OF CANADA, INC.
Suite 203, 7300 Warden Ave. Markham,
Tel.: 1-800-ALPINE-1 (1-800-257-4631)
ALPINE ELECTRONICS OF AUSTRALIA PTY. LTD.
6-8 Fiveways Boulevarde Keysborough,
Brandenburger Strasse 2-6 D-40880 Ratingen,
Via C. Colombo 8, 20090 Trezzano Sul
ALPINE ELECTRONICS FRANCE S.A.R.L.
(RCS PONTOISE B 338 101 280)
98, Rue De La Belle Etoile, Z.I. Paris Nord Il
B.P. 50016 F-95945, Roissy,
Charles De Gaulle Cedex, France
ALPINE ELECTRONICS OF U.K., LTD.
13 Tanners Drive, Blakelands,
Milton Keynes MK14 5BU, U.K.
ALPINE ELECTRONICS DE ESPAÑA, S.A.
Portal De Gamarra 36, Pabellón 32
01013 Vitoria (Alava)-Apdo. 133, Spain
INSTALLATION DATE/DATE D'INSTALLATION/FECHA DE
TECHNICIAN/INSTALLATEUR/INSTALADOR:
D'ACHAT/LUGAR DE ADQUISICION:
---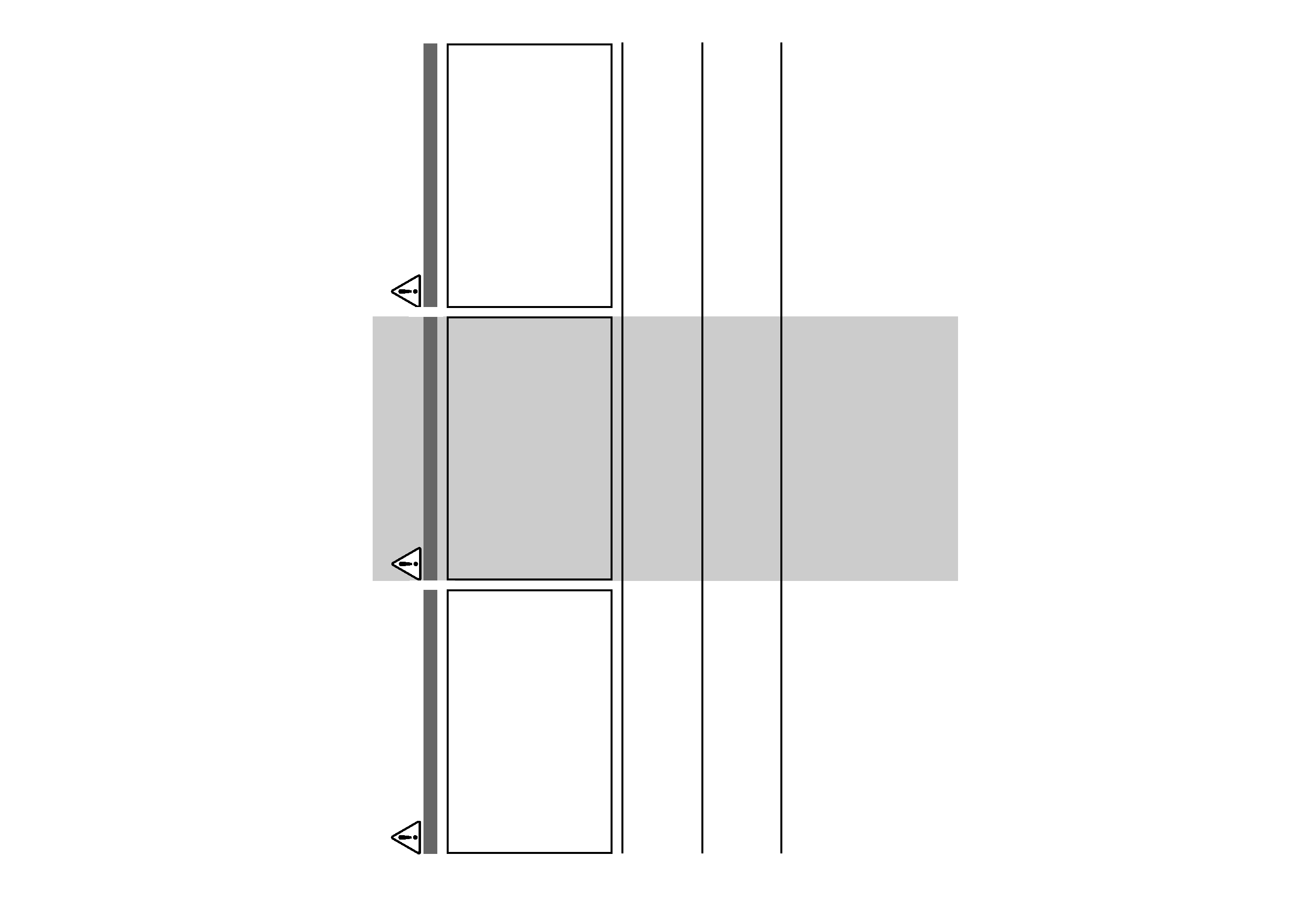 Le point d'exclamation dans un
triangle équilatéral et la mention
"AVERTISSEMENT" sont destinés
à attirer l'attention de l'utilisateur
sur la présence d'instructions
Le non respect de ces instructions
peut provoquer de graves blessu-
NE PAS DEMONTER NI MODIFIER.
Il y a risque d'accident ou de choc
NE PAS LAISSER DE PETITES PIECES
A PORTEE DES ENFANTS. En cas
immédiatement un médecin.
L'AMPERAGE APPROPRIE. Sinon il y
a risque d'incendie ou de choc
El símbolo de exclamación dentro
del triángulo y "ADVERTENCIA",
tienen como fin alertar al usuario
de la presencia de instrucciones de
El hacer caso omiso de las instruc-
ciones podría resultar en heridas
NO DESMONTE O ALTERE. Si lo hace,
podrá ocasionar un accidente,
incendio o descarga eléctrica.
MANTENGA LOS OBJETOS PEQUEÑOS
FUERA DEL ALCANCE DE LOS NIÑOS.
Si tragasen algo, consulte a un
UTILICE EL AMPERAJE CORRECTO
CUANDO CAMBIE FUSIBLES. De lo
contrario, podrá ocasionar un
incendio o descarga eléctrica.
The exclamation point within an
equilateral triangle and "WARN-
ING" are intended to alert the user
to the presence of important oper-
Failure to heed the instructions will
result in severe injury or death.
DO NOT DISASSEMBLE OR ALTER.
Doing so may lead to accident, fire or
KEEP SMALL ARTICLES OUT OF THE
REACH OF CHILDREN. If swallowed,
consult a physician immediately.
USE THE CORRECT AMPERE RATING
WHEN REPLACING FUSES. Failure to
do so may result in fire or electric
---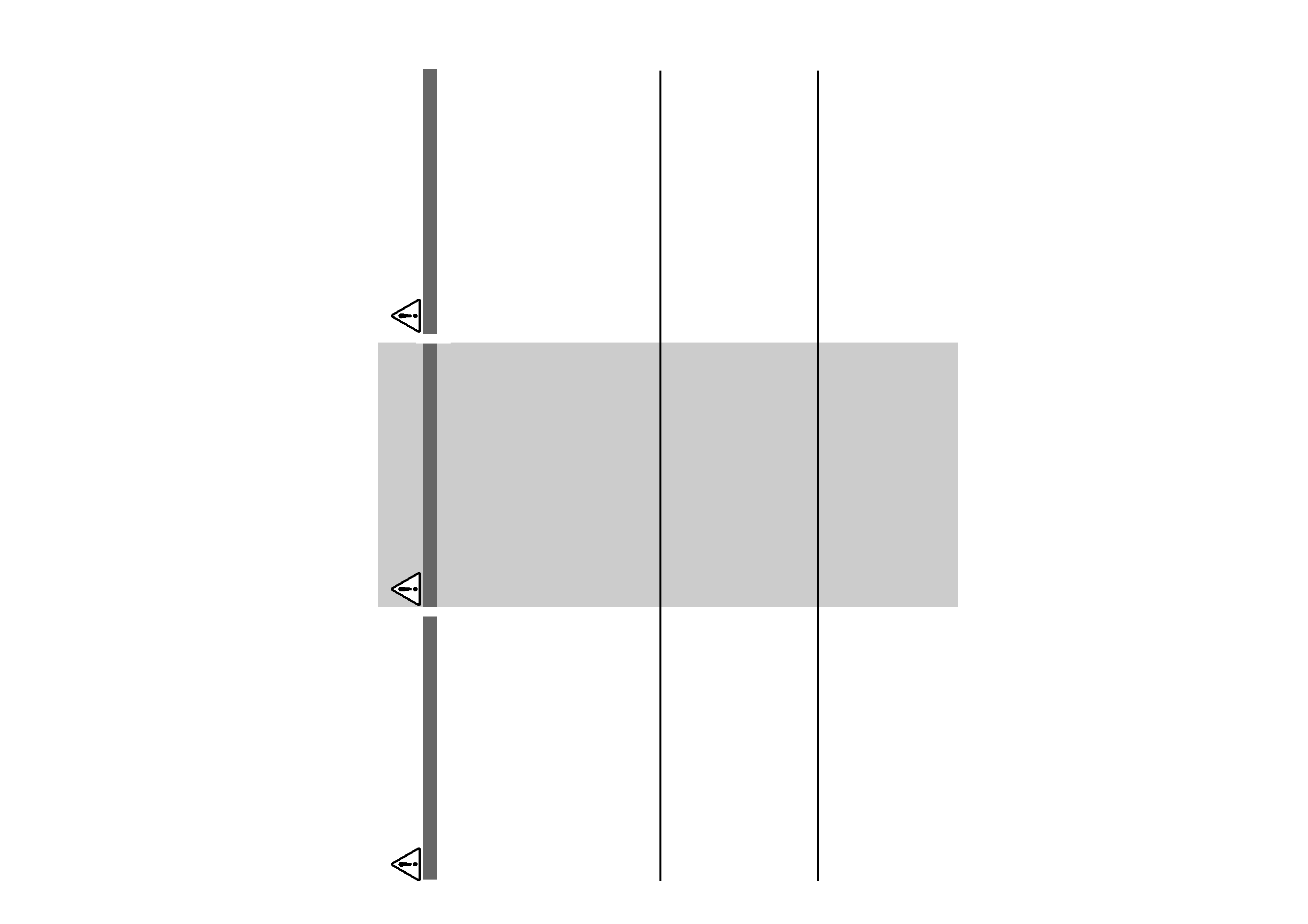 HALT USE IMMEDIATELY IF A PROB-
LEM APPEARS. When problems occur
such as a lack of sound or video,
foreign objects inside the unit, smoke
coming out, or noxious odors, stop
use immediately and contact the
dealer where you bought the equip-
ment. Failure to do so may result in
DO NOT OPERATE THE EQUIPMENT
OR LOOK AT THE SCREEN WHILE
DRIVING THE VEHICLE. Operating the
equipment may distract the driver
from looking ahead of the vehicle and
cause accident. Always stop the
vehicle in a safe location before
operating this equipment.
DO NOT RAISE THE VOLUME EXCES-
SIVELY. Keep the volume at a level
where you can still hear outside
noises while driving. Driving while
unable to hear outside noises could
be the cause of accident.
ARRETEZ-VOUS IMMEDIATEMENT
EN CAS DE PROBLEME. Si un
problème se présente, absence du
son ou de l'image, objets tombés
dans l'appareil, dégagement de
fumée ou d'odeurs nocives, arrêtez-
vous immédiatement et contactez le
revendeur où vous avez acheté
l'appareil. Il y a risque d'accident et
NE PAS FAIRE DE REGLAGES OU
REGARDER L'ECRAN PENDANT LA
CONDUITE. Votre attention sera
détournée de la route et vous ris-
quez un accident. Avant de faire
fonctionner l'appareil, arrêtez-vous et
garez-vous dans un lieu sûr.
VOLUME. Réglez le volume de
manière à pouvoir entendre les
bruits extérieurs pendant la conduite.
Si vous ne pouvez pas entendre les
bruits extérieurs quand vous
conduisez, vous risquez un accident.
DEJE DE USARLO INMEDIATAMENTE
SI APARECE ALGUN PROBLEMA.
Cuando ocurran problemas tales
como falta de sonido o vídeo, caiga
algún objeto dentro de la unidad, el
aparato despida humo u olores
inmediatamente y póngase en
contacto con el distribuidor al que
haya comprado el equipo. En caso
contrario podrá ocasionar un
NO OPERE EL EQUIPO NI MIRE A LA
CONDUCIENDO EL VEHICULO. La
operación del equipo podrá distraer al
conductor de su atención en la
carretera y ocasionar un accidente.
Pare siempre el vehículo en un lugar
seguro antes de operar el equipo.
EXCESIVAMENTE. Mantenga el
volumen a un nivel que no le impida
escuchar los sonidos del exterior
mientras conduce. El conducir sin
poder escuchar los ruidos del exterior
puede ocasionar un accidente.
---

DO NOT USE THIS EQUIPMENT FOR
PURPOSES OTHER THAN STATED FOR
THE VEHICLE. Failure to do so may
result in electric shock or injury.
DO NOT PLACE FOREIGN OBJECTS
IN INSERTION SLOTS OR GAPS. Do
not insert hands, fingers or foreign
objects in the disc or cassette inser-
tion slots, or in gaps during monitor
startup/storage. Doing so may result
in personal injury or damage to the
DO NOT MIX NEW BATTERIES WITH
OLD BATTERIES. INSERT WITH THE
CORRECT BATTERY POLARITY. When
inserting the batteries, be sure to
observe proper polarity (+ and ­) as
instructed. Rupture or chemical
leakage from the battery may cause
NE PAS UTILISER L'APPAREIL DANS
ENONCES. Il y a risque de choc
électrique ou de blessure.
NE PAS INSERER D'OBJETS ETRAN-
GERS DANS LES FENTES D'INSER-
TION OU ORIFICES. Ne pas mettre
les mains, les doigts ou des objets
étrangers dans les fentes d'insertion
de disque ou de cassette, ou dans
les orifices pendant la mise en
marche/ rangement de l'appareil.
Vous pourriez vous blesser ou
NE PAS UTILISER EN MEME TEMPS
DES PILES USEES ET DES PILES
NEUVES. RESPECTEZ AUSSI LA
POLARITE DES PILES. Quand vous
insérez les piles, veillez à respecter
la polarité (+) et (­), comme indiqué.
Une rupture ou une fuite des piles
peuvent causer un incendie ou des
NO UTILICE ESTE EQUIPO CON
OTROS FINES A LOS INDICADOS
PARA EL VEHICULO. De lo contrario,
podrá ocasionar una descarga
EXTRAÑOS EN LAS RANURAS DE
INSERCION O EN LAS ABERTURAS.
No introduzca las manos, los dedos ni
objetos extraños en las ranuras de
inserción de discos o cintas, o en las
aberturas cuando prepare/guarde el
monitor. Si lo hiciera, podrá sufrir
heridas personales u ocasionar daños
NO MEZCLE PILAS NUEVAS CON
VIEJAS. INSERTELAS CON LAS
POLARIDADES CORRECTAMENTE
ORIENTADAS. Cuando las inserte en
su compartimento, cerciórese de
colocarlas con las polaridades (+ y ­)
como se indica. La rotura o la fuga de
sustancias químicas de la batería
podrá ocasionar un incendio o heridas
---