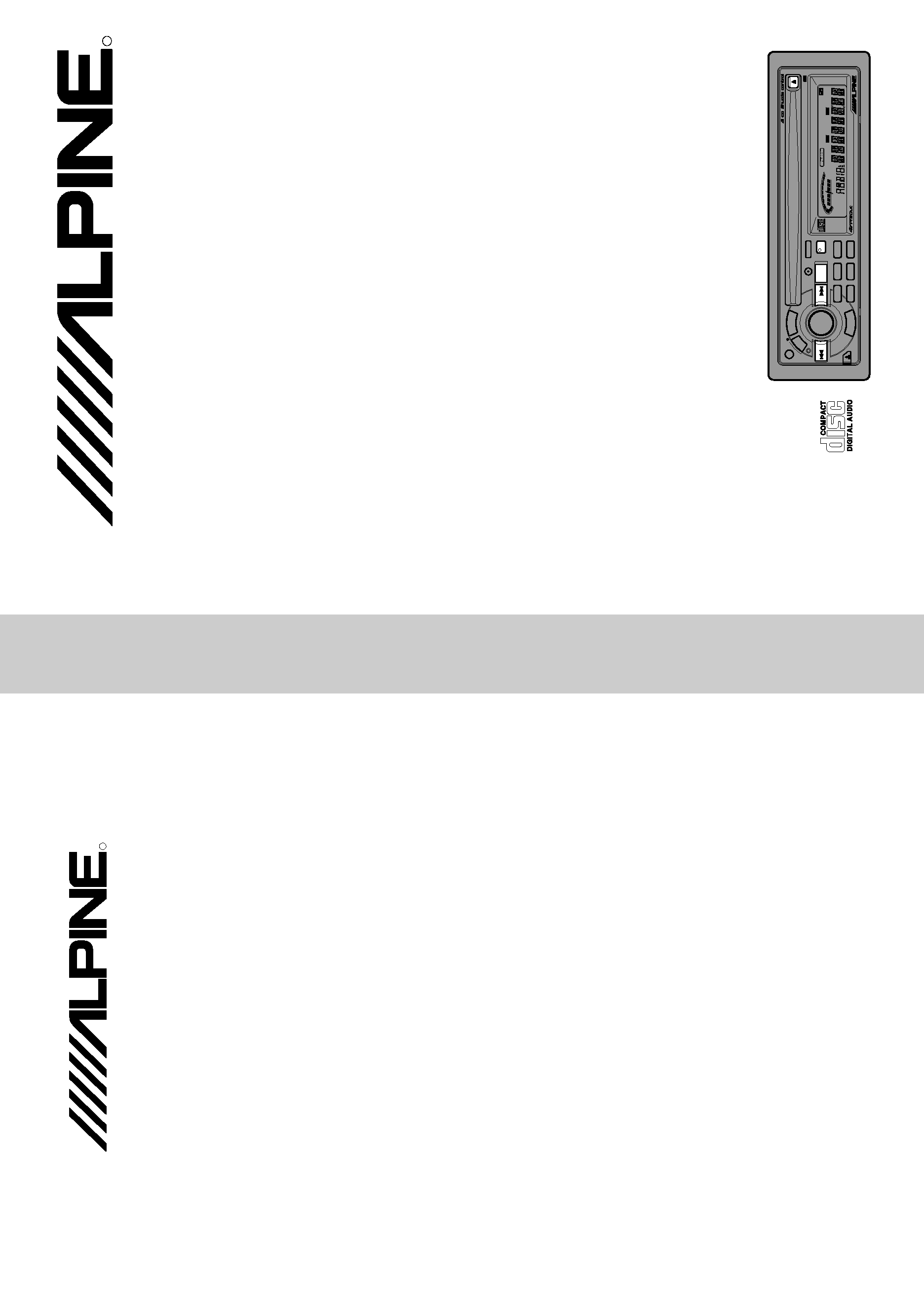 Tokyo office: 1-1-8 Nishi Gotanda,
Shinagawa-ku, Tokyo 141, Japan
ALPINE ELECTRONICS OF AMERICA, INC.
19145 Gramercy Place, Torrance,
ALPINE ELECTRONICS OF CANADA, INC.
Suite 203, 7300 Warden Ave. Markham,
ALPINE ELECTRONICS OF AUSTRALIA PTY. LTD.
6-8 Fiveways Boulevarde Keysborough,
Brandenburger Strasse 2-6 D-40880 Ratingen,
Via C. Colombo 8, 20090 Trezzano Sul
ALPINE ELECTRONICS FRANCE S.A.R.L.
98, Rue De La Belle Etoile, Z.I. Paris Nord Il
B.P. 50016 F-95945, Roissy,
Charles De Gaulle Cedex, France
ALPINE ELECTRONICS OF U.K., LTD.
13 Tanners Drive, Blakelands,
Milton Keynes MK14 5BU, U.K.
ALPINE ELECTRONICS DE ESPAÑA, S.A.
Portal De Gamarra 36, Pabellón 32
01013 Vitoria (Alava)-Apdo. 133, Spain
Please read this manual to maximize your enjoy-
ment of the outstanding performance and feature
capabilities of the equipment, then retain the
manual for future reference.
Veuillez lire ce mode d'emploi pour tirer pleinement
profit des excellentes performances et fonctions
de cet appareil, et conservez-le pour toute référen-
Lea este manual, por favor, para disfrutar al máxi-
mo de las excepcionales prestaciones y posibilida-
des funcionales que ofrece el equipo, luego
guarde el manual para usarlo como referencia en
FM/MW/LW/RDS Compact Disc
---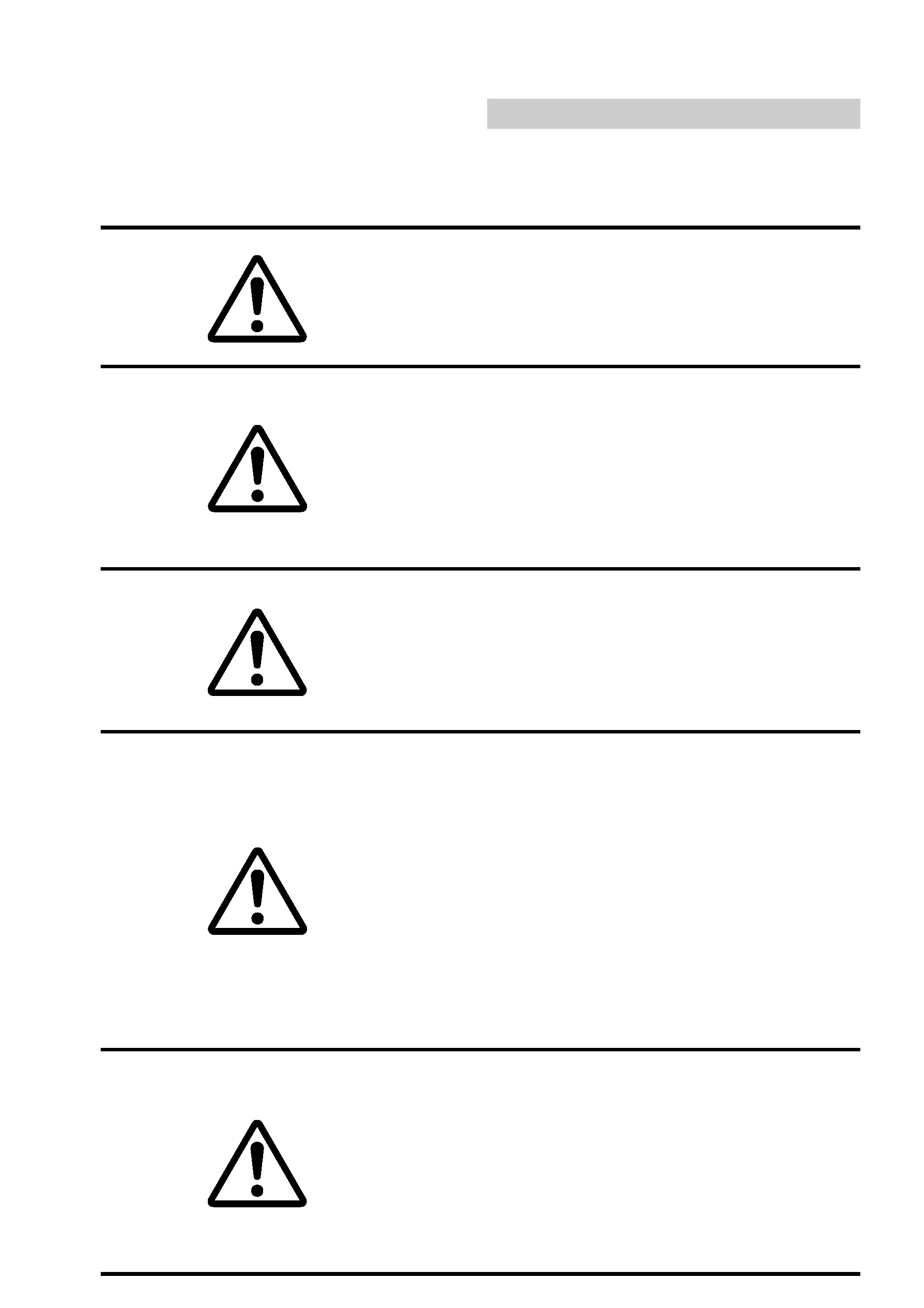 DO NOT DISASSEMBLE OR ALTER
Attempts to disassemble or alter may
lead to an accident, fire and/or electric
KEEP SMALL ARTICLES OUT OF THE
Store small articles (batteries, screws,
etc.) in places not accessible to
children. If swallowed, consult a
USE THE CORRECT AMPERE RATING
Replace fuses only with fuses of the
same ampere rating. Failure to do so
may result in a fire and/or damage to
HALT USE IMMEDIATELY IF A PROB-
When problems appear, stop using
the system immediately and contact
the dealer from whom you purchased
the equipment. Some problems which
may warrant immediate attention
include a lack of sound, noxious odors
or smoke being emitted from the unit,
or foreign objects dropped inside the
DO NOT OPERATE THE REMOTE
Do not change settings while driving.
If operation requiring a prolonged
view of the display is required, stop
the vehicle in a safe location before
---

NE PAS DEMONTER NI MODIFIER
Toute tentative de démontage ou de
modification peut provoquer un
accident, incendie et/ou un choc
NE PAS LAISSER DE PETITES PIECES
Rangez les petites pièces (piles, vis,
etc.) dans des endroits inaccessibles
aux enfants. En cas d'ingestion,
consultez immédiatement un
Afin d'éviter tout risque d'incendie et/
ou de dommage, remplacez les
fusibles par des fusibles de même
L'APPAREIL EN CAS DE PROBLEME
Quand un problème apparaît, ab-
sence de son, odeurs nocives ou
fumée provenant de l'appareil,
pénétration d'objets dans l'appareil,
arrêtez immédiatement l'appareil et
contactez votre revendeur.
NE PAS UTILISER LA TELECOMMAN-
Ne pas changer de réglage pendant
la conduite. Si vous devez regarder
de manière prolongée l'affichage
pour effectuer une opération, garez
auparavant le véhicule dans un lieu
Si intentase desmontar o alterar el
aparato podría ocasionar un
accidente, incendio y/o descarga
PEQUEÑOS FUERA DEL ALCANCE DE
Guarde los objetos pequeños (pilas,
tornillos, etc.) en lugares donde los
niños no puedan acceder a ellos. Si
tragasen algo, consulte a un médico
UTILICE EL AMPERAJE CORRECTO
Reemplace los fusibles solamente por
otros del mismo amperaje. De no
hacerlo así podría ocasionar un
incendio y/o daños al vehículo.
INMEDIATAMENTE SI OCURRIESE
Cuando ocurra algún problema, cese el
uso del sistema inmediatamente y
póngase en contacto con el distribuidor
al que haya comprado el aparato. Entre
algunos de los problemas que podrían
justificar una atención inmediata cabe
citar la falta de sonido, olores nocivos
o humo que salga de la unidad, u
objetos extraños dejados caer dentro
NO UTILICE EL CONTROLADOR
No cambie los ajustes mientras
conduzca. Si va a realizar una
operación que le vaya a llevar tiempo
mirando el visualizador, pare el
vehículo en un lugar seguro antes de
ponerse a realizar la operación.
---

DO NOT RAISE THE VOLUME EXCES-
Keep the volume at a level where you
can still hear outside noises while
driving. Driving while unable to hear
outside sounds could cause an accident.
DO NOT USE THIS EQUIPMENT
Do not use this equipment for pur-
poses other than those listed for a
vehicle. Failure to do so may result in
an electric shock or an injury.
KEEP FOREIGN OBJECTS OUT OF THE
Keep any foreign objects, including
fingers, out of the CD compartment
STOP THE VEHICLE BEFORE CARRY-
ING OUT ANY OPERATION THAT
COULD INTERFERE WITH YOUR
If loading or unloading a CD interferes
with your driving, stop the vehicle in a
safe location before attempting
DO NOT REPLACE THE BATTERY WITH
ONE NOT SPECIFIED. INSERT WITH
THE CORRECT BATTERY POLARITY
Do not replace with other than speci-
fied battery. When inserting the
battery, be sure to observe proper
polarity (+ and ­) as instructed.
Battery rupture or chemical leakage
can cause an injury or equipment
---

Réglez le volume de manière à
pouvoir entendre les bruits extérieurs
pendant la conduite, afin d'éviter tout
NE PAS UTILISER CET APPAREIL
Ne pas utiliser cet appareil dans
d'autres buts que ceux indiqués pour
un véhicule. Il y a sinon risque
d'électrocution et de blessure.
ETRANGERS DANS LE LOGEMENT DE
Ne rien insérer, à part les disques, ni
mettre les doigts dans le logement de
ARRETEZ LE VEHICULE AVANT
D'EFFECTUER UNE OPERATION QUI
POURRAIT PERTURBER LA CONDUITE
Si l'insertion ou l'éjection d'un disque
perturbe la conduite, garez le
véhicule dans un lieu sûr avant
REMPLACEZ LA BATTERIE PAR UNE
BATTERIE DU TYPE SPECIFIE A
L'EXCLUSION DE TOUT AUTRE.
RESPECTEZ LA POLARITE DE LA PILE
Ne pas remplacer la pile par un autre
type de pile. Quand vous remplacez
la pile, veillez à respecter la polarité
(+ et ­) indiquée. La rupture des piles
ou l'écoulement de l'électrolyte peut
provoquer des dommages corporels
Mantenga el volumen a un nivel que
no le impida escuchar los sonidos del
exterior mientras conduce. Si
condujera sin poder oír los sonidos del
exterior podría causar un accidente.
NO UTILICE ESTE APARATO FUERA
No utilice este aparato con otros
propósitos diferentes a los que se
listan para su uso en un vehículo.
De lo contrario podría ocasionar una
descarga eléctrica o heridas.
EXTRAÑOS EN LA RANURA DEL
No introduzca ningún objeto extraño,
incluidos los dedos, en la ranura del
compartimiento del disco compacto.
REALIZAR CUALQUIER OPERACIóN
QUE PUDIERA INTERFERIR CON LA
Si el cargar o descargar un disco
compacto puede interferir con su
conducción, pare el vehículo en un
lugar seguro antes de intentar realizar
NO REEMPLACE LA PILA CON OTRA
QUE NO SEA LA ESPECIFICADA.
INSERTELA CON SUS POLARIDADES
CORRECTAMENTE POSICIONADAS
No reemplace la pila con otra que no
sea la especificada. Cuando la
inserte, asegúrese de hacerlo
teniendo en cuenta sus polaridades
(+) y (­), de la forma indicada.
La ruptura de las pilas o las fugas de
su líquido químico interior puede
malfuncionamiento del aparato.
---