CAR AUDIO CASSETTE ADAPTOR CAP-6
CAR BATTERY ADAPTOR DC-602
ADAPTADOR DE CASETE DE AUDIO PARA
ADAPTADOR PARA BATERIA DE COCHE DC-602
LECTEUR DE DISQUE COMPACT
ADAPTATEUR DE CHAINE AUTOMOBILE
ADAPTATEUR DE BATTERIE AUTOMOBILE
· For proper operation, avoid using or storing in
extremely hot environments or exposing to direct
· To disconnect the cord, pull by grasping the plug, do
CAR AUDIO CASSETTE ADAPTOR
· Never remove the protective film from the head and
the white tape of the CAP-6.
· Clean the heads of the cassette car stereo regularly
for optimum sound quality.
· Gather and secure excess cord so that it does not
· The adaptor is designed for negative ground 12V/
24V cars. It cannot be used with positive ground
· In some cars, electric current will continue to flow
through the car battery adaptor even though the car
ignition switch is turned off.
discharge of electricity. When not in use, disconnect
· Power may shut off if the DC output plug of the car
adaptor touches metal parts of the car. Disconnect
it from the cigarette lighter socket when not in use.
· Should any trouble occur (such as the car adaptor
emitting smoke), disconnect it from the cigarette
lighter socket immediately and contact an Aiwa
---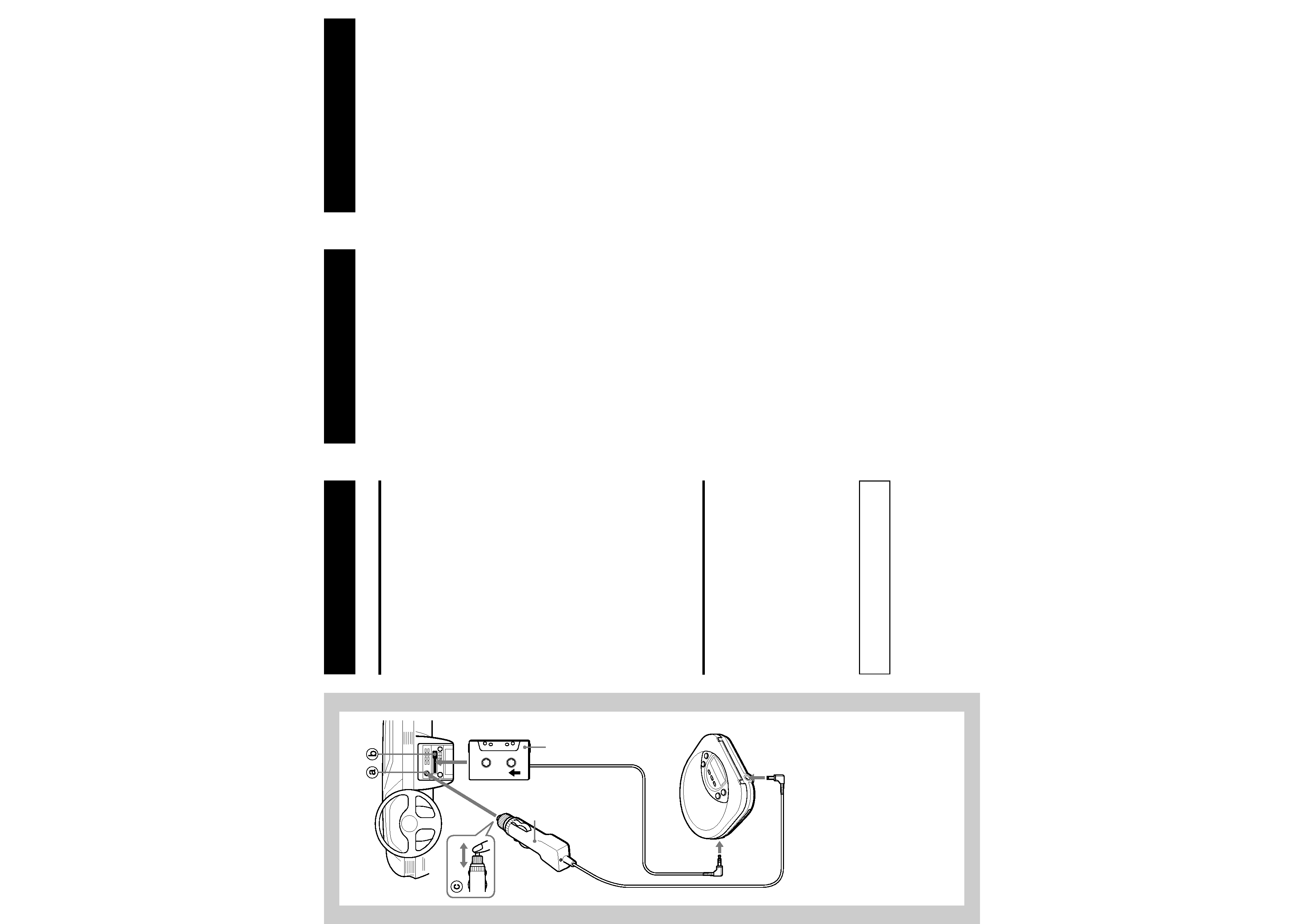 First turn down the volume of the cassette car stereo.
· Connect the DC-602 to the 5~6V DC jack of the
compact disc player and to the cigarette lighter socket
· Connect the plug of the CAP-6 to the PHONES/LINE
OUT jack of the compact disc player and insert the
CAP-6 into the slot of the cassette car stereo b.
CAP-6 CAR AUDIO CASSETTE ADAPTOR
· The CAP-6 is designed only for side-loading cassette
car stereo. Insert the CAP-6 to the slot of the cassette
car stereo in the direction of the arrow on the CAP-6.
· The CAP-6 may not be compatible with some
· If the CAP-6 is ejected from the cassette car stereo,
change the playback direction of the cassette car
stereo and insert the CAP-6 again.
DC-602 CAR BATTERY ADAPTOR
· Check first if the metal tip of the DC-602 pops up by
spring action when you press it down and release it.
· When you replace the fuse (1 amp.) of the DC-602,
remove the cap of the DC-602 by turning it
· Use the DC-602 only with an Aiwa compact disc
CAR AUDIO CASSETTE ADAPTOR
Frequency range 50 ­ 20,000 Hz (It may differ
depending on type of your cassette
Specifications and external appearance are subject to
For the compact disc player operation, please refer the
attached OPERATING INSTRUCTIONS of the compact
---