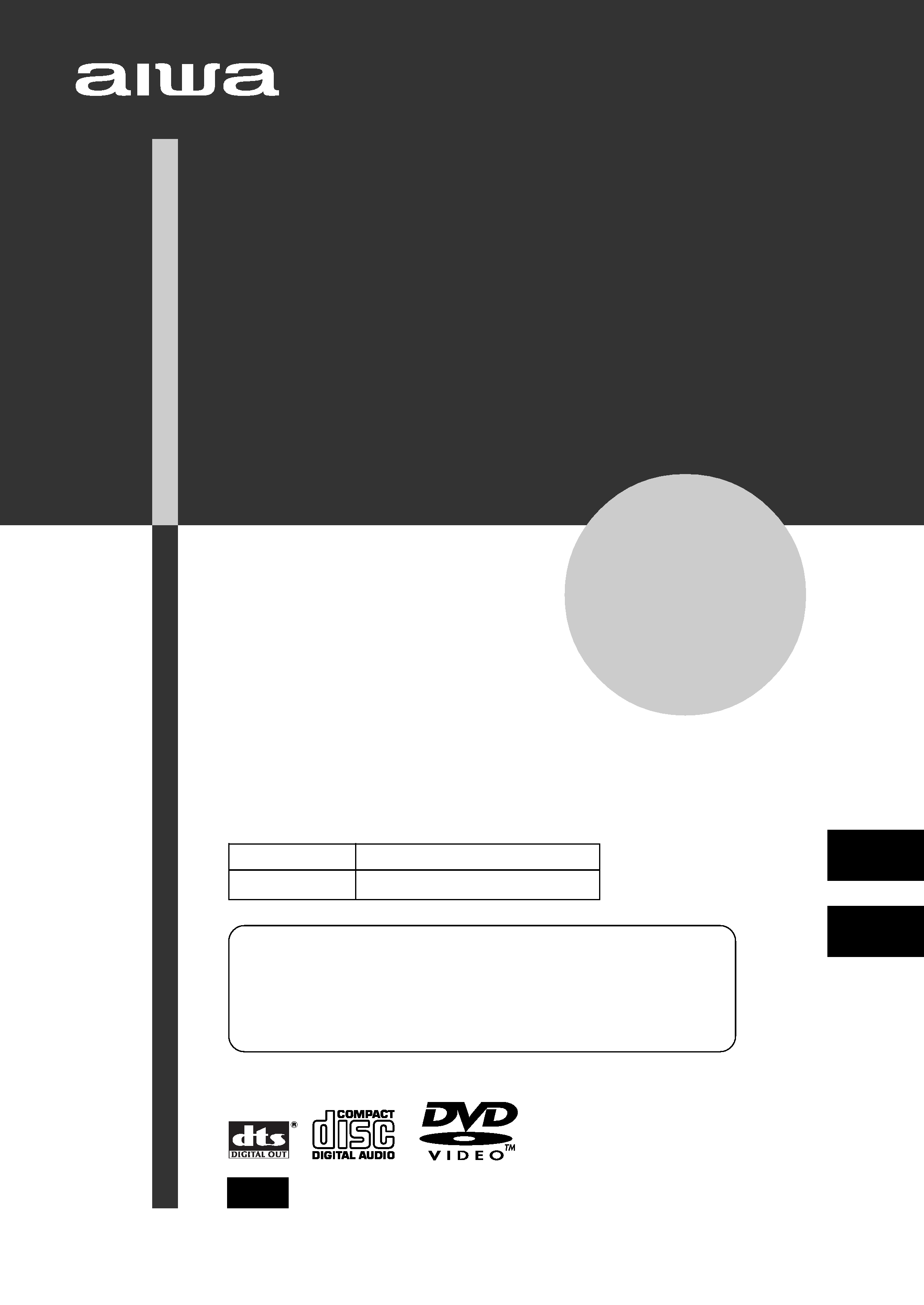 For assistance and information,
call toll free 1-800-BUY-AIWA.
(United States and Puerto Rico)
For your convenience, record the model number and serial
number (you will find them on the rear of your set) in the
space provided below. Please refer to them when you
contact your Aiwa dealer in case of difficulty.
---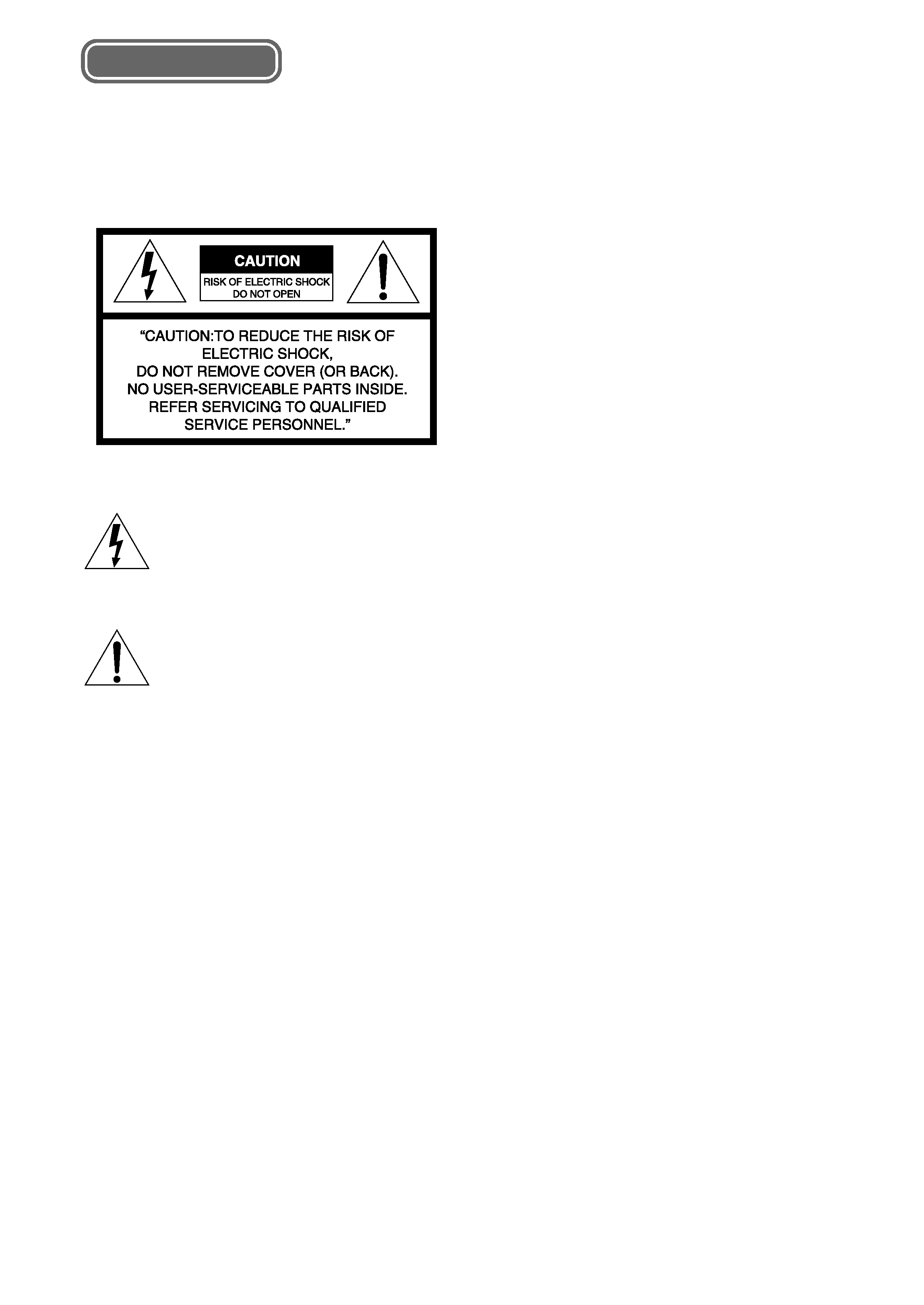 TO REDUCE THE RISK OF FIRE OR
ELECTRIC SHOCK, DO NOT EXPOSE THIS
APPLIANCE TO RAIN OR MOISTURE.
Explanation of Graphical Symbols:
The lightning flash with arrowhead symbol,
within an equilateral triangle, is intended to
alert the user to the presence of uninsulated
"dangerous voltage" within the product's
enclosure that may be of sufficient magnitude
to constitute a risk of electric shock to persons.
The exclamation point within an equilateral
triangle is intended to alert the user to the
presence of important operating and
maintenance (servicing) instructions in the
literature accompanying the appliance.
TO REDUCE THE RISK OF FIRE OR ELECTRIC SHOCK,
DO NOT EXPOSE THIS PRODUCT TO RAIN OR
TO PREVENT ELECTRIC SHOCK, MATCH WIDE BLADE
OF PLUG TO WIDE SLOT, FULLY INSERT.
This Digital Video Disc Player employs a Laser System.
To ensure proper use of this product, please read this
operating instructions carefully and retain for future
reference, should the unit require maintenance, contact an
authorized service location - see service procedure.
Use of controls, adjustments or the performance of
procedures other than those specified herein may result
hazardous radiation exposure.
To prevent direct exposure to laser beam, do not try to open
the enclosure. Visible laser radiation when open. DO NOT
---

PLEASE READ AND OBSERVE ALL WARNINGS AND
INSTRUCTIONS IN THESE OPERATING INSTRUCTIONS
AND THOSE MARKED ON THE UNIT. RETAIN THIS
BOOKLET FOR FUTURE REFERENCE.
This set has been designed and manufactured to assure
personal safety. Improper use can result in electric shock
or fire hazard. The safeguards incorporated in this unit will
protect you if you observe the following procedures for
installation, use and servicing.
This unit is fully transistorized and does not contain any
parts that can be repaired by the user.
DO NOT REMOVE THE CABINET COVER, OR YOU MAY
BE EXPOSED TO DANGEROUS VOLTAGE. REFER
SERVICING TO QUALIFIED SERVICE PERSONNEL
1. Read operating instructions
After unpacking this product, read the operating
instructions carefully, and follow all the operating and
This product should be operated only from the type of
power source indicated on the marking label. If you are
not sure of the type of power supply in your home,
consult your product dealer or local power company. For
products intended to operate from battery power, or
other sources, refer to the operating insturctions.
3. Grounding or polarization
This product is equipped with a polarized alternating
current line plug (a plug having one blade wider than
the other). This plug will fit into the power outlet only
one way. This is a safety feature. If you are unable to
insert the plug fully into the outlet, try reversing the plug.
If the plug should still fail to fit, contact your electrician
to replace your obsolete outlet. Do not defeat the safety
purpose of the polarized plug.
Slots and openings in the cabinet are provided for
ventilation and to ensure reliable operation of the product
and to protect it from overheating. These openings must
not be blocked or covered. The openings should never
be blocked by placing the product on a bed, sofa, rug or
This product should not be placed in a built-in installation
such as a bookcase or rack unless proper ventilation is
provided or the manufacturer's instructions have been
The product should be situated away from heat sources
such as radiators, heat registers, stoves, or other
products (including amplifiers) that produce heat.
Do not use this product near water - for example, near
a bath tub, wash bowl, kitchen sink, or laundry tub; in a
wet basement; or near a swimming pool and the like.
Unplug this product from the wall outlet before cleaning.
Do not use liquid cleaners or aerosol cleaners. Use a
Power supply cords should be routed so that they are
not likely to be walked on or pinched by items placed
upon or against them, paying particular attention to cords
at plugs, convenience receptacles, and the point where
they exit from the product.
Do not overload wall outlets, extension cords, or integral
convenience receptacles as this can result in a risk of
For added protection of this product during storms, or
when it is left unattended and unused for long periods
of time, unplug it from the wall outlet.
This will prevent damage to the product due to lightning
11.Object and liquid entry
Never push objects of any kind into this product through
openings as they may touch dangerous voltage points
or short-out parts that could result in a fire or electric
shock. Never spill liquid of any kind on the product.
Do not use attachments not recommended by the
product manufacturer as they may cause hazards.
13.Accessories, carts and stands
Do not place this product on an unstable
cart, stand, tripod, bracket, or table. The
product may fall, causing serious injury
to a child or adult, and serious damage
to the product. Use only with a cart, stand,
tripod, bracket, or table recommended by the
manufacturer, or sold with the product. Any mounting of
the product should follow the manufacturer's
instructions, and should use a mounting accessory
recommended by the manufacturer. A product and cart
combination should be moved with care. Quick stops,
excessive force, and uneven surfaces may cause the
product and cart combination to overturn.
Keep your fingers well clear of the disc tray as it is
closing. It may cause serious personal injury.
---

Do not place a heavy object on or step on the product.
The object may fall, causing serious personal injury and
serious damage to the product.
When you connect the product to other equipment, turn
off the power and unplug all of the equipment from the
wall outlet. Failure to do so may cause an electric shock
and serious personal injury. Read the operating
instructions of the other equipment carefully and follow
the instructions when making any connections.
Reduce the volume to the minimum level before you
turn on the product. Otherwise, sudden high volume
sound may cause hearing or speaker damage.
Do not allow the product to output distorted sound for a
long time. It may cause speaker overheating and fire.
When you use the headphones, keep the volume at a
moderate level. If you use the headphones continuously
with high volume sound, it may cause hearing damage.
Do not look into the opening of the disc tray or ventilation
opening of the product to see the source of the laser
beam. It may cause sight damage.
Do not use a cracked, deformed, or repaired disc. These
discs are easily broken and may cause serious personal
injury and product malfunction.
22.Damage requiring service
Unplug this product from the wall outlet and refer
servicing to qualified service personnel under the
a) When the power supply cord or plug is damaged.
b) If liquid has been spilled, or objects have fallen into
c) If the product has been exposed to rain or water.
d) If the product does not operate normally by following
the operating instructions. Adjust only those controls
that are covered by the operating instructions as an
improper adjustment of other controls may result in
damage and will often require extensive work by a
qualified technician to restore the product to its normal
e) If the product has been dropped or damaged in any
f) When the product exhibits a distinct change in
performance - this indicates a need for service.
Do not attempt to service this product yourself as
opening or removing covers may expose you to
dangerous voltage or other hazards. Refer all servicing
to qualified service personnel.
When replacement parts are required, be sure the
service technician has used replacement parts specified
by the manufacturer or have the same characteristics
as the original part. Unauthorized substitutions may
result in fire, electric shock, or other hazards.
Upon completion of any service or repairs to this product,
ask the service technician to perform safety checks to
determine that the product is in proper operating
---

High quality digital audio and images
· Including a progressive scan conversion circuit
· The linear PCM sound of a 96 kHz/24 bit creates audio
quality superior to that of audio CDs.
· Compatible with audio CDs, as well as DVDs
Important safety instructions ................................. 3
Before Use ................................................................. 6
Disc symbols used in this manual ................... 6
Supported disc formats .................................... 6
Disc-related terms .............................................. 7
Handling the unit ................................................ 7
Handling discs .................................................... 7
Cleaning the unit ................................................ 7
Cleaning discs .................................................... 8
Storing discs ...................................................... 8
Notes on copyright ............................................ 8
Remote control .................................................. 8
General information on progressive scan ...... 9
Parts and Controls ................................................ 10
Front panel ....................................................... 10
Remote control ................................................ 10
Display window ............................................... 12
Connections ........................................................... 13
Connecting to a TV .......................................... 13
Connecting to audio equipment .................... 14
A-1 Connecting to a TV ................................... 15
A-2 Connecting to a TV equipped with
an S-video input connector ....................... 16
A-3 Connecting to a TV or monitor with
component video input connectors ........ 17
B Connecting to a TV and an amplifier
with a digital input jack .............................. 18
C Connecting to a TV and a stereo
system ......................................................... 19
D Connecting to a TV and an AV receiver
equipped with a Dolby Digital (AC-3)
decoder ....................................................... 20
E Connecting to a TV and an AV receiver
equipped with a DTS decoder ................... 21
F Connecting to a TV and an AV receiver
equipped with a Dolby Pro Logic
decoder ....................................................... 22
Playback ................................................................. 23
Loading discs .................................................. 23
Starting playback ............................................ 24
Still (pause) ...................................................... 26
Frame advance ................................................ 26
Resuming playback ........................................ 26
Fast forward and fast reverse ........................ 27
Slow playback .................................................. 27
Skipping ........................................................... 27
Basic operation of the OSD (On-Screen
Display) menu ........................................... 28
Description of each OSD menu item ............ 29
Search ..................................................................... 30
Title/Track search ............................................ 30
Chapter search ................................................ 31
Time search ..................................................... 31
Mark search ..................................................... 32
Zooming and Changing the Angle ...................... 33
Zooming the picture ....................................... 33
Changing the angle ......................................... 33
Random and Repeat Playback ............................. 34
Random playback ........................................... 34
Repeat playback .............................................. 34
Repeating a section between two
specified points (A-B repeat) .................. 35
Programmed Playback .......................................... 36
Creating a 3D Surround Effect ............................. 38
Changing the Audio Track/Channel ..................... 39
Displaying and Changing Subtitles .................... 40
Playing an MP3 Disc ............................................. 41
Notes on MP3 discs ........................................ 41
Glossary ........................................................... 41
Basic operations of MP3 playback ............... 42
OSD (On-Screen Display) menu for
the MP3 disc .............................................. 43
Repeat playback .............................................. 43
Programmed playback .................................... 44
Changing Setup Values ......................................... 46
Basic operations ............................................. 46
Disc Audio ........................................................ 47
Disc Subtitle .................................................... 48
Disc Menu ........................................................ 48
Rating ............................................................... 49
Country Code .................................................. 50
TV Aspect ......................................................... 50
Menu Language ............................................... 51
Progressive Scan ............................................ 52
Digital Audio Output ....................................... 52
Others ............................................................... 53
Country codes ................................................. 54
Language codes .............................................. 56
Troubleshooting .................................................... 57
Specifications ........................................................ 58
---