C:\WINNT\Profiles\Administrator\My
Documents\XD-AX10_GB\01US01COV-
For customers in the U.S.A
The model and serial numbers are located at the rear of the unit.
Record the serial number in the space provided below. Refer to them
whenever you call upon your Aiwa dealer regarding this product.
For assistance and information
visit us on the internet at
call toll free 1-800-BUY-AIWA
If this product is not working properly, please call 1-877-869-2492 for
Peace of Mind Warranty Replacement service.
For other product related questions please contact our Customer
Information Service Centre at 1-877-869-2492 or write to us at:
Customer Information Service 115 Gordon Baker Road, Toronto,
01US01COV-CEK.fm Page 1 Friday, December 13, 2002 10:45 AM
---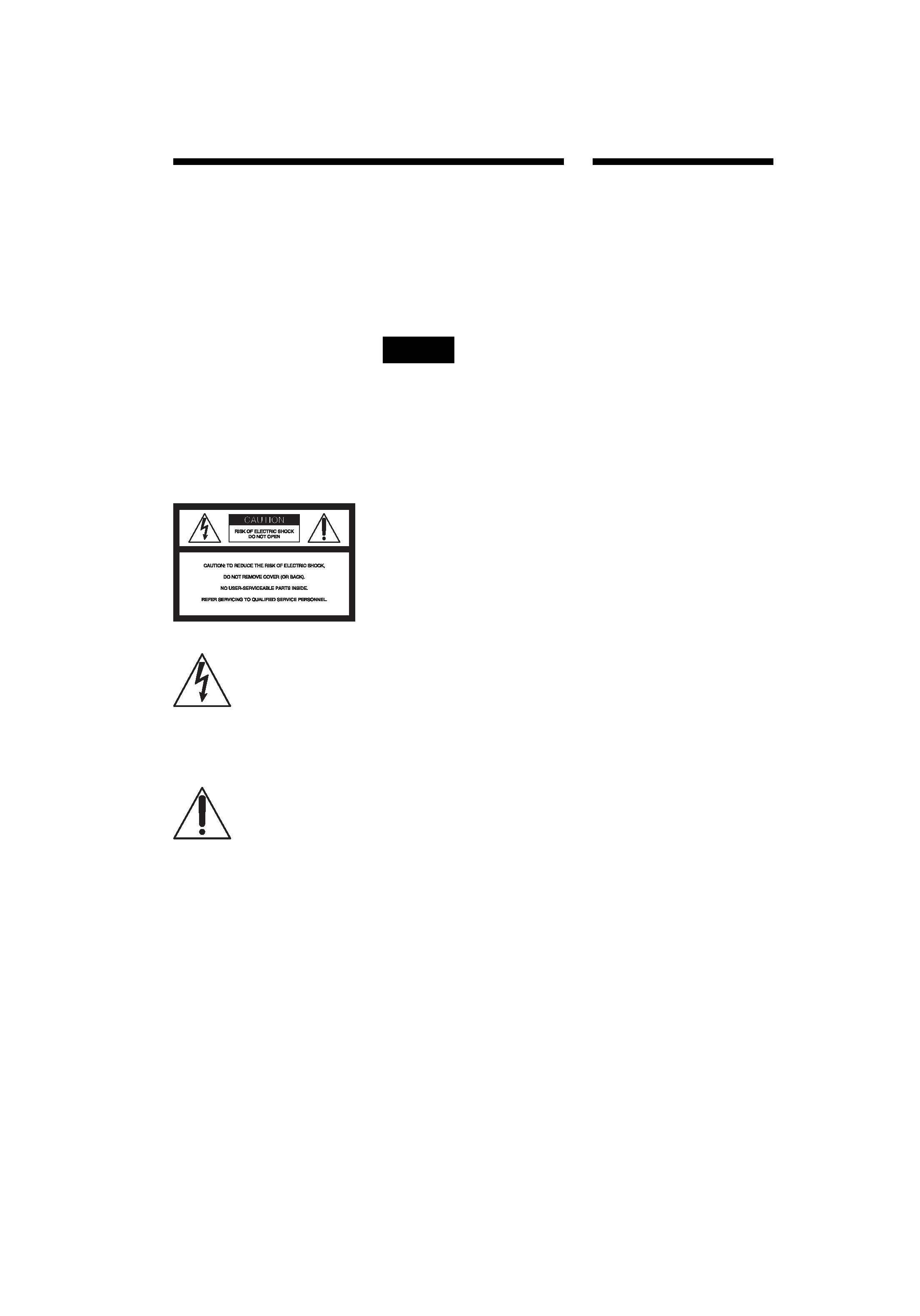 C:\WINNT\Profiles\Administrator\My
Documents\XD-AX10_GB\01US02WAR-
hazard, do not expose the
unit to rain or moisture.
To avoid electrical shock, do
not open the cabinet. Refer
The use of optical instruments with
this product will increase eye
hazard. As the laser beam used in
this CD/DVD player is harmful to
eyes, do not attempt to disassemble
Refer servicing to qualified
within the product's enclosure that
may be of sufficient magnitude to
constitute a risk of electric shock to
instructions in the literature
accompanying the appliance.
You are cautioned that any change
or modifications not expressly
approved in this manual could void
your authority to operate this
This equipment has been tested
and found to comply with the
limits for a Class B digital device,
pursuant to Part 15 of the FCC
Rules. These limits are designed to
provide reasonable protection
against harmful interference in a
residential installation. This
equipment generates, uses, and can
radiate radio frequency energy
and, if not installed and used in
accordance with the instructions,
may cause harmful interference to
radio communications. However,
there is no guarantee that
interference will not occur in a
particular installation. If this
equipment does cause harmful
interference to radio or television
determined by turning the
equipment off and on, the user is
encouraged to try to correct the
interference by one or more of the
­ Reorient or relocate the
­ Increase the separation
between the equipment and
­ Connect the equipment into an
outlet on a circuit different
from that to which the receiver
­ Consult the dealer or an
Thank you for purchasing this CD/
DVD Player. Before operating this
player, please read this manual
thoroughly and retain it for future
01US01COV.book Page 2 Thursday, December 5, 2002 6:23 PM
---

C:\WINNT\Profiles\Administrator\My
Documents\XD-AX10_GB\01US03PRE1-
· The power requirements and power
consumption of this player are indicated on
the back of the player. Check that the
player's operating voltage is identical with
· Caution ­ The use of optical instruments
with this product will increase eye hazard.
· To prevent fire or shock hazard, do not
place objects filled with liquids, such as
· Should any solid object or liquid fall into
the cabinet, unplug the player and have it
checked by qualified personnel before
operating it any further.
· The player is not disconnected from the AC
power source as long as it is connected to
the wall outlet, even if the player itself has
· If you are not going to use the player for a
long time, be sure to disconnect the player
from the wall outlet. To disconnect the AC
power cord, grasp the plug itself; never pull
· Should the AC power cord need to be
changed, have it done at a qualified service
· Place the player in a location with adequate
ventilation to prevent heat build-up in the
· Do not place the player on a soft surface
such as a rug that might block the
· Do not place the player in a location near
heat sources, or in a place subject to direct
sunlight, excessive dust, or mechanical
For the model supplied with the AC plug
If the AC plug of your unit does not fit into
the wall autlet, attach the supplied AC plug
· If the player is brought directly from a cold
to a warm location, or is placed in a very
damp room, moisture may condense on the
lenses inside the player. Should this occur,
the player may not operate properly. In this
case, remove the disc and leave the player
turned on for about half an hour until the
· When you move the player, take out any
discs. If you don't, the disc may be
Do not turn up the volume while listening to
a section with very low level inputs or no
audio signals. If you do, the speakers may be
damaged when a peak level section is played.
Clean the cabinet, panel, and controls with a
soft cloth slightly moistened with a mild
detergent solution. Do not use any type of
abrasive pad, scouring powder or solvent
such as alcohol or benzine.
Do not use a commercially available cleaning
disc. It may cause a malfunction.
If you have any questions or problems
concerning your player, please consult your
Caution: This player is capable of holding a
still video image or on-screen display image
on your television screen indefinitely. If
you leave the still video image or on-screen
display image displayed on your TV for an
extended period of time you risk permanent
damage to your television screen. Plasma
Display Panel televisions and projection
televisions are susceptible to this.
01US01COV.book Page 3 Thursday, December 5, 2002 6:23 PM
---

C:\WINNT\Profiles\Administrator\My
Documents\XD-AX10_GB\01US01COV-
WARNING . . . . . . . . . . . . . . . . . . . . . . . . . . . . . . . . . . . . . . . . . . . . . . . . . . . . 2
Welcome! . . . . . . . . . . . . . . . . . . . . . . . . . . . . . . . . . . . . . . . . . . . . . . . . . . . . . 2
Precautions . . . . . . . . . . . . . . . . . . . . . . . . . . . . . . . . . . . . . . . . . . . . . . . . . . . 3
About This Manual . . . . . . . . . . . . . . . . . . . . . . . . . . . . . . . . . . . . . . . . . . . . . . 6
This Player Can Play the Following Discs . . . . . . . . . . . . . . . . . . . . . . . . . . . . 6
Notes about the Discs . . . . . . . . . . . . . . . . . . . . . . . . . . . . . . . . . . . . . . . . . . . 8
Index to Parts and Controls . . . . . . . . . . . . . . . . . . . . . . . . . . . . . . . . . . . . . . 9
Guide to On-Screen Displays (Control Bar). . . . . . . . . . . . . . . . . . . . . . . . . . 13
Hookups . . . . . . . . . . . . . . . . . . . . . . . . . . . . . . . . . . . . . . . . . . 15
Hooking Up the Player . . . . . . . . . . . . . . . . . . . . . . . . . . . . . . . . . . . . . . . . . . 15
Step 1: Unpacking . . . . . . . . . . . . . . . . . . . . . . . . . . . . . . . . . . . . . . . . . . . . . 15
Step 2: Inserting Batteries into the Remote . . . . . . . . . . . . . . . . . . . . . . . . . . 15
Step 3: Connecting the Video Cords . . . . . . . . . . . . . . . . . . . . . . . . . . . . . . . 16
Step 4: Connecting the Audio Cords . . . . . . . . . . . . . . . . . . . . . . . . . . . . . . . 18
Step 5: Connecting the Power Cord . . . . . . . . . . . . . . . . . . . . . . . . . . . . . . . 23
Step 6: Quick Setup . . . . . . . . . . . . . . . . . . . . . . . . . . . . . . . . . . . . . . . . . . . . 23
Playing Discs . . . . . . . . . . . . . . . . . . . . . . . . . . . . . . . . . . . . . . 25
Playing Discs . . . . . . . . . . . . . . . . . . . . . . . . . . . . . . . . . . . . . . . . . . . . . . . . . 25
Resuming Playback from the Point Where You Stopped the Disc
(Disc Resume) . . . . . . . . . . . . . . . . . . . . . . . . . . . . . . . . . . . . . . . . . . . . . 27
Using the DVD's Menu. . . . . . . . . . . . . . . . . . . . . . . . . . . . . . . . . . . . . . . . . . 28
Playing VIDEO CDs with PBC Functions (PBC Playback) . . . . . . . . . . . . . . 29
Playing an MP3 Audio Track . . . . . . . . . . . . . . . . . . . . . . . . . . . . . . . . . . . . . 30
Various Play Mode Functions (Program Play, Shuffle Play, Repeat Play,
A-B Repeat Play) . . . . . . . . . . . . . . . . . . . . . . . . . . . . . . . . . . . . . . . . . . . 32
Searching for a Scene . . . . . . . . . . . . . . . . . . . . . . . . . . . . . . . . 36
Searching for a Particular Point on a Disc (Scan, Slow-motion Play,
Search, Freeze Frame) . . . . . . . . . . . . . . . . . . . . . . . . . . . . . . . . . . . . . . 36
Searching for a Title/Chapter/Track/Scene, etc. (Search mode) . . . . . . . . . . 37
Viewing Information About the Disc . . . . . . . . . . . . . . . . . . . . . . . 39
Checking the Playing Time and Remaining Time . . . . . . . . . . . . . . . . . . . . . 39
Sound Adjustments . . . . . . . . . . . . . . . . . . . . . . . . . . . . . . . . . . 41
Changing the Sound . . . . . . . . . . . . . . . . . . . . . . . . . . . . . . . . . . . . . . . . . . . 41
Virtual Surround Settings . . . . . . . . . . . . . . . . . . . . . . . . . . . . . . . . . . . . . . . . 42
Enjoying Movies . . . . . . . . . . . . . . . . . . . . . . . . . . . . . . . . . . . . 44
Displaying the Subtitles . . . . . . . . . . . . . . . . . . . . . . . . . . . . . . . . . . . . . . . . . 44
Adjusting the Playback Picture (PICTURE MODE) . . . . . . . . . . . . . . . . . . . . 44
Changing the Angles . . . . . . . . . . . . . . . . . . . . . . . . . . . . . . . . . . . . . . . . . . . 45
01US01COV.book Page 4 Thursday, December 5, 2002 6:23 PM
---

C:\WINNT\Profiles\Administrator\My
Documents\XD-AX10_GB\01US01COV-
Locking Discs . . . . . . . . . . . . . . . . . . . . . . . . . . . . . . . . . . . . . . 46
Limiting Playback by Children (PARENTAL CONTROL). . . . . . . . . . . . . . . . 46
Settings and Adjustments . . . . . . . . . . . . . . . . . . . . . . . . . . . . . . 49
Using the Setup Display. . . . . . . . . . . . . . . . . . . . . . . . . . . . . . . . . . . . . . . . . 49
Setting the Display or Sound Track Language (LANGUAGE SETUP) . . . . . 50
Settings for the Display (SCREEN SETUP). . . . . . . . . . . . . . . . . . . . . . . . . . 51
Custom Settings (CUSTOM SETUP). . . . . . . . . . . . . . . . . . . . . . . . . . . . . . . 52
Settings for the Sound (AUDIO SETUP) . . . . . . . . . . . . . . . . . . . . . . . . . . . . 53
Additional Information . . . . . . . . . . . . . . . . . . . . . . . . . . . . . . . . 55
Troubleshooting . . . . . . . . . . . . . . . . . . . . . . . . . . . . . . . . . . . . . . . . . . . . . . . 55
Self-diagnosis Function (When letters/numbers appear in the display). . . . . 57
Glossary. . . . . . . . . . . . . . . . . . . . . . . . . . . . . . . . . . . . . . . . . . . . . . . . . . . . . 58
Specifications. . . . . . . . . . . . . . . . . . . . . . . . . . . . . . . . . . . . . . . . . . . . . . . . . 59
Language Code List. . . . . . . . . . . . . . . . . . . . . . . . . . . . . . . . . . . . . . . . . . . . 60
Index . . . . . . . . . . . . . . . . . . . . . . . . . . . . . . . . . . . . . . . . . . . . . . . . . . . . . . . 61
01US01COV.book Page 5 Thursday, December 5, 2002 6:23 PM
---