For assistance and information
call toll free 1-800-BUY-AIWA
(United States and Puerto Rico)
This equipment has been tested and found to comply with the
limits for a Class B digital device, pursuant to Part 15 of the FCC
Rules. These limits are designed to provide reasonable protection
against harmful interference in a residential installation.
This equipment generates, uses, and can radiate radio frequency
energy and, if not installed and used in accordance with the
instructions, may cause har mful interference to radio
communications. However, there is no guarantee that interference
will not occur in a particular installation. If this equipment does
cause harmful interference to radio or television reception, which
can be determined by turning the equipment off and on, the user
is encouraged to try to correct the interference by one or more
of the following measures:
- Reorient or relocate the receiving antenna.
- Increase the separation between the equipment and
- Connect the equipment into an outlet on circuit different from
that to which the receiver is connected.
- Consult the dealer or an experienced radio/TV technician
Modifications or adjustments to this product, which are not
expressly approved by the manufacturer, may void the user's
right or authority to operate this product.
---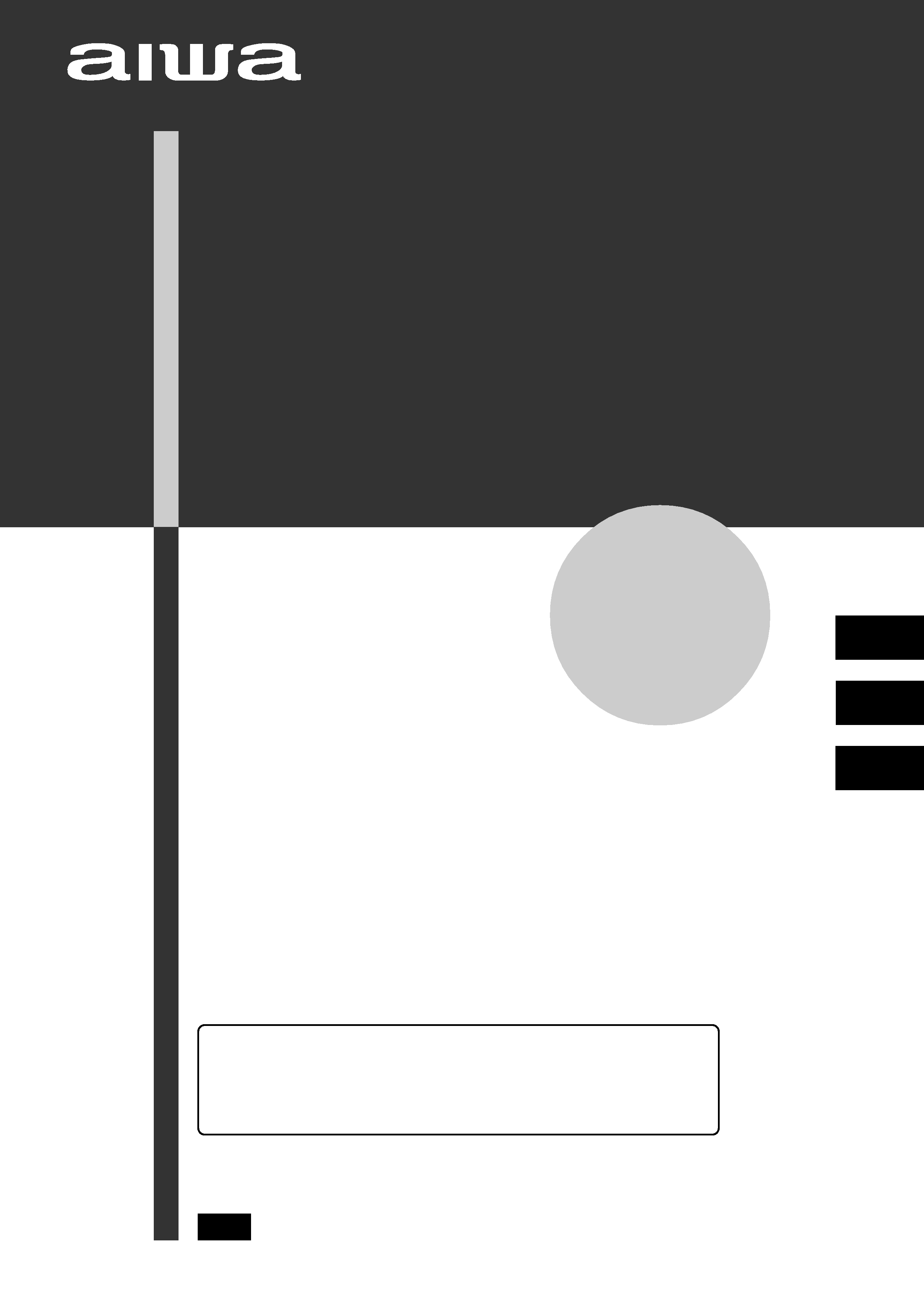 For assistance and information
call toll free 1-800-BUY-AIWA
(United States and Puerto Rico)
---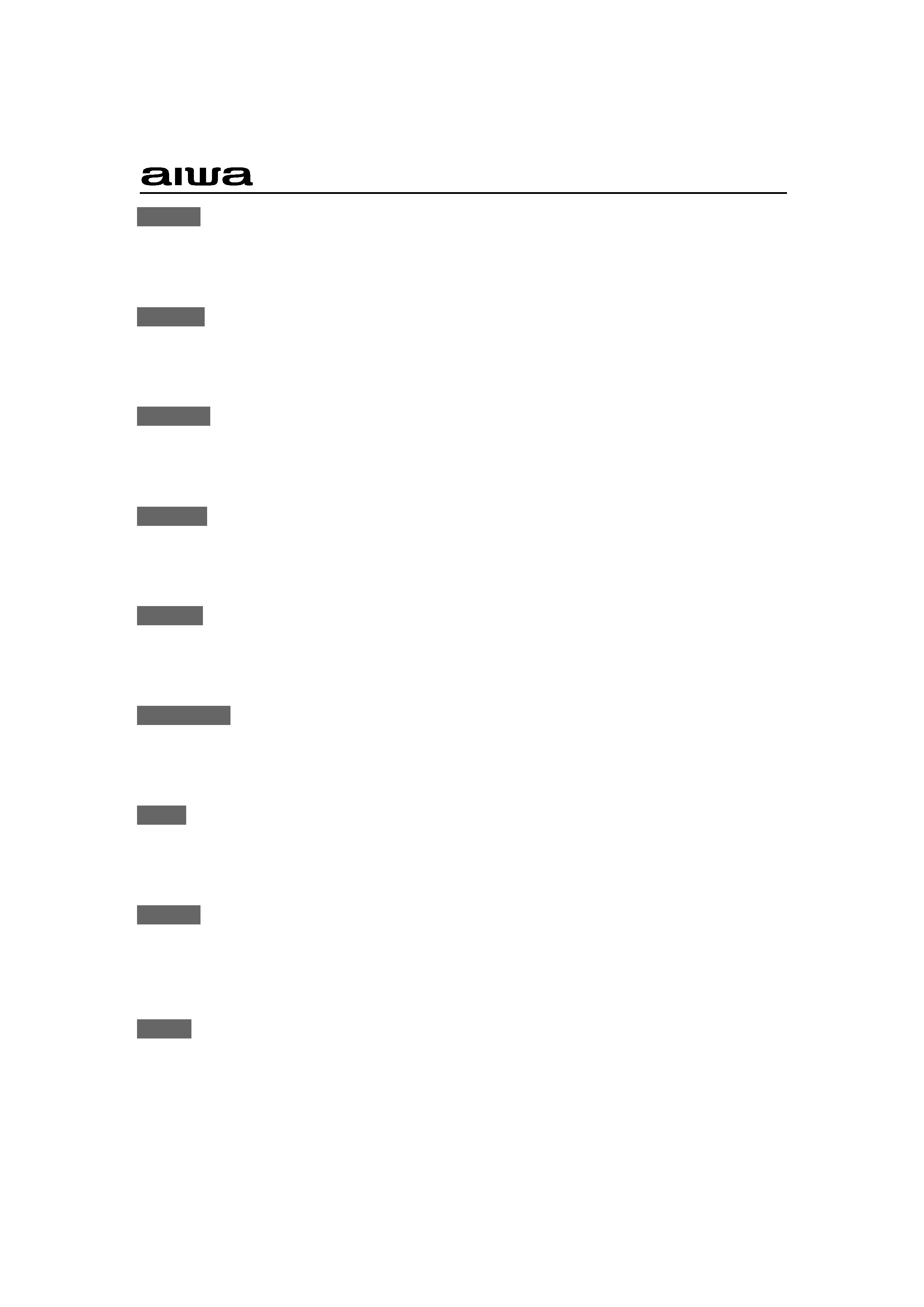 Note on the selection of the DOLBY SURROUND center speaker mode
When selecting the center speaker mode (NORMAL or WIDE) of the DOLBY SURROUND, first select the "DOLBY D" or
"PRO LOGIC" mode (not the "3 STEREO" mode) and then select the center speaker mode.
The selected center speaker mode for the DOLBY D or PRO LOGIC mode is also effective for the 3 STEREO mode.
Nota sobre la selección del modo de altavoz central DOLBY SURROUND
Al seleccionar el modo de altavoz central (NORMAL o WIDE) de DOLBY SURROUND, seleccione primero el modo "DOLBY
D" o "PRO LOGIC" (y no el modo "3 STEREO") y después elija el modo de altavoz central.
El modo de altavoz central seleccionado para el modo DOLBY D o PRO LOGIC también es efectivo para el 3 STEREO.
Remarque sur la sélection du mode DOLBY SURROUND avec enceinte centrale
Lors de la sélection du mode d'enceinte centrale (NORMAL ou WIDE) de DOLBY SURROUND, sélectionnez d'abord le
mode "DOLBY D" ou "PRO LOGIC" (pas le mode "3 STEREO") puis sélectionnez le mode d'enceinte centrale.
Le mode d'enceinte centrale sélectionné pour le mode DOLBY D ou PRO LOGIC fonctionne également avec le mode 3 STEREO.
Hinweis zur Auswahl des DOLBY SURROUND-Modus für den mittleren Lautsprecher
Wenn Sie den DOLBY SURROUND-Modus für den mittleren Lautsprecher einstellen (NORMAL oder WIDE), wählen Sie
erst "DOLBY D" oder "PRO LOGIC" (nicht "3 STEREO") und dann den Modus für den mittleren Lautsprecher.
Der ausgewählte Modus (DOLBY D oder PRO LOGIC) für den mittleren Lautsprecher gilt auch für den Modus 3 STEREO.
Nota sulla selezione del modo del diffusore centrale DOLBY SURROUND
Se si seleziona il modo del diffusore centrale (NORMAL o WIDE) di DOLBY SURROUND, selezionare per prima cosa il
modo "DOLBY D" o "PRO LOGIC" (non il modo "3 STEREO"), quindi selezionare il modo del diffusore centrale.
Il modo del diffusore centrale selezionato per il modo DOLBY D o PRO LOGIC èinoltre operativo per il modo 3 STEREO.
Opmerking over het kiezen van de DOLBY SURROUND middenluidsprekerstand
Bij het kiezen van de middenluidsprekerstand (NORMAL of WIDE) van DOLBY SURROUND, kiest u eerst de stand "DOLBY
D" of "PRO LOGIC" (niet de stand "3 STEREO") en daarna de middenluidsprekerstand.
De middenluidsprekerstand die u heeft gekozen voor DOLBY D of PRO LOGIC geldt ook in de 3 STEREO stand.
Poznámka k volb rezimu prostedního reproduktoru DOLBY SURROUND
Pi volb rezimu prostedního reproduktoru (NORMAL nebo WIDE) DOLBY SURROUND, zvolte nejprve rezim "DOLBY D"
nebo "PRO LOGIC" (ne rezim "3 STEREO") a potom zvolte rezim prostedního reproduktoru.
Zvolený rezim prostedního reproduktoru pro rezim DOLBY D nebo PRO LOGIC funguje také pro rezim 3 STEREO.
Megjegyzés a DOLBY SURROUND (körhangzás) középs hangsugárzó mód kiválasztásáról
Ha DOLBY SURROUND (körhangzás) üzemben a középs hangsugárzó módot (NORMAL (normál) vagy WIDE (széles))
kívánja kiválasztani, válassza elször a "DOLBY D" vagy "PRO LOGIC" módot (ne a "3 STEREO") módot, és ezután válassza
a középs hangsugárzó módot.
A DOLBY D vagy PRO LOGIC üzemmódra kiválasztott középs hangsugárzó mód a 3 STEREO üzemben is mködik.
Uwaga dotyczca nastawiania DOLBY SURROUND na tryb rodkowego glonika
Nastawiajc na tryb rodkowego glonika (NORMAL lub WIDE) dla DOLBY SURROUND, naley w pierwszej kolejnoci
nastawi tryb "DOLBY D" lub "PRO LOGIC" (nie nastawia trybu "3 STEREO") i nastpnie wybra tryb glonika rodkowego.
Nastawienie trybu glonika rodkowego dla DOLBY D lub PRO LOGIC dotyczy równie trybu 3 STEREO.
---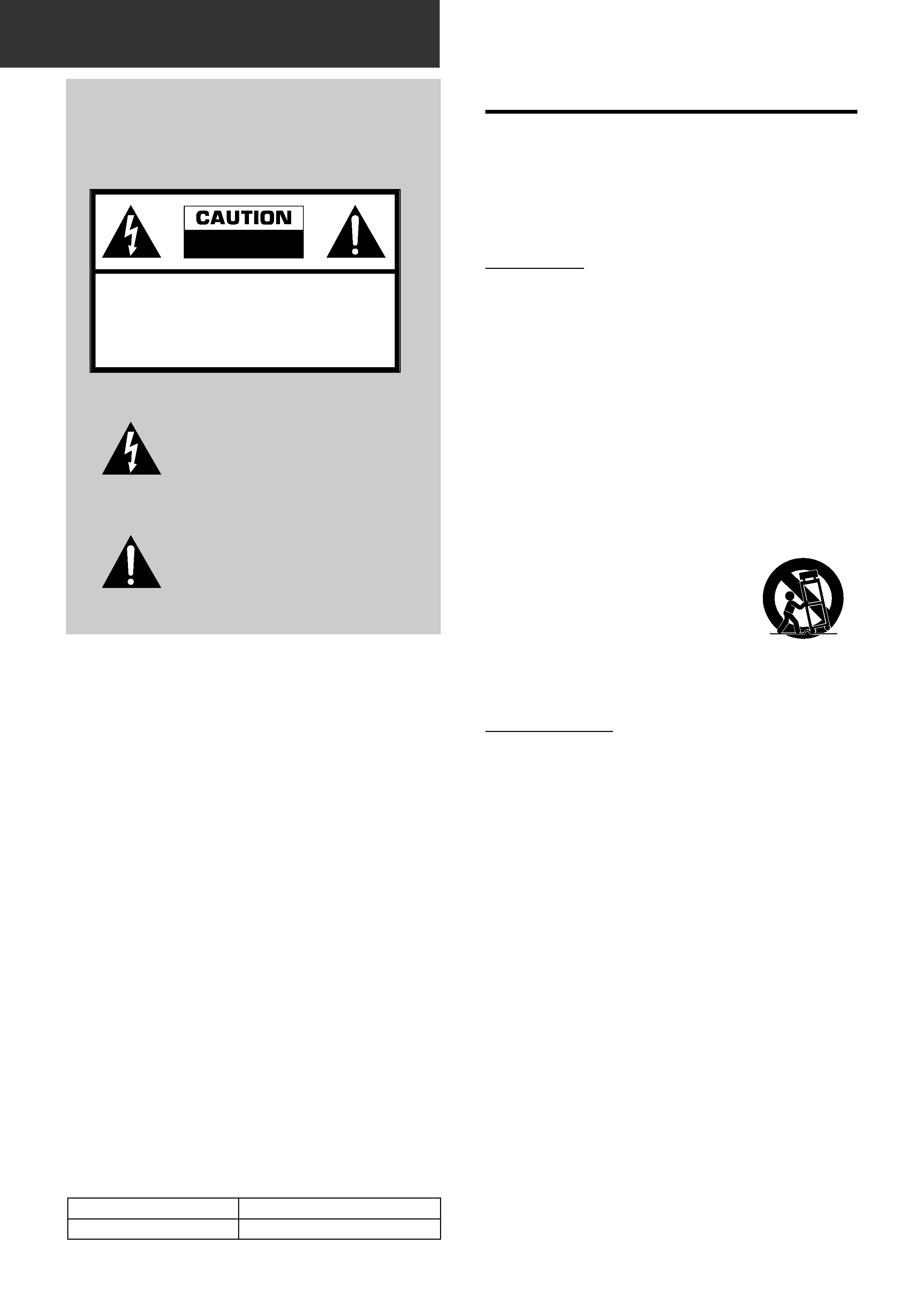 For your convenience, record the model number and serial
number (you will find them on the rear of your unit) in the space
provided below. Please refer to them when you contact your Aiwa
dealer in case of difficulty.
TO REDUCE THE RISK OF FIRE OR
ELECTRIC SHOCK, DO NOT EXPOSE THIS
APPLIANCE TO RAIN OR MOISTURE.
Read the Operating Instructions carefully and completely before
operating the unit. Be sure to keep the Operating Instructions
for future reference. All warnings and cautions in the Operating
Instructions and on the unit should be strictly followed, as well
as the safety suggestions below.
1 Water and moisture -- Do not use this unit near water, such
as near a bathtub, washbowl, swimming pool, or the like.
2 Heat -- Do not use this unit near heat sources, including
heating vents, stoves, or other appliances that generate heat.
It also should not be placed in temperatures less than 5°C
(41°F) or higher than 35°C (95°F).
3 Mounting surface -- Place the unit on a flat, even surface.
4 Ventilation -- The unit should be situated with adequate
space around it so that proper heat ventilation is assured.
Allow 10 cm (4 in.) clearance from the rear and the top of the
unit, and 5 cm (2 in.) from each side.
- Do not place the unit on a bed, rug, or similar surface that
may block the ventilation openings.
- Do not install the unit in a bookcase, cabinet, or airtight
rack where ventilation may be impeded.
5 Objects and liquid entry -- Take care that objects or liquids
do not get inside the unit through the ventilation openings.
6 Carts and stands -- When placed or
mounted on a stand or cart, the unit
should be moved with care.
Quick stops, excessive force, and
uneven surfaces may cause the unit or
cart to overturn or fall.
7 Wall or ceiling mounting -- The unit should not be mounted
on a wall or ceiling, unless specified in the Operating
1 Power sources -- Connect this unit only to power sources
specified in the Operating Instructions, and as marked on
2 Polarization -- As a safety feature, some units are equipped
with polarized AC power plugs which can only be inserted
one way into a power outlet. If it is difficult or impossible to
insert the AC power plug into an outlet, turn the plug over
and try again. If it is not still inserted easily into the outlet,
please call a qualified service technician to service or replace
the outlet. To avoid defeating the safety feature of the polarized
plug, do not force it into a power outlet.
- When disconnecting the AC power cord, pull it out by the
AC power plug. Do not pull the cord itself.
- Never handle the AC power plug with wet hands, as this
could result in fire or shock.
- Power cords should be firmly secured to avoid being severely
bent, pinched, or walked upon. Pay particular attention to
the cord from the unit to the power socket.
- Avoid overloading AC outlets and extension cords beyond
their capacity, as this could result in fire or shock.
4 Extension cord -- To help prevent electric shock, do not
use a polarized AC power plug with an extension cord,
receptacle, or other outlet unless the polarized plug can be
completely inserted to prevent exposure of the blades of the
5 When not in use -- Unplug the AC power cord from the AC
power outlet if the unit will not be used for several months or
more. When the cord is plugged in, a small amount of current
continues to flow to the unit, even when the power is turned
"CAUTION: TO REDUCE THE RISK OF
DO NOT REMOVE COVER (OR BACK).
NO USER-SERVICEABLE PARTS INSIDE.
REFER SERVICING TO QUALIFIED
Explanation of Graphical Symbols:
The lightning flash with arrowhead symbol,
within an equilateral triangle, is intended to
alert the user to the presence of uninsulated
"dangerous voltage" within the product's
magnitude to constitute a risk of electric
The exclamation point within an equilateral
triangle is intended to alert the user to the
maintenance (servicing) instructions in the
literature accompanying the appliance.
---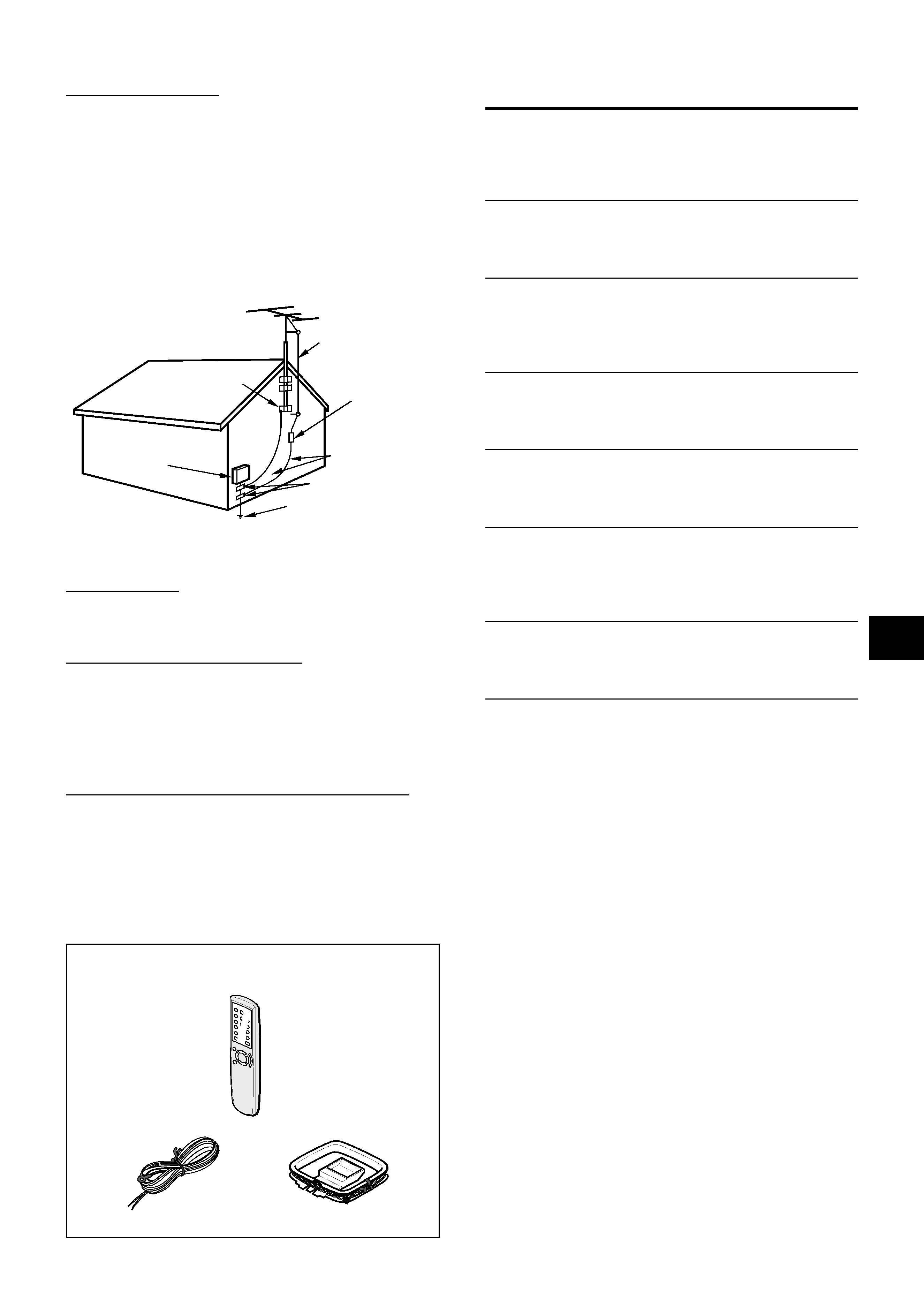 Operating Instructions, etc.
1 Power lines -- When connecting an outdoor antenna, make
sure it is located away from power lines.
2 Outdoor antenna grounding -- Be sure the antenna system
is properly grounded to provide protection against unexpected
voltage surges or static electricity build-up. Article 810 of the
National Electrical Code, ANSI/NFPA70, provides information
on proper grounding of the mast, supporting structure, and
the lead-in wire to the antenna discharge unit, as well as the
size of the grounding unit, connection to grounding terminals,
and requirements for grounding terminals themselves.
Clean the unit only as recommended in the Operating
Have the unit serviced by a qualified service technician if:
- The AC power cord or plug has been damaged
- Foreign objects or liquid have gotten inside the unit
- The unit has been exposed to rain or water
- The unit does not seem to operate normally
- The unit exhibits a marked change in performance
- The unit has been dropped, or the cabinet has been damaged
DO NOT ATTEMPT TO SERVICE THE UNIT YOURSELF.
PRECAUTIONS ................................................................... 1
CONNECTIONS .................................................................. 3
BEFORE OPERATION ........................................................ 7
CUSTOM AUDIO ADJUSTMENT ....................................... 8
ELECTRONIC GRAPHIC EQUALIZER .............................. 9
DSP SURROUND .............................................................. 10
SELECTION OF AUDIO/VIDEO SOURCE ....................... 11
RECORDING AN AUDIO SOURCE ................................. 12
MANUAL TUNING ............................................................. 13
PRESETTING STATIONS ................................................. 14
SELECTING DOLBY SURROUND ................................... 15
ADJUSTING SPEAKER LEVEL BALANCE .................... 16
ADJUSTING DOLBY DIGITAL SURROUND SOUND ..... 18
SETTING THE CLOCK ...................................................... 19
SETTING THE SLEEP TIMER .......................................... 19
SPECIFICATIONS ............................................................. 20
CARE AND MAINTENANCE ............................................ 21
TROUBLESHOOTING GUIDE .......................................... 21
PARTS INDEX ................................................................... 21
NEC-NATIONAL ELECTRICAL CODE
Antenna Grounding According to the National Electrical Code
---