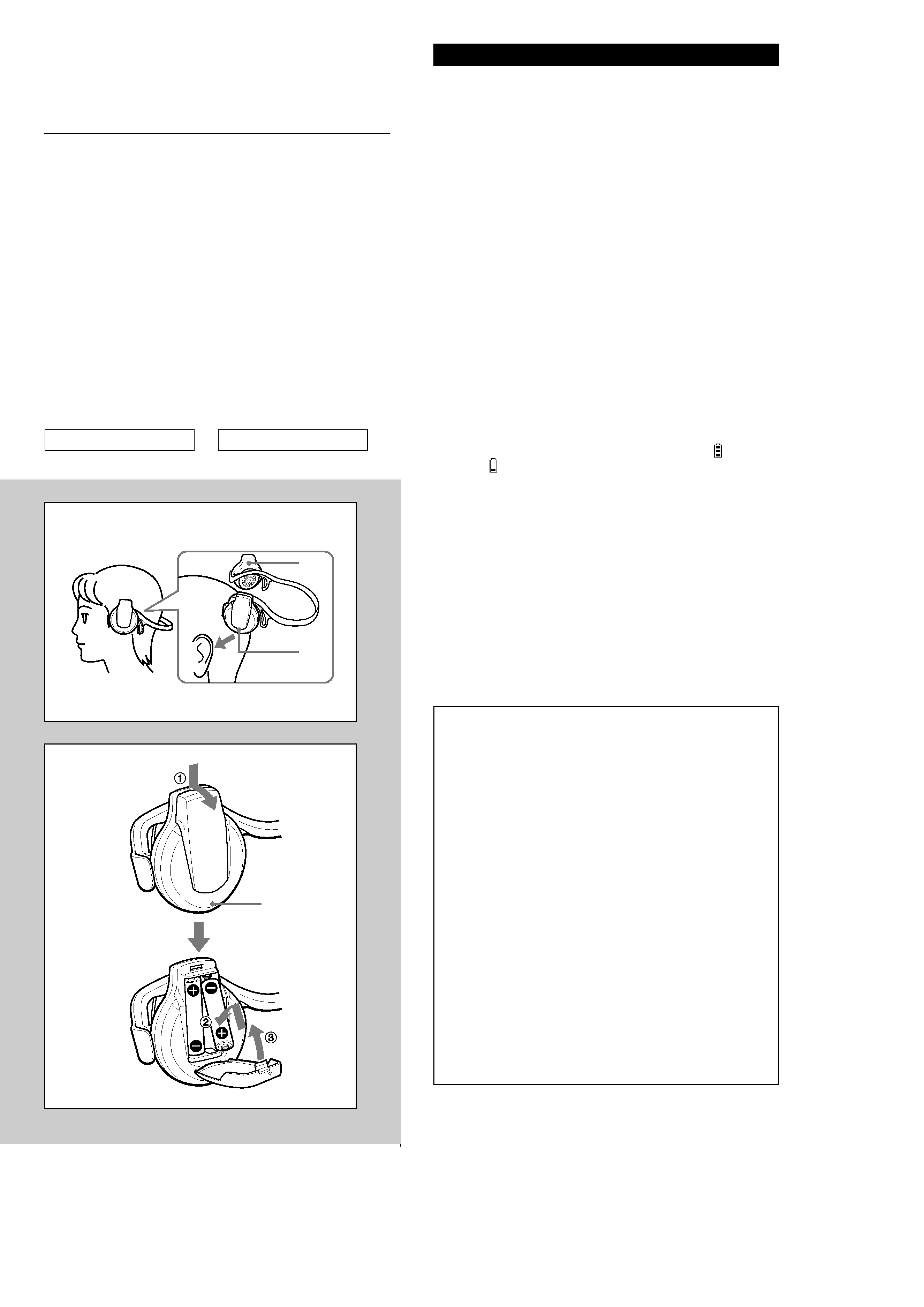 To maintain good performance
Do not use the unit in places which are extremely hot, cold, dusty
In particular, do not keep the unit:
· in a high humidity area such as a bathroom
· in an area exposed to direct sunlight (e.g., inside a parked car,
please be careful because it may become extremely hot)
Note on listening with the headphones
· Listen at moderate volumes to avoid hearing damage.
· Do not wear the headphones while driving or cycling.
It may create a traffic hazard.
· You should use extreme caution or temporarily discontinue use
in potentially hazardous situations, such as walking, jogging,
· Wear them properly: L is left, R is right.
,
A
INSERTING DRY CELL BATTERIES
,
B
Open the battery compartment and insert two size AAA (R03)
0 and 9 marks correctly aligned.
Replace the batteries with new ones when the
· Before replacing the batteries, be sure to set the POWER switch
to OFF to prevent the erasure of preset station memories.
· The unit retains the preset station memories for about 2 minutes
without batteries. To prevent the erasure of the memories,
replace the batteries quickly.
Note on dry cell batteries
0 and 9 marks are correctly aligned.
· Do not mix different types of batteries, or an old battery with a
· To prevent the risk of electrolyte leakage or explosions, never
recharge the batteries, apply heat to them, or take them apart.
· When not using the batteries, remove them to prevent needless
· If liquid leaks from the batteries, wipe thoroughly to remove.
This equipment has been tested and found to comply with the limits for
a Class B digital device, pursuant to Part 15 of the FCC Rules. These
limits are designed to provide reasonable protection against harmful
interference in a residential installation.
This equipment generates, uses, and can radiate radio frequency
energy and, if not installed and used in accordance with the instructions,
may cause harmful interference to radio communications. However,
there is no guarantee that interference will not occur in a particular
installation. If this equipment does cause harmful interference to radio
or television reception, which can be determined by turning the
equipment off and on, the user is encouraged to try to correct the
interference by one or more of the following measures:
­ Reorient or relocate the receiving antenna.
­ Increase the separation between the equipment and receiver.
­ Connect the equipment into an outlet on circuit different from that
to which the receiver is connected.
­ Consult the dealer or an experienced radio/TV technician for help.
Modifications or adjustments to this product, which are not expressly
approved by the manufacturer, may void the user's right or authority to
This device complies with Part 15 of the FCC Rules. Operation is
subject to the condition that this device does not cause harmful
For your convenience, record the model number and the serial
number (you will find it in the battery compartment of your set) in
the space provided below. Please refer to them when you contact
your Aiwa dealer in case of difficulty.
---

Para mantenerlo en buenas condiciones de funcionamiento
No utilice en lugares muy calientes, fríos, con polvo o humedad.
Especialmente, no deje el aparato:
· en lugares muy húmedos, por ejemplo en el baño
· cerca de la calefacción
· en un lugar expuesto a la luz solar directa (p. ej., en el interior
de un automóvil aparcado, tenga cuidado porque puede
calentarse extremadamente)
Notas para escuchar con los auriculares
· No escuche con el volumen alto porque puede dañar su
· No utilice los auriculares cuando conduzca un automóvil o
Puede ser un peligro para el tránsito.
· Debe tener mucho cuidado o dejar de usar provisoriamente en
situaciones peligrosas, por ejemplo cuando camina o corre.
· Utilice correctamente: L es para la izquierda y R para la
COLOCACION DE LAS PILAS
,
B
Abra el compartimiento de las pilas y coloque dos pilas de tamaño
0 y 9 correctamente alineadas.
Cambie las pilas por otras nuevas cuando el indicador
· Antes de cambiar las pilas, confirme que el interruptor POWER
está en OFF para evitar que se puedan borrar las emisoras
programadas de la memoria.
· El aparato conserva las emisoras programadas en la memoria
durante unos 2 minutos aunque no estén instaladas las pilas.
Para evitar que se puedan llegar a borrar de la memoria, cambie
las pilas lo más rápidamente posible.
· Confirme que las marcas
0y 9están correctamente alineadas.
· No mezcle distintos tipos de pilas o una pila vieja con una
· Para evitar que se produzcan fugas de electrólito o explosiones,
no cargue las pilas, caliente o desarme.
· Si no se va a utilizar el aparato durante mucho tiempo, saque
las pilas para evitar que se gasten inútilmente.
· Si ha salido líquido de las pilas, limpie bien para sacarlas.
Pour assurer un bon fonctionnement
Ne laissez pas l'appareil à un emplacement très chaud, froid,
En particulier, ne le laissez pas:
· à un endroit très humide, une salle de bains par exemple
· près d'un appareil de chauffage
· endroit exposé directement au soleil (par exemple, dans une
voiture stationnée en plein soleil car la température peut
augmenter considérablement)
Remarques sur l'écoute avec les écouteurs
· Ecoutez à volume modéré pour éviter tout dommage auditif.
· N'utilisez pas les écouteurs en conduisant une voiture ou à
bicyclette, cela pourrait provoquer un accident.
· Montrez-vous très prudent ou bien arrêtez d'utiliser les écouteurs
dans les situations potentiellement dangereuses, par exemple
en marchant, pendant le jogging, etc.
· Portez correctement les écouteurs: L pour la gauche, R pour la
MISE EN PLACE DES PILES SECHES
,
B
Ouvrez le logement des piles, et insérez-y deux piles format AAA
(R03), en alignant correctement les marques
Remplacez les piles par des neuves quand l'indicateur
· Avant de remplacer les piles, vérifiez que l'interrupteur POWER
est sur OFF pour éviter l'effacement des mémoires de stations
· Sans piles, l'appareil maintient les mémoires de stations
préréglées pendant 2 minutes. Remplacez rapidement les piles
pour éviter tout effacement des mémoires.
Remarques sur les piles sèches
· Respectez les polarités
· Ne mélangez pas différents types de pile, ou des piles neuve et
· Pour éviter tout risque de fuite d'électrolyte ou d'explosion, ne
rechargez jamais les piles, ne les chauffez pas et ne les
· Quand les piles ne sont pas utilisées, retirez-les pour éviter
· En cas de fuite, essuyez tout le liquide.
---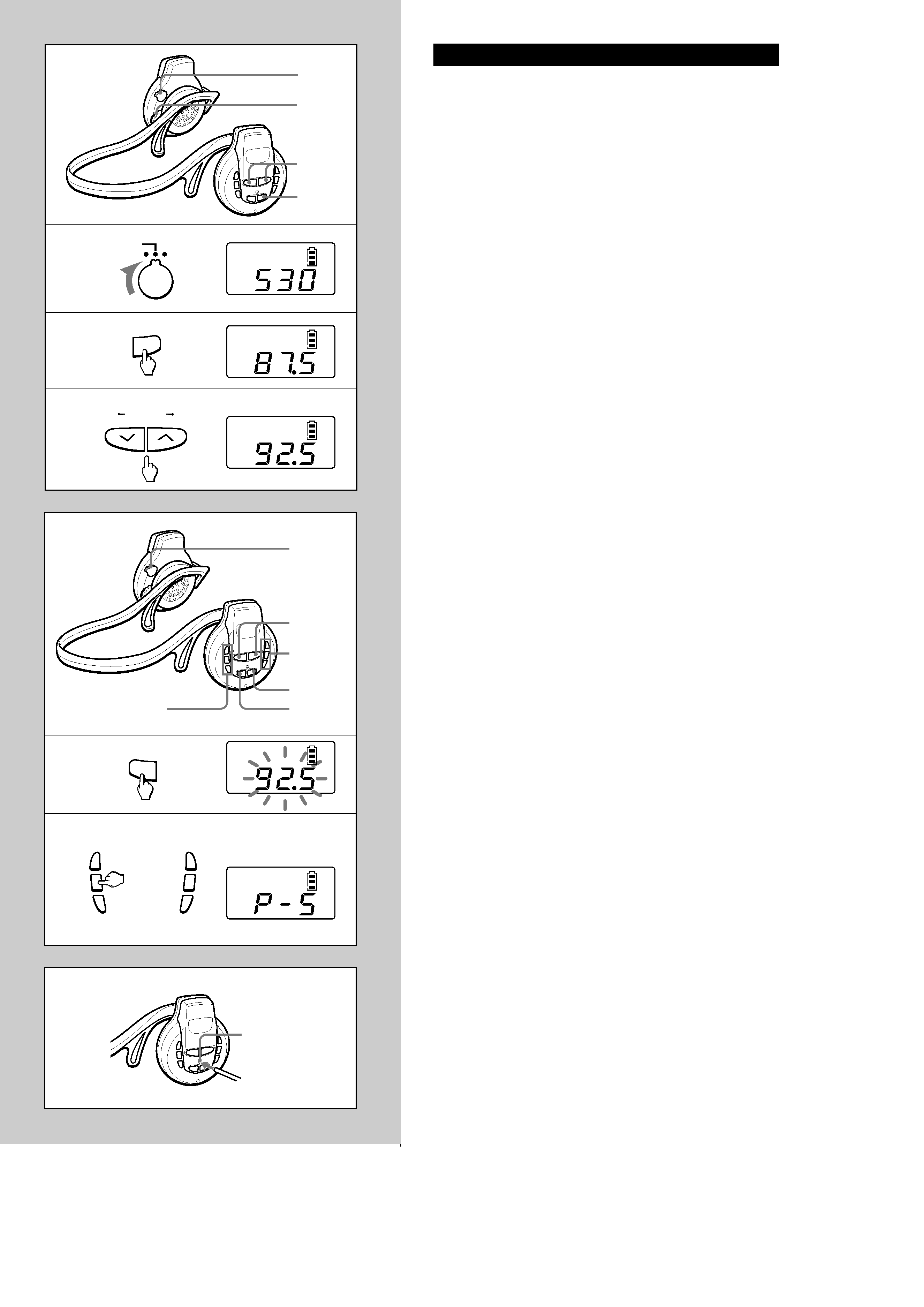 TUNING IN TO A STATION
,
C
1
Set the POWER switch to ON.
To obtain powerful heavy bass, set it to S-BASS* ON.
2
Press BAND repeatedly to select AM or FM.
3
Press UP or DOWN to tune in to a station.
After listening, set the POWER switch to OFF to turn off the
Keep either UP or DOWN pressed for 1 or 2 seconds. When a
station is tuned in to, the frequency indicator stops automatically.
However, it may not stop if the broadcast signal is weak.
Using the preset numbers (1 ­ 10), up to 10 stations can be preset
Displayed frequency will flash for about 10 seconds.
3
While displayed freqrency flashes, press one of the
preset number buttons to select the preset number.
To select 7, press +5 and 2.
To select 10, press +5 and 5.
To preset more stations, repeat steps from the beginning.
To listen to preset stations, select a band, then press the preset
number button to select the desired preset number.
If an erroneous display or operation occurs
,
E
Press RESET button with a pointed tool.
When the unit is reset, the preset station is erased. Set them
AM: 530 ­ 1,710 kHz (10 kHz step)
FM: 87.5 ­ 108 MHz (100 kHz step)
12 mW + 12 mW (EIAJ 32 ohms)
DC 3V using two size AAA (R03)
using R03 manganese batteries
Approx. 14 hours for FM reception
Approx. 21 hours for AM reception
using LR03 alkaline batteries
Approx. 30 hours for FM reception
Approx. 45 hours for AM reception
Approx. 120 g, (4.2 oz) (excluding
The specifications and the external appearance of this unit are
subject to change without notice.
---

SINTONIZACION DE EMISORAS
,
C
1
Mueva el interruptor POWER a ON.
Mueva a S-BASS* ON para dar mayor énfasis a los graves.
2
Presione varias veces BAND para seleccionar AM o FM.
3
Presione UP o DOWN para sintonizar una emisora.
Para dejar de escuchar la radio, mueva el interruptor POWER
a OFF para desconectar el aparato.
Mantenga presionado UP o DOWN durante 1 ó 2 segundos.
Cuando se sintoniza una emisora, el indicador de frecuencia se
para automáticamente para escuchar dicho programa. Sin
embargo, puede no parar si la señal transmitida es muy débil.
Utilice los números de memoria (1 ­ 10) para memorizar hasta 10
Destellará la frecuencia de la pantalla durante unos 10
3
Mientras está destellando la frecuencia, presione uno de
los botones de número de memoria para seleccionar el
Para seleccionar 3 presione el 3.
Para seleccionar 7 presione +5 y 2.
Para seleccionar 10 presione +5 y 5.
Repita este procedimiento desde el principio si desea memorizar
Para escuchar una emisora programada, seleccione una
banda y presione el botón de número de memoria para seleccionar
el número de memoria deseado.
Si aparece una indicación equivocada o funciona mal
,
E
Presione el botón RESET con un objeto puntiagudo.
Cuando se inicializa el aparato, se borrarán las emisoras
memorizadas. Memorícelas nuevamente.
Gama de frecuencias AM: 530 ­ 1.710 kHz (intervalo de 10
FM: 87,5 ­ 108 MHz (intervalo de 100
12 mW + 12 mW (EIAJ 32 ohmios)
Especificaciones eléctricas
CC de 3V con dos pilas de tamaño
Vida de las pilas (EIAJ 1 mW)
utilizando pilas de manganeso de R03
Aprox. 14 horas cuando escucha en
Aprox. 21 horas cuando escucha en
Aprox. 30 horas para escuchar en FM
Aprox. 45 horas para escuchar en AM
Aprox. 120 g (sin incluir las pilas)
Las especificaciones y el aspecto de este aparato están
sujetos a cambios sin previo aviso.
1
Réglez l'interrupteur POWER à ON.
Pour obtenir des basses puissantes, réglez à S-BASS* ON.
2
Appuyez de manière répétée sur BAND pour sélectionner
3
Appuyez sur UP ou DOWN pour accorder une station.
Après l'écoute, réglez l'interrupteur POWER à OFF pour couper
Maintenez UP ou DOWN pressé 1 ou 2 secondes. A l'accord
automatiquement. Mais il pourra ne pas s'arrêter si le signal
Il est possible de prérégler jusqu'à 10 stations sur chaque bande
sous les numéros de préréglage (1 ­ 10).
La fréquence affichée clignotera environ 10 secondes.
3
Pendant le clignotement de l'affichage de fréquence,
appuyez sur une touche numérique de préréglage pour
sélectionner le numéro de préréglage.
Pour sélectionner 3, appuyez sur 3.
Pour sélectionner 7, appuyez sur +5 et 2.
Pour sélectionner 10, appuyez sur +5 et 5.
Répétez cette procédure depuis le début pour prérégler d'autres
Pour écouter des stations préréglées, sélectionnez une bande,
puis appuyez sur la touche numérique de préréglage pour
sélectionner le numéro de préréglage souhaité.
En cas d'affichage ou d'opération erronés
,
E
Appuyez sur le bouton RESET avec un objet pointu.
A la réinitialisation, les stations préréglées seront effacées.
Réentrez-les dans l'appareil.
Plage de fréquences AM: 530 à 1.710 kHz (pas de 10 kHz)
FM: 87,5 à 108 MHz (pas de 100 kHz)
12 mW + 12 mW (EIAJ 32 ohms)
3V c.c. avec deux piles format AAA
Durée de service des piles (1 mW EIAJ)
avec des piles au manganèse R03
Approx. 14 heures en réception FM
Approx. 21 heures en réception AM
avec des piles alcalines LR03
Approx. 30 heures en réception FM
Approx. 45 heures en réception AM
Approx. 120 g, piles exclues
Les spécifications et l'aspect extérieur sont sujets à
modification sans préavis.
---