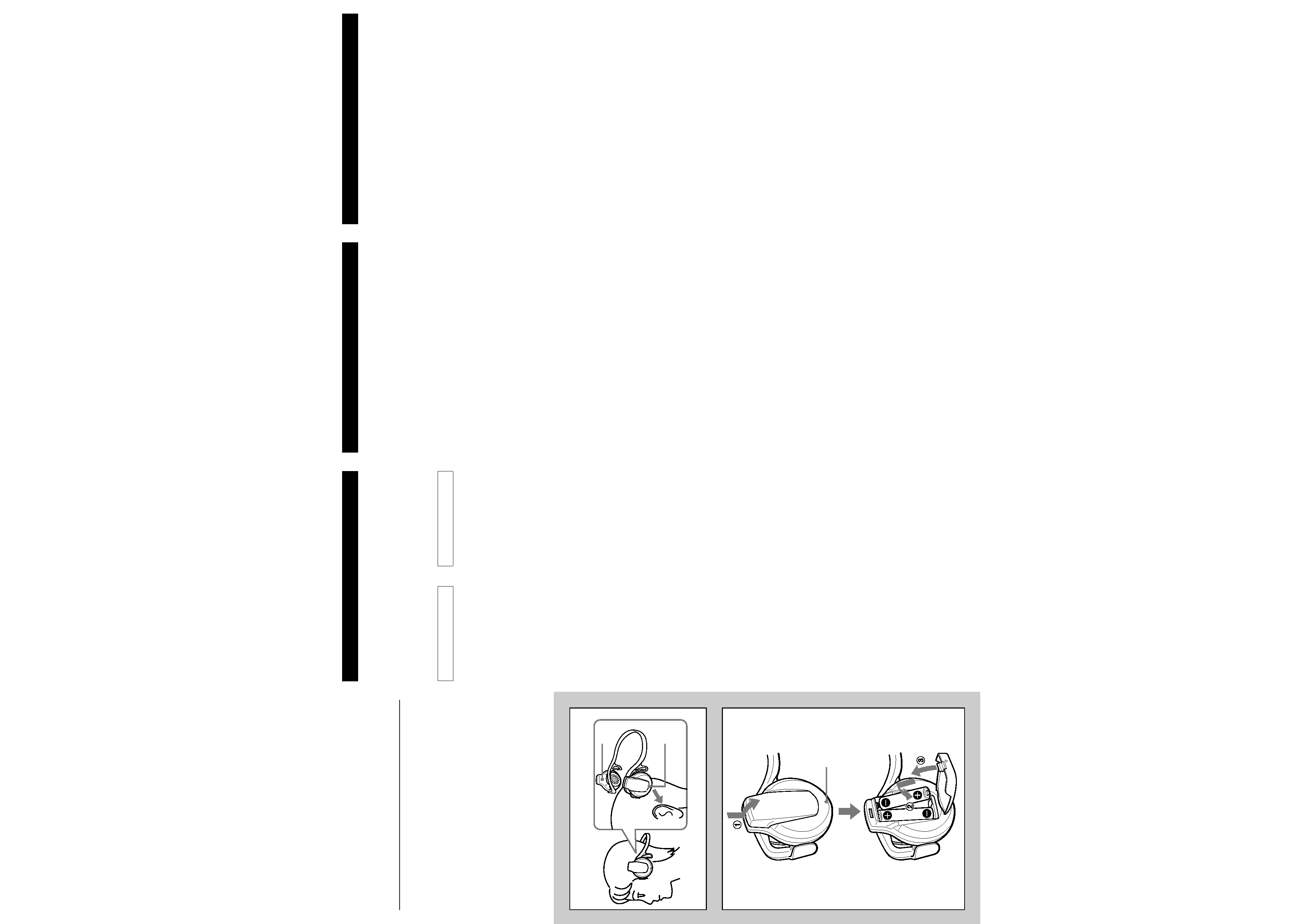 Para mantenerlo en buenas condiciones de
No utilice en lugares muy calientes, fríos, con polvo o
Especialmente, no deje el aparato:
· en lugares muy húmedos, por ejemplo en el baño
· cerca de la calefacción
· en un lugar expuesto a la luz solar directa (p. ej., en el
interior de un automóvil aparcado, tenga cuidado
porque puede calentarse extremadamente)
Notas para escuchar con los auriculares
· No escuche con el volumen alto porque puede dañar
su capacidad de audición.
· No utilice los auriculares cuando conduzca un automóvil
Puede ser un peligro para el tránsito.
· Debe tener mucho cuidado o dejar de usar
provisoriamente en situaciones peligrosas, por ejemplo
· Utilice correctamente: L es para la izquierda y R para
COLOCACION DE LAS PILAS
,
B
Abra el compartimiento de las pilas y coloque dos pilas
de tamaño AAA (R03) con las marcas
Cambie las pilas por otras nuevas cuando el sonido se
· Confirme que las marcas
0 y 9 están correctamente
· No mezcle distintos tipos de pilas o una pila vieja con
· Para evitar que se produzcan fugas de electrólito o
explosiones, no cargue las pilas, caliente o desarme.
· Si no se va a utilizar el aparato durante mucho tiempo,
saque las pilas para evitar que se gasten inútilmente.
· Si ha salido líquido de las pilas, limpie bien para
Pour assurer un bon fonctionnement
Ne laissez pas l'appareil à un emplacement très chaud,
froid, poussiéreux ou humide.
En particulier, ne le laissez pas:
· à un endroit très humide, une salle de bains par
· près d'un appareil de chauffage
· endroit exposé directement au soleil (par exemple,
dans une voiture stationnée en plein soleil car la
température peut augmenter considérablement)
Remarques sur l'écoute avec les écouteurs
· Ecoutez à volume modéré pour éviter tout dommage
· N'utilisez pas les écouteurs en conduisant une voiture
ou à bicyclette, cela pourrait provoquer un accident.
· Montrez-vous très prudent ou bien arrêtez d'utiliser les
écouteurs dans les situations potentiellement
dangereuses, par exemple en marchant, pendant le
· Portez correctement les écouteurs: L pour la gauche,
MISE EN PLACE DES PILES SECHES
Ouvrez le logement des piles, et insérez-y deux piles
format AAA (R03), en alignant correctement les marques
Remplacez les piles par des neuves quand le son
Remarques sur les piles sèches
· Respectez les polarités
· Ne mélangez pas différents types de pile, ou des piles
· Pour éviter tout risque de fuite d'électrolyte ou
d'explosion, ne rechargez jamais les piles, ne les
chauffez pas et ne les démontez pas.
· Quand les piles ne sont pas utilisées, retirez-les pour
éviter toute usure inutile.
· En cas de fuite, essuyez tout le liquide.
For your convenience, record the model number and the
serial number (you will find it in the battery compartment
of your set) in the space provided below. Please refer to
them when you contact your Aiwa dealer in case of
To maintain good performance
Do not use the unit in places which are extremely hot,
In particular, do not keep the unit:
· in a high humidity area such as a bathroom
· in an area exposed to direct sunlight (e.g., inside a
parked car, please be careful because it may become
Note on listening with the headphones
· Listen at moderate volumes to avoid hearing damage.
· Do not wear the headphones while driving or cycling.
It may create a traffic hazard.
· You should use extreme caution or temporarily
discontinue use in potentially hazardous situations,
such as walking, jogging, etc.
· Wear them properly: L is left, R is right.
,
A
INSERTING DRY CELL BATTERIES
,
B
Open the battery compartment and insert two size AAA
Replace the batteries with new ones when the sound
Note on dry cell batteries
0 and 9 marks are correctly
· Do not mix different types of batteries, or an old battery
· To prevent the risk of electrolyte leakage or explosions,
never recharge the batteries, apply heat to them, or
· When not using the batteries, remove them to prevent
· If liquid leaks from the batteries, wipe thoroughly to
---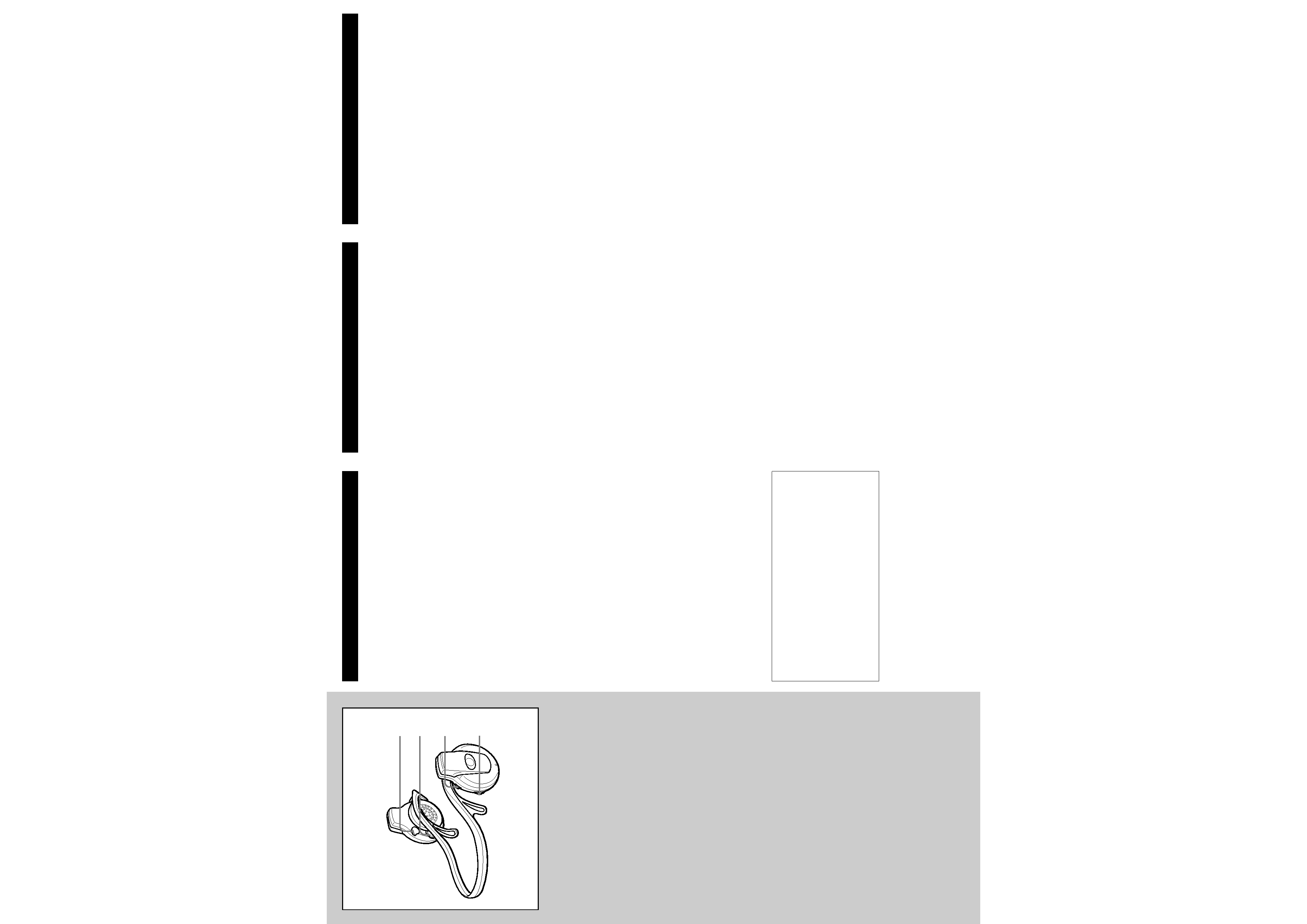 SINTONIZACION DE EMISORAS
1
Mueva el interruptor POWER a ON.
Mueva a S-BASS* ON para dar mayor énfasis a los
2
Mueva el BAND para seleccionar AM o FM.
3
Gire el control TUNING para sintonizar una
Para dejar de escuchar la radio, mueva el interruptor
POWER a OFF para desconectar el aparato.
Gama de frecuencias AM: 530 ­ 1.710 kHz
Especificaciones eléctricas
CC de 3V con dos pilas de
Vida de las pilas (EIAJ 1 mW)
utilizando pilas de manganeso de R03
Aprox. 115 g (sin incluir las
Las especificaciones y el aspecto de este aparato
están sujetos a cambios sin previo aviso.
TUNING IN TO A STATION
,
C
1
Set the POWER switch to ON.
To obtain powerful heavy bass, set it to S-BASS*
2
Set the BAND to select AM or FM.
3
Turn the TUNING control to tune in to a station.
After listening, set the POWER switch to OFF to turn off
using R03 manganese batteries
using LR03 alkaline batteries
The specifications and the external appearance of
this unit are subject to change without notice.
Modifications or adjustments to this product, which
are not expressly approved by the manufacturer,
may void the user's right or authority to operate this
This device complies with Part 15 of the FCC Rules.
Operation is subject to the condition that this device
does not cause harmful interference.
1
Réglez l'interrupteur POWER à ON.
Pour obtenir des basses puissantes, réglez à
2
Réglez BAND pour sélectionner AM ou FM.
3
Tournez la commande TUNING pour accorder
Après l'écoute, réglez l'interrupteur POWER à OFF
pour couper l'alimentation.
Plage de fréquences AM: 530 à 1.710 kHz
Durée de service des piles (1 mW EIAJ)
avec des piles au manganèse R03
avec des piles alcalines LR03
Approx. 115 g, piles exclues
Les spécifications et l'aspect extérieur sont sujets à
modification sans préavis.
---