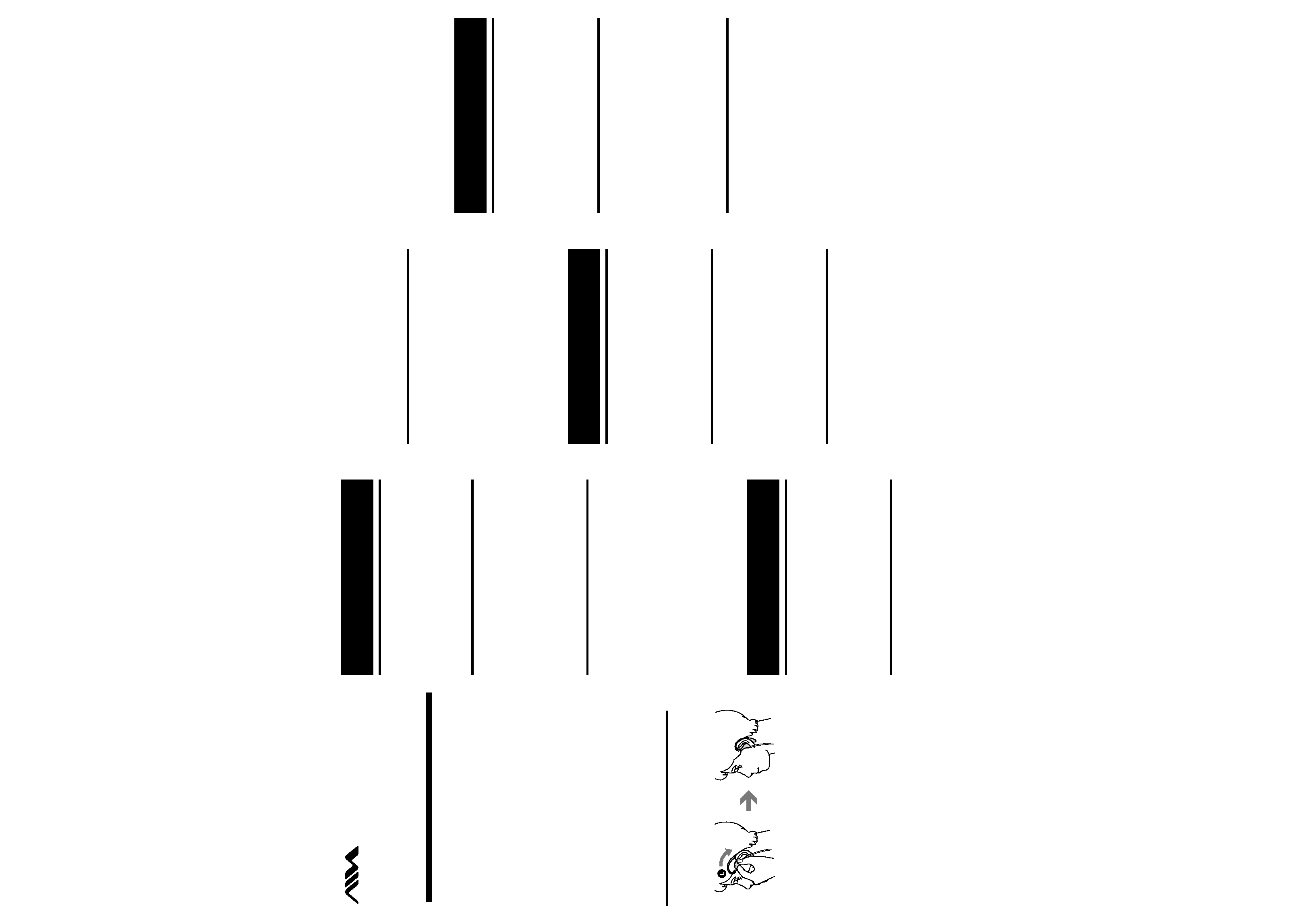 © 2004 Sony Corporation Printed in China
·Vertical in-the-ear design for direct sound.
· Hook-on design and light-weight, clip-on
type headphones for easy wearing.
· Neodymium magnet driver unit for high
Hook the L part to your left ear and the R
1
Hook the headphones around your
2
Adjust the earpieces to comfortably
· Listening with headphones at high volume
may affect your hearing. For traffic safety,
do not use headphones while driving or
· Do not put weight or pressure on the
headphones as it may cause the headphones
to deform during long storage.
The validity of the CE marking is restricted to only
those countries where it is legally enforced, mainly in
the countries EEA (European Economic Area).
· Son direct grâce au concept des écouteurs
· Ecouteurs légers à clipser sur les oreilles
pour une utilisation simple.
· Son de haute qualité grâce à l'aimant
Néodyme du pavillon de l'écouteur.
Mode d'emploi (voir fig. A)
Placez la partie gauche L sur votre oreille gauche
et la partie droite R sur votre oreille droite.
1
Mettez les clips du casque sur vos
2
Réglez les écouteurs pour un confort
·L'écoute des écouteurs à haut volume peut
endommager votre ouïe. Pour votre sécurité
sur la route, n'utilisez pas les écouteurs à
· Ne pas exercer de pression ni poser d'objet
sur le casque car il pourrait se déformer à
La marque CE est valable uniquement dans les pays
où elle a force de loi, c'est-à-dire principalement dans
les pays de l'EEE (Espace Économique Européen).
·Wird vertikal im Ohr getragen und sorgt so
für ein unmittelbares Klangerlebnis
· Dank Aufsteck-Design und geringem
Gewicht besonders komfortabel zu tragen
· Hohe Tonqualität dank tonerzeugender
Komponente mit Neodymmagnet
Legen Sie Teil L um das linke und Teil R um
1
Legen Sie die Kopfhörer um die
2
Rücken Sie die Ohrstücke zurecht, bis
sie bequem in den Ohren sitzen.
·Wenn Sie bei hoher Lautstärke mit
Kopfhörern Musik hören, kann es zu
Gehörschäden kommen. Verwenden Sie
Kopfhörer aus Gründen der
Verkehrssicherheit nicht beim Fahren von
Kraftfahrzeugen oder beim Fahrradfahren.
·Achten Sie darauf, dass auf den Kopfhörern
kein Gewicht oder Druck lastet. Andernfalls
können sich die Kopfhörer bei langer
Die Gültigkeit des CE-Zeichens beschränkt sich
ausschließlich auf die Länder, in denen es gesetzlich
erforderlich ist, vor allem im europäischen
· Diseño vertical de ajuste a la oreja para
disfrutar de un sonido directo.
·Auriculares ligeros y ergonómicos en forma
de gancho para un uso sencillo.
· Unidad del controlador con imán de
neodimio para una gran calidad de sonido.
Utilización (consulte la figura
Enganche la parte marcada L al oído izquierdo
y la parte marcada R al derecho.
1
Coloque los auriculares alrededor de
2
Ajústelos para que se adapten
cómodamente en los mismos.
· La escucha con auriculares a un volumen
alto puede dañar la audición. Por razones de
seguridad de tráfico, no utilice los
auriculares cuando conduzca o vaya en
· No coloque peso ni ejerza presión en los
auriculares. De lo contrario, éstos se pueden
deformar durante un almacenamiento
La validez de la marca CE se limita únicamente a
aquellos países en los que la legislación la impone,
especialmente los países de la EEE (Espacio
---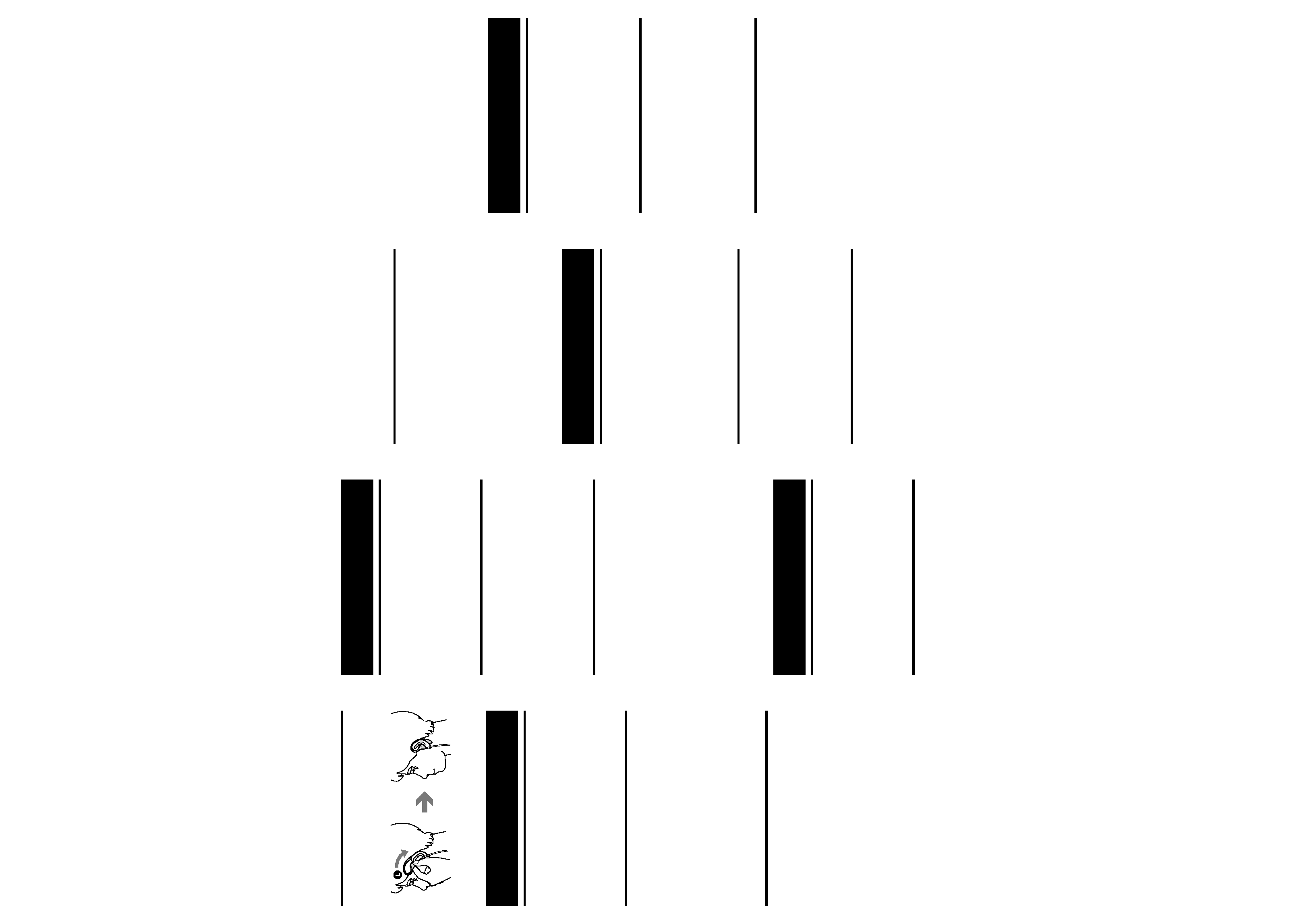 · Il design verticale degli auricolari consente
di ascoltare direttamente l'audio.
· Il design a forma di gancio facilita l'uso
delle presenti cuffie leggere ed ergonomiche.
· Unità pilota con magnete al neodimio per
una qualità audio elevata.
Agganciare la parte contrassegnata dalla lettera
all'orecchio sinistro e la parte
contrassegnata dalla lettera R all'orecchio
1
Indossare le cuffie sulle orecchie.
2
Regolare gli auricolari in modo che
aderiscano perfettamente alle
·L'ascolto con le cuffie a volume elevato
potrebbe danneggiare l'udito. Per la
sicurezza stradale, non utilizzare le cuffie
durante la guida o l'uso di una bicicletta.
· Onde evitare che le cuffie si deformino
durante periodi prolungati di deposito, non
appoggiarvi sopra oggetti pesanti o che le
sottopongano a pressione.
La validità del contrassegno CE è limitata ai paesi in
cui è legalmente in vigore, in particolare nei paesi
dello SSE (Spazio Economico Europeo).
· Függlegesen fülbe helyezhet kivitel a
közvetlen hangzás érdekében.
· Felakasztható, könny, jól rögzül
fejhallgató, melynek viselése kényelmes.
· Neodímium mágneses hangszóróegység
szolgáltatja a kiváló minség hangot.
Használat (lásd az A ábrát)
Az L betvel jelölt részt a bal fülre, az R
betvel jelöltet pedig a jobb fülre kell
1
Akassza a fülhallgatókat a fülére.
2
Igazítsa meg a fülhallgatókat, hogy
kényelmesen illeszkedjenek a fülébe.
· Ha túl hangosra állítja a fejhallgatót, az
halláskárosodást okozhat! A közlekedés
biztonsága érdekében ne használja a
fejhallgatót vezetés vagy kerékpározás
· Vigyázzon, hogy a fejhallgatót ne nyomja
semmi tárolás közben, különben hosszabb
A CE jelölés érvényessége azokra az országokra
korlátozódik, ahol a használata jogszabályban
elírt - fként az Európai Gazdasági Térség
· Design vertikálního upevnní v usích pro
· Moznost zavsení a nízká hmotnost,
sklapovací sluchátka pro snadné nosení.
· Mnice s neodymovým magnetem pro
Pilozte cást L k levému uchu a cást R k
1
Nasate sluchátka na usi.
2
Upravte sluchátka tak, aby pohodln
· Poslech pomocí sluchátek pi nastavené
vysoké hlasitosti mze nepízniv ovlivnit
vás sluch. Z dvod bezpecnosti silnicního
provozu nepouzívejte sluchátka bhem
ízení nebo pi jízd na kole.
· Nevystavujte sluchátka tlaku ani zátzi,
nebo by mohlo bhem dlouhodobého
skladování dojít k jejich deformaci.
Platnost oznacení CE se vztahuje pouze na
zem, kde je toto oznacení zákonné, zejména na
zem Evropského spolecenství (EU).
· Pionowa konstrukcja wkladana do ucha
umoliwiajca uzyskanie bezporedniego
· Konstrukcja przeznaczona do zawieszania
na uszach i lekkie, zatrzaskowe sluchawki
umoliwiajce latwe zakladanie.
· Jednostka sterujca z magnesem
neodymowym zapewniajca wysok
Zawie cz oznaczon liter L na lewym
uchu, a cz oznaczon liter R - na
1
Zawie sluchawki na uszach.
2
Wyreguluj sluchawki, aby wygodnie
· Sluchanie przy uyciu sluchawek dwiku
o wysokiej glonoci moe by przyczyn
problemów ze sluchem. W celu
zachowania bezpieczestwa na drodze nie
naley uywa sluchawek podczas
prowadzenia samochodu ani jazdy
· Na sluchawkach nie naley umieszcza
cikich przedmiotów ani nie naley
stosowa wzgldem nich wysokiego
cinienia, poniewa dlugotrwale
przechowywanie sluchawek w takich
warunkach moe spowodowa ich
Znak CE obowizuje tylko w tych krajach, w
których ma on podstaw prawn, glównie w
krajach EEA (European Economic Area -
Europejski obszar ekonomiczny).
---