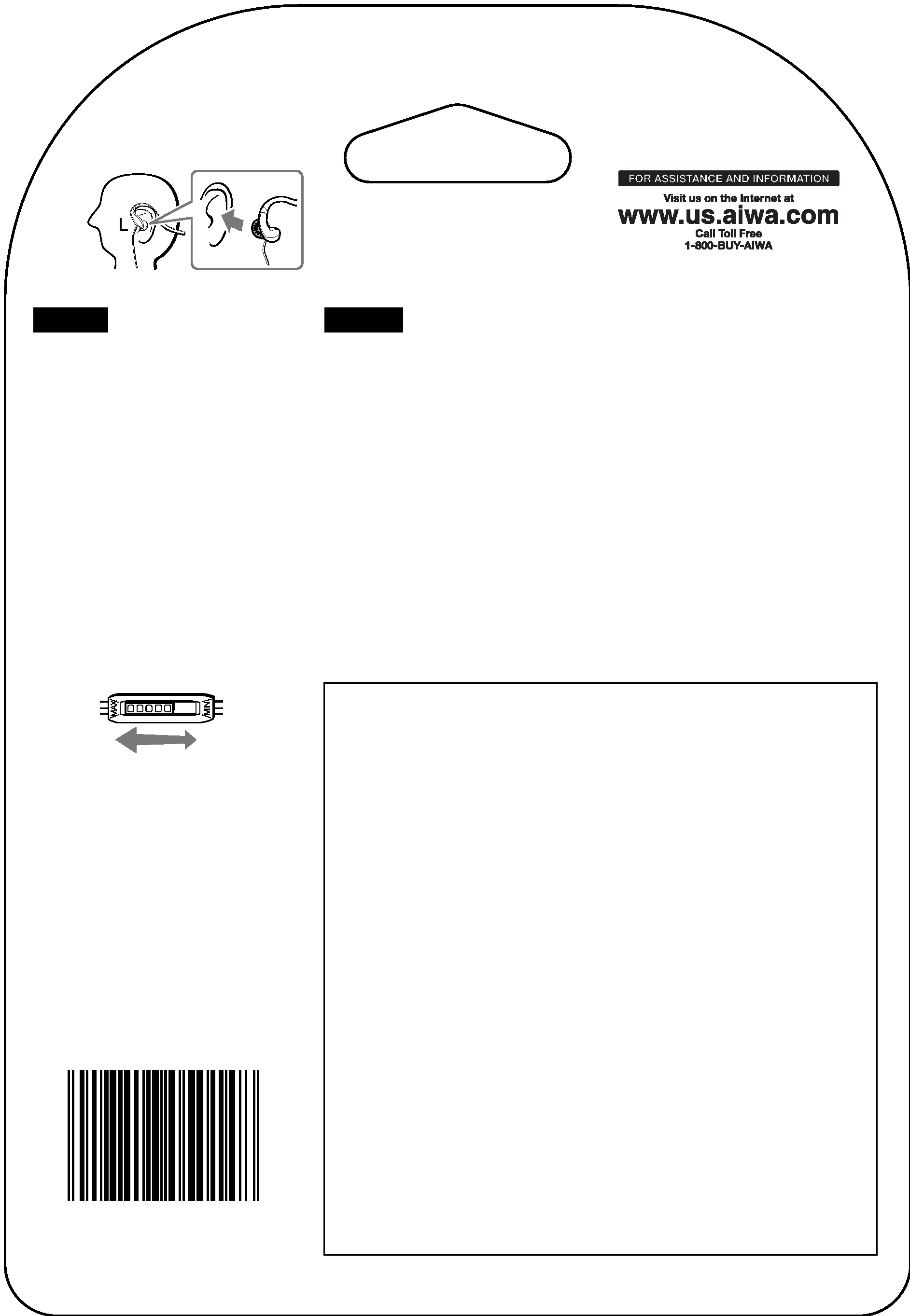 · Do not immerse the unit in water or
expose it to water for a long period of
time. Wipe the unit thoroughly with a
dry cloth when it gets wet.
·Listening with headphones at high
volume may affect your hearing. For
traffic safety, do not use while driving
· Do not put weight or pressure on the
headphones as it may cause the
headphones to deform during long
·Wear properly: L is left, R is right.
First set the headphone volume to MAX,
then adjust the volume control on the
Power handling capacity: 40 mW
Frequency response: 10 - 25,000 Hz
Mass: 14 g (without cord)
Design and specifications are subject to
Made in China / Fabricado en Chine
Aiwa Strategic Accounts Partnership Inc.
Aiwa Strategic Accounts Partnership Inc. ("AIWA") warrants to the original consumer purchaser that this
product is free of defects in material and workmanship at the time of purchase. For 90 days after the date
of purchase (the "Warranty Period"), AIWA will pay for parts and labor to repair defects or, at its option,
will replace a defective product with a new or remanufactured functionally equivalent product of equal
value. AIWA may retain defective parts. Replacement parts are warranted for the remainder of the original
Warranty Period. AIWA's warranty obligations must be performed by an AIWA Authorized Service Center
in the continental United States. For the name of the AIWA Authorized Service Center nearest to you, call
toll free 1-800-289-2492 (1-800-BUY-AIWA).
To obtain warranty performance, you must take the product, or deliver the product freight pre-paid, during
the Warranty Period, to an AIWA Authorized Service Center. If shipped, the product must be packaged so
that it is protected from possible shipping damages. You must pick up the product when warranty
performance is completed or, if you choose, and you notify the AIWA Authorized Service Center, the
repaired product will be returned to you freight prepaid. You must present to the AIWA Authorized Service
Center, or include with your shipment, a dealer's bill of sale or other original evidence showing the date
and place of purchase and describing the product purchased. Be sure to include your return address and
daytime telephone number where you can be reached should the need arise.
This Warranty does not cover products purchased outside of the continental United States, transportation
costs to the AIWA Authorized Service Center, batteries, or defects due to service other than by an AIWA
Authorized Service Center, or due to accident, misuse, abuse or negligence.
REPAIR OR REPLACEMENT AS PROVIDED IN THIS WARRANTY IS THE EXCLUSIVE WARRANTY
REMEDY. THERE ARE NO EXPRESS WARRANTIES EXCEPT AS PROVIDED HEREIN, AND THERE ARE NO
IMPLIED WARRANTIES, INCLUDING WARRANTIES OF MERCHANTABILITY AND FITNESS FOR A
PARTICULAR PURPOSE, BEYOND THE WARRANTY PERIOD. IN NO EVENT SHALL AIWA BE LIABLE FOR
LOST PROFITS, LOST SAVINGS, OR INCIDENTAL OR CONSEQUENTIAL DAMAGES IN CONNECTION
WITH THIS PRODUCT. Some states do not allow limitations on how long an implied warranty lasts or the
exclusion or limitation of incidental or consequential damages, so the above limitations or exclusion may
not apply to you. This Warranty gives you specific legal rights, and you may also have other rights which
may vary from state to state.
·No sumerja la unidad en agua o
exponga al agua durante un largo
período de tiempo. Limpie a fondo con
un paño seco en caso de mojarse.
· La utilización de los auriculares con el
volumen muy alto puede dañar los
oídos. Por razones de seguridad vial, no
utilice los auriculares mientras conduce
· Evite colocar peso sobre los auriculares
y aplicarles presión porque, con el
tiempo, pueden defoemarse.
·Llevarlos puestos correctamente: "L" es
para el oído izquierdo y "R" para el
Ajustar primero el volumen de los
auriculares en MAX y luego ajustar el
control de volumen en el aparato de
Unidades auriculares: ø15 mm 16
Capacidad de manipulación de
Respuesta en frecuencia: 10 - 25.000 Hz
Masa: 14 g (sin el cable)
Diseño y especificaciones sujetos a
Esta garantía es válida sólo para los Estados Unidos.
English
Stereo Headphones
---