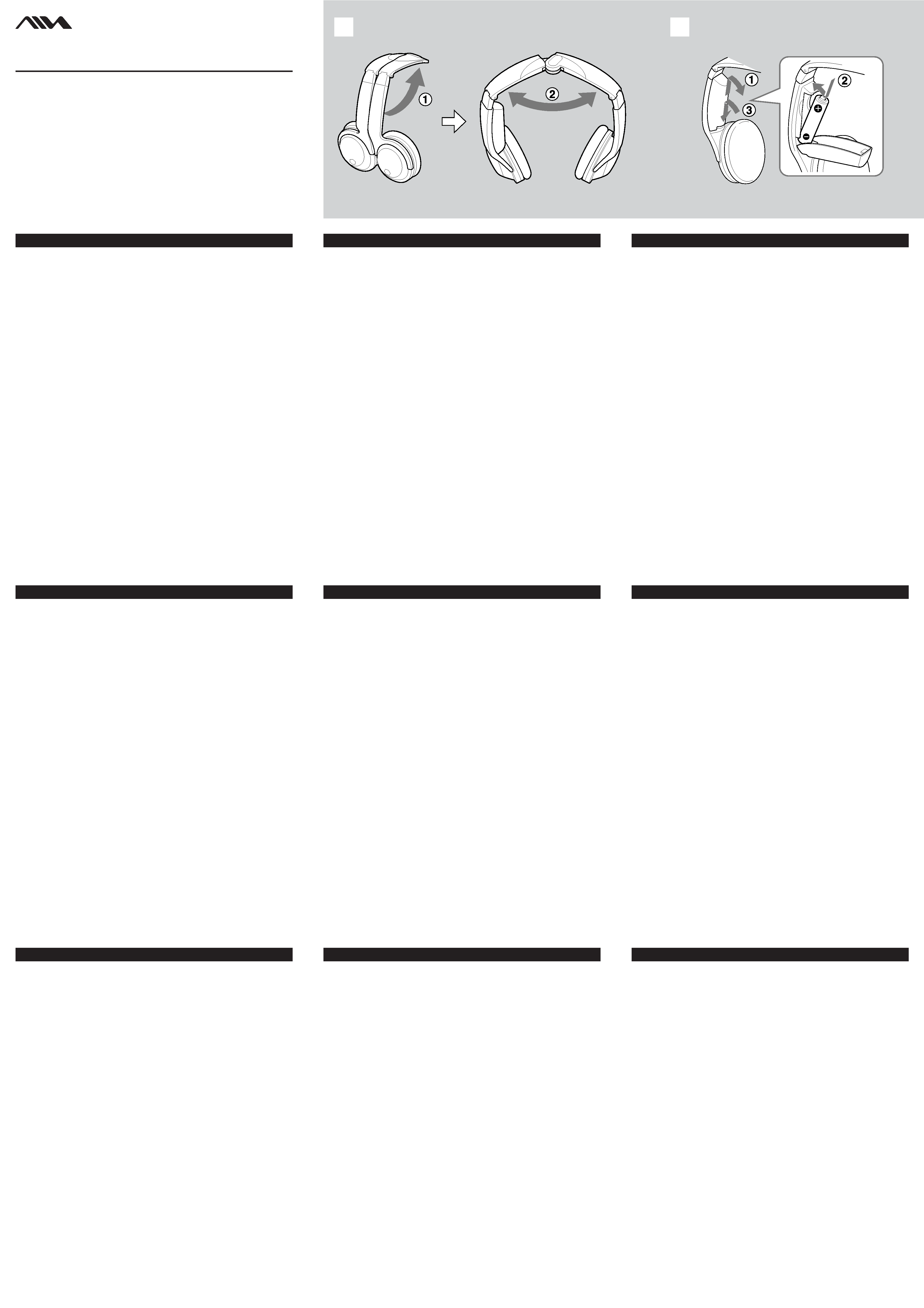 ·Do not expose the unit to rain or moisture to prevent fire or shock hazard.
· Listen at moderate volume to avoid hearing damage.
·Do not wear the headphones while driving or cycling. It may create a traffic hazard.
·You should use extreme caution or temporarily discontinue use in potentially hazardous
situations, such as walking, jogging, etc.
·Wear properly : L is left, R is right.
·The earpads may deteriorate due to long-term storage or use.
Unfold the unit as illustrated above.
TO INSERT DRY CELL BATTERY
Insert a size AA (R6) battery with the 4 and 5 marks properly aligned.
Replace the battery with a new one when the POWER indicator dims.
120 hours using a size AA (LR6) alkaline battery
·Make sure that the 4 and 5 marks are correctly aligned.
·Never recharge the battery, apply heat to it or take it apart.
·When not using the battery, remove it to prevent needless wear.
· If liquid leaks from the battery, wipe thoroughly to remove.
Use a soft cloth lightly moistened with a mild detergent solution.
Do not use the strong solvents such as alcohol, benzine or cleaner.
·No exponga la unidad a la lluvia o la humedad para evitar el riesgo de incendios o de
·Escuche a volumen moderado para no dañar el oído.
·No utilice los auriculares mientras conduce o anda en bicicleta. Puede provocar una
situación de peligro para el tráfico.
·Deje de utilizar la unidad temporalmente o utilícela con extrema precaución en situaciones
potencialmente peligrosas, como al andar, hacer jogging, etc.
·Utilícela correctamente: L es izquierda, R es derecha.
· Las almohadillas de los auriculares pueden deteriorarse con el uso o almacenamiento
Despliegue la unidad tal como en la figura anterior.
Coloque una pila tamaño AA (R6) con las marcas 4 y 5 bien alineadas.
Cambie la pila por una nueva cuando el indicador POWER se oscurece.
120 horas utilizando una pila alcalina de tamaño AA (LR6)
·Verifique que las marcas 4 y 5 están correctamente alineadas.
·No cargue la pila, caliente o desarme.
·Cuando no utilice la pila, sáquela para evitar que se gaste inútilmente.
·Si ha salido líquido de la pila, limpie bien para sacarla.
Utilice un paño suave empapado en una solución detergente neutra.
No utilice disolventes fuertes tales como alcohol, bencina o limpiador.
·N'exposez pas l'appareil à la pluie ou à l'humidité, et ce afin d'empêcher tout risque
d'incendie ou d'électrocution.
· Le son doit être modéré afin d'éviter tout problème auditif.
·Ne portez pas de casques lorsque vous conduisez ou faites du vélo. Ils pourraient être
·Vous devrez rester prudent ou cesser provisoirement toute utilisation dans des situations
éventuellement dangereuses comme la marche, la course à pied, etc.
·Placez-le correctement : L correspond à la gauche, R à la droite.
· Les oreillettes peuvent s'abîmer après un stockage ou une utilisation prolongée.
Dépliez le casque comme indiqué ci-dessus.
INSERTION D'UNE PILE SECHE
Insérez une pile format AA (R6) en respectant les polarités 4 et 5.
Remplacez la pile par une neuve quand l'indicateur POWER faiblit.
120 heures avec une pile alcaline de format AA (LR6)
Remarques sur la pile sèche
·Vérifier que les marques (4, 5) sont bien alignées.
·Ne jamais recharger la pile, la chauffer ou la démonter.
·Quand la pile n'est pas utilisée, la retirer de l'appareil pour éviter toute usure inutile.
·En cas de fuite, essuyer tout le liquide.
Utiliser un chiffon doux humecté de solution détergente douce.
Ne pas utiliser de solvant fort, tel qu'alcool, benzine ou liquide de nettoyage.
·Setzen Sie das Gerät keinesfalls Nässe oder Feuchtigkeit aus; hierbei besteht Brandgefahr
bzw. die Gefahr eines elektrischen Schlags.
·Stellen Sie eine mäßige Lautstärke ein, um Hörschäden zu vermeiden.
·Tragen Sie beim Auto- oder Fahrradfahren keinen Kopfhörer. Dies stellt ein Verkehrsrisiko
· Lassen Sie in potentiell gefährlichen Situation, z. B. beim Gehen oder Laufen, besondere
Vorsicht walten, oder schalten Sie das Gerät vorübergehend ab.
·Tragen Sie das Gerät richtig herum: L steht für ,,Links", R für ,,Rechts".
·Bei Langzeitlagerung oder -verwendung kann sich die Qualität der Ohrpolster verschlechtern.
AUSEINANDERKLAPPEN DER EINHEIT
Klappen Sie den Kopfhörer wie oben abgebildet auseinander.
EINSETZEN DER TROCKENZELLE
Setzen Sie eine Mignonzelle (Größe AA, R6) richtig gepolt in den Batteriebehälter ein
(Markierungen 0 und 9 beachten).
Tauschen Sie die Batterie aus, sobald die POWER-Anzeige dunkler wird.
120 Stunden mit einer Alkali-Mignonzelle (Größe AA, R6)
Hinweise zur Trockenzelle
·Sorgen Sie unbedingt für richtig Polung (Markierungen 0 und 9 beachten).
·Die Batterie darf keinesfalls aufgeladen, erhitzt oder zerlegt werden.
·Bei Nichtgebrauch entnehmen Sie die Batterie, um ihre Kapazität zu schonen.
·Eventuell ausgelaufenen Elektrolyt wischen Sie gründlich ab.
Verwenden Sie zur Reinigung ein weiches Tuch, das leicht mit einer milden Spülmittellösung
Starke organische Lösungsmittel wie Alkohol, Waschbenzin oder Verdünner eignen sich
keinesfalls zu diesem Zweck.
·Per evitare qualsiasi rischio di incendio o scosse elettriche, evitare di esporre l'unità alla
·Per evitare lesioni all'udito, mantenere un volume di ascolto moderato.
·Non indossare le cuffie durante la guida o quando si è in bicicletta. Rischio di incidenti
· In situazioni potenzialmente pericolose, ad esempio quando si cammini o si faccia jogging,
ecc., adottare la massima cautela o interrempore temporaneamente l'utilizzo,
· Indossare in modo adeguato : L corrisponde alla sinistra, R alla destra.
· Le protezioni auricolari potrebbero rovinarsi in seguito a utilizzo o conservazione a lungo
Spiegare l'unità come illustrato sopra.
PER INSERIRE LA PILA A SECCO
Inserire una pila di formato AA (R6) con i poli 0 e 9 allineati correttamente.
Quando l'indicatore POWER si attenua, sostituire la pila con una pila nuova.
120 ore utilizzando una pila alcalina di formato AA (R6).
·Accertarsi che i poli 0 e 9 siano allineati correttamente.
·Non tentare di ricaricare, riscaldare o smontare la pila.
·Se si prevede di non usare la pila rimuoverla per evitare che si consumi inutilmente.
· In caso di fuoriuscita di liquido dalla pila, pulire strofinando bene e rimuoverla.
Per pulire il guscio esterno
Usare un panno morbido leggermente inumidito con una soluzione di detergente neutro.
Non usare solventi forti quali alcool, benzina o prodotti di pulizia.
· Sluchawek nie wolno wystawia na dzialanie deszczu ani wilgoci, by nie doszlo do
poraenia prdem lub poaru.
· Dwiku nie wolno slucha bardzo glono, gdy moe to uszkodzi sluch.
· Sluchawek nie wolno uywa prowadzc pojazd mechaniczny lub jadc na rowerze. Moe
to stanowi zagroenie dla ruchu ulicznego.
· Uywanie sluchawek w niektórych sytuacjach, na przyklad podczas spaceru lub przy
bieganiu, moe by potencjalnie niebezpieczne. Wtedy naley zachowa szczególn
ostrono lub chwilowo ich nie uywa.
· Sluchawki naley wlaciwie zaloy: litera L oznacza lew, R ­ praw.
· Przy dlugotrwalym uywaniu lub skladowaniu okladziny sluchawek mog traci swe
Rozpakowa zestaw tak, jak to pokazano na rysunku.
Wloy bateri AA (R6), zwracajc uwag na prawidlowe uloenie znaków 4 i 5.
Wymieni bateri na now, gdy wskanik zasilania (POWER) ciemnieje.
120 godzin, przy zastosowaniu alkalicznej baterii AA (LR6)
· Sprawdzi, czy bateria jest wloona w taki sposób, e znaki 4 oraz 5 s prawidlowo
· Nigdy nie ladowa baterii, nie podgrzewa ani nie rozklada.
· Gdy bateria nie jest uywana, naley j wyj, aby zapobiec niepotrzebnemu zuyciu.
· W razie wycieku z baterii, dokladnie wytrze.
Stosowa delikatn ciereczk nasczon w roztworze lagodnego detergentu.
Nie stosowa silnych rozpuszczalników, np. alkoholu, benzyny lub rodków czystoci.
· Nevystavujte pístroj psobení dest nebo vlhkosti, zabráníte tím úrazu elektrickým
· Poslouchejte hudbu pouze na stední hlasitost, abyste zabránili poskození svého sluchu.
· Nepouzívejte sluchátka, pokud ídíte, nebo jedete na kole. Mohlo by to vést ke vzniku
nebezpecných situací v silnicním provozu.
· V prbhu potenciáln nebezpecných situací, napíklad pi chzi nebo bhu, apod., byste
mli pístroj pouzívat velmi obezetn, nebo zcela perusit jeho pouzití.
· Pouzívejte sluchátka správn nasazená: L je levé, R je pravé.
· Vycpávky sluchátek se mohou dlouhodobým skladováním nebo pouzíváním poskodit.
Sluchátka rozlozte tak, jak je znázornno na obrázku.
Vlozte baterie typu AA (R6) se správn umístnými znackami 4 a 5.
Vymte baterii za novou v pípad, ze indikátor POWER pestane svítit.
120 hodin pi pouzití alkalické baterie typu AA (LR6)
Poznámky k pouzití baterií
· Ujistte se, ze znacky polarity 4 a 5 jsou správn umístny.
· Nikdy baterie nedobíjejte, nevhazujte je do ohn, ani je nerozebírejte.
· Pokud baterie nejsou pouzívány, vyjmte je ze sluchátek, aby se nevybíjely.
· Pokud by z baterie unikla kapalina, dkladn ji otete.
Pouzívejte pouze mkký hadík, mírn navlhcený do roztoku saponátu.
Nepouzívejte silná rozpoustdla, jako je alkohol, benzín, nebo syntetické cistidlo.
· A tz vagy áramütés veszélyének elkerülése érdekében ne tegye ki a készüléket esnek
· A halláskárosodás elkerülése érdekében mérsékelt hangern hallgassa a készüléket.
· Vezetés vagy kerékpározás közben ne viselje a fejhallgatókat, ez ugyanis közlekedési
veszélyhelyzetet idézhet el.
· Esetlegesen veszélyes helyzetekben különös óvatossággal kell eljárnia, vagy pedig
ideiglenes függessze fel a használatot Ilyen helyzetek lehetnek a sétálás, kocogás, stb.
· Viselje rendeltetésszeren: Az L a baloldalt, az R pedig a jobboldalt jelenti.
· Hosszú távú tárolás vagy használat következtében a fülhallgató szivacsbevonata
A készüléket a képen látható módon kell széthajtani.
Helyezzen be egy AA méret (R6) ceruzaelemet, ügyelve a polaritásra.
Ha a POWER kijelz elhalványodik, cserélje újra az elemet.
120 óra AA (LR6) alkáli elemmel
A szárazelemmel kapcsolatos megjegyzések
· Ügyeljen a polaritásra!
· Soha ne töltse újra, hevítse, vagy szedje darabokra az elemet!
· Ha nem használja az elemet, a szükségtelen igénybevétel megelzése érdekében távolítsa el
· Ha nedvesség szivárog az elembl, alaposan törölje le.
Használjon enyhe tisztítószeres oldalban megnedvesített puha ruhát.
Ne használjon ers oldószereket (pl. alkohol, benzin vagy hígító).
---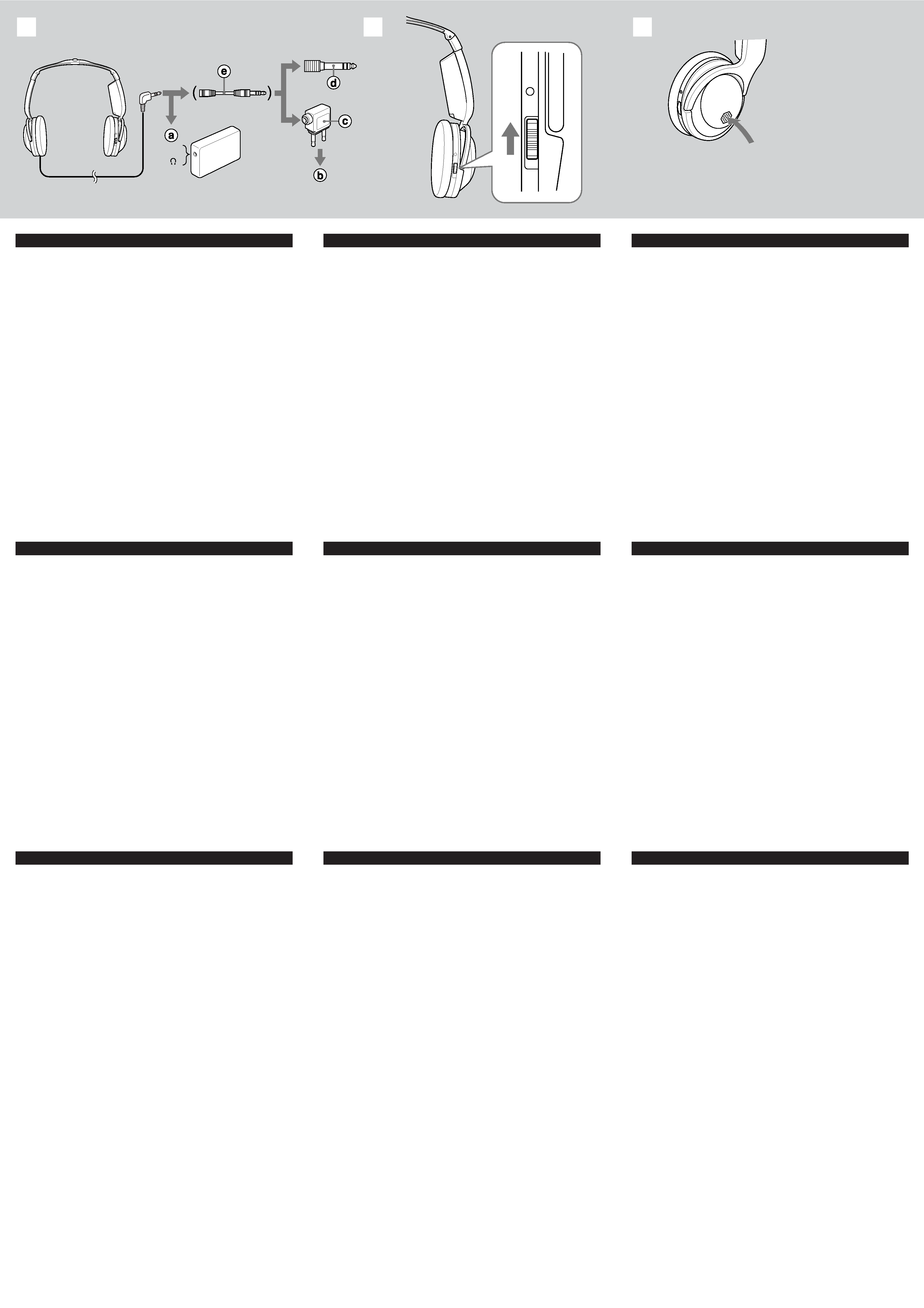 To connect the headphones
1Connect the stereo mini-plug of the headphones:
a to the headphone jack (\, PHONES) of a portable equipment.
b to dual stereo mini jacks of in-flight entertainment audio services, using the
2Wear the headphones correctly, with L mark on the left and the R mark on the right.
3 Move the hanger up and down to adjust the headband for the optimum earpad fit.
Notes on using on the airplane
· If the volume level of the in-flight entertainment audio channel is too high and cannot be
lowered further, please use the supplied sound-reduction adaptor cord e to reduce the
·Do not use the headphones when use of electronic equipment is prohibited or when use of
personal headphones for in-flight entertainment audio services is prohibited.
·The supplied plug adaptor c may not be compatible with some in-flight entertainment audio
services. In this case, use the supplied standard plug adaptor d.
Set the POWER switch to ON and the POWER indicator lights.
To deactivate the noise canceling, set the POWER switch to OFF.
·The noise canceling function is only effective for noise in the low frequency band. Although
noise is reduced, it is not canceled completely.
·Do not cover the microphone (E) of the headphones with your hands. The howling may
occur and the noise canceling function may not work properly. Move your hands away from
Para conectar los auriculares
1Conecte el minienchufe estéreo de los auriculares:
a en la toma de auriculares (\, PHONES) de un equipo portátil.
b a las minitomas estéreo dobles de los servicios de entretenimiento en audio,
utilizando el adaptador de enchufe suministrado c.
2Utilice los auriculares correctamente, con la marca L a la izquierda y la marca R a la
3 Mueva el soporte hacia arriba y abajo para ajustar los cascos auriculares de tal forma
que los forros de auricular entren en sus oídos a la altura óptima.
Notas acerca del uso en un avión
·Si el nivel de volumen del canal de audio para entretenimiento en vuelo está demasiado alto
y no puede seguir bajando más, utilice el cable adaptador de reducción de sonido e para
·No utilice los auriculares cuando está prohibido el uso de equipos electrónicos o cuando el
uso de auriculares personales para los servicios de entretenimiento de audio en vuelo están
·El adaptador de enchufe suministrado c puede no ser compatible con algunos servicios de
entretenimiento de audio en vuelo. En este caso, utilice el adaptador de enchufe
Función de cancelación de ruido
Ajuste el interruptor POWER a ON para que se encienda el indicador POWER.
Para desactivar la cancelación de ruido, ajuste el interruptor POWER a OFF.
· La función de cancelación de ruido sólo es efectiva para el ruido en la banda de frecuencias.
Aunque se reduce el ruido, no se cancela completamente.
·No cubra el micrófono (E) de los auriculares con sus manos. Puede escucharse un aullido y
la función de cancelación de ruido puede no funcionar correctamente. Aleje sus manos de
1Branchez la minifiche stéréo du casque:
a dans la prise pour casque (\, PHONES) d'un appareil portable.
b aux doubles miniprises stéréo des services de divertissement audio en vol, en
utilisant l'adaptateur de prise c fourni.
2 Portez correctement le casque, avec la marque L à gauche et la marque R à droite.
3Déplacez la suspension vers le haut/bas pour ajuster la courroie de tête de sorte que
le coussinet soit à la position optimale.
Remarques sur l'emploi dans un avion
·Si le volume du canal audio du service musical en vol est trop élevé et ne peut pas baissé
davantage, utilisez le cordon adaptateur (avec atténuateur) fourni e pour réduire le volume.
·N'utilisez pas le casque quand l'emploi d'appareils électroniques est interdit ou quand
l'emploi d'un casque personnel pour les services de divertissement audio en vol est interdit.
·L'adaptateur de prise fourni c peut ne pas être compatible avec certains services de
divertissement audio en vol. Dans ce cas, utilisez l'adaptateur de prise standard fourni d.
Fonction d'annulation du bruit
Réglez l'interrupteur POWER sur ON, l'indicateur POWER s'allumera.
Pour désactiver l'annulation du bruit, réglez l'interrupteur POWER sur OFF.
· La fonction d'annulation du bruit est efficace seulement pour le bruit de la bande des basses
Bien que le bruit soit réduit, il n'est pas complètement éliminé.
·Ne couvrez pas le microphone (E) du casque de vos mains. Un hurlement pourrait se
produire et la fonction d'annulation du bruit pourrait ne pas fonctionner correctement.
Eloignez vos mains du microphone.
1Verbinden Sie den Stereo-Miniklinkenstecker des Kopfhörers:
a mit der Kopfhörerbuchse (\ PHONES) einer portablen Komponente.
b über den mitgelieferten Steckeradapter c mit einer der Doppel-Stereo-
Miniklinkenbuchsen, die im Flugzeug zum Abgriff von Musik und Sprache zur
Unterhaltung während des Flugs dienen.
2Tragen Sie den Kopfhörer richtig, d.h. die mit "L" gekennzeichnete Einheit links und
die mit "R" gekennzeichnete rechts.
3Bewegen Sie den Hänger auf und ab, um über den Bügel die Ohrmuschel auf
optimalen Sitz einzustellen.
Hinweise zum Gebrauch in Flugzeugen
· Ist die Lautstärke auf dem Audiokanal für die Unterhaltung während des Flugs zu hoch und
bereits auf den niedrigstmöglichen Pegel eingestellt, nutzen Sie unbedingt das mitgelieferte
Adapterkabel e zur Lautstärkereduzierung.
·Tragen Sie den Kopfhörer nicht, wenn der Gebrauch elektronischer Geräte im allgemein bzw.
persönlicher Kopfhörer zum Abgriff des Audioprogramms im besonderen ausdrücklich
·Der mitgelieferte Steckeradapter c ist u.U. mit manchen Flugzeug-Audioprogrammen nicht
kompatibel. Greifen Sie in diesem Fall auf den mitgelieferten Standardsteckeradapter d
Schieben Sie den POWER-Schalter auf ON, woraufhin die POWER-Anzeige blinkt. Zur
Deaktivierung der Rausch-Entstörfunktion stellen Sie den POWER-Schalter auf OFF.
·Die Rausch-Entstörfunktion ist nur gegen niederfrequentes Rauschen wirksam. Dabei wird
das Rauschen zwar weitgehend reduziert, jedoch nicht vollständig unterdrückt.
·Decken Sie das Mikrofon (E) an jeder der beiden Hörereinheiten nicht mit der Hand ab.
Andernfalls besteht die Gefahr, daß Heulgeräusche auftreten und die Rausch-Entstörfunktion
nicht einwandfrei arbeitet. Halten Sie daher die Hände stets von den Mikrofonen entfernt.
1Collegare il minispinotto stereo della cuffia:
a alla presa per cuffia (\, PHONES) dell'apparecchio portatile.
b alle due prese mini stereo delle unità di diffusione servizi audio durante il volo,
utilizzando l'adattatore di spinotto c fornito in dotazione.
2 Indossare la cuffia correttamente, facendo attenzione a che la parte marcata L sia a
sinistra e quella marcata R sia a destra.
3 Spostare il supporto pendente in su e in giù in modo da regolare l'archetto per
sistemare bene gli auricolari.
Note per l'uso in aeroplano
·Se il livello del volume del canale audio di ricreazione durante il volo è troppo alto e non è
possibile abbassarlo oltre, per abbassare il volume servirsi del cavo adattatore per
abbassare il volume audio e.
·Non usare la cuffia quando l'uso di apparecchiature elettroniche è proibito o quando è
proibito l'uso di una cuffia personale per i servizi audio di ricreazione durante il volo.
·L'adattatore di spinotto c, fornito in dotazione, potrebbe non essere compatibile con alcune
unità per servizi audio di ricreazione durante il volo. Quando si presenta questo problema,
usare l'adattatore di spinotto standard d, fornito in dotazione.
Funzione di annullamento del rumore di fondo
Impostare su ON l'interruttore POWER e l'indicatore POWER s'illumina.
Per disattivare l'annullamento del rumore di fondo, impostare su OFF l'interruttore POWER.
· La funzione di annullamento del rumore di fondo è effettiva solo per il rumore nella banda
delle frequenze basse. Sebbene il rumore sia effettivamente ridotto, esso non può essere
·Non coprire con le mani il microfono (E) della cuffia. Potrebbe verificarsi un sibilo e la
funzione di annullamento del rumore di fondo potrebbe non funzionare bene. Allontanare le
1Podlczy mini wtyczk stereo do sluchawek:
a do gniazdka typu jack do sluchawek (\, PHONES) na sprzcie przenonym.
b do podwójnych gniazdek typu jack w systemie audio w samolocie, stosujc
dostarczony adapter wtyczki c.
2Prawidlowo zaloy sluchawki: strona oznaczona liter L powinna by po lewej, a
strona oznaczona liter R po prawej.
3Przesuwajc palk, dopasowa optymalnie sluchawki do glowy.
Uwagi dotyczce uycia sluchawek w samolocie
· Jeli poziom glonoci w kanale audio systemu naglonienia w samolocie jest zbyt wysoki i
nie mona go zmniejszy, naley skorzysta z dostarczonego przewodu adaptera do
redukcji glonoci e, dziki czemu obniona zostanie glono.
· Nie uywa sluchawek, gdy uycie sprztu elektronicznego jest zakazane lub gdy zakazane
jest uycie osobistych sluchawek w systemie audio samolotu.
· Dostarczony adapter wtyczki c moe nie by kompatybilny z niektórymi serwisami audio w
samolotach. W takim przypadku, naley uy dostarczonego standardowego adaptera
Ustawi przelcznik POWER na pozycji ON ­ zapali si kontrolka zasilania POWER.
Aby wylczy redukcj halasu, ustawi przelcznik POWER na pozycji OFF.
· Funkcja redukcji halasu dziala jedynie w przypadku halasu w niskim pamie czstotliwoci.
Mimo e halas jest obniony, nie jest calkowicie wyeliminowany.
· Nie przykrywa mikrofonu (E) w sluchawkach rkami. Moe doj do sprzenia i funkcja
redukcji halasu mog nie dziala prawidlowo. Trzyma rce z dala od mikrofonów.
1Následujícím zpsobem pipojte stereo mini-konektor sluchátek:
a do konektoru sluchátek (\, PHONES) penosného pehrávace.
b do duálního stereo mini konektoru u audio zaízení na palub letadla, pomocí
dodaného konektorového adaptéru c.
2Sluchátka si na hlavu nasate správn, znackou L na levou stranu a znackou R na
3Pesute náhlavní pás sluchátek tak, aby vám sluchátka na hlav dobe usedly.
Poznámky k pouzití sluchátek v letadle
· Pokud je hlasitost audio kanálu na palub letadla pílis vysoká, a nelze ji nijak snízit, pouzijte
dodaný kabel e pro snízení hlasitosti podle poteby.
· Nepouzívejte sluchátka v pípad, ze je pouzití elektrických pístroj zakázáno, nebo pokud
je zakázáno pouzití sluchátek pro palubní audio kanál.
· Dodaný adaptér konektoru c nemusí být kompatibilní s nkterými palubními audio kanály. V
takovém pípad pouzijte adaptér standardního konektoru d.
Nastavte spínac POWER do polohy ON ­ kontrolka POWER se rozsvítí.
Deaktivaci funkce redukování sumu provedete vypnutím spínace POWER do polohy OFF.
· Funkce redukce sumu je aktivní pouze pro zvuky v dolní cásti frekvencního pásma. Ackoliv
je sum redukován, nelze jej zcela eliminovat.
· Nezakrývejte mikrofon (E) sluchátek rukama. Mohlo by dojít ke vzniku pískání a nesprávné
funkci redukce sumu. Udrzujte ruce mimo dosah mikrofonu.
A fejhallgatók csatlakoztatása
1Csatlakoztassa a fejhallgató sztereó mini-dugóját:
a a hordozható berendezés fejhallgató jackdugójához (\, PHONES).
b a repülés közbeni szórakoztató audio szolgáltatás ketts sztereo mini
jackdugóihoz, a tartozék c adapter felhasználásával.
2Használja a fejhallgatókat rendeltetésszeren: az L jelölés a bal, az R jelölés pedig a
3Mozgassa le- illetve felfelé a pántot és állítsa be úgy, hogy a fülhallgató a
legmegfelelbb helyre essen.
Megjegyzések a repülgépen történ használatról
· Ha a repülés közbeni szórakoztató audio csatorna hangereje túl nagy és tovább már nem
csökkenthet akkor a hanger csökkentéséhez, kérjük, használja az e jel tartozék
· Ne használja a fejhallgatókat olyankor, amikor az elektronikus berendezések használata tilos,
vagy amikor a repülés közbeni szórakoztató audio szolgáltatások személyes fejhallgatóinak
· A c tartozék dugaszoló adapter néhány repülés közbeni szórakoztató audio szolgáltatással
nem kompatibilis. Ebben az esetben használja a szabványos d tartozék dugaszoló
Állítsa a POWER kapcsolót az ON (BE) állásba. Ekkor a POWER kijelz világít.
A zajcsökkent kikapcsolásához állítsa a POWER kapcsolót az OFF (KI) állásba.
· A zajcsökkentési funkció csak az alacsony frekvenciás sávban lév zaj esetén hatásos.
Noha a zaj csökken, teljesen nem sznik meg.
· Ne takarja el kezével a fejhallgatók mikrofonját (E). Gerjedés következhet be és
elképzelhet, hogy a zajcsökkent funkció nem mködik megfelelen. Vegye el a kezét a
---