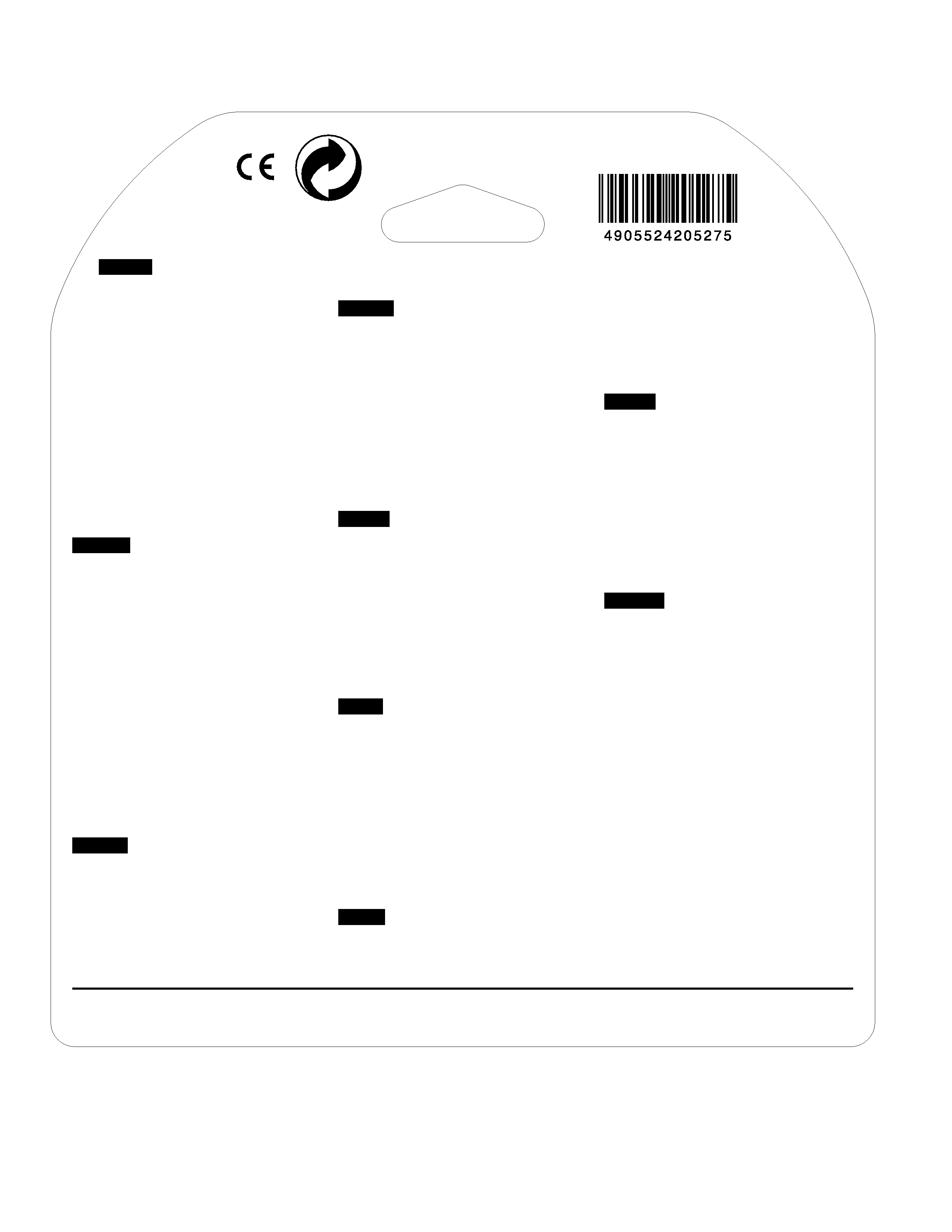 · Listen at moderate volume to avoid hearing
· Do not wear the headphones while driving or cycling.
It may create a traffic hazard.
· You should use extreme caution or temporarily
discontinue use in potentially hazardous situations,
such as walking, jogging, etc.
· Wear properly : L is left, R is right.
· The earpads may deteriorate due to long-term
Type: Open-air dynamic / Driver units: ø30 mm /
/ Sensitivity: 100 dB/mW /
Power handling capacity: 100 mW / Frequency
response: 15 ­ 20,000 Hz / Cord: 1.1 m (OFC
cord) / Plug: L-shaped ø3.5 mm stereo mini plug /
Mass: 60 g (without cord)
Design and specifications are subject to change
· Le son doit être modéré afin d'éviter tout problème
· Ne portez pas de casques lorsque vous conduisez
ou faites du vélo. Ils pourraient être dangereux.
provisoirement toute utilisation dans des situations
éventuellement dangereuses comme la marche, la
· Placez-le correctement : L correspond à la gauche,
· Les oreillettes peuvent s'abîmer après un stockage
ou une utilisation prolongée.
Type: Ouvert dynamique / Excitateurs: 30 mm de
mW / Puissance maximale: 100 mW / Réponse
en fréquences: 15 Hz ­ 20 KHz / Cordon: 1,1 m
(cordon OFC) / Fiche: Mini-fiche stéréo en L de 3,5
mm de diamètre / Poids: 60 g (sans cordon)
Le modèle et les spécifications sont susceptibles
de changement sans préavis.
· Stellen Sie eine mäßige Lautstärke ein, um
· Tragen Sie beim Auto- oder Fahrradfahren keinen
Kopfhörer. Dies stellt ein Verkehrsrisiko dar.
· Lassen Sie in potentiell gefährlichen Situation, z. B.
beim Gehen oder Laufen, besondere Vorsicht walten,
oder schalten Sie das Gerät vorübergehend ab.
· Tragen Sie das Gerät richtig herum: L steht für
,,Links", R für ,,Rechts".
· Bei Langzeitlagerung oder -verwendung kann sich
die Qualität der Ohrpolster verschlechtern.
· Escuche a volumen moderado para no dañar el
· No utilice los auriculares mientras conduce o anda
en bicicleta. Puede provocar una situación de
· Deje de utilizar la unidad temporalmente o utilícela
potencialmente peligrosas, como al andar, hacer
· Utilícela correctamente: L es izquierda, R es
· Las almohadillas de los auriculares pueden
deteriorarse con el uso o almacenamiento
· Per evitare lesioni all'udito, mantenere un volume
· Non indossare le cuffie durante la guida o quando
si è in bicicletta. Rischio di incidenti stradali.
· In situazioni potenzialmente pericolose, ad esempio
quando si cammini o si faccia jogging, ecc., adottare
temporaneamente l'utilizzo,
· Indossare in modo adeguato : L corrisponde alla
· Le protezioni auricolari potrebbero rovinarsi in
seguito a utilizzo o conservazione a lungo termine.
Dwiku nie wolno slucha bardzo glono, gdy
Sluchawek nie wolno uywa prowadzc pojazd
mechaniczny lub jadc na rowerze. Moe to
stanowi zagroenie dla ruchu ulicznego.
Uywanie sluchawek w niektórych sytuacjach, na
przyklad podczas spaceru lub przy bieganiu, moe
by potencjalnie niebezpieczne. Wtedy naley
zachowa szczególn ostrono lub chwilowo ich
Sluchawki naley wlaciwie zaloy: litera L
Przy dlugotrwalym uywaniu lub skladowaniu
okladziny sluchawek mog traci swe wlaciwoci.
Poslouchejte hudbu pouze na stední hlasitost,
abyste zabránili poskození svého sluchu.
Nepouzívejte sluchátka, pokud ídíte, nebo
jedete na kole. Mohlo by to vést ke vzniku
nebezpecných situací v silnicním provozu.
V prbhu potenciáln nebezpecných situací,
napíklad pi chzi nebo bhu, apod., byste
mli pístroj pouzívat velmi obezetn, nebo
zcela perusit jeho pouzití.
Pouzívejte sluchátka správn nasazená: L je levé,
Vycpávky sluchátek se mohou dlouhodobým
skladováním nebo pouzíváním poskodit.
A halláskárosodás elkerülése érdekében mérsékelt
hangern hallgassa a készüléket.
Vezetés vagy kerékpározás közben ne viselje a
veszélyhelyzetet idézhet el.
Esetlegesen veszélyes helyzetekben különös
óvatossággal kell eljárnia, vagy pedig ideiglenes
függessze fel a használatot Ilyen helyzetek lehetnek
Viselje rendeltetésszeren: Az L a baloldalt, az R
pedig a jobboldalt jelenti.
Hosszú távú tárolás vagy használat következtében
a fülhallgató szivacsbevonata károsodhat.
Made in China / Hergestellt in China / Fabriqué en Chine / Fabricado en China / Fabbricato in Cina /
C / Wykonano w Chinach / Vyrobeno v Cín / Készült Kínában
---