TO REDUCE THE RISK OF FIRE OR
ELECTRIC SHOCK, DO NOT EXPOSE
THIS APPLIANCE TO RAIN OR
For your convenience, record the model number and the serial
number (you will find it in the battery compartment of your set) in
the space provided below. Please refer to them when you
contact your Aiwa dealer in case of difficulty.
---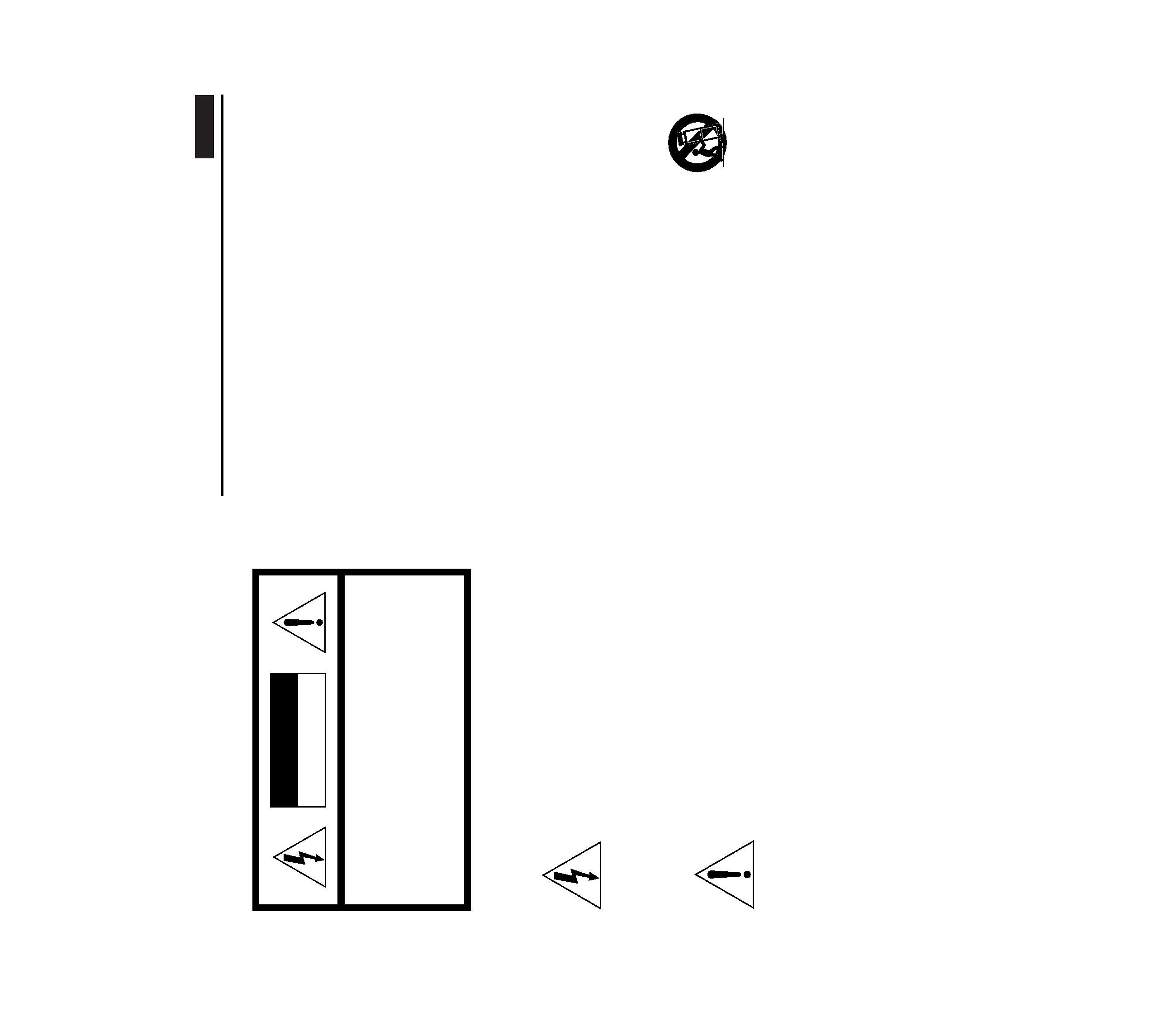 All the safety and operating instructions should be read before
the appliance is operated. The safety and operating instructions
should be retained for future reference. All warnings and
cautions on the appliance and in the operating instructions
should be adhered to. And all operating and use instructions
should be followed, as well as the safety suggestions below.
Water and moisture -- Do not use this unit near water, such
as near a bathtub, washbowl, swimming pool, or the like.
Heat -- Do not use this unit near sources of heat, including
heating vents, stoves, or other appliances that generate
heat. It also should not be placed in temperatures less than
5°C (41°F) or greater than 35°C (95°F).
Mounting surface -- Place the unit on a flat, even surface.
Ventilation -- The unit should be situated with adequate
space around it so that proper heat ventilation is assured.
Allow 10 cm (4 in.) clearance from the unit.
­ Do not place the unit on a bed, rug, or similar surface that
may block the ventilation openings.
­ Do not install the unit in a bookcase, cabinet, or airtight
rack where ventilation may be impeded.
Objects and liquid entry -- Take care that objects or
liquids do not get inside the unit through the ventilation
Carts and stands -- When placed or
mounted on a stand or cart, the unit should
Quick stops, excessive force, and uneven
surfaces may cause the unit or cart to
The lightning flash with arrowhead
symbol, within an equilateral triangle,
is intended to alert the user to the
presence of uninsulated "dangerous
voltage" within the product's enclosure
that may be of sufficient magnitude to
constitute a risk of electric shock to
The exclamation point within an equi-
lateral triangle is intended to alert the
user to the presence of important op-
erating and maintenance (servicing)
instructions in the literature accompa-
"CAUTION:TO REDUCE THE RISK OF
DO NOT REMOVE COVER (OR BACK).
NO USER-SERVICEABLE PARTS INSIDE.
REFER SERVICING TO QUALIFIED
Explanation of Graphical Symbols:
The symbols are located on the bottom of cabinet.
---

Toutes les instructions relatives à la sécurité et au fonctionnement
doivent être lues avant la mise en service de l'appareil. Elles
doivent être conservées pour toute référence ultérieure. Tous les
avertissements et précautions sur l'appareil et dans le mode
d'emploi doivent être respectés. Et toutes les instructions sur le
fonctionnement et l'emploi doivent être suivies, ainsi que les
suggestions pour la sécurité ci-dessous.
Eau et humidité -- Ne pas utiliser cet appareil en milieu
humide, près d'une baignoire, d'un lavabo, d'une piscine etc...
Chaleur -- Ne pas utiliser cet appareil près d'une source de
chaleur, à proximité d'une bouche de chauffage, d'un
radiateur ou de tout autre système producteur de chaleur.
Ne pas exposer l'appareil à des températures inférieures à
5°C (41°F) ou supérieures à 35°C (95°F).
Surface de montage -- Placer l'appareil sur une surface
Aération -- Prévoir un espacement suffisant autour de
l'appareil pour en assurer l'aération. Ménager un espace de
10 cm autour de l'appareil.
­ Ne pas poser l'appareil sur un lit, un tapis ou toute autre
surface similaire risquant d'en obturer les ouvertures d'aération.
­ Ne pas installer l'appareil dans un meuble bibliothèque ou
dans un rangement clos où l'aération risque d'être insuffisante.
Objets et liquides -- Prendre toutes les précautions
nécessaires pour éviter l'entrée de corps étrangers ou de
liquides par les ouvertures d'aération.
Chariots et étagères -- Si l'appareil est monté ou
installé sur un chariot ou une étagère, attention
pendant les déplacements.
L'appareil peut tomber ou le chariot peut se
renverser en cas d'arrêt brusque, de force
excessive ou de surface inégale.
Todas las instrucciones de seguridad y de funcionamiento
deben leerse antes de hacer funcionar el aparato. Guarde las
instrucciones de seguridad y de funcionamiento para su
referencia en el futuro. Deben respetarse todas las advertencias
en el aparato y en las instrucciones de funcionamiento. Y deben
cumplirse las instrucciones de funcionamiento y uso así como
las sugerencias para su seguridad a continuación.
Agua y humedad -- No utilice este aparato cerca del agua
(por ej.: cerca de bañeras, fregaderos, piscinas, etc.).
Calor -- No utilice este aparato cerca de fuentes de calor,
incluyendo bocas de calefacción, estufas u otros artefactos de
calefacción. Tampoco debe ponerse en lugares donde la
temperatura sea menor de 5°C (41°F) ni mayor de 35°C (95°F).
Superficie de instalación-- Ponga el aparato siempre
sobre superficies planas y estables.
Ventilación -- Este aparato debe instalarse con el suficiente
espacio a su alrededor pare garantizar una ventilación
adecuada. Deje 10 cm de espacio alrededor del aparato.
­ No lo ponga sobre camas, almohadones o superficies
mullidas que puedan obstruir las ranuras de ventilación.
­ No lo ponga en anaqueles, estanterías o muebles modulares
cerrados donde la ventilación pueda verse obstaculizada.
Objetos y líquidos -- Tenga cuidado de que no penetren
objetos pequeños y líquidos dentro del aparato por las
Carros y peanas -- Cuando se pone sobre
un carro o una peana, el aparato debe
moverse con sumo cuidado.
Todo movimiento brusco, fuerza excesiva o la
colocación sobre superficies irregulares puede
hacer que el carro o la peana se vuelque o caiga.
---

Wall or ceiling mounting -- The unit should not be
mounted on a wall or ceiling, unless specified in the
Power sources -- Connect this unit only to power sources
specified in the Operating Instructions, and as marked on
Polarization -- As a safety feature, some units are
equipped with polarized AC power plugs which can only be
inserted one way into a power outlet. If it is difficult or
impossible to insert the AC power plug into an outlet, turn
the plug over and try again. If it still does not easily insert
into the outlet, please call a qualified service technician to
service or replace the outlet. To avoid defeating the safety
feature of the polarized plug, do not force it into a power
­ When disconnecting the AC power cord, pull it out by the
AC power plug. Do not pull the cord itself.
­ Never handle the AC power plug with wet hands, as this
could result in fire or shock.
­ Power cords should be firmly secured to avoid being
severely bent, pinched, or walked upon. Pay particular
attention to the cord from the unit to the power socket.
­ Avoid overloading AC power plugs and extension cords
beyond their capacity, as this could result in fire or shock.
---

Instalación en la pared o el cielo cielorraso raso -- Este
aparato no debe colgarse ni de la pared ni del cielo
cielorraso raso, salvo en aquellos casos indicados en el
Fuentes de alimentación -- Conecte el aparato solamente
a las fuentes de alimentación especificadas en el Manual de
Instrucciones y del modo indicado en el mismo aparato.
Polarización -- Como medida de seguridad, algunos
aparatos cuentan con enchufes de corriente polarizados, los
cuales pueden enchufarse en el tomacorriente solamente en
una dirección. Si cuesta o resulta imposible insertar el enchufe
en la toma de corriente, dé vuelta el enchufe y vuelva a probar.
Si incluso después de cambiar no se puede enchufar con
facilidad pida a un técnico calificado que repare o cambie la
toma de corriente. No inserte el enchufe a la fuerza, para evitar
anular la protección de seguridad del enchufe polarizado.
­ Para desconectar el cable de corriente, tire tomando el
enchufe en la mano. Nunca tire del cable.
­ Nunca tome el enchufe de corriente con las manos mojadas,
ya que corre el riesgo de descargas eléctricas o incendio.
­ Los cables de corriente deben asegurarse firmemente de
manera que no queden doblados, apretados y estén fuera
del paso de las personas pare evitar que sean pisados.
Tenga especial cuidado con el cable eléctrico del aparato,
enchufado en el tomacorriente.
­ Evite conectar demasiados aparatos en el mismo enchufe
o cable de extensión, ya que corre el riesgo de descargas
Montage mural ou au plafond -- Ne pas monter cet
appareil sur un mur ou un plafond sauf spécification dans le
Source d'alimentation -- Ne raccorder cet appareil qu'aux
seules sources d'alimentation électrique spécifiées dans le
Mode d'emploi et marquées sur l'appareil.
Polarisation -- A titre de sécurité, certains appareils sont
équipés de prises électriques CA polarisées qui ne peuvent
donc être insérées dans une prise secteur que dans un seul
sens. S'il s'avère difficile, voire impossible d'insérer une
prise électrique CA dans une prise secteur, retourner la prise
et essayer à nouveau. Si l'insertion n'est toujours pas
possible, demander l'intervention d'un réparateur qualifié
pour réparer ou changer la prise. Forcer une prise électrique
en place est contraire à tous les principes de sécurité.
­ Pour débrancher le câble d'alimentation électrique CA,
tirer sur la prise. Ne jamais tirer sur le câble lui-même.
­ Ne jamais manipuler un câble électrique avec des mains
humides sous peine de risque d'incendie ou d'électrocution.
­ Immobiliser les câbles de sorte qu'ils ne soient pas pliés ni
coincés par d'autres objets et qu'ils ne gênent pas le
passage. Attention en particulier au câble raccordant
l'appareil à la prise secteur.
­ Eviter de surcharger les prises et les câbles électriques
CA sous peine de risque d'incendie ou d'électrocution.
---